Our customers have been hired by:
You put life in life science. You can count cells in your sleep and name all the living species. But hundreds of other candidates are just as passionate as you.
So how do you stand out like a giraffe in a sea of gazelles? With an impressive biology resume. I'm talking about the best-of-the-gene-pool quality. The good news is that it's easier than you think. Write a biology resume as stellar as the one below:
Want to save time and have your resume ready in 5 minutes? Try our resume builder. It's fast and easy to use. Plus, you'll get ready-made content to add with one click. See 20+ resume templates and create your resume here.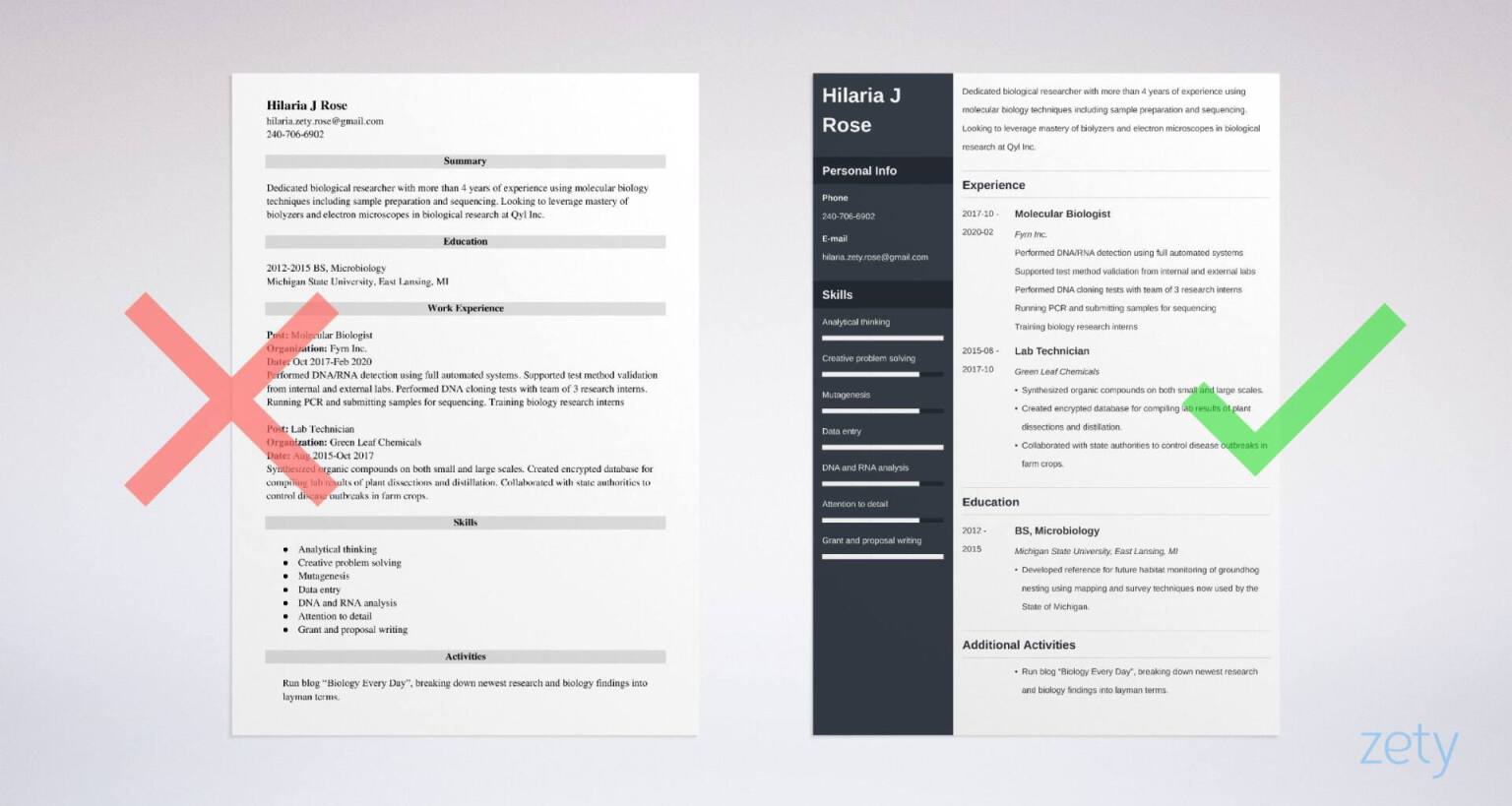 Sample resume made with our builder—See more resume examples here.
Interested in a different area of research? Check out our other science related resumes and CVs:
Not sure if you need to write a resume or a CV? See: What's The Difference Between a Curriculum Vitae and a Resume
Sample Biology Resume Template
Hilaria J Rose
hilaria.zety.rose@gmail.com
240-706-6902
Summary
Dedicated biological researcher with more than 4 years of experience using molecular biology techniques including sample preparation and sequencing. Looking to leverage mastery of biolyzers and electron microscopes in biological research at Qyl Inc.
Work Experience
Molecular Biologist
Fyrn Inc.
Oct 2017-Feb 2020
Performed DNA/RNA detection using full automated systems
Supported test method validation from internal and external labs
Performed DNA cloning tests with team of 3 research interns
Running PCR and submitting samples for sequencing
Training biology research interns
Lab Technician
Green Leaf Chemicals
Aug 2015-Oct 2017
Synthesized organic compounds on both small and large scales.
Created encrypted database for compiling lab results of plant dissections and distillation.
Collaborated with state authorities to control disease outbreaks in farm crops.
Education
2012-2015 BS, Microbiology
Michigan State University, East Lansing, MI
Developed reference for future habitat monitoring of groundhog nesting using mapping and survey techniques now used by the State of Michigan.
Skills
Analytical thinking
Creative problem solving
Mutagenesis
Data entry
DNA and RNA analysis
Attention to detail
Grant and proposal writing
Activities
Run blog "Biology Every Day", breaking down newest research and biology findings into layman terms.
This is how to write a job-winning biology resume:
1. Use the Best Format For Your Biology Resume
Biologists study the natural world, but can pursue a career in a wide number of areas such as research, health care, conservation, environmental management, and education. The purpose of your biology resume is to demonstrate that you have both the skills and knowledge to do the testing and research necessary to help conserve and work with nature.
But biologists are sought after almost everywhere and across a broad spectrum which means you have a lot of competition out there. And if that wasn't enough, you have less time than it takes to focus a microscope to impress the hiring manager with your resume.
Grab the recruiter's attention on to what you have to say with an eye-catching resume that follows these formatting rules:
You're probably also wondering how long your resume should be. If you have more years of experience than known fish species, go for two pages. In all other cases, a one-page resume template should suffice.
OK, so let's take a closer look at the DNA of your biologist resume.
2. Write a Biology Resume Objective or Resume Summary
Introduce yourself through your resume profile, or more specifically, a resume objective or summary. It's a short and sweet paragraph at the top of your biology resume that breaks down why you're the person for the job. You can almost think of it like a wordy business card.
Use a career summary if you've been coexisting with biology for more than a couple of years:
First jot down the key points in your experience and biology skills as well as accomplishments.
Then choose 3-4 of the best and add those into your biology resume summary section.
If you're writing an entry level biology resume or a biology internship resume, opt for the career objective:
Underline the knowledge and skills you've gathered to date and how well you'd fit in.
Think of transferable skills and quantifiable achievements from other gigs you've had.
There's no need to drown this section in tons of data. Keep it 3-4 sentences long max and tailor it to the job description of the position you're applying for.
Use resume keywords to pass the ATS scan. Check out this guide to learn how:What are Resume Keywords?
3. Create the Perfect Biology Resume Job Description
From wildlife biologists to microbiologists, job growth is predicted to rise steadily for the next decade. That's great news for biologists. That also means that your resume experience section can't be the center of diffusion for your job application:
List your most current position and then just go back in time with previous positions.
Make sure each entry includes: job titles, company name, dates of employment, and 6 bullet points max.
Limit the number of bullet points as you go back in time with your experience. Have up to 3 for positions far in the past.
Start each bullet point with an action verb.
This isn't a research findings report. Focus on quantifiable achievements and not just a laundry list of duties.
Tailor your biology experience section to match the position you have your sights set on.
Beware resume mitosis—there's no room for endlessly dividing lists of information.
4. Make Your Biology Resume Education Section Shine
Who cares about your education? Well, actually a lot of people do and it could make or break your chances of making it into the lab.
Here's how to nail your education section:
If you have several years of job experience opt for only listing the following: college/university name and location, years you studied, degree, major and minors.
Have limited experience? Sprinkle your education resume section with achievements from your college days. Make sure to keep them relevant to the job description and list no more than 4-6 items.
If you're a graduate as new as spring grass, consider putting your work experience below your education section. It'll help you start off your biology resume with no experience with a bang.
Studied abroad? Check how to put it on your biology resume: Studying Abroad on a Resume
5. Highlight Your Biology Skills
This is where you focus on the biology skills that make you an excellent biology research assistant so you need to get it right:
Create a master list of all the job skills you have— this means soft skills and hard skills, technical skills, and any other relevant skills you've got in your lab coat pocket.
Pick the biology lab skills that are most relevant by using the job ad as a guide. Include them in your biologist resume. Make sure you mention biology skills that your education and experience sections can prove.
Biology Resume Skills
Dissection
ELISA
Light and electron microscopy
Assays
Molecular cloning
Restriction analysis
Spectrophotometry
When making a resume in our builder, drag & drop bullet points, skills, and auto-fill the boring stuff. Spell check? Check. Start building a professional resume template here for free.
When you're done, Zety's resume builder will score your resume and our resume checker will tell you exactly how to make it better.
6. Add Extra Sections to Your Biologist Resume
Tap into your inner molecular biologist and find all the other details that will make you stand out from the other candidate species.
7. Attach a Cover Letter to Your Biology Resume
If you're thinking if you should include a cover letter, then let's make it super clear—yes, you do.
Write a biology cover letter that Alexander Fleming would be interested in with the following tips:
It's easy to, but don't go overboard and write a case study. The ideal length of an effective cover letter is 1 page.
Read more: How to Write a Cover Letter & Biology Cover Letter Sample
Plus, a great cover letter that matches your resume will give you an advantage over other candidates. You can write it in our cover letter builder here. Here's what it may look like: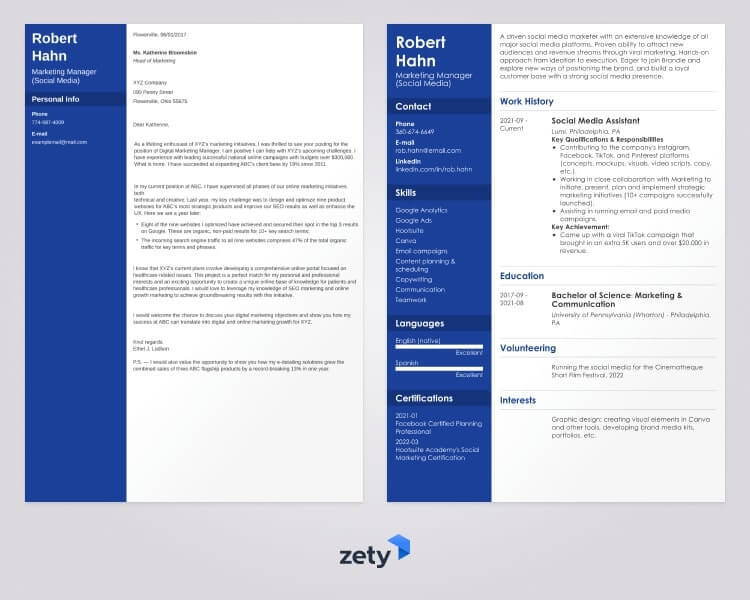 See more cover letter templates and start writing.
And once you have all that sent, remember to follow up on your job application! Twiddling your thumbs doesn't make things happen in the lab and it's not going to make things happen in your job hunt!
That's the rundown of a successful biology resume.
Thanks for reading. Have any tips or tricks to share about creating the perfect biology resume? Share them in the comments below!
About Zety's Editorial Process
This article has been reviewed by our editorial team to make sure it follows Zety's editorial guidelines. We're committed to sharing our expertise and giving you trustworthy career advice tailored to your needs. High-quality content is what brings over 40 million readers to our site every year. But we don't stop there. Our team conducts original research to understand the job market better, and we pride ourselves on being quoted by top universities and prime media outlets from around the world.
Sources