Environmental Science Resume Examples (also Entry Level)
You care about nature, the environment, our planet. But to get that job, you have to also show them a stunning environmental science resume.
In a few scrolls, you'll learn how to take your environmental science resume to the stratosphere of quality. On top of that, you'll see a resume sample (and not in a test tube!) that'll give your competition a run for their money.
With environmental science being an ever more popular and relevant topic, you have a mountain to climb if you want to carve a career for yourself.
And we have the hiking gear.
This guide will show you:
An environmental science resume example better than 90% of other resumes.
How you can write an environmental science resume that will land you lots of more interviews.
Tips and examples of how to put skills and achievements on an environmental science resume.
How to describe your experience on a resume for environmental scientists to get any job you want.
Want to save time and have your resume ready in 5 minutes? Try our resume builder. It's fast and easy to use. Plus, you'll get ready-made content to add with one click. See 20+ resume templates and create your resume here.
Sample resume made with our builder—See more resume examples here.
Looking to help the planet in other science-y ways? See below:
Environmental Science Resume Sample
Richard Hutchinson
Environmental Scientist
570-544-4133
richhutchinson@zmail.com
Linkednin.com/in/richardcghutchinson
Summary of Qualifications
Safety- and ethics-oriented environmental scientist with 3+ years of experience, specializing in compliance monitoring and water quality assessments. Spearheaded transition to new methods of water sample purification at Stantec that cut spending and rollout time by 20%. Seeking to employ site analysis skills and scientific expertise at Otak Springs Ltd.
Work Experience
Environmental Scientist
Stantec, Tucson, AZ
Sept 2016–Oct 2019
Handled evaluation and sample collection in 30+ contaminated water sites.
Helped prepare thorough documentation to submit a lawsuit against a polluting metallurgy company for $740,000 in damages.
Prepared, issued, and evaluated 70+ permits in compliance with the Clean Water Act.
Provided technical information and counseling to colleagues, state and federal agencies, and members of the public in an excellent customer service manner.
Research Assistant
TerraTech, Tucson, AZ
June 2014–Sept 2016
Collected and entered data at baseline and 6-months.
Utilized a statistical tool to create 95% confidence limits on collected data.
Spoke at weekly lab meetings on the progress of research, acquired data, and future plans based on results.
Education
Master's Degree in Soil, Water and Environmental Science
University of Arizona, Tucson, AZ
2013–2015
Relevant Coursework: Soil Resources and Land Use, Water Resources, Applied Limnology, Ecology and Agroecosystems, Water Management
GPA: 3.8
Skills
Knowledge of state and federal water regulations
Waste disposal methods
Sample collection & analysis
Water management
Analytical thinking
Math skills
Report preparation & presentation
Communication skills
Teamwork skills
Certificates
Environmental Water Management (IWA), 2017
Sustainable Water Management Certificate (University of Arizona), 2015
The time is now. Here's how you write a job-winning environmental science resume:
1. Optimize Your Environmental Science Resume Format Choice
Environmental scientists operate within the natural environment to analyze samples and data sets to create prognoses and prevent damage to both human and wildlife habitats. Your environmental science resume needs to show you have the right expertise, but also the people skills required to collaborate with others.
Now—
Be it geology, atmospheric science, or hazardous material handling—you need a proper attack plan to minimize harm.
When writing a resume, you need just the same to maximize potential gain.
As mentioned, environmental science is on the rise, with a predicted growth of over 7 000 new positions in the field projected by 2030.
Get ahead of them with a resume that turns heads, and follow our resume writing basics:
Also, in case you'd want to know how many pages should a resume be in total—
One page is ideal, unless your work history is like an IPCC report in itself. Submit a two-page resume only if you can actually fill the second page with relevant information that's likely to impress the reader.
Read more: 18+ Modern Resume Templates to Use
2. Write an Environmental Science Resume Profile
All reputable research papers start with an abstract.
Resume-writing comes with an abstract of its own—the resume profile.
It's a succinct way to describe yourself and your past results, but you have to do it right. Fill it with fluff and irrelevant experience, and that experiment will certainly flop.
So, to break it down to the elemental level, if your experience in environmental science goes back a couple of years, you'll write a resume summary. Focus your lens on the biggest achievements of your career, and be sure to include numbers. Without them, your research results look dubious at best.
And if your lab coat still looks brand new, writing a resume objective is the way to go. Center the recruiter's attention on your existing knowledge, transferable skills, and ways you could use both to bring success to the company or organization you're applying for.
Read more: How to Start a Resume: Tips & Examples
3. Refine the Work Experience on Your Environmental Science Resume
Environmental science as a field is so vast, it's not really possible to lump it all into one basket and provide 100% interchangeable advice.
But—
All subsets in the industry need a great work experience section, no matter your background and specialization.
Get it synthesized successfully by following this advice:
Start by putting down your most recently held position. Go back in time with previous positions. This, as previously established, is the reverse-chronological order.
Every single entry should come equipped with your job title, company name, dates of employment, and up to 6 effective resume bullet points. Positions from way back when should only get 3 bullets.
Start each bullet point with an action word for maximum potency.
Don't discuss the mundane minutiae of your day-to-day. For best results, describe your major work achievements, complete with numbers that help put them into context.
Lastly, have you noticed how "Resume" looks a bit like an anagram of "Reuse me"? While recycling is very environmentally friendly and all, sending generic resumes will surely earn you the ire of every recruiter. It's always better to target your resume!
Read more: What Counts as Relevant Experience for a Resume?
4. Purify the Education Section of Your Environmental Science Resume
No doubt the education you obtained will be of interest to the people potentially going to hire you. Ensuring your resume education section is crafted well should be your top priority.
What you put in here depends on how long you've been in the professional industry. If that number is >5 years, go ahead and list just the basics. School name, location, highest degree, and graduation year.
With less experience, you'll want to elaborate. For entry-level environmental science resumes, add more elements, like:
Pro Tip: If you're writing an entry level environmental science resume, it might be a good idea to change up the order and put the education section first, ahead of your work experience.
When making a resume in our builder, drag & drop bullet points, skills, and auto-fill the boring stuff. Spell check? Check. Start building a professional resume template here for free.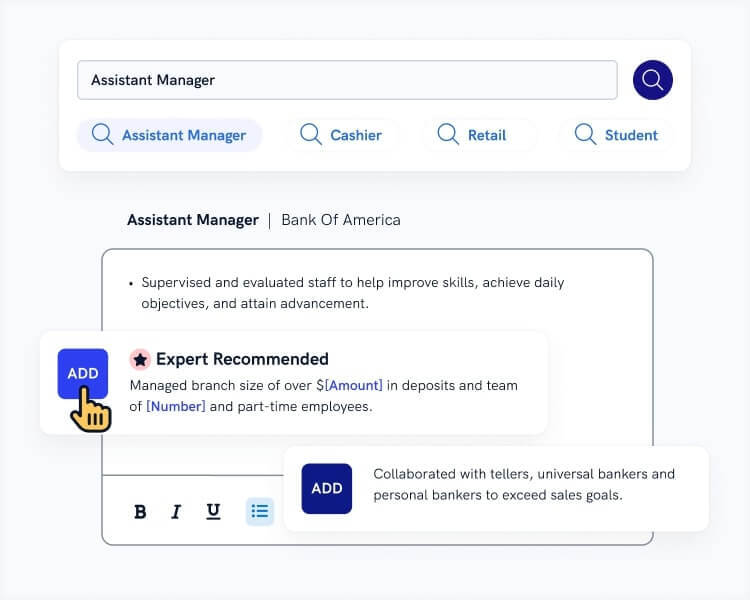 When you're done, our online resume builder will score your resume and our resume checker will tell you exactly how to make it better.
5. Show You Have the Right Environmental Science Skills
By far the worst thing you can do to hurt your chances is to pollute your resume with a poorly-written skills section.
And yet, swaths of candidates trip over their own feet here. Their intentions may be good, buuuut…
Let's get this straight:
If your skills section currently has 15 skills, with half of them being a stretch, and 2–3 being outright lies—
You're doing it wrong. Very wrong.
There are alternative solutions. Try this approach:
Arrange all of the skills you (actually) have in a master spreadsheet. You can even categorize them into soft skills and hard skills, as well as technical skills and any other, uncategorized abilities if you so desire.
The job posting you're interested in will have relevant information, so pull that up real quick.
Using the two, search for matches between your list and the skills that fit the company's ideal candidate profile. Those are your most effective resume keywords to use.
And just like that, you have a tailored skills section. You've trimmed some of the fat, it looks sleeker, and it passes ruthless Applicant Tracking System checks. Just remember that it's not entirely evergreen: you'll need to tailor it to the company requirements every time you apply for a different job.
Check out the example list of skills below if you're still feeling uninspired:
Top Environmental Science Skills for a Resume
Data Collection & Analysis
Conducting Field Surveys
Performing Tests on Samples
Data Interpretation
Environmental Laws
Creating Accurate Prediction Models
Preparing Reports
Planning
Risk Avoidance & Mitigation
Budget Management
Inquisitiveness
Statistics
Scientific Reasoning
Knowledge of Natural Processes
Innovative Mind
Math Skills
Read more: Key Skills to Put on a Resume: 99+ Examples
6. Include Extra Sections on Your Environmental Scientist Resume
One of the key factors that separate you from the rest of the crowd is… you.
It's always preferential, in the employer's eyes, to hire someone with enthusiasm for the position, rather than a person who has no color, no fire, no passion.
That's where extra resume sections come in. And even that's not all! Reports show that beginning with minor things, such as volunteering experience, or completing courses and mentorships is an effective way to get into the environment industry.
So, let's get to it:
Think about elements that you had to skip thus far. Whatever didn't quite fit before, like language skills, volunteer work or freelance work, certifications and licenses, etc., can be inserted here. Hobbies on a resume can be a good idea, too, provided they're somehow relevant to the job.
The point is: you want to show energy and conviction. This helps nail in the impression that you're the right choice for the job.
Wondering how you can turn your side-projects into an advantage? Read more: The Right Way to Put Projects on a Resume
7. Attach a Cover Letter to Your Environmental Science Resume
Done? Excellent—
Then there's just one thing left to do: writing a great cover letter to match your new resume.
Though sometimes less is more, that's not the case here. You simply need a cover letter if you want to maximize your chances of success.
Luckily, it's easier than you think—just follow these cover letter tips:
Use the right cover letter format and a template that matches your resume.
Start your cover letter with a cleverly crafted statement to hook your readers in right off the bat.
Draw their attention to your achievements in the body of your cover letter. Show how your values and work ethic match those of the company or organization.
Finally, end the cover letter by using a powerful call to action and offering to help the company achieve a specific goal.
That's it. No tricks, no overly complicated 4D strategies. Just a one-page-long cover letter to hand in and get that job.
Plus, a great cover letter that matches your resume will give you an advantage over other candidates. You can write it in our cover letter builder here. Here's what it may look like: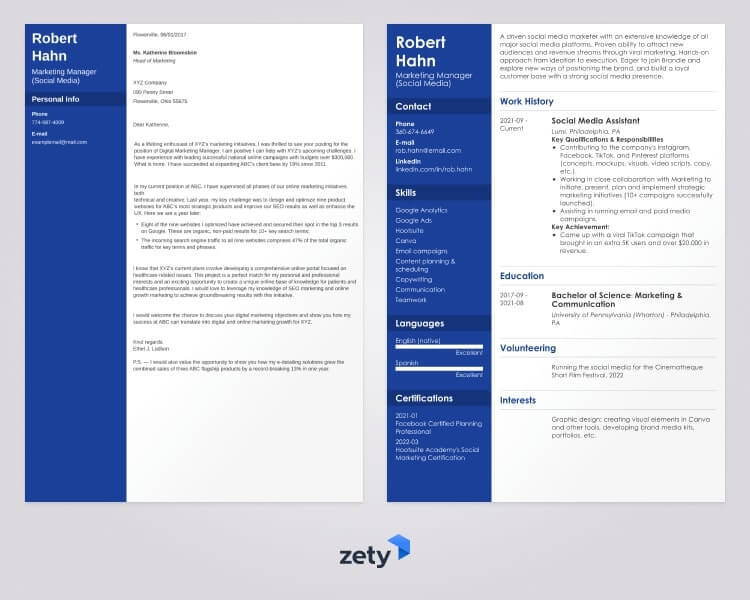 See more cover letter templates and start writing.
That's all!
A well-rounded environmental science resume that checks all the boxes.
Thanks for reading. Are there any questions you'd like to ask? Maybe you're not so sure about what to include in the environmental science job description? Comments, questions, and feedback are all welcome!
About Zety's Editorial Process
This article has been reviewed by our editorial team to make sure it follows Zety's editorial guidelines. We're committed to sharing our expertise and giving you trustworthy career advice tailored to your needs. High-quality content is what brings over 40 million readers to our site every year. But we don't stop there. Our team conducts original research to understand the job market better, and we pride ourselves on being quoted by top universities and prime media outlets from around the world.
Sources