Creative thinking skills are important to master in many professions and workplaces.
On the face of it, "creativity" seems like a skill useful only to artists, designers, writers, or marketers.
Truth is—creative skills are indispensable for all professionals.
Creative thinkers are able to look at things in new, unorthodox ways and come up with solutions no one previously thought of.
Creativity is what drives innovation and progress.
And you came to the right place to learn all you need to know about creative thinking!

This guide will show you:
Examples of the best creative thinking skills.
What is creative thinking and how to use creativity skills to boost your career.
A list of the best jobs for creative thinkers and how to land them.
Creative thinking exercises to help you become more creative today.
Want to save time and have your resume ready in 5 minutes? Try our resume builder. It's fast and easy to use. Plus, you'll get ready-made content to add with one click. See 20+ resume templates and create your resume here.
Sample resume made with our builder—See more resume examples here.
If you want to learn more about listing all of the most in-demand skills on a resume, see this beast of a guide: Best Job Skills You Should Put on a Resume to Land Interviews
And if you want to learn more about individual skills, we've got you covered! Check out our dedicated guides:
1
What Is Creative Thinking?
Creative thinking is a skill which lets you consider things from a fresh perspective and different angles. It's an inventive thought process which results in surprising conclusions and new ways of doing things. Creative thinking can be aided by brainstorming or lateral thinking to generate ideas.
Examples of Creative Thinking Skills
Problem Solving
Tackling unexpected problems requires a lot of creativity. After all, employers want to hire creative thinkers not because of their creativity as such, but because they can use it to solve problems in an innovative way.
Creative Writing
One of the most typical yet in-demand creative skills. If you are able to write in a compelling, creative way, it will help you a great deal in marketing, sales and, obviously, journalism. But it will also come in handy in all other positions that require writing—even if you're just drafting emails, reports, and presentations.
Open-Mindedness
When you're open-minded, you oppose stereotypes and look for new solutions and methods of doing things, instead of sticking to good ol' ways which might be no good after all.
Analysis
If you can gather information and data, that's great but without creative thinking skills, you won't be able to analyze it properly. Creativity in analytical thinking helps you extract meaning from sets of raw data.
See more: Analytical Skills: Definition & Examples for the Workplace
Communication
No matter how great your ideas are, if you're unable to communicate in an engaging and creative way, you'll never get to implement them.
And there are different types of communication skills. Check them out here: Communication Skills for Your Resume & Workplace Success
Active Listening
How can listening be considered "creative?" Well—through active listening you process ideas better so that you can challenge and refine them later during a creative brainstorming session.
Sales and Marketing
Selling and marketing require a great deal of persuasion. But first, you need to put together a creative message that will enhance your sales pitch.
Here's all you need to know about marketing skills: Marketing Skills: Examples and How to Use Them
Graphic Design
Where creative thinking meets art. Artistic craftsmanship is important in graphic design but without fresh, creative ideas, even your most beautiful sketches and projects will be dull and lifeless.
Leadership
Leadership is all about inspiring others. But when you have great leadership skills based on big and creative ideas and visions, you are able to connect teams and motivate them to work together towards the end goal.
Before we move on to examples of how to use creative thinking skills in your workplace and how to show them off in the job search, one thing to keep in mind—
Two terms that people often conflate are creative and critical thinking skills. But these are not the same.
Creative vs. Critical Thinking
Creative thinking means you can come up with new ways to think about the surrounding world in order to make something innovative.
Critical thinking can be described as "thinking about thinking:" it means you can understand the way your perception works in order to identify flaws in your reasoning and avoid biases.
3
How to Use Creative Skills in Your Job Search
Now that you've seen the best examples of creative thinking skills, think about how you can use these skills to better your career!
There are many great jobs that involve creativity—we've listed some of the most popular ones below.
If you're interested in landing one of them, just click on the position name and you'll see a dedicated guide on how to write a job-winning resume for your next creative gig.
Here's a list of creative careers you might want to consider!
Jobs for Creative Thinkers
And what sorts of creative gigs are hot right now? Let's see some statistics—
Recent research by The Creative Group revealed that the top 10 areas for creative hiring will be:
Web and mobile development
Web production
User interface and interaction design
Creative development
Visual design
User experience
Digital marketing
User research
Art direction
Social media / marketing strategy (tied)
Creative Thinking Skills on a Resume
If you don't want to read whole in-depth guides but just need some inspiration for putting your creative skills on a resume, see some examples below.
Creative Thinking on a Resume—Writer/PR Specialist
Skilled at writing all types of Public Relations texts: press releases, blog posts, bulletins, emailing campaigns (outreach emails, sales emails, engagement emails).
Able to produce up to 1,500 words of great, unique content on a daily basis.
Creative Thinking on a Resume—Graphic Designer
Collaborated on a project to create layouts and images for written online content.
Contributed to a customer site that won a 2016 Shopify Ecommerce Design Award.
Creative Thinking on a Resume—UX/UI Designer
Spearheaded all design elements, templates, and brand consistency.
Boosted UX scores by 25% above average for the company.
Creative Thinking on a Resume—Marketing Manager
Supervised all stages of digital marketing, creative and operational.
Introduced an incentive-driven A/B testing competition among team members which resulted in increasing landing page conversions by 114% in 4 months.
When making a resume in our builder, drag & drop bullet points, skills, and auto-fill the boring stuff. Spell check? Check. Start building a professional resume template here for free.
When you're done, our online resume builder will score your resume and our resume checker will tell you exactly how to make it better.
Already landed an interview for a job that requires creative thinking skills? Be prepared to face some...
Creative Thinking Interview Questions
Recruiters and hiring managers won't automatically believe everything you put on your resume. Especially when it comes to transferable soft skills such as creative thinking.
Be prepared to prove your creative prowess during an interview.
To get ready for what's ahead of you, see these sample creative thinking interview questions and answers.
Describe a time when you had to think "outside the box" to solve a problem. How did you handle it?
My coworker let a big order of defective parts get all the way to shipping. That was bad and created a lot of scrap. After, I suggested we install mistake-proofing so it could never happen again. We created some dies with pins in them so the parts can only be put into the machines one way. We haven't had a single defect since.
Tell me about a presentation you've created that you're most proud of.
We had to convince a big client to go with a costlier alternative that would ultimately make them higher profits. I put together a demonstration based on 10 real-world applications. They not only went with our suggestion, they became a long-term client.
Tell me about a time you used writing and communication skills.
I wrote reports as part of my daily shift. I chose to prepare the reports based on single case studies and examples to better illustrate data. My department head frequently commented that my reports were the shortest and easiest to understand of all the officers.
Interview questions that test creative thinking skills are usually situational interview questions. You can learn more about them here: Situational Interview Questions and the Best Answers (30+ Examples)
3
How to Be More Creative: 5 Tips for Increasing Creativity Today
Most people tend to think that creativity is a gift. Something you're either born with or just have to accept living without.
Truth it, there are ways to become creative. And creative thinking skills are one of the most fun skills to learn!
Here's what you can do to boost creativity:
1. Step outside of your comfort zone
Research has proven that one of the biggest obstacles for creativity is working or thinking within ideas we're already familiar with.
In an experiment, a group of college students were asked to imagine, sketch out, and describe extraterrestrial animals. As it turned out, most of the animals they initially created were very similar to the earthly ones.
But—
The more "limitations" researchers imposed on students (e.g. animals have to have feathers and be able to survive in certain conditions), the more creative the students' ideas became.
When you're facing a creative challenge, try to constrain your work to a certain level (for instance, when making a presentation, force yourself to begin each slide with a verb in active voice, or set a more stringent word count limit on your writing assignment).
This way, you'll encourage your brain to come up with creative solutions to work around the limitations you've set for yourself.
2. Brainstorm
Brainstorming is a perfect combination of creative thinking skills and teamwork.
It's based on thinking about a solution to a problem or a creative task, and jotting down all ideas any member suggests—regardless of how preposterous or out-of-place these might seem.
Out of all the ideas, some will most likely be both possible and innovative. But you can add an interesting twist to brainstorming—
Instead of picking the best ideas and trying to develop them further, pick the worst ones. Then, focus on these ideas and try to find their good features. Or try to come up with solutions to transform a terrible idea into a good one.
I guarantee, you'll find out something creative you'll be able to transfer over to the good ideas.
3. Force yourself to work when you're feeling uninspired
As a professional writer, I have to find ways to overcome writer's block—otherwise, there would be weeks when I wouldn't write a single word.
Even when you feel like creative work is the last thing you're capable of on a given day, commit to doing it anyways, but work in limited, short periods of time (for example, 20 minutes).
During these periods, don't let anything distract you, don't try to do anything else—just work on the thing you've committed to do.
If you write only 5 words, draw just two lines, or note down a single idea that doesn't even make sense, it's fine. Once the 20 minutes are over, take a break. Whenever you feel ready, start another 20 minutes.
After a few iterations, you'll notice that you get more and more done within the set chunk of time and you'll no longer feel relieved when it's time for a break. Soon, you'll be back to your creative best.
4. Work, daydream, work
Many studies have suggested that disconnecting mentally, daydreaming, dancing, or even simply napping helps enhance creative thinking skills.
But there's only one study I found that highlights a very important aspect of daydreaming: it only works once you've already invested a considerable amount of time in a given project.
The deeper you are in the creative process, the more unplugging for a while or daydreaming can help you further.
(So keep that in mind the next time you'll feel like taking a nap as an excuse for leaving your workspace!)
5. Think about love (or sex)
A fascinating study has shown that thinking about romantic love helps enhance holistic thinking, thus, enabling us to be more creative when it comes to understanding a "grander scheme" of things.
Thinking about the experience of sexual encounters, in turn, boosts the perception of present, concrete details, letting us see and analyze patterns more sharply and quickly.
Plus, a great cover letter that matches your resume will give you an advantage over other candidates. You can write it in our cover letter builder here. Here's what it may look like: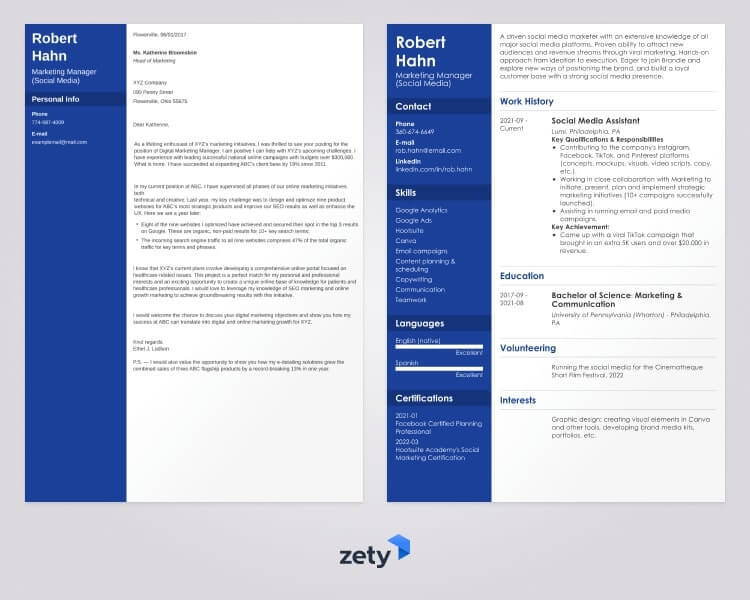 See more cover letter templates and start writing.
Key Takeaway
Here's a quick recap of everything you need to know about creative thinking skills:
Examples of creative thinking skills include: problem solving, writing, visual art, communication skills, and open-mindedness.
Top areas for creative hiring will be: web and mobile development, web production, user interface and interaction design, creative development, and visual design.
To show your creative thinking skills on a resume or during a job interview, don't just list them: provide real-life examples of how you used them.
The best strategies to increase creativity are: leaving your comfort zone, brainstorming, forcing yourself to overcome a creative block, unplugging mentally after you've begun working on a project, and... thinking about romantic love!
What creative thinking skills do you think are most important today? Do you have any questions about how to put creative thinking skills on a resume or discuss it during a job interview? Drop me a line in the comments and I'll get back to you straight away!
About Zety's Editorial Process
This article has been reviewed by our editorial team to make sure it follows Zety's editorial guidelines. We're committed to sharing our expertise and giving you trustworthy career advice tailored to your needs. High-quality content is what brings over 40 million readers to our site every year. But we don't stop there. Our team conducts original research to understand the job market better, and we pride ourselves on being quoted by top universities and prime media outlets from around the world.