People imagine that a life of a PR pro is all about fancy lunches or champagne parties. But for you, it consists of tough negotiations and constant pressure. And competition for PR positions is just as tough as the industry itself.

In order to stand out from other applicants, you need the best public relations resume in the pile. A PR resume that proves you can build long-lasting relationships, deliver creative ideas, and produce excellent promo material. Sounds tough? Don't worry. It's easier than you think. You're about to see a perfect public relations resume example.
This guide will show you:
A public relations resume sample better than 9 out of 10 other resumes.
How to write a PR resume even if you have no experience.
Tips and examples of how to put skills and achievements on a PR resume.
How to describe your experience on a resume for PR positions to get any job you want.
Here's a sample resume for a public relations specialist made using our resume builder.
Want to save time and have your resume ready in 5 minutes? Try our resume builder. It's fast and easy to use. Plus, you'll get ready-made content to add with one click. See 20+ resume templates and create your resume here.
Sample resume made with our builder—See more resume examples here.
If you're considering other jobs in marketing and media, check the guides below:
ALso remember that having a Professional Public Relations Cover Letter may boost your chance to get the job!
Public Relations Resume Example
Anna Mears
Public Relations Specialist
123-456-7890
anna.mears@email.com
linkedin.com/in/anna.mears
Summary
Dedicated Public Relations Specialist with over 5 years of experience fostering and enhancing public relations for high-profile companies. Committed to supporting Masters PR Agency in crafting compelling narratives and building strategic partnerships that elevate its brand's image. Managed a $500,000 PR budget for a major client of ProConnect Communications while reducing costs by 20%.
Experience
Public Relations Specialist
ProConnect Communications, Fort Worth, TX
April 2016–Present
Key Qualifications & Responsibilities
Developed and executed strategic PR campaigns that increased brand recognition by 30%.
Organized over 50 successful press conferences, public events, and product launches.
Maintained a strong network of industry connections to optimize brand visibility.
Wrote more than 100 press releases.
Key Achievement:
Managed a $500,000 PR budget, reducing costs by 20% by procuring cost-effective services.
Public Relations Associate
ImageCraft Public Relations, Fort Worth, TX
June 2013–March 2016
Key Qualifications & Responsibilities
Drafted press releases, media advisories, and other vital PR documents.
Assisted in planning and organizing public events and conferences.
Collaborated closely with senior PR agents in managing and maintaining client relationships.
Key Achievement:
Successfully pitched and secured 5 features in top-tier media outlets within the first year.
Education
Bachelor of Science in Public Relations
Texas State University, San Marcos, TX
August 2009–May 2013
Relevant extracurricular activities
Member of the Public Relations Student Society of America (PRSSA),
Wrote articles for the school newspaper,
Academic achievements
Dean's List from 2010-2013.
Awarded "Outstanding Student in Public Relations" in 2013.
Skills
Crisis Management
Strategic Planning
Media Relations
Social Media Strategy
Brand Management
Excellent Communication Skills
Strong Network of Media Contacts
Multitasking Abilities
Certifications
Certified Public Relations Specialist, Public Relations Society of America, 2015
Awards
2019, PR Campaign of the Year, ProConnect Communications
2013, "Outstanding Student in Public Relations", Texas State University
Memberships
Member of the Public Relations Society of America since 2015
Successfully organized the annual PRSA conference in 2017 and 2018.
Languages
English—Native
Spanish—Intermediate
Interests
Writing a personal blog focused on public relations trends and strategies.
Volunteering as a PR consultant for local non-profit organizations.
1
What's the Best Format for a Public Relations Resume?
Although PR is a creative industry, what really matters in this hectic field is your ability to get your point across quickly and concisely.
That's why the best idea is to keep your PR resume simple and relevant.
How to achieve that?
By proper resume formatting.
Choosing the right format for your public relations resume will let you emphasize the pinnacle of your career.
A poorly formatted resume, on the other hand, is an instant deal-breaker. As a PR pro, you're expected to excel in written communication. Make your resume show that!
Choose the respected, elegant, reverse chronological format for your public relations resume. It's the gold standard of every recruitment process. It contains all the key details about your career journey and makes your selling points obvious to the recruiters.
List your most recent job first - it's the one that matters most for your future employers. Then, follow it with your previous position in reverse-chronological order.
Not enough experience to make an impressive public relations resume in reverse-chronological format?
Are you writing an entry-level PR resume with no experience to list at all?
The reverse-chronological resume format is still your best shot.
If you're an entry-level PR candidate, put your education section above your work experience.
Elaborate on your coursework or academic projects. In the work experience section list your volunteer gigs or part-time jobs. Even a one-off non-profit freelance piece you wrote during your studies is worth mentioning.
Once you've finished writing your reverse-chronological PR resume, save it as a PDF to make sure the formatting stays intact.
Check if the employer accepts PDFs first. Some applications are scanned by Applicant Tracking Software (ATS), and the ATS bots can sometimes choke on a PDF.
If such is the case - send your PR resume in Word.
Pro Tip: In PR industry, many vacancies are not advertised. Employers expect applicants to be tenacious and proactive, so a solid resume sent directly to the employer might just do the trick.
You can make sure your resume will hook every recruiter and get you that interview. How? Get our free checklist and learn what makes a job-winning resume: 46 Things You Need To Do Before You Send Your Resume
Want to learn more about how to make a public relations resume in the reverse-chronological format? Read our guide: Chronological Resume Template & 20+ Examples [Complete Guide]. Want to see some resume examples for entry-level PR candidates? See our article about best resumes for freshers: Entry-Level Resume: Sample and Complete Guide [+20 Examples]
2
How to Write a Public Relations Resume Objective or Resume Summary?
Here's how. As a PR person, you've probably written dozens, or even hundred of press releases, right?
So you know better than anyone else that the key to effective writing is getting right to the point in the first paragraph.
Reporters are busy people, so you assume that they will only read the first two sentences and ignore the rest of your press release.
You know who's busier than reporters?
PR recruiters.
They won't care about PR resumes more than reporters do about bulletins. In fact, recruiters usually take only about 6 seconds to scan a single resume.
Luckily, there's a way to make them actually pay attention to your application.
How?
Start your PR resume with either a resume objective or a resume summary - a brief, informative paragraph that explains why you're a perfect candidate for the job.
A resume summary highlights your career progress and achievements.
A resume objective, in turn, shows what skills you've mastered and how you'd fit in.
Should you choose a resume objective or resume summary for your PR resume?
A public relations resume objective is the best choice for:
Entry-level public relations resumes
Public relations intern resumes
Junior PR resumes and resumes for PR assistants with little work experience
Resumes for career-changers, e.g., ex-journalists switching industries
A PR resume summary, on the other hand, should be used in:
Experienced PR resumes
Senior PR specialist resumes
Resumes for executive positions such as PR Manager or PR Director resumes
Resumes for specialized positions
Write it how you'd write the first paragraph of a crucial press release. Highlight the most impressive relevant strengths. Give a clear statement of who you are, what you can do, and how valuable you'll be to the lucky company that hires you.
Include hard numbers. Be accurate and, last but not least, make it engaging: convince the recruiters that reading your whole resume won't be a waste of their time.
Have a look at these example PR resume objectives and PR resume summaries.
Here's a sample junior PR specialist resume objective:
right
Results-driven Berkeley graduate in Journalism and Social Communication seeking to leverage two years of internship and freelancing PR experience with Newton Software Communications Team. Experienced in producing engaging online content [Add a LINK to your portfolio] and press releases for tech start-ups and local IT companies. Non-profit blogger at [Add a LINK to your blog].
wrong
Recent Berkeley graduate experienced in writing blog articles, social media entries, and press releases. Looking for a PR job where I could apply my skills and knowledge and learn more about PR industry.
See the difference?
The candidate from the right example might not have oodles of professional experience under her belt, but she was super specific about what she's already accomplished and added links to her best samples.
The right PR resume objective sample is also focused on what the candidate can offer the employers.
The wrong example, on the other hand, basically says "I want a job because I studied to get a job and I want to learn from you."
Now, let's compare two marketing PR resume summary examples:
right
Senior PR specialist with 9+ years of experience in marketing and corporate public relations. Pitched press releases to the most prominent industry magazines to secure over 20 leads a month in top media outlets. Ensured appropriate placement of product information. Managed multiple PR and marketing annual budgets ranging from $5,000 to $300,000. Helped increase clients' annual sales by up to 40%.
"Who is this guy? The next Ogilvy, or what?"
This PR resume summary is guaranteed to get this kind of response from the recruiters. They'll be dying to read the whole resume.
wrong
PR manager with extensive experience in writing editorials and press releases. Developed and maintained relationships with internal and external stakeholders. Developed and implemented successful PR strategies for multiple clients. Promoted positive company image and engaged in employer branding and CSR initiatives.
Not awful, right? But it contains no specifics and no hard data. Plus, it's full of corporate PR buzz words and jargon.
When making a resume in our builder, drag & drop bullet points, skills, and auto-fill the boring stuff. Spell check? Check. Start building a professional resume template here for free.
When you're done, our free resume builder will score your resume and our resume checker will tell you exactly how to make it better.
Hungry for more advice and tips on how to write a PR resume summary or resume objective? See our guides: "How To Write A Resume Summary: 21 Best Examples You Will See" and "+20 Resume Objective Examples - Use Them On Your Resume (Tips)"
3
How to Describe Your Public Relations Experience
On a good PR resume, you don't tell the employers you're a savvy PR person. You show them that.
And the work experience section of your public relations resume is the most important one for convincing the recruiters you're the right candidate.
Here's how to write it:
Start with your current or most recent job. Then, work your way back through the course of your career and list all your previous positions in reverse-chronological order.
Under each position, add up to six bullet points to showcase your accomplishments.
Be specific. Say what you've done for agencies, clients, or brands. Quantify whenever possible, provide links to your articles, videos, or presentations.
Easy, right?
That's why it's not enough.
To land your dream PR job, you'll need to go the extra mile when writing your professional public relations resume.
How?
Just as you don't send an identical press release to each and every one of your mailing list contacts, don't flood the employers' inboxes with the same PR resume.
You need to tailor your resume to each job you're applying to.
If you really want to work for a company, get that message through on your resume. Even if you've sent out 50 of these, don't let the recruiters feel that.
Here's how tailoring works:
Read the job ad carefully. Note out all the duties you'll be expected to perform. The recruiters will be looking for the same exact keywords on your PR resume.
If you see responsibilities that you've already had, mention them in your work experience section.
Let's see some examples:
Here's an entry-level PR specialist job description:
Responsibilities:
Press Relations:
Filling product placement requests from the media
Creating and maintaining media lists as needed (1)
Writing product pitches (2)
Researching new media opportunities (3)
Support creating media materials and press kits (4)
Lead a small project (5) from start to finish
Help in the organization of events (6)
PR Administrative:
Respond to media inquiries (7)
Manage PR Placement Reports
Support other product line PR campaigns as needed
And here's an entry-level public relations resume work experience sample:
right
Public Relations Intern
Adidas Originals, 06-2017 - 10-2017
Boston, MA
Created and maintained lists of media contacts (1)
Researched opportunities (3) across online media channels

Produced product pitches (2)

and press kits (4)
Supported event organization (6)
Responded to media inquiries (7)
Key achievement: Lead a project team (5) in designing and implementing a comprehensive social media relations strategy for a new line of lifestyle products - grew Facebook fan base from 0 to 12,000 in 4 months [LINK to the Facebook fanpage], gained 35,000 Instagram followers [LINK to the Instagram account] in 3 months.
Wow, right?
Not only did the candidate tailor his resume to the job description, but he also used three crucial strategies.
First, he described his key achievement by using the PAR (Problem Action Result) formula.
Problem: A new line of products was not popular enough on social media.
Action: Designed a new social media relations strategy.
Result: 0 to 12,000 Facebook fans in 4 months, +35,000 Instagram followers in 3 months.
Secondly, he used PR resume action words.
What do we mean by that?
Don't say that you were responsible for "creating" press releases, "producing media kits," or "supporting" event organization. These sound as if you were just doing whatever you were told to do.
On the other hand, verbs like "Created," "produced," or "supported" make you come across as enthusiastic and proactive.
The third thing you should do in a good public relations resume work experience section?
Provide links to your portfolio.
The candidate above linked to the Facebook and Instagram fan pages he was responsible for. It's sure to grab the recruiters' attention - it demonstrates the candidate's writing skills and success in getting coverage.
ProTip: The public relations industry is all about one-page resumes. Your PR resume needs to prove that you're able to present information in a concise, coherent way. Leave storytelling for your PR cover letter.
Need some more ideas on how to write a public relations resume work experience section and what achievements to mention? Check out our guide: "How to Put Achievements on a Resume - Complete Guide (+30 Examples)"
4
Is Your Education Section Underperforming? It Might Be.
Most of the time, putting your education on a professional PR resume is pretty straightforward.
If you're an experienced PR person, just enter your highest degree of education.
Here's a senior PR resume sample education section:
right
2007 MA in Social Communications, specialization in PR and Media Marketing
Stanford University, Stanford, CA
ProTip: The common advice is to list your GPA if it's higher than 3.5. The truth is, if you have any relevant professional experience, you should not include your GPA on your resume.
Things get tougher if you're writing an entry-level public relations resume and have little professional experience.
In this case, your education might be your best asset.
There are two things you should do:
Put your education section above your work experience.
Describe your coursework, enter the title of your thesis, write about favorite areas of study and list your academic achievements and extracurricular activities.
A detailed education section will show that you've got sufficient knowledge to perform well in your future job. It will demonstrate your sense of purpose in starting out on a PR career.
Want to read some more expert tips and examples of how to make the most of your education section? Have a look at our guide: "How to Put Your Education on a Resume [Tips & Examples]"
5
How to Put Skills on a PR Resume
What does a public relations manager do?
As a PR professional, you have to be at once a writer, a marketer, and a consultant.
In other words - everything.
Nowadays, you also have to be proficient in digital communication and fluent in social media relations. All of those skills are expected of you in all kinds of PR jobs.
So you need to have a stellar skills section on your public relations resume to exhibit your qualifications.
Here's how to write it:
Start with a spreadsheet. List all your professional skills.
Skills for a PR resume usually fall in one of the three categories:
PR-specific hard skills
Social media skills
Transferable or "soft" skills
Have a look at a sample PR resume skills list:
Skills to put on a public relations resume - examples
Public Relations Resume Skills

| | | |
| --- | --- | --- |
| PR-specific skills | Social media skills | Transferable "soft" skills |
| Copywriting | Facebook marketing | Written communication |
| Editing | Instagram | Networking |
| Research | Google+ | Flexibility |
| Media relations | CMS platforms | Team management |
| Crisis management | Twitter | Critical thinking |
| Media outreach | Influencing | Negotiation |
| Budgeting | LinkedIn marketing | Reliability |
| Brand management | Posting | Timeliness |
| Drafting pitches | Customer engagement marketing | Creative thinking |
| Speed writing | Social media analysis | Customer service |
What's next?
Once you've filed all your key abilities in your spreadsheet, read the job description.
Look for skills-related keywords and highlight them.
Then, ask yourself which of these skills you have. Quite a few, right?
So put those skills in your PR resume skills section. Don't list all of your skills. You don't have space for that. Include skills most relevant to the employer's needs.
We can't stress that enough: tailoring is key to an effective PR resume.
ProTip: It's okay if you repeat some of the information from your work experience section. It makes your resume consistent and more believable.
Need some more ideas on how to make the best PR resume skills section out there? See our guide: "+30 Best Examples of What Skills to Put on a Resume (Proven Tips)"
6
How to Add Other Sections for an Effective PR Resume
Reliability, truthfulness, solid evidence, relevance.
That's the name of the game for every serious PR person. Whatever piece you write, first you present information, then you support it.
Apply the same strategy on your resume. Add an extra section that provides proof that you're a valuable candidate.
List your unquestionable triumphs.
Such as?
Have a look at some ideas for an additional section on a professional senior public relations resume:
Industry awards
Certifications
Publications in peer-reviewed journals
Influencing on social media
Additional training and participation in conferences
If you're at the beginning of your career and cannot yet showcase any of the above, don't freak out. A junior PR resume can still benefit from an extra section.
ProTip: Follow PR agencies on Twitter and LinkedIn and comment on their materials - share your views, ideas, and insights. It doesn't take much to become an influencer. Just get people to realize that what you're sharing is valuable.
Here are some ideas:
Volunteer experience
Hobbies and interests
Academic achievements
Personal blog
Academic achievements or volunteer experience exhibit your dedication to the industry and your genuine passion for public relations.
Hobbies and interests, in turn, can show that you're a cultural fit for the company. And nowadays it matters more and more.
Not quite sure what to include in the extra section of a good PR resume and what to leave off? Read our guide: "20 Best Examples of Hobbies & Interests To Put on a Resume (5 Tips)"
7
Here's the Most Common Myth About Cover Letters
"No one reads cover letters, so why write one."
Did you seriously entertain that thought?
PR cover letters are as important as resumes. Or more important.
Why?
Writing skills are an absolute must-have for a PR specialist. What better way to provide the employers with a sample of your writing skills than a captivating, flawless PR cover letter?
Moreover, a PR cover letter gives you a unique opportunity to say why you're interested in the job and suggest your own ideas tailored to the needs of the organization you're applying to.
Don't ever feel too shy to share your insights and suggestions. Mention specific examples of your prospective employer's work and suggest how you could help them improve.
ProTip: Without top-notch research skills, you're no PR person. Use your cover letter to showcase those skills! Look up the recruiter's name and address your public relations cover letter directly to them. That's what's expected of you (even if it's not mentioned in the job ad).
Plus, a great cover letter that matches your resume will give you an advantage over other candidates. You can write it in our cover letter builder here. Here's what it may look like: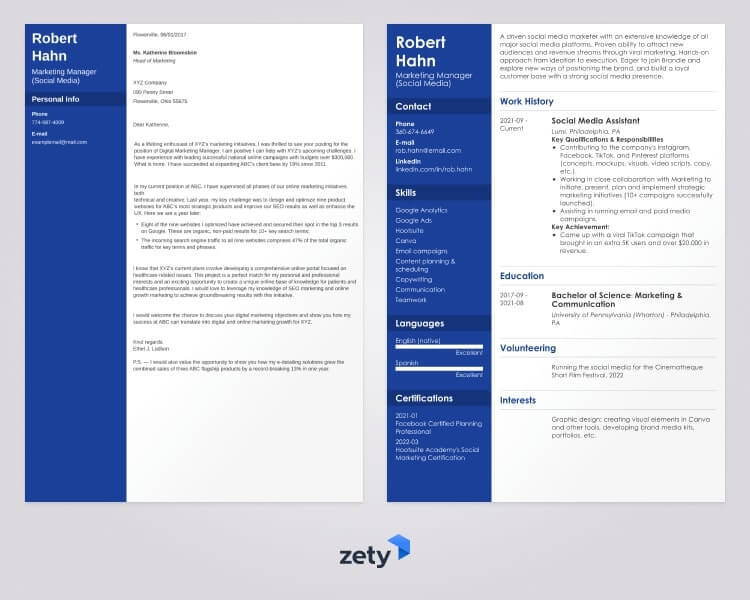 See more cover letter templates and start writing.
And if you want to get some extra tips on how to make the most of your public relations cover letter, read our dedicated guide: How To Write A Cover Letter [Complete Guide With Examples]
Finally, if you're looking for a sample cover letter worthy of a PR pro, head straight to our guide Journalism Cover Letter: Sample, Proper Format, & Writing Guide
Key Takeaway
The difference between public relations and advertising is that while advertising screams "BUY THIS PRODUCT," PR calmly states "this is important."
Your PR resume needs to show that you are aware of that contrast. To have a resume like that, use these strategies:
Write a carefully crafted resume summary or a resume objective - show the recruiters that your candidacy is their opportunity to hire a top-class PR pro.
Make your resume about the employer's gain, not your personal profit.
Tailor your work experience section to the job description to assure your potential employers that you have the skills and knowledge their organization needs.
Include links to your portfolio so that the recruiters can see for themselves how great your pieces are.
Spice up your resume by listing measurable achievements, showing off your relevant skills, and adding additional sections that prove your value.
All check?
Then here's our last piece of advice:
Keep your phone charged and ready. You can expect loads of phone calls from recruiters.
Do you have any questions on how to write a PR resume? Not sure how to describe your social media skills or top achievements? Give us a shout in the comments, and we'll answer your questions!
About Zety's Editorial Process
This article has been reviewed by our editorial team to make sure it follows Zety's editorial guidelines. We're committed to sharing our expertise and giving you trustworthy career advice tailored to your needs. High-quality content is what brings over 40 million readers to our site every year. But we don't stop there. Our team conducts original research to understand the job market better, and we pride ourselves on being quoted by top universities and prime media outlets from around the world.