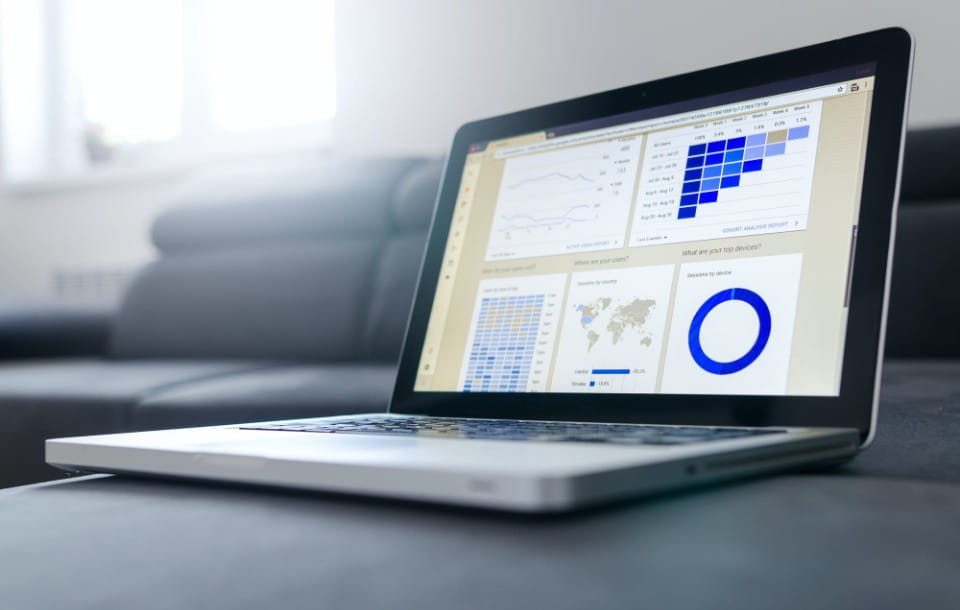 Entry Level Marketing Resume Sample and Job-Landing Tips
From David Ogilvy's follower to his successor. Here's how to show you're the next Don Draper with an entry-level marketing resume.
Writing an entry-level marketing resume can be hard when you have little to no experience. Yet, you have one huge advantage over your senior colleagues—you've been breathing social media since birth.
Meaning—you're more tech-savvy than the rest of them. And you're about to learn how to show it in your resume. If the names MySpace, Napster, or Netscape mean nothing to you—you're in the right place.
This guide will show you:
An entry-level marketing resume sample better than 9 out of 10 other resumes.
How to write an entry-level marketing resume that will land you more interviews.
Tips and examples of how to put skills and achievements on an entry-level marketing resume.
How to describe your experience on a resume for an entry-level marketer to get any job you want.
Want to save time and have your resume ready in 5 minutes? Try our resume builder. It's fast and easy to use. Plus, you'll get ready-made content to add with one click. See 20+ resume templates and create your resume here.
Sample resume made with our builder—See more resume examples here.
Find resume guides for marketing-related jobs that you can explore:
As you're just kicking off, see other entry-level job guides, too:
Sample Entry Level Marketing Resume Template
Ella R. Brown
3559 Turkey Pen Road
Brooklyn, NY 11206
917-255-3067
ellarbrown@gmail.com
linkedin.com/in/ellarbrown
instagram.com/ellarose_brown
Objective
A dedicated Dean's List achiever aspiring to secure an entry-level marketing position. Motivated to gain practical marketing experience at Ga!n, a top-level advertisement agency. Created a viral post on Instagram, reaching over 2000 likes, and increased Berkley's College's page views by 30% with pitched stories.
Education
2021 Marketing Communications Bachelor of Business Administration Degree (B.B.A.)
Berkley College, New York, NY
Volunteering: Co-running Berkley College's blog page—pitching topics and writing stories, increasing readership and page views by 30%.
Relevant Coursework: Consumer Behavior, Branding, Services Marketing, Strategic Marketing, Business Law, Principles of Marketing.
Honors & Awards: Dean's List all semesters.
Experience
Marketing Intern
MarkItIn, New York, NY
August 2020
Contributed to organizing an event for our tech client, merging online streaming and offline presentations for 250+ audiences.
Assisted in managing an online presence of the event on 6 social media outlets (Facebook, Instagram, LinkedIn, TikTok, Clubhouse, Apple Podcasts).
Key achievement:
Created a viral Instagram post that got 2000+ likes and grew the client's followership by 235% in a week.
Volunteering
TEDxNewYork, New York, NY
September 2019
Wrote pre- and post-event blog posts to build engagement around TEDxNewYork, reaching over 200+ views.
Collaborated with branding on creating the landing page copy for the event's official website, maintaining a 63% bounce rate.
Skills
Social media expert: Facebook, Instagram, TikTok, LinkedIn, Clubhouse
Communications skills
Social perceptiveness
Analytical skills
Critical thinking
Project management
Languages
Courses
Marketing in a Digital World, University of Illinois (Coursera)
Social Media Marketing (Coursera)
The Strategy of Content Marketing, University of California (Coursera)
Introduction to Google SEO, Northwestern University (Coursera)
Hobbies & Interests
Running my own Instagram account with 7000+ followers
Reading content marketing books
This is how to write a job-winning entry-level marketing resume:
1. Format Your Entry Level Marketing Resume
An entry-level marketer does various tasks depending on the marketing team they'll be working in. Their duties can range from digital marketing, customer service, search engine optimization, social media marketing, email marketing, market research, sales to account management.
There's plenty of possibilities in the marketing sea, so think about which way you want to go. Then write your entry-level marketing resume tailored to the job description that gives you thrills.
Aesthetics play a huge role in every campaign. It's no different from writing a resume. Format your way to getting the job:
Worry not about your resume length. Go for: Crushing It With One-Page Resume
2. Make Your Reason Why Stand Out in a Resume Objective
It's not true that having no experience disqualifies you from landing a job. But—
It's true that there's huge competition. How to narrow it down to only yourself?
You might've heard a word or two about resume summaries and resume objectives. Both of them are like Mjölnir to Thor. Well-written will get your resume sky-high.
The difference between them is that a resume summary is best for someone with relevant experience for the position they're applying for. A resume objective, on the other hand, is better proof of your skills and character traits.
As an entry-level candidate, increase your click-through rate thanks to writing a mind-blowing resume objective:
Make it relevant by picking up words from the job description and tailoring your resume objective to it.
Mention 2-3 skills in your resume objective that will be an asset to the company.
Say how your hiring manager will benefit from hiring you.
Add resume action words to sound solid and confident.
Be sure to tell what position you're after and—what's even more important—write it correctly.
Write your resume objective at the finish line. It needs to relate to the resume sections, so even though it's a resume introduction, save it for the very end.
Having trouble with setting up your resume profile? See our guide: Professional Resume Profiles Examples
3. Shine Bright Like a Diamond in Your Education Section
Did you know that Steve Jobs dropped out of college? Well, in the 70s, resumes might've not been so important.
Today's different.
You want to say with your words and actions that you're engaged. That's how you achieve outcomes at school and your future job.
And since you have little to no (probably more of the latter) work experience, start with the education section of your entry-level marketing resume:
Pro Tip: Did you study abroad? Don't think too much about it and just add the student exchange program to your resume.
4. Include Work History in an Entry Level Marketing Resume With No Experience
Moving on to the part which probably scares you the most.
You must've been asking yourself this: What can I possibly write in the resume experience section if I don't have any work experience?
Well, you definitely can sit this one out, but you won't make a qualified lead. And you should want to be one.
Believe when we say—you do have experience. The thing is how to make it relevant experience.
There are some ways to convince the recruiter to subscribe to your resume:
Read through the job ad and catch the requirements.
Now think about all the stuff you've learned at school, during an internship, volunteer work, side gigs, or a graduate program, or when you tried finding your passion or new hobbies.
List and match them with your hiring manager's requirements.
Transfer your experience to your entry-level marketing resume using PAR (Project-Action-Result) statements.
Make them quantifiable and use numbers. This way, you'll stand out.
Start each bullet point with resume words. Wording your experience the ATS-friendly-way matters a great deal.
Learn how to put your superpowers on your resume. See our guide: Highlight Your Achievements In Your Resume With These Tips
5. Create a List of Skills That Flies High
On Instagram, positive vibes and short yet catchy captions charm its users. Let's face it—there's no better place to brag about your colorful and glamorous life.
Isn't it? How about your resume skill section?
Make a list of skills that are hashtag-worthy. Include soft and hard skills, industry-specific skills, marketing skills, technical skills, interpersonal skills, knowledge about software or tools, and whatever you know or can do that fits the job description.
Drill them into the marketing manager's mind by ensuring your skills have a solid ground in the resume profile, education achievements, and employment section.
Don't overdo it, though. List only those skills that are relevant to the position you're applying for.
What Skills To Include On An Entry Level Marketing Resume
Digital Marketing
Market Research
Storytelling
SEO
SEM
Google Analytics
Facebook Paid Ads
Social Media Paid Marketing
WordPress
So stressed you forgot what skills you have? Here's a reminder: 90+ Skills To List On A Resume
When making a resume in our builder, drag & drop bullet points, skills, and auto-fill the boring stuff. Spell check? Check. Start building a professional resume template here for free.
When you're done, our online resume builder will score your resume and our resume checker will tell you exactly how to make it better.
6. Make a Statement in the Additional Sections of Your Entry Level Marketing Resume
Marketing is a highly competitive area, and it's forever changing. You must stay on top of the topics that interest you to play this game.
Additional sections of your entry-level marketing resume will help you prove your flexibility:
Pro Tip: You can add online courses from Coursera, HubSpot, Udemy, or Google, too.
Now to the part you thought unnecessary for the 21st century.
7. Cast a Spell on Your Hiring Manager With the Cover Letter
Vine is a thing of the past now, but cover letters are still a vibe.
You have to write one to be considered for the job. Period.
Use these bullet points to see how to do it:
See cover letter templates: Free Cover Letter Examples
Plus, a great cover letter that matches your resume will give you an advantage over other candidates. You can write it in our cover letter builder here. Here's what it may look like: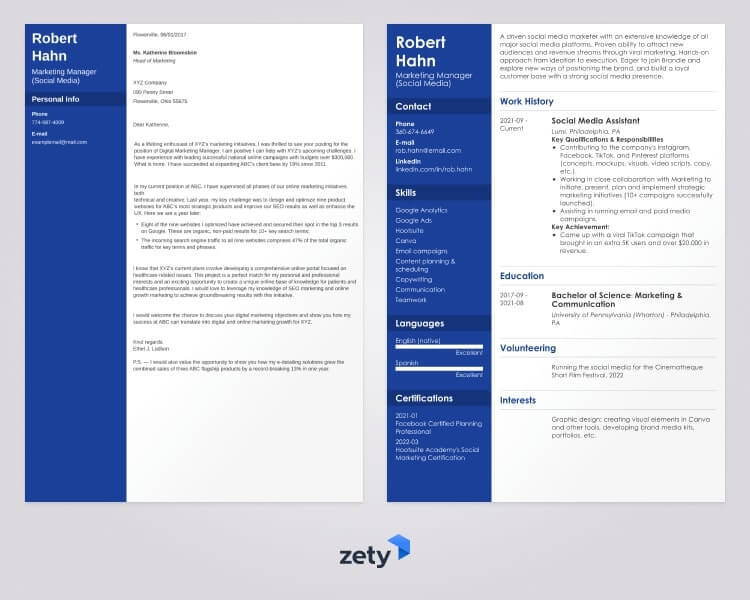 See more cover letter templates and start writing.
Well done you!
You've got everything you need to get that marketing job of your dreams. So, go and claim it!
Do you think the above tips are helpful? Is there anything missing? Give us a shout in the comments section!
About Zety's Editorial Process
This article has been reviewed by our editorial team to make sure it follows Zety's editorial guidelines. We're committed to sharing our expertise and giving you trustworthy career advice tailored to your needs. High-quality content is what brings over 40 million readers to our site every year. But we don't stop there. Our team conducts original research to understand the job market better, and we pride ourselves on being quoted by top universities and prime media outlets from around the world.