Our customers have been hired by:
When you don't know how to start a resume, most people will tell you to start at the beginning. But that's no help at all. In fact, it is better to write your resume introduction last. When your entire document is ready it will be much easier to pick out the things you want to show off.
In this guide you will learn how to write the perfect resume intro paragraph that will have recruiters reading on to the very end. Ready?
Want to save time and have your resume ready in 5 minutes? Try our resume builder. It's fast and easy to use. Plus, you'll get ready-made content to add with one click. See 20+ resume templates and create your resume here.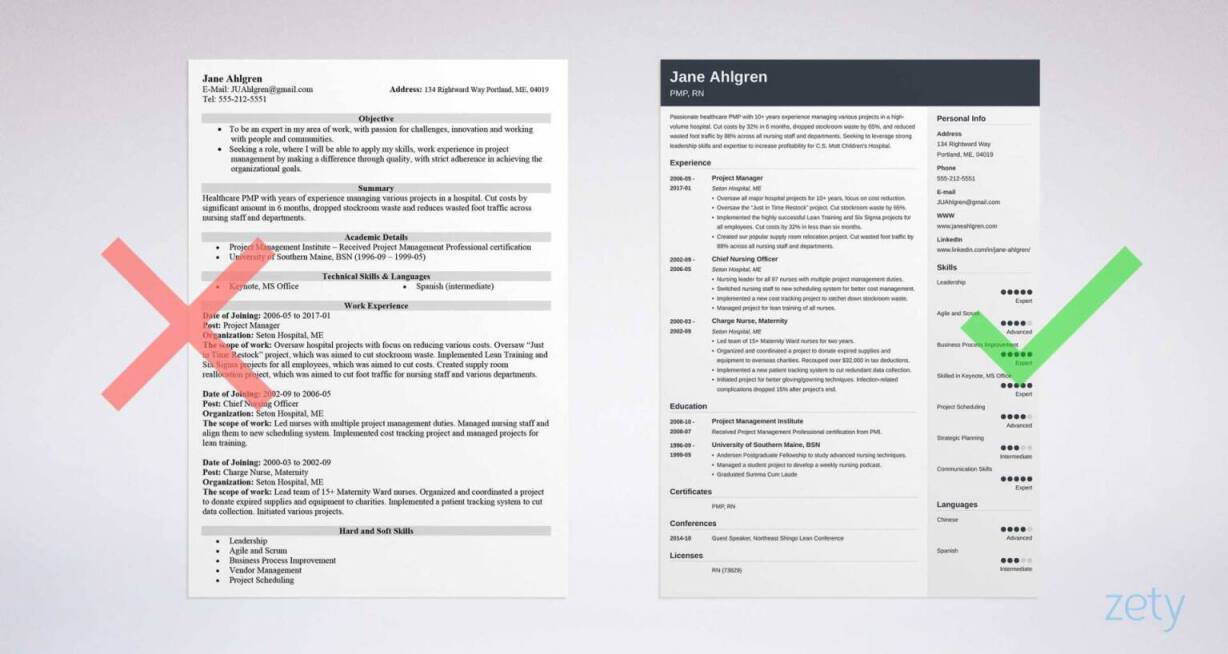 Sample resume made with our builder—See more resume examples here.
Check other tips that will help you overcome writer's block:
Choosing a Resume Introduction
If the first thing that comes out of your mouth when you meet someone is "what's up?" then it's safe to say that a lot of people are just going to turn the other way. The same goes for your resume.
But before choosing what you want to say, you need to think about how you're going to say it. What's the message you want to get across, what are your strongest selling points? Those are the things that you'll want to include in your resume profile.
The good news is that it doesn't really matter what industry you're in. From marketing to medicine, the guidelines around creating an introduction for your resume are the same.
Depending on your experience and skills, you have two versions of a resume profile to choose from:
Resume Objective
The resume objective is the go-to resume introduction if you're just starting your career or have little experience. It also works well for career changers.
The resume objective focuses on your skills and knowledge to show that you have the potential to be a successful employee.
Here's an example of a great resume objective for someone with no work experience and applying for an internship:
Resume Introduction Example
Diligent and driven university English student looking to leverage excellent writing and communication skills in journalism. Wrote 3 award-winning articles in university newsletter and wrote one guest blog post that generated 100K in traffic in one month. Eager to further develop researching and interviewing skills at internship at the Daily Gazette.
This example puts the focus on the skills and drive that the candidate has to prove that they're an investment worth the employer's time.
But what if you're changing your career focus after several years on the job? This example will show you how an objective can start your career change resume:
Sample Resume Introduction
Accomplished marketing professional with 4 years of corporate experience in social media management and advertising campaigns. Looking to leverage industry skills and abilities of raising awareness and sales through low or no budget marketing options for local NGO.
Although this candidate is completely switching sectors, the focus is on the skills and experience that the NGO can really take benefit from.
Read more: How to Write a Career Objective
Resume Summary
A resume summary is the resume introduction of choice for anyone who has several years of experience or those continuing on in their career.
The resume summary highlights your experience and acquired skills to demonstrate that you're the perfect candidate for the job. Here's a resume introduction example of a compelling resume summary:
Intro for a Resume
Outgoing project manager with more than 5 years of experience in working on high-level projects with mid-sized teams. Excellent relationship building and management skills which help deliver projects minimum $10K below costs and 10% faster than projected. Looking to leverage project management skills and know-how as a senior project manager at Acme.
This example underlines the key skills and quantifiable achievements of the candidate from the start and hooks the hiring manager into reading on.
So how can you write an intro just as good as the resume introduction examples above? We'll show you.
Read more: How to Write a Career Summary
Summary of Qualifications
A summary of qualifications is a bulleted list of achievements, skills, and relevant experience which proves you're a perfect fit for the job. You can think of it as a career summary presented in an easy-to-skim bullet point paragraph form.
Let's take the above-mentioned resume summary and change it into a qualifications summary.
Sample Introductions for a Resume
Outgoing project manager with more than 5 years of experience in working on high-level projects with mid-sized teams.
Excellent relationship building and management skills.
Delivered projects minimum $10K below costs and 10% faster than projected.
Looking to leverage project management skills and know-how as a senior project manager at Acme.
Easy, right? Simply choose the best 4-5 highlights from your resume and reword them into short bullet points.
Read more: Qualifications Summary Examples
Resume Headline
Having problems fitting the contents of your resume onto a one- or two-pages template? Choose a resume headline. A resume headline, also called a resume title, is a brief phrase at the top of your resume that shows your professional identity and highlights your strengths. It goes under your contact information.
See the examples below:
Introduction for a Resume: Example
Efficient marketing manager with 7+ years of experience who won the Clio Award
Diligent cybersecurity specialist with OSCP certification and 5+ years of experience
Project manager delivering projects 10% faster than projected
Bilingual CPR- and BLS-certified CNA with excellent team management skills
So how can you write an intro just as good as the resume introduction examples above? We'll show you.
Read more: Resume Headline / Resume Title Examples
When making a resume in our builder, drag & drop bullet points, skills, and auto-fill the boring stuff. Spell check? Check. Start building a professional resume template here for free.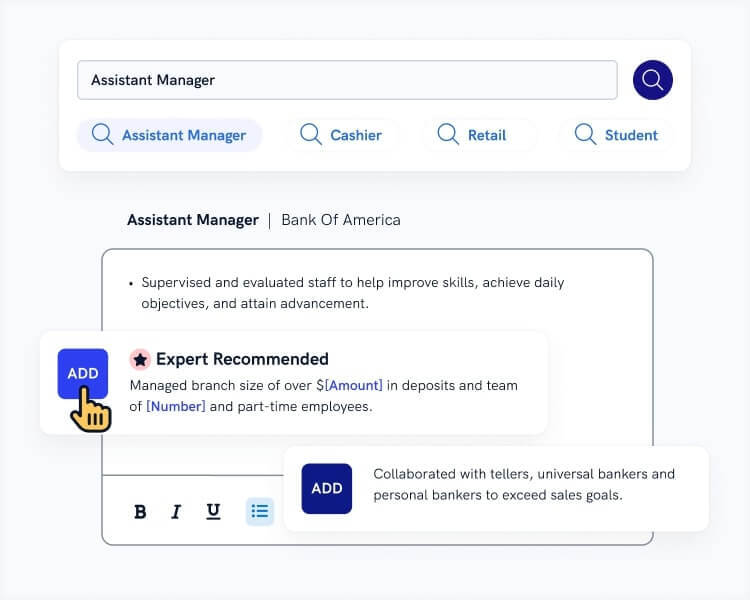 When you're done, our easy resume builder will score your resume and our resume checker will tell you exactly how to make it better.
Start With The Rest of Your Resume
Just because your resume opening statement is at the beginning of your resume doesn't mean that you can write and forget about it in the rest of your text. In fact, a good rule of thumb is to leave off writing your resume introduction until the end.
Why? Because your resume introduction (or, call it an intro to resume) needs to relate to the rest of your resume sections to get the most bang for your buck.
Writing your other resume sections like your work experience, skills, education, and additional sections can help you flesh out your accomplishments and key skills. Then, you can go back to your resume introduction and highlight those in your summary or objective.
Read more: How to Start Your Resume
How to Write a Resume Introduction in a Nutshell
Knowing whether to write a summary or an objective is just half the battle. Now you need to figure out what you're going to write. Here's how to write a compelling intro to a resume:
Keep it concise. You really don't need more than 3-4 powerful sentences.
Use your current job title to describe yourself as a professional accurately.
Describe your former work experience and tailor your resume intro paragraph to the position you're applying for. Use the job ad as a cheat sheet to focus on the attributes they're looking for.
Use action words to add some power to your statements and resume keywords for a more ATS-friendly resume template. Provide numbers if applicable.
Consider adding some greatest highlights on your work timeline. Is there something highly relevant and worth showing off? State it.
Show your worth. Add a note at the end on how you'd like to add value to the company and show the employer that this isn't just another job for you.
In the end, drop the name of the company for extra points and say how you want to contribute.
Always remember to proofread when you're finished. There's nothing worse than a few typos destroying the impression you worked so hard to build.
Read more: How to Write a Resume Profile
Plus, a great cover letter that matches your resume will give you an advantage over other candidates. You can write it in our cover letter builder here. Here's what it may look like: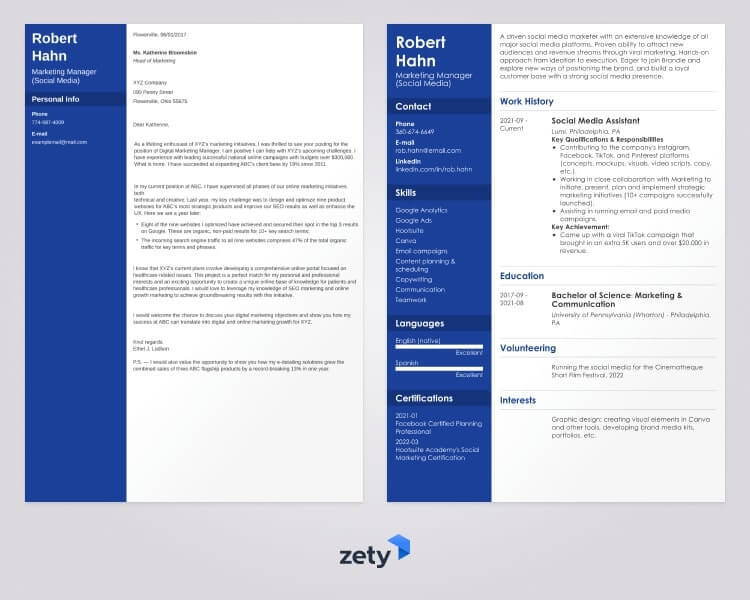 See more cover letter templates and start writing.
Key Takeaway
When writing your resume introduction keep the following things in mind:
Choose a resume summary or resume objective for your introduction for a resume.
Focus on your strengths and tailor your resume intro to the job ad.
Keep it concise, use action words, and make a statement about your worth.
Thanks for reading! Do you have any questions about writing a great resume introduction? Not sure how to craft a compelling intro for a resume? Let us know down in the comments below and we'll get back to you!
About Zety's Editorial Process
This article has been reviewed by our editorial team to make sure it follows Zety's editorial guidelines. We're committed to sharing our expertise and giving you trustworthy career advice tailored to your needs. High-quality content is what brings over 40 million readers to our site every year. But we don't stop there. Our team conducts original research to understand the job market better, and we pride ourselves on being quoted by top universities and prime media outlets from around the world.
Sources