It's time to make a career-changer's resume. But first:
It's a brave new world.
It's not just about finding a new job. It's about changing careers.
You're taking a leap of faith. Stepping into the unknown.
You're trading comfort and familiarity for a better life.
The problem?
The hiring manager's computer is awash with applications stuffed with actual experience.
Your career change resume must show you can do the job like Neil Armstrong. Even if you feel a little more like Frodo with a broken leg.
This guide will show you:
A career change resume example better than 9 out of 10 other resumes.
How to write a career change resume that lands more interviews.
Tips and examples of how to put skills and achievements on a career changer resume.
How to describe your experience on a resume for a career change to get any job you want.
Here's a sample resume for a career changer made using our resume builder.
Want to save time and have your resume ready in 5 minutes? Try our resume builder. It's fast and easy to use. Plus, you'll get tips and right vs. wrong examples while writing your resume. See +20 resume templates and create your resume here.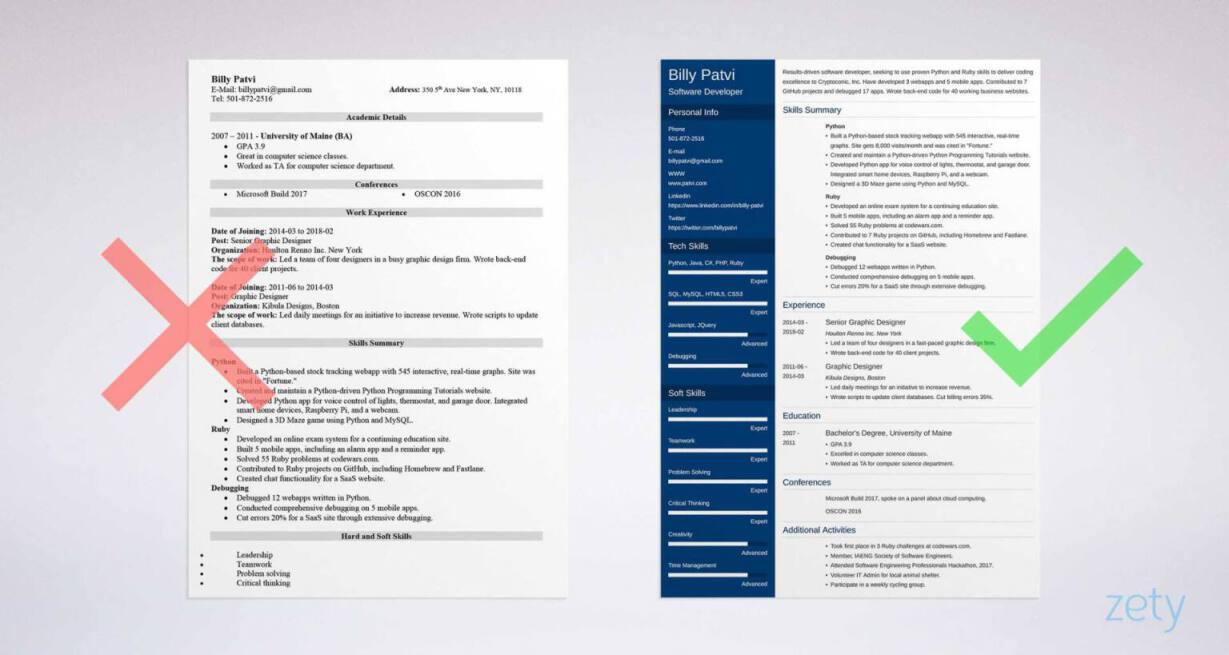 Career Change Resume Example - See +20 resume templates and create your resume here
Need to address employment gaps on your resume (and in interviews)? Also read: How to Explain Gaps in Employment
1
What's the Best Resume Format for Career Change?
The hiring manager—we'll call her Tracy.
She only cares if you can get the job done.
But you're a career changer, so you can't show that with experience.
You've got to prove your skills instead.
The combination resume format does that. That's why it's the best career change resume format.
It groups accomplishments by skill. It shows the manager you've done the work, even if you haven't held the job title.
A combination resume includes:
Contact Information
Resume Summary (Optional)
Skills Summary
Additional Skills
Work Experience
Education
"Other" Accomplishments
Build it with the best resume fonts, big headings, and enough white space to make it sparkle.
Finally, should you send your career change resume in PDF or Word format?
Modern PDFs are machine-readable. They work just fine with most Applicant Tracking Software (ATS).
One warning: check the job ad first. Like Rocky Balboa, it's good to know what you're contending with.
Pro Tip: When in doubt, save your resume for a career change as a PDF and an MS Word doc. Better to have it and not need it than need it and not have it.
Want to keep your options open for your career change resume format? See our guide: 3 Resume Formats: How to Choose the Best One [Examples]
2
How to Write a Resume Summary or Resume Objective
Picture a computer folder.
It's got 300 resumes in it.
The hiring manager is clicking through them, spending six seconds on each one.
What's to stop her glancing at your career change resume, thinking, "No experience," and moving on?
Answer: A resume summary or a resume objective.
A resume summary shows your best accomplishments that fit the job.
A resume objective shows passion when you lack experience.
I know, I know, you don't have experience. And passion alone won't count for much.
That's why you must cram it with your best transferable experience.
Check out these mid life career change resume objective examples:.
Sample Career Change Resume Objective
Most resume objectives just show passion.
As a career changer, you can't stop there, or you'll lose the hiring manager.
This objective from a resume for a career changer does it wrong:
wrong
Passionate project manager with skills in lean principles and defining requirements. No real-world experience yet, but ready to learn on the job!
Passion's great, but you're up against candidates with real experience. They may have passion too!
So, show achievements, like in this career change resume sample for a new software developer:
right
Results-driven software developer, seeking to use proven Python and Ruby skills to deliver coding excellence to Cryptoconic, Inc. Have developed 3 webapps and 5 mobile apps. Contributed to 7 GitHub projects and debugged 17 apps. Wrote back-end code for 40 working business websites.
That'll get the hiring manager's attention like a phoenix rising from its ashes.
But where can a career changer get experience like that?
That's in the next section on how to write a skills summary.
Pro Tip: Don't worry about writing a great resume summary for career change right off. Make the rest of your resume first, then build your summary from the choicest cuts.
Need more help to write a great career change resume objective or summary? See our guides: How To Write A Resume Summary: 21 Best Examples You Will See and +20 Resume Objective Examples - Use Them on Your Resume (Tips)
3
How to Write a Skills Summary for a Career Change Resume
This is not your grandfather's resume.
Most resumes show lots of work history that fits the job description.
Career changers can't do that.
But you can't just shrug and say, "I hope they hire me anyway."
You've got to prove you're worth the job like Dorothy deserved the ruby slippers.
Do that with a persuasive skills summary.
A skills summary shows you've used the skills that matter to the hiring manager.
The career change resume skills summary below shows how.
Career Change Resume Sample: Skills Summary
Here's a sample skills summary from a resume for a career change. It targets a job that seeks skills in Python, Ruby, and debugging.
Python Skills
Built a Python-based stock tracking webapp with 545 interactive, real-time graphs. Site gets 8,000 visits/month and was cited in "Fortune."
Created and maintain a Python-driven Python Programming Tutorials website.
Designed a 3D Maze game using Python and MySQL.
Ruby Skills
Developed an online exam system for a continuing education site.
Built 5 mobile apps, including an alarm app and a reminder app.
Contributed to 7 Ruby projects on GitHub, including Homebrew and Fastlane.
Debugging
Debugged 12 webapps written in Python.
Cut errors 20% for a SaaS site through extensive debugging.
Wow. You're off to see the Wizard. Who says you don't have experience?
That career changer resume skills summary lists accomplishments. They're all grouped by skill.
It's like the fantasy football version of a job you never had.
So, where do you get that kind of experience for a career change resume?
First, highlight all the skills and qualifications in the job ad.
Second, sift through your work history for achievements that matter to the new career.
Third, go out and get some quick experience. Volunteer or do short freelance jobs. An online search for the career name + "freelance jobs" will usually hit paydirt.
Pro Tip: Quantify achievements on a career change resume. Give measurements for money saved, time saved, quality improved, number of people trained and so on.
Our resume builder (you can create your resume here) will give you tips and examples on how to write your resume professional summary section. Or any section for that matter. You can copy the examples to your resume, customize, and save a lot of time.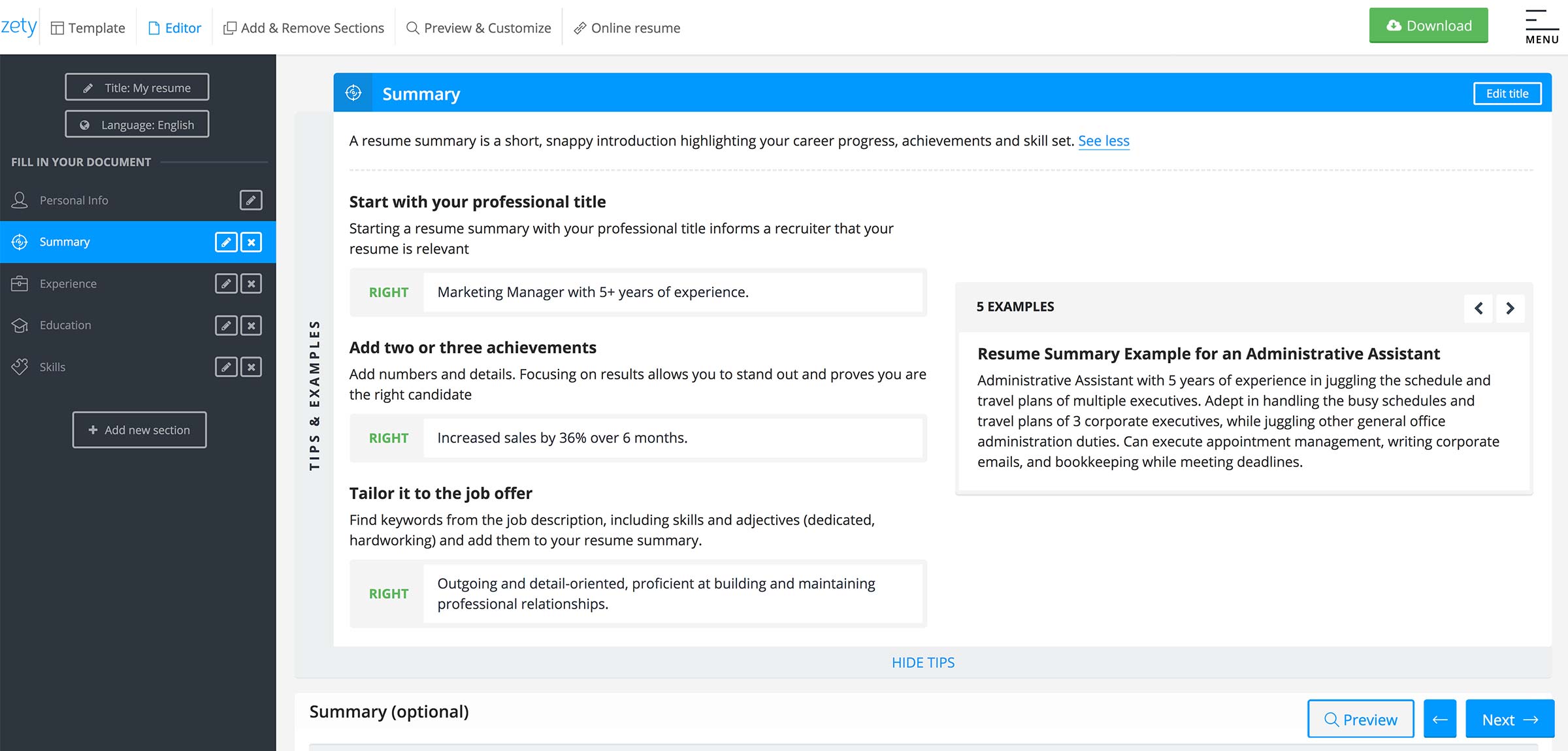 Inside our resume builder, you'll find expert tips and examples for your resume summary.
Want more tips to customize a resume for a career changer? Fit it to the job offer with our guide: 6 Tips on How to Tailor Your Resume to a Job Description (Examples)
4
How to Describe Experience on a Career Change Resume
Does unrelated experience really matter on a career change resume?
A resume for career changers must show your "other" experience. Why?
You have to prove you haven't just been on mom's sofa for the past 5 years.
Even unrelated jobs show universal skills.
Don't go deep. Just paint the picture in broad strokes.
Career Change Resume Sample [Experience]
The career change resume sample experience section below sticks to the point.
It's for someone switching from graphic design to software development.
right
Senior Graphic Designer
Houlton Renno Inc. 2014–2018
Led a team of four designers in a fast-paced graphic design firm.
Wrote back-end code for 40 client projects.
Graphic Designer
Kibula Designs, Boston 2011–2014
Led daily meetings for an initiative to increase revenue.
Wrote scripts to update client databases. Cut billing errors 35%.
That keeps things light, like a butterfly emerging from a chrysalis.
It shows transferable skills like writing code and managing databases.
Compare it to the mid career change resume example below:
wrong
Senior Graphic Designer
Houlton Renno Inc. 2014–2018
Responsible for leading the production team for a fast-paced design firm.
Created over 400 designs in 4 years.
Created catalogs, presentations, and brochures.
Received 99% positive feedback on my design work.
My designs were written up in...
Design Job #2...
And 3...
Etc...
That's way too detailed. It sells the wrong skills. It skips the software development tasks you did at that design firm.
That's fine if you're standing pat. But a resume for changing careers needs relevant accomplishments.
If not, the new job's hiring manager will ditch it so fast it makes a sonic boom.
Pro Tip: Making a midlife career change resume at 50 or 40? Less is more. Don't show more than 15 years of experience. Unfortunately, ageism happens.
Don't lull the hiring manager to sleep. A resume for a career change needs action words. Get some in our guide: +80 Examples of Resume Action Words for Every Profession
5
Is Your Education Section Stuck in Place? It Might Be
Let's get back to Tracy, our hiring manager.
Does she care about education on a resume for a career change?
She does. So list
College Name and Location.
Years in School.
Degree.
But then show relatable accomplishments.
Those include:
Coursework related to the new career
Awards that matter to the new hiring manager
Groups that show transferable skills and interests
The sample switching careers resume clips below show how to do it right (and wrong).
Career Change Resume Examples [Education]
These two career change resume sample snippets are for a data analytics job. The candidate is switching from a marketing career.
right
Bachelor's Degree, University of Maine
2007–2011
GPA 3.9
Excelled in data analytics classes.
Worked as TA in computer science department.
That's not your everyday career changer. It's someone switching lanes like a Formula One driver.
Now look at a career change resume example that borks it:
wrong
MBA
UNH, 2009-2013
Pursued a passion for marketing coursework.
Received a 4.0 GPA across all marketing classes.
Excelled in social media classes.
That's a stick in the mud. It's further from the job description than Coke from Pepsi.
Where does education matter most? In a career change resume for teachers, nurses, or other education-intensive jobs.
Pro Tip: Can't think of any academic achievements for your career change resume? Think harder. Still drawing blanks? Then keep your education section short.
Should a resume for a career change list your GPA? Find out, plus other answers, in our guide: How to Put Your Education on a Resume [Tips & Examples]
6
How to Put Skills on a Resume for a Career Change
What's the most important thing on a career shifters resume?
Proving your skills.
That comes down to two things:
Knowing what the job ad asks for.
Using bullet points to show you have those qualities.
Look at the major difference in the career change sample snips below:
Career Change Resume Examples [Skills]
This first sample career change resume snippet is for a web development job.
The position values web design, development, and wireframe creation.
One applicant just lists her skills, like this:
wrong
Skills: X-Ray Skills, 4-Handed Dentistry, Dental Procedure Preparation, Dental Equipment Maintenance, MS Office, Leadership...
That's using the wrong bait and hoping something bites.
Our next contestant lists relevant skills. Then she proves them in her bullets:
right
Created functional website for a small dental firm, complete with client portal.
Developed 4 working ecommerce websites for friends.
Created 15 wireframes on a volunteer basis.
That connects to the job offer like Lewis to Clark. Yet it all came from side freelance work or past jobs.
Do the same with your skills summary, education section, and experience. You'll make your great escape in no time flat.
List of Skills to Put on a Career Change Resume
Need more skills to put on a resume for a career change?
Use the list below. The skills in it are universal, though of course it's always best to use the ones shown in the job offer. (They make the best resume keywords too.)
Career Change Resume Skills

Career Change Resume Skills

Leadership

Persuasion

Interpersonal Skills

Customer Service

Communication

Psychology

Collaboration

Dependability

Problem Solving

Compassion

Critical Thinking

Judgement

Coordination

Detail Oriented

Active Learning

Self Motivated

Perceptiveness

Adaptability

Decision Making

Listening
Follow that plan, and your career change will work like Jeff Bezos' famous cross-country drive.
Pro Tip: Absolutely can't find examples where you've used the skills shown in the ad? Try a smaller company that doesn't mind you learning on the job.
Still not sure what skills to add to a career switch resume? See our guide: +30 Best Examples of What Skills to Put on a Resume (Proven Tips)
7
How to Show Certifications on a Resume
Want to give a V.I.P. pass to your change of profession resume?
How about earning a certificate?
It won't get you hired instantly. But certificates can help.
If it's crucial to the job, put it right after your name, like this:
Alan Thompson, PMP
You can also add it to your resume summary for career change.
Finally, display it like in the career change resume sample certification section below:
Some certifications on a resume matter more than others. Some take longer to get.
If it's central to the job, at the very least it proves commitment.
Pro Tip: Got certifications or licenses that won't matter to the hiring manager? Leave them out. They won't add to your nurse or lawyer career changer resume.
Need more suggestions for career change resume material? See our guide: What To Put On A Resume To Make It Perfect [Tips & Examples]
8
How to Add Other Sections for an Effective Resume
Here's the $64,000 question:
How do you prove your skills?
Answer: with experience, with education, and with certifications.
Non-work achievements can do the same. So, feature them in your changing careers resume.
The career change resume sample clip below is for a computer science job.
Career Change Resume Examples ["Other" Sections]
Hey, whatever floats your boat. Yet those two interests don't make you a better coder.
But what about the next sample from a career change resume?
right
Additional Activities
Took first place in 3 Ruby challenges at codewars.com.
Member, IAENG Society of Software Engineers.
Volunteer IT Admin for local animal shelter.
You may be switching careers, but you're obviously not straight from kindergarten.
All it takes is digging up some old achievements, or creating a few new ones.
Pro Tip: Look online for conferences, associations, freelance gigs, or certificates that match your new career. Volunteering on a resume looks great. Most take very little time, and all can pump up a sagging resume for a career change.
Pack your resume with extras that get you noticed like a rescue flare. See this guide: Resume Sections to Include on Your Resume: Guide (+20 Examples)
9
How About a Career Change Cover Letter?
Yes, cover letters matter—especially for career changers.
A career change cover letter can explain your motives.
Why are you changing? Will you change again? The hiring manager will want to know that when she sees your career change resume.
Start your cover letter with the hiring manager's name. Say why you're excited about the job.
Then show why you're a perfect fit.
Check out the (shortened) career change cover letter sample below:
Dear Alice,
I'm very excited about the office assistant job at Castle Rock Mineral. I read about your commitment to customer service in Mining Magazine last month. With my history of boosting customer retention by 22% at Caliphon, Inc., I think I'd make a great fit for your office assistant position. My official title was data entry clerk at Caliphon, but to quote the CEO, "Nobody with your people skills stays stuck to a computer."
Now that's how to explain a career change in a cover letter!
Finish the cover letter with a call to action like, "Can we set a time to discuss improving Castle Rock's office metrics?"
Pro Tip: If you don't hear back after you send your career change cover letter, don't quit. A follow-up email costs very little, and it might just give your resume the bump it needs.
Plus, a great cover letter that matches your resume will give you an advantage over other candidates. You can write your cover letter in our resume builder here. Here's what it may look like: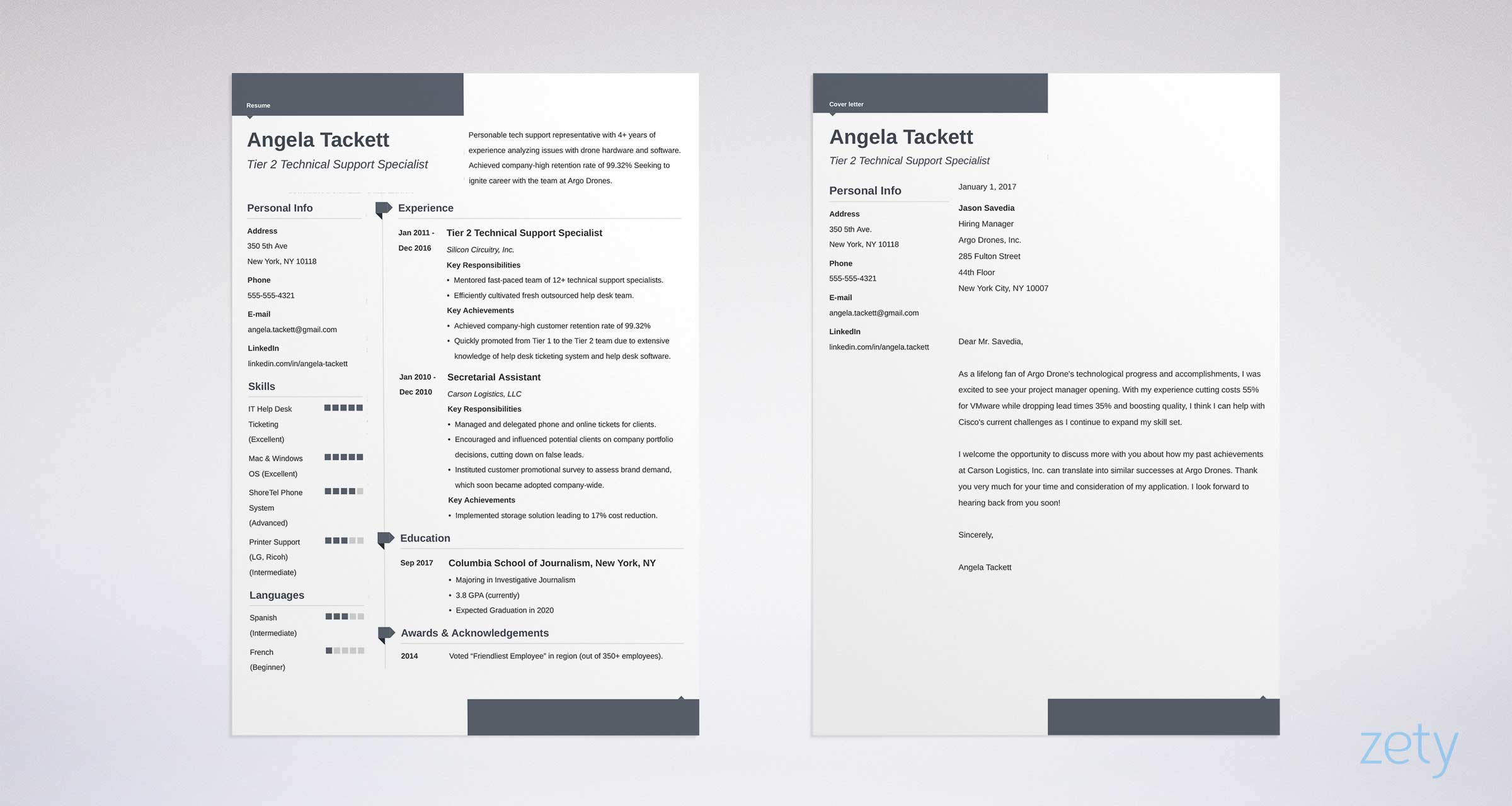 See more templates and create your resume and cover letter here.
Write the perfect resume cover letter for a career change that takes you from zero to hero. Want more nuts and bolts advice to write a great career change cover letter? See: How to Write a Cover Letter for a Job Application in 8 Simple Steps
10
How to Add Contact Info to Your Resume
Putting contact information on a resume is easy, isn't it?
Well, not so fast.
This part is easy:
Full Name
Updated Phone Number
Professional Email Address
Like this:
Rupert Weasley, CPM, rupertharoldweasley@gmail.com, 315-264-4853
But add a LinkedIn profile too. That's because 87% of recruiters now rely on LinkedIn when they hire.
Consider adding an online profile or personal website too. Is your field project-based like programming or design? If so, a portfolio can fast-track you to more interviews.
Pro Tip: Updating your LinkedIn profile to match your new change career resume? Add plenty of resume keywords. Learn how (plus 11 other must-see tips) in our guide to optimizing LinkedIn profiles.
Want A to Z advice for a career change resume that makes your phone ring? See our guide: How to Make a Resume Perfect for Any Job
Key Takeaway
This guide shows how to write the perfect resume for career changers. Follow these key tips:
The best resume format for a career change is the combination layout. It puts your relevant achievements first.
Top it with a skills summary. The best career change resumes must prove you've got the skills without the title.
Add a career change cover letter to boost your percentage. You'll be like Mel Gibson yelling "Freedom!" before you can say "rebirth."
Do you have questions on how to write a great resume for a career change? Not sure how to describe your skills or achievements? Give us a shout in the comments! Let's start the conversation!