We're about to write the best customer service resume, but think about this, first:
You don't want a customer service job.
You want the best customer service job.
The one with great pay, benefits, fun co-workers, and fantastic hours.
To get that job, you must create the best customer service representative resume there is.
Why?
Because the path to getting hired leads through a stack of resumes that hits the ceiling. Yours hides in there like a teen fan at a Justin Bieber concert.
To stand out, your resume must shimmer as if lit by 40-million candlepower spotlights.
Stay tuned, because we're about to show you how to make that happen.
This customer service representative (CSR) guide will show you:
A customer service resume example better than 9 out of 10 other resumes.
How to write a customer service resume that will land you more interviews.
Tips and examples of how to put skills and achievements on a customer service resume.
How to describe your experience on a resume for a customer service representatives to get any job you want.
Here's a sample resume for a customer service representative made using our resume builder.
Want to save time and have your resume ready in 5 minutes? Try our resume builder. It's fast and easy to use. Plus, you'll get tips and right vs. wrong examples while writing your resume. See +20 resume templates and create your resume here.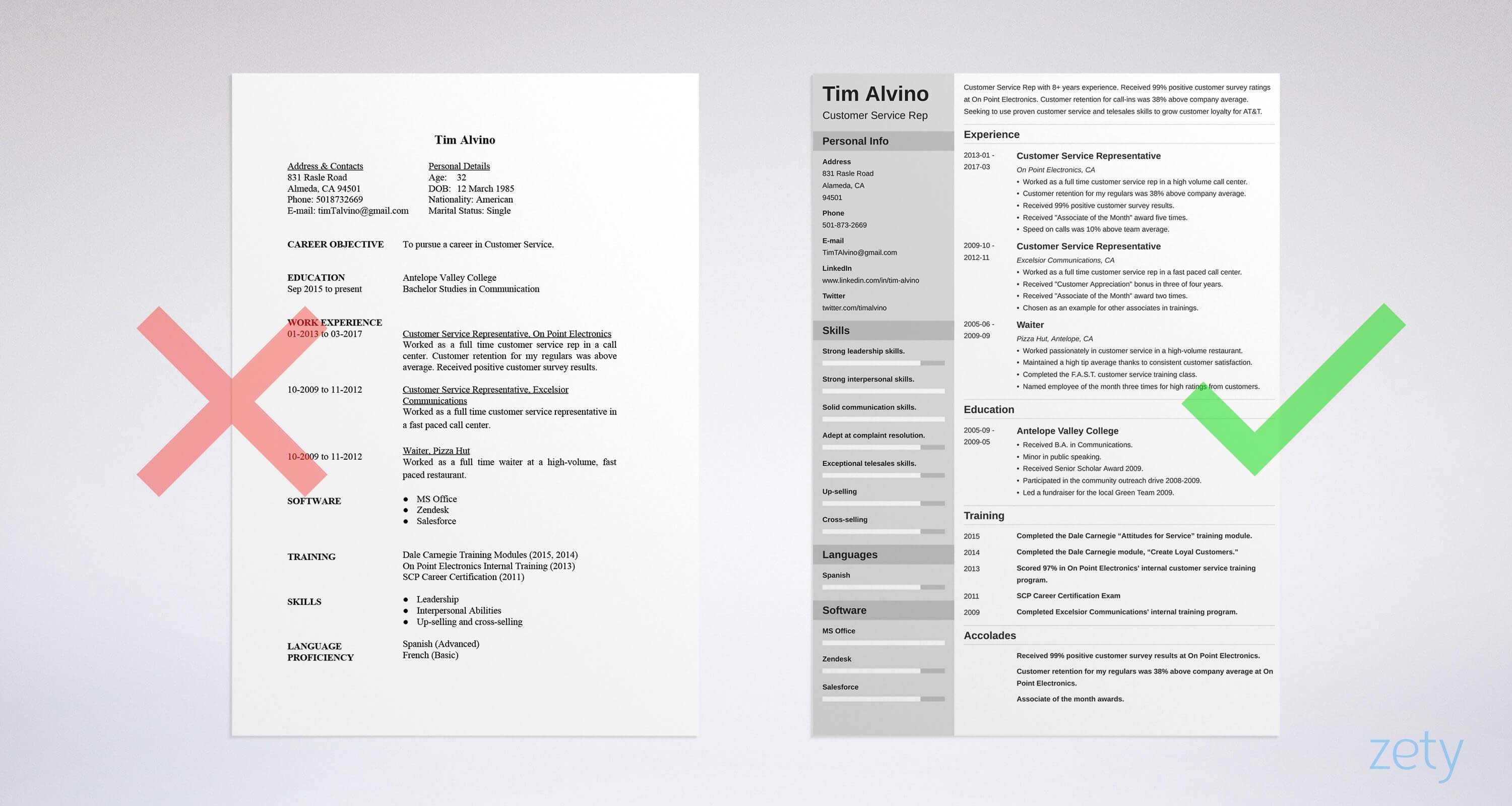 Customer Service Resume Example—See more templates and create your resume here.
1
What's the Best Format for a Customer Service Resume?
Why does layout matter for a good resume for a customer service representative?
It's human nature. That hiring manager who guards that perfect job – we'll call her Katie. She spends six seconds looking at each resume.
That's on average. Research shows she gives a lot more time to well-formatted resumes!
Use a trusted layout like the reverse-chronological format to catch Katie's eye. The reverse-chronological format shares your most recent accomplishments first.
Make use of white space, easy-to-read subheadings, and clear, legible fonts.
To avoid the dreaded discard pile, save your customer service resume template as a PDF. That protects your beautiful layout as it makes the trip to Katie's desktop.
Want to make sure your resume will hook every recruiter and get you that interview? Get our free checklist and learn what makes a job-winning resume: 46 Things You Need To Do Before You Send Your Resume.
Pro Tip: PDFs are best, but read the job description carefully to ensure the hiring manager doesn't ban them. Companies that use an old school applicant tracking system might not accept a PDF resume.
If you need more information, you should also read:
1. 3 Resume Formats: How To Choose The Best One [Examples]
2. How to Choose the Best Resume Layout (Templates & Examples)
3. CV vs. Resume: What is the Difference? When to Use Which (Examples)
4. What is the Best Font for a Resume (+10 Examples & Tips)
5. How Long Should a Resume Be? Everything You Need to Know
6. Word vs PDF Resume: What is the Best Resume Format?
7. Resume Outline Examples: Complete How-To Guide With 15+ Tips
2
Contact Information Is Not as Basic as It Seems
A cluttered CSR resume is a one-way ticket to the recycle bin.
Take special care when adding contact information.
Display it in a way that lets the examples of your excellent customer service skills and experience jump off the page.
You'll need to include:
Your Name
An Updated Phone Number
A Professional Email Address
Your mailing address is a bonus, but it isn't always necessary.
Make sure your contact info doesn't overpower your experience and skills. Use margins or put it underneath the resume title.
Example of contact details on a customer service rep resume:
right
Tim Alvino, Customer Service Rep - TimTAlvino@gmail.com - 501-873-2669
wrong
Tim Alvino, 831 Rasle Road, Alameda, CA, 94501, Email: TimTAlvino@gmail.com, Phone: 501-873-2669
Pro Tip: Check your social media accounts for unprofessional content.
If you need more information to make the most of your job search, you should also read:
1. How to Check Your Online Presence Before Recruiters Look You Up
2. How To Optimize Your LinkedIn Summary & Profile To Get More Jobs
3. How to Include Contact Information on a Resume (Examples)
3
How to Write a Resume Summary or Objective?
"Wow. Let's take a closer look at this one."
We want that hiring manager to say the words above.
Your customer service resume summary or objective can get you there.
What's a resume summary? How is it different from a resume objective?
A resume summary is like an ice cream menu, listing all the yummy flavors. It says, "This is who I am and why I'm perfect for the job."
Mmmm, ice cream.
A resume objective is more like a checked-off bucket list. It says, "This is what I've done and why it makes me perfect for the job."
Which one should you use?
A customer service manager resume and an experienced customer service rep should have a professional resume summary.

Below are resume summary examples for customer service:
right
Engaging, patient, and tenacious customer service professional with 12+ years of experience responding to all types of customer inquiries. Seeking to use proven data entry and telesales skills and exceptional knowledge of the best customer care practices to grow customer loyalty for Excelsior Communications.
wrong
Worked as a customer service representative for 12 years. Handled phone calls and customer complaints daily.
Our resume builder (you can create your resume here) will give you tips and examples on how to write your resume summary or any other section. You can easily copy them straight into your resume - it will save you a ton of time.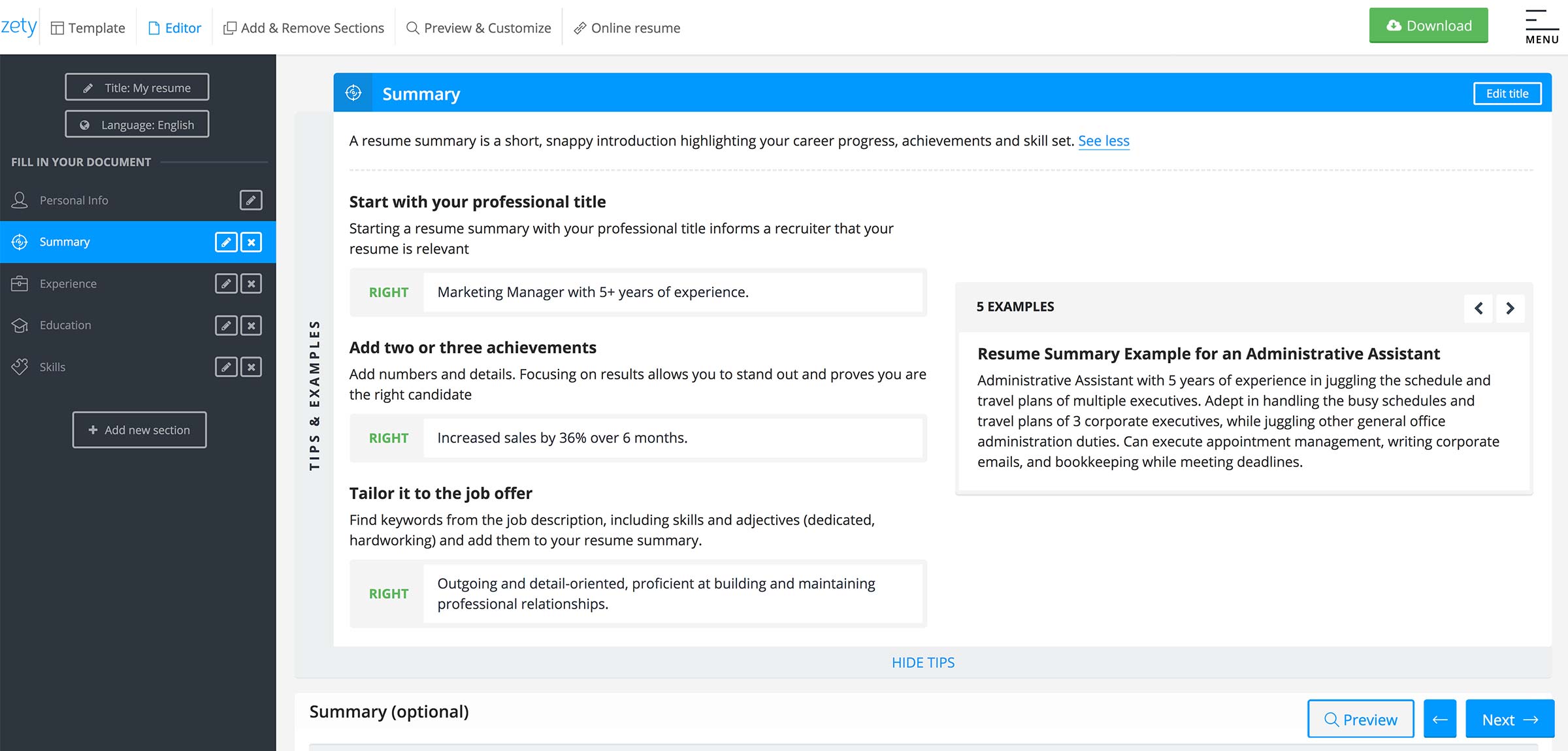 Inside Zety's resume builder you will find tips and examples for your resume.
How to Write an Entry-Level Customer Service Resume Objective
Applicants without many years of experience should use an resume objective for customer service. So should anybody seeking a new niche.
Customer Service Resume Samples: Resume Summary
right
Passionate, engaging, and attentive customer service specialist trained in conflict resolution and communication. Seeking to leverage interpersonal skills to build customer loyalty for Center Cable Systems.
wrong
College graduate looking for a job as a customer service representative. No experience yet but eager to learn.
See the difference in the customer service agent resume objectives?
Pro Tip: Write this section last. What you write here will be based on the other sections.
If you need more information, you should also read:
1. How To Write A Resume Summary: 21 Best Examples You Will See
2. 20 Resume Objectives Examples—Use Them On Your Resume (Tips)
3. How to Start a Resume: A Complete Guide With Tips & 15+ Examples
4. Resume Dos and Don'ts: 50+ Tips & Advice on Building Great Resumes
4
How to Describe Your Customer Service Experience
We need to make your customer service specialist resume experience section pop.
Specifically, we need to make it pop for Katie, our all-important hiring manager.
How can we do that?
We'll start by listing your most recent job.
Each job will have a name, a date, and up to six responsibilities and accomplishments.
Sounds easy, right? But how do you know which details to include?
Remember that a resume isn't set in stone. Like a tool with various attachments, you'll tailor it to fit each job.
How to Describe Customer Service on a Resume by Choosing the Right Experience
First, brainstorm a long list of your past duties and successes.
Take your time.
Store the list in a Google spreadsheet or another handy place. Then mix and match your bullet points to meet each job description.
See the customer service manager resume snippet below. It's for a job posting that values customer loyalty.

Customer service supervisor resume examples of experience:
right
Customer Service Manager
March 2012‒January 2017
On Point Electronics, New York
Led a team of 75 customer service representatives for On Point Electronics for five years.
Responsible for quality management.
Boosted NPS scores amongst new customers by 12%.
Increased customer retention by 38%.
Raised customer experience phone survey ratings by 58%.
Increased employee retention by 22%.
wrong
On Point Electronics, 2005 - 2010
Worked as customer service manager for a customer service call center.
In charge of hiring and firing for a large company.
Handled many HR duties.
Cut costs by 22%.
In our professional customer service call center resume example above, we're very specific. We alternate the duties with big wins. Finally, we pick our bullet points to match the current job offer.
The resume summary from the right example will land any customer service position!
How to Write a Customer Service Associate Resume With No Experience
What about an entry-level resume for customer service jobs? If you don't have any experience, how do you put customer service skills description on a resume?
The good news is, almost everyone has some customer service experience.
The key is to show it in your resume.
Take some time to brainstorm any kind of public interaction you've engaged in. Make a list, then pick the items that best fit the job description: perhaps you have experience in data entry? Maybe you're familiar with zendesk? Make sure you include everything you've done related to customer service on your resume.
Retail Customer Service Resume Sample—Work History
Customer Service Rep
June 2015‒February 2017
GAP, Winslow, Maine
Worked passionately in customer service in a high-volume retail store.
Monitored and responded to all customer needs.
Completed the F.A.S.T. customer service training class.
Named employee of the month three times for high ratings from customers.
Commanded by managers for exceptional problem solving skills.
Did you win accolades, complete training, or secure achievements? Add these to your perfect resume as well!
Pro Tip: Spend some time thinking about each job you've had. What aspects of it touched on strong customer service skills? Add those to your customer service resume sample.
If you need more information on resume writing, you should also read:
1. How to Make a Resume: A Step-by-Step Guide (+30 Examples)
2. 6 Proven Tips on How to Tailor Your Resume to the Job Description
3. How to List Work Experience on Your Resume [+20 Examples]
4. How to Show Promotions & Multiple Positions on Your Resume
5. 80 Examples of Resume Action Words for Every Profession
6. 42 Amazing Resume Tips That You Can Use in 30 Minutes [Examples]
7. First Resume with No Work Experience Samples
5
Is Your Education Section Underperforming?

It Might Be
Remember our hiring manager, Katie? She doesn't really care about your education, right?
Wrong.
It's true that many customer service jobs don't require education. That said, some do, and even those that don't will often favor educated candidates.
Include:
College name and location.
Years in school.
Degree obtained.
Experienced job hunters can simply list their school, degree, and dates. For an entry-level customer service resume, play up details that match the job offer.
Customer Service Representative Resume Example:
2013-2016 B.A.
Middlesex Community College, Bedford, MA
Minor in public speaking.
Participated in the community outreach drive 2015-2016.
Led a fundraiser for the local Green Team 2016.
Pro Tip: Let's say you didn't finish your college degree. You can still add your credits to your resume. Just add a line: "Obtained 90 credits toward a BA in Psychology." Haven't even started college? Put your high school degree on a resume.
If you need more information, you should also read:
How to Put Your Education on a Resume [Tips & Examples]
6
How to Put Customer Service Skills on a Resume
What is a customer service representative, and what skills is our friendly hiring manager looking for?
That depends on the job opening, but we can help you narrow down the list.
As in the other sections, spend half an hour or so brainstorming your skills. You'll use just a few skills for every resume for customer service you write.
Get ideas by looking at related job offers on LinkedIn, Monster, and other sites. You can also check out training sites like DaleCarnegie.com to get ideas.
Chances are, you already have many customer service team member skills that will make your resume glow.
How to describe strong customer service skills:
right
Strong leadership and interpersonal skills.
Solid communication skills.
Highly-developed active listening skills.
Adept at complaint resolution.
Exceptional telesales skills.
Proficient in Microsoft Office Suite (Excel, PowerPoint, and Word) and Salesforce.
wrong
Leadership, interpersonal skills, time management.
MS Office, Salesforce.
Complaint Resolution.
Customer Care.
How to Pick the Best Keyword Skills
Why use keywords in your customer service skills list?
To save time, our hiring manager uses software to search her stack of resumes for keywords.
The best way to know those keywords is to find them in the job description.
What are customer service skills? Check out the list of keywords below that fit well on any resume for a customer service job: both soft skills, and hard skills.

Customer service resume examples of skills:
| | |
| --- | --- |
| "Soft" Skills | "Hard" Skills |
| Interpersonal Skills | MS Office |
| Time Management | MS Excel |
| Communication | MS Word |
| Complaint Resolution | MS Power Point |
| Cross Selling / Up Selling | Salesforce |
| Building Customer Loyalty | Zendesk |
| Problem Solving | Product Knowledge |
| Service Based Selling / Telesales | Talkdesk |
The list above is far from comprehensive. Do some hunting to come up with more.
Do you have any of the customer service skills above? Do you have other skills that would stand out on a resume?
Perhaps you speak Spanish? French? Remember to include on your resume all foreign languages you know!
Pro Tip: Save a big list of your skills, then choose the five or six that best fit each job opening.
If you need more information, you should also read:
30 Best Examples of What Skills to Put on a Resume (Proven Tips)
7
How to Add Other Sections for an Effective Resume
"Holy cow, I need to hire this person."
Let's go back to Katie again, our hiring manager.
Our mission in life is to get her to say the words above when she looks at your excellent customer service resume.
One big way to make that happen is to add eye-candy that you may have hidden in your history. That might mean on-the-job training or events you've attended.
Let's dust off our trusty brainstorming skills to bring these hidden treasures to light.
Maybe there's some detail in your past you hardly notice. But to that hiring manager, it could be the road flare that makes your resume jump off her desk.
Resume Examples for Customer Service Training and Awards:
Completed the Dale Carnegie "Attitudes for Service" training module.
Completed the Dale Carnegie module, "Create Loyal Customers."
Participated in a panel at the "Midwest Customer Service Summit," 2015.
How to Make a Convincing Customer Service Representative Resume
When we don't have a lot of extra accomplishments, our resume can look, well... thin.
Try adding awards or trainings bestowed on your entire company or department.
Resume Examples for Customer Service Training and Awards:
Completed Walmart's internal customer service training program.
Part of the team that made Forbes' "Top Ten Customer Service Teams" list.
Scored an A+ on the "Give 'em the Pickle" customer service quiz.
My department received the "Best in Store" award for customer service, 2015.
Pro Tip: To beef up a flimsy resume, consider taking an online training class or two. You can finish most in two or three hours without leaving home.
If you need more information, you should also read:
What to Put on a Resume to Make it Perfect [Tips & Examples]

8
No One Adds a Hobbies Section, But It Works so Well
Do hiring managers for CSRs care about fluffy things like interests and hobbies?
Of course they do!
Remember, we want that manager to stop and pay attention.
We don't want to clutter up your exceptional customer service rep resume with useless details. That said, relevant interests, passions, and hobbies can catch a manager's eye.
Customer service agent resume examples of interests and passions:
right
Interests and Passions
Volunteer at the local farmer's market every Saturday.
Help with public interaction at the annual 4H Club Charity Fair.
Play in a weekly local disc golf league with 30 great, fun people.
wrong
Interests and Passions
I love my cat more than anything.
I love taking long, solitary hikes.
Playing video games.
Pro Tip: If you have a special hobby that shows customer service muscle, add it. Especially include it if it fits the job description.
If you need more information, you should also read:
20 Best Examples of Hobbies & Interests To Put on a Resume (5 Tips)
9
Advanced Tips for the Experienced Customer Service Resume
What if you've got a ton of experience? How will your resume for customer service representatives differ from the norm?
Mainly, you'll have a richer experience section. You'll have a more sophisticated skills section, and a more fleshed-out training and events section.
You may even want to add a separate section for awards and accolades.
This isn't to say that each section will be longer. You'll just have more dazzle to pick from when you're filling in each part.
Maybe you have a long list of very impressive customer service accomplishments and skills. In that case, list each one only once.
Should You Ever Show an Impressive Fact More than Once on a Resume for CSRs?
If you've got one really amazing accomplishment that outshines the others, you can show it twice. For example, let's say you boosted customer retention 85%.
Nice job.
Put your big, amazing accolade in the resume summary. Then show it again in the employment section. You might even add it a third time in an "Awards and Accolades" section.
If you have only one big accolade, consider adding it to the Achievements.
Customer service resume examples of achievements:
right
Achievements
Completed the Dale Carnegie "Coaching a Service Team" module.
Keynote speaker at the Florida State Customer Service Summit, 2013.
Published an article on customer service tips in "Telesales Today."
Received the Verizon Standout Player Award for excellence in customer service, 2014.
wrong
Achievements
Received the Verizon Standout Player Award for excellence in customer service, 2014.
When it Comes to an Experienced Resume for Customer Service Agents, Less is More
Nobody wants to look at a pile of everything with a kitchen sink on top.
When you've got a lot of experience, less is more. Especially when it comes to resume highlights.
Pick your five or six most impressive details for each section.
Customer service resume examples of achievements:
Right
Achievements
Received the AT&T customer service hero Whitacre Award in 2012.
Top 5% of all customer satisfaction survey results, 2007-2017 AT&T
Customer service agent of the month 14 times since 2001.
wrong
The "wrong" way here is burying the impressive kudos above in a thicket of unimportant chaff.
Pro Tip: Do be careful about how you title subheadings to your customer service resume sample. If you're sure the company you're applying to uses ATS software, use simple, standard subheadings.
If you need more information, you should also read:
Achievements to Put on Resume—Complete Guide (+30 Examples)
10
Here's the Most Common Myth About Cover Letters
Do you really need a cover letter? Shouldn't your resume for customer service associates do the job on its own?
Maybe it should, but it doesn't. Most employers still look for a cover letter with each application.
For a customer service resume, keep the CSR cover letter short. Spotlight your most eye-popping achievements.
This is your chance to catch that manager's eye. To make her say, "Let me slow down a bit and pay attention to this one."
Pro Tip: Make your customer service cover letter personal. Do this by using the job poster's name. For bonus points, visit the company website and mention something you like about it.
I read your mission statement online and I love your company's attitude toward customer loyalty. It's refreshing that you focus on pride in the product first.
Plus, a great cover letter that matches your resume will give you an advantage over other candidates. You can write it in our cover letter builder here. Here's what it may look like: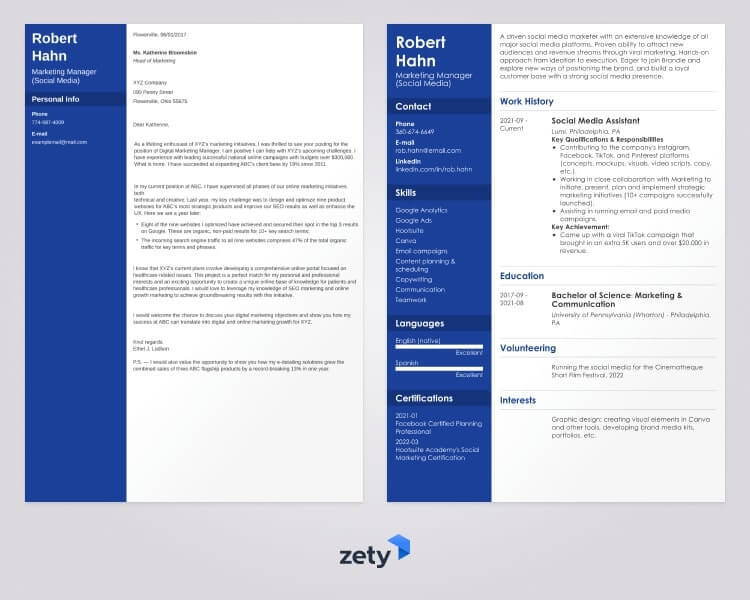 See more cover letter templates and start writing.
If you need more information, you should also read:
1. Are Cover Letters Necessary? Find Out If You Need One in 2018
2. Customer Service Cover Letter in 8 Simple Steps (12+ Examples)
3. 35+ Successful Cover Letter Tips, Advice & Guidelines (With Examples)
Key Takeaway
Making a customer service representative resume that stands out is a real challenge.
Following a few key guidelines can ensure you stop that hiring manager in her tracks:
Make it eye-friendly. Pick a trusted layout like the reverse-chronological format. Use white space, margins, and legible fonts.
Brainstorm long lists

of accomplishments and duties. For each job in your history, cherry-pick the ones that best match the current job offer.

Add skills

that put the brakes on the hiring-manager's busy pace. Browse jobs boards and training sites to get ideas.
If you need more information, you should also read:
"How to Email Your Resume to Get More Job Offers (Examples)"
Do you have any questions on how to make a customer service specialist resume? Give us a shout in the comments section!