Welcome to the only guide to writing a sales rep resume you'll ever need. To begin with, here's a thought:
You could sell sand to a Pharaoh.
Your sales representative resume needs to prove that beyond question.
It's your 30 seconds in an elevator with the hiring manager for your dream job. A bridge to those two homes, the 401K, the beach vacations. You know, the good life.
The good news? It's not that hard, and yes, there really is a secret to it.
You're about to learn how to write a sales representative resume that stands out like a Patek Phillipe.
This guide will show you:
A sales representative resume example better than 9 out of 10 other resumes.
How to write a sales rep resume that lands more interviews.
Tips and examples of how to put skills and achievements on an outside or inside sales representative resume.
How to describe your experience on a resume for a sales representative to get any job you want.
Here's a sample resume for a sales representative made using our resume builder.
Want to save time and have your resume ready in 5 minutes? Try our resume builder. It's fast and easy to use. Plus, you'll get ready-made content to add with one click. See 20+ resume templates and create your resume here.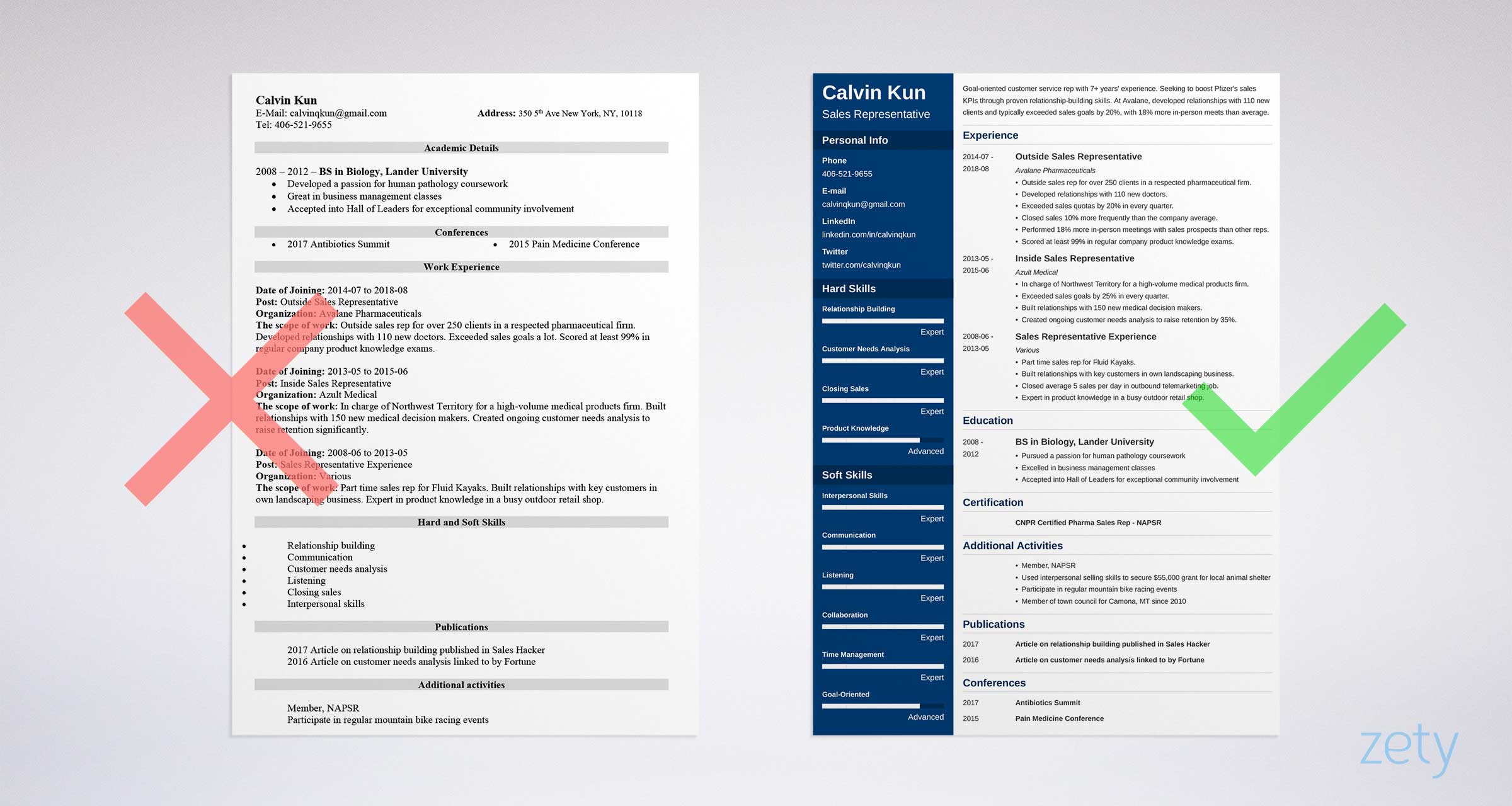 Sample Sales Representative Resume—See more templates and create your resume here.
This guide works for any sales representative resume—inside, outside, and anything in between. However, If you're targeting a particular sales or related occupation, we might just have the guide for you:
1
What's the Best Format for a Sales Representative Resume?
Does the hiring manager have lots of time? She's busy, right?
Respect that with a super-strong sales rep resume layout. One that gets your info to her brain so fast her optic nerve sizzles.
That starts with the reverse-chronological resume format. It's the best sales resume format. Why?
Because it delivers your pitch at lightning speed.
That's key, since most hiring managers spend just six seconds with each resume.
Trim it out with the best resume fonts like Arial or Cambria. Partition them with big headings and strategic white space.
Last, should you send your salesperson resume in PDF or Word form?
Go with PDF unless the job ad says otherwise. Modern PDFs are all machine readable. Want proof? Try copy-pasting text from your sales rep resume PDF. If it works, you're golden.
Pro Tip: Are you writing an entry-level sales representative resume? The chronological resume format still works best. However, consider using the combination resume format if you're a career changer. It shows your best transferable experience.
Need more selection for sales representative job resume formats? See our guide: 3 Resume Formats: How to Choose the Best One [Examples]
2
How to Write a Resume Summary or Resume Objective
A sales pitch needs a great hook.
In a sales resume, that's the resume summary or resume objective.
It's the tantalizing lure that brings in the heavy hitters.
But which one should you pick? And how can you make yours sell?
A sales rep resume summary shows off your achievements. Use one if you've got Ron-Popeil-level experience. (A LOT)
A resume objective is for new reps and career changers. Use it if you still haven't slept in a hundred hotels.
Here's a tip: Load up either with eye-popping achievements.
Need a demonstration? See the two pharmaceutical sales representative resume samples below.
Sales Representative Resume Examples [Resume Summaries]
Can you guess which of these medical sales rep resume examples will impress the hiring manager?
wrong
Enthusiastic sales representative seeking new employment. Highly skilled in relationship building, customer needs analysis, and closing sales. Have worked at Avalane Pharmaceuticals for 4 years as an outside sales representative. Worked at Azul Medical for 2 years as an inside sales rep.
That outside sales representative resume summary lacks details, but it's not bad. It could get second prize: a set of steak knives.
Do this for the blue ribbon:
right
Goal-oriented sales representative with 7+ years' experience. Seeking to boost Pfizer's sales KPIs through proven relationship-building skills. At Avalane, developed relationships with 110 new clients and typically exceeded sales goals by 20%, with 18% more in-person meets than average.
That's better than a comfy vehicle, a bluetooth headset, and 300 miles of open road.
Got less experience than Tommy Boy? See the entry-level sales rep resume examples below.
Two Entry-Level Sales Representative Resume Objectives
The experts used to say, make up for lack of skill with lots of passion.
wrong
Highly-engaged junior sales representative seeking entry-level position. Haven't yet worked in the real world as an official sales rep, but I'm a very fast learner and will work extremely hard. Very skilled in sales.
Who's that, Dwight Schrute?
You need details for a junior sales representative resume objective that gets interviews:
right
Highly-engaged sales representative with a BS in Biology, seeking to enhance sales figures for Azult Medical. Worked as part-time sales rep for Fluid Kayaks for three years. Built relationships with 40 key customers in own landscaping company. Maintained 99% accurate product knowledge in a high-volume retail store.
The manager will need some relaxation breathing after that. The best part is, that applicant is just like you, with almost no experience.
I'll show you how that works, up next.
Pro Tip: There are almost 200,000 salesperson jobs on LinkedIn. Start with companies whose offerings you love. If they're not hiring, apply anyway. That means you're not up against a sea of other applicants.
When making a resume in our builder, drag & drop bullet points, skills, and auto-fill the boring stuff. Spell check? Check. Start building your resume here.
When you're done, Zety's resume builder will score your resume and tell you exactly how to make it better.
Want to give your outside or inside sales representative resume objective or resume summary the Zig Ziglar touch? See our guides: How To Write A Resume Summary: 21 Best Examples You Will See and +20 Resume Objective Examples - Use Them on Your Resume (Tips)
3
How to Describe Your Sales Representative Experience
I know you've got Erica-Feidner skills. You know you've got them.
Convince the hiring manager with your experience.
But don't just throw it at the wall and see what sticks.
Read the job description like your life depends on it. Highlight all the sales representative duties and responsibilities you see.
Then, find times you've proven all those qualities.
See the outside sales representative resume examples below. They'll put you in the Ricky Roma zone before you can say "fat sales commission."
Sales Representative Resume Examples [Experience]
Let's say the job ad targets relationship building and product knowledge.
Look how the first of these pharmaceutical sales representative resume samples nails it:
right
Avalane Pharmaceuticals
Outside Sales Representative
2014–2018
Outside sales rep for over 250 clients in a respected pharmaceutical firm.
Developed relationships with 110 new doctors.
Exceeded sales quotas by 20% in every quarter.
Scored at least 99% in regular company product knowledge exams.
Wow. The sales manager just dropped her copy of Spin Selling in her Borscht.
But do it like the next of our sales resume examples, and you're like a cold call from a guy with hives:
wrong
Excelecore Systems
Sales Representative
2014–2018
Outside sales rep a respected pharmaceutical firm.
Tasked with developing new client relationships.
Exceeded sales quotas.
Maintained solid product knowledge.
That basically says you had a sales job. Were you good at it? If so, prove it with some details.
Maybe you're writing a sales resume with no experience? Test drive the entry-level sales representative resume examples below.
How to Write a Resume for Sales Representative with no Experience
Look back at your past jobs. Have you used interpersonal skills? Communication skills? Time management skills?
Have you ever demonstrated product knowledge? Built relationships? Used PowerPoint?
Those are transferable sales skills. Even if you've only used them waiting tables, you can list them in a salesperson resume.
You've just got to show it right.
See how in the two entry-level sales rep resume job description examples below.
Two Sales Representative Resume Samples [No Experience]
This sample sales rep job resume section will get a door slammed in your face:
wrong
Sales Representative Experience: Haven't yet held the official sales rep title, but I'm very good with people, selling, and building relationships.
Other Experience:
Landscaping
Customer Service
Yeesh, right? You wouldn't trust that applicant to sell a raincoat in a hurricane.
Add details to get an entry-level sales representative resume sample like this:
right
Sales Representative Experience
2008–2013
Part time sales rep for Fluid Kayaks.
Built relationships with 35 key customers in own landscaping business.
Closed average 5 sales per day in outbound telemarketing job.
Expert in product knowledge in a busy outdoor retail shop.
That's no entry-level sales rep resume. It's Larry Ellison before he knew what he was doing.
Yet, that experience came from jobs in college. The applicant kayaked a lot, repped for his favorite company, and worked in retail. He also had a telemarketing job and did landscaping in the summers.
Where else can you get good inside or outside sales representative job resume experience? Try a couple short-term freelance gigs.
Pro Tip: Just like with a salesperson job, a sales rep resume depends on preparation. Learn all about the company, its needs, and the job offer. It'll make your salesperson resume 10x more powerful.
Never bore the customer. Make sure to keep her on the hook with action words. Need some for your retail sales representative resume? See our guide: +80 Examples of Resume Action Words for Every Profession
4
Is Your Education Section Missing Quotas? It Might Be
A sales representative resume's education section is another chance to make your pitch.
Use it wisely, and you'll ring all the right bells.
Of course add to your sales resume:
College Name and Location
Years in School
Degree
Then pepper it with relevant achievements.
The next two retail sales rep resume examples show how.
Sales Representative Resume Examples [Education]
Remember how we packed your sales rep resume experience with achievements that fit the job requirements?
Do the same thing with your education section. Picture a job that wants marketing skills, plus business knowledge and leadership.
right
BS in Biology
Lander University, 2008–2012
Pursued a passion for marketing coursework
Excelled in business management classes
Accepted into Hall of Leaders for exceptional community involvement
That's storytelling. It's like your whole life has led up to this one job.
But don't do it like the next of our retail sales representative resume examples:
wrong
BS in Biology
Lander University, 2008–2012
Awkward. That's like visiting a key customer with something in your teeth.
But add those details, and you're Joe Gerard all over again.
Pro Tip: Have you taken extra sales classes? Add them to your outside sales rep job resume. Put them in a special "Classes" section after your education.
Should you list GPA or not? What if you've only got a GED? Find the nuance in our guide: How to Put Your Education on a Resume [Tips & Examples]
5
How to Put Skills on a Resume for a Sales Representative
Skills are everything in a sales representative resume.
If you convince the hiring manager you've got them, then you've got the job.
But don't just list them.
First, focus on the skills shown in the sales rep job description.
Second, tie them to your experience like a foolproof sales contract.
Look at the next two sample sales rep resume skills sections. Both are for a job that wants skills in closing sales, building relationships, and customer needs analysis.
Sales Representative Resume Examples [Skills]
This medical sales rep resume example is out of the office, not returning calls:
wrong
Sales Representative Skills List: Relationship building, PowerPoint, product knowledge, interpersonal skills, Microsoft Office, communication, selling, closing sales, customer needs analysis, listening, collaboration, time management, self-motivated, copy-pasting skills lists from the internet...
That's a lot of skills. The bad news? The hiring manager has a malarkey detector, and it's bonging loudly.
So, focus, like the next sample sales rep resume clipping:
right
In charge of Northwest Territory for a high-volume medical products firm.
Exceeded sales goals by 25% in every quarter.
Built relationships with 150 new medical decision makers.
Created ongoing customer needs analysis to raise retention by 35%.
Wow. Dale Carnegie called. He wants his sales rep resume back.
Not only did you use the skills, you had a positive effect on the company's goals.
Need some to start with? Use the list below.
List of Skills to Put on a Sales Representative Resume
Use this sales representative job resume skills list as a springboard. It's chock full of sales representative resume keywords.
Find more in sales rep job descriptions online.
Top 30 Sales Skills for a Resume for Every Sales Rep Pro
Product Knowledge
Rapport Building
Interpersonal Skills
Lead Qualification
Social Media
Communication
Relationship Building
Presentation Skills
Listening
PowerPoint
Time Management
Prospecting
Problem Solving
Customer Needs Analysis
Referral Marketing
Collaboration
Objection Handling
Contract Negotiation
Self-Motivated
Product Demo
Client Nurturing
Adaptable
Closing Sales
CRMs
Responsible
Relationship Management
Conflict Management
Goal-Oriented
Research
Policy Knowledge
Pro Tip: What's the most important skill for a sales rep? Building strong relationships. Prove that and your retail or liquor sales rep resume will set the interview in stone.
Need more help to build a Billy-Mays-level sales representative resume skills section? See our guide: +30 Best Examples of What Skills to Put on a Resume (Proven Tips)
6
How to Add Other Sections for an Effective Resume
Who would you hire?
Don Draper or Will Smith from The Pursuit of Happyness?
If you're thinking long term, there's only one real answer.
A resume for a sales representative isn't just experience and education.
It must show your every contour fits the job like it was custom-molded by Italian craftsmen.
But how can a mere salesman resume do that?
With "other" sections that shine spotlights on your most fascinating angles.
The next two pharmaceutical sales representative resume examples show how.
Sales Rep Resume Examples [Other Sections]
wrong
Interests
Arm Wrestling
Line Dancing
Hey, I want to party with you, cowboy. I'm not sure why you'd be a great sales rep though.
But look at this superior pharmaceutical sales representative job resume example:
right
Certification
CNPR Certified Pharma Sales Rep - NAPSR
Additional Activities
Member, NAPSR
Used interpersonal selling skills to secure $55,000 grant for local animal shelter
Participate in regular mountain bike racing events
Member of town council for Camona, MT since 2010
Publications
2017 Article on relationship building published in Sales Hacker
2016 Article on customer needs analysis linked to by Fortune
Conferences
2017 Antibiotics Summit
2015 Pain Medicine Conference
Holy cow, I've got to hire that applicant! She'll be on the road 250 days a year, just pouring money into my accounts.
Now, go write your version of that outside sales rep resume sample.
Pro Tip: Do certifications help on sales rep resumes? Sales certs generally don't help anyone but entry-level applicants. But a certification in your industry, like a Cisco CCNA cert or a pharmacist license? That's gold.
"Other" sections aren't just about listing certifications on a resume, publications, and conferences. Want more ideas for your resume for a sales representative? See our guide: Resume Sections to Include on Your Resume: Guide (+20 Examples)
7
How About a Sales Rep Cover Letter?
Do you need an inside sales cover letter? An outside sales cover letter?
To put it bluntly, do you need a cover letter at all?
Not if it's like elevator music. You know, "I'm applying for the job and here's my beverage sales representative resume."
Make it personal and start your cover letter with the hiring manager's name.
Connect by showing you understand the needs of the position.
Make a value proposition by proving how you'll help.
This shortened sample sales representative cover letter nails it:
Sales Representative Cover Letter Example
Pfizer's mission to be the premier innovative pharmaceutical company has always wowed me. I find breakthrough drugs like Lorlatinib and Bavencio incredibly exciting. I would love to bring my proven skills in relationship-building and product knowledge to this mission.
I'm no stranger to pharma sales. I built strong relationships with 250 clients at Avalane, with 99% product knowledge scores. I exceeded sales goals by 20% in every quarter. That background, plus Pfizer's quest to significantly improve quality of life, would make a very compelling partnership indeed.
Always end a cover letter with an offer. "I'd love to show you how I handled 18% more in-person meets than any other rep at Avalane" works great.
Pro Tip: Writing a pharmaceutical sales representative resume? Consider joining a medical association like NAPSR. Pro associations help with networking and make good sales resume candy too.
Plus, a great cover letter that matches your sales resume will give you an advantage over other candidates. You can write it in our cover letter builder here. Here's what it may look like: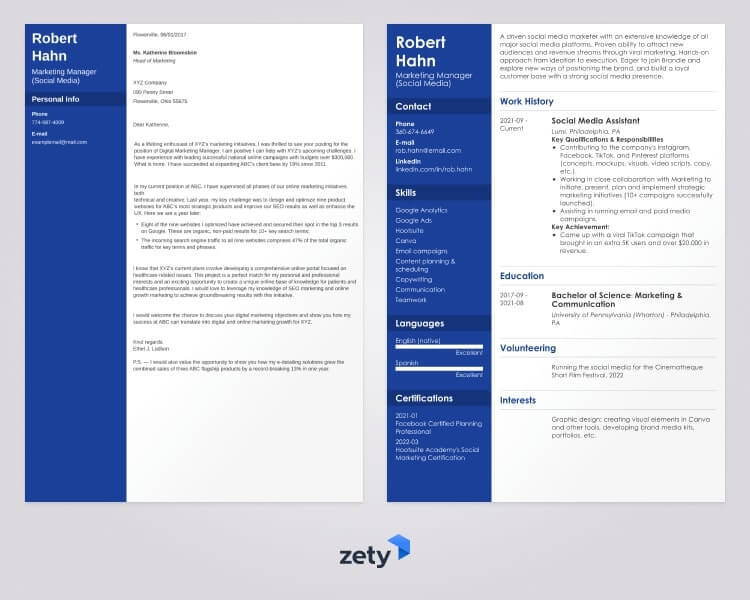 See more cover letter templates and start writing.
Want to know how to write your sales representative cover letter from start to finish? See our guide: How To Write A Cover Letter in 8 Simple Steps (+12 Examples)
8
How to Add Contact Info to Your Resume
Did you know things have changed with resume contact info?
Your sales representative resume needs:
Full Name
Updated Phone Number
Professional Email Address
You can leave snail mail out of it, like this:
Calvin Kun, calvinqkun@gmail.com, 406-521-9655
But 87% of hiring managers rely on LinkedIn.
So, add your LinkedIn profile address too.
Learn why adding photos can get 11x the profile views (and how to do it right) in our LinkedIn profile guide.
Pro Tip: Don't let your strong opinion about Ramen noodles scuttle your great liquor or retail sales representative resume. Set your Facebook posts to "immediate friends only."
Need more pointers to write an inside or outside sales resume worthy of the Wolf of Wall Street? See our guide: How to Write a Resume: A Step-by-Step Guide (+30 Examples)
Key Takeaway
Now you know how to write a professional sales representative resume. Stay true to these key points:
Read the job description like it holds the secret of existence. Highlight all the qualities it lists.
Tie your sales rep resume to the job like a great rep to a territory. That means showing achievements that match the job offer in your bullet points.
Add "other" sections to your resume for sales representatives. They should show how your entire life has been a preparation for this job.
Do you have questions on how to write a great resume for a sales representative? Not sure how to describe your skills or achievements? Give us a shout in the comments! We love to help!