Our customers have been hired by:
Your career in retail starts with a single transaction—selling your skills and experience to the recruiter. Picture your retail resume as a store shelf. Want to sell everything you put there? You must pick quality stuff that addresses the buyer's needs, and merchandise it masterfully.
How? Read on to see a professional retail resume example you can adjust and make yours.
Plus, an easy formula for writing a resume for retail jobs to land you 10x more interviews than any other resume you've written in the past.
Want to save time and have your resume ready in 5 minutes? Try our resume builder. It's fast and easy to use. Plus, you'll get ready-made content to add with one click. See 20+ resume templates and create your resume here.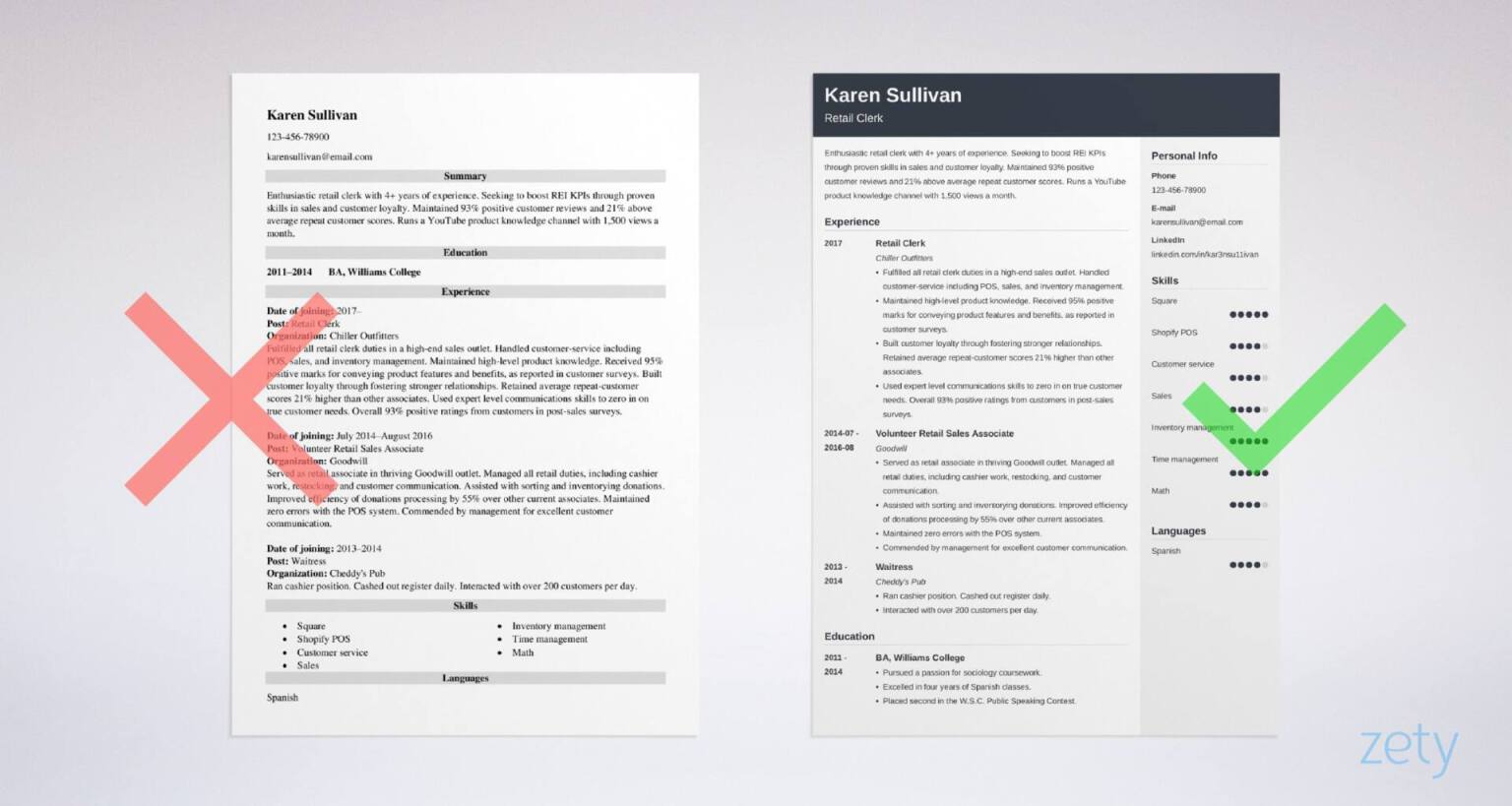 Sample retail resume—See more resume examples here.
Considering other jobs in retail? See related resumes:
Retail Resume Sample to Get You Inspired (Text Version)
Karen Sullivan
Retail Clerk
123-456-78900
karensullivan@email.com
linkedin.com/in/kar3nsu11ivan
Summary
Enthusiastic retail clerk with 4+ years of experience. Seeking to boost REI KPIs through proven skills in sales and customer loyalty. Maintained 93% positive customer reviews and 21% above average repeat customer scores. Runs a YouTube product knowledge channel with 1,500 views a month.
Experience
Retail Clerk
Chiller Outfitters
2017–
Fulfilled all retail clerk duties in a high-end sales outlet. Handled customer-service including POS, sales, and inventory management.
Maintained high-level product knowledge. Received 95% positive marks for conveying product features and benefits, as reported in customer surveys.
Built customer loyalty through fostering stronger relationships. Retained average repeat-customer scores 21% higher than other associates.
Used expert level communications skills to zero in on true customer needs. Overall 93% positive ratings from customers in post-sales surveys.
Volunteer Retail Sales Associate
Goodwill
July 2014–August 2016
Served as retail associate in thriving Goodwill outlet. Managed all retail duties, including cashier work, restocking, and customer communication.
Assisted with sorting and inventorying donations. Improved efficiency of donations processing by 55% over other current associates.
Maintained zero errors with the POS system.
Commended by management for excellent customer communication.
Waitress
Cheddy's Pub
2013–2014
Ran cashier position. Cashed out register daily.
Interacted with over 200 customers per day.
Education
BA, Williams College
2011–2014
Pursued a passion for sociology coursework.
Excelled in four years of Spanish classes.
Placed second in the W.S.C. Public Speaking Contest.
Skills
Square
Shopify POS
Customer service
Sales
Inventory management
Time management
Math
Languages
Now, here's the job-winning retail resume formula:
1
Structure Your Retail Resume Template Properly
First things first—
Your retail resume must always be formatted professionally.
These guidelines will help you format your resume for retail jobs just right:
Go for the standard reverse-chronological resume format.
Add section headings to make your retail resume easy to navigate.
Don't go crazy with the fonts. Pick a professional resume font that's easy to read.
Make sure your standard text fonts are in the 11–12pt range for readability.
For headings use fonts that are 2–4pts larger.
Set a one-inch resume margin all around your resume for retail.
Stick to single-line spacing and make good use of white space to add lightness.
Save your resume as a PDF if the employer has no specific requirements.
And this is what sections a professional resume for retail should consist of:
Resume header where you put your contact details.
Introductory paragraph in the form of a summary or objective statement.
Professional experience section that details your past relevant responsibilities.
Education section that gives a glimpse into your academic background.
List of skills where you highlight your most relevant retail skills.
Additional sections that show off your extra skills, e.g. languages, awards, licenses, etc.
Need more information on formatting a resume? Here's a guide you may find interesting: How to Select the Ideal Resume Format
Now, let's see how to write the first section of your retail resume—work experience. (Yes, that's right, we'll start with the experience section and finish with the summary or objective statement).
2
Start With a Retail Experience Resume Section
Cut to the chase—
This is how to write a professional resume job description:
Start with your latest / current position and then list the previous ones in reverse-chronological order.
Make sure each entry includes the job title, dates worked, and the company's name.
Don't exceed 6 bullets when describing your duties and achievements.
Tailoring your resume sections to the requirements defined in the job ad.
Quantify your responsibilities whenever you can. Numbers reflect your real impact.
Use the right resume action verbs to impress ATSs and recruiters alike.
The examples below show you how this all looks in practice:
Sample Retail Resume with Experience
RIGHT
Retail Car Sales Manager
Southwest KIA, Dallas, TX
2015–2019
Consistently and profitably met new vehicle sales quotas through expert management and leadership of the sales team.
Forecast sales and maintained proper inventory levels (amount and vehicle types).
Motivated and trained a 10-member sales team on sales methodologies.
Continuously monitored and adjusted inventory to optimize customer choice.
Effectively utilized e-commerce tools (e.g. social media, listing services) for planning and executing promotional campaigns.
Key achievement:
Increased overall sales by 20% in a single year; and KIA Optima model by 30%.
WRONG
Sales Manager
Southwest KIA
2015–2019
Supervising the sales team and vehicle sales.
Forecasting quarterly and yearly sales volumes.
Maintaining proper inventory levels.
Using e-commerce tools for promotional campaigns.
The difference is huge.
But here's the kicker—both samples come from the same candidate. As you can see, the way in which you describe your experience makes all the difference.
If you only list what you've been "responsible for," you'll be hard to tell apart from the other candidates.
And there's only one vacancy.
Now—
If your experience is limited and achievements aren't yet stellar, you can still make your resume job description look great. How? Populate it with volunteering, internship experience, or your educational accomplishments. Anything will do, as long as it's relevant.
The two examples below will show you how:
Retail Sales Associate Resume—Work Experience
RIGHT
Volunteer Retail Service Assistant
UO, Dallas, TX
2018–2019
Supported an average of 40+ customers in locating merchandise when needed.
Assisted in floor moves, merchandising, display maintenance, and housekeeping.
Helped ring up sales at cash registers and bagged merchandise.
WRONG
Volunteer Retail Associate
UO, Dallas, TX
2018–2019
Greeting new customers.
Assisting customers with shopping.
Helping with sales.
As you can see, the candidate may not have bags of experience, but what they do have is relevant to the position.
Plus, when you describe it in a way that highlights the value you'll bring to the company, the recruiters will have a hard time disregarding your retail resume.
Need more information on how to show off your experience? This article has all the answers How to Make a Work Experience Section for a Resume
3
Enter Your Education (It's Not That Straightforward!)
Listen:
Your education does matter and it can really make a difference between getting into the approved or rejected folder. Especially when you're writing a retail resume with no experience.
Here's how it works:
If you're a seasoned retail pro all you need to put in the education section of your resume are the name of the school, dates attended, and the degree earned. End of story.
Your experience says it all.
So here's an example of what the education section on a retail resume with experience could look like:
Retail Resume—Example Education Section
RIGHT
2011–2014
Concordia University
B.Sc., Management
And this is what look like on an entry-level retail salesman resume:
Resume for Retail—Education (Entry-Level Position)
RIGHT
2017–2019
Williams College
BA in Communication
Pursued a passion for sociology coursework.
Excelled in four years of Spanish classes.
Placed second in the W.S.C. Public Speaking Contest.
As you can see, the example above includes several extra bullet points that focus on coursework and extracurricular activities that are relevant to the position the candidate pursues.
So, depending on the requirements specified in the job ad, you may also consider adding such information as:
But—
Before you add anything, ask yourself if it's relevant to the position you're after.
Feel like you need more information on how to put education on your resume? Read our guide: How to Put Your Education on a Resume [Tips & Examples]
When making a resume in our builder, drag & drop bullet points, skills, and auto-fill the boring stuff. Spell check? Check. Start building a professional resume template here for free.
When you're done, our easy resume builder will score your resume and our resume checker will tell you exactly how to make it better.
4
List Retail Resume Skills Relevant to the Position You're After
Your experience and skills will or won't sell you to the recruiter. That's why you need to pay particular attention to the right choice and presentation.
So—
How to choose the right skills for your retail resume?
I don't think it will be much of a surprise to you if I tell you…
The relevant ones.
This is what you can do to identify which skills to put on resume for retail:
Revisit the job ad and make a list of all the skills the position requires.
Then create a comprehensive list of your skills. Think of everything you can offer.
Once you have both lists in place, identify the ones present on each list—these are the ones you can include in the skills section.
See to it that your skills section includes between 5 and 10 relevant skills.
You're almost done with the skills section.
Now just make sure your retailing skills are reflected in your retail experience section. In other words, see to it that your experience bullet points illustrate the skills you listed. If you find it hard to make the connections try out different wording for example.
This way your resume will not only be full of relevant skills for retail in different sections but also consistent throughout.
Here's a list of retail resume skills you might want to use as a source of inspiration:
Retail Resume Skills—List
Soft Skills
Hard Skills
Epicor
Inventory management
Loyverse POS
Math
Merchandising
NCR
Netsuite
Oracle Micros
Quickbooks POS
Sales
Shopify POS
Square
uniCenta
Generating sales
Housekeeping
Product Knowledge
And this is how you can put your retail skills on a resume:
Skills to Put on a Resume for Retail
right
Adaptability
Advanced MS Office
Communication
Customer support
Interpersonal skills
Problem-solving
Rapport building
Social media marketing
Strategic planning
Teamwork
Skills on a Resume for Retail Jobs (No Experience)
right
Communication
Housekeeping
Interpersonal skills
Maths
Organizational skills
Physical fitness
Shopify POS
Time-management skills
Remember—
Pick the skills you really have, don't be tempted to lie on your resume, and list only the ones relevant to the job offer.
Need more information on how to make the most of your retail skills on a resume? Read this guide: 99+ Skills for Resumes
5
Show Don't Tell: Add "Extra" Sections to Your Retail Resume
Without additional sections, your retail resume is just a plastic mannequin with no clothes on.
It's just like all the others.
To give it some individual character you must clothe it into something unique.
If chosen wisely, things like interests, volunteer work, certifications or languages can seriously boost the chances of your resume getting noticed.
Here's a couple of ideas to get you inspired:
Retail Resume—Examples of Additional Sections
Retail professionals may want to show off their industry certifications as well as involvement in local communities.
Certifications
SPIN® Selling—Certification
Project Management Professional (PMP Certified)
Volunteer Work
Organized a charity event for the local animal shelter.
Help out once a month at the Summerville Food Pantry.
Retail Sales Associate Resume—Examples of Extra Sections
Those seeking junior retail jobs may benefit from highlighting their general interest in retail/sales as well as communication skills.
Additional Activities
Review products in own YouTube Channel. Get 1,500 views/month.
Avid listener, "The Advanced Selling Podcast."
Regular reader of books about sales.
Interests
Avid whitewater kayaker
Write and publish short fiction stories
Not sure what else to put on your retail resume? Read this guide: What to Put on a Resume: 20+ Great Examples
6
Compile the Best Bits Into a Resume Summary or Objective for Retail
Your perfect retail resume is almost ready.
Now it's time to put the icing on the cake.
The topmost section of your retail resume is called the resume profile. Long story short, it's a paragraph that serves as an introduction to the document and brings out the highlights of your professional career.
The profile comes in two varieties
The first one is called the resume summary statement and it's suitable for more experienced candidates. As you've probably guessed, the summary… well, summarizes your experience and professional achievements.
Take a look at the resume summary examples below:
Retail Resume Summary—Examples
RIGHT
Dedicated retail professional with 5+ years of experience. Seeking to boost ABC's KPIs through proven skills in sales and customer loyalty. Motivated and trained a 10-member sales team on sales methodologies and increased overall sales by 20% in a single year.
WRONG
Experienced retail professional seeking new challenges at your company. Led a team of salespeople and inventory levels. Familiar with various e-commerce tools and social media advertising.
Now—
The first of these resume summary examples for retail gets several things right:
Specifies how much experience the candidate has.
Addresses the company by name.
Says how exactly the candidate wants to help the company.
Refers to the skills mentioned in the job offer.
Highlights the candidate's key accomplishments and supports them with numbers.
On the other hand, the wrong example is so generic you could easily copy and paste it into any resume without even making any alterations.
Moving on—
The second variety of the resume profile is the so-called resume objective.
In contrast to the resume summary, the objective is suitable for entry-level candidates who write their first resume with no experience. Why? It focuses on the skills you learned and how they can be of use to the company you're applying for.
Take a look at these resume for retail objective examples to get inspired:
Examples of Retail Resume Objectives
RIGHT
Hard-working retail associate, skilled in POS tech and inventory management. Seeking to increase sales and customer loyalty at ABC. Built volunteer retail experience at XYZ as cashier and restocker, receiving management commendation for excellent customer communication.
WRONG
Entry-level retail associate with BA from Williams College. Seeking real-world experience in retail. No experience yet but I'm very energetic.
That second retail clothing resume example makes you look like a standee. The first one gets the hiring manager's attention.
Why?
Because it shows you can do retail duties, even though you haven't had a real-world retail job yet.
No ideas on how to write a captivating opening to your resume? Head straight to this guide: Resume Opening Paragraph Examples
7
Write a Retail Cover Letter
You need a cover letter for your retail resume to boost your chances of landing an interview.
Why?
Studies show that 49% of HR managers regard cover letters #2 option to give your job application a boost (tailoring your resume being the #1 factor). Another study on employer preference suggests that 56% want applicants to attach a cover letter to the resume.
Here's a quick guide to nailing your retail cover letter in a few simple steps:
Write a powerful cover letter introduction in which you introduce yourself and hook your reader to read the rest.
Tell the reader what you like about the company and how you can help it grow.
Back up your claims with quantified achievements.
Finish your cover letter with an explanation why you're a great fit and a call-to-action.
And don't forget to format your cover letter, so it looks like a letter.
This is it!
If you need more detailed instructions and examples, read our comprehensive guide on how to write a cover letter.
And if you're looking for a ready-made sample you can quickly tweak and adapt for your needs, we have a guide you might be interested in Retail Cover Letter: Sample & Complete Guide
Plus, a great cover letter that matches your resume will give you an advantage over other candidates. You can write it in our cover letter builder here. Here's what it may look like: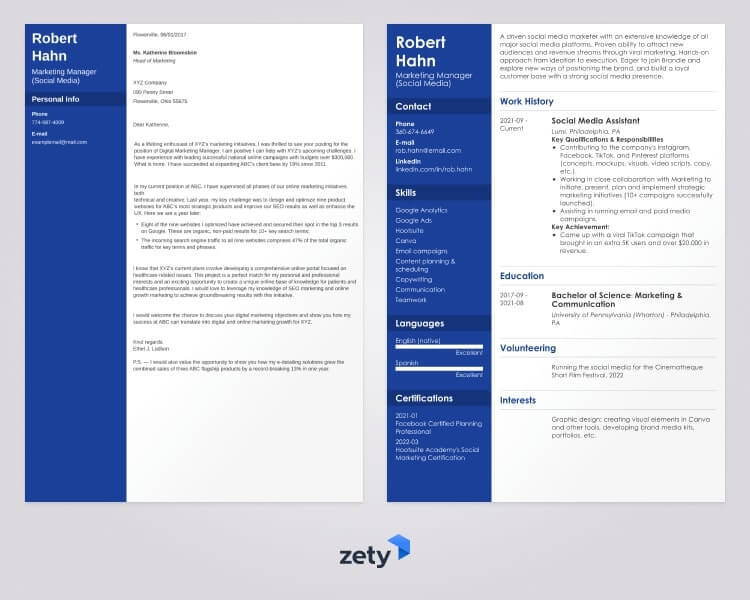 See more cover letter templates and start writing.
Recap—Retail Resume In a Nutshell
Here's how to write a job-winning retail resume:
Start with writing powerful bullet points that highlight your relevant experience on your retail resume.
Make sure you provide all the necessary details regarding your education. The more experienced you are the less attention you need to pay to this section.
Put your relevant skills in a dedicated skills section and make sure they tie in with your experience.
Add more flavor to your resume by including such sections as languages, certifications, or interests.
Write a compelling intro paragraph that focuses on the essence of your resume.
Once your retail resume is ready, format it professionally by choosing the right fonts, adding proper spacing, and adequate section headings.
Boost your chances by writing a captivating cover letter that tells your story and fills in all the blanks.
Wanna chat? We'd love to hear from you:
Which company offers the best retail jobs?
Do you struggle with tailoring your retail job description for resumes?
Need help adding achievements to your retail experience resume section?
About Zety's Editorial Process
This article has been reviewed by our editorial team to make sure it follows Zety's editorial guidelines. We're committed to sharing our expertise and giving you trustworthy career advice tailored to your needs. High-quality content is what brings over 40 million readers to our site every year. But we don't stop there. Our team conducts original research to understand the job market better, and we pride ourselves on being quoted by top universities and prime media outlets from around the world.
Sources