You're about to write a resume that gets you a job in retail.
Not just any job.
One where you rub elbows with fun people. Spark off them.
One with great perks like full health benefits. Or a concierge service for doing oil changes while you work.
You want that retail job.
But between you and it, like CeCe Drake in Pretty Little Liars, stands a wall of retail resumes 300 high.
How will you get past that wall?
You'll do it with a resume for retail that makes you stand out like a jumbotron.
This guide will show you:
A retail resume example better than 9 out of 10 other resumes.
How to write a retail resume that will land you more interviews.
Tips and examples of how to put skills and achievements on a retail resume.
How to describe your experience on a resume for retail to get any job you want.
Here's a sample resume for a retail clerk made using our resume builder.
Want to save time and have your resume ready in 5 minutes? Try our resume builder. It's fast and easy to use. Plus, you'll get ready-made content to add with one click. See 20+ resume templates and create your resume here.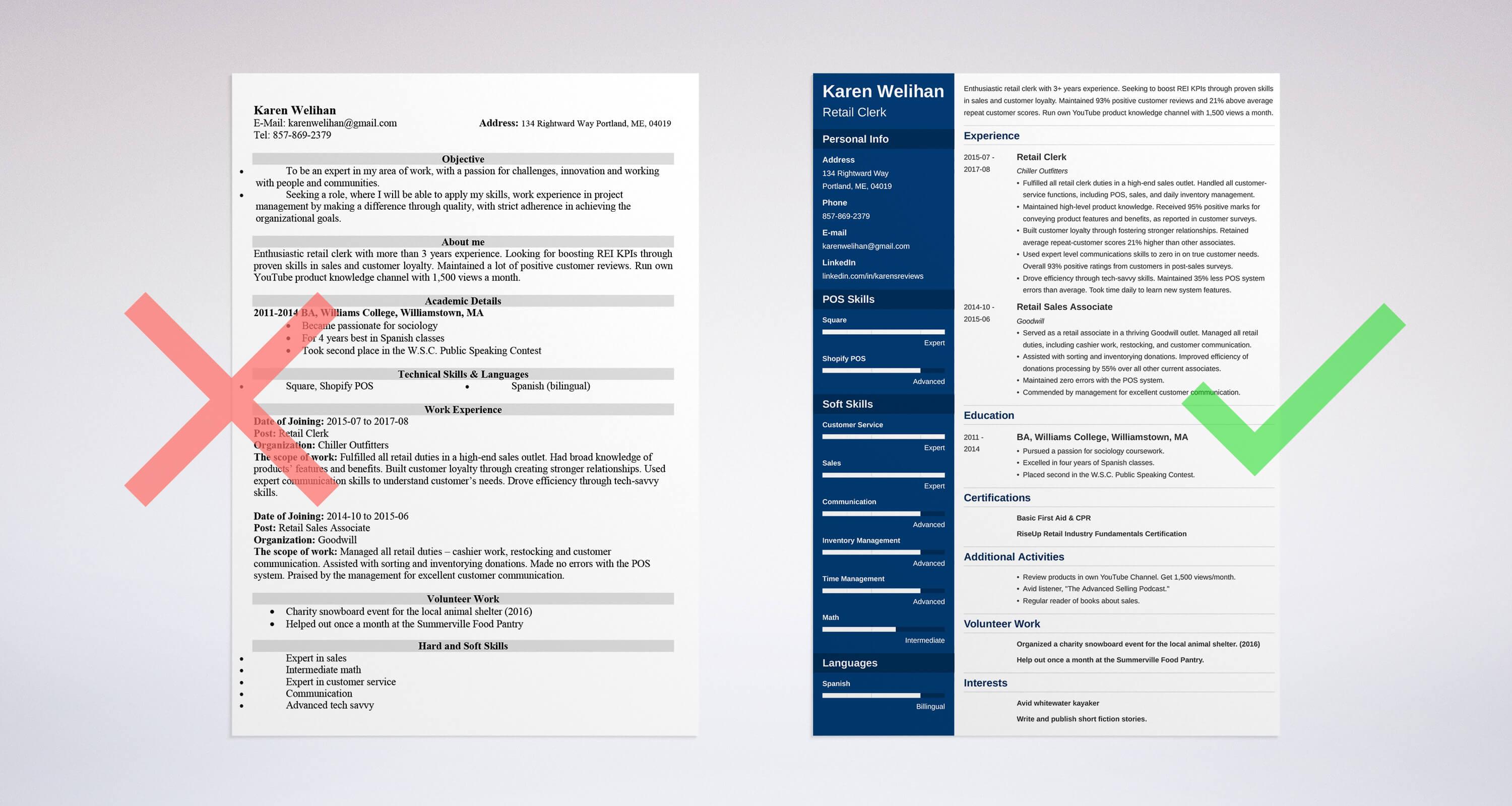 Sample Retail Resume—See more templates and create your resume here.
Targeting a specific job in the fashion industry? Check out our guides:
1
What's the Best Format for a Retail Resume?
Picture a retail manager.
Her name's Megan, and she's hiring.
She's sitting in her office, wading through a sea of retail resumes.
Nice potted philodendron.
One thing that makes it easier? Errors. Typos, poor formatting, spelling mistakes, and bad grammar.
She gets to toss all those resumes in the "rejects" pile.
Make it to the next level by choosing the best format for a retail resume.
Pick a trusted layout like the reverse-chronological format. It puts your best accomplishments up front.
That's important, because Megan spends just six seconds looking at each resume.
Wow, right?
Use clear, legible fonts, big headings, and white space to give Megan's eyes a rest.
Finally, save your retail clerk resume as a PDF. PDFs don't change from one computer to the next.
Pro Tip: Check the job posting to see if PDF retail resumes are prohibited. Some Applicant Tracking Systems have a hard time with PDF resumes.
Want to make sure your resume will hook every recruiter and get you that interview? Get our free checklist and learn what makes a job-winning resume: 46 Things You Need To Do Before You Send Your Resume.
Want to check out other format options for your retail associate resume? See our guide: "3 Resume Formats: How to Choose the Best One [Examples]"
2
How to Write a Resume Summary or Resume Objective
Question:
How can you get the hiring manager to spend more than a few seconds looking at your retail resume?
You can do it with a top notch resume summary or resume objective.
A resume summary is for anyone with shelves full of experience.
A resume objective works for applicants that need restocking.
See, most resumes say the same thing:
"I've got people skills. I'm experienced. Hire me."
Zzz.
Instead, wake that manager. Shake her. Use specifics. Add details that engage her interest fast.
See the luxury retail resume examples below:
right
Enthusiastic retail clerk with 3+ years experience. Seeking to boost REI KPIs through proven skills in sales and customer loyalty. Maintained 93% positive customer reviews and 21% above average repeat customer scores. Run own YouTube product knowledge channel with 1,500 views a month.
wrong
Retail clerk with 3 years experience, seeking retail job. Skilled in sales, customer loyalty, and product knowledge.
See the difference? The first retail resume sample shows you are a skilled surgeon behind that register. The second seats you on a throne of lies.
Now. What if you don't have that kind of experience?
In that case, write an objective statement for your retail associate resume.
When making a resume in our builder, drag & drop bullet points, skills, and auto-fill the boring stuff. Spell check? Check. Start building your resume here.
When you're done, Zety's resume builder will score your resume and tell you exactly how to make it better.
Two Entry Level Retail Resume Objective Examples
Do you lack experience? Does your basic retail resume look like an empty shelf?
We'll fix that, starting with a resume objective statement.
Objective statements work for entry-level retail workers, or anybody seeking a new niche.
right
Hard-working retail associate, skilled in POS tech and inventory management. Seeking to increase sales and customer loyalty at Chiller Outfitters. Built volunteer retail experience at Goodwill as cashier and restocker, receiving management commendation for excellent customer communication.
wrong
Entry-level retail associate with BA from Williams College. Seeking real world experience in retail. No experience yet but I'm very energetic.
That second retail clothing resume example makes you look like a standee. The first one gets the hiring manager's attention. Why?
Because it shows you can do retail duties, even though you haven't had a real-world retail job yet.
Pro Tip: A couple days of volunteer experience looks great on a resume. See the next section for tips on how to get it.
For more guidance, use the basic retail resume template at the top of this article. Also, check out these two guides: How To Write A Resume Summary: 21 Best Examples You Will See AND +20 Resume Objective Examples - Use Them on Your Resume (Tips)
3
How to Describe Your Retail Experience on a Retail Job Resume
Is experience important on a retail resume?
Only if you want the best retail jobs.
You know. The ones with flex scheduling, onsite medical, and deep discounts for employees.
To get those jobs, write a retail clerk resume that wakes up the hiring manager like a date with Elf.
Here's the key:
Tailor your experience to the job description.
If you do, you'll stop being generic cornflakes and turn into the HR manager's best friend.
Here's how:
List your most recent job near the top of your retail resume.
Add 4-6 bullet points that show accomplishments.
Repeat.
How to Describe a Retail Job on a Resume
right
Retail Clerk
Chiller Outfitters
2015 - 2017
Fulfilled all retail clerk duties in a high-end sales outlet. Handled customer-service including POS, sales, and inventory management.
Maintained high-level product knowledge. Received 95% positive marks for conveying product features and benefits, as reported in customer surveys.
Built customer loyalty through fostering stronger relationships. Retained average repeat-customer scores 21% higher than other associates.
Used expert level communications skills to zero in on true customer needs. Overall 93% positive ratings from customers in post-sales surveys.
wrong
Retail Clerk
Chiller Outfitters
2015 - 2017
Retail clerk at high-end sales outlet.
Handled all day-to-day customer service retail duties.
Ran POS system.
Conducted daily sales.
Big difference, right? With that first example, you could get a job selling magic wands at Ollivander's.
But what about a retail associate resume with no experience?
How to Write a Retail Resume with no Experience
Here are two tips to stuff an empty resume like a Black Friday circular.
First: Troll your past non-retail jobs to dig up hidden retail gems.
Second: volunteer or take a temporary retail job.
"But I need money now. I don't have time to volunteer."
You don't have to spend months, or even a full week. Just a day or two will do.
Google "temporary retail jobs." Or work a few days free at your local Goodwill store.
Hey, presto! Instant retail resume experience.
Two Retail Resume Samples (No Experience)
right
Volunteer Retail Sales Associate
Goodwill
July 2017 - August 2017
Served as retail associate in thriving Goodwill outlet. Managed all retail duties, including cashier work, restocking, and customer communication.
Assisted with sorting and inventorying donations. Improved efficiency of donations processing by 55% over other current associates.
Maintained zero errors with the POS system.
Commended by management for excellent customer communication.
Waitress
Cheddy's Pub
2016 - 2017
Ran cashier position. Cashed out register daily.
Interacted with over 200 customers per day.
Landscaper
Self-Employed College Student
2015 - 2016
Interacted with several customers per weekend.
Frequently upsold customers to hedge trimming and leaf raking.
wrong
Retail Experience: None yet, but I'm a very fast learner.
Other Experience: Waited tables, mowed lawns.
Poof. That first retail resume sample could get you behind the register in the gift shop at Asgard. Yet it wasn't hard to build.
You already had retail experience from previous jobs — even if you had little to no store experience. And you did that volunteer gig in a few days' time.
Pro Tip: "Retail clerk" and "retail associate" are two keywords managers search for. Use the one that's listed in the job description in your resume.
Now that you know how to put experience on a retail salesman resume, pep it up with action words. Need some? See our guide: "+80 Examples of Resume Action Words for Every Profession"
4
Is Your Education Section Cashing Out? It Might Be
The best thing about a career in retail? No one cares about your education. Right?
Yes. But.
If you have one, use it to make your already good retail resume shine.
Start with the basics:
School Name and Location.
Years in School.
Degree.
It doesn't really matter if it's high school or college. The real gold's in the details.
Watch:
Two Retail Resume Examples
right
BA, Williams College
2011 - 2014
Pursued a passion for sociology coursework.
Excelled in four years of Spanish classes.
Placed second in the W.S.C. Public Speaking Contest.
wrong
BA, Williams College
2011 - 2014
Received a BA in Liberal Arts Studies.
GPA 3.5.
Majored in English.
As different as Sears and Sephora, right?
The first sample shows actual useful retail training.
But it wasn't any harder to make.
Need an example to follow? Use the sample retail resume at the top of this article.
Pro Tip: Don't have a college degree? Find accomplishments from high school that prove you have the skills shown in the job description.
To make your retail associate resume stand out like a holiday display, see our guide: "How to Put Your Education on a Resume [Tips & Examples]"
5
How to Put Skills on a Resume for a Retail Employee
Remember our hiring manager, Megan?
She's looking for skills on every retail resume she reads.
But not just any skills.
How can you know what skills to put on a resume for retail?
First, search the job description.
Then, find more skills in other job offers online.
Finally, use our list of retail skills below.
Retail Resume Skills
Retail Resume Skills

| | | |
| --- | --- | --- |
| Soft Skills | Hard Skills | POS Skills |
| Customer Service | Sales | Square |
| Communication | Tech Savy | Shopify POS |
| Bilingual | Math | uniCenta |
| Enthusiasm | Product Knowledge | Quickbooks POS |
| Passion | Inventory Management | NCR |
| Detail-Oriented | Merchandising | Oracle Micros |
| Time Management | Cashier Experience | Erply |
| Team Player | Generating Sales | Loyverse POS |
| Interpersonal | Housekeeping | Netsuite |
| Problem Solving | Promotion | Epicor |
Pro Tip: Try to find out what POS system the hiring store uses. Some POS systems, like Shopify, post free online tutorials. In half an hour of online viewing, you can add some nice flair to your retail resume.
The Real Secret to Putting Retail Skills on a Resume
Ready for the real magic?
Don't just list your skills. Prove them in your experience and education sections.
Let's take a sample retail resume job description.
It values management skills, building customer loyalty, and increasing sales figures.
Example
Fulfilled

daily retail manager duties

, including scheduling, inventory management, problem solving, and taking disciplinary action.

Increased sales figures by 75%

over previous manager through better application of corporate devised promotions.

Built customer loyalty

through better deployment of customer rewards programs through all retail clerks. Increased repeat business 23%.
Bam. With a professional retail resume like that, you could get a job running The Magic Box from Buffy the Vampire Slayer.
Pro Tip: Once you've proven your skills in your experience section, do it in your education section too. Even listing a "passion for public speaking classes" counts.
Need more advice to make the best retail clerk resume skills section on Earth? See our guide: "+30 Best Examples of What Skills to Put on a Resume (Proven Tips)"
6
How to Add Other Sections for an Effective Resume
Imagine you're a retail resume.
You're in a pile of 300+ others, just like you.
You want to get out.
The only way to do that is by looking different.
One great way is "other" sections.
You know: hobbies, interests, activities, and volunteer work.
Things that aren't "work experience," "education," or "skills."
But there's a special way to do it.
You don't want to add generic info. That's like using camouflage when you want neon.
Retail Resume Sample "Other" Sections
Certifications
Basic First Aid & CPR
RiseUp Retail Industry Fundamentals Certification
Additional Activities
Review products in own YouTube Channel. Get 1,500 views/month.
Avid listener, "The Advanced Selling Podcast."
Regular reader of books about sales.
Volunteer Work
Organized a charity snowboard event for the local animal shelter. (2016)
Help out once a month at the Summerville Food Pantry.
Interests
Avid whitewater kayaker.
Write and publish short fiction stories.
Poof. You just went from mannequin to manager material.
Pro Tip: Are special retail certifications worth it? Don't agonize if you don't have one. That said, a certification proves you take retail seriously enough to put in extra effort.
Need some tips to write professional retail resume "other" sections? See this guide: "+20 Best Examples of Hobbies & Interests To Put on a Resume (5 Tips)"
7
Here's the Most Common Myth About Cover Letters
Ready? Here it comes:
"Nobody reads cover letters anymore."
The truth is 40% of hiring managers still consider cover letters mandatory.
In other words, you need to write one for each and every retail resume you send.
Don't be frightened. Retail cover letters are short and easy.
The best cover letters for retail jobs call the hiring manager by name.
They say one detail you like about the company.
They say two details about you that will help the company. (Pick the best "wins" from your retail resume.)
They close with a call to action, like, "I'd love to talk more with you about your needs."
Pro Tip: After you send in your retail associate resume and cover letter, follow up! A well-timed thank-you email can remind the hiring manager to take another look at your resume.
Want a great cover letter template to follow? See our guide: "How To Write A Cover Letter [Complete Guide With Examples]"
8
How to Add Contact Info to Your Resume
Do you really need help adding contact info to a basic retail resume?
You really do.
You already know to add your:
Full Name
Updated Phone Number
Professional Email Address
Like this:
Karen Welihan, karenwelihan@gmail.com - 857-869-2379
But.
Use a professional email address. No RetailGirlDawnOfTheDead47798@yahoo.com.
Then, think about Megan, our hiring manager. Let's say she likes your perfect retail resume for sales assistants.
She wants to know more about you.
Give her a way. Add your LinkedIn profile, Twitter handle, or other online hangouts.
Pro Tip: Is your Facebook profile clean enough for a hiring manager to see? Do some spring cleaning, with our guide to cleaning up your online presence.
Plus, a great cover letter that matches your resume will give you an advantage over other candidates. You can write it in our cover letter builder here. Here's what it may look like: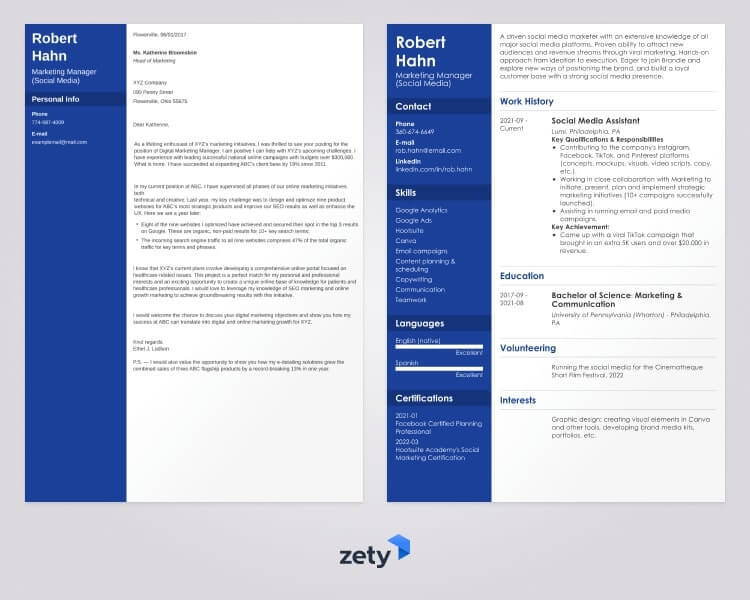 See more cover letter templates and start writing.
Would you like more guidance to create your professional retail clerk resume? See this guide: "How to Make a Resume: A Step-by-Step Guide (+30 Examples)"
9
A Sample Retail Resume Job Description
Here's a sample job description for a retail resume.
Why am I showing you this?
Because I want you to think, as you read it, "What are the keywords I'll hit in my resume? How will I tailor my own skills and accomplishments to fit?"
Retail Associate Wanted
Job Overview
As a Shindlee's Retail Clerk, you'll bring magic to our customers. Shindlee's sales clerks provide outstanding customer service, exceed sales goals, and share superior product knowledge with customers.
Retail Duties
Properly use proprietary POS system technology.
Determine customer needs based on effective communication.
Build and communicate expert knowledge of store products.
Meet daily sales goals.
Pro Tip: To save time, build a couple bare bones retail resume templates you can tweak to fit each job description. The up-front work will pay off big.
Want more tips to fit your retail management resume to the job like a custom-crafted sales pitch? See our guide: "6 Tips on How to Tailor Your Resume to a Job Description (Examples)"
Key Takeaway
Even with example retail resumes, making your own tailored version isn't easy. To do it, follow these steps writing your retail job resume:
Start with the retail job description. Highlight all the skills and duties in it. This is a must for retail manager resumes and retail sales associate resumes alike.
Prove

you can walk the talk by salting those skills throughout your retail sales resumes. Put them in your experience and education sections.

Add

other sections to your retail resume, like hobbies and interests. Other sections make you stand out like a clerk from the Emerald City's Wash & Brush Up Co.

Write a cover letter and, once you submit your application, follow up!
Got questions or tips about how to make a great retail resume? Give us a shout in the comments section!