Buyer Resume Sample (20+ Examples & Tips)
You forge the deals and source the merchandise to feed the monster. But the hiring manager will never know that unless you prove it. Do it with this standout sample buyer resume.
No matter what industry you work for, your job consists of several activities: checking the market trends. Following new developments. Negotiating prices. Managing budgets.
It's a lot of responsibility for one person, so no wonder you want to be paid accordingly. You also expect extra work benefits, because money isn't the only thing that matters in the 21st century.
Not every buyer job is great. Make sure your buyer resume puts you in a strong negotiating position with hiring managers.
This guide will show you:
A buyer resume example better than 9 out of 10 other resumes.
How to write a buyer resume that will land you more interviews.
Tips and examples of how to put skills and achievements on a buyer resume.
How to describe your experience on a resume for a buyer to get any job you want.
Want to save time and have your resume ready in 5 minutes? Try our resume builder. It's fast and easy to use. Plus, you'll get ready-made content to add with one click. See 20+ resume templates and create your resume here.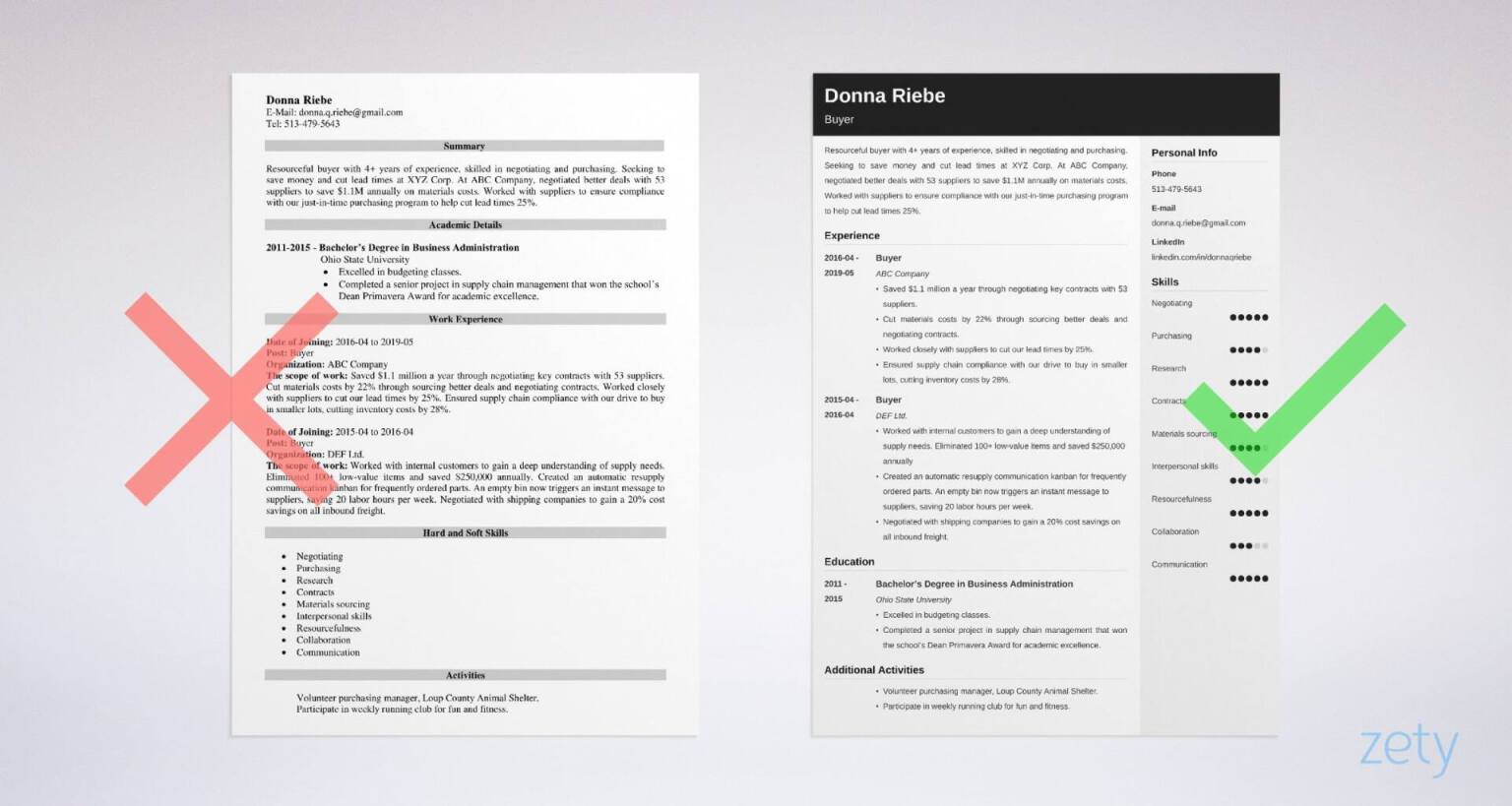 Sample resume made with our builder—See more resume samples here.
Do you really need a buyer resume or assistant buyer resume? What about these?
Buyer Resume Sample
Donna Riebe, Buyer
donna.q.riebe@gmail.com
linkedin.com/in/donnaqriebe
513-479-5643
Professional Summary
Resourceful buyer with 4+ years of experience, skilled in negotiating and purchasing. Seeking to save money and cut lead times at XYZ Corp. At ABC Company, negotiated better deals with 53 suppliers to save $1.1M annually on materials costs. Worked with suppliers to ensure compliance with our just-in-time purchasing program to help cut lead times 25%.
Work Experience
Buyer
ABC Company
April 2016–May 2019
Saved $1.1 million a year through negotiating key contracts with 53 suppliers.
Cut materials costs by 22% through sourcing better deals and negotiating contracts.
Worked closely with suppliers to cut our lead times by 25%.
Ensured supply chain compliance with our drive to buy in smaller lots, cutting inventory costs by 28%.
Buyer
DEF Ltd.
April 2015–April 2016
Worked with internal customers to gain a deep understanding of supply needs. Eliminated 100+ low-value items and saved $250,000 annually
Created an automatic resupply communication kanban for frequently ordered parts. An empty bin now triggers an instant message to suppliers, saving 20 labor hours per week.
Negotiated with shipping companies to gain a 20% cost savings on all inbound freight.
Education
2011–2015 Ohio State University
Bachelor's Degree in Business Administration
Excelled in budgeting classes.
Completed a senior project in supply chain management that won the school's Dean Primavera Award for academic excellence.
Skills
Hard skills: Negotiating, purchasing, research, contracts, materials sourcing
Soft skills: Interpersonal skills, resourcefulness, collaboration, communication
Activities
Volunteer purchasing manager, Loup County Animal Shelter.
Participate in weekly running club for fun and fitness.
Here's how to write a buyer resume that gets jobs:
1. Pick the Best Buyer Resume Format
Buyers, also called purchasing agents, are resource and cost researchers and negotiators. They analyze prices and research and buy materials and services for businesses. A buyer resume must show strong negotiation and analytical skills, as well as interpersonal skills and the ability to collaborate.
Here's a tip:
The hiring manager wants a reason not to read your resume.
A sloppy buyer resume will give her one.
So—
Format your resume for buyer jobs with these key steps:
Pro Tip: The length of a resume is vital. There's almost no need for a 2 or 3-page resume for buyer jobs. One page is enough unless you've got pages of great accomplishments.
2. Write a Buyer Resume Objective or Resume Summary
Here's a secret:
Hiring managers don't like reading buyer resumes.
You need to make them want to read yours.
Use a profile summary.
With 2+ years of buyer experience, a good summary for resume use will focus on achievement.
What's the biggest way your buyer skills made things better for the company?
With a smaller work history, write a resume objective statement. Those mainly sell your buyer skills, but it helps to add accomplishments.
Pro Tip: In an entry-level resume for buyer jobs, talk about the buyer skills you used in other jobs. Those are called transferable job skills.
3. Match Your Resume to the Buyer Job Description
Some resumes shine.
Why?
Because the hiring manager can see they fit the company and job.
Make your buyer resume one of those.
Here's how to add work experience description in a resume:
Of course list your title, the company you worked for, and dates. Then—
List duties and your biggest buyer achievements at that job.
Fit them to the buyer job. If the job description wants negotiation, show them you negotiated deals that saved money.
Don't just say, "saved money." Say how much money with numbers like $1.1M.
Use strong resume words to hold them in suspense.
Pro Tip: You don't need to list non-buyer jobs from a long time ago. But you can if your resume is too short. Just try to use them to prove buyer skills.
When making a resume in our builder, drag & drop bullet points, skills, and auto-fill the boring stuff. Spell check? Check. Start building a professional resume template here for free.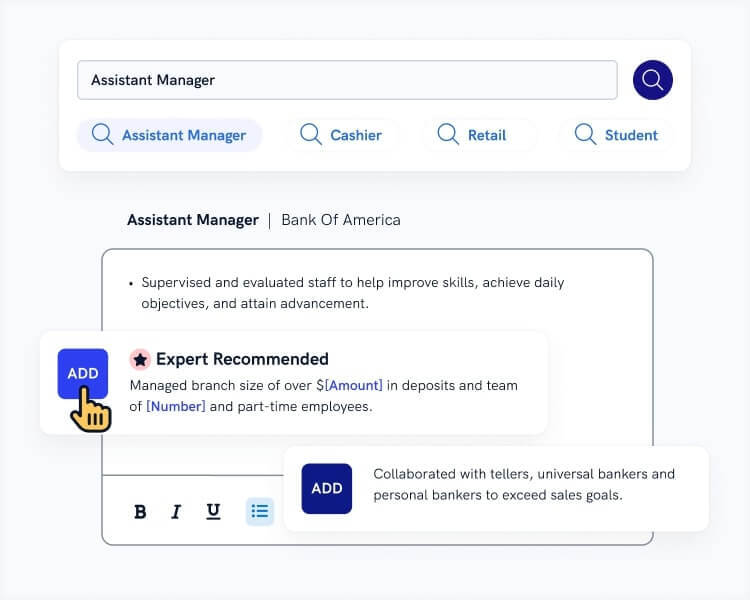 When you're done, Zety's resume builder will score your resume and our resume checker will tell you exactly how to make it better.
4. Customize Your Buyer Resume Education Section
This might sound backwards.
Your resume education section doesn't just show you went to school.
On a buyer resume, it should prove key skills.
You don't have to show cum laude on a resume to do it right. You can just cite classes you did well in, positions, sports, projects, or groups.
Pro Tip: Don't show GPA on a resume for buyer jobs unless it's recent or super-high. What should you do with the extra space? Put another skills-proving achievement.
5. Show Buyer Skills in Your Resume
Use this buyer resume skills list with soft and hard skills examples:
Buyer Resume Skills
Hard Skills:
Materials sourcing
Relationship building
Negotiating
Purchasing
Computer skills
Research
Contracts
Cost reduction
Adhering to quality standards
Working with internal customers
Business strategy
Soft Skills:
Resourcefulness
Attention to detail
Judgement
Listening
Adaptability
Caution—
Don't lump all those skills in at once.
Go heavy on the ones this purchasing job really wants.
Find them in the job ad. You can even call the company and ask.
Then show evidence like I described above.
Pro Tip: For each of the key skills you list, you'll need some kind of accomplishment to show you use it like a pro. Put them in your experience, education, and "other" sections (below).
6. Add Other Sections to Your Buyer Resume
They don't want to hire a robot.
They want a living, breathing human being.
Use your buyer resume to show you are that.
Include:
Activities
Conventions
Associations
Groups
Publications
Classes
Compliments from bosses
Sports
Pro Tip: Use your other resume sections to back up the purchasing skills you list in your resume for buyer jobs. If you raised attendance for a group, that proves leadership.
7. Send a Cover Letter With Your Buyer Resume
Should I write a cover letter for my buyer resume?
Yep.
It's true a lot of hiring managers don't like them. But many do.
That's especially true if you do it right.
To write a good buyer cover letter:
How many words should a cover letter be? Anything more than 350 is too long.
Pro Tip: Write a job application follow-up email a few days after you apply. Still hear crickets? It's okay to ping them in a week, and then the next week if they don't reply.
Plus, a great cover letter that matches your resume will give you an advantage over other candidates. You can write it in our cover letter builder here. Here's what it may look like: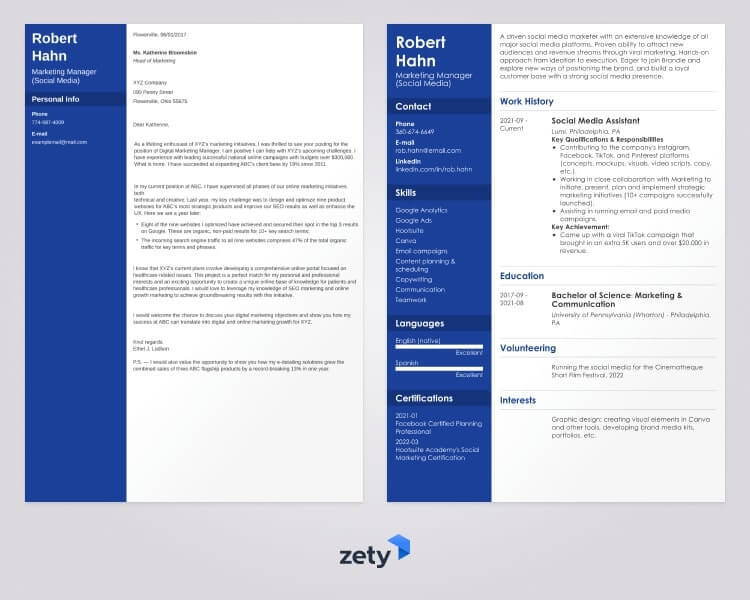 See more cover letter templates and start writing.
That's it!
That's how to write a resume for buyer positions.
Not having good luck with your buyer resume? Is something wrong with your resume for buyer jobs you can't put your finger on? Give us a shout in the comments. We'd love to talk!
About Zety's Editorial Process
This article has been reviewed by our editorial team to make sure it follows Zety's editorial guidelines. We're committed to sharing our expertise and giving you trustworthy career advice tailored to your needs. High-quality content is what brings over 40 million readers to our site every year. But we don't stop there. Our team conducts original research to understand the job market better, and we pride ourselves on being quoted by top universities and prime media outlets from around the world.