Ecommerce Resume: Examples, Job Description, Skills & Guide
You've got your sales analytics, SEO, and marketing campaigns working like clockwork to bring in the big bucks. But to succeed, you also need to nail your ecommerce resume.
You're in the right place to learn how to bump up the performance of your ecommerce resume.
Your business might be booming, but you're off searching for greener pastures—and yet your resume falls on deaf ears more often than not. How come?
Well, your heart might be in the right place, but if your ecommerce resume lags behind in its design or your KPIs, your conversion rates will plummet.
No worries, my friend. We have the remedy.
This guide will show you:
An ecommerce resume example better than 9 out of 10 other resumes.
How to write an ecommerce resume that will land you more interviews.
Tips and examples of how to put skills and achievements on an ecommerce resume.
How to describe your experience on a resume for ecommerce positions to get any job you want.
Want to save time and have your resume ready in 5 minutes? Try our resume builder. It's fast and easy to use. Plus, you'll get ready-made content to add with one click. See 20+ resume templates and create your resume here.
Sample resume made with our builder—See more resume examples here.
Looking to get hired in other marketing/business-related positions? Look to one of our guides below:
Ecommerce Resume Example
Robert C. Elmer
Ecommerce Specialist
708-970-3231
Linkedin.com/in/Robert.c.elmer
Robert.c.elmer@email.com
Resume Summary
Passionate ecommerce specialist with 4 years of experience growing and managing the brand of ModestO5. Coordinated efforts in producing effective revenue-generating solutions, increasing customer base by 114%. Wrote engaging copy and microcopy for email blasts and website UX, increasing engagement by roughly 18% on average.
Professional Experience
Ecommerce Specialist
ModestO5, Glendale, AZ
January 2016–February 2020
Key Qualifications & Responsibilities
Assisted in managing SEO strategy to increase site traffic by 30%.
Increased annual revenue by $500K through website modernization and direct-to-consumer ecommerce.
Raised number of target keywords on Google results pages by 25%.
Trained 12 junior level employees in company best ecommerce practices through teaching sessions and training material.
Junior Ecommerce Analyst
EmblaSite, Glendale, AZ
July 2015–January 2016
Key Qualifications & Responsibilities
Prepared engaging copy for the website to increase traffic.
Managed 600 product data feeds in Google Merchant.
Used Google AdWords and Hitwise to monitor keyword performance.
Education
Glendale University
BA in Business Management
Graduated: 2016
GPA: 3.7
Made the Dean's List 3 times.
Key Skills
SEO/Copywriting
Brand management
Strong team player
Analyzing market trends
Inventing growth opportunities
Communication skills
Working under pressure
Achievements
Managing personal industry blog since 2018 with 5,000 monthly visitors.
Author of "Heading into 2019: Ecommerce Trends," BusinessGen, November 2018
Certified ecommerce Marketing Specialist (Digital Marketer)
Here's how you write a perfect ecommerce resume:
1. Prepare Your Ecommerce Resume Format Ahead of Time
Ecommerce professionals develop and maintain online stores, including tasks that range from online marketing campaigns to streamlining inventory management solutions. Your ecommerce resume needs to show relevant experience and knowledge and highlight your best ecommerce achievements and skills.
Let's start with the visuals. Just like your digital storefront, your resume needs to be sleek, well-organized, and easy to navigate. Keep these resume formatting tips in mind, and you'll be off to a great start:
Set the resume margins to an even inch on each side.
Pick a professional resume font. Use 11–12pt for normal text. Bump the size up to 14–15pt for headings that divide your resume sections—these will help to make your resume easy to skim-read.
Maintain a line spacing of 1 or 1.15. If you go below that, your text will bunch up and become difficult and uninviting to read.
Choose the reverse-chronological format for your resume, which basically means listing your most recent experience first and working your way back. It checks the most boxes, is intuitive in its design, and has generally high KPIs.
Insert your contact information at the top, in a well-designed resume header.
Lastly, save the resume in PDF format, unless the job ad asks specifically for a .docx. PDFs work best for preserving your resume layout.
Wishing you could skip manual formatting and just pick up a theme, like on WordPress? You can: check out our selection of ready-made modern resume templates.
2. Work on Your Ecommerce Resume Profile (Objective or Summary)
With your document all laid-out, it's time to start filling it with content that's bound to convert. First up, a strong resume profile to catch the recruiter's attention.
The profile is a short (around 3 sentences) introduction that works to briefly present you, your work, and your achievements. It needs to be quick and to the point, like an elevator pitch, because it only takes around 7 seconds for a recruiter to make a decision. Talk about a tough sell!
Anyway, if you've been in ecommerce for more than 2 years, write a professional resume summary. Focus on your biggest wins and greatest strengths, backed by numbered accomplishments, and explain how you'd contribute to the new employer's success.
For entry-level ecommerce applicants, prepare a resume objective. Mention the knowledge and skills from other fields or endeavors (i.e. your transferable skills), how they apply to ecommerce, and how you'd make them work for the company's overall benefit.
Is preparing your resume introduction statement causing you more trouble than anticipated? Finish the rest of your resume, then come back to the profile with a fresh mind.
Read more: How to Start a Resume: Guide & Examples
3. Write a Tailored Ecommerce Job Description
In the business of ecommerce, 99% of recruiters will look to your work history section to determine your suitability for the role.
Moreover, the BLS has some charts determining future employment in the sector, and boy does it look promising!
However—
It doesn't matter how well you actually manage your brand image, or implement social media marketing campaigns. If you can't show it off well enough, your ratings fill fall through the floor, and you'll get passed on in favor of the hundreds or thousands of other candidates.
Better get it done right:
Read more: How to Write a Targeted Resume
4. Mention Your Education on Your Ecommerce Resume
It's not terribly difficult to list education on your resume. Still, loads of people decide to skip it altogether for some puzzling reason.
Seeing as it could be the thing that gets you hired, it's worth putting in some effort to make it count:
If you've been in the field for more than 5 years, simply put in your degree, graduation year, and school name and location.
Without much professional experience, use this opportunity to boost your performance and add more details such as relevant coursework, academic achievements (like high GPA or making the Dean's list), or extra activities.
Freshers and career changers making their baby steps into ecommerce should consider changing the order of the experience and education sections if the latter feels more complete and compelling. Play to your strengths!
Read more: How to Put Dean's List on a Resume: Examples
When making a resume in our builder, drag & drop bullet points, skills, and auto-fill the boring stuff. Spell check? Check. Start building a professional resume template here for free.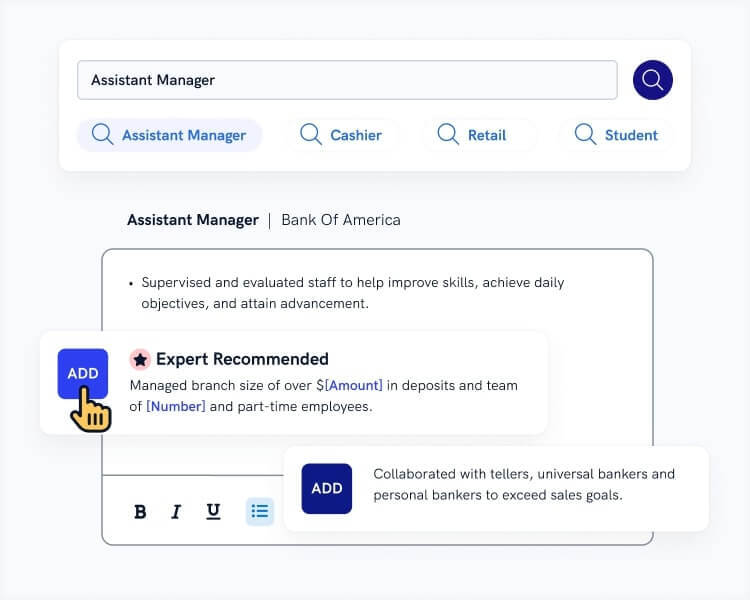 When you're done, our online resume builder will score your resume and our resume checker will tell you exactly how to make it better.
5. Talk about the Right Ecommerce Skills
Whatever you end up putting in the skills section will signal to the employer how you handle yourself in business and how apt you are at growing it.
And, considering that more and more studies emerge proving the relation between a properly managed brand, a well-designed website, and commercial success, you surely wouldn't want your application to fall by the wayside.
Fortunately, there's a way to talk about your ecommerce skills on your resume in a most optimal way:
Start by putting together a list of all skills you have. Big or small, hard skills or soft skills, doesn't really matter, just brainstorm all of them until nothing else comes to mind.
Pull up the job ad and look for the relevant keywords that imply what the company wants from its ideal employee. Compare with your list.
The skills that appear in both places are of the highest priority for the employer, and putting them on your resume will boost your ATS resume score.
In short, if you fill your resume's skills section with 5–10 tailored and smartly-chosen skills, you'll be golden.
In the meantime, here's a list of the best ecommerce skills for your reference:
Ecommerce Skills: Resume Example
SEO/SEM
Advertising
Copywriting
Web Design
Brand Management
Creating Marketing Campaigns
Google Analytics
Analyzing Sales Data
Documenting & Reporting
Agile Workflow
CMS
Adaptability
Attention to Detail
Pro Tip: Ecommerce is a vast field with plenty of different jobs focusing on its different aspects. Keep in mind that you will go farther by tailoring the skills section (and your resume overall) if you adjust the skills to your own little niche.
6. Include Standout Extra Sections on Your Ecommerce Resume
For what it's worth, the resume you've created thus far isn't bad.
However, all the other candidates will have arranged their resume sections very similarly. You need to distinguish yourself from the rest and show you're the one they need.
Basically, with extra resume sections, the goal is to show off your passion and excite the recruiter. Make them say "Wow, I want to work with that person!".
So, include extras such as volunteer work, your relevant passion projects, or professional certifications to get extra points. Throw in a special career achievement or two, or maybe dust off your language skills—works especially well in ecommerce, since so many businesses rely on communicating in an international environment.
Read more: Things to Avoid When Writing a Resume
7. Attach a Cover Letter with Your Ecommerce Resume
Is a cover letter required to succeed?
Yes, without question. Every other recruiter won't as much as glance at your resume if it has 0 attachments.
Here's how to write a cover letter quickly and easily:
Pick the right format for your cover letter to kick things off.
Begin the cover letter by stating what position you're interested in, how you found out about the vacancy, and mention one or two achievements to impress right away.
Use the body to elaborate on what makes you a great addition to the team.
Finish off with a strong cover letter ending and include an enticing offer.
And, if you keep the ideal cover letter length in mind (3–4 paragraphs, under one page), you can sleep sound knowing that you'll be hearing back from them, guaranteed!
Read more: What Should a Cover Letter Say?
Plus, a great cover letter that matches your resume will give you an advantage over other candidates. You can write it in our cover letter builder here. Here's what it may look like: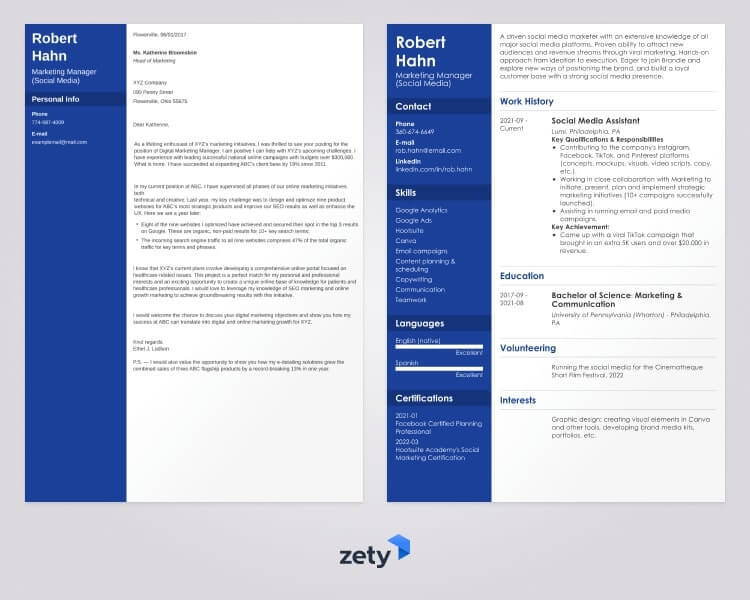 See more cover letter templates and start writing.
Simple as that—a flourishing ecommerce resume!
Got any further tips to share? Or maybe you still need some help writing the perfect ecommerce resume? Not sure how to describe your ecommerce experience? Our experts are here to help you, just head to the comments and we'll be right there.
About Zety's Editorial Process
This article has been reviewed by our editorial team to make sure it follows Zety's editorial guidelines. We're committed to sharing our expertise and giving you trustworthy career advice tailored to your needs. High-quality content is what brings over 40 million readers to our site every year. But we don't stop there. Our team conducts original research to understand the job market better, and we pride ourselves on being quoted by top universities and prime media outlets from around the world.