WordPress Developer Resume: Sample & Guide (+25 Tips)
Upload your skills, Plug-in your best achievements, and hit Publish on a WordPress developer resume that'll streamline the recruiters' decision making process & get you hired!
Just a few scrolls down—that's all it takes to find a way to your next WordPress developer job based on our guide.
To achieve that kind of six-figure-earning, Fortune 500 company job-getting success, your resume needs to read like an enthralling blog.
So… just go super casual and happy-go-lucky in your writing, right?
No.
Here's the thing: you will likely need to get ahead of and outwit hundreds of other candidates. And the best way to do that is through a WordPress developer resume that screams perfection out of each pixel on the recruiter's 24" monitor.
Sounds challenging? Well, buckle up.
This guide will show you:
A WordPress developer resume example better than 9 out of 10 other resumes.
How to write a WordPress developer resume that will land you more interviews.
Tips and examples of how to put skills and achievements on a WordPress developer resume.
How to describe your experience on a resume for a WordPress developer to get any job you want.
Want to save time and have your resume ready in 5 minutes? Try our resume builder. It's fast and easy to use. Plus, you'll get ready-made content to add with one click. See 20+ resume templates and create your resume here.
Sample resume made with our builder—See more resume examples here.
Is WordPress not your thing? See our other web dev-related guides here:
WordPress Developer Template
Gail C. Crim
WordPress Developer
732-487-5256
Gail.crim@yahoo.com
Linkedin.com/in/gailccrim
Summary
Talented WordPress developer with 6 years of WordPress and project lead experience. Standardized project workflow at Liquidify, decreasing delays by 17%. Successfully reassessed and optimized Google AdWords campaigns for a 35% boost in ad network revenue across 60+ websites. Seeking to cut spending and increase efficiency at DojoPhreaks.
Work Experience
WordPress Developer
Liquidify
March 2017–September 2020
Led web developer team in 30+ projects, delivering highly personalized, intuitive websites to a diverse portfolio of clients with 99% met deadlines.
Adapted frameworks of 12 websites for mobile UI adaptation.
Generated approximately $350,000 in revenue through Google AdWords and SEO campaign optimization.
Boosted UX reception by 1/3rd, increasing customer satisfaction and retention.
Freelance WordPress Developer
June 2014–March 2017
Restructured web design of a local businesses' page to implement Google AdSense.
Designed eye-catching website renovation to drive 20% more traffic to clients' websites.
Used Dreamweaver to efficiently reflect changes on live website of local store.
Education
Bachelor of Computer Science
Northwestern University, Evanston, Illinois
2012
Key Skills
Adobe Creative Suite
WordPress
Front-End Web Design
Excellent Project Workflow Management
SEO, Branding & AdSense Integration
Perceptive UX Solutions
Great Leadership Skills
Active Listener
Programming Languages
Certifications
Adobe Certified Professional (ACP), Adobe, 2016
Front End Web Developer Professional Certificate (W3C), W3, 2015
Let's get you up to speed on how you can write that perfect WordPress developer resume:
1. Choose the Best WordPress Developer Resume Format
WordPress developers utilize the open-source software to create, manage, and iterate on websites. They work as full-stack devs, incorporating elements of web design and UX to make the websites attractive and intuitive: two qualities that your WordPress developer resume needs also needs to have.
It's no surprise that with the website being the digital storefront of any given business, recruiters want their WordPress devs to showcase a clear-cut understanding of the field.
Now ask yourself this:
Would hiring managers even remotely consider a candidate if their resume is a poorly structured mess with spelling mistakes and overall horrible design?
Definitely not, especially when your job is all about great structure and perfect design.
So, here are the key resume formatting rules to follow when wireframing your document:
Alright, what about resume length, though? How many pages should a resume be, ideally? Bear in mind, you're not writing a blog. Keep your loading times light by submitting a one-page resume. Go for a two-page resume only if you have 10+ years of highly relevant experience and can actually fill that second page with show-stopping achievements.
Ever customized a pre-made theme to save time? Yeah. Check this out: 15 Ready to Use One-Page Resume Templates
2. Write a WordPress Developer Resume Summary or Resume Objective
Close your eyes. Count to seven.
That's how long the recruiter will spend looking at your resume. Seems short? Sorry, that's the reality. Stay sharp or get left behind.
But fret not—
There's a tool in your resume-writing arsenal to accommodate fussy recruiters: the resume profile.
It's a quick elevator pitch to demonstrate your hottest WordPress achievements in a nutshell and squeeze everything out of those precious seconds.
There are two types of resume profiles, and both should go right below the header of your resume, taking up around 3 to 4 sentences. Here's how to figure out which one you need:
Write a resume summary if you have a few years of relevant experience. Think of it as your resume's meta description: the best, most relevant bits of content condensed into a couple of sentences and rich in keywords.
Write a resume objective if you're not so experienced. Highlight other achievements (like academic ones, or those from personal projects), talk up your transferable skills, and offer to use them to contribute to the company's success.
Whichever one you're going for, make sure to address it directly to the company by using its name, e.g. Seeking to boost revenue for XYZ Company, rather than Seeking a position in a fast-paced startup. That'll let the recruiter know you've tailored your resume to suit their specific needs.
By the way—
Compiling data for this part of your resume writing process will likely take the longest. That's why it's recommended to leave it for last and tackle the other major sections first.
Read more: How to Start a Resume: Guide & Examples
3. Enhance Your WordPress Developer Professional Experience Section
Jobs in web design and digital development will see a sharp 13% increase by 2030.
To put that in plain numbers, you can expect a total of 225 000 jobs in the U.S. Which also means thousands of other candidates who'll want to fill those positions.
So how can you beat them?
A perfect work experience section that shows that you can not only WordPress—but also ImPress. (Sorry, I had to.)
Let's get this rolling:
Remember reverse chronology? Sure you do. Put your last job first and go back in time.
For each, we'll be adding the job title you held, company name and location, the dates you worked there, plus up to 6 bullet points (fewer for older jobs).
To make your resume bullets effective, you'll want to highlight your best achievements in WordPress. Don't be boring! Instead, use engaging power words like designed, implemented, organized, performed, etc., and focus on your professional accomplishments rather than on plain duties.
Use numbers in your accomplishment statements whenever possible, e.g. Boosted page loading speed by 15%, or Designed complete websites for 35+ clients. See how the numbers draw the eye?
Don't write a bland, generic resume. That's like applying for a WordPress job with a BlogSpot portfolio, recruiters will hate it. Targeting the resume requires extra effort but is totally worth it, as it shows you actually care about the position.
…what about you, freshers, struggling to write a resume with no experience? No worries. Reorganize your resume and bump up the education section to parade the more important section higher up—by min-maxing like that, you increase your chances greatly.
Read more: How to Write the Best Job Description for Your Resume
4. Freshen up the Education Section on Your WordPress Developer Resume
There's no WordPress school of hard knocks out there for you to graduate from and score bonus points in the eyes of your employer.
So yes, in a way, it's true your education comes second to your hard work and experience.
But don't turn it into an excuse for delivering a lame education section. Or even worse: skipping it altogether.
That's like forgetting to check if your plugins are up-to-date. Instant red flag!
Try this:
If you've been in the industry for over 5 years, you don't need to elaborate. School name and location, degree obtained, and graduation year will do.
Otherwise, make up the difference by adding things such as relevant courses you excelled at, your GPA (if worth bringing up), scholarships, club memberships, or honors on your resume.
Read more: Putting Your Degree on a Resume: How To & Examples
When making a resume in our builder, drag & drop bullet points, skills, and auto-fill the boring stuff. Spell check? Check. Start building a professional resume template here for free.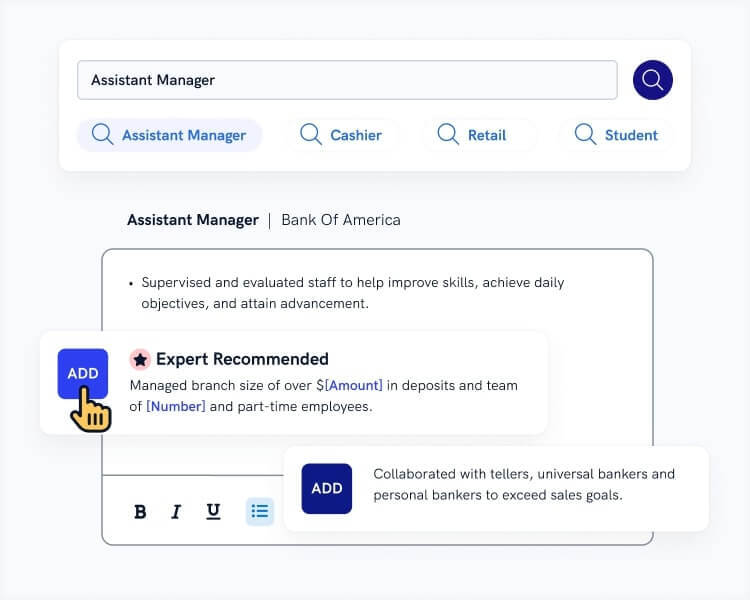 When you're done, our free resume builder will score your resume and our resume checker will tell you exactly how to make it better.
5. Show the Right WordPress Development Skills
What should every website have?
Security measures? HTML5/CSS3? Clear CTAs? Social media links?
Yes, but also—WordPress, apparently. WordPress is used on over 40% of all websites.
40%! All websites!
That means finding a job shouldn't be difficult, right?
Right—provided your skills put you not in the top 40%, but more like the top 4%.
Fortunately for you, most people screw this part up rather royally, and quite often at that. If you follow these steps below, you'll set yourself up for success.
First, pull up the job ad and keep it handy. You'll need it in just a sec.
Write down all of your skills. Any you can think of, brainstorm if you have to, and exhaust all your options.
Your list of professional skills should be quite robust at the end. Now, pop over to the job description in the posting you've opened in the first step. Look around for resume keywords under 'Skills' or 'Requirements'. They'll describe the skills of an ideal candidate.
Any matches between the list and the job ad are the perfect skills to put onto your resume section!
That said, here's a list of the hottest skills to put on a WordPress developer resume:
WordPress Developer Resume Skills
Responsive Web Design
Website Best Practices & UX
Full Stack Web Development
Programming Languages (PHP, MySQL, HTML5, CSS3)
Graphic Design
Adobe Photoshop
Content Management Systems
Mobile Adaptation
Dreamweaver
SEO, Google AdWords, Google Analytics
Git
jQuery, Javascript, Python
Problem Solving Skills
Read more: Hard Skills vs. Soft Skills: What's the Difference, Really?
6. Throw in Extra Sections onto Your WordPress Developer Resume
The one thing that's missing from your otherwise excellent resume now is extra sections.
You may have wondered in the past what the point of those is.
Well, it's to show you're a real person, not a website crawler. Your employer should be just as excited to pick you up as you are.
Here are a few ideas:
Sure, none of these are mandatory—
But they definitely help to inject personality and motivation into your job application, plus they'll make for great talking points during that interview you're bound to land.
Read more: 20+ Best Examples of Hobbies & Interests to Put on Your Resume
7. Write a Convincing Cover Letter for Your WordPress Developer Resume
Okay, I lied. Extra resume sections aren't the only thing your resume still needs.
The facts have it straight: 45% of recruiters require a cover letter to be attached. A huge chunk of them don't, yes, but you can never know. And when that dream job of yours is on the line, why wouldn't you go the extra mile?
Check out the key cover letter tips below:
Before you even begin writing, know what cover letter format you'll be going with.
Start your cover letter opening that turns heads. Drop a professional achievement to make it stand out like a video header with a shaded overlay in a sea of plain HTML sites.
Concentrate on showing off more of your wins and conveying your excitement to join the company in the body.
End the cover letter with a convincing but succinct call to action.
Pro Tip: Sent? Great! Remember to follow up on your job application after a week or so. Recruiters often get swamped, and it's easy to let the best candidates slip through the cracks.
Plus, a great cover letter that matches your resume will give you an advantage over other candidates. You can write it in our cover letter builder here. Here's what it may look like: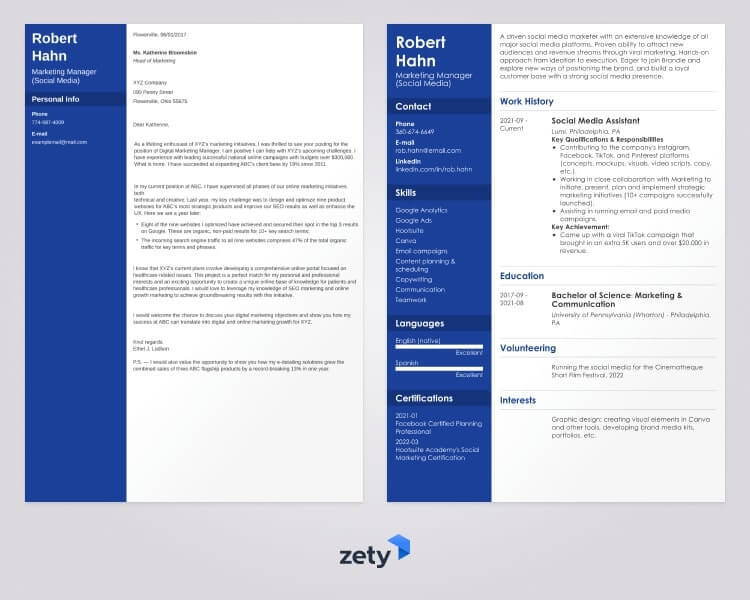 See more cover letter templates and start writing.
That's all!
You now know how to write the perfect WordPress developer resume. If yours was a website, it'd get instantly featured on the WordPress Website Showcase.
Thanks for the read. If you have any burning questions, or maybe words of advice backed up by years of WordPress seniority, feel free to head to the comments section. We'll be there!
About Zety's Editorial Process
This article has been reviewed by our editorial team to make sure it follows Zety's editorial guidelines. We're committed to sharing our expertise and giving you trustworthy career advice tailored to your needs. High-quality content is what brings over 40 million readers to our site every year. But we don't stop there. Our team conducts original research to understand the job market better, and we pride ourselves on being quoted by top universities and prime media outlets from around the world.