Software Engineer Resume Examples & Tips [+Template]
A full-stack guide to writing a software engineer resume that'd put Linus Torvalds to shame. With easy to code tips to make your next job application a cinch.
You might be confident in code, but when it comes to applying for a job, the recruitment process can feel like a language you've never learned. Hiring managers are long on expectations and short on time. They're looking for a perfectly structured resume that shows off your software engineering cred at a glance.
Meeting those high expectations can be daunting.
But you'll be pleased to know that writing a good software engineer resume is surprisingly similar to writing good code. It should contain sentences as well-constructed as effective functions, be bug free, and adaptable to new requirements.
And you're about to learn how easy that is to achieve. You'll even get software engineer resume examples, so you can see exactly how it's done. Read on, and you'll see how to write a job-winning resume for software engineer jobs that's as robust as your finest code.
Want to save time and have your resume ready in 5 minutes? Try our resume builder. It's fast and easy to use. Plus, you'll get ready-made content to add with one click. See 20+ resume templates and create your resume here.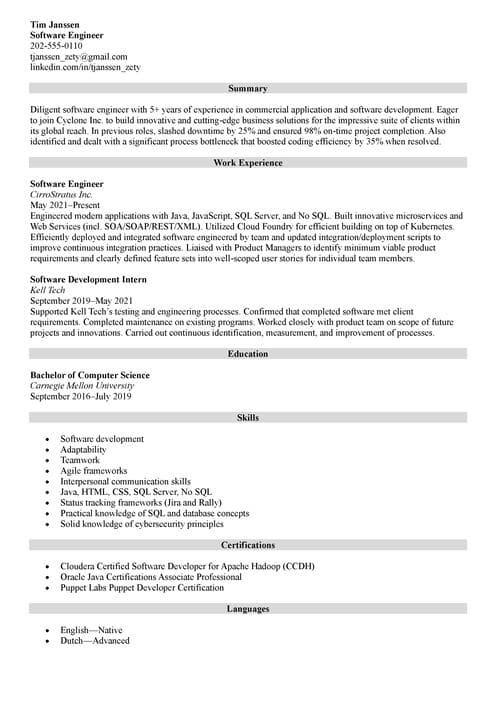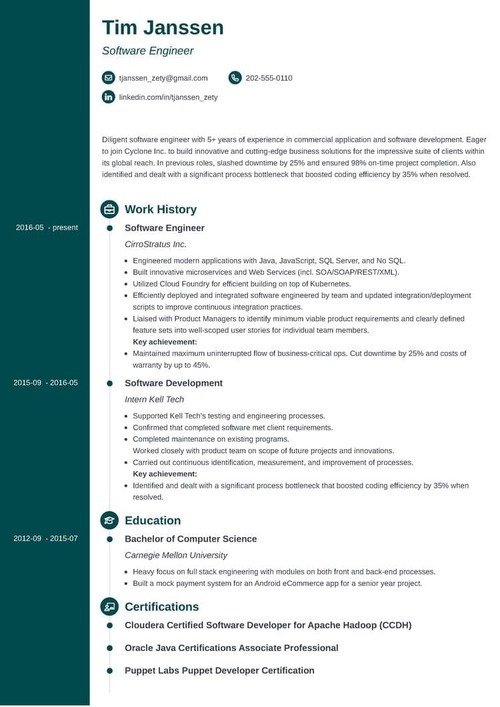 Software engineer resume made with our builder—See more resume templates here.