You've just got your computer science degree. Congratulations! You must feel on top of the world now! And rightly so—it's one of the most sought-after degrees.
Now, the only thing keeping you from starting a career is finding a job offer that matches your expectations. Once you find it, send out your computer science resume and wait for an answer.

Wait, what? Your computer science resume isn't ready yet? What are you waiting for? Just follow this guide and your computer science resume will be ready in no time.
In this article, you'll find:
A computer science resume example better than 9 out of 10 other resumes.
How to write a computer science resume that will land you more interviews.
Tips and examples of how to put skills and achievements on a computer science resume.
How to describe your experience on a resume for a computer science specialist to get any job you want.
Here's a sample resume for a computer science professional made using our resume builder.
Want to save time and have your resume ready in 5 minutes? Try our resume builder. It's fast and easy to use. Plus, you'll get ready-made content to add with one click. See 20+ resume templates and create your resume here.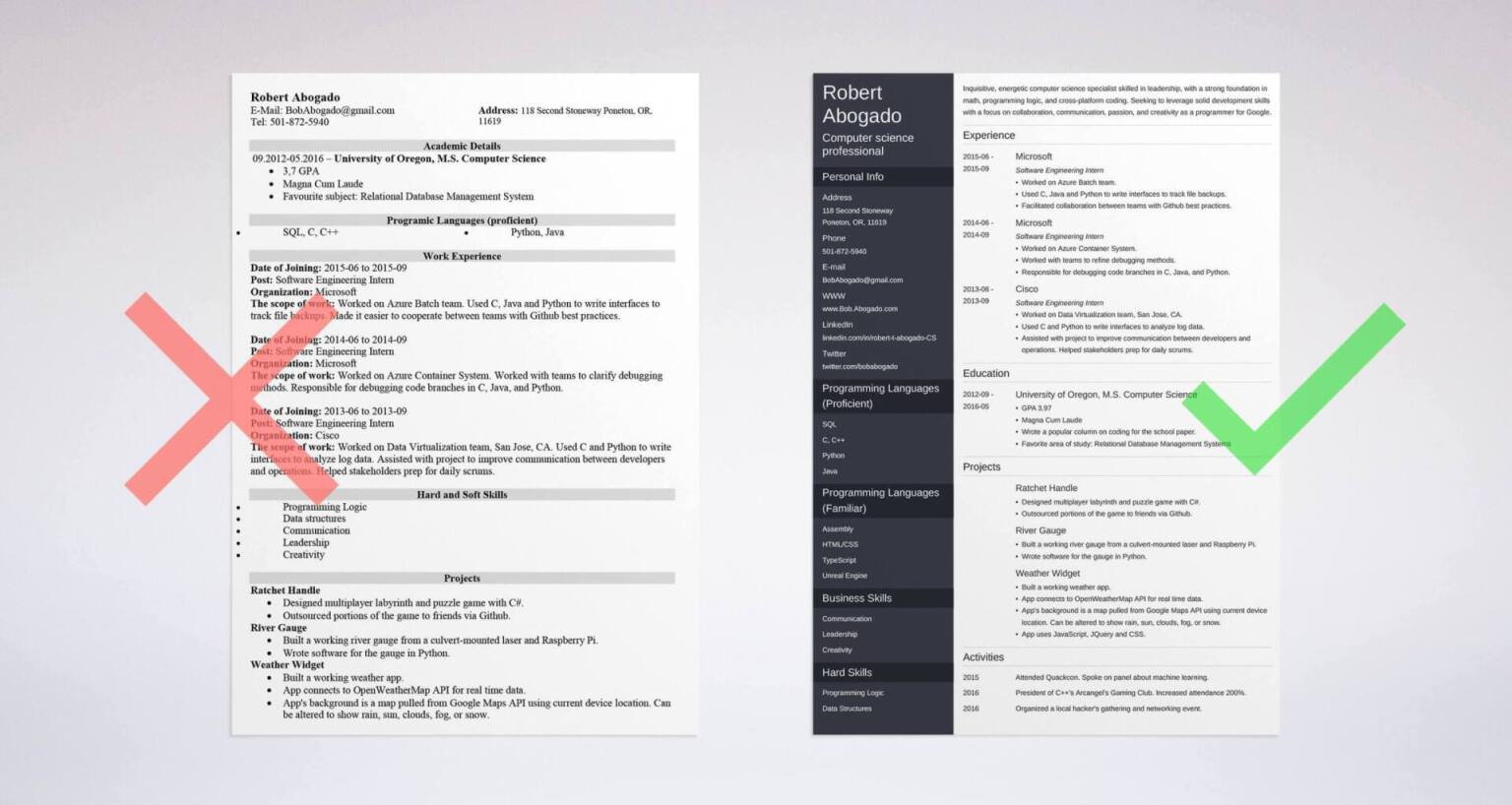 Sample Computer Science Resume—See more resume examples here.
OK, computer science whiz kid! Are you perhaps targeting a specific position in computer and information technology? Read:
1
Use a Good Format for Your Resume
Computer scientists solve problems using technology. In fact, the term computer science can refer to software and web engineering, networking, or graphics among others. For maximum impact, your computer science resume must be tailored to a specific job offer.
Why?
The average recruiter spends only seven seconds looking at a resume, according to our HR statistics report.
Wow.
That means you've got to make your resume jump out.
A good computer science resume will stand out like it's made of neon, but it won't look needy. How can you complete this Thor-like task?
Your first and biggest friend is format.
There are 3 types of resumes you can use:
In general, your best bet is the reverse-chronological resume format.
Why?
Because it shows your best points first.
Make good use of white space, legible fonts, and clear, stand-out headings.
Save your resume document using a PDF format. A PDF preserves the formatting. Make sure the company accepts PDF resumes. Some don't. And take care using LaTeX resume templates too. They can often be more trouble than they're worth.
Pro Tip: Say more with less. A Google recruiter said over half the computer resumes he saw used two pages. Try and use one page only.
For an in-depth look at other resume formats, see our guide: "3 Resume Formats: How to Choose the Best One" and "Best Resume Templates"
2
Write a Compelling Resume Objective
or
Summary
Question:
Which will make the hiring manager realize she is dealing with a future Bill Gates? A resume summary or a resume objective?
Do you know the difference?
A resume summary is for those with oodles of experience.
A resume objective belongs in an entry-level computer science resume. It also works for applicants who are changing careers or computer science students.
Let's look at each in turn.
Computer Science Resume Summary
Here's a computer science resume example summary. Note the focus on experience.
right
Engaged, creative computer science professional with 15+ years experience. Seeking to leverage exemplary leadership skills, analytical skills, and coding skills as a project manager for Cisco Systems.
wrong
Computer science professional with 15+ years experience. Skilled in C++, C, SQL, Python, Ruby, Java, JavaScript, PHP, and problem-solving.
Computer Science Resume Objective
Here's a sample resume objective from a computer science major resume. It's for those with no experience, or people changing careers. It's engineered to stretch out those six precious seconds of coveted eye-time.
right
Inquisitive, energetic computer science specialist skilled in leadership, with a strong foundation in math, logic, and cross-platform coding. Seeking to leverage solid skills in collaboration, communication, and development as a programmer for Google.
wrong
Computer science graduate trained in C, C++, Ruby on Rails, HTML, CSS, PHP, MySQL, Java, JavaScript, Python, SQL, with an undergraduate degree.
The first example makes the job seeker's computer science college resume stand out like Mark Zuckerberg at a NASCAR rally.
The second makes it look like all the rest.
Pro Tip: Center your computer science resume objective around the benefit you hope to provide to the employer. "I'm looking for a job" can't hold a candle to, "I want to double your efficiency."
To nail your computer science resume objective or summary, read our guides: "How To Write A Resume Summary: 21 Best Examples You Will See" AND "The Only Way to Use Resume Objectives [20+ Examples & Tips]"
3
Describe Your Computer Science Experience
"Wow. We've got a live one here."
The experience section in your computer science resume template should get that response.
Start with your most recent job first. List up to six responsibilities and achievements.
Lather, rinse, repeat.
Tailor your bullet points to fit the job description. To become a Jedi at this, brainstorm all your past achievements. Make a spreadsheet with fifty things you've done for work.
Next, read the job description carefully. From your spreadsheet, pull the most impressive items that fit best. You need to describe how is your previous experience relevant to this role.
Consider a job opening that values SQL and leadership skills.
Work Experience Section Samples
right
Software Developer
June 2015‒March 2017
Kaituna Systems, Massachusetts
Responsible for daily development in a mid-sized customer service firm.
Delivered presentation that convinced management to switch from client-side profiling of MS SQL to the more accurate Extended Events method.
Led trace team for implementing the use of Extended Events on SQL Server.
My article "Why Server Side is King" was published in the company newsletter.
wrong
Kaituna Systems, Massachusetts
Worked as a programmer.
Used C++ and C#, PHP, Python.
Named programmer of the month twice.
Above, the first computer science resume sample section zeroes in on leadership and SQL.
The second misses the target like a storm trooper.
What if You Don't Have Experience?
The good news is, everybody has experience. We just need to find it.
Dig deep into computer science tasks you've performed at non-computer science jobs. Think about projects you worked on in college or even high school. Relevant courses, and internships on a resume look great, too.
If you still hear echoes when you try to brainstorm your experience, go get that experience. Sound like a catch-22? It's not.
Almost anyone can get some quick work experience to fill a computer science student resume.
Consider the following short-term work sources:
Freelance on job sites that offer short-term, piecemeal work. The pay might not be stellar, but you'll collect some street cred.
Chip into open source projects. A little work on Github can rack up experience employers can validate with ease.
Create your own projects to build a personal portfolio.
Apply for a part-time computer science internship at a big-name company. Even a small position with few hours can make a resume pop like a praxis effect.
Computer Science Student Resume with No Experience
Start your inexperienced or undergraduate computer science resume projects section with college moonlighting. You did the jobs below for fun or for free, but they still count as experience.
right
Freelance Software Developer
May 2012‒March 2017
Created a working T-shirt sales website with PHP, JavaScript, HTML, CSS, and MailChimp. Built and maintained a working customer database, order system, and picking and packing system with MySQL, complete with error handling and data validation.
Developed an SQL trace monitoring system for ChompyBoy pet food company, New York.
Updated mobile site for WannaBeRichRich.com to meet new Google mobile first quality standards.
wrong
Recent college graduate. No experience yet but eager to try.
Working on small projects and then including them in your computer science resume sample can help you grab the recruiter's attention, even if you're not exactly Elon Musk yet.
Pro Tip: When picking projects to work on, think of your career goals. An entry-level computer science resume with small, focused projects can teleport you in the right direction.
To make your professional computer science resume glitter, use action words. Need some? Here they are: "80 Examples of Resume Action Words for Every Profession"
When making a resume in our builder, drag & drop bullet points, skills, and auto-fill the boring stuff. Spell check? Check. Start building a professional resume template here for free.
When you're done, Zety's resume builder will score your resume and our resume checker will tell you exactly how to make it better.
Everybody knows real world experience matters more than education in computer science.
Recruiters yawn at education, so you should too.
Right?
Well, just a second.
Yes, education can be boring. If you let it. It's true hiring managers don't care as much about a school's name or status in computer science as they do in other fields.
But we're not asking how to make a boring resume. We're asking how to make an awesome computer science resume like Tony Stark's.
So, take some time. Brainstorm what you did in school that might turn heads. Make a long list. Even something you forgot about three years ago might dazzle an employer.
List your:
Computer Science Education Section Examples
The example below shows how a computer science engineering student can look like a proto Dennis Ritchie.
right
2013-2016 B.S.
Hudson Valley Community College, New York
GPA 3.95
Graduated Magna Cum Laude
Favorite area of study: Relational Database Management Systems.
Favorite class: Machine Learning for Better Data Management.
Extracurricular project: Built a working river level gage from a culvert-mounted laser and a Raspberry Pi.
Wrote a popular column on coding for the school paper.
wrong
GPA 3.95
Graduated Magna Cum Laude
How to Beef Up a Weak Computer Science Resume with Education Mastery
So you've finished your computer science undergraduate resume. It takes up about one fifth of the page. The rest is blank.
Feeling a little like Sheldon in The Big Bang Theory's "Desperation Emanation" episode?
Put that resume on steroids with a hard look at your education section.
To GPA or not to GPA?
Should you put your GPA on an entry-level computer science resume or leave it off?
Some experts recommend leaving off the GPA unless it's 3.7 or above. Others call that a hint to the recruiter that your GPA is 1.1.
We say, it depends. Learn as much as you can about the job offer and the employer. From your findings, are they the kind of company that wants to see your GPA?
Base your decision on the individual job opening, not a cookie-cutter rule.
Tout Your Favorite Classes
Want to catch the recruiter's attention? Don't have enough experience?
Add a couple favorite classes. Add courses you excelled in. Add subjects you're passionate about. This step can make you stand out in a sea of grey-faced applicants.
We want your entry-level IT resume to make you look like Peter Parker. Not Biff Tannen.
Pro Tip: Don't ignore the things you did in high school. Especially if you lack experience, high school achievements can show you do more than the bare minimum.
The simple tip of adding high school education kudos can make even a freshman computer scientist resume shine.
Need more examples to help you write the best resume education section possible? See our guide: "How to Put Your Education on a Resume [Tips & Examples]"
5
Put the Right Skills on a Computer Science Resume
Skills. They're everything to that overworked computer science hiring manager. Aren't they?
You'd be surprised.
Yes, the hiring manager wants to see your list of skills. But do they make you different than applicants #2 through #1138?
Not much.
What a recruiter really wants to know is, can you walk the talk? Can you use those skills you list?
Further, does your arm-long list of skills dovetail with the job opening?
Build your comprehensive list of professional computer science resume skills in a spreadsheet. In your resume, add the ones that fit this job description.
Then, back those important-to-this-job skills up elsewhere in the resume. Put one as a favorite class in the education section. Link others to achievements and responsibilities under "experience."
Sample Skills Section
right
Skills
SQL, Java, JavaScript, C#, C++, Python, PHP, Ruby on Rails.
Exceptionally skilled at all aspects of SQL.
Skilled in Illustrator, Mongo-DB.
Strong leadership, communication, and collaboration skills.
Skilled in critical thinking, logic, and high math.
wrong
Skills
SQL, Java, JavaScript, C#, C++, Python, PHP, Ruby on Rails.
Leadership, communication, collaboration
Critical thinking, logic.
Important Skills to List on a Computer Science Resume
Why should you worry about adding computer science resume keywords?
A recruiter will use software to sift through resumes in search of keywords.
Find the keywords your recruiter searches for by digging for them in the job description.
Below is a computer skills list you can add to computer science resume. Be sure to include a good mix of technical skills and soft skills.
What to Put on a Computer Science Resume?
Want to find more computer science skills to list? Look on jobs boards and LinkedIn. Search job offers there to see the skill keywords valued by employers.
Pro Tip: Differentiate yourself. In your skills section, list the common skills that every computer science hire needs. But add something no one has to catch the eye... and highlight it in your resume's skills summary.
Need more advice on how to add skills to your computer science resume? See this guide: "30 Best Examples of What Skills to Put on a Resume (Proven Tips)"
And for programming skills in particular, see this guide: "How to List Programming Skills on Your Resume" and "How to List Programming Projects on a Resume"
6
Add Other Sections for Greatest Impact
Want to look exactly like every other applicant?
No?
Then cut and paste from sample computer science resumes on the web. Use the sample resumes to get ideas, but make your computer science resume unique.
To stand out, add separate sections for hobbies, awards, certifications, passions, or publications.
Show something about yourself that makes the hiring manager slow down.
Have you attended a hackathon? If not, can you? Have you published articles about computer science? Attended conferences?
Put these things in special resume sections to add a little spice.
Examples of Additional Sections
Below is a section from a computer science intern resume sample.
right
Interests and Passions
Come find me at the Northeast Hackathon.
I love making toy boats from mini-cell foam with CAD and a CNC programme I wrote.
My article on machine learning, "I, Connected Home," was featured on MobileBuzz.com.
Spoke on a panel about Github at the Mass Open Source Conference in 2015.
wrong
Interests and Passions
I'm an avid baker.
I love science fiction movies.
I'm in a role-playing club on Thursday nights.
Suggested "Extra" Resume Sections
Computer science pros love to tinker. That shows interest and looks great on a resume. The following sections can create a good container for your past successes:
Projects - In a resume projects section, put independent work like video games you've developed, sites you've worked on, or apps you've developed. They are a great idea for less experienced candidates.
Activities - An activities section is a great place for job seekers who attend hackathons or belong to clubs to showcase their interests.
Don't have enough details to fill two different sections? Combine them into a Projects/Activities section.
Pro Tip: Almost everyone has something about them that makes them glitter. If you don't, add some shine by contributing to a blog, attending a conference, or participating in a hackathon.
Need some brainstorming examples while you write your computer science resume template? See our guide: "20 Best Examples of Hobbies & Interests To Put on a Resume (5 Tips)"
7
Do Write a Computer Science Cover Letter
Ready?
"No one uses cover letters anymore."
Now let's explode that. Pow! Imagine the Mythbusters guys firing an exploding chicken at it.
Cover letters are still "literally a thing." Without one, 45% of all recruiters will chuck your beautiful computer science resume into the phantom zone.
So, now that we know we need a cover letter, how do we write the one that gets the hiring manager interested in your resume?
Here's the hack: Learn.
Learn everything you can about the company, about the hiring manager, about the job offer. Custom-fit your resume to match that info.
Then, whether you're an old pro or you're writing a computer science internship cover letter, make it an at-a-glance version of how well you fit the job.
Your Cover Letter is the Icing on Your Resume Cake
A cover letter for a computer science resume should show you're sharp, creative, brilliant, and you have the skills.
So how do you make your cover letter do those things? You come right out and say them, right?
Dead wrong.
Tooting your own horns falls on deaf ears. You need to show you are those things. Pick past achievements, experience, responsibilities, and passions. Choose projects you worked on and things you did in school.
In other words, stuff that cover letter with a highlights-reel-type list of info. Doing that will make you glow like you went swimming in a vat of yellowcake uranium.
Plus, a great cover letter that matches your resume will give you an advantage over other candidates. You can write it in our cover letter builder here. Here's what it may look like: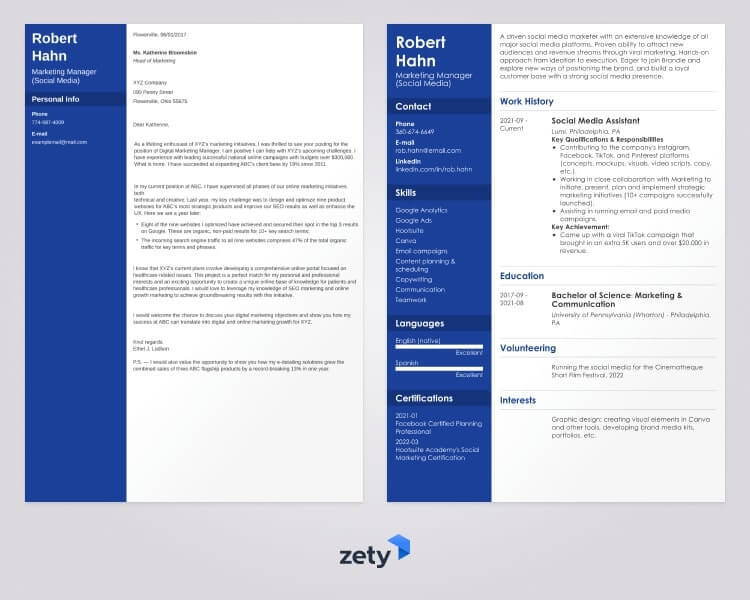 See more cover letter templates and start writing.
Want to blow that computer science cover letter out of the water? Use this guide: Computer Science Cover Letter: Examples and Tips
Or see our general cover letter writing 101: Cover Letter Writing [Complete Guide with Examples]
Key Takeaway
Even with sample computer science resumes at your fingertips, making your own good version isn't easy. Use the hacks below to pass the gate guards.
Be sure to make your computer science resume eye-friendly and beef up your experience section. A computer science resume with no experience is a one-way ticket to the pit of despair.
You want to join them, so make them need you. Touch it up with action verbs and impressive achievements to wow them. Paint the best picture of yourself.
Be sure to tailor everything to the job description. If you can do all that, you're well on your way to landing a job.
Do you have any questions on what a resume should look like? Can we help you write the best computer science student resume? Give us a shout in the comments section!
About Zety's Editorial Process
This article has been reviewed by our editorial team to make sure it follows Zety's editorial guidelines. We're committed to sharing our expertise and giving you trustworthy career advice tailored to your needs. High-quality content is what brings over 40 million readers to our site every year. But we don't stop there. Our team conducts original research to understand the job market better, and we pride ourselves on being quoted by top universities and prime media outlets from around the world.