Junior Java Developer Resume: Sample & Guide
If you've unit-tested your resume enough, and are still coming up short on your breakthrough, this junior java developer resume guide is for you!
So you're looking to get into Java development.
You might have just graduated from college, or maybe you're a career changer.
You might be completely new, or maybe you designed a few apps on the side.
Doesn't matter.
Not unless your junior Java developer resume is laced front to back with elegant structure and is completely free of bugs and endless loops.
Read on, and you'll find out how to make that happen.
This guide will show you:

A junior Java developer resume example better than 9 out of 10 other resumes.
How to write a junior Java developer resume that will land you more interviews.
Tips and examples of how to put skills and achievements on a junior Java developer resume.
How to describe your experience on a resume for a junior Java developer to get any job you want.
Want to save time and have your resume ready in 5 minutes? Try our resume builder. It's fast and easy to use. Plus, you'll get ready-made content to add with one click. See 20+ resume templates and create your resume here.
Sample resume made with our builder—See more resume examples here.
Is it other IT jobs you're after? Check out the list below:
Junior Java Developer Resume Sample
Samuel Loyd
Junior Java Developer
336-553-9591
samueltloyd@zetymail.com
Resume Objective
Passionate computer science student, received straight A's on all software development coursework. At IndyTechs, used JSP to implement dynamic pages for 3 clients. Commended by several professors, in particular in my Practical Java Applications 201 class. Seeking to use my existing skills and my eagerness to learn in to design innovative, cost-effective Java solutions for ByteSyzed.
Education
Bachelor's Degree in Computer Science
Massachusetts Institute of Technology
Expected Graduation: June 2023
Relevant coursework: Fundamentals of Programming, Computability and Complexity Theory, Design and Analysis of Algorithms, Computer Language Engineering, Object-Oriented Programming with Java, Practical Java Applications
GPA: 3.9
Dean's List in Fall/Winter 2021 & Spring/Summer 2022
High School Diploma
Cherry Hill High School, Boston, MA
Graduated: 2019
Work Experience
Entry-Level Java Developer Internship
IndyTechs, Boulder, MA
June 2021–Sept 2021
Assisted Junior & Senior employees in testing J2EE programming code and applications
Worked with Java Server Page (JSP) to help implement dynamic web pages for 3 different clients.
Compiled 10 bi-weekly reports to be reviewed by personal supervisor during company-wide town halls.
Collaborated with other 8 team members to design creative UX solutions on the client's website.
Key Skills
JSPs, J2EE, Java Keywords
User Interface Design
JVM and Memory Management
Teamwork
Unit Testing
SQL Queries
Critical Thinking
Excellent Communication
Programming Languages
Java, Javascript
HTML, CSS
Python
Foreign Languages
Swedish: Advanced
Korean: Working Proficiency
This is how you write a junior Java developer resume:
1. Format Your Junior Java Developer Resume Perfectly
Junior Java developers create business and web applications for platforms, collaborating with senior employees to write and implement Java code and perform unit-testing. Your junior Java developer resume has to show you have both the know-how and the soft skills to make this happen.
The problem, however, is that recruiters are ruthless and if they can't look upon your resume and get what they need straight away—
You get stamped with a big, fat "No". This is all the more likely seeing as in the United States (and likely the whole wide world), software dev jobs are not going anywhere, and are growing at a much faster rate than average.
To avoid that, you need to create a resume that has an immaculate structure, just like your code.
Follow these steps to a proper resume layout:
Remember that you have limited space to work with. How many pages should a resume be, anyway? It's a matter that's up for discussion for seasoned pros, but for entry-level resumes, you should never go over one page.
Read more: What Should a Resume Look Like: Examples and Tips
2. Craft a Junior Java Developer Resume Summary or Objective
Each great resume has a short, personal, introductory statement at the top. It's called a resume profile.
Think of it as an elevator pitch, except instead of selling an idea, you're selling yourself.
How do you go about writing it? Well, first you have to decide between writing a resume summary or a resume objective.
If you're applying for junior roles, then chances are you don't have a lot of experience (either in Java development or at all). A resume objective is the best choice for juniors and for career-change resumes.
Your objective should focus on highlighting your transferable skills and emphasizing how your knowledge would work in a Java framework. You can also mention a relevant academic achievement, or a measurable accomplishment from another role that helps to prove your skills in development.
In case you're interested (or for future reference!), a resume summary condenses your work history into 3–4 sentences. It's the resume profile of choice for candidates who have at least 2 years' worth of experience and definitely include your most impressive achievements in order to score.
Read more: Best Resume Introduction Examples
3. Compile a Junior Java Developer Experience Section
Hiring managers with 300+ resumes on their desks cannot afford to waste time focusing on imperfect candidates. The work experience section is the part of your resume that can decide your fate in a flash. Let me show you how to do it right.
Prepare a list of your past jobs. Include only the most relevant ones, thus tailoring your resume to the particular job.
Using the reverse chronological order, place the most recent one at the top. For each one, provide the company name, job title, and tenure. Then, list up to 5 or 6 of those achievements and duties in a bullet list (less as you go back in time).
Here are a few other key things to keep in mind:
Quantify your professional achievements by adding numbers. "Wrote code" and "Performed routine debugging" doesn't sound as good as "Analyzed files to facilitate problem resolution, decreasing downtime by 25%".
Use action verbs. They help to keep the reader engaged and interested.
Writing your resume this way avoids rejection by the Applicant Tracking System, or ATS, which should be one of your main goals.
Is your experience more JavaScript than Java? Not much to show for yourself in this section? Consider moving the education portion up and the professional history down. Remember, the golden rule of resume writing is putting the important elements higher up.
Read more: Resume Bullet Points: How to Write Them & How Many to Use
4. Debug Your Education on a Junior Java Developer Resume
Lots of people trip up here, and that's a big mistake. When you're applying for entry-level positions, the education section often comes to your rescue as a means of showing off your merit.
Start off by providing the name, and location of your school, plus the degree you have or are in the process of getting.
Then, you want to get ahead of the competition by adding extra details, like some of the following:
If you're still in college working towards your first degree, include your high school education too. Just the name and location of your high school, plus the year you graduated, will suffice.
Read more: How to Put Your Degree on a Resume
When making a resume in our builder, drag & drop bullet points, skills, and auto-fill the boring stuff. Spell check? Check. Start building a professional resume template here for free.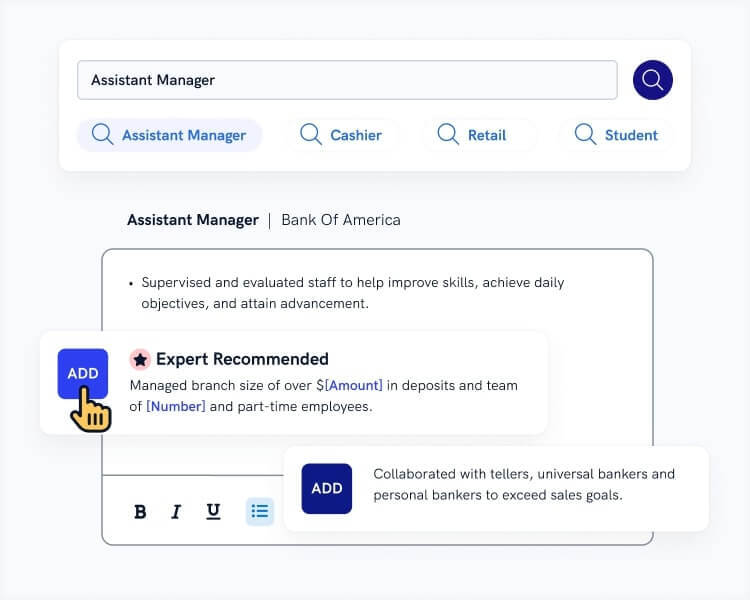 When you're done, our professional resume builder will score your resume and our resume checker will tell you exactly how to make it better.
5. Showcase Your Java Skills on a Junior Java Developer Resume
Java has evolved plenty in the past few years. With two updates per year, it exponentially increases the number of skills you need to possess in order to keep up with the newly introduced features and expanded functionality.
So, to put it in resume-writing terms—
There's going to be a lot of pressure on your skills section.
Here's how to get it done right:
Build a master list of skills, divided into the categories of soft skills, hard skills, and technical skills.
Scan the job ad for the most relevant resume keywords. They should tell you exactly what the company is looking for, so they won't exactly be burying that information and making it an InaccessibleObject.
When you find a skill they're after on your master spreadsheet, put it in the skills section!
Below is a sample list to reference when thinking about your skills:
Junior Java Developer Sample Resume Skills
Java
HTML, CSS, PHP, J2EE, JQuery, JavaScript
XML and JSON
iOS, Android
Web Frameworks
Debugging
Website Development
Coding
Preparing Unit Test Cases
MVC
JSP, Servlets
Technical Skills
Congrats: you've just tailored your skills section to the job ad. Make sure you include up to 10 skills in list form, and weave the rest into your work history, objective, and education sections.
Read more: Picking the Best Skills to Put on a Resume
6. Put Extra Sections onto Your Junior Java Developer Resume
It's incredibly important to establish yourself as more than just another dispassionate Joe Schmoe in it for the paycheck and cushy do-nothing jobs.
Why?
The supply and demand for software engineer positions is growing exponentially in the U.S.
The same goes for Java, which has become an incredibly dominant force and is the #1 language for DevOps, AI, BigData, and others.
Simply put, you either stand out or fall behind.
You can do the former via extra resume sections that show you have the fire and energy to actually make an impact in the company. Check out these ideas:
Read more: What to Put on a Resume
7. Attach a Cover Letter with a Junior Java Developer Resume
A resume with no cover letter is like a website without jQuery these days.
And recruiters agree—with around 45% decidedly rejecting applications without a letter attached, according to our HR stats.
Before you begin writing, opt for the right cover letter format.
Lead off with a cover letter opening that turns heads. Talk yourself up to prove you're the real deal.
Expand on what makes you the right choice for the company, and why you chose to apply for a position with them in particular.
End your cover letter with a call to action.
Pro Tip: After a week has passed, feel free to follow up on your application. Seriously: it's far more likely to be interpreted as genuine interest rather than nagging, so don't hesitate!
Plus, a great cover letter that matches your resume will give you an advantage over other candidates. You can write it in our cover letter builder here. Here's what it may look like: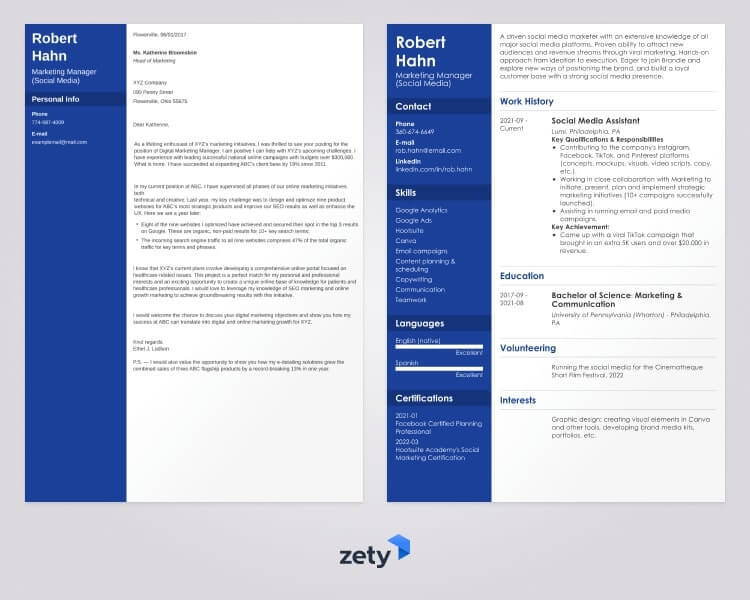 See more cover letter templates and start writing.
And with that, you're done!
A spectacular resume for a junior Java dev!
Thanks for reading. Do you have any doubts about the education section? Maybe some queries on debugging the skills on your junior Java developer resume? Go ahead and give us a shout in the comments!
About Zety's Editorial Process
This article has been reviewed by our editorial team to make sure it follows Zety's editorial guidelines. We're committed to sharing our expertise and giving you trustworthy career advice tailored to your needs. High-quality content is what brings over 40 million readers to our site every year. But we don't stop there. Our team conducts original research to understand the job market better, and we pride ourselves on being quoted by top universities and prime media outlets from around the world.