Computer Science Internship Resume Template & Guide
You can't get experience without experience. But you can get an internship. To make your science internship resume flow like Python, read this quick & easy sample and guide.
You need a computer science internship resume that gets you in at Apple or IBM. But how can you do it, when you're up against 65,000 graduates from the US and over 400,000 from other countries? Oh-oh. Unhandled exception.
You've got this.
It's not that hard to write a resume for computer science internships that validates. That's because most of your fellow students don't know how to list their education on a resume. They talk about what they learned. Instead, you'll share what you achieved, and come out looking like Linus Torvalds.
Want to save time and have your resume ready in 5 minutes? Try our resume builder. It's fast and easy to use. Plus, you'll get ready-made content to add with one click. See 20+ resume templates and create your resume here.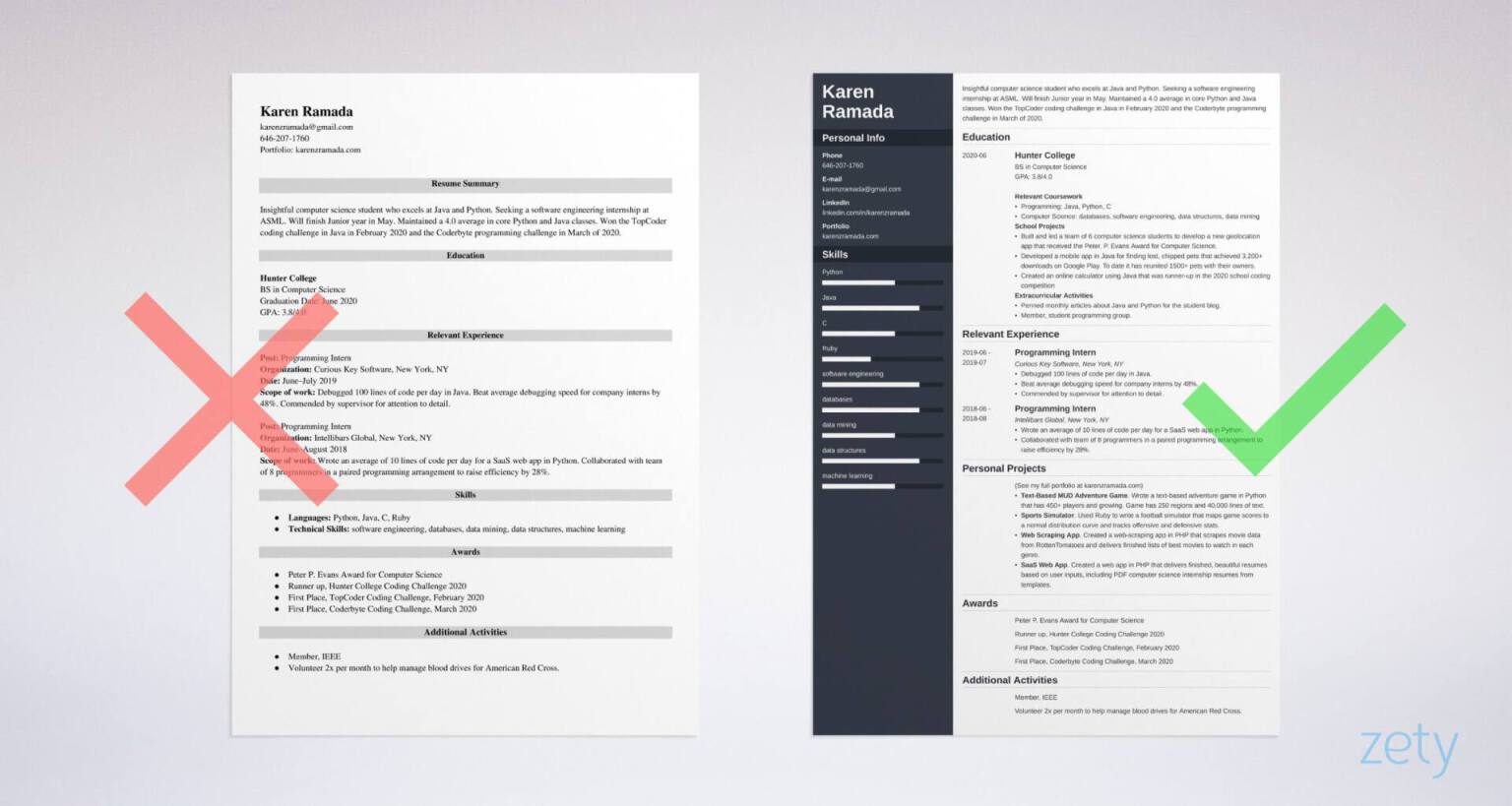 Computer science internship resume made with our builder—See more templates and create your resume here.
Are you hunting other computer science jobs or other internships? See these resume guides:
Sample Computer Science Internship Resume Template
Karen Ramada
karenzramada@gmail.com
646-207-1760
linkedin.com/in/karenzramada
Portfolio: karenzramada.com
Resume Summary
Insightful computer science student who excels at Java and Python. Seeking a software engineering internship at ASML. Will finish Junior year in May. Maintained a 4.0 average in core Python and Java classes. Won the TopCoder coding challenge in Java in February 2020 and the Coderbyte programming challenge in March of 2020.
Education
Hunter College
BS in Computer Science
Graduation Date: June 2020
GPA: 3.8/4.0
Relevant Coursework
Programming: Java, Python, C
Computer Science: databases, software engineering, data structures, data mining
School Projects
Built and led a team of 6 computer science students to develop a new geolocation app that received the Peter. P. Evans Award for Computer Science.
Developed a mobile app in Java for finding lost, chipped pets that achieved 3,200+ downloads on Google Play. To date it has reunited 1500+ pets with their owners.
Created an online calculator using Java that was runner-up in the 2020 school coding competition
Extracurricular Activities
Penned monthly articles about Java and Python for the student blog.
Member, student programming group.
Relevant Experience
Programming Intern
Curious Key Software, New York, NY
June–July 2019
Debugged 100 lines of code per day in Java.
Beat average debugging speed for company interns by 48%.
Commended by supervisor for attention to detail.
Programming Intern
Intellibars Global, New York, NY
June–August 2018
Wrote an average of 10 lines of code per day for a SaaS web app in Python.
Collaborated with team of 8 programmers in a paired programming arrangement to raise efficiency by 28%.
Personal Projects
(See my full portfolio at karenzramada.com)
Text-Based MUD Adventure Game. Wrote a text-based adventure game in Python that has 450+ players and growing. Game has 250 regions and 40,000 lines of text.
Sports Simulator. Used Ruby to write a football simulator that maps game scores to a normal distribution curve and tracks offensive and defensive stats.
Web Scraping App. Created a web-scraping app in PHP that scrapes movie data from RottenTomatoes and delivers finished lists of best movies to watch in each genre.
SaaS Web App. Created a web app in PHP that delivers finished, beautiful resumes based on user inputs, including PDF computer science internship resumes from templates.
Skills
Languages: Python, Java, C, Ruby
Technical Skills: software engineering, databases, data mining, data structures, machine learning
Awards
Peter P. Evans Award for Computer Science
Runner up, Hunter College Coding Challenge 2020
First Place, TopCoder Coding Challenge, February 2020
First Place, Coderbyte Coding Challenge, March 2020
Additional Activities
Member, IEEE
Volunteer 2x per month to help manage blood drives for American Red Cross.
Here's how to build your own resume for a computer science internship:
1. Format Your Computer Science Internship Resume Correctly
Computer science internship resumes have to show you won't write sloppy code. One of the key ways you do that is with a professional resume layout. Just like with code, clean formatting makes your work easy to read and understand. Pay close attention to spelling, margins, line-spacing, and fonts.
The perfect resume for computer science internships will show you care about the line-level details. Follow these resume formatting tips:
Pro Tip: There are only 65,000 computer science graduates in the US each year. But—many internships are work-from-home. That means you'll compete with well over 500,000 worldwide graduates.
2. Get Noticed With a Resume Profile Statement
To get attention fast, start with an eye-catching resume introduction about three lines long. In it, share your graduation date, key area of study, and one more vital thing. Add a couple of educational achievements or personal projects that will get their interest crackling.
The introduction is also called an objective for a resume. Back before COBOL, that was where you talked about your hopes and dreams for your career. We don't do that anymore. Today, we focus on our skills and achievements to show how we can help.
You may have heard about a summary for a resume. That's the same thing, but for experienced applicants. Since that's not you, you'll write an objective at the top instead.
Read more: How To Make Your Resume Stand Out
3. Write a Different Kind of Computer Science Internship Resume Education Section
Since you're writing a no-experience resume, your education resume section has a bigger job to do.
Read more: How to List Unfinished College on a Resume
4. Write a Tailored Computer Science Internship Resume Job Description
Have you done computer science internships already? Those go in a work experience description on your resume. But there's an important way to do it to beat out the other internship applicants. You have to know the skills they want and show you've got them:
Read more: How to Add Internships to a Resume
5. Show Your Best Computer Science Internship Skills
Worried you won't list the right skills on your computer science internship resume? Not nearly worried enough. The reason most resumes fail is that they fail to list the right skills.
Here's how to show your CS skills are Microsoft-worthy:
Seek the job skills in the online posting. Note the ones the company seems to place a priority on. They'll be up top in the ad.
Find both soft skills and hard skills in that ad. Soft skills are things like communication and teamwork. Hard skills are coding languages or machine learning skills.
Next, write a skills list for your resume of the top 10 skills you found. But don't stop there. Add those skills to the achievements in your bullet points, too.
Pro Tip: Once you've got an eye-catching resume, submit it to the top 50 Fortune 500 companies looking for computer science interns. But also apply at small companies, where you'll get more responsibility.
Computer Science Internship Resume Skills
Programming languages (Java, Python, C, etc.—but don't put every language in the book. Just the ones you're really great at.)
Software engineering
Databases
Machine learning
Product development
Data structures
Data mining
Debugging
Prototyping
Testing
Detail-oriented mindset
Pro Tip: When targeting a resume, use resume keywords to get past the ATS system. That's just an algorithm that checks to see if you've got the right skills listed in your CS internship resume.
When making a resume in our builder, drag & drop bullet points, skills, and auto-fill the boring stuff. Spell check? Check. Start building your resume here.
When you're done, Zety's resume builder will score your resume and tell you exactly how to make it better.
6. Include Extra Sections for Your Computer Science Internship Resume
"Extra" resume sections in a computer science internship resume aren't necessary. But—they can give employers a reason to want to meet you:
Read more: What Sections Belong in a Resume?
7. Write a Cover Letter for Your Computer Science Intern Resume
You may be wondering, "Should I include a cover letter with my resume for computer science internships?" Absolutely! No employer wants a generic application. They want to know you want to work for them, and why. Sound daunting? It's not.
Here's how to nail down all the right cover letter parts:
Start with a modern cover letter template.
Avoid writing a 'Dear Hiring Manager' cover letter. If you can't find the manager's name, use "Dear computer science internship hiring manager" instead.
Write a cover letter opening line that grabs them from the first sentence. A winning opening line will get them interested in what you have to say.
In the second paragraph, entice the hiring team with a few key moments from your CS internship resume.
In your cover letter closing paragraph, make them understand that this internship is near and dear to your heart. Then offer to discuss what you can do for them.
The length of cover letter should always be 3–4 paragraphs and slightly less than a full page. The idea here is just to get them interested in your resume.
Read more: Cover Letter for an Internship: Examples and Guide and Computer Science Cover Letter
Plus, a great cover letter that matches your resume will give you an advantage over other candidates. You can write it in our cover letter builder here. Here's what it may look like: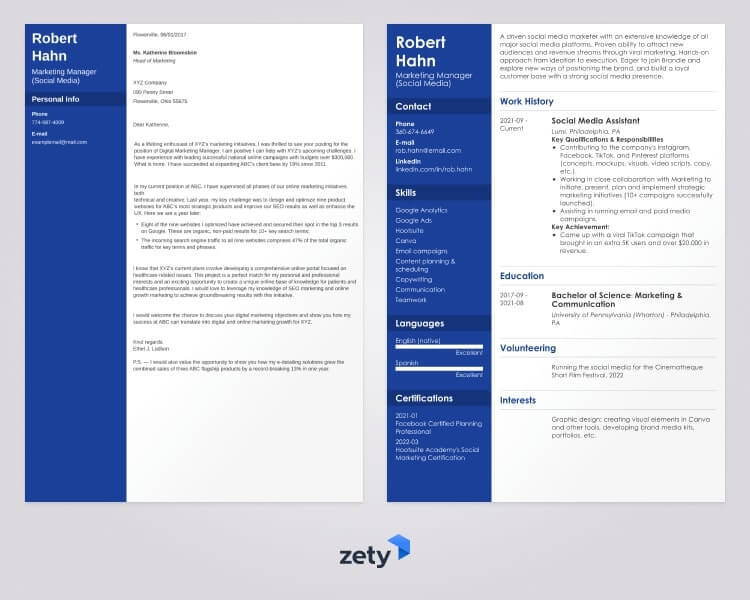 When you're done, Zety's resume checker will score your resume and tell you exactly how to make it better.
You're set—
Now you know everything you need to write a great computer science internship resume!
Thanks for reading! Do you have another question on how to make a computer science intern resume that connects? Give us a shout in the comments section!