What to Name a Resume File & Cover Letter (+Examples)
Resume.doc is not a good idea. So what is? How to name a resume file? This guide has the answers on what to name your resume and cover letter files.
What should your resume name and cover letter name be? There are dozens of variations. And if you choose a wrong name and file format, you'll simply ruin your chances of getting an interview invite.
Relax. We've got your back.
In this guide, we'll show you:
How to choose a resume name and cover letter name that work.
Tips on resume file name characters, such as capitalization and hyphens.
20+ resume name examples and cover letter name examples.
Which format to save your job application documents in after choosing good names for your resume & cover letter files.
Want to save time and have your resume ready in 5 minutes? Try our resume builder. It's fast and easy to use. Plus, you'll get ready-made content to add with one click. See 20+ resume templates and create your resume here.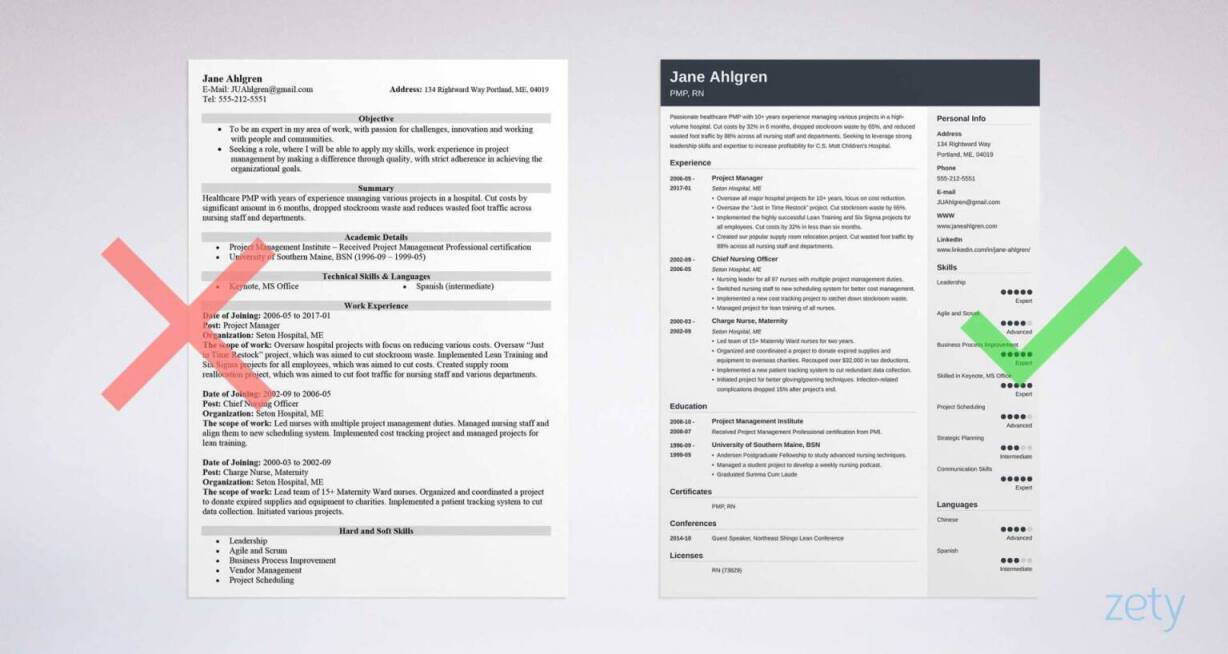 Sample resume made with our builder—See more resume samples here.
Before you send your resume and cover letter to recruiters, make sure they're up to par. Check out our guides:
Ok, let's get to it.
1
What to Name Your Resume and Cover Letter Files?
What should I name my resume file?
If there's one rule to remember, it is this:
Never save your resume file name as simply resume.doc.
On average, each job ad posted by an HR manager receives 250 replies, according to our HR statistics report. If you apply with resume.doc as an attachment, it will instantly get lost. Instead, choose one of these two options to name your resume file:
1. Name-Job Title-Document
This one tells the recruiter everything they need to know before they even open your resume or cover letter up. Here's how it looks:
right
Jessica-Thomas-Assistant-Manager-Resume.docx
You can also switch up the job title and document:
right
Jessica-Thomas-Resume-Assistant-Manager.pdf
2. Name-Document
The previous naming convention is great, but it could end up being too long.
Example?
If you're named Hubert Blaine Wolfeschlegelsteinhausenbergerdorff and applying for the junior construction project manager position, lose the job title.
Here's how that looks:
right
Malcolm-Washington-Cover-Letter.pdf
Pro Tip: Always keep your name at the beginning in cover letter and resume names. This way, when your documents are saved into a folder with those of dozens of other applicants, they stay together (in an alphabetical sorting system), one right after the other.
Preparing to send your email? Here's how to do it right: 12+ Best Tips For Emailing A Resume To An Employer
When making a resume in our builder, drag & drop bullet points, skills, and auto-fill the boring stuff. Spell check? Check. Start building a professional resume template here for free.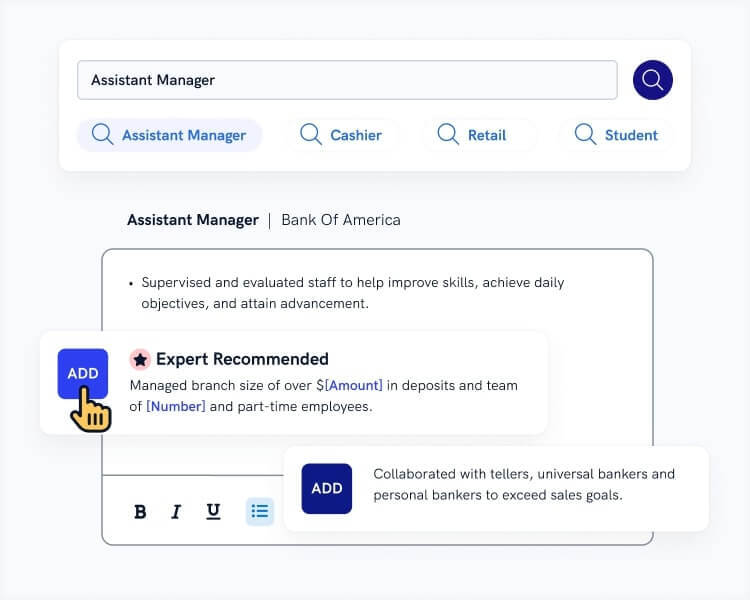 When you're done, our easy resume builder will score your resume and our resume checker will tell you exactly how to make it better.
2
Tips on Choosing the Perfect Resume File Name
The wording of your cover letter name and resume name isn't the only thing to pay attention to. There's capitalization, word separation, file format, special characters, and more.
With that in mind—
Here are more tips for how to name your resume files and cover letter files:
Capitalize First Letters vs. Using Lowercase
I was a firm believer in keeping everything lowercase, since I work with URLs a lot. File names have much in common with them.
When you work with URLs, there's an unspoken rule of using lowercase only. This is because systems other than Windows (e.g., Unix) treat uppercase and lowercase names as two completely different files.
So I searched online to get the general feel in the career world with resume titles and cover letter file names.
And surprise—
Quite a lot of recruiters find all-lowercase file names for resumes and cover letter "lazy" and "annoying." The verdict on this: to stay on the safe side, use title case, capitalizing only the first letter of each word. And stay consistent in both your resume and cover letter name.
Separating Words in a Cover Letter and Resume File Name
On your computer, a resume file saved as Dwayne Adams Resume.docx (with spaces) looks fine.
However—
Many HR specialists will upload your resume onto their company's server or into an applicant tracking system (ATS). When that happens, spaces may get replaced with other characters.
Here's how a resume file name looks when it becomes a URL:
wrong
http://company.com/applicants/Dwayne%20Adams%20Resume.docx
Ugly, right?
So, always use a hyphen or underscore to separate words.
You may choose either one, but the underscore requires one extra keystroke (pressing Shift + hyphen instead of just hyphen). Just bear in mind, a hyphenated surname may cause confusion.
Whichever option you go with, again, be consistent on all documents attached (resume, cover letter, list of references, portfolio of past work, etc.).
Pro Tip: What about smushing all the words together, capitalizing just the first letter of each word, so no spaces are required? According to Stanford, this is called "camel case." Though it's easier for humans to read, this resume file name format often jams up the ATS.
Special Characters in Resume & Cover Letter Names
When deciding how to name a resume file, use only English alphabet letters (A–Z), numbers (0–9), and dashes or underscores.
Special characters such as apostrophes, commas, or accents in the word "résumé" wreak havoc on the ATS and desktops alike.
Pro Tip: Omit dates, times, and version numbers in your resume titles and file names. These mean something only to you. For hiring managers, it's just a source of confusion.
Saving Resume & Cover Letter Files in Microsoft Word Document, PDF or TXT?
In most cases, you can save and send your resume file as a PDF.
PDF documents render correctly on any device the recruiters views it on, be it an iPhone or a Chromebook. However—
Always check the job description first, because the employer may have another preference.
Look at these two examples:
Please send an email including a cover letter and resume PDF to jobs@********.com with "Web Content Assistant" in the subject line.
But this is also possible:
To apply for this job, please upload a resume as a Microsoft Word document using the form below.
Still, PDFs are the most common file type used for saving resumes & cover letters.
How to save a Word resume or cover letter as a PDF?
Easy! In Microsoft Word, go to File > Save As > Browse. Then choose your name and click the dropdown menu "Save as type." You can choose from .doc, .docx, .pdf, and several other file formats.
Note: Don't use .txt for a resume file name. Though an unformatted Notepad file might be easy on the ATS or quirky for IT jobs, recruiters go blind trying to figure it out.
First Name First or Last Name First?
When naming your resume and cover letter file, go with your first name first and your last name second.
Some hiring managers have a system in place that will sort candidates by their surname. However, you can't guess what their system is, so stick with the above.
Pro Tip: Are you writing a resume using college guidelines? Most universities have their own conventions for resume and cover letter file names, such as this one from CUNY. Always check your university's website, first.
3
DON'T Follow Any of This Advice If…
All the resume naming advice listed above is voided if the job description says otherwise.
While most job descriptions leave resume names and cover letter titles up to you, quite a few have standards in place.
Here's an example from a job ad I found online:
Your application must include at least two samples of your work from these categories: sales letter, article, sales email, newsletter, or video script. Also, please name your resume as in this example: Name_Surname_Sales_Letter.pdf
See that?
If you don't name your resume and cover letter the way they ask, you'll immediately appear as a candidate who can't follow directions.
And you'll be out of the applicant pool immediately.
So—
Only follow the advice in this article for cover letters and resumes where the job advertisement gives no explicit specifications.
Plus, a great cover letter that matches your resume will give you an advantage over other candidates. You can write it in our cover letter builder here. Here's what it may look like: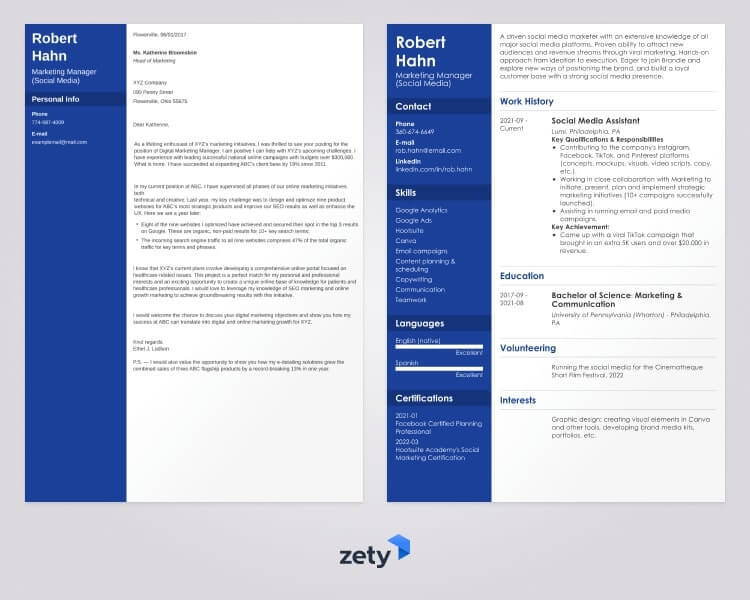 See more cover letter templates and start writing.
Here's how to name your resume files and cover letter files:
Never write only cover-letter.pdf or resume.docx.
Use your first and last name, then, optionally, the job description, and then the document type (e.g., resume, cover letter).
Separate words in the cover letter name with either a dash or an underscore.
Save your resume as a PDF unless directed otherwise.
Follow the naming convention from the job description above all else.
Do you have any questions on resume names, cover letter names, document formats, or file name rules? Were you taught a different method on what to name resume files? Let's chat below in the comments, and thanks for reading!
About Zety's Editorial Process
This article has been reviewed by our editorial team to make sure it follows Zety's editorial guidelines. We're committed to sharing our expertise and giving you trustworthy career advice tailored to your needs. High-quality content is what brings over 40 million readers to our site every year. But we don't stop there. Our team conducts original research to understand the job market better, and we pride ourselves on being quoted by top universities and prime media outlets from around the world.
Sources