How to List References on a Resume [+Examples]
Wondering how to add references to a resume? And should a resume include references at all? Read on, and you'll find all there is to know about references on a resume.
Should you add references to a resume? If so, then how to include references on a resume? And is there a template for a references page for a resume?
These are some tricky questions that need to be answered before you reach out to your previous colleagues for a good word. Professional references on resumes might be what's required in your situation. But they can also be a miss. So let's find out which one is it!
This resume references guide will teach you:
Should a resume include references or not.
How to put references on a resume the best way possible.
How to make a reference page for resumes and job applications.
What a good references on resume example looks like and how to choose the right format for references on a resume.
Want to save time and have your resume ready in 5 minutes? Try our resume builder. It's fast and easy to use. Plus, you'll get ready-made content to add with one click. See 20+ resume templates and create your resume here.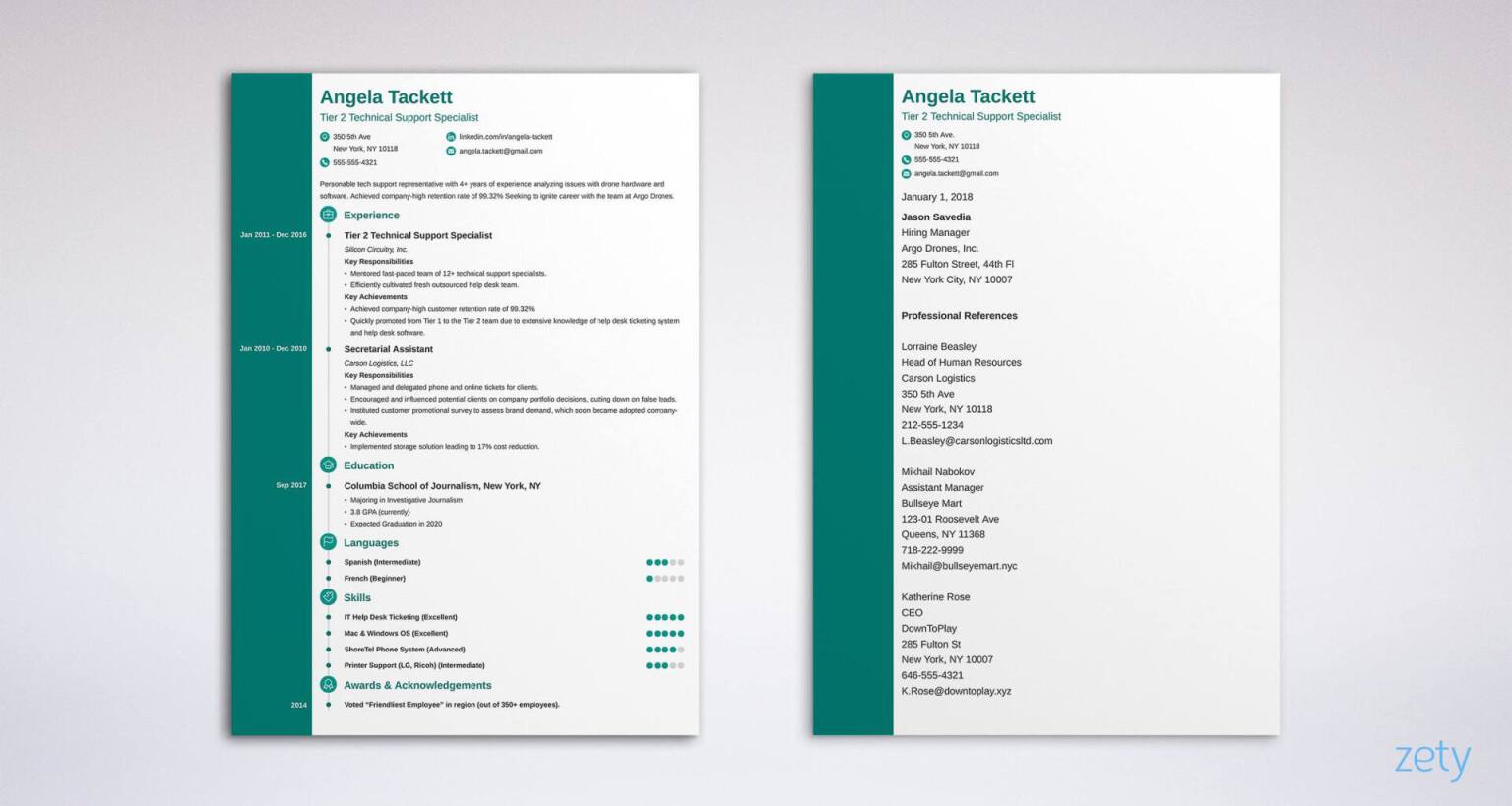 Resume & References Example—See more resume examples here.
1
Do References Go on a Resume?
Career consultants and hiring managers all but agree that references should not be put on a resume.
Back when I got my first job, references on a resume were commonplace. My advisor in high school even told me to do it. But, just like with most peer-pressured decisions in high school, it is not what I would do now.
Is that a solid no, though? Well, there are special circumstances when you can include resume references, but you'll know them when you see them. Generally, if the job listing or hiring manager specifically asks for a references page, then, by all means, include one!
For most of you, this should have answered your question, and you can continue on to learn how to tailor your resume, picking the best resume font, what to include on a cover letter, or how to email your resume.
If your mind's made up, and you'll be listing references on your resume, let's continue.
Pro Tip: If you can't decide whether to put references on the resume, then don't include them. Stick with a resume without references.
Want to make a resume that will hook every recruiter and get you that interview? Get our free checklist and learn what makes a job-winning resume: 50 Things You Need to Do Before You Send Your Resume
2
How to Put References on a Resume
If you've decided that listing references on a resume can't be avoided in your situation, it's necessary to know how to list references on a resume the right way.
Here's how to list references on a resume:
Use a separate page for your references list.
Put your name and the title "References" on the top of the page, e.g. "John Doe References."
Use consistent formatting for all your resume references: list their full names, professional titles, companies, and contact information.
Include at least three professional references.
Make sure to inform all of your references prior to submitting a job application with their contact details included!
See this pratical example of resume reference page list entry:
Right
Joelle Smith
Head of Operations
SwiftBanking.com
134 Rightward Way
Portland, ME, 04019
(678) 757 9413
joelle.smith@swiftbanking.com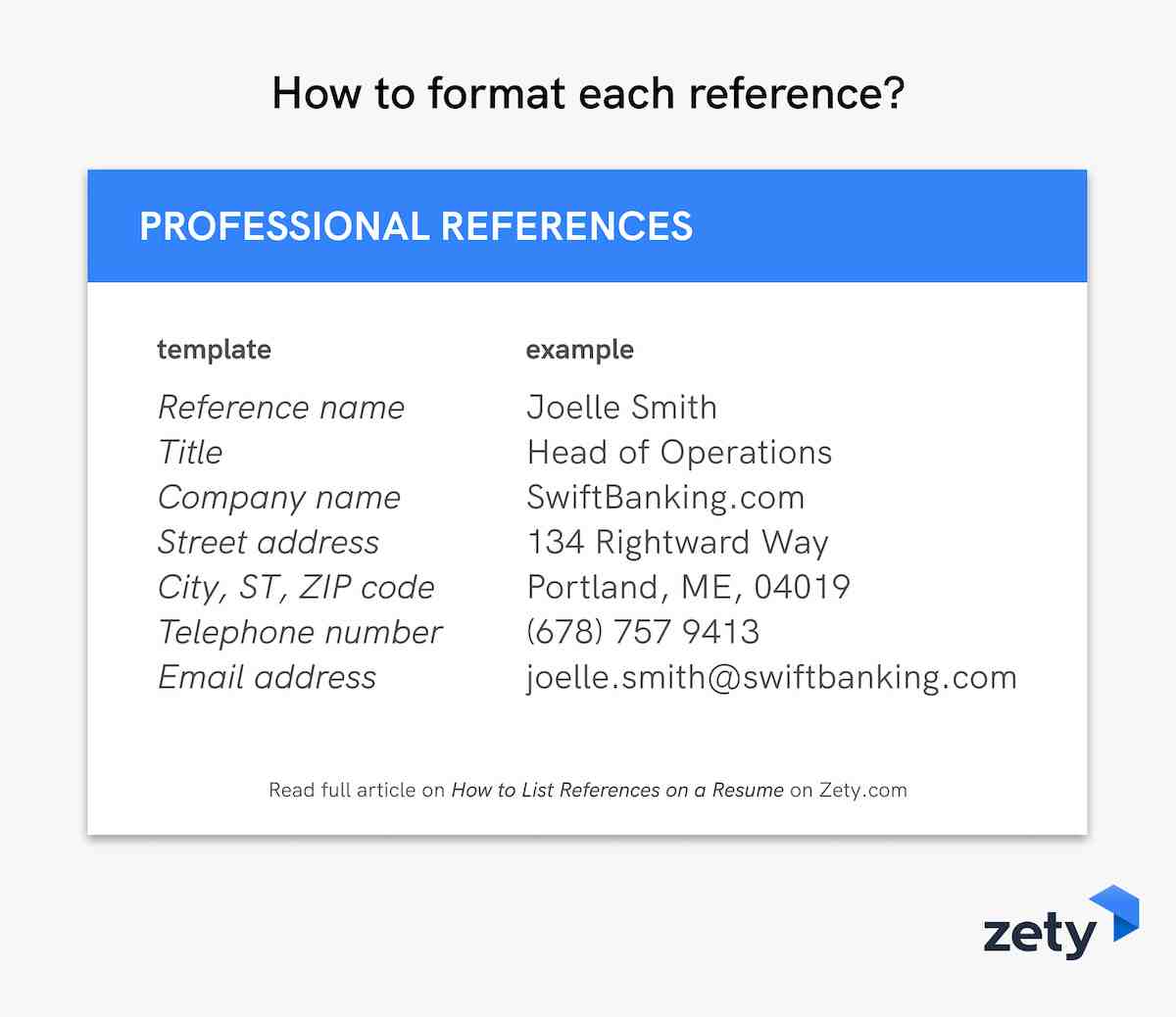 That's how you format each entry of a resume reference list. Include as much of it as you can, and don't add more than these items, unless requested. How many references on resumes? Don't worry, we'll get to that in just a moment.
Pro Tip: Use LinkedIn as a resource to verify that you are stating the correct job titles.
Should resume references be on a separate page?
Definitely. Avoid the ubiquitous "Resume references available upon request" statement of the past. If you're going to create a resume references section, use a dedicated resume references page, which you can add as the last page of your application.
Should I put "references available upon request" on my resume?
No. Putting "references available upon request" at the end of your resume is one of the big resume mistakes. Not only are you wasting your resume's valuable real estate, but they know that your references are available upon request.
Hold Your Endorses
Even if you've concluded that you will be listing references on a resume, hold off for now. In the earliest stages of the hiring process, there isn't a need to provide your chosen references for job applications just yet. Plus, you'll be able to tailor your resume references sheet to the hiring manager's and company's needs as you learn more about them during the initial phases of the hiring process and interviews.
Pro Tip: When writing your list of references, make sure to keep them consistent. Locate and include the same info for each (e.g., phone number), and don't include an entry otherwise.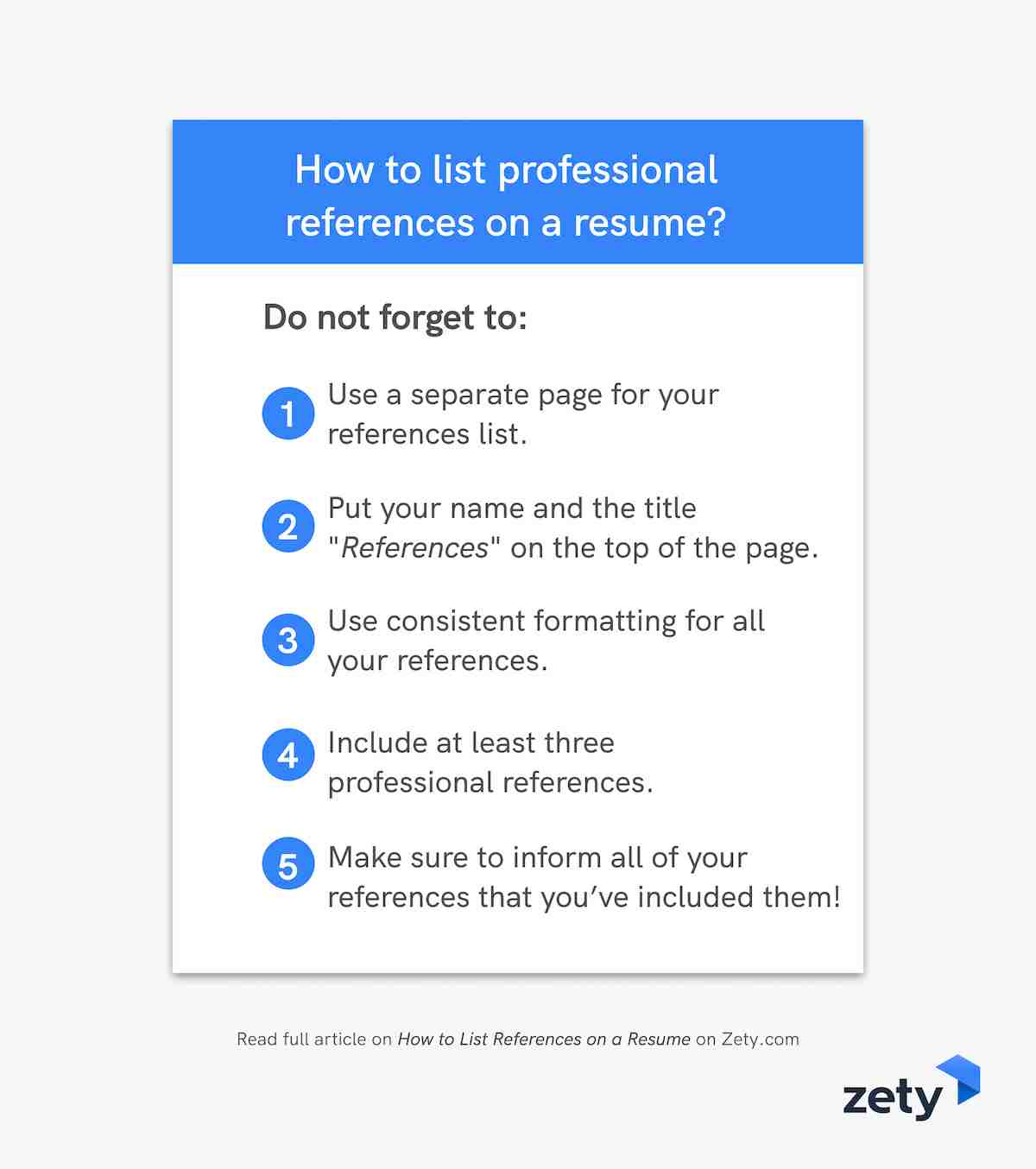 Ugh! So many resume rules! Don't worry, we've simplified them here: Resume Dos and Don'ts
When making a resume in our builder, drag & drop bullet points, skills, and auto-fill the boring stuff. Spell check? Check. Start building a professional resume template here for free.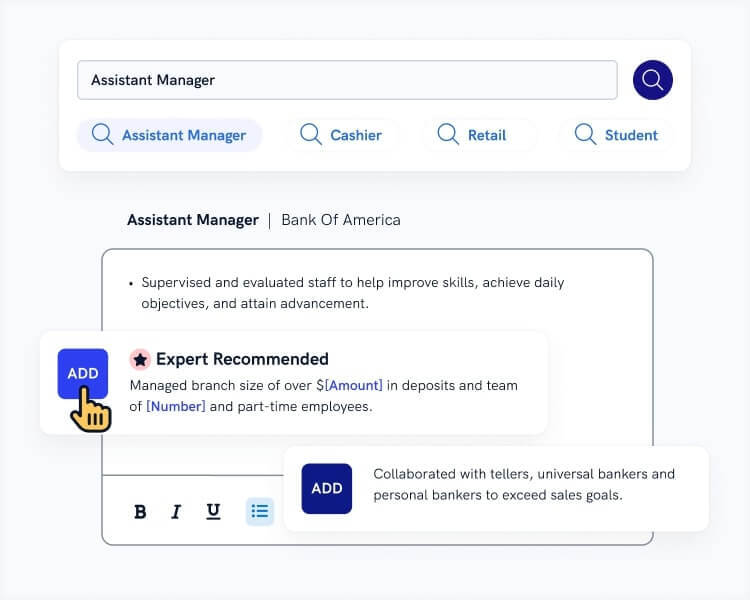 When you're done, our easy resume builder will score your resume and our resume checker will tell you exactly how to make it better.
3
How to Choose Professional Resume References & How to Request Them
You're going to put a few references as a list to be included with your next resume.
But you've got to be picky, and you need to ask permission first, even if you're sure they won't mind.
How many references should you have on a resume?
Three to five is the ideal number of references for a resume.
If the job description or the company have specifically requested that you include a list of references (and this should really be the only reason that you do), three to five strategically-chosen people are just right. Any more and you're just wasting people's time; any less and you'll look like you don't have too many people who can afford you a positive endorsement.
Who is a good reference for a resume?
The best references to add are working professionals related to the industry to which you are applying but unrelated to you in a familial sense. Try and get as diverse a group as possible (not all direct supervisors).
Here are eight types of people to include on your resume references list:
Former employer
Former boss (can be your direct manager)
Supervisor (not necessarily your direct manager)
Colleague (coworker or teammate)
Mentor (can be your teacher or professor)
Advisor (including your academic advisors)
Business or project partner
Friend (but only when they currently work at a company you're applying to).
Just make sure to include people who can speak positively about your experience, skills and work ethic. Never list someone who is or was in any type of professional conflict with you.
How to ask someone to be your reference?
Don't just jot down names on your resume references list as they pop into your thoughts. It is polite to ask first, but this gives you the additional perk of checking to make sure their contact information is correct. Give a call or send an email to be semi-formal.
Personal vs professional references
Personal references are generally not recommended when putting references on a resume. Why? Well, family's family, so they wouldn't place much weight if they realize a reference entry is related to you. Plus, it has the secondary disadvantage of making you look like you couldn't find enough professional references. Stick with professional references if at all possible (unless you are writing a resume with no experience).
Following up
After you've requested your reference, it is a prudent practice to thank them for their help. Also, share with them a copy of the resume you are submitting so that they can be on the same page if and when the hiring manager calls them up. Finally, when you get the job, take them out for a nice dinner to pay them back!
Pro Tip: Be sure to thank your references by sending a quick follow-up email or note. Not only is this the courteous thing to do, but it will also remind them that they can expect a call in the near future from your prospective employer.
4
How to Format the Resume References Page
If you decided to list job references, do so on a separate reference page attached to your resume.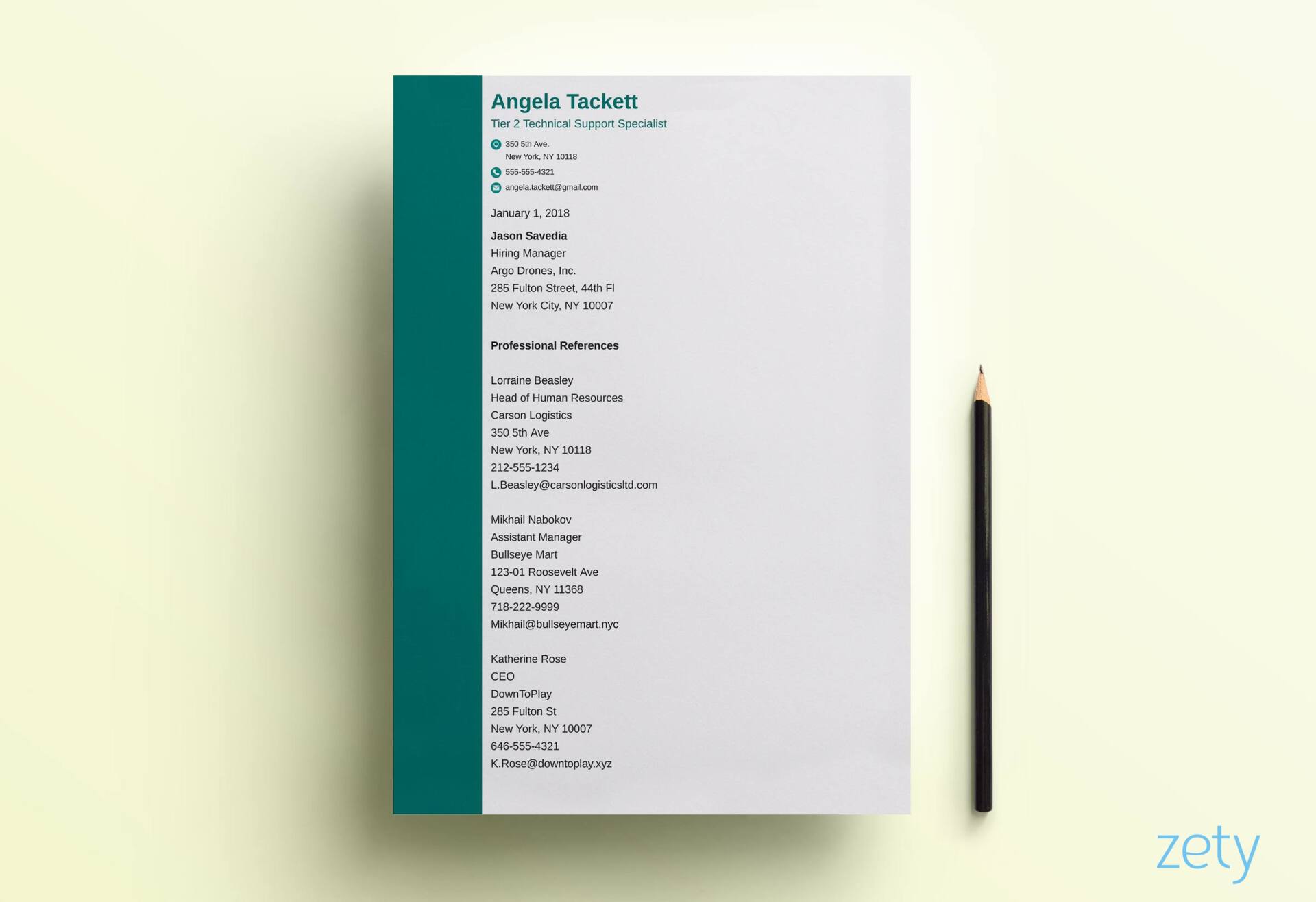 Use our cover letter builder to create your own resume reference page that matches your resume and cover letter!
This is how to write a professional resume references page for your resume:
Format your references page the same way you format your cover letter, and possibly your resume, too. If you have slight differences between your resume's letterhead and the one on your cover letter, copy the cover letter.
Your name and address should go on the very top, and it can be left-, right-, or center-oriented (follow the same style as your other documents). Include your phone number and email address.
Follow that with the date, then the company address, left-aligned above your first reference entry: first the recruiter's name (if you have it), then the company's name, and then the company's address.
Finally, add reference titles/subtitles such as "References" or "Professional References" before listing 3-5 entries of people who can vouch for your qualifications for a job. If you have both professional references and personal references, you can add both subtitles.
When formatting each entry, follow the same format for references on a resume we described in section 2 of this guide.
Want to make a great resume references sheet that matches your CV and cover letter like the resume references examples we have here? Our resume builder's cover letter generator is just the tool for you. Or, check out our handy list of cover letter tips!
Plus, a great cover letter that matches your resume will give you an advantage over other candidates. You can write it in our cover letter builder here. Here's what it may look like: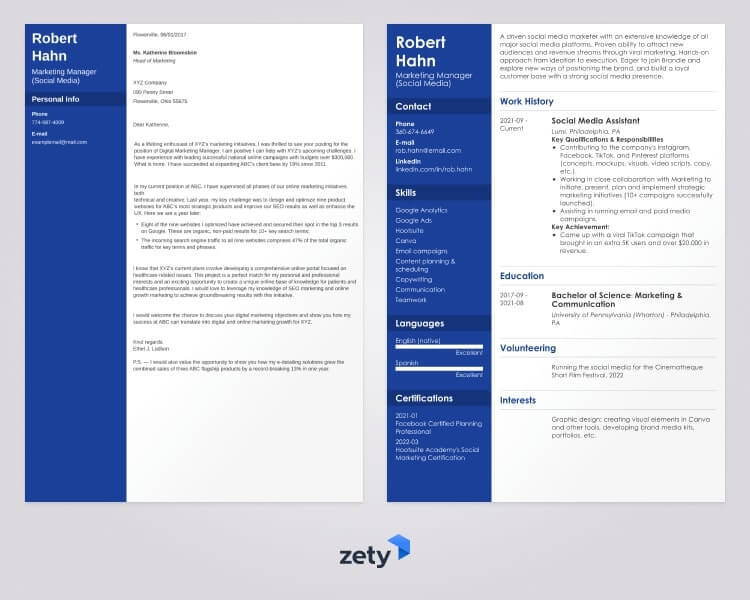 See more cover letter templates and start writing.
Key Takeaway
Job references should never be included on a resume.
Rarely, however, references may be included with a resume, but always put them on a separate references page.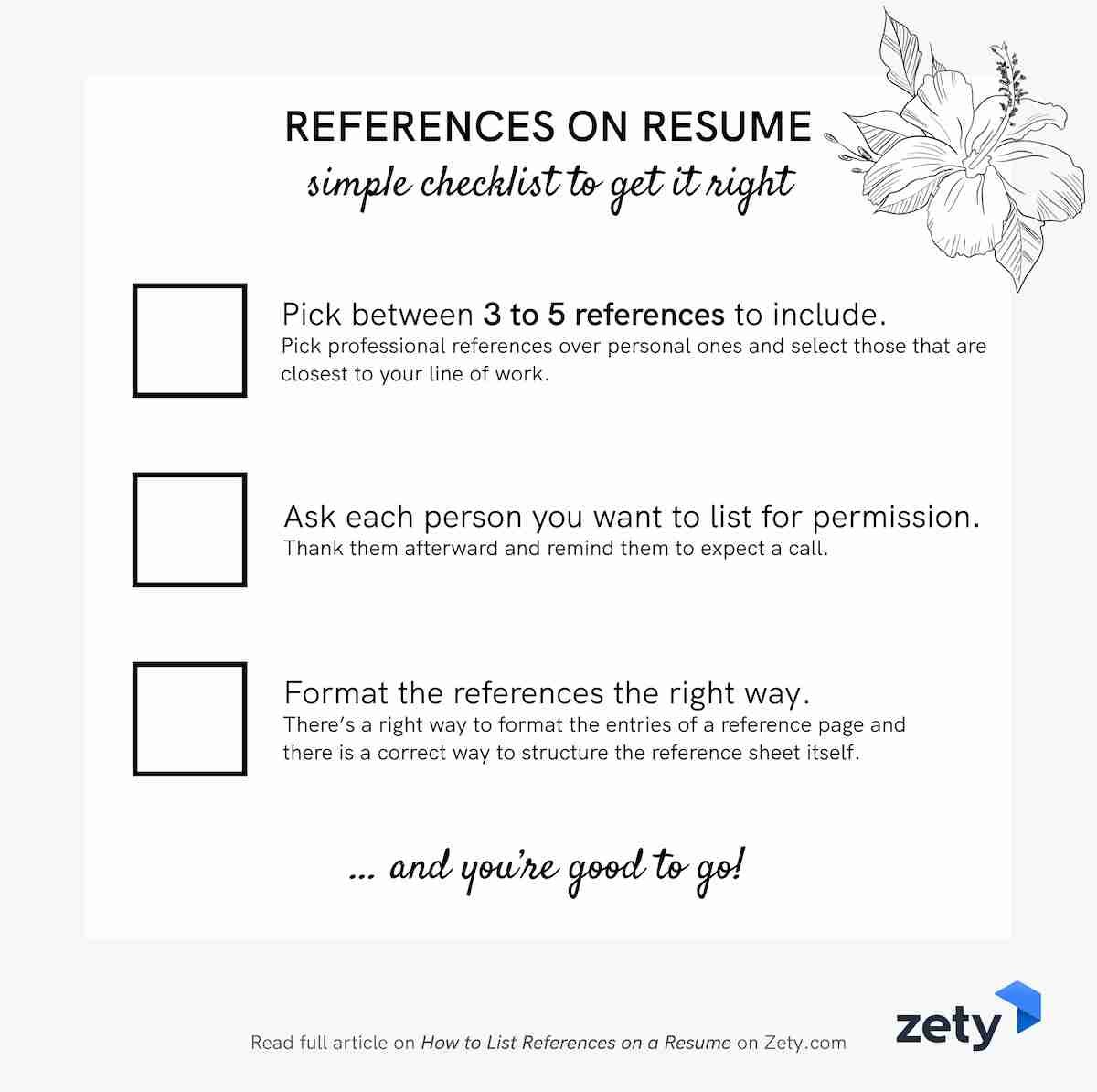 This is how to write a professional list of references (a references page):
Choose wisely - You should pick between 3 to 5 references to include if you'll include any at all. Pick professional references over personal ones, and select those that are closest to your line of work.
Ask first - Be sure to get permission before listing someone as a professional reference. Thank them afterward and remind them to expect a call.
Use the right formatting - There's a right way to format the entries of a reference page, and there is a correct way to structure the reference sheet itself.
Now, just brush up on the STAR method and some interview tips and you'll be all set for your big meeting!
So, now that that's sorted, do you have any questions on how to list references on a resume? Not sure if you should add a resume references page at all? Get at us in the comments below and we will answer your questions. Thanks for reading!
About Zety's Editorial Process
This article has been reviewed by our editorial team to make sure it follows Zety's editorial guidelines. We're committed to sharing our expertise and giving you trustworthy career advice tailored to your needs. High-quality content is what brings over 40 million readers to our site every year. But we don't stop there. Our team conducts original research to understand the job market better, and we pride ourselves on being quoted by top universities and prime media outlets from around the world.