Our customers have been hired by:
You're about to learn all our best resume mistakes and resume dos and don'ts, but first:
A top company seeks an employee. They've got matching 401K, an espresso machine, ergonomic chairs, and work you feel passionate about.
You've found your dream job.
So why are you angering the hiring manager instead of making them interested?
Wait . . . what?? I know, you didn't mean to frustrate and annoy them.
Well, you did. But what did you do wrong?
You see, resume writing is not as straightforward as you may think.
There's so much more to consider than just listing your academic and vocational history and checking for typos.
But Don't worry. Do continue reading.
There are resume rules to follow and resume mistakes to avoid. There are bad options and good alternatives.
There are resume dos and resume don'ts, and we'll walk through them together, from start to finish, until we get it sorted.
This resume guide will show you:
Examples of resume dos and don'ts to write one better than 9 out of 10 other resumes.
How to do a resume that will land you more interviews.
Resume tips and examples of what not to do in resume writing.
Want to save time and have your resume ready in 5 minutes? Try our resume builder. It's fast and easy to use. Plus, you'll get ready-made content to add with one click. See 20+ resume templates and create your resume here.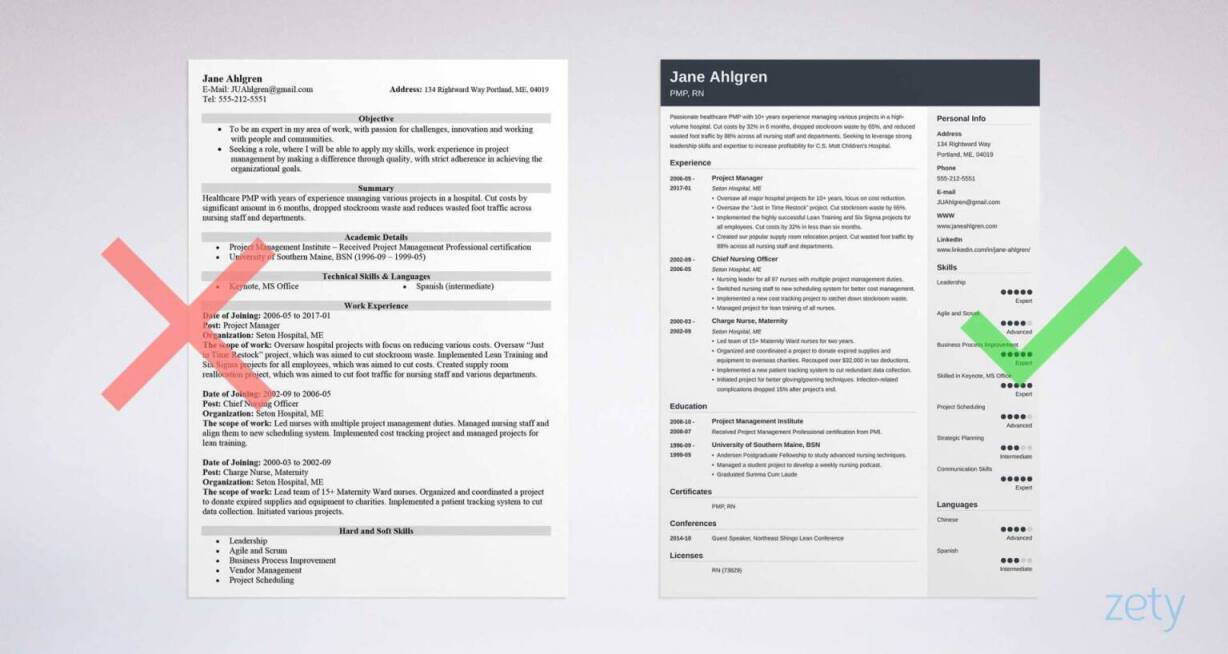 Sample resume made with our builder—See more resume samples here.
You can also find more resume writing guides here:
Now__
1
Starting Your Resume the Right Way
There's the right way, and then there's the wrong way.
Which side are you on?
Follow these important resume dos and don'ts to start yours without error.
Don't - Quantity. Stop mass-spamming your resume to every business in a 50-mile radius. That's bad resume etiquette, and you'll just get mass-rejected.
Do - Quality. Tailor your resume to the job description: write a resume for this one job, as if no other jobs exist. Drop the company's name, identify relevant resume keywords, and so on.
Don't - just start writing. You won't create a winning resume like that.
Do - use a resume outline so that you can plan which sections you'll include and what goes where.
Don't - choose the reverse-chronological format when you should have chosen the combination format.
Do - make sure that you choose the right resume format that fits your experience, education, and skills.


Don't - make it too long. And make that a one-page resume if you have little work experience or go for a two-page resume if you have a lot. That third page is one of the most common resume mistakes.
Do - trim it down and make it focused. As Laszlo Bock, Google's former SVP of People Operations, stated, "A crisp, focused resume demonstrates an ability to synthesize, prioritize, and convey the most important information about you." If you need extra space, learn what should not be included in a resume.
Don't - make your resume a nightmare to read by using weird fonts and headache-inducing colors. Don't use cursive fonts, too, or anything too creative.
Do - make your resume easy on the eyes. Use legible, appropriately-sized and styled fonts, a discernable margin on all four sides, clearly-defined subtitles, and high-contrast colors. Choose the best resume layout possible.
Don't - pack all the resume sections into an illegible mass of alphabet soup. A mess like this is definitely what not to put on a resume.
Do - use simple subheadings to allow the hiring manager to easily skim to the section or sections that interest them. Make these subheading titles about 14-16 font size, allowing it to be easily discerned from your 10-12 pt text.
Don't - skim through the job description in question; don't even read it just once.
Do - read the job description and then reread it. Make sure that you have considered every possible resume keyword and the perfect candidate the recruiter has in mind.
The heading statement - your resume summary or resume objective - is likely to have the most eye time since it's at the top of the page.
Recruiters spend an average of just 7 seconds skimming resumes initially, according to our HR statistics report. So, that makes a great summary or objective super important to get right.
Follow our dos and don'ts of resumes' heading statements to write one that will succeed.
Don't - start off with a generalized summary, nor one that reads like an outlandish pipe dream. Definitely what not to do on a resume!
Do - curate a summary of yourself that makes yourself stand out - uniquely qualified to take on their job. Remember, this is your elevator pitch, so make it sound like one.
Don't - use first-person pronouns (e.g., "I," "my"). This looks unengaging and unprofessional.
Do - start each bullet point with power verbs and action words such as "Spearheaded," or "Analyzed."
Don't - misuse the heading statement by choosing a resume summary when you should have included a resume objective, or vice versa.
Do - read up on their differences, if you're unclear. Check out these articles: 20+ Resume Objective Examples - Use Them On Your Resume (Tips) and How To Write A Resume Summary: 21 Best Examples You Will See
Don't - use passive voice on resumes. It feels evasive and unclear:
Menswear department was managed by me.
Do - use active voice in resume writing. It is concise and to the point:
Managed menswear department.
Don't - make it too long. Definitely don't make your resume objective or summary more than four sentences in length.
Do - make your resume summary or objective a few sentences that form one concise paragraph.
Don't - list all the things that you are looking to receive if they hired you, such as, "Looking forward to advancing my career and gaining useful experience."
Do - make the resume about the employer. Explain and detail to them how hiring you will benefit the company and how much they won't regret it.
When making a resume in our builder, drag & drop bullet points, skills, and auto-fill the boring stuff. Spell check? Check. Start building a professional resume template here for free.
When you're done, our easy resume builder will score your resume and our resume checker will tell you exactly how to make it better.
Feel like there's just too many Dos and Don'ts to keep in mind when writing your resume? We've got you covered. Get our free checklist and make sure you always submit a perfect resume that gets you the job: 46 Things You Need To Do Before You Send Your Resume
This is the body of your resume, most of the time, and accounts for more than half of the real estate used on most resumes.
You'll want to do it right. Here are some helpful dos and don'ts of resume writing to give you an experience section that will land you your next job.
Don't - dismay at not having the "right" experience. Everyone had no experience at one point in their lives, so keep that in mind. Look at the bright side, at least you won't have a limit of how many jobs to list on a resume!
Do - get experience. That's right, if you are worried that you don't have experience, or at least the right experience for this particular field, get some! Do some freelance gigs from Upwork, volunteer at some local organizations, or do an internship that will give you valuable skills.
Don't - add every single work position you've ever held. Don't list experience that is outdated or irrelevant - a cardinal resume sin.
Do - curate the best, most relevant, few. Pick those past job positions which add benefit to your resume and will help you score an interview. For more about how many years of experience on a resume, see: How to List Work Experience on Your Resume [20+ Examples]
Don't - Just list your responsibilities - another of the most common resume mistakes. The employer knows the responsibilities for your previous jobs - what they don't know is how well you performed them.
Do - List quantifiable achievements on your resume, such as "increased productivity by 32%" or "reduced company waste by $13,000 in 2017."
Don't - use sneaky workarounds to mention experience that should have been kept confidential.
Mr. Bock, who we mentioned before, used to reject applicants with great tech experience who mention their resume something like "consulted to a major software company in Redmond, Washington." That kind of wording signalled to him that they had signed confidentiality agreements, but were trying to "name-drop" anyway (Microsoft, in this case).
Do - just skip it. If you signed a confidentiality agreement, you understand that you will not be able to name-drop in the future. The new employer wants a hire they can trust, and if you do this, why would they trust you to work for them?
Don't - use the same tired action verbs like managed or lead to itemize your work experience.
Do - implement and introduce the perfect power words to properly reflect your skilled job history. Check out this article: 80+ Examples of Resume Action Words for Every Profession
Don't - list your promotions and multiple positions within the same company the wrong way.
Do - know when the situation calls for stacking your titles in one listing or separating each position in its own entry. Use our helpful and handy questionnaire to make sure you get it right: How to Show Promotions & Multiple Positions on Your Resume
Don't - Use the wrong verb tenses or go back and forth between tenses on your resume.
Do - If it was a past job that you no longer work at, use the past tense. If you're listing a current position, use the present tense. But whatever you do, keep them consistent through each listing.
Don't - use over-the-top jargon, clichés, or meaningless buzzwords that are too domain-specific. A study from Princeton says you're overcompensating.
Do - use buzzwords when they are also resume keywords in the job description, or when they are popular enough to be used by most people in the given industry.
Don't - use these four titles: Founder, Entrepreneur, CEO, & Owner. As LinkedIn mentions, they raise flags: "Would she fit well here when she's been the boss previously?"
Do - avoid these unless you absolutely must, such as for a parallel position.
You've got it, so you flaunt it, right? Well, it's not as straightforward as that, mind you. The education section is often more important than most job seekers imagine.
Here are some education section dos and don'ts for resumes to make sure you pass the big exam.
Don't - list a GPA which is too low. This will hurt your chances rather than help!
Do - skip adding your GPA if you feel that it is too low. Include it only if it is required by the employer.


Don't - only add one GPA when you list two items in your education section.
Do - put either both GPAs or none of them, instead.
Don't - add your high school if you have a university degree. Not a huge resume mistake, but a mistake nonetheless.
Do - add your high school if that is the highest education level that you've completed.
Don't - lie in your education section. A credit short of a diploma is not a diploma. Also, don't round your GPA up.
Do - state exactly what you have as far as your education. If you are truly embarrassed by something in your learning past, it is better to leave it off your resume entirely.
Don't - underestimate the importance of an education section, nor one that is properly placed.
Do - make sure that your education section is either right before or immediately after your resume work experience section. For more, check out: How to Put Your Education on a Resume [Tips & Examples]
Your skills section - sounds easy enough, right? Well, the fact that many people get this wrong suggests otherwise.
From simple resume mistakes in listing your skills to the bigger ones that could cost you the interview, here are some skills section dos and don'ts of resume writing to keep in mind.
Don't - list every single thing that you know how to do. Restaurants don't care about your nunchuck skills, and a flight attendant resume needn't include your Adobe Photoshop CC skills.
Do - look through the job listing. Find skills that the hiring manager is looking for.
Don't - list skills that are a no-brainer. Everyone writes about their unparalleled proficiency with Microsoft Office Suite, but 1) do you really know each program within Office? and 2) is it even relevant?
Do - add your less-obvious skills. A good rule of thumb: if you feel proud to tell this hiring manager the skill, add it.
Don't - brag. Avoid calling yourself the "best of" this or "exceptional" that. Recruiters, like many people, don't like braggers.
Do - let your experience and qualifications speak for themselves.
Don't - include resume keywords from the job listing word for word. This is too tailored to the job description, and will make it seem that you don't really have the skills that you list.
Do - make it sound like you actually read the job posting and took the time to consider it by using your own words except for key areas where it matters most.
Don't - guess what would make a great skills section.
Do - read our guide to tell you exactly how to create the best skills section for your resume: 30+ Best Examples of What Skills to Put on a Resume (Proven Tips)
Don't - add skills which are obsolete - they'll make you look obsolete.
Do - add skills which are current, and the only exception should be if the job listing specifically requires knowledge of the ancient technology.
The above sections were all important - essentially mandatory - sections of your resume. However, there are many others that we didn't touch upon, mostly because you'll have to decide if they are relevant for your situation.
Here are some dos and don'ts for the extra sections on your resume.
Don't - forget to list your relevant certifications!
Do - add a certification section if you have one which would help you land the job, such as a food safety certification for a chef resume. To see some examples, check out: How to List Certifications on a Resume: Guide (20+ Examples)
Don't - add a references section.
Do - save that valuable real estate on your resume for something more important, as the hiring manager knows that "references are available upon request."
Don't - dismiss a "Hobbies & Interests" section for your resume right away. Don't include hobbies and interests that are completely irrelevant, however.
Do - consider if a hobbies section or interests section would benefit your resume and get you the interview, like if you know that the hiring manager plays the same sports as you, for example. See our guide: 20+ Best Examples of Hobbies & Interests to Put on a Resume (5 Tips)
Don't - forget that your volunteer history may be a good source of work experience.
Do - add your volunteer section, if you have it, but separate from the work history section. Make a "Volunteer Experience" section as one of your extra resume sections.
Don't - miss out on any other important sections on your resume.
Do - add other sections to your resume if you think they are relevant and if you believe that they will help you score the job interview. For more ideas on some great possible extra sections to include on your resume, see; Resume Sections to Include on Your Resume: Guide (20+ Examples)
7
Your Personal Details: Contact Info & Social Media
Your contact information is embedded in your subconscious, and your social media is as essential to you as water.
Despite this, or because of it, your personal detail section is usually rife with problems.
This part of your resume often gets overlooked, and because of that, people make many avoidable mistakes.

Let's take a look at some obvious issues and some that are less apparent.
Contact Info Dos & Don'ts on Resumes
Don't - use your middle school email address, such as hotXXXstuff69@yahoo.com. Also, don't use a provider that seems dated, such as ….@aol.com.
Do - use a clean and professional email address with just your name from a current, respectable email provider, such as johnathan.kadiddlehopper@gmail.com.
Don't - misunderstand the difference between your mailing address and your home address.
Do - add your mailing address (if you add an address at all) to be sure that you get any follow-up correspondence. Only add your home address if it's the same as your mailing address, or in the rare case that the recruiter is looking for a local candidate.
Don't - add your home phone number or a second cell phone number, as this can increase your chances of missing the call.
Do - use your cell number, because that will be by your side all day.
Don't - leave that old voicemail message up that says,
"Hi, sorry I can't come to the phone right now, I'm either passed out drunk or performing coitus. Leave your name and number . . ."
Do - redo your voicemail to be professional. Don't want to have a perfect resume only to blow it because you forgot to sanitize your recording, do you?
Don't - include a photo of yourself for jobs in most English-speaking countries.
Do - include a profile photo if you are an actor or a professional model or looking for a similar position where your appearance should play a role in your hiring process.
Don't - tell them unnecessary details or add personal facts that could be discriminated against, such as your age, religion, sexual orientation, marital status, etc.
Do - list just the basics, but consider others only if they are necessary, such as date of birth to serve alcohol.
Wondering what contact information should be on your resume and which should be left off? Read our guide and find out which personal information you need to include and how: How to Include Contact Information on a Resume (Examples)
Social Media Dos & Don'ts
Don't - add every single handle on social media accounts that you're a member of. Also, don't think that adding social media seems unprofessional.
Do - add the basic accounts you have on social media, like Facebook, Twitter, and especially LinkedIn. Social media links on your resume are part of the modern job hunt.
Don't - leave your personal social media profiles unaudited. Whether you provide them with links to your Facebook and Instagram or not, they will probably try to look you up regardless.
Do - clean up your online presence. Delete or mark super-private those posts where you may be acting in a way that would cause them to have a sour taste about you, such as long tirades against former lovers or former employers and coworkers.
Don't - forget the importance of your LinkedIn profile. Also, don't have a LinkedIn profile that doesn't resemble your resume.
Do - optimize your LinkedIn profile page and heading summary statement to align with your current job search goals. Unsure how to do that? We've got a great post on that right here: How To Optimize Your LinkedIn Summary & Profile To Get Jobs
Don't - include links to your personal blog, at least until you've audited it for quality and potentially offensive material.
Do - link to your personal blog or your website if you're proud of your previous posts and if you think it can help build up your candidacy (like a professional portfolio). Also, consider making a professional website that will be your professional face online.
8
Finishing Touches & Sending It All Away
You're just about there. You've got a kickass resume and you're almost ready to attach it and your cover letter to an email and send it off.
Here are some resume dos and don'ts as finishing touches before you can truly feel comfortable in sending it all away.
Don't - Forget the applicant tracking systems! The ATS, in the simplest terms, is software that a hiring manager may use to help them sort through the hundreds of applications they receive for each job opening. If the ATS can't read your resume, then you might as well not have sent it.
Do - Optimize your resume for the ATS (applicant tracking system). Include a .DOC version, and include a PDF version only if you know that the text is able to be read by the ATS bots. For more advice, see: "Word vs PDF Resume: What is the Best Resume Format?"
Don't - think that sending your resume email is like sending any other email - one of the most common resume mistakes.
Do - personalize the email with the hiring manager's name, the company, and tailor it in the same way that you would your resume and cover letter. See this article: "How to Email a Resume"
Don't - miss the final resume keyword - the subject line of the email.
Do - check the job description once more to see if they ask applicants to send emails with something specific in the subject line of the email. If not, go with the position title, posting any reference number, if required, your name, and include the word "resume."
Don't - name your resume files improperly or haphazardly.
Do - use a naming convention across all your attachments that includes your name, hyphens or underscores, the position you're targeting, and the word resume or cover letter.
john-smith-barista-resume.pdf
Don't - make typos. You probably knew that, right? Well, since a 2013 CareerBuilder survey found that 58% of resumes have typos, I will emphasize the importance. Also, similar to typos, check to make sure that your contact information is correct and that your facts are accurate.
Do - double check your resume before allowing it to be sent out. Better yet, get a second pair of eyes on it by letting a friend or family member skim through it. Then, scan your resume and cover letter (and email!) with a tool like Grammarly.
Don't - have the resume run over so that you have just a mostly-empty second page with just a few lines at the top.
Do - trim the fat. Find a way to fit it all neatly onto one page, or add some more items to make the second page look less like a blank sheet of paper.
Don't - get lazy and send your email to the catch-all public email for the entire company, unless the job listing specifically asks you to do so.
Do - find the personal email address of the hiring manager. You found their name already, so send it now to the right email address.
Don't - send it in a resume as an Office online link or Google Doc and forget to grant the right viewing permissions.
Do - make sure that you send at least make it public for those who have the link. Otherwise, just stick with uploading a .doc or .pdf to an email.
Oh, one final thing: don't forget that you do need to include a cover letter along with your resume! Do employers read cover letters? Yes, some still expect it, and you should include one unless they specifically tell you not to.
Plus, a great cover letter that matches your resume will give you an advantage over other candidates. You can write it in our cover letter builder here. Here's what it may look like: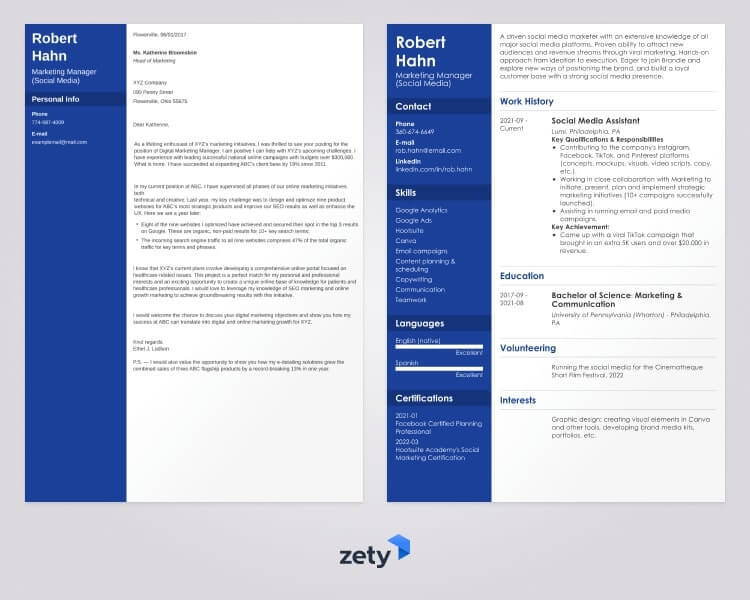 See more cover letter templates and start writing.
Key Takeaway
A lot of the time, we give you some (hopefully!) helpful advice on what to do to make your resume perfect. However, as you can see here, there are just as many things not to do, as well.
Keep these tips in mind to write the best resume possible:
Relevant - Every single point on your resume should repeat and strengthen the point that you are the best possible candidate.
Tailor - Remember that your resume should be about them; don't make it about you. Name the company and curate the skills you list to relate to the position offered.
Lying - Don't do it. If it's not 100% true, leave it off. Stay away from embellishments or crazy exaggerations.
Cover letter - This article was about resume dos and don'ts, but you still need to remember that you must include a cover letter! Check out our cover letter tips for more dos and don'ts.
Now, one last one (really, this time):
Don't - sit back just yet!
Do - begin preparing for their phone call by practicing usual interview questions and answers.
So, what do you think? Do you have any questions on resume dos and don'ts? Not sure how to make our resume rules work for you? Got any more dos and don'ts to add to our list? Give us a shout in the comments below and we will answer your question. Thanks for reading!
About Zety's Editorial Process
This article has been reviewed by our editorial team to make sure it follows Zety's editorial guidelines. We're committed to sharing our expertise and giving you trustworthy career advice tailored to your needs. High-quality content is what brings over 40 million readers to our site every year. But we don't stop there. Our team conducts original research to understand the job market better, and we pride ourselves on being quoted by top universities and prime media outlets from around the world.