25+ Common Job Interview Questions and Answers in 2023
Interview coming up, and you just don't know what to expect? Here's a compilation of the most common interview questions that you might hear and how to answer them.
Interviews are not for the faint of heart. As a candidate, you need to make an impression and showcase your accomplishments and skills. All while making sure you find out as much as possible about your potential future job.
We've decided to compile a comprehensive resource on interview questions, along with examples of how to answer them—so that you know what to expect and come prepared!
This guide will show you:
Common interview questions and answers that will get you the job you want.
How to answer most common interview questions better than 9 out of 10 other candidates.
Examples of good interview questions to direct to the hiring manager to find out more about your future job.
Looking to land even more interviews? Make sure your resume is up to scratch! Try our resume builder that's fast and easy to use. Plus, you'll get ready-made content to add with one click. See 18+ resume templates and create your resume here.
Sample resume made with our builder—See more resume examples here.
Thinking of something else? See our guides:
So, without further ado, let's find out about common interview questions (and answers).
Jump right into the relevant section:
Top Interview Questions To Expect
While it's hard to predict how creative the hiring manager will get, we still have an idea on the most common interview questions.
Well, if you go into an interview, you'll most likely be asked for:
Some form of self-introduction.
Saying something about yourself (they usually mean professionally).
Telling the recruiter about your strengths and weaknesses.
You may also be asked about how you handled (or would handle) certain situations, specifically those involving challenges or conflicts. Those kinds of questions are known as behavioral (or situational interview questions). You should also expect questions about your previous jobs, career plans, and expectations.
Because there's such a high chance of being asked those, we've prepared a variety of in-depth guides tackling the most popular interview questions. If you're interested in a specific question, jump right into the article to find out how to approach the answers:
More Good Interview Questions With Answers
Those were common questions but not necessarily the only ones you could potentially hear at the interview. Below, you'll find some more typical interview questions with brief explanations on why those are being asked, plus sample answers that you can use as inspiration.
1. Where Did You Hear About This Position?
While this seems like a very simple question, your answer may come with extra benefits. The employer wants to know how you found out about them, and it's a great way to:
Show that you know someone in the company if you got a referral (which means somebody who knows the company well thought you'd be a great fit).
Share that you've learned about the company through research (you came prepared and know what you want).
Express your genuine interest (maybe you've been keeping an eye on the company for a while, which means you're familiar with their operations/values/messaging, etc.)
Think along the lines of:
My goal was to work for a top marketing agency, so while I was doing my research via LinkedIn, I came across the job ad from OffBrand. I was immediately attracted by your one-of-a-kind tone of voice and amazing visuals. After looking at your portfolio and learning about your values, I knew I had to apply.
2. What Prompted You to Apply?
If you feel inclined to say, "I really needed cash," be sure to fight this urge. What the employer is looking for is:
This position aligns with your career goals.
Your previous experience makes perfect sense for this role.
The company will clearly benefit from your knowledge and expertise, etc.
This is why it's important to do preliminary research into the company and ensure you've studied the job ad carefully. If you know what they're looking for, you'll know how to formulate your response:
This is an opportunity for me to "marry" my love for tech and my desire to create great products, ultimately. I've been working as a software developer for over 5 years before deciding to transition into the product owner role. Due to my strong technical background, I know exactly how to steer the client's expectations toward what's actually doable. The benefits are two-fold: the customer's needs are met without burdening the team with unmanageable tasks.
3. Do You Think You're Overqualified for This Position?
While the question might seem terrifying, this is a scenario both you and the recruiter would really like to avoid. According to recruitment statistics we've collected, a whopping 68% of professionals say they are overqualified for their current positions, which can mean that they are:
Underpaid for the actual qualifications they possess.
In a position where they have no room for growth.
Lacking job satisfaction, and may end up feeling resentful and burnt out.
For the employing side, hiring someone who's not a good fit is expensive and unnecessary, as you'll be a potential "flight risk" if you stay. So make sure you ask questions (more on that in chapter 3) to get as many details about the responsibilities as you can and be honest about what you think:
I appreciate you asking this. While I know I'm competent in editing, I have no managerial experience, which is my desired potential next step. This is why this assistant role makes a lot of sense: I can also learn a lot while doing it.
4. How Do You Handle Pressure/Stress?
The reason for this common interview question is quite obvious: many studies prove that stress can significantly decrease an employee's engagement, performance, and overall job satisfaction. If the job is deemed high-pressure (and let's be honest, many jobs today are like that), the recruiter will want to make sure you're able to manage that stress efficiently.
However, it's also the employer's responsibility to create reasonable working conditions, so you can (and should) definitely ask what could potentially contribute to the level of stress at this position:
I have experienced burnout before, which led me to reassess my time management and work-life balance approach. Now I'm confident that I can deal with stress well, noticing the early signs and tackling them before they have a chance to affect my work.
If I may ask, what would you consider to be the main potential stress factors for this role?
5. Are You More of a Team Player or an Independent Individual?
To answer this well, think of the expectations tied to the position. If you're applying to be head of the department but say you're "better off working on your own," it may be a red flag. Still, don't pretend you're the "life of the party" when you'd much rather talk to your dog than other people.
I like working in sync with others—I think the best ideas are born out of collaboration! However, I can be a self-starter, too. I'm able to work independently and develop a game plan for myself, executing it effectively and taking responsibility for its outcome.
6. What Is It That You Particularly Like About This Company?
Ah, the perfect way to find out whether you came prepared. It's not a coincidence that questions like "Why do you want to work here?" are an interview staple. Recruiters want to make sure you:
Take this job seriously.
Did your research.
Actually like the company.
Know what you're signing up for.
Studies have shown that unmet employee expectations result in decreased loyalty and productivity, leading to high turnover rates. Are we surprised? Definitely not. So you need to show that you did your part in figuring out what working for X would be all about:
Glad you asked! While doing my research and applying, I realized that I was impressed by how smoothly everything was going. Every detail was thought-through, and every step was a logical continuation of the previous one. And now that I've had the pleasure of talking to you and your colleagues, I've realized that this is how Chia-Valry actually operates. For a position like mine that involves a lot of creativity, it's crucial to know that there are well-defined processes in place that you can rely on. Was my impression correct?
Pro Tip: Don't be afraid to be proactive! Ask the recruiter for the particulars of the job—like job responsibilities, workload, etc. This is how you'll avoid surprises when stepping into the role. Chapter 3 covers all that in greater detail.
7. Would You Be Willing to Relocate?
Well, there's no secret to this one. If you think relocation might be in the cards for this job, you must thoroughly assess the pros and cons before making a decision. Remember that you don't necessarily have to answer right away! It's a big commitment, so make sure you ask the hiring manager about how the company would compensate it, whether they're providing help with accommodation, etc.:
It's definitely something I would consider. I just need to know the details. Have you successfully relocated other employees? What was the process like?
8. What Was the Last Book You Read?
Probably one of the all-time pet peeves, this common interview question is supposed to give the hiring manager insight into your personality. It's probably not as popular as it used to be (the question, not your personality), but think of a book just in case. If it was 50 Shades of Gray by any chance, maybe choose the one before that. It would be nice if the piece had some connection to your job, but it's not a must. Make a very brief synopsis, and say why you liked it:
I'm a huge fan of modern art, so the last book I read was Breakfast at Sotheby's. It'spenned by one of the high-ranking Sotheby's employers and reveals how art is evaluated, how the prices are formed, what contributes to the appeal, and if your child could actually have drawn it (smile). A lot of what's in there can actually be translated into marketing, so I was surprised to find out that I could use the concepts from the book at work!
Some interview questions might be particularly tricky. Not necessarily "sell me this pen" tricky, yet they can still catch you off guard. The good news is, there are ways to get them right:
When making a resume in our builder, drag & drop bullet points, skills, and auto-fill the boring stuff. Spell check? Check. Start building a professional resume template here for free.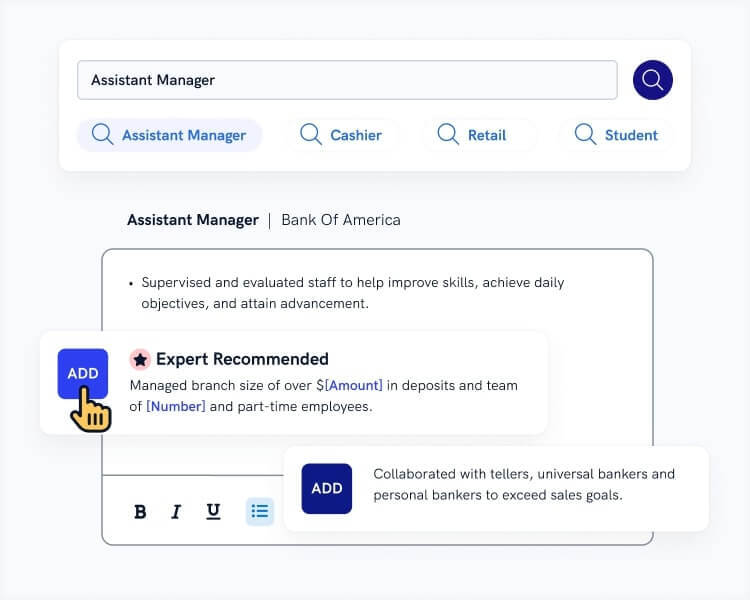 When you're done, our professional resume builder will score your resume and our resume checker will tell you exactly how to make it better.
9. Did You Ever Have a Major Mishap at Work?
No one's perfect. But why would you want to throw yourself under the bus this way? Don't worry, this interview question is not aimed at finding faults with you. The recruiter wants to see how you handled the tough situation or what you've learned from the mistake:
I was just transferred to a new project that involved new responsibilities. I had a bit of impostor syndrome and was afraid I'd not be able to handle it well enough. Being scared to ask for help and prove my "lack of competence," I ended up being completely burnt out soon and having to delay an important presentation by almost a week. Even though it didn't impact the completion of the project, it made me reconsider my whole approach to work. I learned to communicate, not let things reach boiling point, and request assistance when I really need it. It made me a better professional and a better colleague, and I'm glad I could learn from this situation.
Pro Tip: The STAR technique is a great way to tackle such questions.
10. Could You Explain the Gap in Your Employment History?
Employment gaps are nothing to be ashamed of. Whether you took time off to study, for medical reasons, or just because you needed a breather, all are ok—just be honest about it. There's no need to try to conceal them or invent creative cover-up stories. Just make sure you focus on the good outcomes—it's about how well you can explain and justify those gaps:
Yes, I did have a gap of about 6 months in 2018. Several factors influenced that decision: I was severely burned out from the intense work tempo I'd been maintaining for 3 years prior, I had money saved up, and there was a trip I'd been postponing for years. I took that trip, and it was a wonderful chance to realign my goals, re-think my career, and come back with new ideas and aspirations.
11. Are You Comfortable Working for Someone Who Knows Less Than You Do?
Ouch! One of those weird interview questions that definitely has a hidden agenda. How do you answer it elegantly, and what do they want to figure out about you?
Well, a couple of things:
How you see yourself.
How you treat other people.
So, what you shouldn't say is:
"Hell no, I'm not coming to work for some inexperienced noob."
"Why would my supervisor be inexperienced? Should I supervise then?"
What you could say is:
I believe that if someone is made a manager, they have the necessary skills for the job. I'd be glad to learn from them and share what I know.
12. What Was Your Previous Boss Like?
The first rule of Fight Club? Do not talk about Fight Club. The first rule of interviews? Do not talk poorly about your former employer, no matter what.
Some day, this job will become an "ex," too. And your potential colleagues would not like to learn that you'll talk behind their backs when you leave. Focus on the opportunities you received or what you've understood along the way:
A manager with a very clear vision and expectations. Even though my former boss and I didn't always see eye to eye, I am forever grateful for all the lessons I learned from him. He was quite stern, but I learned to be organized, manage my time better, and take responsibility for my actions. Also, to notice red flags when taking on a new job and to speak my mind.
13. Why Were You Fired?
This is not the recruiter providing you space for a friendly rant. Be honest but polite. Remember that if you lie, it's possible for the hiring side to contact your old boss to verify. Keep the answer brief and to the point, explain why it happened and what you did to make sure it never happens again (unless it was downsizing, etc.):
I was going through a trial period, and within the first month, I realized the job was not what I was looking for. This affected my motivation and productivity, but I thought I was not ready to go through another job search again. Obviously, my results reflected what I felt, and I was fired soon, they decided not to extend my contract. While it was quite an unpleasant experience, I learned about what I really wanted in a job and that I don't have to settle.
14. How Come You Have Changed Jobs so Frequently?
You must have had good reasons, so now you have to persuade the interviewer of the same. Maybe some personal events drove your decisions, maybe you chose to do freelance work, maybe something changed within the company, and you went to pursue better opportunities. In any case, speak about the positive experiences and skills you've acquired along the way and re-aligning with your career goals:
It was never my intention to change jobs a lot. I loved my job at Eureka, but unfortunately, they had to relocate their office. I couldn't move for personal reasons, so I had to quit. I joined Restart then but soon realized that I was overqualified for that job, so together with my boss, we came to the decision it was better if I moved on to something that matched my expertise.
15. What Are Your Salary Expectations?
If we're talking about expectations, this is definitely a question to expect at the end of your interview. It can certainly be daunting, so we highly recommend preparing in advance.
Because this is such a common interview question, we've made a full guide on it. Read more: How to Negotiate Salary Offer
Can you prepare for absolutely everything? Probably not. Can you decide to face whatever's coming your way with confidence and a touch of humor? Absolutely. While creative interview questions like "If you were an animal, what type would you be and why?" could potentially creep in (this did happen to people we've questioned), normally, they're there just to see how you react to unexpected situations.
Best Interview Questions for Candidates (to Ask the Hiring Manager)
By the way, did you know you can (and should) ask questions during your job interview?
It's a great way to show your interest in the position and the company, your knowledge of the processes, and your desire to work at a place that is a good fit for you.
Take the time to think those questions through before you go into the interview to avoid losing that opportunity due to stress. Consider the topics that matter to you, are important for your future professional development, or are deal-breakers.
Good interview questions to ask at the end of an interview include:
What a typical workday/project/workload is like?
What are the main challenges for this position?
What is onboarding like?
Are there any learning opportunities/resources?
If there are promotion/growth opportunities, what's a typical trajectory for this role?
What are the performance expectations, and how are they measured/reviewed?
You can also ask those throughout the interview if it makes more sense, but recruiters usually specifically dedicate some time toward the end.
Those questions are guidelines, so feel free to tailor them to your needs. Go to our full list of questions to ask the interviewer for more ideas.
Pro Tip: Remember that the interviewer may be your potential colleague. So if the situation allows it, you can ask questions to establish a personal connection, like "What is your favorite aspect of working here?" or "What's something you're particularly proud of/excited about?"
Plus, a great cover letter that matches your resume will give you an advantage over other candidates. You can write it in our cover letter builder here. Here's what it may look like: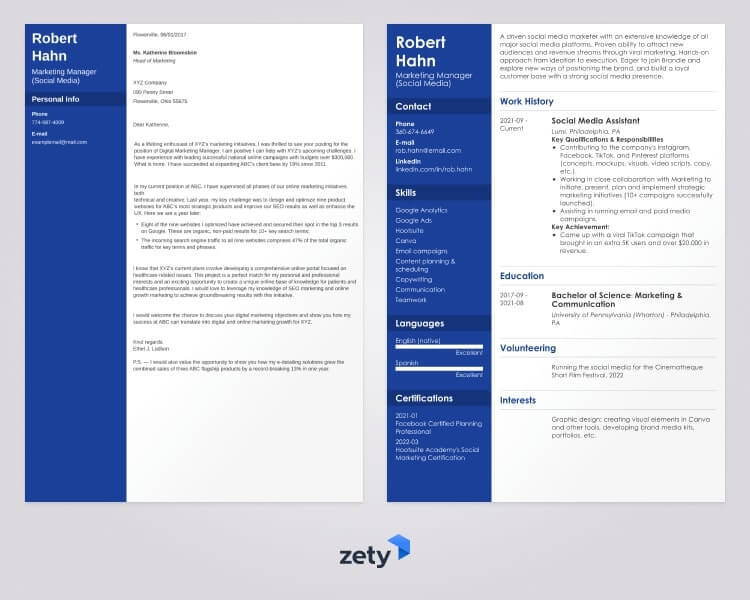 See more cover letter templates and start writing.
Key Takeaways
Here's how to give great answers to good interview questions coming your way:
Come as prepared as possible and do your research.
Be honest at all times, and do not deliberately provide false information.
Be precise, don't overshare.
Focus on positive outcomes and lessons learned.
Never show your previous employer in a bad light.
Thanks for reading! Let me know what you think:
What are the biggest challenges of getting ready for an interview?
What other tips could help you answer the most common interview questions?
Let's discuss this in the comments!
About Zety's Editorial Process
This article has been reviewed by our editorial team to make sure it follows Zety's editorial guidelines. We're committed to sharing our expertise and giving you trustworthy career advice tailored to your needs. High-quality content is what brings over 40 million readers to our site every year. But we don't stop there. Our team conducts original research to understand the job market better, and we pride ourselves on being quoted by top universities and prime media outlets from around the world.