You're about to choose the best question to ask the interviewer, but first, here's a quick glimpse at your possible dystopian near future:
It's interview's end. The meeting has gone great, and you feel you'll be hired.
Then the HR manager asks, "Before we wrap up, do you have any questions for me?"
Your mind races, but all that you put forth is a blank look, followed by "no."
You never hear from them again.
See, here's the thing—you have to ask something. But not any old question.
You sell yourself short if you don't do a little interviewing of your own.
So, today we'll prepare some great follow-up questions to ask an interviewer at the end of an interview. Or even during the interview. All that matters is that you ask.
Here's what we'll cover together:
What an interviewer expects when they ask, "Do you have any questions for me?"
How to prepare for the most common interview questions.
The most important questions to ask an interviewer.
A list of 65+ sample answers for you to tailor to your needs during an interview.
Want to land more job interviews? Create the perfect resume in our builder:
Pick a professional template.
Get expert resume tips from recruiters.
Edit and download your resume in minutes.
Start getting more job offers. See 20+ resume templates and create your resume.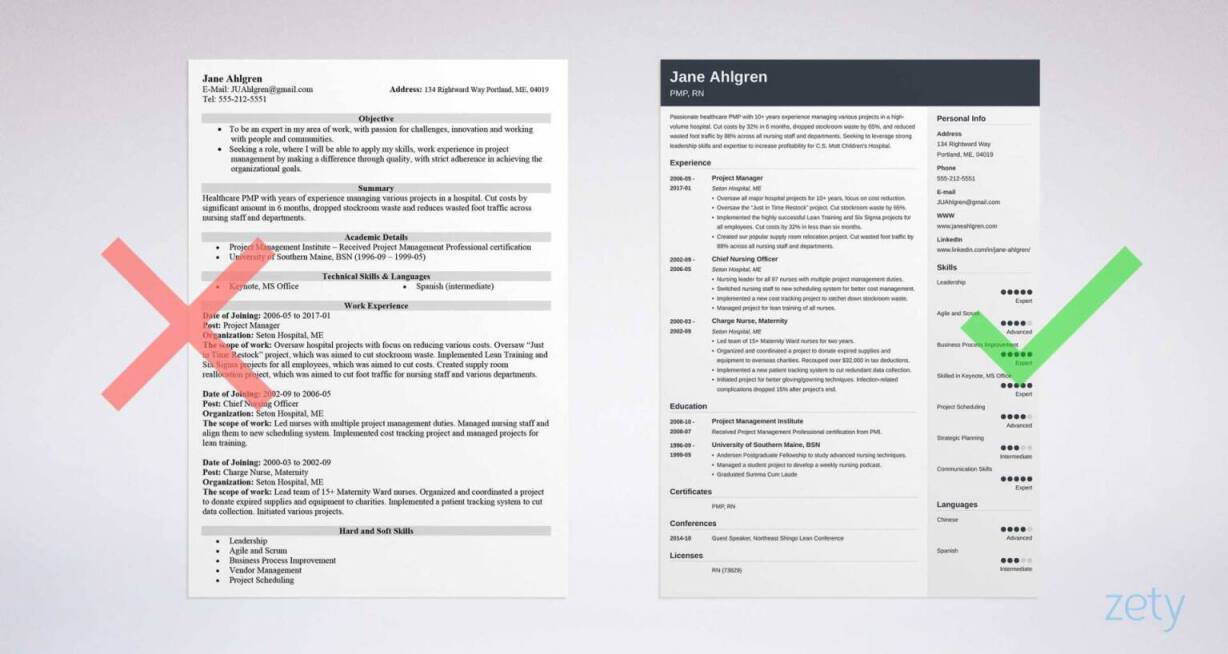 Sample resume made with our builder — See 20+ templates and create your resume here
1
Show Your Interest for the Position
Before you can ask the larger-picture questions, make sure that you have a competent understanding of everything your position entails.
Here are the best questions to ask during an interview to show your interest in the position:
What's the next step in the interview/hiring process?
How long does your recruitment process usually take?
What are the primary responsibilities of the position?
What would my day-to-day routine look like if I got the job?
What can you tell me about the job apart from what was in the description?
What would I be expected to accomplish in my first month/year on the job?
What is the key to succeeding in this role?
What does it look like during the busiest and toughest times for this role?
Would I need to travel for the position?
What kind of hours are expected for me to perform the role at maximum capacity?
Is overtime expected and/or allowed?
Could you tell me a little bit about the person I would report to directly?
What is the onboarding process like for new hires?
How many people will I be working with?
If I were hired for the position, what would be the ideal starting date?
Do you expect the responsibilities for this role to change in the near future?
If you're clear on the ins and outs of your position and role, you can then move on to larger and more general questions to ask interviewers.
Pro Tip: Avoid asking the interviewer yes/no questions. Just as they will save their yes/no questions mostly for the job application, your few questions posed should solicit a detailed response. Also, many of these answers can probably be found online.
These are the best questions for YOU to ask THEM (the interviewer). But before you get to this point in your big meeting, make sure you've prepped good answers to interview questions they'll ask you: Common Job Interview Questions and Best Answers
2
Demonstrate Interest in the Company
You've shown interest in the position, but you should also show the hiring manager or HR director that you are a team player who would be proud to be part of the company.
Here are some example questions to ask at an interview to demonstrate your interest in the company:
What is the work culture like here?
Can you tell me what the team is like?
What model of reinforcement do you use to correct and instruct?
How long does the average person keep this job?
How does the position fit in relation to the rest of the organization?
How does senior management view/interact with the person in this position?
Is there a career path that someone in this position would be expected to follow?
What are the prospects for growth?
Could you go into more detail about the company's culture?
How would you describe the overall style of management at the company?
What do you/employees like most about working here?
How well do people with my background adjust to working here?
What could you tell me about the company that isn't widely known?
What kind of leadership/management style do you promote in the company?
How does the company take an idea from inception to completion?
What would you say is the time spent on creating new products/projects?
These questions show you don't only think about yourself and how you can get your work done, but rather they portray you as someone who cares about the livelihood and success of the company as a whole.
Pro Tip: How many questions to ask an interviewer? Make it at least two. One feels just marginally less irresponsible than asking none at all. Two or more make you appear prepared and pleasantly curious about your employment.
Interviews are not all about interview questions and answers. You need to think about your smile, feeling calm and confident, getting a good night's sleep, and more. Read our guide: 50+ Successful Interview Tips, Advice & Guidelines
3
Reveal You're More Impressive Than They Thought
Say you want to draw attention once more to that impressive degree you worked so hard to achieve. You told them on your resume, but how about asking something like this:
"I'm proud to have been granted my Bachelors in International Relations and Diplomacy, and I'd love to use what I've learned should I get the job. Do you see me being able to utilize these skills and knowledge in this role?"
How about that? You dropped it in there again, and you did it in a way that doesn't come off like you just want a pat on the back.
Let's look at some more good questions to ask in an interview to reveal that you're more impressive than your resume and cover letter make you out to be:
I wanted to know if you base your innovation process more on the Silicon Valley style "move fast and break things" or precision and artistry?
What kind of processes and technology do you use to work collaboratively?
How do you measure performance and success in this role?
How is feedback given to employees?
Could you tell me what it looks like to get a performance review?
What would you consider top accomplishments for someone in this role over the next year?
Are there any special projects that I would work on soon?
How is information documented and shared across projects and departments?
What types of people are the most successful here?
What type of things would I need to achieve to advance within the position/company?
Is there anything else I could tell you about myself that would help you with your decision?
Ask intelligent questions so you can leave after making one last strong impression.
Pro Tip: Avoid asking questions with possible answers that are too broad. If you have something broad to ask, split it down into multiple, bite-sized questions, and ask them one at a time.
Behavioral interview questions can be hard to answer, but the STAR method is the formula to answering them perfectly. Read this guide: STAR Method for Acing Behavioral Interview Questions
4
Ask About Challenges, Struggles & Competition
Asking about the company's pain points and current struggles will allow you to start a conversation about how you can add value to the company by fixing them.
On top of that, inquiring about their competition and everyday challenges gives you insight into whether or not the position will be a good fit for you.
Here are several good interview questions to ask employers on the company's current challenges, struggles, and competition:
You mentioned that the team was struggling a bit to work together. How would my role help improve teamwork?
May I ask why the last person left the job?
What mistakes have people made in this position?
Which competitors/products/targets are you most worried about?
How many people have left the company in the last year?
What's the biggest change/challenge the department/company/industry has had to face recently?
What are the current focus areas for the company as a whole?
What are the pain points you have to deal with day-to-day that the person in this role should remedy?
Asking questions of the company's competition and pain points show that your mindset is already in the role and your head is in the game. This will easily impress them and make it easy to envision you in that position, as well.
Pro Tip: Don't stick to only one topic when asking the interviewer multiple questions. Show that you're interested in every aspect of the company, not a particular item that may signal that you have a bad experience or a thorn in your side.
If you ask about the company's struggles and challenges, make sure you know best how you would answer one of the most important job interview questions interviewers ask: "Why Should We Hire You?" Best Answers (6 Proven Examples)
5
Inquire About Opportunities & Future
It's great to ask about the current responsibilities of your position or the day-to-day operations of the company.
However, make them see that you are a keeper by asking about growth and opportunities. Show you care about the company and the position by asking how they are going to develop or move forward.
Take a look at some sample questions to ask an interviewer at the end of an interview about the company's opportunities and future:
How do you reward employees for good work?
Do you see the role expanding in the future?
Do you have any on the job training?
How many people have joined the company recently?
Is the company growing?
Where you would like the company to be in five years?
How transparent is the company about operations/revenue/future plans?
When you show that you care about the future success of the company, they'll be thrilled. This is one of the best ways toward how to succeed in an interview.
Pro Tip: And once again, the biggest no-no of all when they ask if you have any questions for them is to say, "No, nothing comes to mind." This shows a lack of interest and preparation. Always ask at least two questions to the interviewer!
Want to really know how to nail an interview? You've got to have a detailed response ready when they ask you to tell them about yourself. Read this: The Perfect Answer for Tell Me About Yourself [7 Examples]
6
Avoid Improper Questions & Wrap It Up
Let's be honest—you need the money; that's just about the biggest reason for wanting this job.
However, you shouldn't make it so blatantly obvious. You do not want your hiring manager to think you're only interested in compensation. Keep questions about salaries, promotions, benefits, perks, and other compensatory items out of your interview.
Also, we mentioned that asking about the work culture is a great way to show your interest in the company. However, if they have a web page dedicated to explaining their company culture, like IBM and Netflix do, then asking this will make you look like you couldn't be bothered to do even minimal research or preparation.
Another common mistake is to inquire during the interview about how that interview went or if you got the job. Save this for the follow-up email, or, better yet, give them time to approach you with their decision. Finally, don't exude impatience by asking when you'll hear back from them.
These are all big no-nos.
When faced with the employer asking, "So, do you have any questions for me?" here are some of the worst final questions to ask interviewers:
So, how did I do in this interview?
Well, how 'bout it? Did I get the job?
How often do you give out raises?
How often do you hand out bonuses?
What kind of perks and benefits can I expect?
When can I expect to hear back from you?
When do you plan on making someone an offer for the job?
What does this company actually do?
How soon can I request vacation time after you hire me?
Unlike what your grade school teachers may have taught you, there are stupid questions when it comes to interviews. Most of them are "me" questions, those where you put yourself before the interests of the company.
Pro Tip: Don't ask too many questions, either. You don't want to look like you didn't do any research before the interview, and you shouldn't overstay your welcome. Take hints. If they look like they're losing interest, wrap it up!
There are many ways to know how to answer interview questions, but we'll give you the best answers to interview questions about why you want to work there: Best Answers for the "Why Do You Want to Work Here?" Interview Question [+8 Examples]
Key Takeaway
The interviewer asks, "Well, that's about it. Do you have any questions for me?" You have to ask something to show that you're prepared and that you give a damn.
Make sure you ask at least two questions:
You're Interested - Ask questions of the interviewer that show your interest and enthusiasm for the position, the company, and for any immediate tasks or special projects you may be given.
You're Impressive

- Ask the employer questions that are deep and meaningful, instead of simply-answered yes-no questions. Allow your questions to reiterate how impressive you are for the role. Know how to ask

good

questions.

You're Insightful

- Ask the interviewer questions about the company's future and opportunities for the role, but also about current struggles, pain points, and challenges they face.
If you follow these steps, you'll know how to end an interview. You'll be sure to be the most impressive interviewee for miles. And once you've put the interview behind you, make sure you follow up with a thank-you note!
Do you have any questions on what to ask the interviewer at an interview? (You don't have to say yes this time) Not sure which questions are inappropriate? Give us a shout in the comments below and we will answer your question. Thanks for reading!