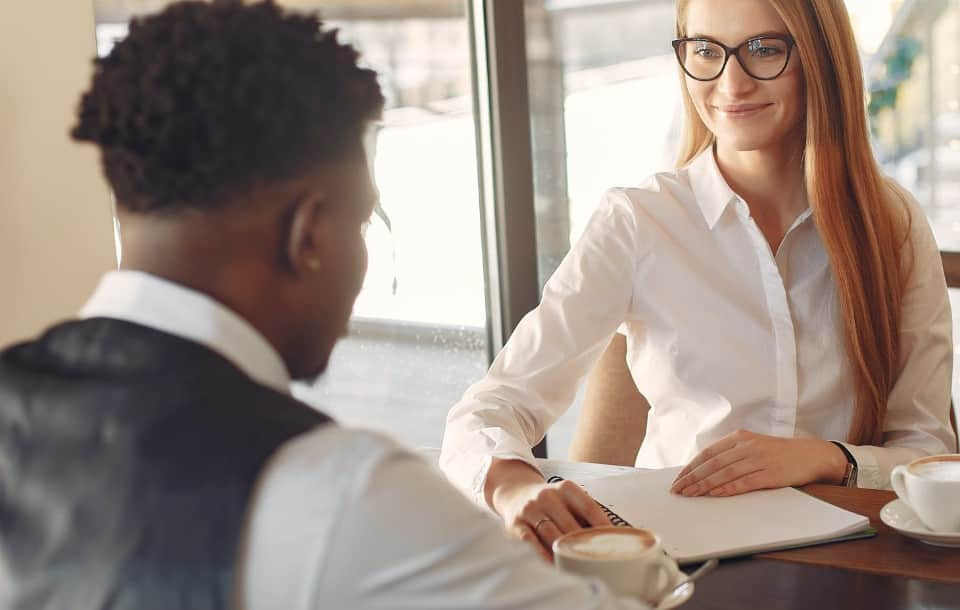 15+ Best Questions to Ask at the End of an Interview
Every job interview is a two-way street. Pick the right questions to ask at the end of an interview to spot red flags and boost your chances of getting hired!
Do you have any questions?
Every (good) job interview ends with this sentence. You probably already know that if you want the job, saying "no" is not an option—
You need to go in prepared with a few smart, tailored questions.
But did you know just how important they are?
The questions you ask at the end of your interview have the power to reveal additional aspects of the role, impress the interviewer, and increase your chances of getting hired.
Ready to interview the interviewer and land your dream job?
This guide will show you:
15+ good questions to ask at the end of an interview and show you're the best candidate.
Tips on how to construct your own questions to ask at the end of an interview and what topics to avoid.
How many questions to ask at the end of an interview.
Looking to land even more interviews?
Make sure your resume is up to scratch!
Want to save time and have your resume ready in 5 minutes? Try our resume builder. It's fast and easy to use. Plus, you'll get ready-made content to add with one click. See 20+ resume templates and create your resume here.
Sample resume made with our builder—See more resume examples here.
Need more job interview advice? Check out these guides:
Here are the top picks for good questions to ask at the end of an interview:
1. From your experience, what's the best thing about working here?
This is the Swiss Army knife of interview questions. Just consider how many purposes it serves:
Helps you develop a rapport with the interviewer (remember: most people enjoy talking about themselves more than anything else)
Shows your interest in the company in general, not just the job itself
Reveals a lot about the company: even though it's just the opinion of one person, the answer can tell you a lot about whether the job is a good fit for you
Opens up possibilities for follow-up questions you can ask, such as the challenges the interviewer faces or how they came to work for the company
Makes you memorable—it's not an obvious question and candidates rarely think to ask it
2. Can you tell me more about your company values and how they're put into practice?
The second part of this question is especially important:
It shows you care about company culture and helps you find out more about the company's approach to employees and customers in real life—not just on paper.
Pro tip: If you already know the company values, show the recruiter you've done your research. Rephrase the question: I'm interested in your company values of integrity, empowerment, and diversity. Could you tell me how they're put into practice?
3. How do you evaluate and define success in this position?
Recruiters love hearing this question—
Nothing shows you're a goal-oriented professional better than asking how you can be successful before you even get the job.
Plus, you'll learn a lot about what's expected of you. If the interviewer can't answer this question, by the way, consider that a red flag: it suggests a lack of clear structure and expectations.
4. What professional development opportunities are available for this position?
Ambitious candidates eager to learn new skills will always have an edge over those who believe they're already qualified enough.
As an added bonus, this question suggests to the interviewer that you plan to stay in your profession for the foreseeable future.
Remember that you're asking about training and development opportunities, not promotions!
5. What are the main challenges for someone in this role?
Did you know that 61% of employees find that their jobs were misrepresented during interviews?
This question will help you manage your expectations of the role and find out exactly what awaits you if you get the job.
See more fascinating insights: HR Statistics: Useful Data on the Hiring Process, from Job Search to Interviews
6. What's the structure of the team/department?
You'll find out how your future role fits into the organization and gain a better understanding of your responsibilities. Plus, you'll learn who you'd be answering to and whether you'll have any peers in similar roles.
7. What does the onboarding process look like for new employees in this role?
The answer to this question can be surprisingly revealing, especially if you're not sure if the job's seniority level matches your experience. If it turns out you're expected to dive right in with no prep, it might be a red flag.
8. Where do you see the company in the next 3 to 5 years?
The tables have turned!
"Where do you see yourself in 5 years?" has to be one of the most dreaded interview questions of all time. Well, now you can be the one asking it!
Revenge is not the name of the game here, though:
With this question, you'll show you're serious about this opportunity and that you're in for the long haul. And you might get some ideas about future opportunities in the same company.
If you get a satisfactory answer, you can ask a follow-up question to show your commitment:
How would someone in this role contribute to achieving these goals?
9. What is the typical career path for someone in this position?
AKA, a sneaky way of finding out whether there could be an opportunity for a promotion anytime soon.
This question will help you determine whether you're facing a career-building opportunity or a dead end. It's not entirely self-serving, though: the recruiter will see you as an ambitious candidate, and that's always a good thing.
10. What would you like to change in the company?
The interviewer may tell you about a problem they're trying to solve right now, or an aspect of the job that might be frustrating, or the company's plans for the future, or something else entirely—
In any case, you'll get some useful insights into what it might be like to work there.
11. Can you describe a typical day for someone in this role at your company?
This one's worth asking no matter your level of seniority or experience. It'll help you verify your future responsibilities and the scope of the role. It's especially useful for job titles that companies often misuse, like UX designer or sales representative.
12. What are some of the challenges that the company's facing right now?
You'll get insights into the company's current and future situation. For bonus points, ask a follow-up question regarding how someone in this role can contribute to overcoming those challenges—
You'll come across as a proactive problem-solver and boost your chances of landing the job!
13. What was the team's biggest achievement in the past year?
Get ready to learn more about the scope of the company's activities and what's considered an achievement in the context of your future role.
14. What are some of the most interesting projects you've worked on in this company?
The response you get will give you a better idea of the way the company works, with a specific example. And it helps to establish rapport with the interviewer and show your interest in the role.
15. Can I provide any further details that would be helpful in making your decision?
With this question, you're providing the interviewer with the opportunity to ask you follow-up questions about what you discussed earlier. Perhaps they'd like you to clarify something you said in one of your responses, or they want to hear more details.
Plus, it shows you're still interested in the opportunity after the main part of the interview.
16. What are the next steps?
Recruitment processes vary between companies and usually take 1 to 3 months, from application to offer. The average number of interview rounds within that time is 3, but there's no rule that says this will be true in your case.
So, it's good to find out what you're in for. Perhaps you'll get an offer after just 2 interviews, or maybe you'll come back here for more question ideas as you get ready for your 5th round!
Tips on Questions to Ask at the End of an Interview
Here are a few things to consider when preparing your questions:
How many questions should I ask at the end of an interview?
Aim for around 3, but there's no hard rule—you'll have to read the room.
If the atmosphere is comfortable and the interviewer answers your questions with enthusiasm, you can ask a couple more questions. If they seem in a rush, however, stick to one or two most important queries.
All in all, prepare around 10 questions, just in case some of the answers come up naturally during the interview.
Can I ask about specific aspects of the job?
Absolutely! Ask about specific processes, procedures, and solutions the company has in place, and you'll learn more about the position and show your experience.
Just make sure your questions are relevant and fall within the responsibilities of the role, and include a couple of questions about the company as a whole.
How should I phrase my questions?
Apart from the obvious need to be polite, you should focus on asking open-ended questions, i.e. questions that require more than a yes or no answer. These usually start with why, what, how, or could you tell me about….
Here's why—
If you keep asking closed questions like Are there opportunities for development? or Do you evaluate your employees' performance?, you won't find out much. Plus, the conversation will feel stale and awkward.
What questions should I avoid asking at the end of an interview?
Don't ask:
1. Questions about money, perks, and benefits (including when you can expect a raise)
Money can become something of an elephant in the room during interviews, especially if the salary wasn't listed in the job advertisement.
Still—
In general, it's inadvisable to ask about pay during your interview. If you need to ask, your best bet is to talk to the HR representative in charge of the recruitment process for this position.
Once you're offered the job, you'll find out everything about your salary and benefits, and you'll likely have the chance to negotiate both.
Read more: How to Negotiate Your Salary: Guide, Examples, and Expert Tips
2. When you can take your first holiday
Asking about holidays during your interview will suggest that you're already thinking about not working. You want the interviewer to remember you as someone eager to contribute instead.
3. When you can expect a promotion
The vast majority of promotions are earned. Not only will the interviewer be unable to answer this question, but they'll also walk away with the idea that you're arrogant and opportunistic (sorry!).
Instead, ask about the career path for this position (question #9 above).
4. Personal questions
Under no circumstances should you ask the interviewer about their personal life (marital status, children, etc.) or finances.
And yes—
This includes their salary.
Did you know that the interviewer can't ask you about certain topics, too? Read more: Illegal Interview Questions: What the Company Can't Ask You During Recruitment
5. How well you did during the interview and/or whether you got the job
These are simply in poor taste (and likely to disqualify you immediately).
It's natural to want to know whether your interview went well, but to find out, you'll have to wait for the company to reach out to you.
6. Questions about topics that are already covered in publicly available materials
If you ask the interviewer about something that's plainly explained on the company website, for example, you'll reveal that you haven't done any research and likely destroy your chances of getting the job.
7. When you'll get feedback on the interview
Instead, ask about the next steps in the hiring process (question #16 above).
You can (and should) message the company after your interview. Read more: How to Follow Up After a Job Interview: Guide & Email Samples
That's all!
Hopefully, you now have a list of good questions to ask at the end of your interview—
Thanks for reading and good luck!
Did you have any trouble picking the right questions to ask? Perhaps you can suggest some questions that have worked well for you in the past? Let us know in the comments!
About Zety's Editorial Process
This article has been reviewed by our editorial team to make sure it follows Zety's editorial guidelines. We're committed to sharing our expertise and giving you trustworthy career advice tailored to your needs. High-quality content is what brings over 40 million readers to our site every year. But we don't stop there. Our team conducts original research to understand the job market better, and we pride ourselves on being quoted by top universities and prime media outlets from around the world.