This guide will show you over a dozen modern resume templates, followed by a guide on how you can make your resume more modern:
Modern working conditions. Modern paychecks. Modern employee benefits.
You want a modern job. So, just use a modern resume, right?
Well, kind of, but do you know what exactly that includes?
Sure, it's more up-to-date, design-wise. More colorful. And it might use unique fonts. But creating a modern resume does not mean simply a modern-looking resume.
In fact, you have to be really careful with each element of the modern resume - otherwise, you'll end up hurting your job chances rather than helping.
So, what do we do?
Don't worry. We'll go through modern resume templates together, step by step from top to bottom. Then, we'll browse great examples of modern resume templates you can use right away.
You'll soon have a modern resume that'll be successful in the modern day.
This modern resume guide will show you:
Modern resume examples better than 9 out of 10 other resumes.
How to write a modern resume that will land you more interviews.
Tips and examples of how to use modern elements on a resume.
Samples of the best contemporary resume templates to use.
18 of the Best Modern Resume Examples
We'll soon go over how to make a resume modern, but first, let's see some great modern resume examples from around the web.
Together with my colleague, Luiza, with her discerning eye and flair for creative modernity, we set out across the internet in search of the most current and stylish resume examples out there. Some are ours, some are others', but all are modern.
1. Cascade by Zety
Want to save time and have your modern resume ready in 5 minutes? Try our resume builder. It's fast and easy to use. Plus, you'll get tips and right vs. wrong examples while writing your resume. See 20+ resume templates and create your resume here.
One of our users, Nikos, had this to say:
[I used] a nice template I found on Zety. My resume is now one page long, not three. With the same stuff.
Note: we have designed all our resume templates to be ATS-scannable.
This is one of our pride-and-joys here at Zety - the super-modern Cascade resume template made using our resume builder.
Check out the nifty bar graph for your skills and language sections. Also, a sidebar! Furthermore, it's got subtle shading differences in the green but distinct black and white for the text for readability.
Dozens of color combinations make this modern resume template an instant hit. This template is included when you create a resume in our builder, along with many others.
2. Concept by Zety
How about this modern template? Perfect for those who love the reverse-chronological resume format, this resume leaves a thin sidebar to the left vacant for all but dates. To increase its modernity, its got icons for both resume sections and each item in the contact info section.
It uses a white background, black text, and a color of your choice for heading titles and the sidebar. Or, if you wish, reverse that color arrangement with dozens of color combinations to choose from for this modern resume template. This template is included when you create a resume in our builder, along with many others.
Being creative on a resume like this one is tough, but our guide and examples make it easy: Creative Resume Templates & 15+ Examples [A Complete Guide].
3. Diamond
Diamond by Zety is clean but packs a punch. Data is prioritized over graphics, though some can be found in the skills area. A timeline goes through the left-hand side, connecting education and experience for a resume that works well. A very professional modern resume template suitable for candidates across all industries and professions!
For more of the best resume templates we've found around the web, see: Best Resume Templates: 15 Examples to Download & Use Right Away
4. Minimally Modernized "Vibes"
One of the best-looking resumes, don't you think? Our "Vibes" template has got all the modern resume characteristics while maintaining a classic, well, vibe: a minimalist design, easy-to-find contact info, a subtle color palette, and much more.
Check out our curated list of free templates to download: Free Resume Templates: 17 Downloadable Resume Templates to Use.
5. Modern by Zety
Looking for modern? Well look no further! Our aptly-named Modern resume template is exactly that.
Modern features include a block rating system for languages and skills, ribbon-style arrows preceding each section title, and an elegant design throughout with many color combinations to choose from on this modern resume template.
This template is included when you create a resume in our builder, along with many others.
6. Paint Splotches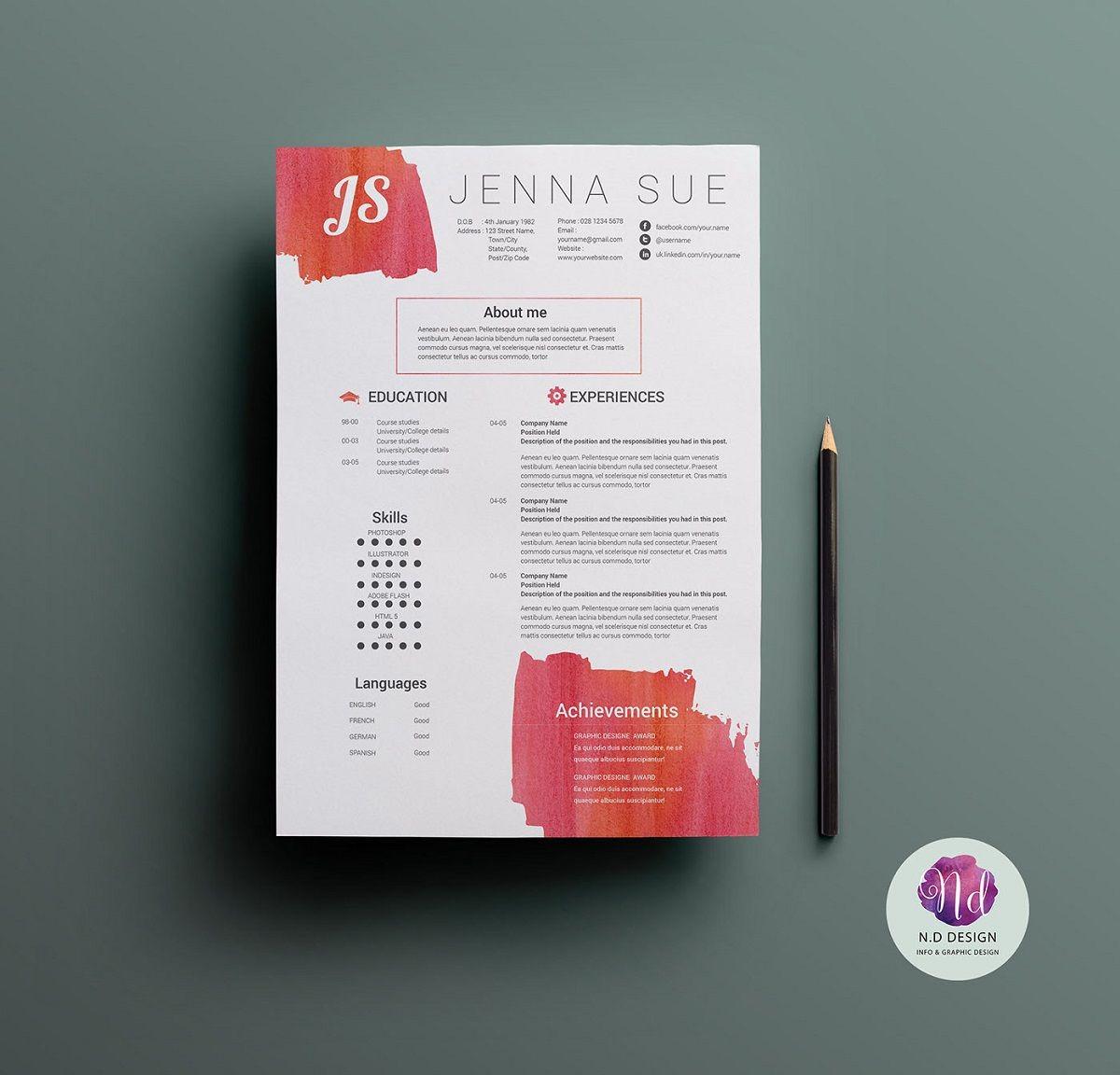 We're not the only ones who tell it as it is - Nhung Nguyen's "Modern CV Template" is exactly as she says. The paint splotches on the top left and bottom right really give it an unfinished, creative feel. To top it off, each section is easy to find.
Find this great modern resume example at Behance using this link.
7. Enfold by Zety
Enfold resume template by Zety has a side bar to allow you to fit more into a single page. Bar charts for skills and languages help recruiters grasp your best qualities quick while adding a modernized touch to this template. White space on the left-hand side gives readers some breathing room.
8. Subdued Style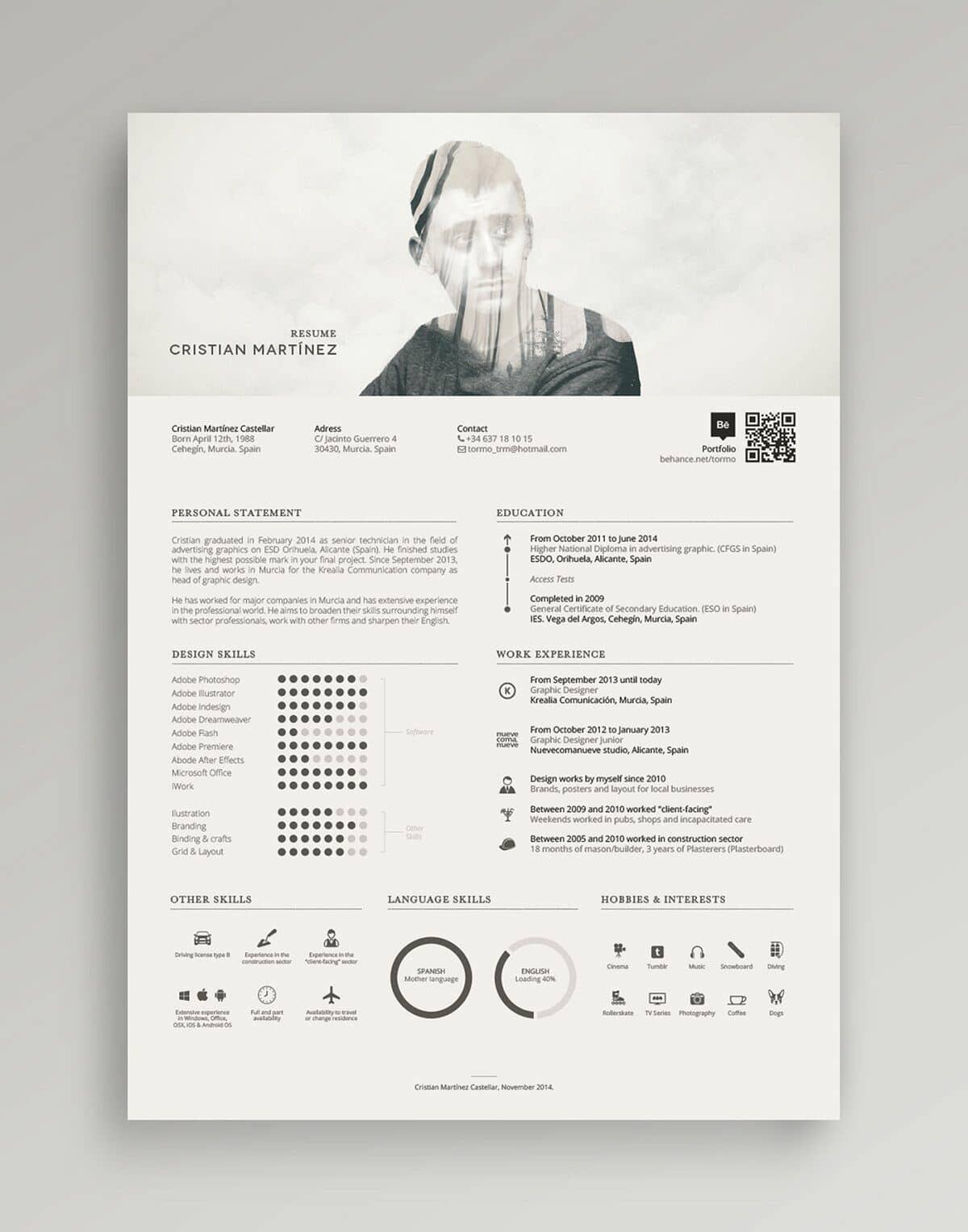 Cristian Martínez Castellar's "Resume / Curriculum Vitae" is an excellent resume example showing how to build resumes that are modern, creative, and functional. With fewer words, the icons and short graphics are forced to tell more of the story.
You can check out this full modern resume format on Behance at this link.
9. Cubic by Zety
Cubic's one of ours, a clean, elegant take on the modern resume template.
The top header is reserved simply for your name and title for you to stand out. A right-hand sidebar switches it up. Filled-in circles for your languages and skills allow you to showcase your knowledge in style.
This template is included when you create a resume in our builder, along with many others.
10. Zety's Newcast
Using the two-column resume format, the right side keeps it simple with an outline of your skills visible at first glance. Modern resume icons round it off by subtly informing the beginning of each section.
11. Muse by Zety
With a name like "Muse," you know it's gotta be modern. This is another one of ours, and it combines some of the best features from our other modern resume templates.
It's got the full-width header for your name, title, and heading statement. A left-hand sidebar promotes your skills and achievements (also as a bar graph). Fashionable icons make it easy for the hiring manager to locate each resume section.
This template is included when you create a resume in our builder, along with many others.
12. Colorfully Current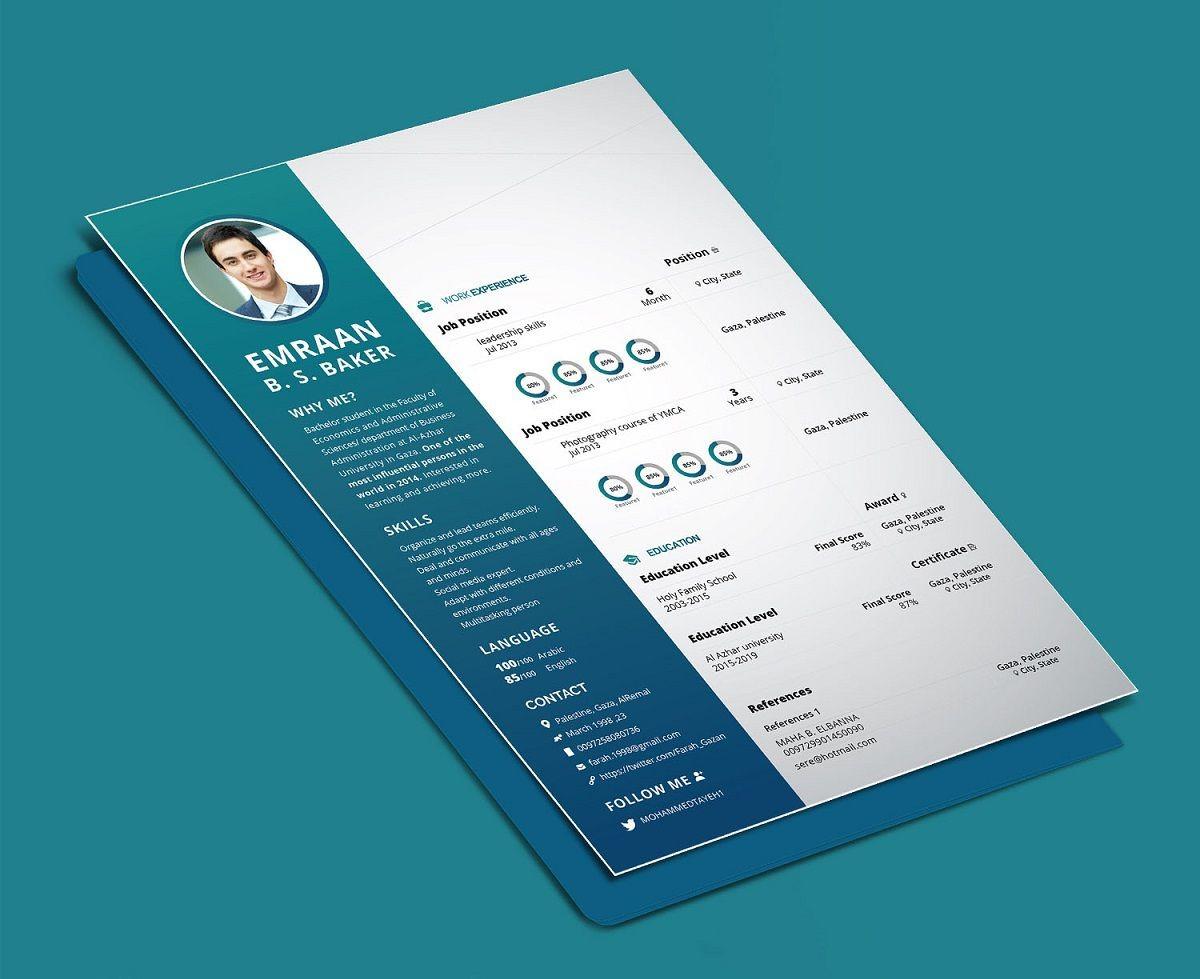 "Project CV" by Mohammed Tayeh is the complete package: it's a great, modern design which comes in templates to make a resume, CV, and a cover letter (see our cover letter tips)! And, to beat that, it is available to download and edit as a Microsoft .DOCX document or for Adobe.
Find this great modern resume example at Behance at this link.
13. Just a Clean Resume & Cover Letter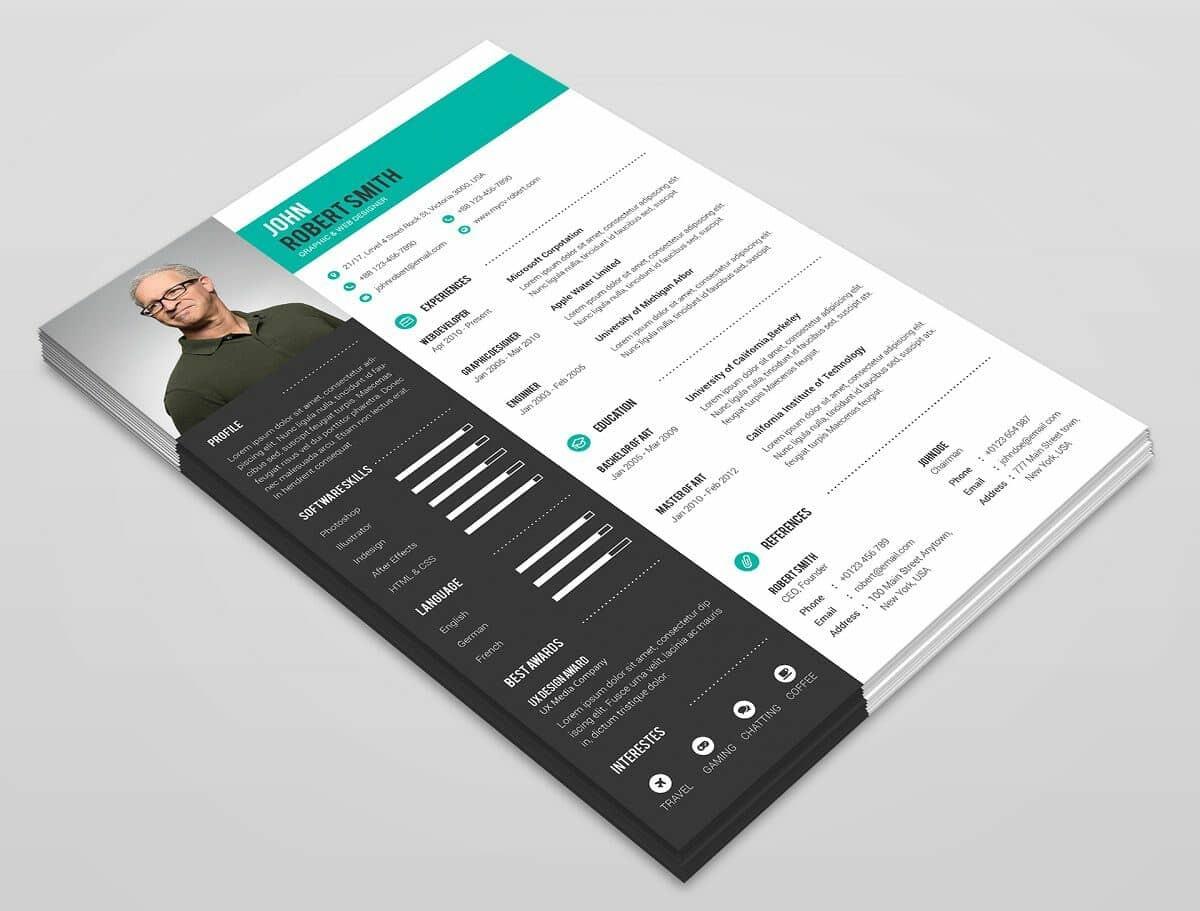 The "Clean Resume & Cover Letter" is a modern resume template by Mohsin Kabir. The three-color palette differentiates the items in the sidebar from the important bits in the center, while the third color adds some creative flair.
Find this great modern resume example at Behance at this link.
14. Executive Resume Template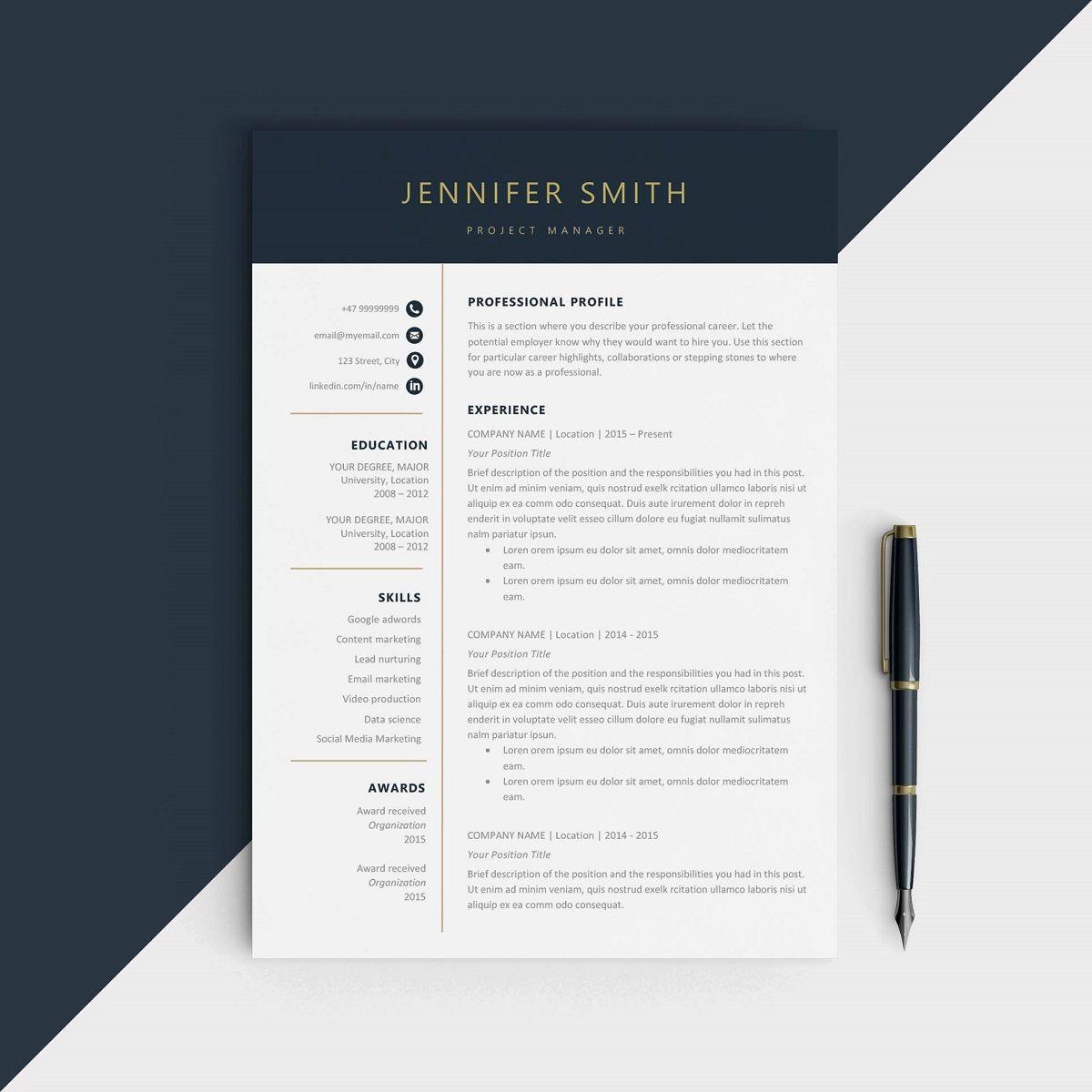 This version of "Modern resume template" is one from the ComelyDesignStudio on Etsy. This one just screams "executive material," and the blue and gold accents add a vintage touch to this modern design. A neat, two-column layout separates your short-form content from your longer information.
Find this great modern resume example at Etsy with this link.
Basic templates for resumes don't have to sacrifice quality. Check out more of them: Basic Resume Templates (15+ Examples to Download & Use Now).
15. An Art Deco Showpiece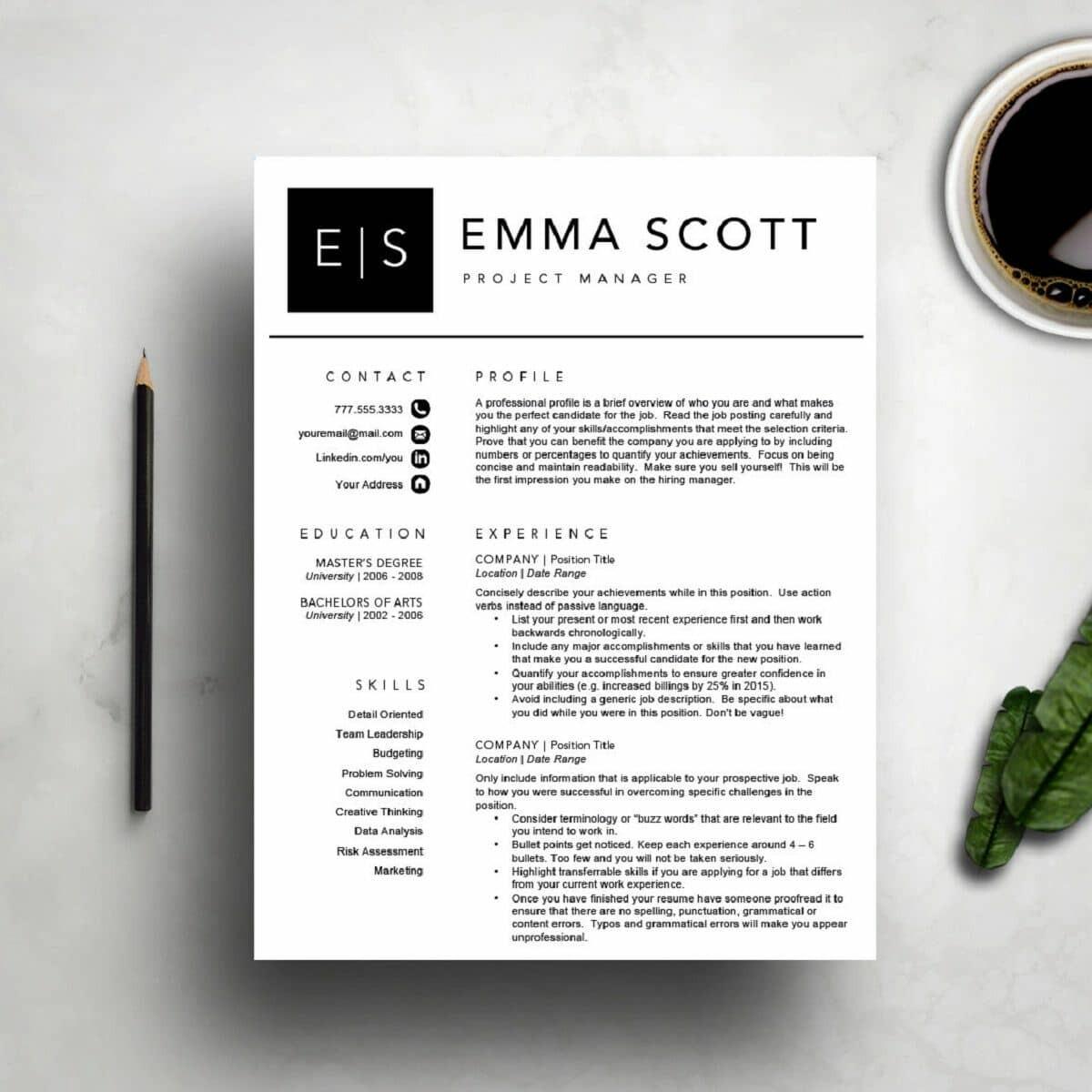 This "modern resume template" comes from a competitor of the last one, WriteResumeDesignCo on Etsy. On this resume, they take that old-school black and white and reframe it into something modern and pleasing to the eye. The header at the top shouts your name and initials for long-time remembrance.
Find this contemporary resume template at Etsy with this link.
16. Crisp by Zety
Another of our favorites here at Zety - the clean Crisp resume template made using our resume builder.
It's got a left-hand sidebar, but a full-width header area up top for your name, title, and all-important resume summary or objective. In the skills and language sections, colored circles detail your level of each. Icons precede each resume section for a modern feel.
It uses a white background, black text, and a color of your choice for heading titles, or reverse that, if you wish, with many color combinations to choose from for this modern resume template. This template is included when you create a resume in our builder, along with many others.
17. Blue & Gold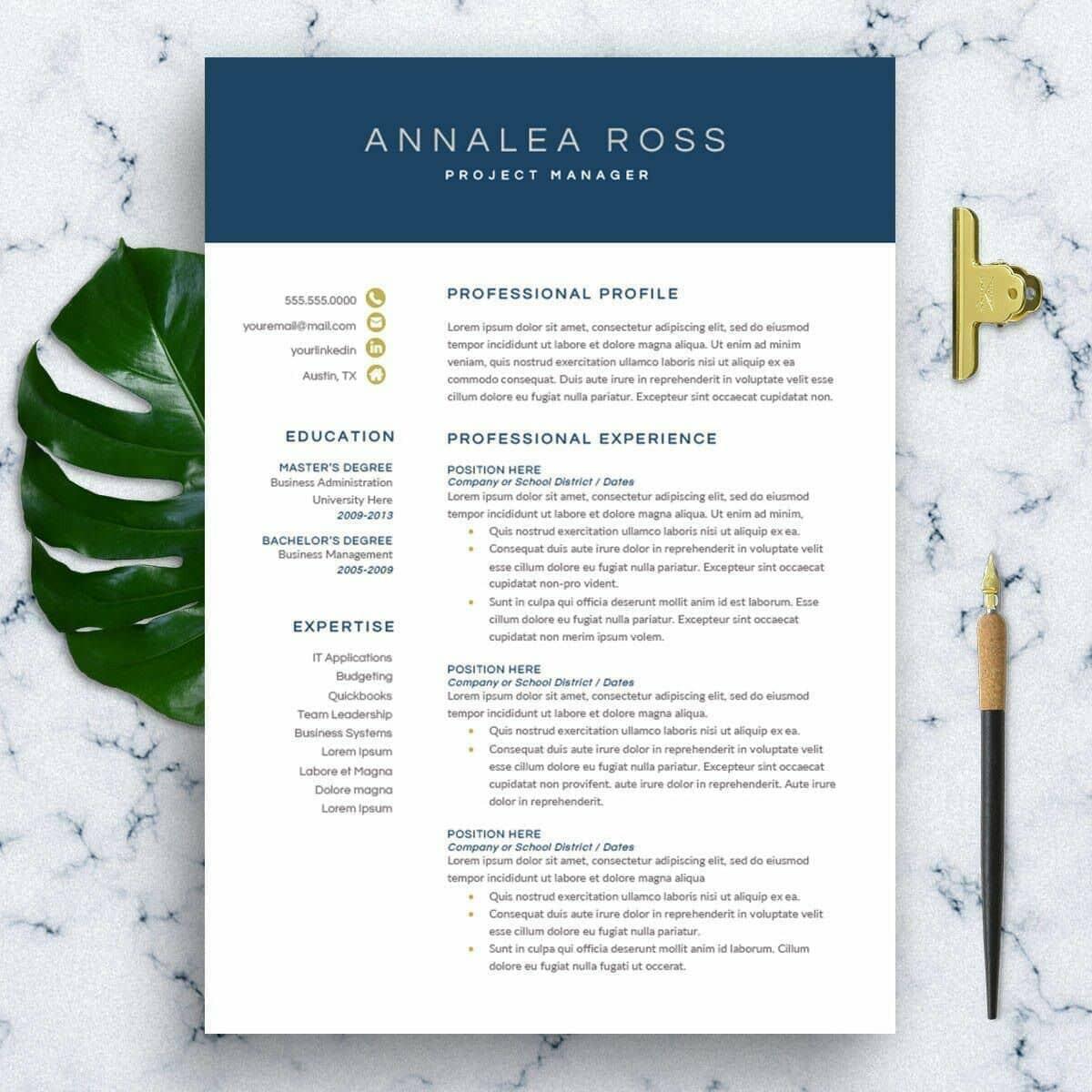 The "Modern Resume Template for Word" by SharpResumeFoundry will be sure to get you the job. Not only is the template clean and stylish, but their resume package includes up to three pages for the price!
This Microsoft Word resume template can be found on Etsy at this link.
18. Free Neat & Premium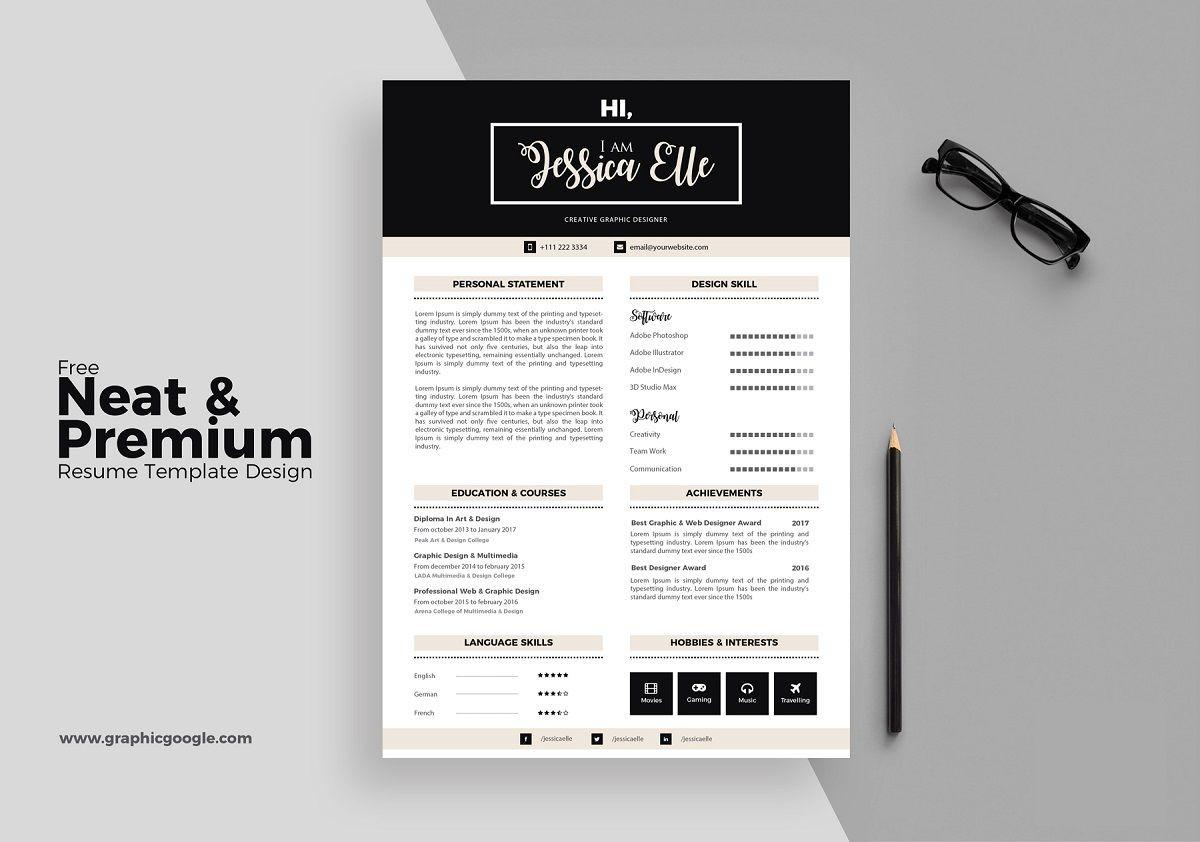 "Free Neat & Premium Resume Template Design" is a premium template for resumes at an excellent price. Available as a download for Adobe Illustrator, this absolutely free resume template design has bold styling and casts your name in the spotlight to help you stand out from the rest of the resume stack.
Here's the link to this template from the folks over at Graphic Google.
Done with creating your modern resume? Make sure you didn't miss anything that could cost you the job of your dreams! Get our handy free checklist : 46 Things You Need To Do Before You Send Your Resume
* * *
1
Colors & Design Elements
Back in the day, hot dogs were a nickel, and resumes were black and white.
You'd be scared to eat a nickel-dog now, and there's no point in having a black-and-white resume these days.
Adding colors on resumes is the most visually-obvious change you can make, according to current resume trends.
Keep it simple:
Use few colors.
Use colors that pair well.
Keep text black (or dark) for readability.
Take a look at this example flight attendant resume:
See that? This modern resume example pairs two shades of the same color with black and white to make it appealing.
Notice other differences from the resumes of your ancestors?
That's right! We also updated design elements to really modernize it.
Having a two-column resume organizes sections effectively - more readable. Clearly-labeled section titles make it a breeze for recruiters to skim to sections they seek.
Also, since most resumes are sent digitally, you don't have to worry about the cost of printing these colors out.
Pro Tip: If you have resume content text that isn't black, make sure it is a great contrast to whatever the background color is: white is good for dark-blue backgrounds, like you can see in the image above. The best colors for resumes are ones that stay clean and professional.
2
Reconsidering Fonts, Skimmability & Length
Newsflash: the hiring manager won't read your whole resume. On average, they'll spend just 6 seconds on each resume, initially.
How do you make your resume stand out so that you maximize their time on it?
Make it skimmable.
What's that mean? Look at this fragment of help desk resume example:

See that?
This modern resume is easy to skim, with headings for the different sections in a larger font, bold print, and separated neatly from the text which comes before and after it. Also, white space is optimized.
Speaking of fonts, nowadays, we have unlimited options to choose from. But, it doesn't mean you can choose just any font.
"With great choice of fonts comes great responsibility."
How to choose the best font for your resume?
Avoid script fonts or anything too "fun."
Use a universal font for compatibility.
Choose fonts with readable spacing.
Don't shrink font to stuff more text.
Pro Tip: Serif fonts feel old-timey, but the brain can interpret them faster. A popular method to make a resume stand out is to use sans-serif for either the body text or the heading, and then serif for the other - just so long as they pair well, of course.
As for length, our other article said it best:
"Your resume is a miniskirt - it should cover all the important bits and stop before it gets boring."
A one-page resume is great, but two pages might be necessary, if you have more past experience.
Avoid three pages unless you don't want any future job experience.
That's the basics on the length of a modern resume. For a more in-depth look at what number is right for you, see: How Long Should a Resume Be? Everything You Need to Know.
3
Social Media, Websites & Contact Info Version 2.0
You used to list your name, address, phone number, and then cross your fingers.
These days, that won't fly. A modern resume must include modern details. Take a look at this partial example of a modern resume for painters:

Let's break this down.
Social Media Profiles
That's right - nowadays, social profiles are very important. They are public representations of ourselves. And, the employer will search them whether you give them the URL or not.
If you don't feel like linking to your personal profiles, at least clean up and link to your LinkedIn.
Pro Tip: Get out ahead! Don't forget to remove or hide any photos or posts on your social profiles that the hiring manager would object to.
For tips on how to check and clean up your online reputation before applying for the job, read this guide: How to Check Your Online Presence Before Recruiters Look You Up.
Websites
Have a personal blog or portfolio page?
Don't be embarrassed to include it. It's common practice to add personal websites, but keep these points in mind:
Make sure they're relevant.
Clean up the sites as you did with social media.
Remember that hiring managers may find them anyway.
Contact Deets the Modern Way
I'm not going to explain to you how to list your address and so on. But I do want to briefly give you a few modern resume tips for contact information:
Icons are modern and help save space.
Use professional email addresses - not grade school handles.
List a cell number, not your home phone.
This is just a taste when it comes to contact info on modern resumes. For more, see: How to Include Contact Information on a Resume (Examples).
4
A Modern Heading Statement
Remember that you have ~6 seconds to grab the recruiter's attention?
The heading statement, either resume objectives or resume summaries, on a modern resume is the first thing they'll see.
Make it powerful.
Back in the day, a resume objective or summary was a generic statement saying that you are looking for a job.
That's tired. A resume already says that you're looking for a job.
For a modern makeover, remember these points:
Personalize it by calling out the company by name.
Keep it short but sweet; no more than 3-4 lines.
Include past highlights and achievements to knock it out of the park.
Don't know which one to use? For more on how to tailor heading statements to your modern resume, check out: How To Write A Resume Summary: 21 Best Examples You Will See and 20+ Resume Objective Examples - Use Them On Your Resume (Tips).
5
An Experience Section with Achievements
In olden days, resumes used to have experience sections which had a list of responsibilities in bullet points beneath each job.
Today, most hiring managers would reject a resume like this.
For example, on your help desk resume, sure, you were responsible for answering calls in a friendly manner . But, this doesn't tell them if you actually did it, or how well you performed the job.
Now take a look at this: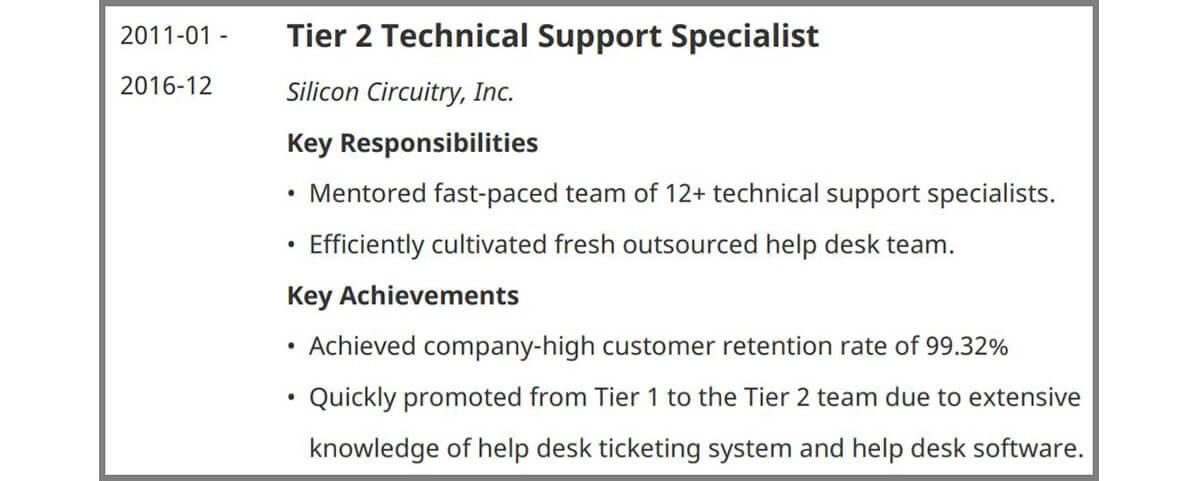 See? We shortened the responsibilities and added achievements. Achievements are quantifiable, help to promote your brand, and are a necessary part of the modern resume.
For more examples of achievements on a modern resume, and how to add your own, see this: Achievements to Put on a Resume - Complete Guide (+30 Examples).
6
Adding Skills to Stay Current
You've got skills, but so does everyone else.
To add skills to a modern resume, it isn't enough to just list anything that comes to mind.
Here are tips on the right way to add skills:
Search the job listing first to find the keywords they're looking for.
Tailor it further by adding your skills which match the industry.
Use an appropriate number of both hard & soft skills.
Want to really modernize your skills section? Take a glance at this: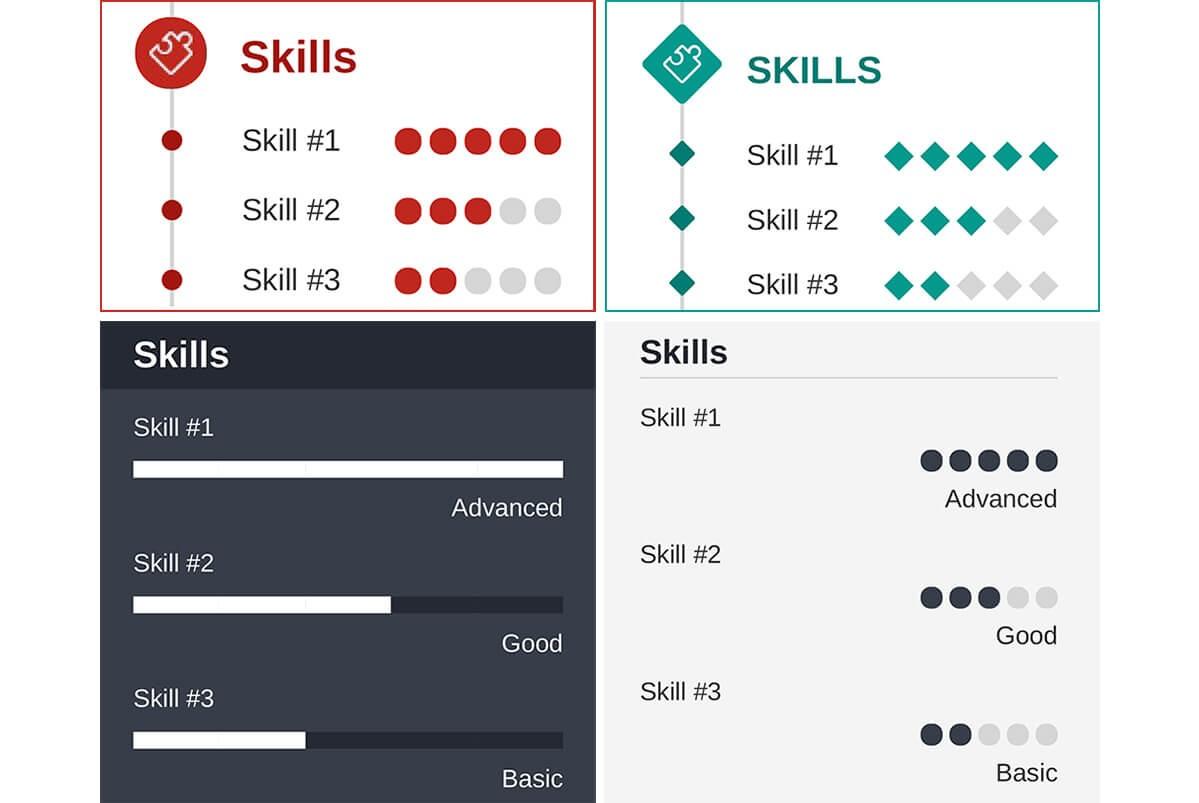 Back in the day, you'd just list skills in a bulleted list. Modernize it and stand out by listing your skills with a level bar or meter, such as in this example.
This was just the bare-bones on a modern resume's skill section. Check out our complete guide: 30+ Best Examples of What Skills to Put on a Resume (Proven Tips).
7
ATS & Machine Readability
There's one area where modern design doesn't matter:
The ATS.
The ATS, or Automated Tracking System, is software that scans your resume and searches for keywords to determine your eligibility for the position. More and more employers are using ATS software now.
Don't pass the ATS, your resume won't even make it to a human's hands.
For a truly modern resume, it must be able to be read by the ATS as well as humans.
Here's what happens when you give it a resume it can't understand:

See that? It can't even make sense of the very top heading of this resume.
To be sure, run a simple test for your modern resume: Copy the text and paste it into a text (.txt) file. If the logic, sections, and keywords make sense, it should be fine for the ATS.
Pro Tip: Check the job posting to make sure PDFs are OK. A PDF might cause the ATS problems, meaning you'll be disqualified before you even get considered.
Key Takeaway
Modern resumes are a blend of contemporary style, optimal text placement, and readability for both humans and the ATS.
Meet Modern Needs - A modern resume should list achievements, tailored skills, and a personalized resume summary or objective.
Less is More - Sometimes, removing items is better for a modern resume than adding extra fluff.
Modern = Simple - Maximize use of whitespace, make it skimmable, and keep it short and sweet.
Use Modern Design Elements - Make your resume unique by adding creative fonts, icons, bar graphs, and social media profiles.
Make it ATS-readable - Don't forget that ATS software may read your modern resume before a human hiring manager gets the chance.
You'll now have a modern resume that will be sure to grab their attention and get you the interview.

Do you have any questions on how to write a modern resume? Give us a shout in the comments below, and we will answer your question. Thanks for reading!