Our customers have been hired by:
A job opening in the US has your name written all over it. You need to submit a resume, but you're not sure if it's something totally different from a curriculum vitae.
Follow along as we go through several expert tips and tricks and you'll have a brand spanking new American resume in minutes!
Want to save time and have your resume ready in 5 minutes? Try our resume builder. It's fast and easy to use. Plus, you'll get ready-made content to add with one click. See 20+ resume templates and create your resume here.
Sample resume made with our builder—See more resume examples here.
Looking for US resume examples for specific situations? See:
What Is US Resume Format?
An American resume is typically a one-page document similar to a CV. The US resume format lays information out in reverse-chronological order: you start with your most recent job and make your way back in time. American resumes often start with a heading statement, followed by experience, education, and skills.
You may be surprised, but there are very few differences between American resumes and CVs:
American Resume Template
1. Format
The most popular resume format in the US in the reverse-chronological format which puts the focus on your professional work experience. Alternatives include the functional resume format and combination resume format. Standard US resumes are one page long.
If you're unsure what format to choose, read on: Best Resume Format (+Samples)
2. Header with Contact Information
Add your contact information at the top of your resume so that recruiters know how to get in touch. This should include your name, contact phone number, and email. If you have a relevant website or online portfolio or an up-to-date LinkedIn profile, add that too.
Pay very close attention to information that should not be found in an American resume since it can exclude your resume from the start. We'll mention this later on.
Read more: Resume Header Examples
3. Resume Profile
Your resume profile should be a short, relevant introduction about yourself and why you're applying for the position.
If you're already an experienced professional, use the resume summary statement that will focus on your job experience. If you're just starting your career, use a resume objective statement that focuses on your skills and your career goals.
Remember to keep it brief. Your summary of qualifications and skills shouldn't be any longer than 5 sentences.
Check how to write a resume profile: How to Describe Yourself on a Resume
4. Work Experience
This section will be the main part of your American resume and include your relevant work experience.
You should include the name of the company you worked for, its location, your employment dates, the title of your position, and a short list of primary job responsibilities.
Here are a few tips:
Mention your relevant job responsibilities in bullet points using action words.
Add 6 bullet points for your most recent position and fewer as you go back in time.
Don't go back further than 15 years in your career experience.
Use resume keywords to raise your chances of passing computerized recruitment systems that scan your resume for specific phrases.
Tailor your resume to the job description.
See how to craft the perfect work experience section for your US resume: Resume Work Experience, History & Example Job Descriptions
5. Education
As the name suggests, this is the section where your education goes.
Mention your highest degree (if applicable; skip listing high school if you already have a college degree), school name, and location (city, country).
Different countries have different degrees and mastery so make your level of education as clear as possible (avoid abbreviations or jargon).
If you lack job experience, feel free to mention relevant coursework you've done to boost your credentials.
There's no need to add a GPA or your grades. Most internationally grading systems most likely won't be understood by US recruiters anyway.
School yourself on how to add your education to your resume the right way: Education on a Resume Made Simple
6. Skills
List the job skills you have. Then take a look through the job ad and highlight the skills the employer is looking for.
Do any of the skills on both lists match? Mention those skills on your US resume.
Don't mention every skill you ever had.
Remember to make your skills section a nice balance between hard and soft skills since employers value both. In fact, it's demand for soft skills that's on the rise!
Go more in depth on skills, their different types, and what employers value in this guide: Work Skills That Should be on Your Resume
7. Additional Sections
This section is the perfect place to add any extra interests or accomplishments that hiring managers might be interested in and that will make you stand out from the crowd.
These can usually be divided into the following categories:
Remember, this isn't a chance for you to show off in front of your mother who will think that the fact you like cats and collecting buttons is wonderful. Keep it relevant to the job you're applying for.
Read more: What Sections and Categories to Add to a Resume
It's not enough to just fill the page with a bunch of information and then just sit back and wait for recruiters to start calling. You need to make sure that it looks professional and clean as well.
That's where formatting comes into play.
Here are some quick tips to make your American resume look its best:
See the resume outline below: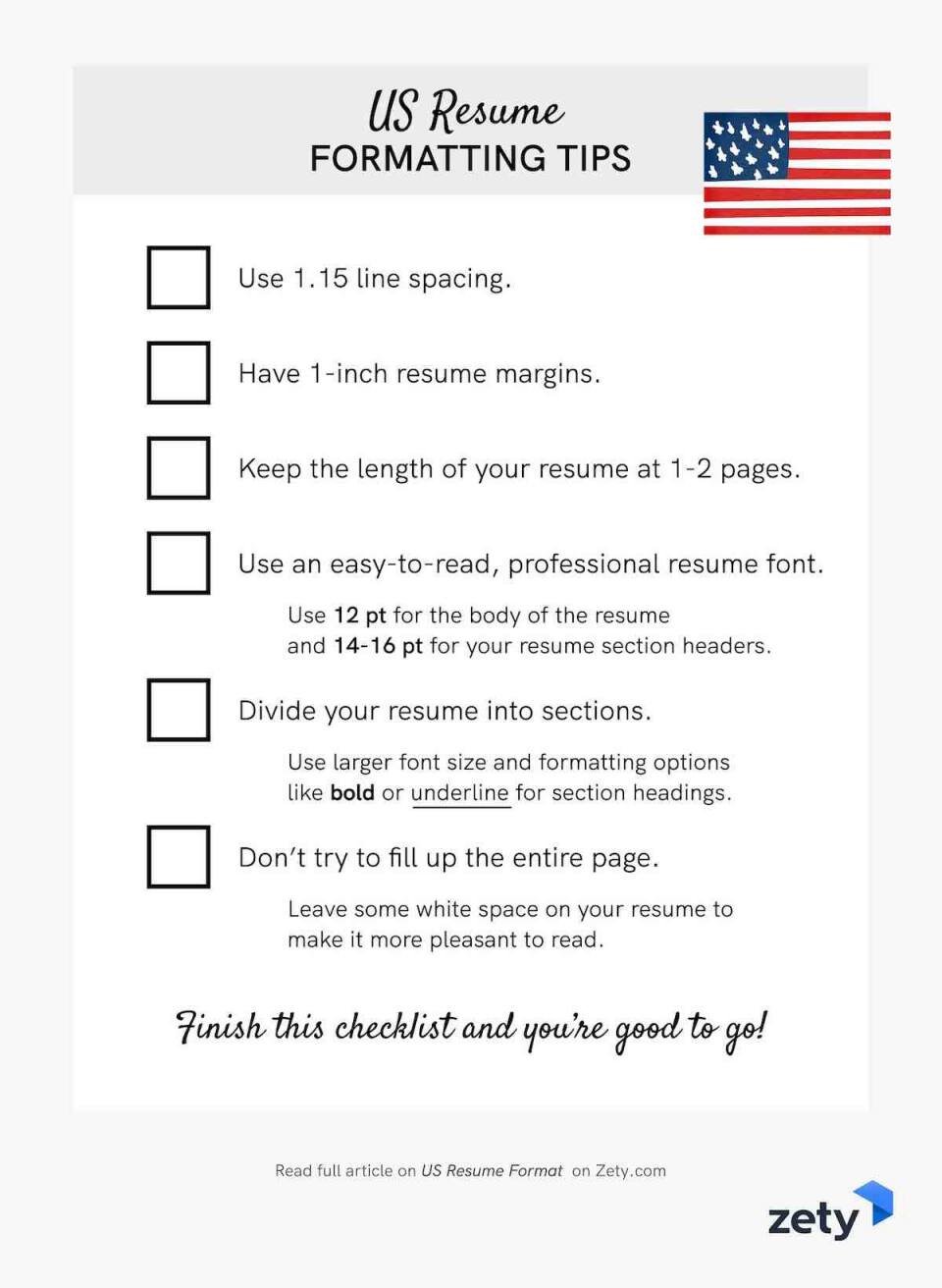 For the ultimate guide on what your resume format needs to shine, check this out: Best Resume Layout (+Examples)
When making a resume in our builder, drag & drop bullet points, skills, and auto-fill the boring stuff. Spell check? Check. Start building a professional resume template here for free.
When you're done, our free resume builder will score your resume and our resume checker will tell you exactly how to make it better.
What Not to Include on American Resumes
There are things you should put on your resume as well as things you should not include on your resume. Here are some very important differences as to what should never be on an American resume:
1. Personal information on a US Resume
There is certain information that is considered normal on international resumes (e.g., biodata forms), but is actually a severe no-no on resumes in the USA.
You should remove all of the below information from your traditional resume:
Date of birth
Marital status
Number of children
Sex
Parents' names
Personal identification numbers
Age
Religion
Ethnicity/Country of origin
All of these can be grounds for discrimination and so recruiters will simply reject any resumes with the above information without even reading them.
2. Authorization to Work in the US on a Resume
Some job seekers may think it's a good idea to add a social security number or their immigrant status to their resume to prove that they can work legally in the US
It's not.
Under federal law, it's illegal for employers to ask for proof of your eligibility to work in the US until after giving you a job offer.
3. Phone Number on a US Resume
Add your phone number only if you have an American phone number you can be contacted under.
If you do, do not add the country prefix (+1). Your American phone number should be entered like this:507-350-1213 (mobile) or (952) 238-1027 (landline).
4. Address on a US Resume
Leave your address off of your resume. It's not wise to have your detailed address floating around everywhere. Writing down the city in which you live plus the zip code should be enough (e.g. Peoria, AZ 85345).
If you live in a large metropolitan area, feel free to narrow it down to a given district or area (e.g. Lower Manhattan, New York, NY 10011).
6. References on a US Resume
It's not customary to mention references on an American resume. The employer will ask for them if interested.
Finally, although cover letters aren't always required, it's good practice to write a cover letter for a job in the US.
Plus, a great cover letter that matches your resume will give you an advantage over other candidates. You can write it in our cover letter builder here. Here's what it may look like: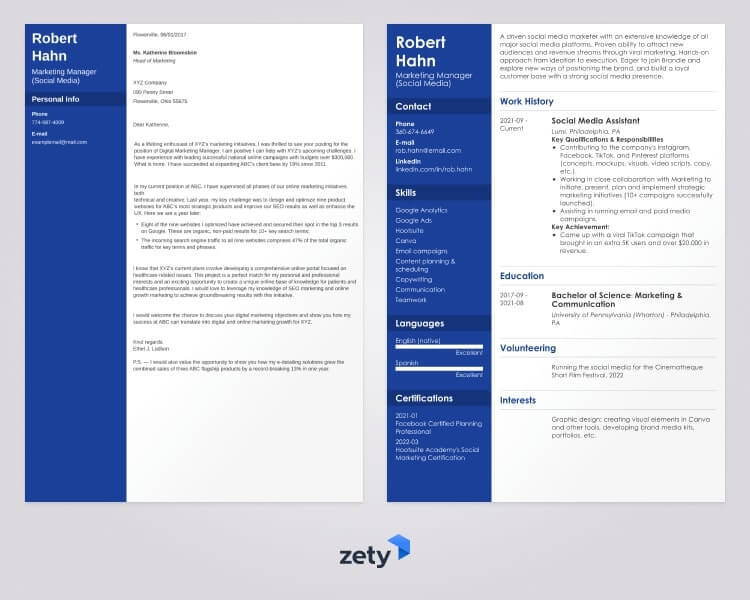 See more cover letter templates and start writing.
No matter where you're coming from, an American resume is not hugely different than the resume you probably already have.
Forget the special vocabulary for different parts of your resume, don't worry that you don't know the terminology.
Instead, when writing a resume for the US, keep your your eye on:
Using the correct resume sections and order (header, profile, work experience, education, skills, additional sections).
Formatting your resume correctly with proper fonts, spacing, and size.
Making sure that you don't include information that is unusual or illegal on your American resume.
Focus on putting your best foot forward in the right way and soon enough you'll be walking through the door to your US interview!
Thanks for reading! Do you have any other questions concerning US style resumes? Let us know down below!
About Zety's Editorial Process
This article has been reviewed by our editorial team to make sure it follows Zety's editorial guidelines. We're committed to sharing our expertise and giving you trustworthy career advice tailored to your needs. High-quality content is what brings over 40 million readers to our site every year. But we don't stop there. Our team conducts original research to understand the job market better, and we pride ourselves on being quoted by top universities and prime media outlets from around the world.
Sources