Free Biodata Templates for Marriage and Job Format
Looking for a perfect biodata format? For marriage or job? Learn how to write biodata and get free downloadable biodata templates on top of that!
We'll help you craft a proper biodata format for marriage and job. Plus, you can use one of our free biodata templates to present yourself in the best possible way.
This guide will show you:
Free biodata templates for marriage and a job better than 9 out of 10 others.
A biodata format that creates favourable opportunities in both areas.
Step-by-step guides on how to make biodata for marriage and a biodata format for a job.
Frequently asked questions about the biodata format.
Have a go with the Zety builder features that allow you to create a biodata template that nobody will be able to resist.
Use our templates to create a biodata format that attracts your future job or a life partner.
In this article, you'll see:
What is a Biodata Format?
Biodata, an abbreviation for biographical data, is a concise summary of your work experience, education, qualifications, and personal details. Biodata format is used in India and other South Asian countries to apply for a job, as well as for marriage.
Biodata for marriage differs from biodata format for jobs in terms of the information that it focuses on. Matrimonial biodata puts personal details in the centre of attention. It can mention your height, complexion, religion, etc. The marriage biodata format also presents your professional accomplishments but more briefly than the biodata format for job applications.
Not so sure the biodata is what you need for a job? Why don't you have a go and see How to Make a Resume: Guide With a Sample.
Biodata vs. Resume
The main difference between biodata vs. resume is that a resume presents your work experience, educational background, and skills, while a biodata also provides various personal information. Both documents are used during a job search, but a biodata is used only in certain South Asian countries.
A biodata is a document that focuses on your personal information: contact details, date of birth, gender, religion, nationality, marital status, parents' names, current position, or salary. It may also contain a brief opening statement, your education and experience details in chronological order. A biodata often consists of more than one page, which means it's longer than a resume.
While biodata is used to apply for a job in India, Pakistan, Sri Lanka, and Bangladesh, it can also be used for the purpose of marriage.
The Best Free Biodata Templates
If you don't want to make your biodata format from scratch, you can use one of the free biodata templates created by our experts. The first two are marriage biodata formats, while the last one is a classic biodata format for a job.
Biodata Templates for Marriage
Marriage Biodata for a Girl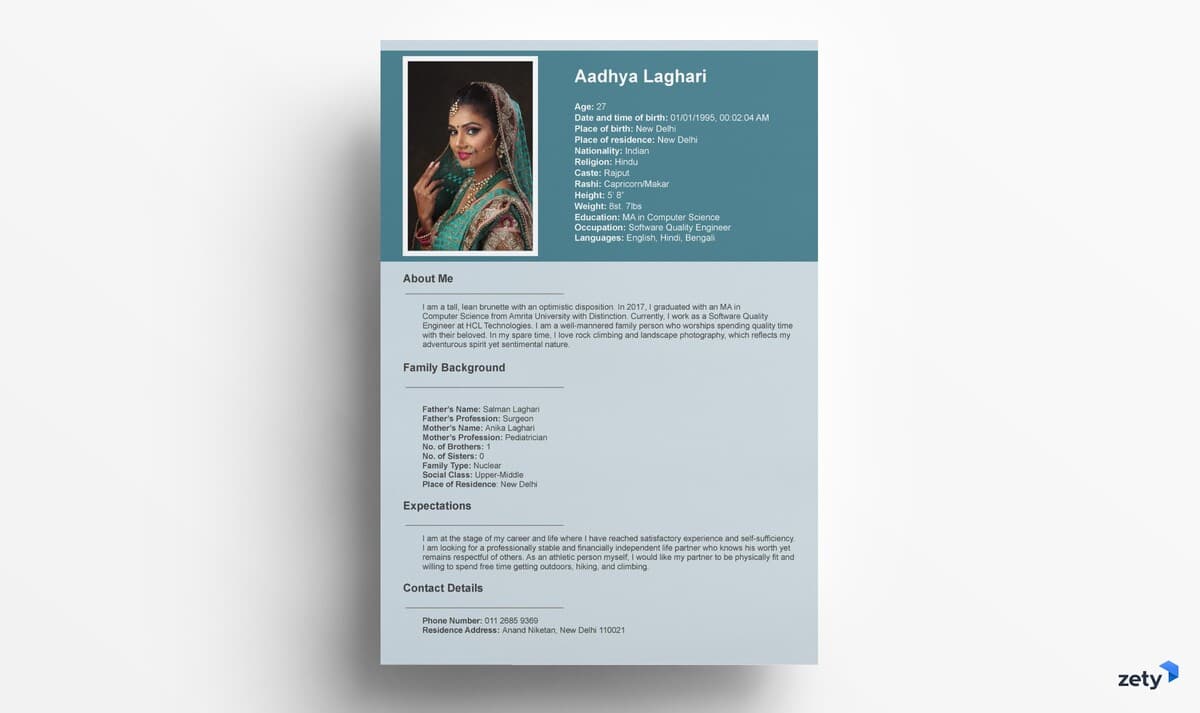 Marriage Biodata for a Boy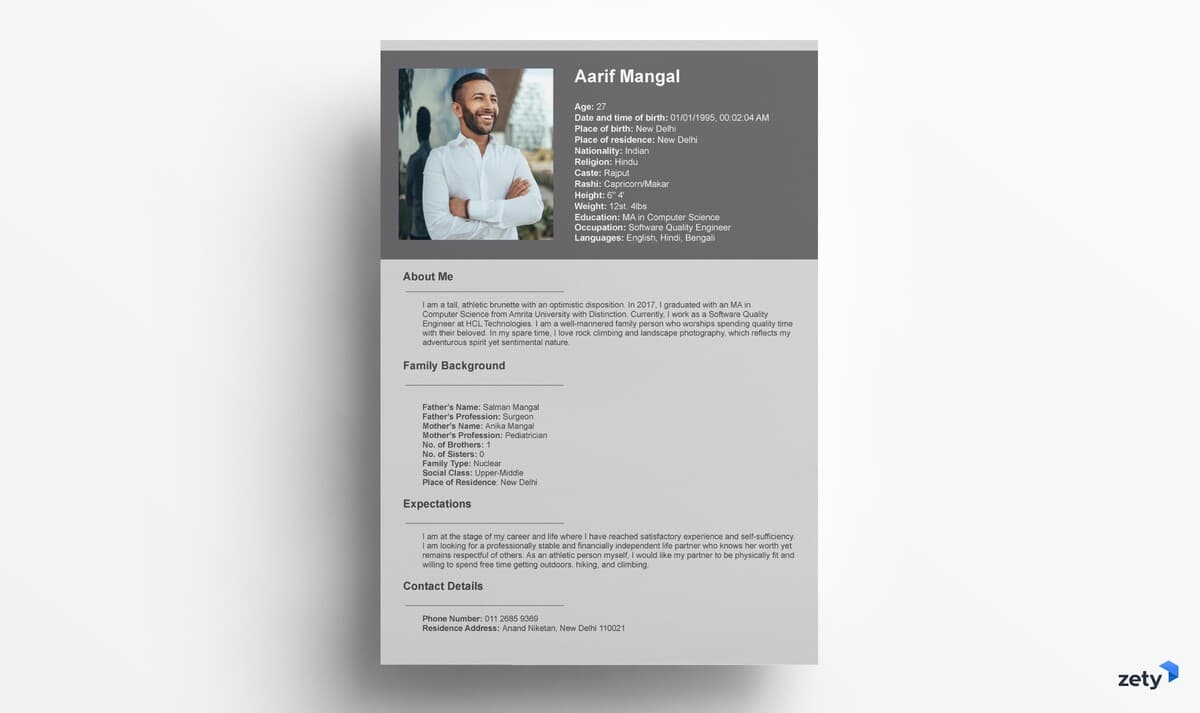 Biodata Template for a Job
If you need templates for your resume, we've got you covered: Best Resume Templates (10+ Picks to Use Now).
How to Make Biodata for Marriage
The thought of settling down can fill you with dread intensely enough to set writing your marriage biodata aside. But taking the first step is always the hardest part.
Let's dive into the blueprint for a perfect marriage biodata format:
1. Include Your Personal Information
This section is a prelude. Fill it out, saying as much as possible using as few words as possible. Here's what you should include:
Full name
Age
Date and time of birth
Place of birth
Place of residence
Nationality
Mother tongue
Religion
Caste
Subcaste
Gotra
Rashi
Physical features, i.e., height and weight
Education qualifications
Occupation
Contact details, i.e., email address and phone number (landline and mobile)
2. Attach a Professional Photo
Make the reader not able to take their eyes off of you. Let them stick around for a little longer using a picture of you worth more than a thousand words.
Go to a professional photographer to take the photo for your marriage biodata format. They'll know how to pose you to bring out your qualities. One taken by your smartphone with several filters won't do you any good. Most likely, you won't find seeing enhanced photos attractive, either.
Keep in mind wearing appropriate clothing and a smile.
3. Write the About Me Section
Start by describing your physical appearance, followed by your academic and professional status alongside your best achievements, and end with your hobbies and interests. Please also disclose any disabilities and marital status if divorced or widowed.
This is an example of how you could phrase the about me part of your biodata for marriage:
Biodata for Marriage—About Me Example
I am a tall, lean brunette with an optimistic disposition. In 2017, I graduated with an MA in Computer Science from Amrita University with Distinction. Currently, I work as a Software Quality Engineer at HCL Technologies. I am a well-mannered family person who worships spending quality time with their beloved. In my spare time, I love rock climbing and landscape photography, which reflects my adventurous spirit yet sentimental nature.
4. Mention Your Family Information
Marriage is not only the union of two people but also of families. And yours plays a considerable role in your marriage biodata format. Limit yourself to providing only the information about your closest ones, parents and siblings.
Here's what you should include in your family background section:
Father's name
Father's profession
Mother's name
Mother's profession
Number of brothers
Number of sisters
Family type, i.e., joint or nuclear
Social class, i.e., lower, middle, upper-middle, or upper-class
Place of residence
5. Be Clear About Your Expectations
Finally, a section where you can express what you want. Make sure not to skip anything you deem essential in your partner. In fact, it's a good idea to make a bullet point list of the qualities you're seeking. Then, put them all together and prepare a short description.
Let's see if you stand a chance at the example below:
Marriage Biodata Format—Partner Expectations Example
I am at the stage of my career and life where I have reached satisfactory experience and self-sufficiency. I am looking for a professionally stable and financially independent life partner who knows their worth yet remains respectful of others. As an athletic person myself, I would like my partner to be physically fit and willing to spend free time getting outdoors, hiking, and climbing.
Pro Tip: You want to present yourself in the best light possible, but don't give into the temptation of lying in your marriage biodata template. The truth always comes out, and being honest and humble increases your chances of finding the best match.
How to Write a Biodata Format for a Job
Everyone fears rejection, especially when the only way to introduce yourself is with a single sheet of paper. So, to dispel any dilemma on presenting yourself to your potential employer, let's dive into how to create biodata for a job they won't say no to.
1. Design a Biodata Format on a Template
Before creating your job biodata format, consider what it should look like.
Place the personal information up top, right next to your photo. This will be by far the most important information on your biodata. Follow that part with your summary or objective. Later, organise your education and employment history sections in that specific order. And finish off with a curated list of professional skills.
Apply an overall layout for a neat presentation of your offer. Use fonts such as Arial or Calibri and keep them at 12 font-size points maximum. Add 1–1.15 line spacing and 1" margins on all sides.
2. Detail Your Background
Leave your creativity behind to craft your personal information section. Even more so, before you write it, double-check the job advertisement to see if there are any specific requirements for you to follow.
Here's a list of ideas of what you may want to include in your personal information section:
Full name
Occupation
Phone number
Email address
Residential address
Postal address
Photo
Date of birth
Nationality
Marital status
Parents' names
Gender
Religion
Height
Complexion
Ethnicity
Current salary
Hobbies and interests
Strengths
Character traits
If you work in a field where you pile up your successes in a portfolio, include a link here. It can either be your artwork website or GitLab profile.
You can also share a link to your LinkedIn profile, as 65% of recruiters use LinkedIn for hiring.
Biodata Format for a Job—Personal Details Example
Salman Patel
Software Engineer
Phone: 091 11 12345678
Email: salman.patel@email.com
LinkedIn: linkedin.com/in/salman-patel
GitLab: gitlab.com/salmanpatel
Address: Rajouri Garden, New Delhi, Delhi 110027
Date of birth: 21 January 1992
Gender: Male
Nationality: Indian
Religion: Hindu
Marital status: Single
Father's name: Reyansh
Languages: English, Hindi
Pro Tip: In most Western countries, most personal details in your job application would be considered sensitive and should not be added.
You're right to spot that the section following your details is a summary. Leave it, however, until the end of creating your biodata format and move on to an education section instead.
3. Include Your Education and Qualifications
Unlike in resumes, you should place your education highlights before your experience and list them chronologically. Do so with your high school to university degrees and vocational or technical qualifications.
For every entry, include start and end dates, the degree or qualification name, and the institution. There's always room for added value, so mention your relevant results and specialisations.
Format of a Biodata—Education Section Example
2011–2015
High School Diploma
K. Bagrodia Public School, Rohini
CBSE: 88%
Activities:
Member, Maths Club, Class IX-XII
Member, IT Club, Class IX-XII
2015–2017
Bachelor of Computer Applications
Sharda University, Greater Noida, Delhi NCR, India
CGPA: 8.3
Specialisation:
Designing and Implementing System Software
When making a biodata in our builder, drag & drop bullet points, skills, and auto-fill the boring stuff. Spell check? Check. Start building a professional resume template here for free.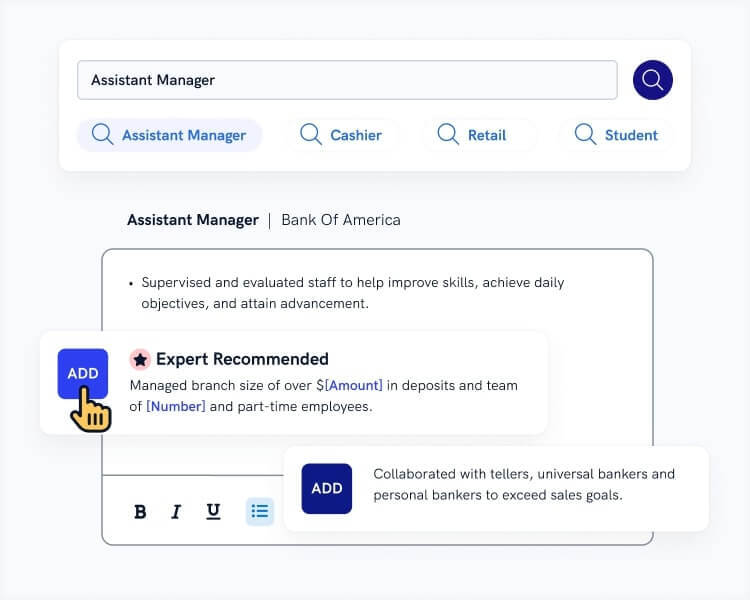 It really does take minutes to create a biodata format from scratch.
4. Describe Your Work History on a Biodata for a Job
Your experience isn't just the names of the companies you worked for in chronological order. It's what you brought to the table, what you've accomplished, and the expertise you take further.
Make an impression by including your measurable professional achievements instead of mere duties. Use an accomplishment statement formula to create between four and six bullet points that will present your potential employer with the actual results. Start each bullet with an action verb to strengthen the impact, and skip pronouns altogether.
But how do you know which experience is relevant? First, take a good look at the job posting itself and fish out the skills the recruiters are after. For example, if the job description looks like this:
Role and Responsibilities:
Design, develop and maintain

applications for various devices…

Write well-designed, testable code

…

Modifying existing code

to add new features…
The achievements you'll write about should revolve around such skills:
app design
app development
testing
analysing
modifying
Now, craft your work history section to address exactly the skills recruiters seek:
Biodata Form—Experience Section Example
June 2016–Present
Freelance Software Engineer
ITsang Group, New Delhi
Modified and upgraded the code

of a price comparison app that allowed it to display price fluctuations in real-time.

Designed and developed a stock management app for iOS

that uses voice commands to add individual items and slashed inventory management time by up to 70%.

Smoke tested an iOS taxi-hailing app

for a startup.
Pro Tip: You can easily change your biodata format into a reverse-chronological resume. Start your education and experience section with the latest school you finished and the position you held.
5. List Your Key Skills
Yes, your skill set deserves an extra section. Why? Because the skills you're unable to mix into your experience can go straight into a separate section at the bottom of your job format for a biodata.
Go back to your job posting and reread it. Notice both soft and hard skills and qualities your future employer seeks. Refer also to keywords in other job descriptions, as they might give you an idea of what's currently popping up in the industry. Don't go overboard with the number of skills, though. Stick with ten at the maximum.
Keep in mind that whenever you're working on a new biodata, you'll need a new set of skills catered specifically to the new job.
Biodata Format for a Job—Skills Sections Example
Visual Basic
C, C++
Java, HTML
MS Access
6. Finish Off With a Summary
The opening paragraph should consist of 2 to 3 sentences and give the employer better insight into your experience, skill set, and qualifications that match the job description requirements.
You can use this formula every time:
Adjective + Job Title + Years of Experience + Achievements + Skills + What You Want to Do for the Employer
Biodata Format—Summary Section Example
Driven software engineer with 6+ years in the IT industry. Highly skilled in developing and beta-testing mobile apps. Designed an app that slashed inventory management time by up to 70%. Eager to leverage coding skills to improve the quality of average user experience and help Sola Software grow exponentially.
If you really want your biodata format to stand out, including the opening statement may be a real game-changer.
Pro Tip: If you plan to apply for a job in America, switch to our guide: How to Make a Resume: Writing Guide + Samples. Looking to grow your career elsewhere in the world? We've got a guide for you, too: How to Write a CV: Writing Guide + Examples.
If you're looking for more standard resume templates, check these out:
Key Takeaways
Here's a recap of what you've just learned:
A biodata format mostly refers to either of these two types of documents: biodata format for a job and marriage biodata format.
They both vary significantly in terms of content.
Unlike resumes, a biodata format for a job highlights your academic accomplishments before work experience.
Both biodata formats present your information in chronological order.
About Zety's Editorial Process
This article has been reviewed by our editorial team to make sure it follows Zety's editorial guidelines. We're committed to sharing our expertise and giving you trustworthy career advice tailored to your needs. High-quality content is what brings over 40 million readers to our site every year. But we don't stop there. Our team conducts original research to understand the job market better, and we pride ourselves on being quoted by top universities and prime media outlets from around the world.
Sources
Frequently Asked Questions about Biodata
What's the difference between biodata, resume, and CV?
A biodata, a resume, and a CV are documents that introduce you to your prospective employer and give them your contact details. They all reveal something about your education, experience, and skills. However, there are some differences between them.
A biodata is most likely used when looking for a job in India, Pakistan, Sri Lanka, or Bangladesh. Rarely do employers ask for biodata in the western part of the world, but it's not impossible.
A resume is a short document (1 or 2 pages) used to apply for jobs in the United States and Canada. It gives future employers a brief overview of your professional accomplishments and key skill set.
European and New Zealand employers prefer calling a resume a CV. However, in the US, CVs are longer than resumes, go more into detail, and their length depends on the applicant's academic and professional background. They're common when applying for academic and research positions.
Can I use the Zety builder to make a biodata?
Yes! And it's free to try. Zety provides you with templates that'll make it easier for you to create a biodata format. Use one of our 18+ templates to create a document worth sharing with your potential employer or a future life partner.
Choose between one or two-column designs, and customise them to your liking by changing colours, renaming, and moving sections around.
However, there's a caveat: create your biodata format only when your employer requires it. In many Western countries, the amount of details in personal information on a biodata is illegal to request.
How Do I Create a Biodata for Free?
To make a biodata for marriage or a job completely for free, download one of our free biodata templates, which you can find in the chapter The Best Free Biodata Templates. Once you download them, you can easily edit them in any software you use to open Microsoft Word files.