16+ Creative Resume Templates & Examples
You're a creative soul craving a creative resume. Something pretty, but professional. A template that seductively whispers into a recruiters ear: I'm the one.
There's this job that you're eager to apply for. You know many other candidates are interested in the same position. You want to stand out. But you want to stand out for the right reasons.
Creative resumes are risky business. You don't want all the bells and whistles to backfire. That's why we've collected the most appropriate creative resume templates to make sure your personality shines through.
This guide will show you:
What a creative resume is and how you can easily make your own.
Creative resume examples that perform better than 9 out of 10 other resumes.
More than a dozen examples of super creative resume templates to give you ideas.
Pointers on how to use creative resume templates for best results.
List of Creative Resume Templates
1
Vibes by Zety
Want to save time and have your resume ready in 5 minutes? Try our resume builder. It's fast and easy to use. Plus, you'll get ready-made content to add with one click. See 20+ resume templates and create your resume here.
Sample resume made with our builder—See more resume examples here.
Note: we have designed all our resume templates to be ATS-scannable.
With a name like "Vibes," you know it's creative. I figured I would show off one of ours first, as it truly has some of the most creative features out there.
It's a very well-designed resume template: It has the full-width header for your name, title, and heading statement. A left-hand sidebar promotes your skills and achievements as a bar graph. Square icons make it easy for the hiring manager to locate each unique resume section.
Vibes is included when you create a resume in our builder, along with many others.
2
Concept by Zety
How about this creative resume template? Combining features of infographic resumes and a traditional layout for one of our most innovative resumes, it's perfect for those who need the reverse-chronological resume format. This resume leaves a thin sidebar to the left vacant for all but dates for a nice timeline resume.
It uses a white background, black text, and a color of your choice for heading titles and the sidebar. Or, if you wish, reverse that color arrangement with many color combinations to choose from.
3
Cubic by Zety
Cubic is another one of our takes on creative resume layouts and design, and we like to think we did this one right.
The top header is reserved just for your name and title for you to stand out. A right-hand sidebar switches it up from the many left-side ones we've shown previously. Filled-in circles for your languages and skills allow you to showcase your knowledge in style. Cubic is included when you create a resume in our builder.
4
Diamond
Diamond frames your name, title, and heading statement in black, leaving your experience and skills for the two resume columns in white down below.
Check out our curated list of free templates to download: Free Resume Templates: 18 Downloadable Resume Templates to Use.
5
Watercolor Triangle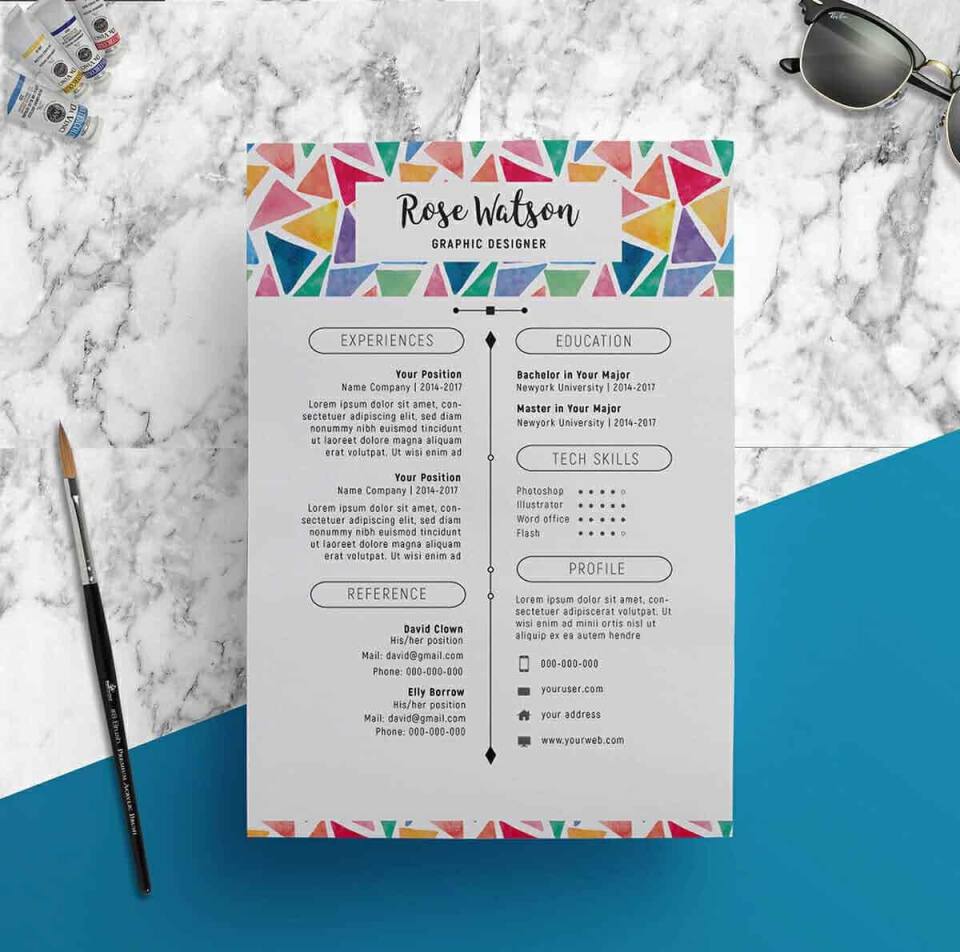 "Watercolor Triangle Resume Template - CV/ Letterhead" by Showy 68 on Behance is a playful take on the creative design. Not only do they give you both a resume template and a matching letterhead (perfect for creative cover letters), it's also available as a Microsoft Word document and Adobe Illustrator file.
Here's the link to this creative template for resumes on Behance. For more of the best resume templates we've found around the web, see: Best Resume Templates: 15 Examples to Download & Use Right Away and Google Docs Resume Templates
6
Modern by Zety
Some of its artistic features include: block rating system (for languages and skills), ribbon-style arrows preceding each section title, and a clean design throughout with numerous color combinations to choose from.
Modern is included when you create a resume in our builder, along with many others.
7
Enfold
Enfold resume template by Zety has a side bar to allow you to fit more into a single page. Bar charts for skills and languages help recruiters grasp your core competencies quick. White space on the left-hand side gives readers some breathing room.
8
Crisp by Zety
If you're looking for creative resume layout examples, you can't go wrong with the clean Crisp design made using our resume builder. Like Cascade, it also has a left-hand sidebar, but a full-width header area up top for your name, title, and resume summary or objective.
The skills and language sections have creative colored circles which detail your level of each. Icons make it easy to focus on each individual resume section. You'll be certain to ace the interview with this one!
It incorporates a white background, black text, and a theme color of your choice for heading titles and icons, or reverse that, if you wish, with dozens of color combinations to choose from for this modern resume template. Crisp is included when you create a resume in our builder, along with many others.
9
Watercolor *C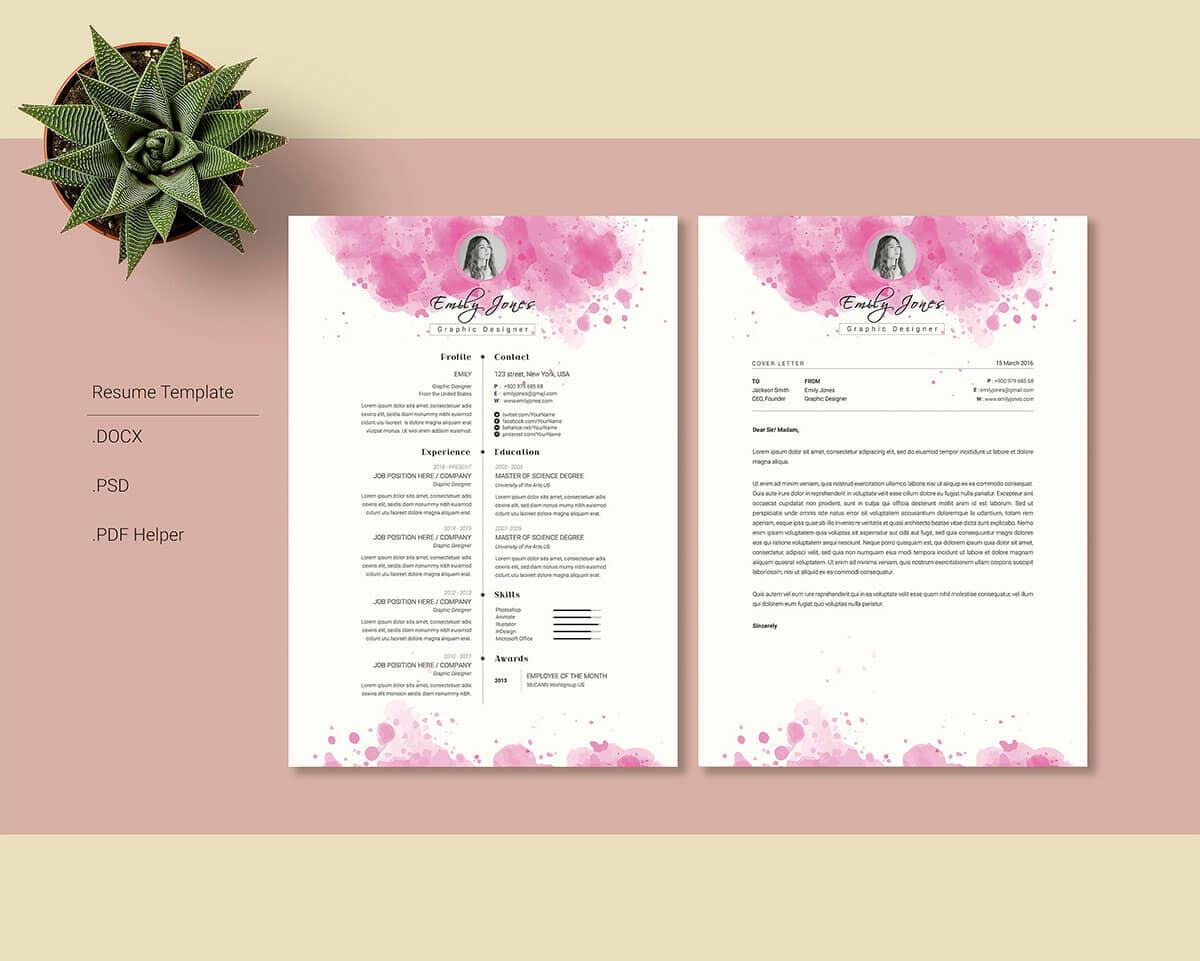 Coming from the Creative Market, "Water Color CV-Resume Template *C" utilizes a resume background image to frame a large header which emphasizes solely your name, profile photo and title. In the bottom half, two even columns detail your qualifications and work history.
This simple template is the complete package, available as a Microsoft Office resume template for Word, a PDF version, and with PSD files for Adobe. In addition, it comes with a matching creative cover letter template (see our cover letter tips). Definitely one artistic example for graphic designer resume!
Here's the link to this template.
Basic templates for resumes don't have to sacrifice quality. Check out more of them: Basic Resume Template: 15+ Easy-To-Use Ones to Download Now.
10
Cascade by Zety
This is one of our favorites here at Zety - Cascade, a professional resume design made using our builder.
Check out the left-hand sidebar which shows a creative bar graph for your skills and language sections below your contact deets. It has subtle shading differences in the green (or whichever color you choose) but distinct black and white for the text for readability.
Plenty of color combinations make this creative resume template an instant hit. Cascade is included when you create a resume in our builder, along with many others.
11
Zety's Creative Muse
With a name like "Muse," you know it's gotta be creative. This is another one of ours, and it combines some of the best features from our other creative resume templates.
It's got the full-width header for your name, title, and heading statement. A left-hand sidebar promotes your skills and achievements (also as a bar graph). Fashionable icons make it easy for the hiring manager to locate each resume section.
12
Clever & Cool
"Creative Resume" is a good example of resumes that are creative but utilize the least creative name. No matter, however, as you'll get over that once you start editing this pretty resume. Well, resume is an understatement, as this template really is meant to be produced into a mini-brochure.
That will satisfy creative types and designers, as there is ample space for your portfolio entries. Here's the link to this creative portfolio template.
13
Artsy "Newcast" by Zety
Newcast usse the two-column resume format: the right side keeps it simple with an outline of your skills visible at first glance. Creative resume icons round it off by subtly informing the beginning of each section. A really cool resume template, don't you think?
This template is one of the best in part because it's quite modern. Check out other contemporary ones: Modern Resume Templates & 18 Examples [A Complete Guide].
14
A Menu with a Mission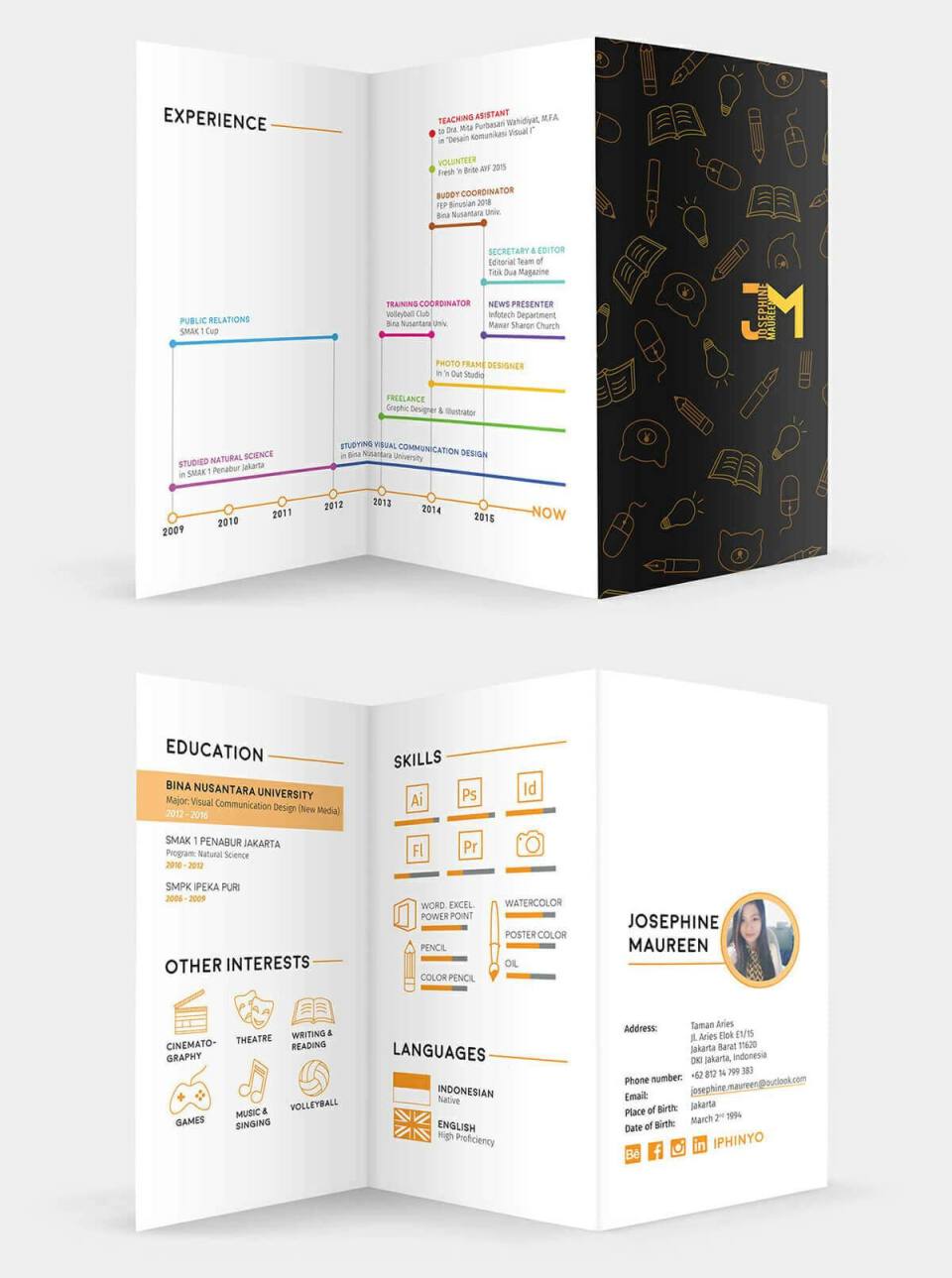 Why not send your resume as a museum brochure? With Josephine Maureen's "Personal Brand Identity," you can do just that. This one is definitely one artistic resume example, allowing you to print out your resume horizontally and then tri-fold it into a pamphlet. Graphics and icons abound, replacing the need for much text.
Here's the link to this template.
15
Bold School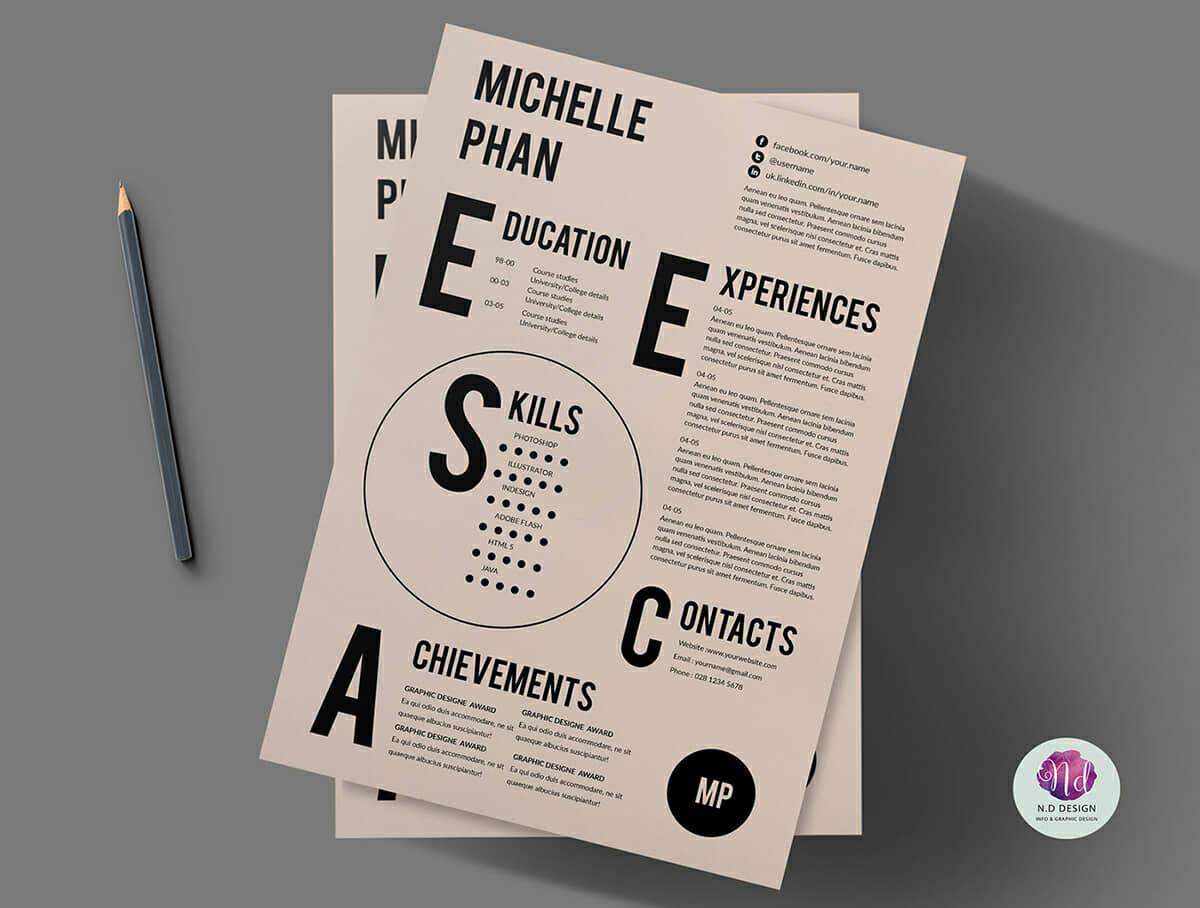 Did we mention just how prolific Nhung Nguyen has been? She gives us her most creative one yet in this one, which uses giant drop caps to mark the start of each section. Also, as you can see, she dismisses the idea that she has to stay within any kind of boundaries - columns on this resume template follow no rules.
Find this great modern resume example at Behance at this link.
16
An Artistic Array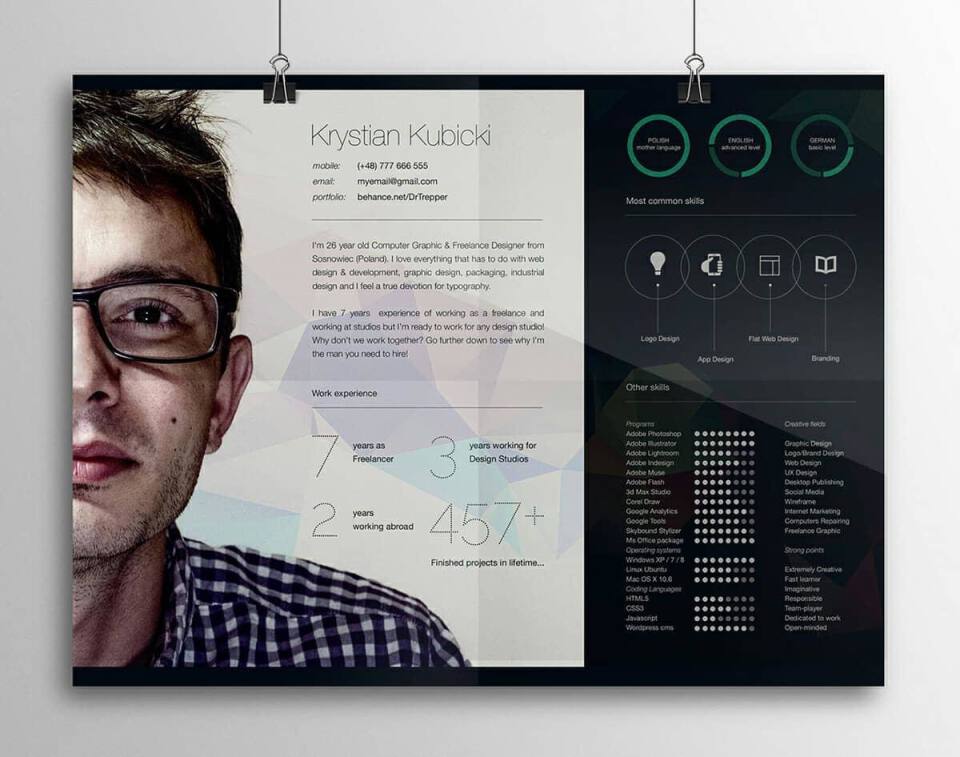 Krystian Kubicki's "CV/Resume project" on Behance is just gorgeous. A subdued, trianglified background allows your skills and achievements to stand out. A creative resume with photo layout, the large half profile taking up the left really makes this one stand out. His choice of icons and circle graphs make this one super creative.
Here's the link to this template.
17
Watermelon Watercolor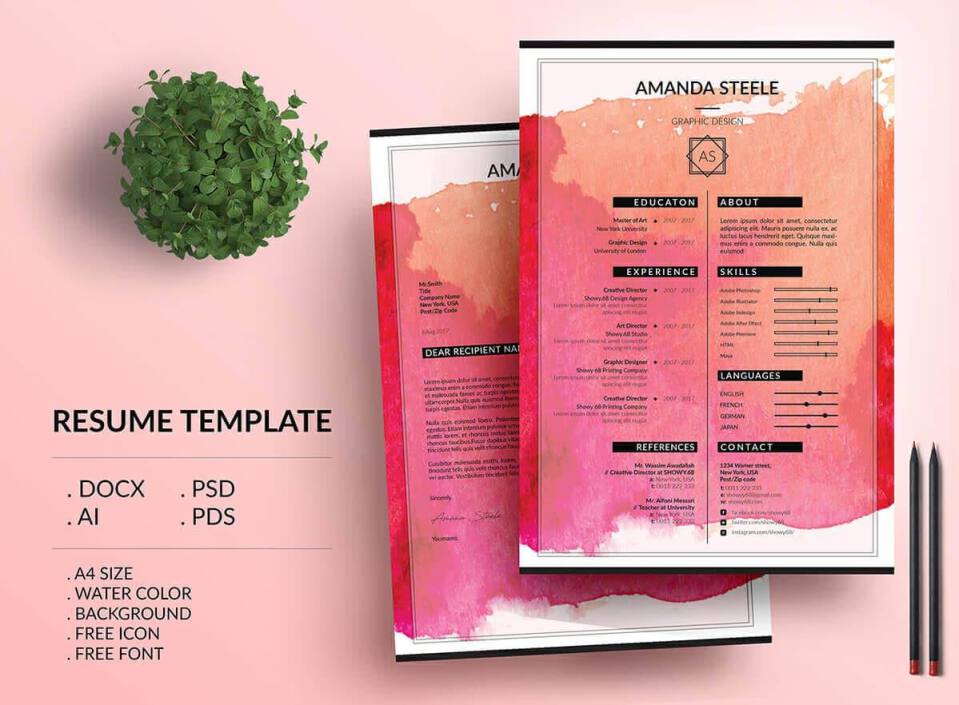 The "Water Color Resume Template" by Do Anh Nguyet on Behance is colorful and creative without being overwhelming. It's two-column layout give you plenty of room to talk up your experience, education and skills.
Want to know how to make a creative resume in Microsoft Word? This one is the answer. If you're an Adobe user, it's got templates in your size, too.
Here's the link to this template.
Done with writing your creative resume? Make sure you didn't miss anything that could cost you the job of your dreams! Get our handy free checklist: 46 Things You Need To Do Before You Send Your Resume
When making a resume in our builder, drag & drop bullet points, skills, and auto-fill the boring stuff. Spell check? Check. Start building a professional resume template here for free.
When you're done, our online resume builder will score your resume and our resume checker will tell you exactly how to make it better.
1
How to Make Creative Resumes the Right Way
Back in the day, standard resumes were black text on white backgrounds. There was no other option, not even the reverse color scheme.
It's a brave new world.
These days, the sky's the limit when it comes to just how far you can go to customizing your resume.
Let's look at some of the common elements used to make the best-looking resumes:
Colors to Make it More Vibrant
Making a colorful resume is the quickest and most visually-apparent way to make a resume creative. However, there are some rules to choosing the best resume colors.
Keep it simple:
Use few colors so that it doesn't become an eyesore.
Use resume colors that pair well.
Keep text black (or dark) for readability, but. . .
Use contrasting colors if the resume background is dark.
Have a glance at this flight attendant resume example:
See that?
This creative professional resume example follows all of those rules above, and the result is a simple creative resume that stands out.
Fonts For Flourish & Flair
Fonts are another area to play around with to really make some well-designed resumes. However, beware! Anything too fancy, like cursive script, will make it hard to read - and that makes you hard to hire.
Are you sure the font you chose can be read? Read our guide about the best fonts to use on a resume.
Pro Tip: Serif fonts feel old school, but they are easier to read. A good way to make a creative resume stand out is to use sans-serif for either the body text or the heading, and then serif for the other - just so long as the two fonts pair well, of course.
Skimmability
Here's something scary to consider: the hiring manager won't read your entire resume. On average, they'll spend just 7 seconds scanning each resume, according to our HR statistics report.
How do you make your resume creative enough so that you hold their attention?
You make it skimmable.
What's that mean? Look at this creative IT resume example:

As you can see, the resume layout here is easy to skim, with heading titles in a larger font, bold print, and the white space is optimized so that it's separated neatly from the text around it.
So, you've made your resume skimmable, but is it too long? See this article: How Long Should a Resume Be? Everything You Need to Know.
Creatively Adding Your Contact Details
I'm not going to explain to you how to list your personal information, but I do want to quickly toss out a few creative resume ideas for the contact information section:
Add social media profiles, but relevant ones (e.g., LinkedIn, Behance).
Use icons to tastefully identify each item in your contact info.
The most eye-catching resume templates use a subtitle - consider one yourself.
Consider using a resume photo if you are in a field where appearance is prioritized.

If you don't add your contact info onto creative resumes the right way, all this resume-writing will have been for nothing. To make sure you're doing it right, see: How to Include Contact Information on a Resume (Examples).
Pro Tip: Don't forget to remove any photos and posts on your social profiles that the recruiter might object to!
Education & Experience Sections
Since the education and experience section revolve around dates, the most creative resume designs for these sections include a visual timeline, as you may have seen in several of the examples above.
Timelines are a great way to make a resume creative, allowing the hiring manager to easily visualize your work and school history.
That's a nice touch, but not necessary for a creative resume - but this next point is: Make sure you add achievements under each entry of your experience section to really stand out from the crowd: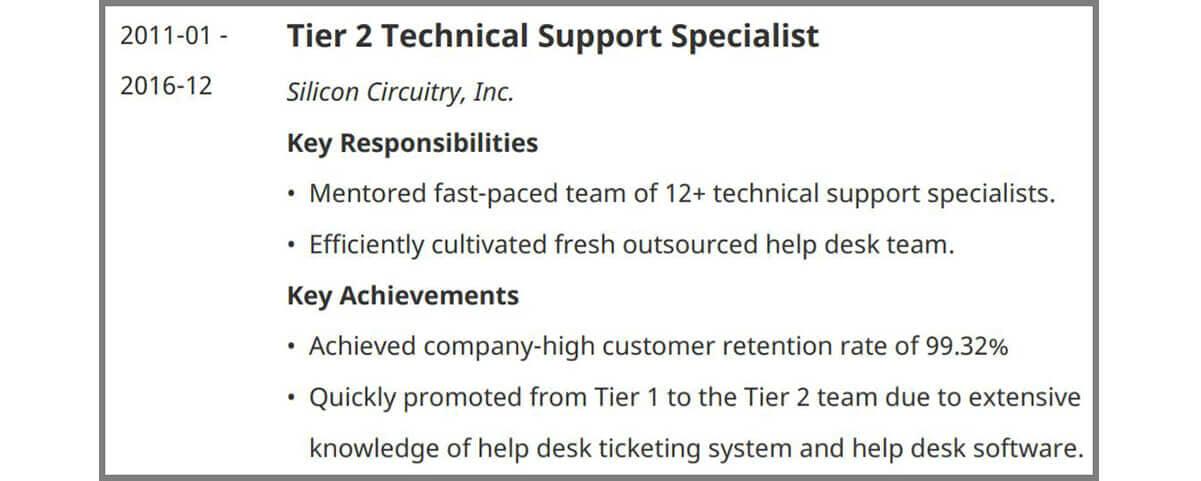 See that? We could just list our past responsibilities, but, this doesn't tell them how well you performed the job. Achievements are quantifiable and a necessary part of the best creative resumes.
For more examples of how to add achievements to a creative resume, see this: Achievements to Put on a Resume - Complete Guide (+30 Examples).
A Creative Resume Skills Section
The skills section is one of my favorite places on a resume, as it's the perfect place to really flex your creative muscle and show some artistic strength.
Have a look at this: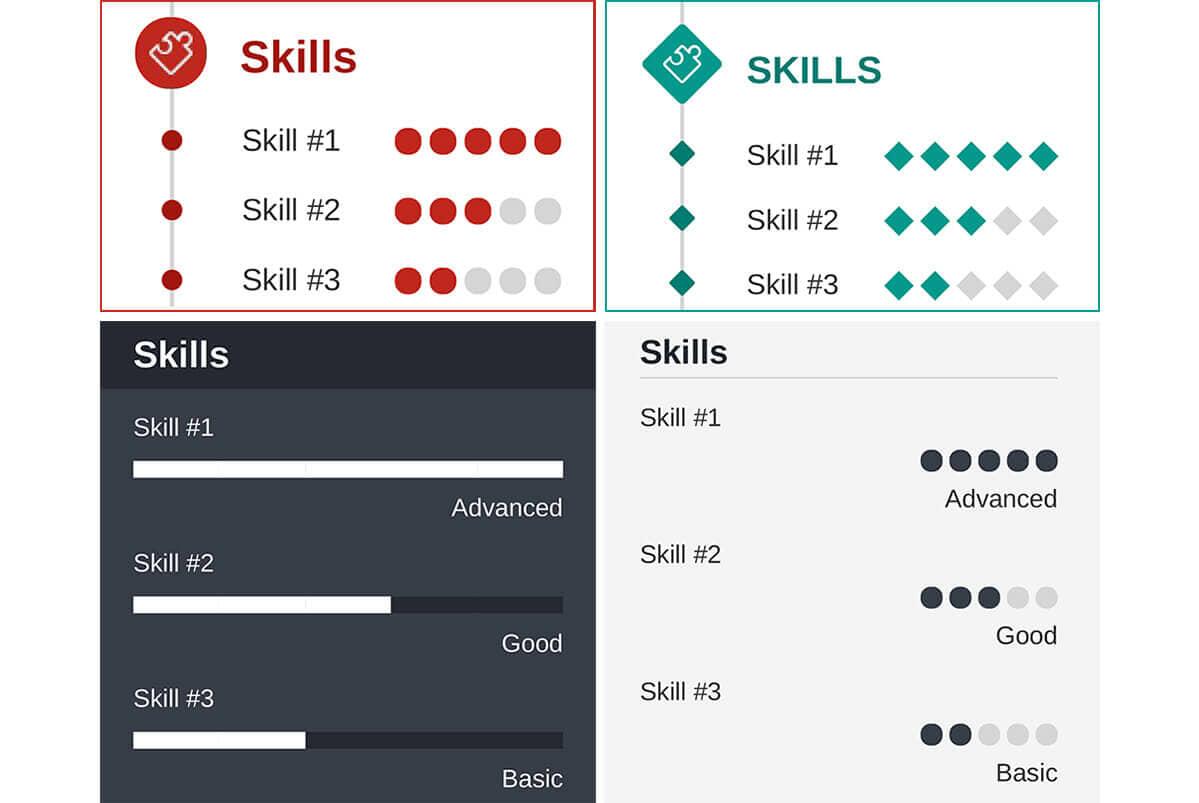 How about that, huh? These are all creative resume skills examples that get rid of the boring bulleted list in favor of something more visually appealing. It's up to you - from bar graphs to star ratings, let your creativity shine in your resume's skills section.
Check out our complete guide to learn how to create the perfect skills section for your resume: 30+ Best Examples of What Skills to Put on a Resume (Proven Tips).
2
Creative Heading Statements
Remember when we said that you have 6 seconds to grab the recruiter's attention?
The heading statement, specifically a resume objective or resume summary, is the first thing they'll see.
You'll need to make it very creative.
However, in this case, we can't resort to our visual tricks to be creative with the resume's heading statements. Here, you'll have to get creative with your writing, instead.
To make creative resume headings:
Use the company's name in your creative resume headers to personalize it.
Keep it to no more than 3 or 4 lines (about 2 to 4 sentences).
Include past highlights and achievements to make them want to read on.
Don't know whether to use a resume summary or resume objective on your creative resume? Check out: How To Write A Resume Summary: 21 Best Examples You Will See and 20+ Resume Objective Examples - Use Them On Your Resume (Tips).
3
Other Kinds of Creative Resumes
So far, we've shown you ways to make different sections of your resume creative, but there are other formats of resumes that may be just the kind of resume style you're going for:
Infographic Resumes
Infographic resumes are some of the most creative resumes out there these days. It takes that old adage, "a picture's worth a thousand words," and multiplies it so that numerous pictures are used to showcase your employment history, skills, education, and contact information.
Video Resumes
Video resumes are more advanced, and they are used for specific circumstances. Video resumes are quite creative, but you would only give one over if you were asked to submit one with your application.
Portfolio Websites
Sometimes you need a visual way to show off some of your past work, such as if you're a photographer or trying to come up with a graphic design resume template.
Well, a portfolio website is just the ticket.
An online portfolio of your past projects will give you an easy way to visually show off the experience which you're most proud of. Read more about this in our article: How to Make a Professional Website: Complete Guide + 9 Tips.
4
When Not to Use a Creative Resume
Humor is great, right? But telling a dirty joke to loved ones at a funeral might not go over so well.
Likewise, there are times when a creative resume, or getting too creative, is just not right.
Most importantly out of all considerations on your creative resume:
The ATS.
The ATS, or Automated Tracking System, is software that scans your resume and searches for keywords to determine your eligibility for the position. More and more employers are using ATS software now. If you don't pass the ATS test, your resume won't even make it to a human's hands.
Why is that a problem?
Well, here's what happens when you feed the ATS a resume it can't understand:

See that? It can't even make sense of the very top heading of this resume. This is one of the areas where creative resumes have a disadvantage, as there are many graphics and much less text to parse. An ATS is not yet advanced enough to understand photos and graphics.
To be sure, run a simple test for your creative resume: Copy the text and paste it into a text (.txt) file. If the logic, sections, and keywords make sense, it should be fine for the ATS.
Best option? Pick a ATS resume template.
Make sure to use a standard document format, such as .docx or .pdf.
Pro Tip: Check the job posting to make sure PDFs are OK. A PDF might cause the ATS problems, meaning you'll be disqualified before you even get considered.
Another consideration to keep in mind when deciding on whether a creative resume is the right way to go is to make sure that the hiring manager will accept it. Heed the job description carefully; any requirements as to your job application will usually be listed there.
Plus, a great cover letter that matches your resume will give you an advantage over other candidates. You can write it in our cover letter builder here. Here's what it may look like: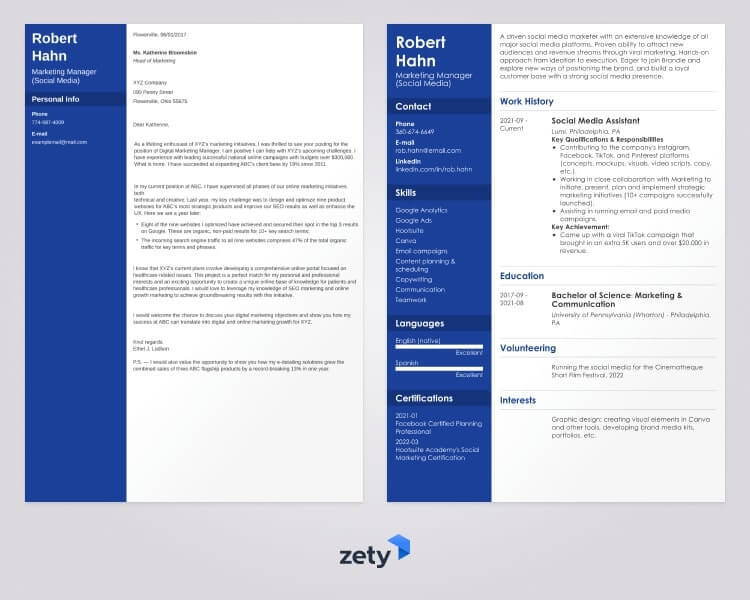 See more cover letter templates and start writing.
Key Takeaway
Well, it's been fun, huh?
Creative resumes these days are definitely not the sleep-inducing documents of even a decade ago.
Keep these points in mind when building your creative resume:
Design - The most unique resume templates nowadays include modern fonts, artistic colors, and creative design elements.
Creative writing - Sometimes, a creative resume is not so much making it visually appealing, but rather getting more creative with the content that you include within.
Not too creative - Getting too fancy sometimes hurts instead of helps, such as when the ATS can't understand the data or when the hiring manager can't read your cursive fonts.

Do you have any questions on how to make a creative resume? Want to share your examples of amazing resumes? Give us a shout in the comments below and we will answer your question. Thanks for reading!
About Zety's Editorial Process
This article has been reviewed by our editorial team to make sure it follows Zety's editorial guidelines. We're committed to sharing our expertise and giving you trustworthy career advice tailored to your needs. High-quality content is what brings over 40 million readers to our site every year. But we don't stop there. Our team conducts original research to understand the job market better, and we pride ourselves on being quoted by top universities and prime media outlets from around the world.