Video Resume: How to Make One [Examples, Script & Tips]
A video resume may boost your chances of landing a job or turn you into a meme character. Learn when to keep your creativity at bay, and when making a pro video resume makes sense.
Stand out from the crowd, they said. Make a video resume, they said.
But—
Get it wrong and your video will go viral, making you a laughing stock. For ages. (You know—the Internet never forgets.)
So… is it really worth it?
Well, only and only if you know how to get it right. And this is what you're going to find out here.
This article will show you:
Why and when you shouldn't (or should) make a video resume.
The pros and cons of making a resume in the form of a video.
Examples of good and bad video resumes.
Tips on how to make a professional video resume and share it the right way.
Want to save time and have your resume ready in 5 minutes? Try our resume builder. It's fast and easy to use. Plus, you'll get ready-made content to add with one click. See 20+ resume templates and create your resume here.
Sample resume made with our builder—See more resume examples here.
Looking for traditional resume-writing advice? We've got you covered:
1
Video Resume—Should You Make One Or Not?
Back in 2007 research suggested that the video resume is the future of hiring.
Fast forward to 2023—
The traditional resume is still the go-to standard for recruitment processes. Mind you, in this day and age the term traditional resume refers to a resume sent in the PDF or DOC format. Not one sent in an envelope.
Even though some say a video resume does have benefits, the universal sentiment is that a video resume is more of an oddity than anything else.
Video resumes are an interesting development, and I get very few because sending videos is not yet the way most people apply for jobs. Traditional resumes and job applications are still common practice, so it usually makes me take a step back when I get a video. I wonder exactly what I'm going to see when I press play, which makes me a bit apprehensive. I've seen a handful of video resumes that piqued my interest, and in every case, I've asked the applicant to send me a traditional resume.
So—
The question is: What is a video resume good for?
Does it save anyone's time?
Not really.
For one thing, it takes much longer to make a video resume than a traditional one. For another, recruiters spend only about 7 seconds scanning a single resume.
So, if the shortest video resume should last about a minute, the truth is very few recruiters would even watch it.
Why?
A recruiter can look at up to 8 standard resumes in exactly the same time.
Plus—
98% of large companies use the ATS to sift through the deluge of resumes they receive.
Since a video resume isn't a text file, it would never make it through the initial screening.
In addition, there's no way for a recruiter to compare the candidates who sent a video resume with those who submitted a traditional one.
The recruiter would have to carefully watch the entire video resume and note down all the key information about the candidate.
There's no time for that when you need to deal with 250+ resumes that an average corporate opening attracts.
Does the video resume help the recruiter assess the candidate's soft skills?
Well—
Video resumes could be recorded and edited multiple times so the final version will show you exactly the way you want to be perceived. Not the real you.
Or—
If your acting skills are non-existent, you'll come across as overly artificial.
Video resumes are generally not effective since most people do not act naturally in front of a camera. The technology has been available for two decades but it has not caught on—and that's the reason why. Plus, in order to look "good" on camera, candidates tend to be over-rehearsed to the point that they come across with all the sincerity of an infomercial pitchman. Who wants to look contrived and phony?
More than that, research suggests that submitting a video resume may inadvertently bias the recruiter's perception of the candidate.
You could actually be hurting yourself with a video resume even if your video and content are perfect. How is this possible? The answer is very simple—discrimination. So instead of being a piece of paper describing your background and impressing us, you are now a face to go along with it. And the person looking at you may not like your looks for whatever reason. So you're opening a door that I feel is best left closed until you get to the interviewing stage.
Last but not least:
Most video resumes are of poor quality.
Since you only get one shot at making the first impression, don't ruin your chances by submitting a substandard video resume.
That said, if you have:
a good quality video camera or DSLR
a good quality microphone
studio-quality lighting
video-editing and color-grading skills and software
The quality of your video resume may be good enough.
In all other cases—
Learn how to make a job-winning resume in a traditional format.
With our resume-writing guides, you'll make an outstanding resume in no time.
Want to find out how to write the perfect resume? Head straight to our guide: *The* Perfect Resume: 8 Things the Best Resumes Have in Common
2
What Jobs Would Call For a Video Resume—Examples
Here's the thing—
Even though video resumes aren't suitable for the majority of candidates or positions, there are some situations in which a video resume may come in handy, for example:
If the employer requires it.
If you're looking for a job at a small company that hasn't automated recruitment processes.
If the company itself is non-standard, and therefore likely to appreciate your effort at being different.
If you're applying for a position that requires directing or acting skills.
Plus—
A video resume may serve as a way to customize your LinkedIn profile.
Unless you are in an industry where being on camera is part of the job, don't do it—it has very little upside and a lot of potential downside.
Bryan Zawikowski, Lucas Group
Now—
Let's have a look at several video resume examples:
Mark Leruste's Creative Video Resume—Example
Youcefa El Kouchi's Video Resume—Example
Valerie Yvonne G's Video Resume—Example
Léo Primarda's Video Resume—Example
Obviously, all of the above are good examples of video resumes.
But—
Without experience in video making, you're very unlikely to make a half-decent video resume.
And the truth is:
The bar has been raised high by professional filmmakers and videographers who use high-quality video content to promote themselves on a variety of social media profiles.
So think twice about your acting and videography skills before you make something like this:
Or like this:
In fact—
The last bad video resume example looks strangely similar to the memeable Barney Stinson video resume you might've seen on How I Met Your Mother.
The only difference is that Barney's video resume was meant for entertainment.
Barney Video Resume
To sum up—
If you belong to the narrow group of people who may benefit from a video resume, whose acting and video making skills are up to snuff, and who happen to have good quality video gear, you may be able to make a professional looking video resume.
As a former TV news anchor, video resumes have been so important to me. I needed one to land my first job as a reporter after college. For people in news, they're called video reels. A good reel is the one way to get a news director to notice you. You'll never get a call back with just a resume!
Looking for inspiration for your creative resume? Take a look at our selection of creative resume templates from all over the web: Creative Resume Templates (16+ Examples to Download & Guide)
When making a resume in our builder, drag & drop bullet points, skills, and auto-fill the boring stuff. Spell check? Check. Start building a professional resume template here for free.
When you're done, our free resume builder will score your resume and our resume checker will tell you exactly how to make it better.
3
How to Make a Video Resume?
Here's some advice to help you make a professional video resume:
Video Resume Tips
1. Make It Relevant
Relevance is key.
Only consider making a video resume if it's relevant to the position you're targeting, and it can actually boost your chances, rather than subject you to ridicule.
2. Draft a Script
Your video resume needs a script to help you control its structure.
So—
Think carefully about what it is that you want to communicate to the recruiter. Write down what you want to say, and make sure your script has a natural, conversational flow.
Don't read your video resume script out though as it will sound unnatural.
After all—
We don't speak the same way as we write.
Pro Tip: If your intention was to read your entire resume aloud, well, there's really no point in making a video resume whatsoever.
3. Shoot High-Quality Video
HD has become a standard in video quality.
Double check your video gear to see if it can capture good quality HD image. Make sure the image is sharp and stabilized.
Use a tripod or gimbal to avoid shaky footage.
I would say video resumes work best for certain professions, mostly people-facing roles such as sales. If you decide to go this way, make sure the video is very professional in terms of how you present yourself and, importantly, how it is produced. You could be well-dressed, qualified, and articulate but a poorly produced video will tank all your chances of securing the job.
4. Choose the Right Background and Lighting
Use a softbox to light your face. If you don't have one, sit in front of a bright window on a sunny day.
Make sure the background is distraction free. You wouldn't want to show your messy room to the world, would you? It's perfectly okay if you stand in front of a brightly painted wall, for example.
If you prefer to shoot outside, look for a secluded area. You don't want other people's conversations or street sounds to drown out your voice. And choose a good shotgun or lavalier microphone.
5. Give Yourself Time
It rarely happens that you're happy with the results after the first take.
Don't get discouraged.
Keep shooting. The more footage you have the more likely you are to find something you're really happy about.
6. Keep Your Audience in Mind
Before you say anything in the video—
Learn how to introduce yourself professionally.
Tell the recruiter something about yourself but keep it short.
Try to express as much as possible in as few words as possible.
Focus on what's important for the employer.
In other words, tell them why they should hire you by referencing your:
And remember—
The employer wants to know how they will benefit from hiring you.
So make your message clear.
Speak clearly and succinctly. Use short sentences and strong action verbs. If you can't produce a fluently flowing sequence in front of the camera, make pauses between sentences and cut these pauses out later on when editing.
Pro Tip: Look at the camera lens. This is how you make eye-contact with the recruiter.
7. Look Sharp But Be Yourself
Looks matter.
Especially on video.
You must look professional. If you don't know what this means in practice, read our guide on what to wear to an interview.
And be yourself—
Try to act as natural as possible.
Why?
If your video interview does manage to land you an interview, your true nature will come across anyway.
And you don't want the recruiter to discover you're not the person they know from the video.
How to Edit a Video Resume?
Once you've got the footage for your video resume, you must put it all together a.k.a. edit the video.
There are a lot of options to choose from.
And the truth is—
There's no single best solution. To each his own.
You can do some basic editing with free video tools that come packed with your operating system.
If you're using Windows this is Video Editor. On a Mac, use iMovie.
If you're looking for a free and versatile tool that will enable you to create a professional looking video, you might want to check out Davinci Resolve.
How to Publish Your Video Resume?
YouTube is your best bet.
The platform offers its users free video upload.
The only thing you need to do is click on the camera icon in the top right corner and then select Upload video.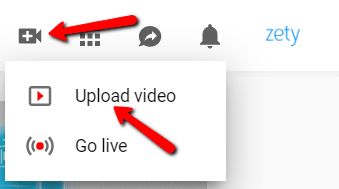 If you don't want your video to be publicly visible just change its visibility settings to Private. This way, your video will only be visible to people with the link.
On the other hand, if you want to share your video resume with the world, set its visibility to Public. Now, everyone will be able to see it and you can display it on your LinkedIn profile.
How?
Just start writing a post, and paste the link to your video.

Or—
Add your video resume to your profile:
First, click on the Me icon in the top right corner and choose View profile.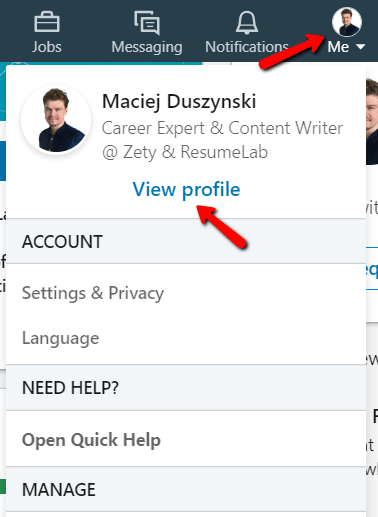 In the About section, click on the blue pencil icon in the top right corner.

Now, you can either upload your video resume to your LinkedIn account, or add a link to your video resume hosted on YouTube.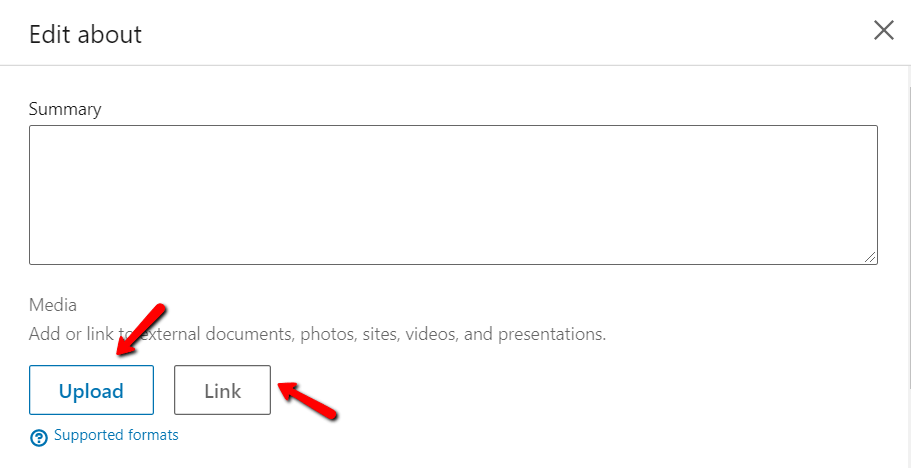 This is it.
Now get ready for an interview. Make sure you don't come in underprepared and read our guide: Common Job Interview Questions & Answers [Top 35 Samples]
Plus, a great cover letter that matches your resume will give you an advantage over other candidates. You can write it in our cover letter builder here. Here's what it may look like: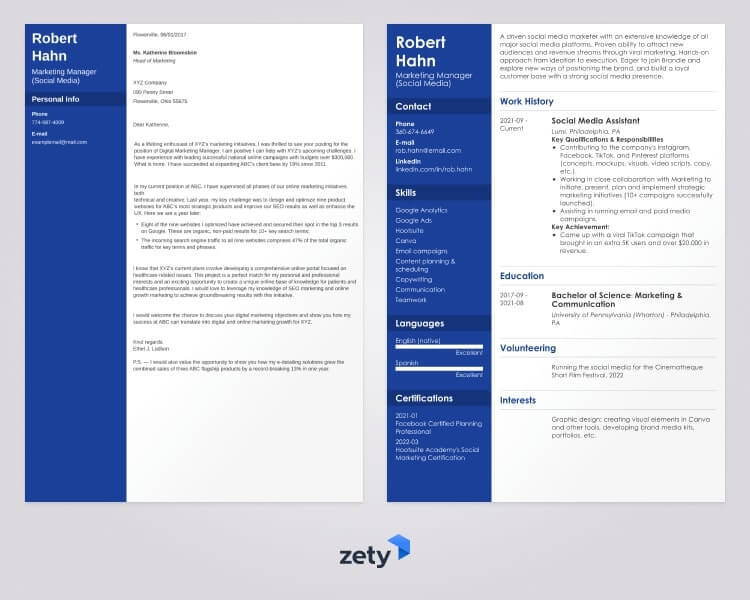 See more cover letter templates and start writing.
Key Takeaways
Here's how to make a video resume:
Decide if you really need a video resume. Most of the time a traditional resume will work to your advantage.
Video resumes are still regarded as an oddity in the vast majority of job-seeking scenarios.
That said, a handful of creative or client-facing positions may be suitable for submitting a video resume. Especially within small companies.
See to it that your video is produced professionally and has a high-quality image.
Finally, double-check if you really, really need a video resume.
Do you have any other questions about making a video resume? Would you like to share your experience? Give us a shout out in the comments below. Always happy to help!
About Zety's Editorial Process
This article has been reviewed by our editorial team to make sure it follows Zety's editorial guidelines. We're committed to sharing our expertise and giving you trustworthy career advice tailored to your needs. High-quality content is what brings over 40 million readers to our site every year. But we don't stop there. Our team conducts original research to understand the job market better, and we pride ourselves on being quoted by top universities and prime media outlets from around the world.