Our customers have been hired by:
Google usually has all the answers you need. But let us answer some questions as well! How to get a Google Docs resume template? What are the best resume templates on Google Drive? How do you find a resume template on Google Docs? Read on and find out!
This article will show you:
Google Docs resume templates available for free in the G-Docs template gallery.
Step-by-step instructions on how to make a resume in Google Docs.
Examples of downloadable resume templates for Google Docs from all over the internet.
The best alternative to the Google Docs resume templates.
Want to save time and have your resume ready in 5 minutes? Try our resume builder. It's fast and easy to use. Plus, you'll get ready-made content to add with one click. See 20+ resume templates and create your resume here.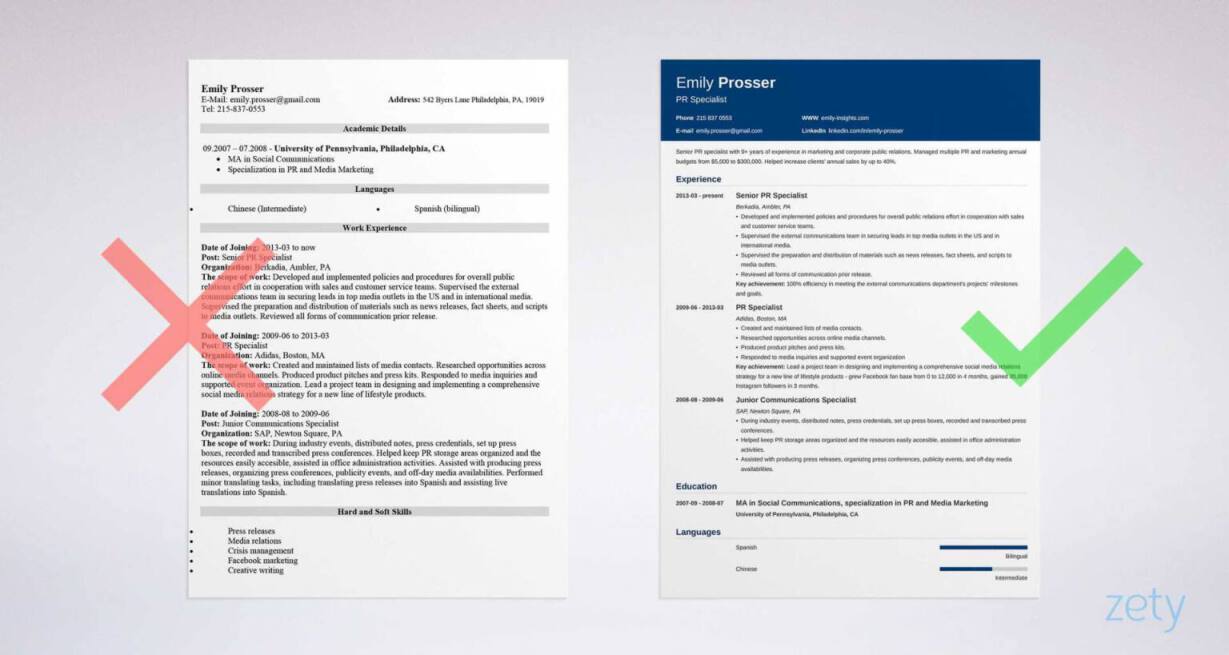 Example of a One Page Resume—See more resume examples here.
Jump straight into the section that interests you most:
Free Resume Templates for Google Docs
Let's begin with 5 free Google Docs resume templates available on every G-drive:
Coral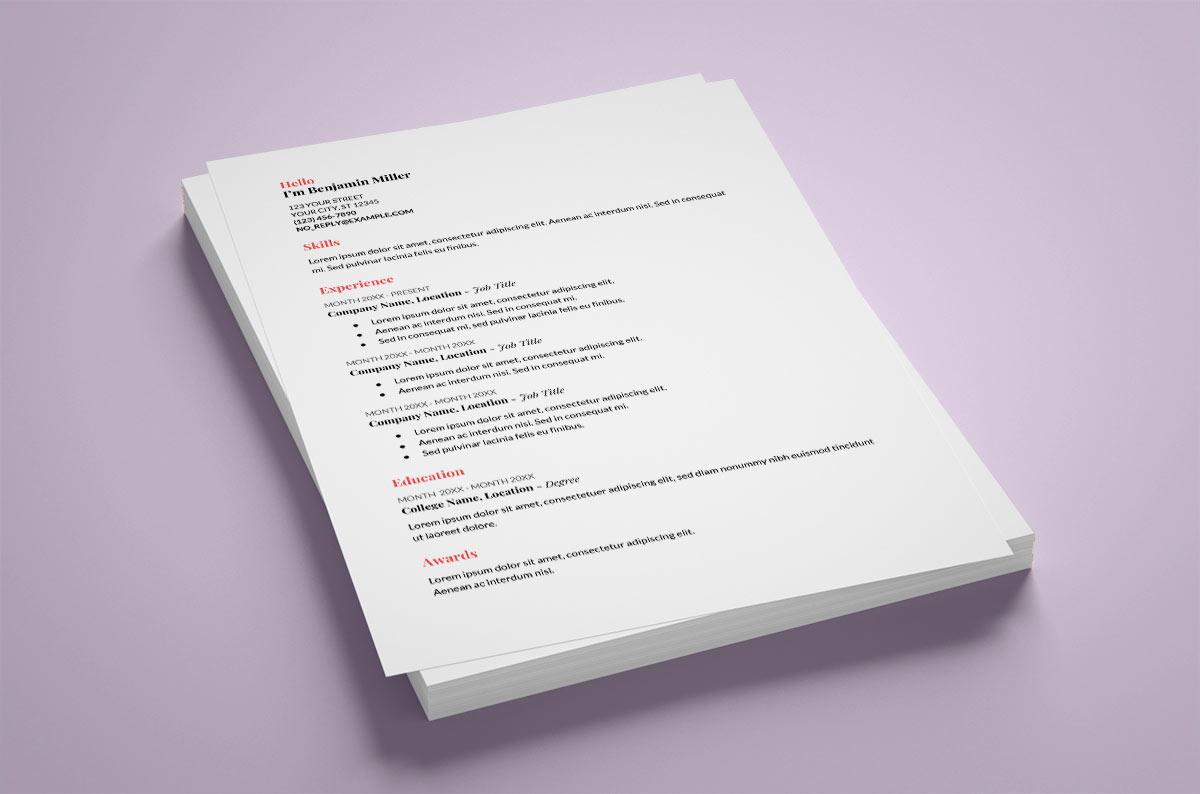 The "Coral" Google Docs resume template spices up a basic resume design with coral section titles. A great pick if you're targeting a corporate job but want to add a sprinkle of your individuality.
Like the basic layout? Make sure to check out more amazing minimalist resume templates.
Create a copy of the Coral resume template.
Modern Writer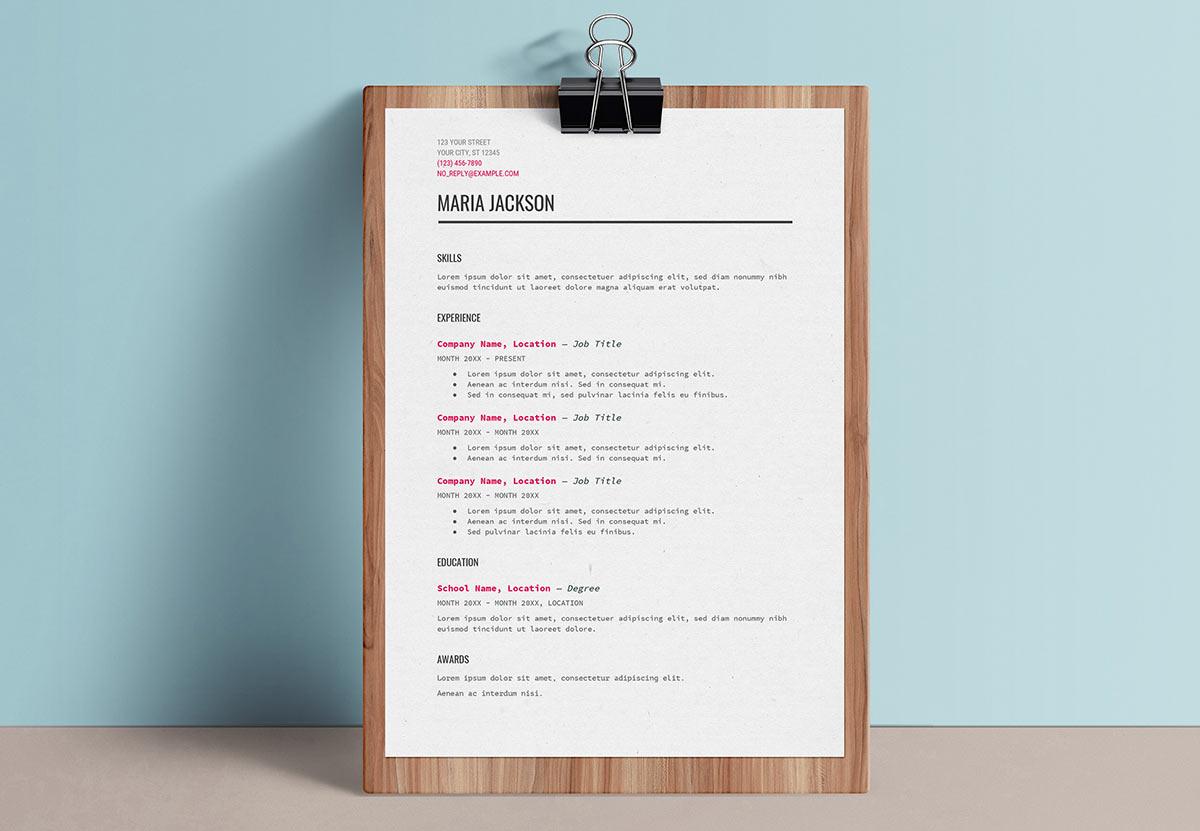 Whether you're a writer or not, you can certainly use this free Google Docs resume template to give your resume that modern touch. The resume header instantly pops; the fuchsia entry titles are eye-catching but not too gimmicky.
Take a look at our carefully curated list of modern resume templates.
Create a copy of the Modern resume template.
Spearmint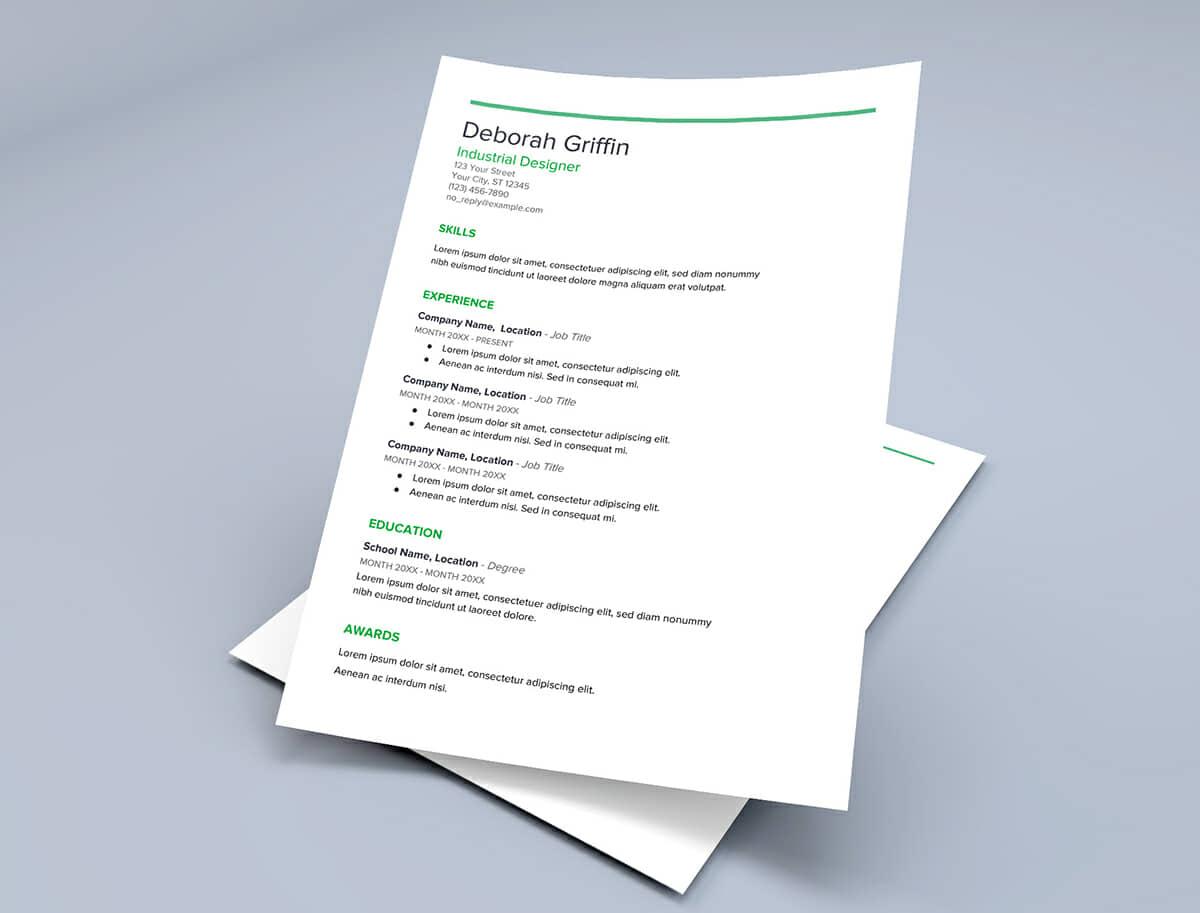 This simple resume template for Google Docs makes great use of white space. This should be your pick if you want an elegant resume that doesn't come across as unnecessarily crammed with graphics.
Create a copy of the Spearmint resume template.
Serif
"Serif" is simple and easy to read. It will be a great high school resume template. Google Docs allows you to use two columns, thus helping you save space and fit all the relevant information into a one-page resume.
Check out this list for more one-page resume templates.
Create a copy of the Serif resume template.
Swiss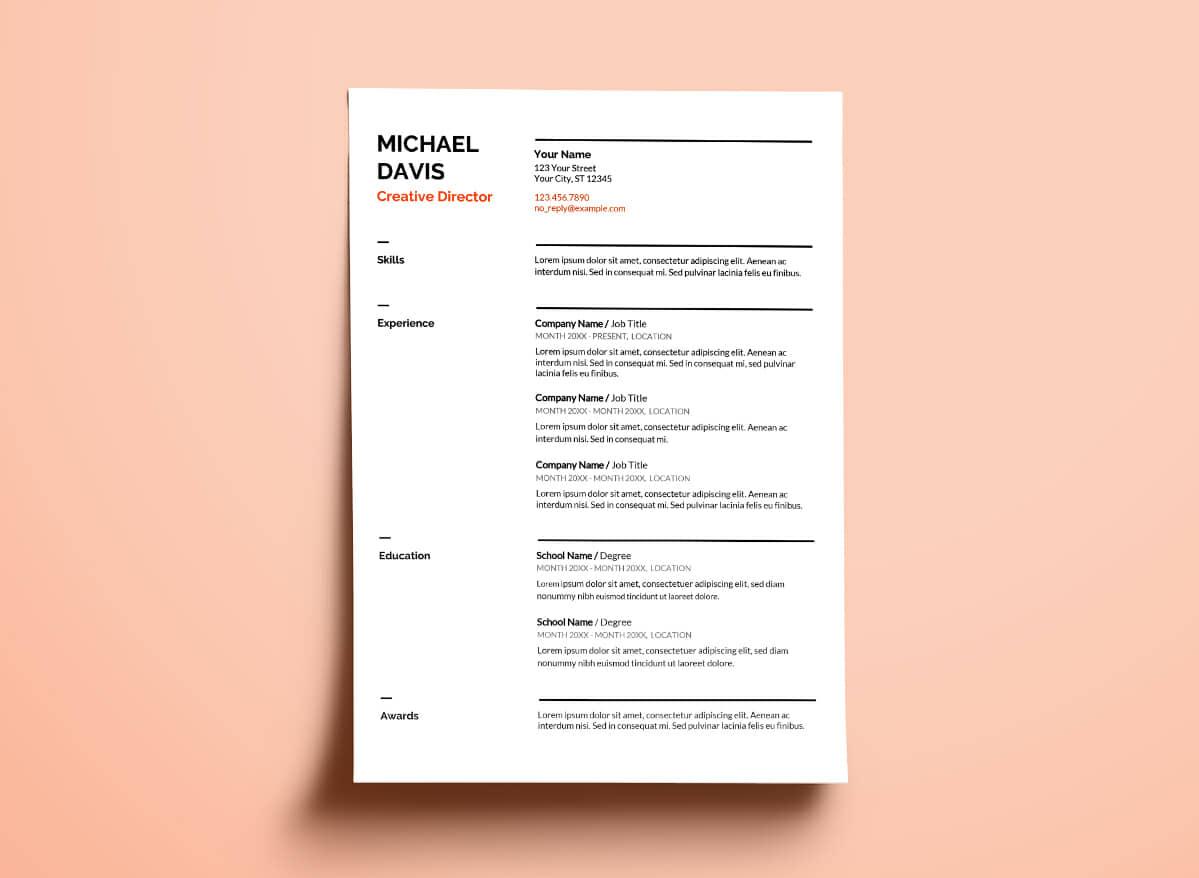 Made with Swiss precision, this free Google Docs resume template is a great example of scannability. The header is well-designed and highly visible, and the sections separated by thick black lines are super easy to spot.
Nice use of two columns, but this list of two-column resume templates has even better options.
Create a copy of the Swiss resume template.
Now you know you can download free Google Doc resume templates in a flash. But you don't have to limit yourself to the above-listed templates.
Pro tip: These Google Docs resume templates match Google Docs cover letter templates. Scroll through the list of Google Docs templates to find "Letters." They have the same names as the 3 resume templates above: "Modern Writer," "Spearmint," and "Serif." You also have "Geometric" and "Plum" instead of "Coral" and "Swiss" templates.
When making a resume in our builder, drag & drop bullet points, skills, and auto-fill the boring stuff. Spell check? Check. Start building a professional resume template here for free.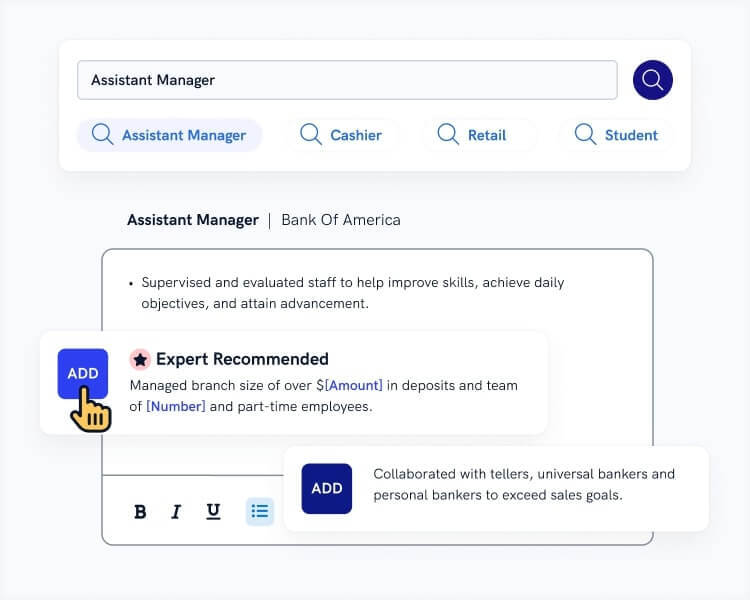 When you're done, Zety's resume builder will score your resume and our resume checker will tell you exactly how to make it better.
Google Docs Resume Templates: From Across the Web
Apart from some free Google resume templates you can find in your Google Docs, there are others available online. They are more creative and will help you create a resume that stands out. However, since most of them are offered by graphic designers, they are not free.
Here are the best Google Docs resume templates you'll see outside of Google Drive:
Fresh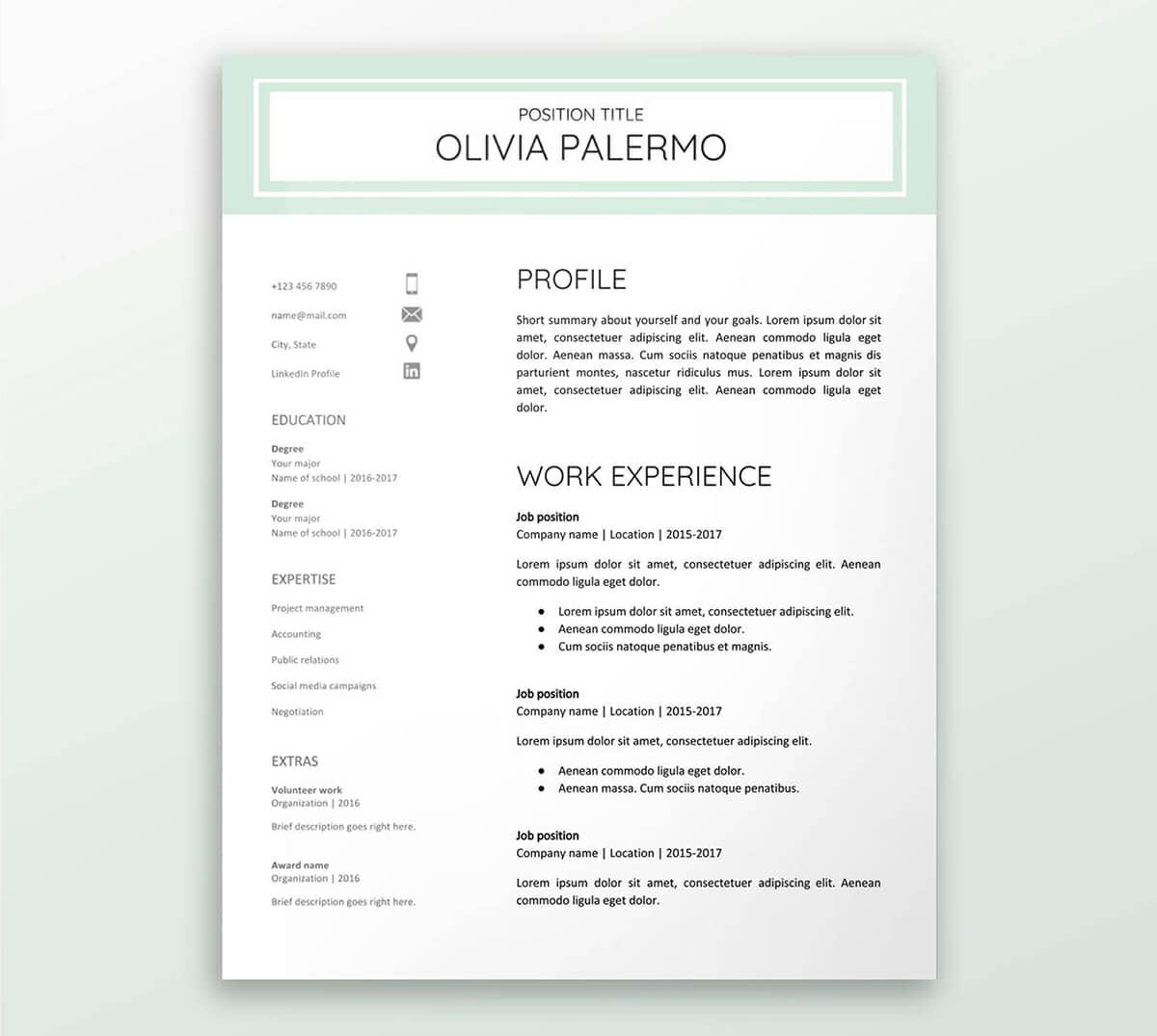 A classy Google Docs resume template signals professionalism and strong attention to detail. The two columns and the substantial white space make this resume extremely pleasing to the eye.
Buy it on Etsy and get a bonus matching cover letter template.
WinkyWin
WinkyWin has created this unique resume template for Google Docs users who wish to add a little personal touch to their job applications. The heading grabs attention and shows your individuality.
Buy it on Etsy to get a set of matching cover letter and reference page.
ResuStudio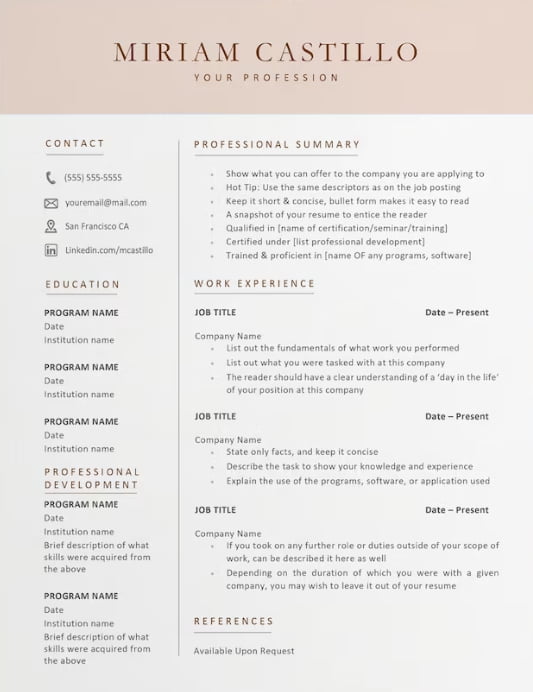 Thanks to its use of multiple columns, this one's a great choice if you'd like to try and fit as much information into one page as possible. Its delicate colors and subtle use of resume icons make it a perfect resume template for students and a great college resume template.
Buy it on Etsy and collect extra resume-writing tips.
Get Landed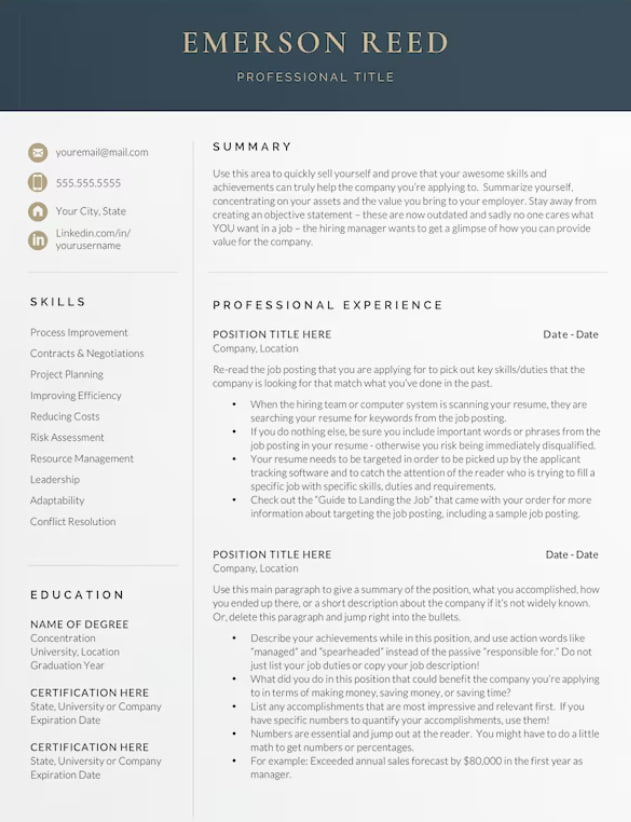 Executives and CEOs gather around to see what your resume should look like. The heading makes a statement upfront; you don't need much convincing to do with the rest of the contents.
Buy it on Etsy and get a resume template file for a Mac.
DesignStudioTeti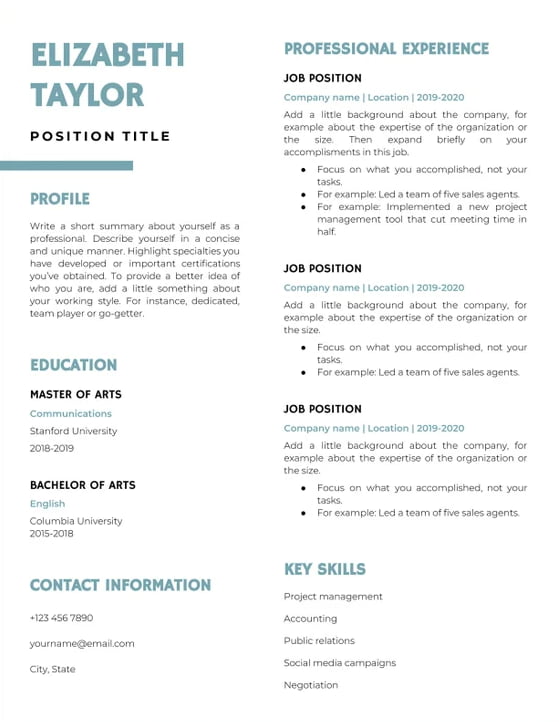 A creative resume template designed by DesignStudioTeti is an eye-catching choice to make your resume stand out on every recruiter's desk. Great for listing your achievements on a resume, as it offers a lot of space to highlight them properly.
Are you fully convinced that Google Docs is your best choice? After all, it's just a text editor, and when you type one word too many, the entire structure you worked so hard on may collapse. So the question is…
Having a great resume template is the first step of acing your application. The next one is starting your resume. Read our guide and learn all about it: How to Start a Resume
Is It Okay to Use a Google Docs Template for a Resume?
By choosing a Google Docs resume template, you can easily make a professionally-looking resume. Some jobs will even let you share your file via G-Drive. However, there are several things you should consider before creating a resume in Google Docs:
Creating a resume in Google Docs might not help you with those issues. However, choosing the right online resume builder will. You will be guided through the entire process. You will get access to a library of easy-to-use, customizable resume templates and consistent cover letter templates. And according to our HR statistics, only sending these two documents together will help you secure an interview in your future workplace.
So without further ado, let's look at some examples of the best resume templates from Zety:
Concept
The Concept resume template is perfect for a teen resume, thanks to its timeline structure and icons that add a youthful vibe. One-column templates are a blessing to those with little experience because you've got just that one page and so many sections to fill out.
Diamond
Diamond is a template where your name and job title stand out. But the experience part isn't far behind—as the first resume section in this template, it does draw attention. Add diamond-shaped icons, and you've got a perfect resume for yourself there.
Iconic
As the name suggests, the central theme is icons, which look unique and make a perfect couple with the visual representation of your skill levels. This should be your pick if you prefer to show, not tell.
Influx
Influx is an elegant resume template that both professionals and students can use. Thanks to its clean and organized structure, your hard and soft skills have room to shine and tell your potential manager that you're the right person for the job.
Minimo
As the last resume template in this collection, Minimo presents great readability. Its subtle touch of color helps the reader flow smoothly between the most important parts of your resume. Minimo is a safe bet.
Your resume template doc can come in many forms and shapes. See some of our resume templates and find the best one for you:
Plus, a great cover letter that matches your resume will give you an advantage over other candidates. You can write it in our cover letter builder here. Here's what it may look like: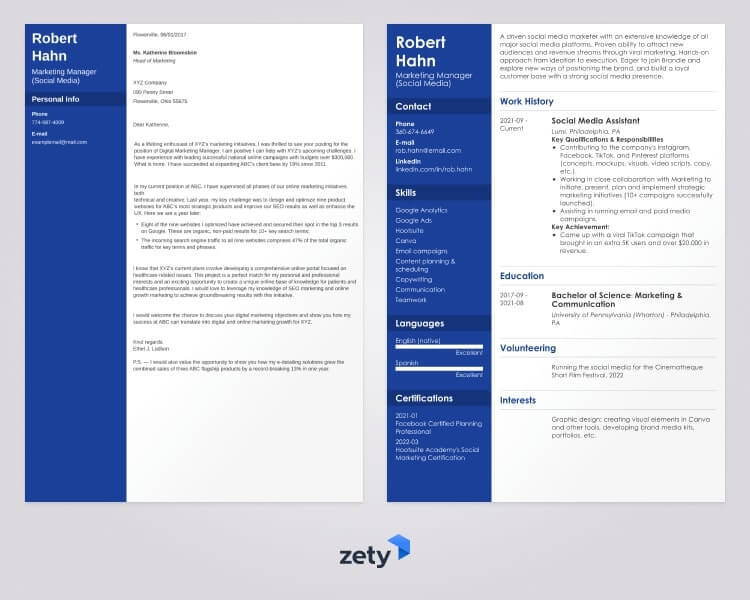 See more cover letter templates and start writing.
Key Takeaway
Whether you're looking for a CEO resume or a college resume template, Google Docs might be useful for you. There are many free Google Docs resume templates to choose from. Let's have a quick recap that will help you decide!
As you can see, with a little bit of digging, it's possible to find amazing downloadable resume templates available for Google Docs—no need to own an MS Word subscription.
Although there's no official Google resume builder, you can either pick a resume template from your Google Drive or use one of the others from our list.
For the final remark: once you've picked your template, remember that the contents of your resume still matter more than looks.
Do you have any other Google Docs resume templates that you think should make it into our list? Is there anything you'd like to ask about creating a resume in Google Docs? Give us a shout in the comments—we'll make sure to get back to you!
About Zety's Editorial Process
This article has been reviewed by our editorial team to make sure it follows Zety's editorial guidelines. We're committed to sharing our expertise and giving you trustworthy career advice tailored to your needs. High-quality content is what brings over 40 million readers to our site every year. But we don't stop there. Our team conducts original research to understand the job market better, and we pride ourselves on being quoted by top universities and prime media outlets from around the world.
Frequently Asked Questions about Google Docs Resume Templates
Where do I get free resume templates?
The most intuitive choice would probably be getting free resume templates from Word. Those are available for any Microsoft Word user—which means that to use them, you need to have Word installed and know how to use it. You can also use the templates from Google Docs, if you're a Google Suite user.
If you're looking for a US resume template or want the best resume examples for almost any job out there, explore Zety—our resume builder lets you choose from 18+ customizable professional resume templates and make your resume with no software or computer skills needed. For more options, read our guide on free-to-download resume templates.
Does Google Docs have free resume templates?
Yes, it does. You can choose options with different resume layouts, build a traditional resume, and download your resume in PDF format. Remember that a standard reverse-chronological resume is what hiring managers expect to see. Also, when picking out a template, keep in mind you should make your resume stand out with the contents, not just looks—otherwise, it may fail to pass the Applicant Tracking Systems.
How do I make a resume on Google Docs for free?
This is where to access free resume templates in Google Docs:
In Google Drive, pick "New" → "Google Docs" → "From a template."
Alternatively, in Google Docs, click "Template gallery" in the top right-hand corner.
Scroll down to "Resumes" or "CVs," depending on your location.
You must change your display language to English if you can't see the templates. And this is how you do it:
"Manage Your Google Account" → "Personal Info" → "General Preferences for the Web/Language" → "Edit" → pick the English language.
That's where you choose a good resume template to build a professional resume. A two-column resume will help you fit everything you need without compromising readability, while one-page resume templates are universal, and will work great if you have limited experience. Don't hesitate to go with a basic resume—a good structure and tailoring your resume to the position is more important than adding extra details and unnecessary visuals.
If you require help, refer to our guide on what to include in a resume.
Are Google Docs resume templates ATS-friendly?
Yes, generally Google Docs templates will allow you to create an ATS-compliant resume. Nowadays, the majority of recruiters use Applicant Tracking Systems to screen candidates, so you need to make sure you:
Browse the collection of best resume templates for examples of how a resume should look to stand out from the crowd of competitors. Feel free to check out other resume-building websites for more ATS-friendly options.
What is the best resume template for Google Docs?
Google Docs offers five great resume templates that are available from your G Drive: