You're about to see a gallery packed with amazing student resume templates that'll help you land your next job.
When you're writing a resume as a student, you don't necessarily have as much professional experience as some of your competition.
That's why you need a perfect resume design.
Whether you're looking for a part-time gig, a summer internship, or your first job after graduating, you can use the templates below to impress every recruiter with your modern, elegant, creative, or professional resume layout.
Sometimes that's all it takes to get your foot in the door.
Ready? You're in for a treat!
1
Cascade by Zety
Want to save time and have your student resume ready in 5 minutes? Try our resume builder. It's fast and easy to use. Plus, you'll get tips and right vs. wrong examples while writing your resume. See 20+ resume templates and create your resume here.
One of our users, Nikos, had this to say:
[I used] a nice template I found on Zety. My resume is now one page long, not three. With the same stuff.
Note: we have designed all our resume templates to be ATS-scannable.
This is one of our pride-and-joys here at Zety—the universal Cascade resume template makes for a stunning student resume.

Check out the nifty bar graph for your skills and language sections. Also, a sidebar! Not to mention its subtle shading of the navy blue column. Text? Extra readable, black on white.

Dozens of color combinations make this student resume template an instant hit. This template is included when you create a resume in our builder, along with many others.
Before we continue, are you sure you wrote the best possible student resume and you're simply looking for a template to show it off?
Stay on the safe side and read this beast of a guide: High School and College Student Resume Writing Guide
By the way, if you need a high school resume for college admissions and scholarships, we've got you covered: How to Write a Scholarship Resume
Writing an academic resume or CV to pursue your scholarly career? Complete Academic CV Writing Guide
2
Personal Branding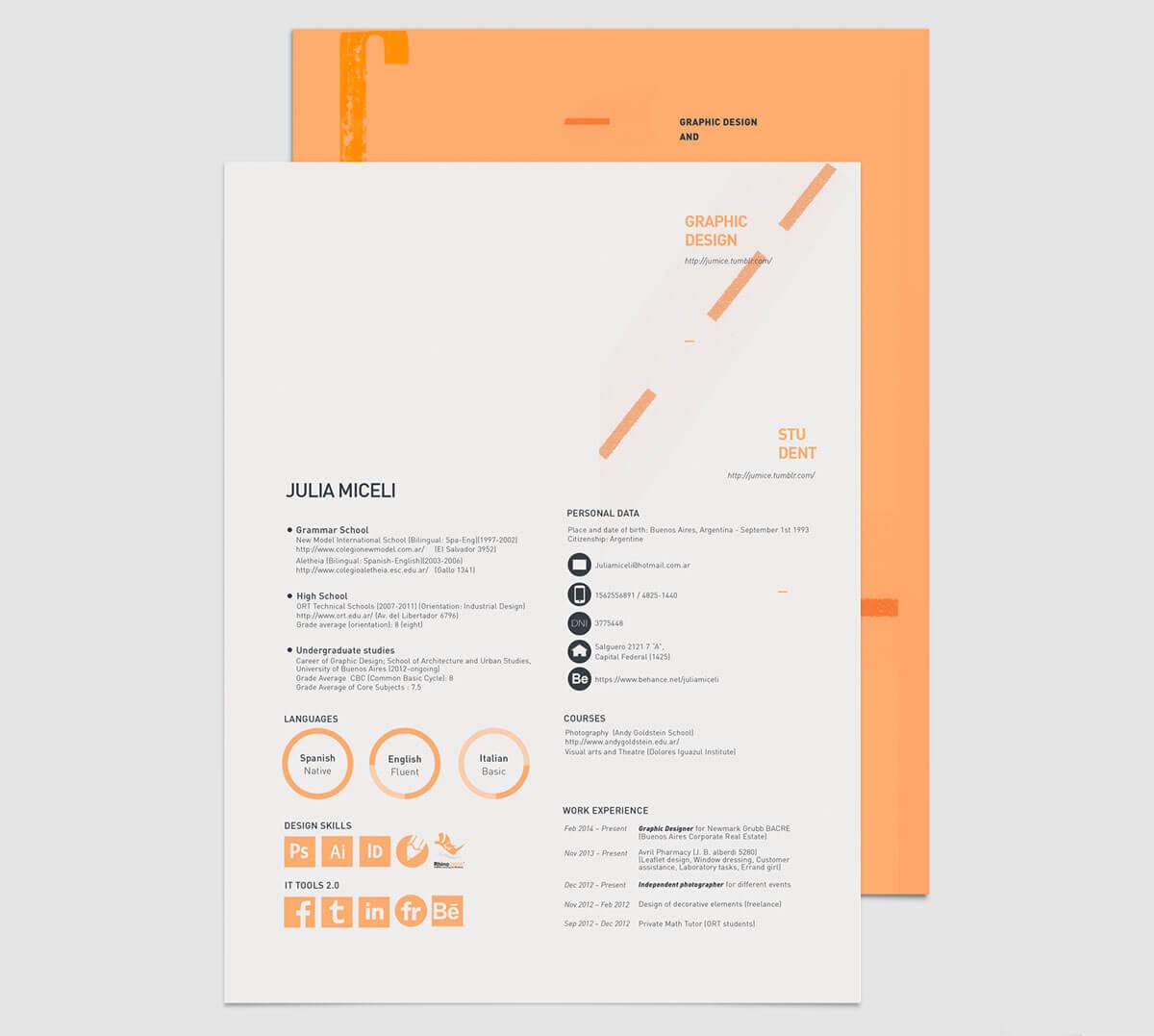 Julia Miceli's "Personal Branding" available on Behance will make a tremendous college student resume template for an internship or a student CV template for your first job. Lively colors show enthusiasm and energy; the resume design is dynamic and unique.
Here's the link to this student resume template.
3
Personal Promo
Another example of a good resume template for a college student— Behance's Tibor van den Brink's "Personal Resume & Promotion." This one's got the right balance between creativity and formality. Suitable for both relaxed and more conventional job applications.
Here's the link to this student resume template.
4
Uniquely Professional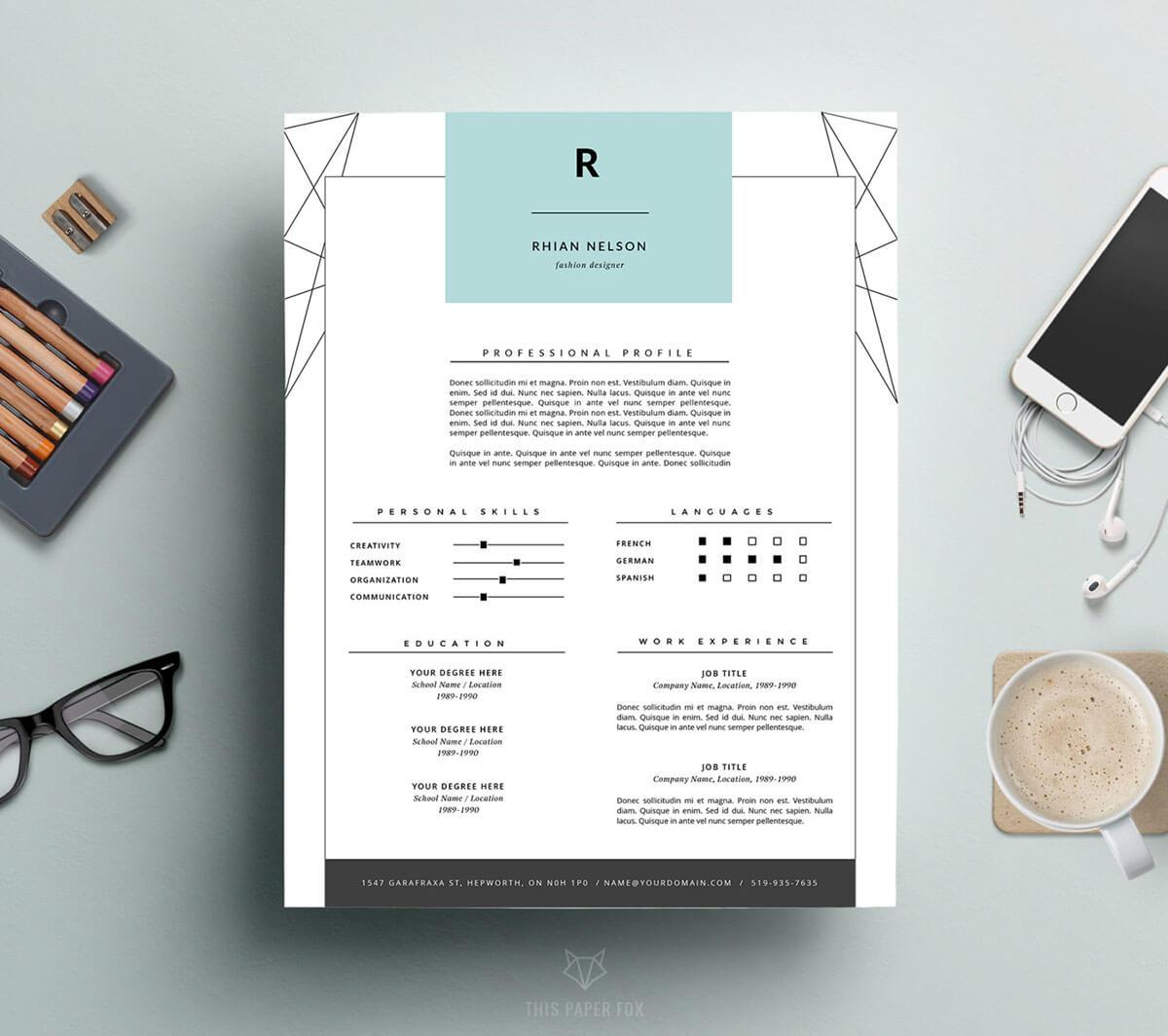 One of the finest college resume templates out there. Designed by This Paper Fox Studio, it's clear and legible thanks to the popping section titles, plus, it makes great use of white space, giving recruiters' eyes some well-deserved rest.
Here's the link to this student resume template.
5
"Balanced" MS Word Resume Template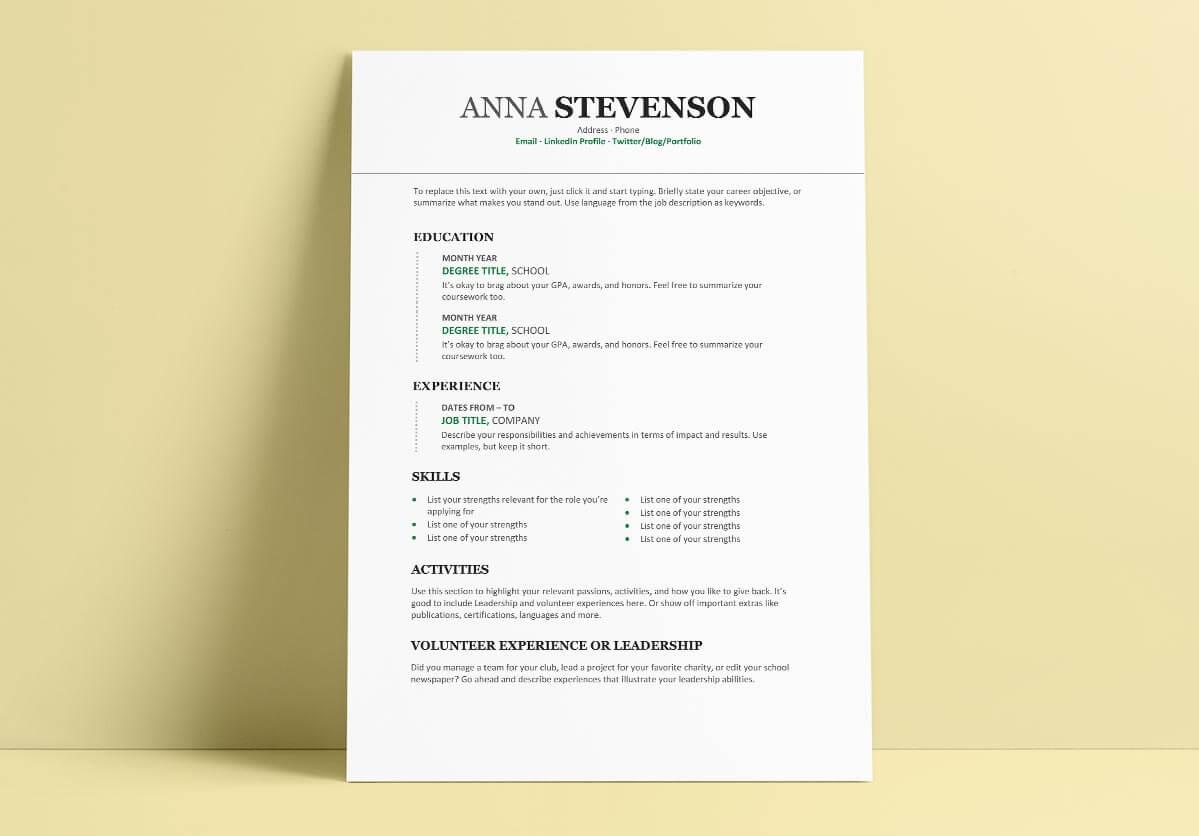 Available in the MS Word templates gallery, this one's a perfect example of a clean, basic resume template for high school students. Tiny icons at the top make the contact information section stand out. All entries in the Experience and Education sections are neat and easily read.

Here's the link to this student resume template in Word.
6
Colorfully Current CV Template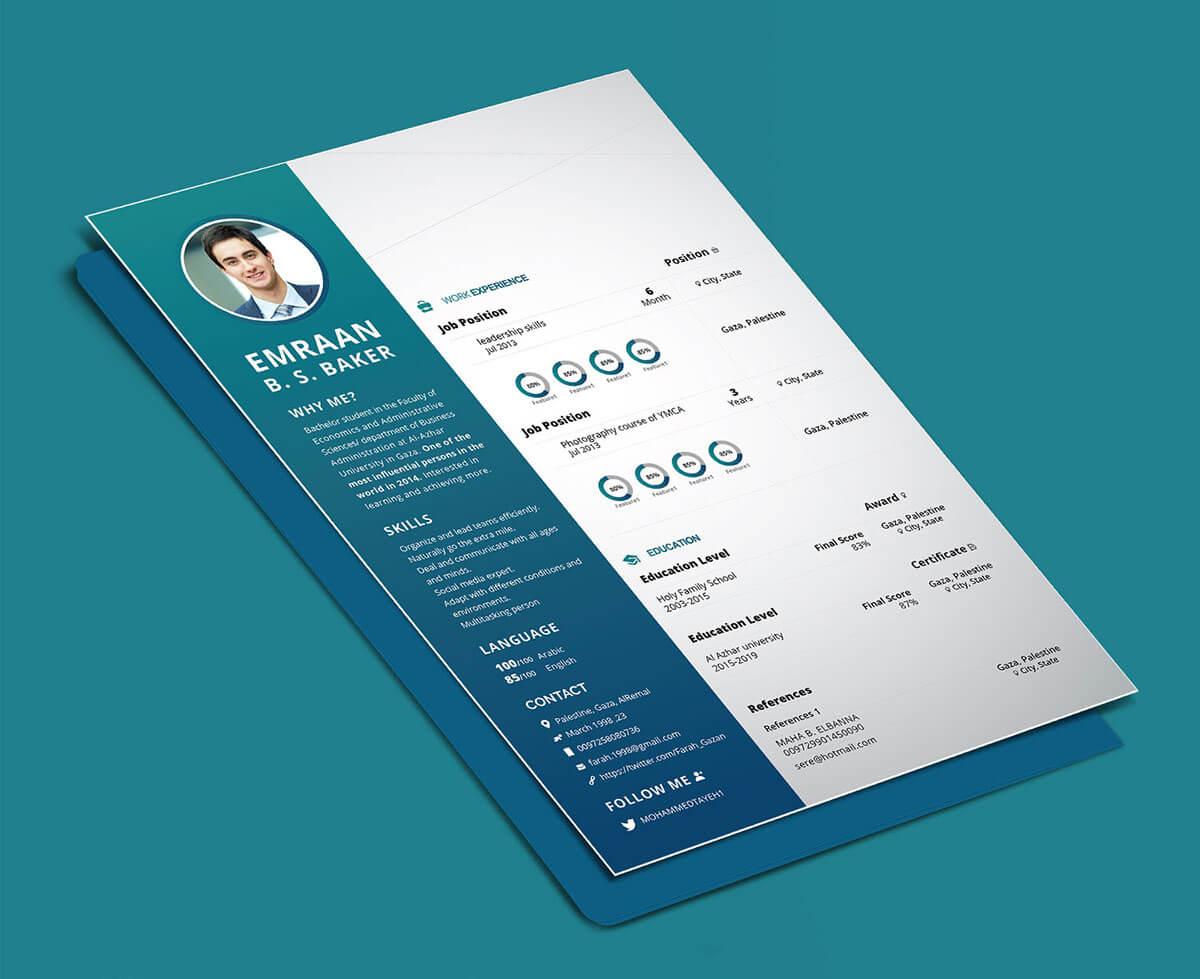 "Project CV" by Mohammed Tayeh is the complete package: it's a great, college or high school resume template. It also offers a matching student cover letter template and, to beat that, it is available to download and edit as a Microsoft .DOCX document or for Adobe.
Here's the link.
For more free college student resume templates for Microsoft Word, see this gallery: Free Resume Templates for MS Word
7
Neat and Balanced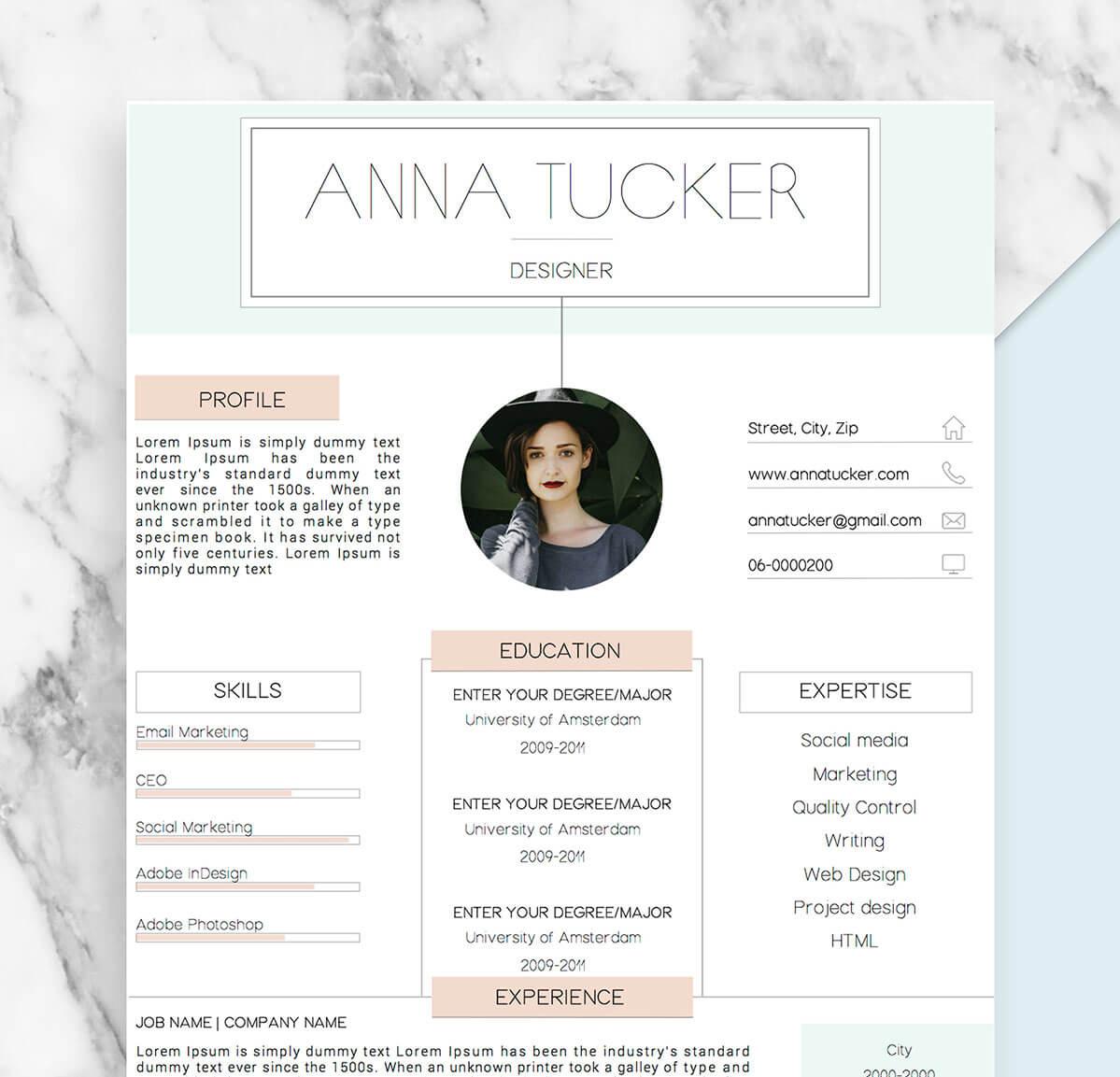 Offered by Resume Boulevard on Etsy, "Modern Resume Template," will make a great template for a student resume with no experience. Skills and Expertise sections are well presented and will surely grab every recruiter's eye right off!
Here's the link to this student resume template.
8
Crisp by Zety
Another of our favorites here at Zety—the clean Crisp resume template made using our resume builder.

It's got a left-hand sidebar, but a full-width header area up top for your name, professional title, and all-important resume summary or objective. In the skills and language sections, colored circles detail your level of each. Icons precede each resume section for a modern feel.

It uses a white background, black text, and a color of your choice for heading titles, or reverse that, if you wish, with many color combinations to choose from for this modern resume template. This template is included when you create a resume in our builder, along with 20+ others.
9
Clean and Minimalist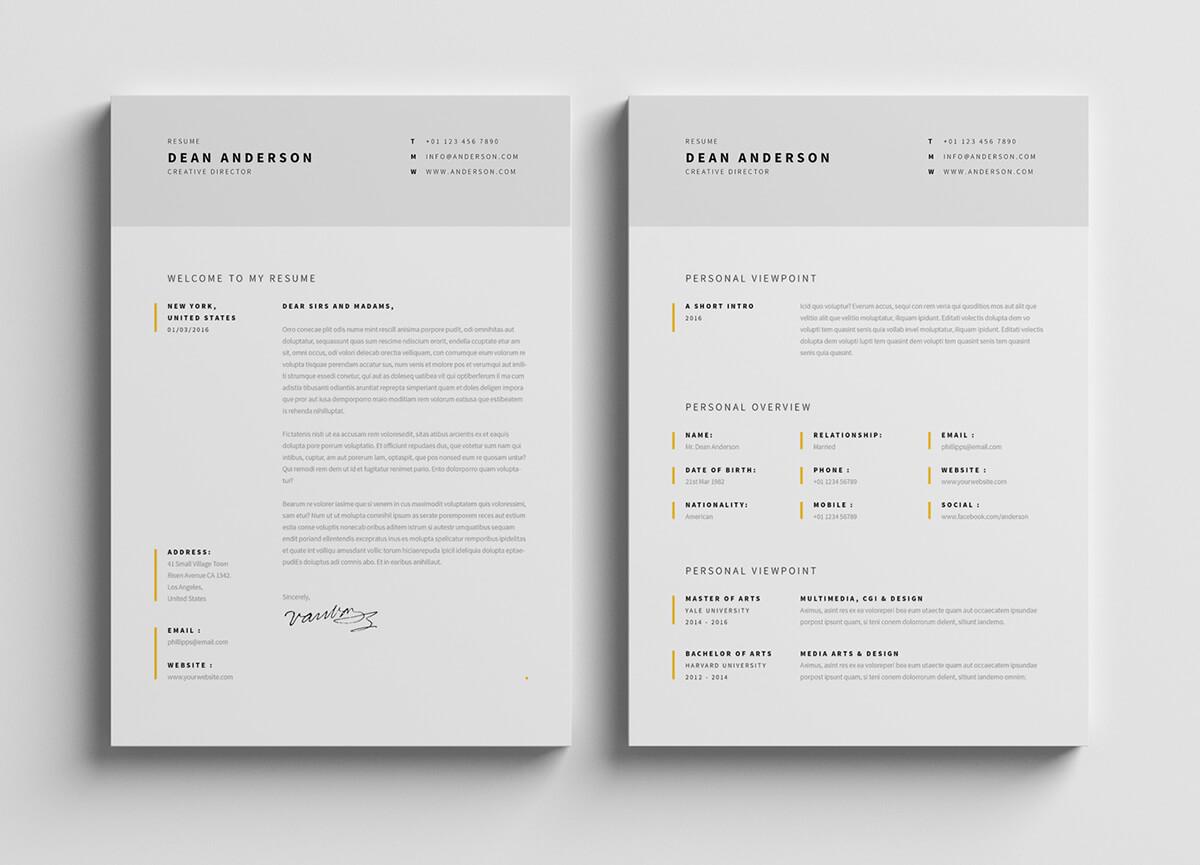 One of the best-looking resumes, don't you think? This "Minimal Resume / CV / Curriculum Vitae with 7 Pages" by Egotype is at once modern and classic: your student CV will surely benefit from the minimalist design, easy-to-find contact info, and subtle color palette.
Here's the link to this student resume template.
10
"Student" Resume Template in MS Word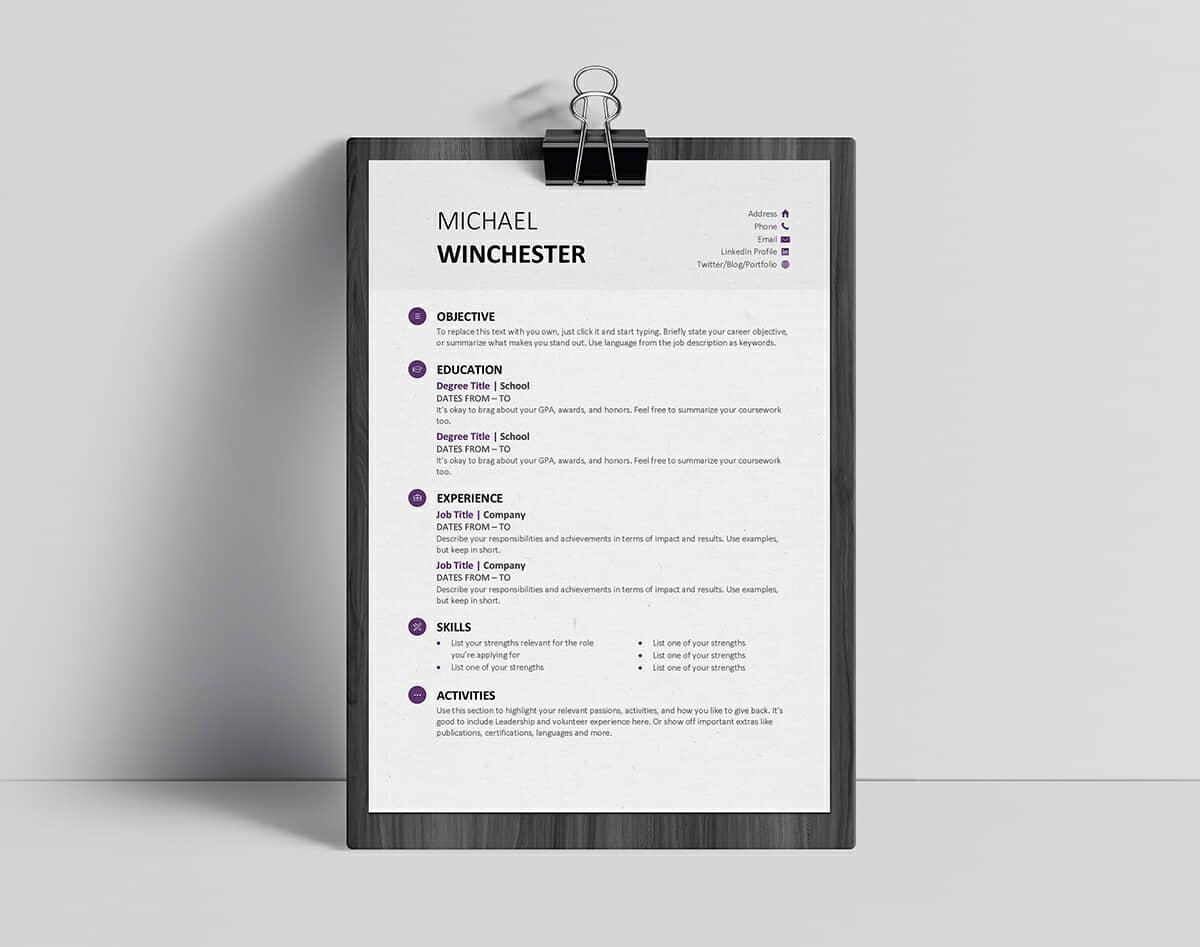 It looks almost like a typical, simple resume template in Word. Exactly—almost. The shade in the header and little icons marking each section make it eye-catching and super legible. This one's perfect for a student resume as well as an academic CV.
Here's the link.
11
Jansen's Temptation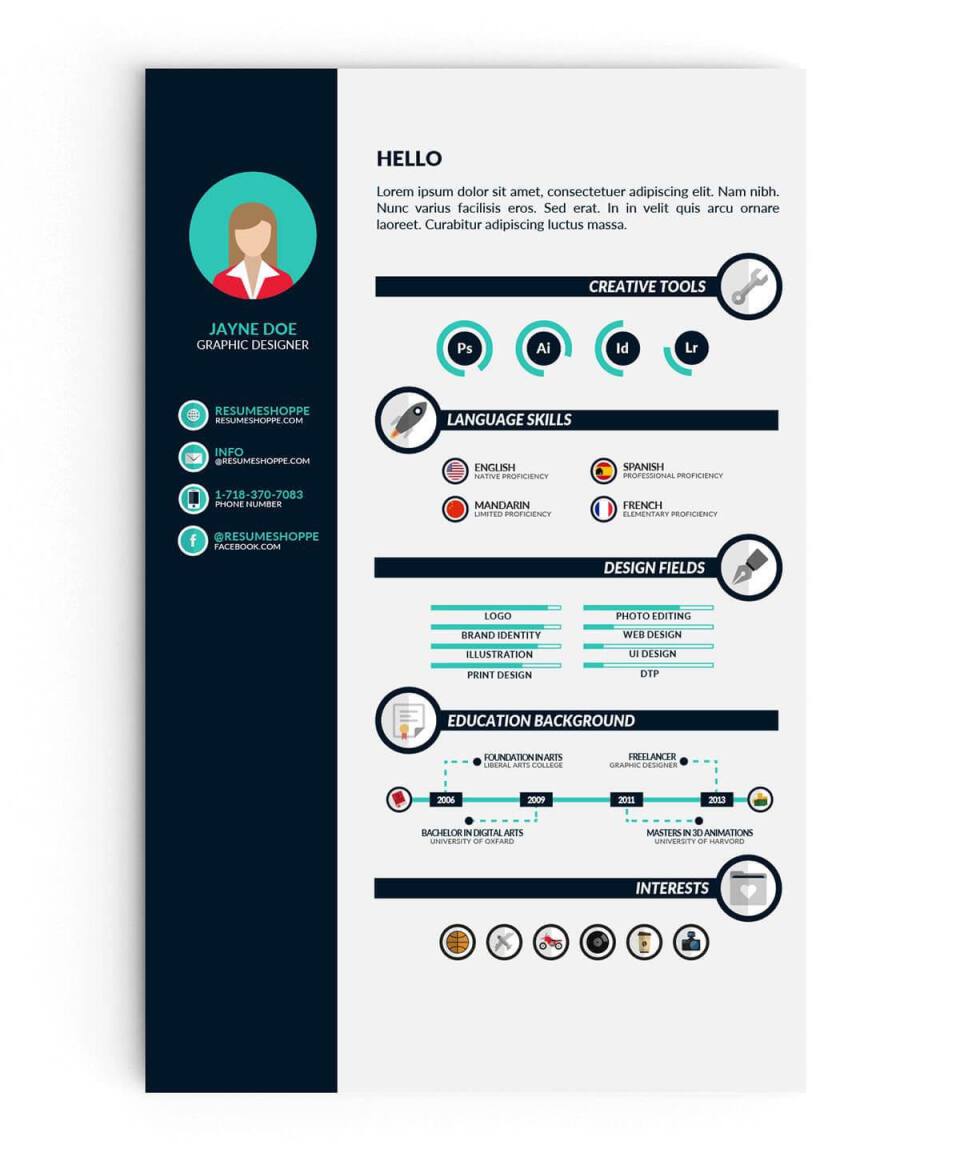 Another one on our list is a free student resume template created by Paul Jansen. This one has icons on top of icons, with large graphics highlighting the headings of each different section, while smaller ones identify your interests, personal info, and languages spoken. It's colorful yet professional. A good choice for high school resumes.
Here's the link to this student resume template.
12
Free Neat & Premium Student CV Template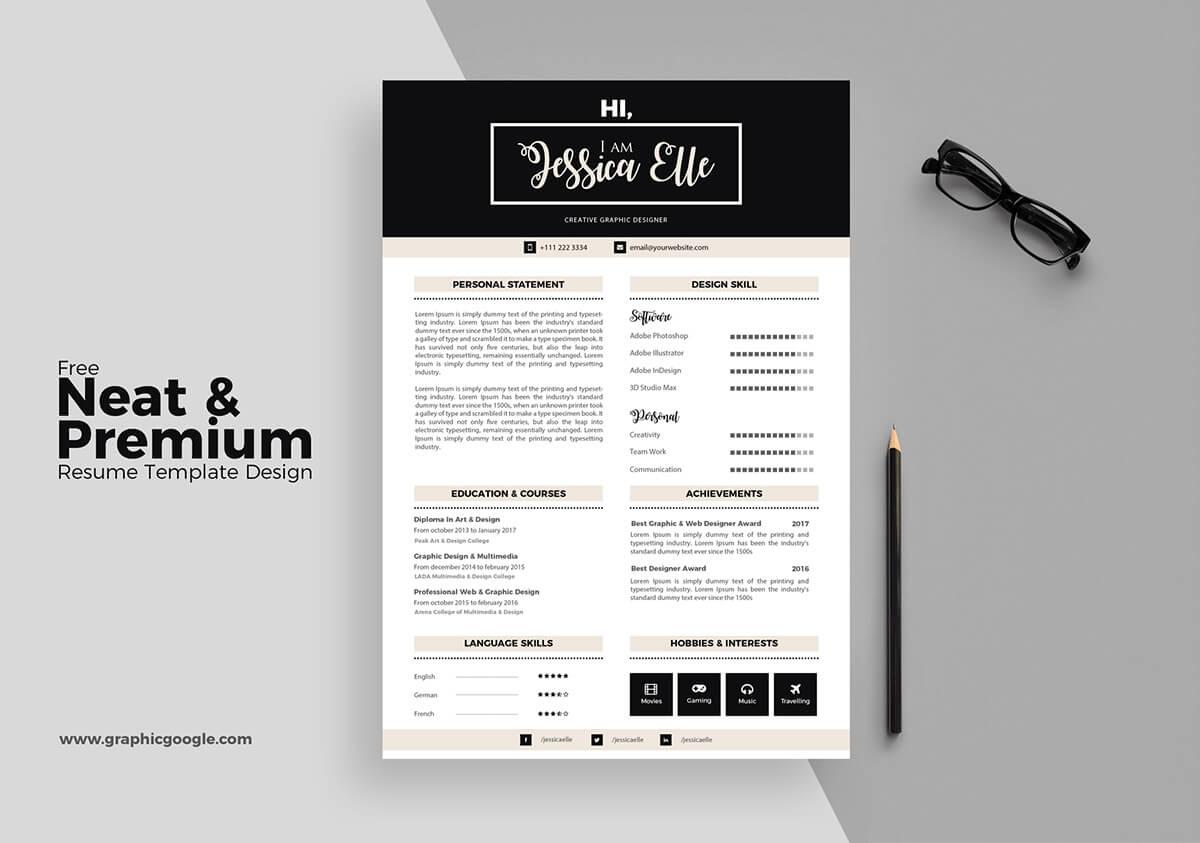 "Free Neat & Premium Resume Template Design" is available as a download for Adobe Illustrator, as the title implies, absolutely for free. It's got bold styling and casts your name in the spotlight to help you stand out from the rest of the resume stack.
Here's the link to this student resume template.
13
Nanica by Zety
Nanica is another one of ours—it allows space on the left side to serve as a timeline for the work and education sections while the full-width area for your heading statement allows you to grab the recruiter's attention with a captivating resume summary or resume objective. Will work great as a resume template for college admissions, as well as your first resume for a regular job.

Nanica is included along with many others in our resume builder. With our resume builder, you can create a resume simply and quickly.
14
Creative Simplicity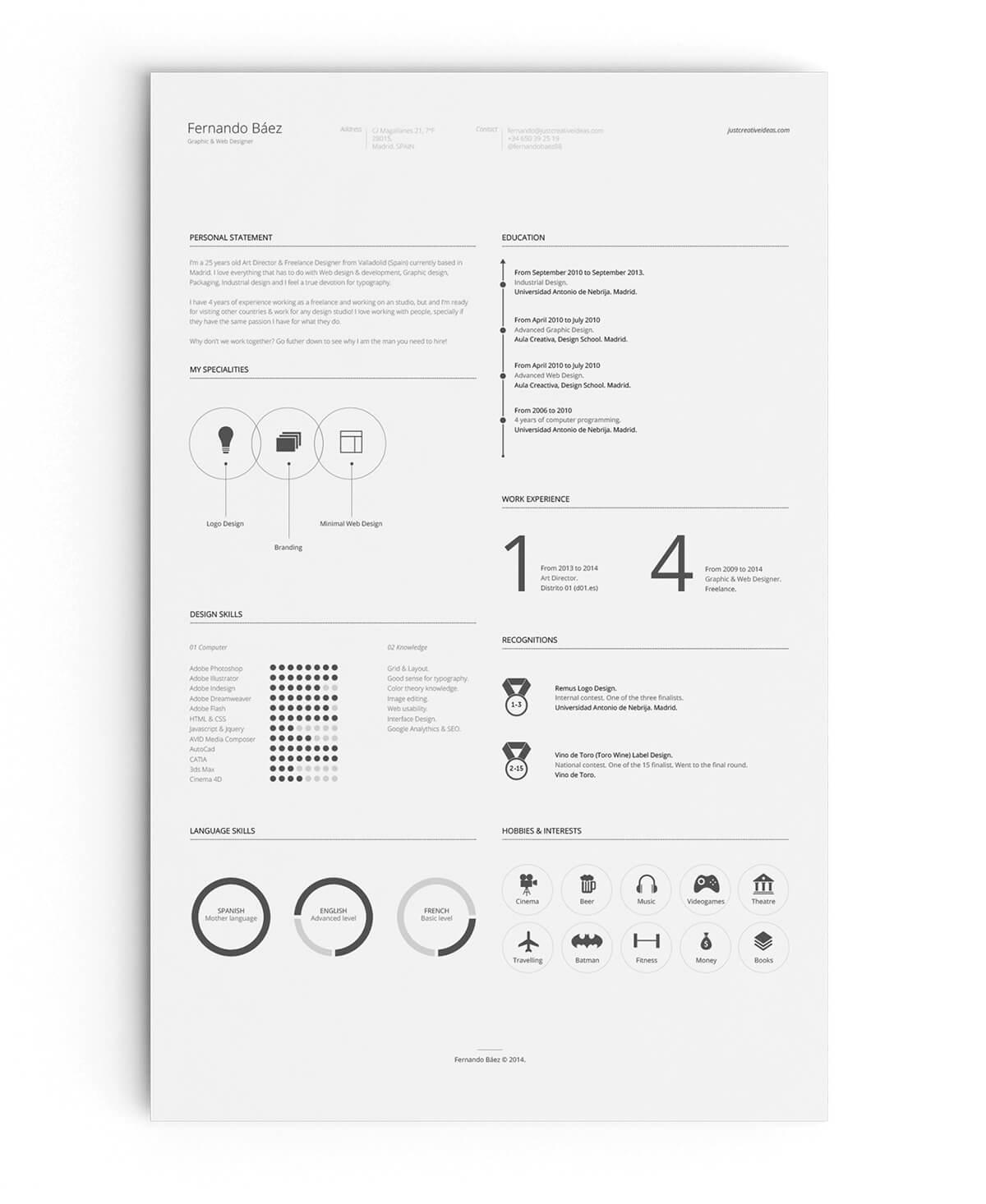 Another free resume template for students, designed by Fernando Baez and available on Behance. The text is laid out in two columns which saves space and allows you to make a one-page resume with ease.
Here's the link to this student resume template.
15
Colors Speak Louder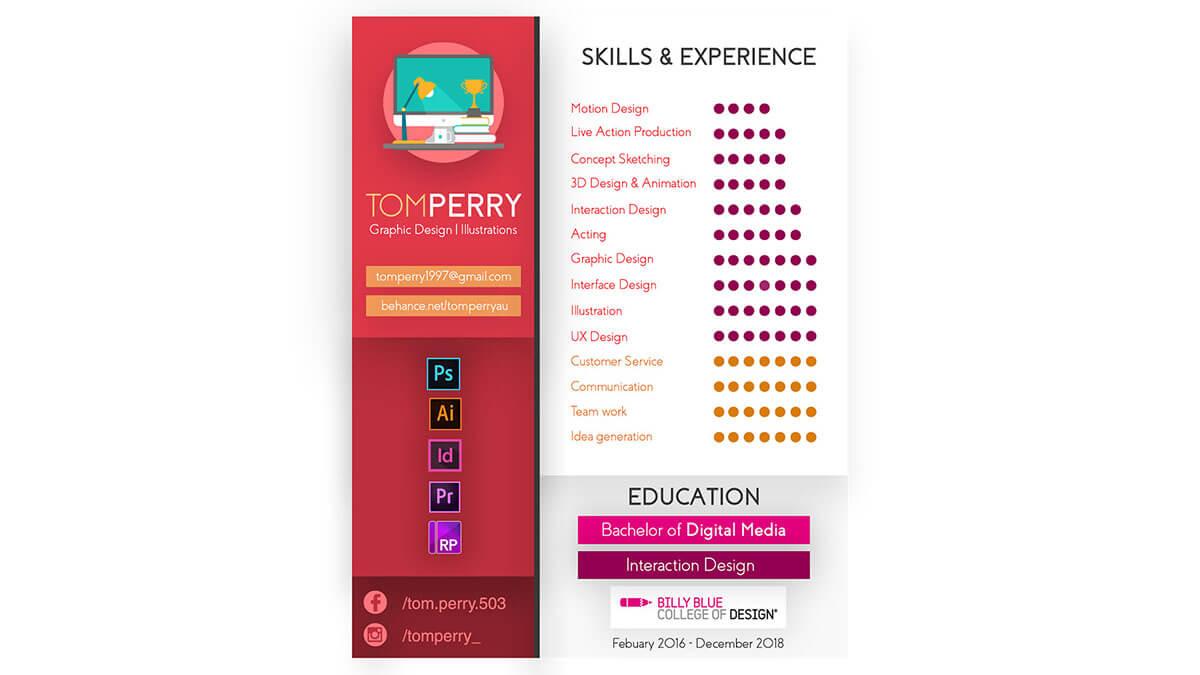 Last but not least, this amazingly creative resume template by Tom Perry. It's a great college freshman resume template—it shows your creativity and energy and lets you emphasize your skills and expertise, taking some pressure off of your work history.
Here's the link to this student resume template.
Key Takeaway
Keep these points in mind as you are writing your student resume:
A good student resume design is what can make you stand out from the crowd of other applicants and make up for your lack of extensive work experience.
Pick your favorite student resume template from the list above, download it with a single click and have a resume that gets every reader hooked.
Remember to make your resume match the type of position for which you're applying. For creative, relaxed roles, you can go for a fancy, colorful resume. If you're aiming a more traditional position, choose one of the more basic, two-to-three-colors templates.
Which of the templates we've shown above do you like best? Maybe you've got your own cool student resume templates you'd like to showcase? Let us know in the comments! We can't wait to hear from you.