Our customers have been hired by:
Writing a graduate CV is one of the toughest things you'll ever have to do in your career.
'How to start? What to include? What about all those other candidates who have way more experience than me?'
We've all been there.
Luckily, there are proven techniques you can use to write an effective graduate CV and land job interviews (even if you have no professional experience whatsoever).
This guide will show you:
Graduate CV examples and ready-to-use templates better than 9 out of 10 others.
How to write a graduate CV step by step.
Actionable expert tips on writing a good graduate CV that will land you any job you want.
Just came to see a sample and get a good template? Seek no further.
Here's a sample graduate CV created with our CV maker.
Graduate CV Example
Want to save time and have your CV ready in 5 minutes? Try our CV maker. It's fast and easy to use. Plus, you'll get ready-made content to add with one click. See 20+ CV templates and create your CV here.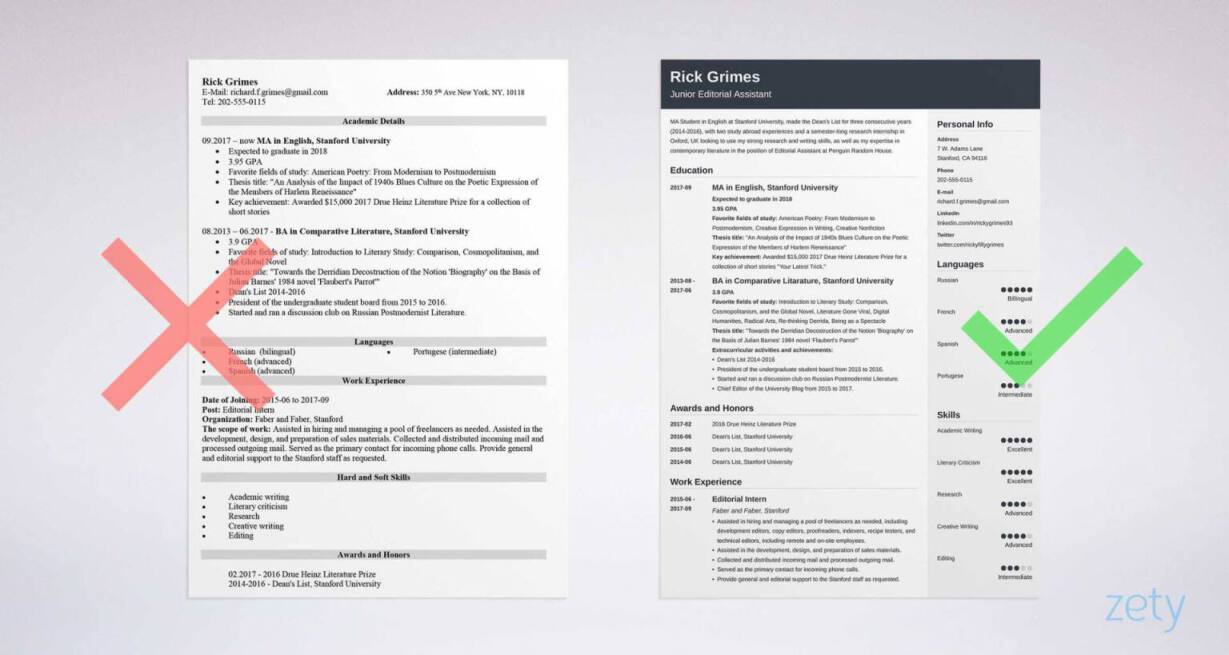 Sample resume made with our builder—See more CV samples here.
This article will teach you how to write a graduate CV for regular, non-academic employment.

If you want to learn how to write an academic CV for post-grad admissions, doctoral studies, research grants, or scholarships, check out: Academic CV: What to Include & How to Write It
Not a fresh graduate? Switch over to our general CV writing guide for more experienced professionals: How to Write a Job-Winning CV
If you're writing a graduate resume for the US job market, see one of our dedicated guides:
Looking for more information and examples? see these:
Finally, don't forget to get inspired by actual CV examples for different professions and industries: 99+ CV Examples for All Industries and Career Levels
Here's how to write a graduate CV for a job:
1
Choose a Good CV Format and Template
Hiring in those times is a fast-and-furious business. A recent study by The Ladders showed that recruiters spend an average of 7.4 seconds on a single CV they review. (Flabbergasted? That's actually up from 6 seconds in 2012.)

Recruiters don't read every CV they get. They look for reasons not to.
Sloppy graduate CV formatting could be that reason. Remember: other candidates might have more job experience than you do. A neat CV that's easy to read can give you an upper hand.
Here are the most important rules of a good graduate student CV format:
One-inch margins on four sides.
1.0 or 1.15 line spacing.
Good font for a CV throughout the whole document.
Professional CV header format for your contact details.
Legible sections with big section headings and a blank line before and after each one.
And below, you'll see a perfect section order for graduate CVs:
Graduate CV Template


Contact information
Personal statement
Education
Work experience (if you've got none, let's skip this section for now)
Skills
Other sections, for instance:

Honors and Awards
Volunteer Experience
Certifications and Trainings
Hobbies and Interests
For more information on CV formatting, see: Ideal CV Structure: How to Model Your CV the Right Way
2
Put Your Contact Information at the Top
Here's what you need to include in a graduate CV contact information section:
Your First and Last Name
Phone Number
Professional Email: that means ann.brown@gmail.com instead of annieloveskitties@yahoo.com
Your LinkedIn Profile and, optionally, other social media handles: but not all of them. For instance, if you use Twitter to discuss stuff related to your industry, link to your profile from your graduate CV. Techie position? Link to GitHub. Seeking a creative job? Behance, Pinterest, Tumblr, or even Instagram.
URLs to Personal Websites or Blogs.
Learn more: Contact Information on a CV
3
Write a Graduate CV Personal Statement
Also called a CV profile, a personal statement for a graduate CV is a short paragraph (2–4 sentences) at the top of your graduate CV. Its purpose is to outline your best skills and show how well you'll fit into your prospective role. Think of it as an elevator pitch or a summary of the rest of your CV.

Here's how to write a graduate CV personal statement:
Start with who you are and what your education is.
Use the name of your target company and the position you're targeting.
Add 2–3 of your key skills.
Make an offer: explain what you hope to achieve for your prospective employer.
See the graduate personal statement CV example below to get a grasp of how it works in practice.
Sample Graduate CV Personal Statement
Highly motivated King's College BA in Marketing and New Media graduate (who you are + your education) looking to fill a position as a Junior Marketing and PR Assistant at Acme (name of the company and position you're applying to). Wishing to use strong data-analysis and creative storytelling skills (your skills) to help Acme create compelling marketing campaigns tailored to the needs of your customers (your offer).
When making a CV in our builder, drag & drop bullet points, skills, and auto-fill the boring stuff. Spell check? Check. Start building a professional CV template here for free.
When you're done, Zety's CV maker will score your CV and tell you exactly how to make it better.
Get more examples and tips for your graduate CV personal statement here: 20+ CV Personal Statement/Personal Profile Examples
4
Describe Your Education
Always put your current or most recent educational institution at the top. Follow it with the previous ones. That means, if you have a Master's degree, include your Bachelor's right below it. Either way, omit your high school.
In each entry, list:
Your degree
The name of your institution
Year graduated
Your major and minors (if applicable)
But that won't be enough to impress recruiters. Hey! It's time for those courses you've slaved over for years to pay off!
To make your graduate student CV stand out, add:
Favorite fields of study
Thesis title(s)
Key academic achievements
See this marketing and business graduate CV example for reference.
Marketing Graduate CV: Education Section
2019 BA in Marketing and New Media
King's College, London, UK
1st
Favorite fields of study: Global Media Systems, New Perspectives on B2C Marketing, Macroeconomy Basics, Film Theory, Marketing of the Media
Thesis title: 'The Paradox of Luxury Goods Marketing—Examined'
Key achievements and extracurricular activities:
President of the undergraduate student board from 2017 until 2018
Dean's List 2016 and 2018
Started and run a discussion club on new trends in AI and Virtual Reality
For more examples and expert tips, see: How to Put Education on a CV (Examples for All Scenarios)
5
Show off any Work Experience You Have
When it comes to your work experience, as a fresh graduate, chances are you don't have loads.
Heck, you might have none in your target industry. And that's okay.
Employers realise that candidates applying for entry-level positions might not have extensive work histories.
That said, if you have any work experience, include it in your graduate CV. List all sorts of jobs such as:
Part-time positions
Internships
Participation in work experience programs
What to include in a graduate CV experience entries?
Your job title
Name and location of the company
Dates worked
Between 3 and 5 bullet points describing your duties and achievements
See these examples for reference.
Graduate CV Example: Work Experience
Events and Marketing Intern
Adidas Originals, 06-2017–10-2017
London, UK
Created and maintained lists of media contacts.
Researched opportunities across online media channels.
Produced product pitches and press kits.
Supported event organization.
Graduate Engineer CV Sample: Work Experience
Summer Intern: Security Command Center
ScotRail, 06-2017–09-2017
Leuchars, UK
Assisted Security Department in security assessment and data review.
Developed desktop manuals: procedures, quick reference cards, reference materials.
Performed other tasks both in the field and in the office.
Learn more: Job Descriptions for a Perfect CV Experience Section
If there's just one thing you need to keep in mind when putting skills on a graduate CV, it's relevance. Instead of listing all skills you think you have, enter those that will help you perform well in the job.
How to put skills on a graduate CV?
Start with a spreadsheet, enter all your professional skills there.
Read the job ad carefully. Look for skill-related keywords such as 'attention to detail,' 'verbal communication,' 'adaptability,' or specific job skills.
How many of these skills match the ones in your spreadsheet? Quite a few, right? Presto. List those skills on your graduate CV skills list.
Don't stop there, though. Mention one or two skills in your CV heading statement and experience sections—make your CV read naturally, avoid CV keyword stuffing.
And what skills are best to include in a graduate CV today? Let's consult that with data.
A recent survey showed what skills employers seek in graduate candidates. Here are the top 10 skills they listed:
Communication skills (written)
Strong work ethic
Communication skills (verbal)
Initiative
Detail-oriented
Flexibility/adaptability
Learn more: Skills to Put on a CV
And, for the final word, think about this—
Some graduate CVs might benefit from listing skills in the form of a 'skills summary' at the top of their CV. We call such CVs 'skills-based' or 'functional.' See if a skills-based graduate CV can be right for you: How (and When) to Write a Skills-Based CV
Personal statement? Check. Education, work experience, skills? All check. That's a decent CV. It might even get you an interview. But—
You don't just want an interview. You want the interview with this company. So let's punch up your graduate curriculum vitae a notch. Add some extra sections that will prove you've got another string to your bow.
Graduate CV Additional Section Ideas
Awards and honors (scholarships, honors societies, dean's lists, etc.)
Activities and associations
Extra training
These will show your value in a flash. Every recruiter and hiring manager will be hooked!
Before we wrap up, one final word:
Cover letter or no cover letter?
How about: job or no job?
Almost half of employers won't review your graduate CV if there's no cover letter attached. In other words, job ads reading 'cover letter optional,' mean 'cover letter mandatory.'
We've put together a guide that makes writing job-winning cover letters easy and quick. Give it a read: How to Write a Cover (Application) Letter for a CV
Plus, a great cover letter that matches your resume will give you an advantage over other candidates. You can write it in our cover letter builder here. Here's what it may look like: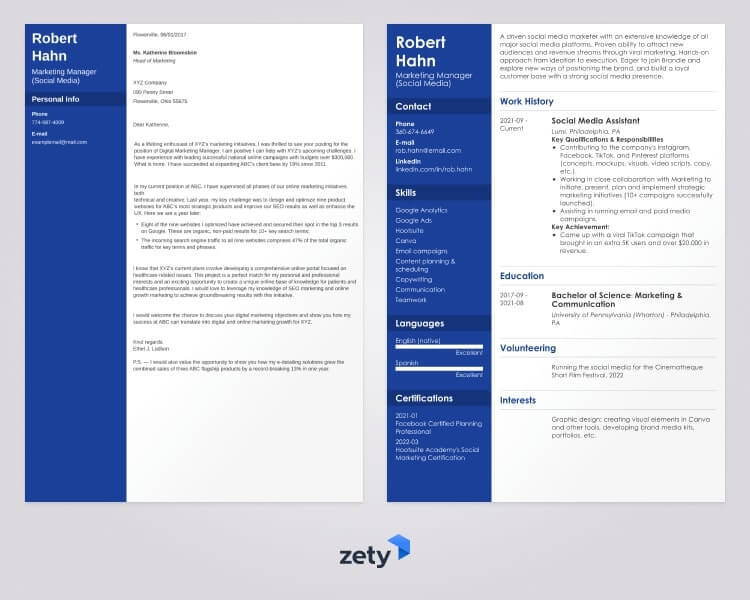 See more cover letter templates and start writing.
Key Takeaway
Here's what makes a good graduate CV:
Elegant, legible formatting and layout.
Professional contact information at the top.
Personal statement outlining your career goals.
Education section rich in details and extra achievements.
Work experience section to show your dedication and drive.
Skills section tailored to match the job ad.
Extra sections, such as additional training, awards, or hobbies and interests.
Questions? Concerns? In need of extra help? Ask me a question in the comments, I'll straighten out your queries.
About Zety's Editorial Process
This article has been reviewed by our editorial team to make sure it follows Zety's editorial guidelines. We're committed to sharing our expertise and giving you trustworthy career advice tailored to your needs. High-quality content is what brings over 40 million readers to our site every year. But we don't stop there. Our team conducts original research to understand the job market better, and we pride ourselves on being quoted by top universities and prime media outlets from around the world.
Sources