Resume for Graduate School Application [Template & Examples]
Are you ready to apply for graduate school? In this guide, we detail how to write a resume / CV for grad school admissions, with expert tips and examples to help you along.
Researching potential graduate programs, prepping for the GRE, tedious paperwork—
Applying to grad school is tough. But, there's one task you might be undervaluing, and it could make or break your chances: writing the graduate school resume.
This grad school resume guide will show you:
Great graduate school resume examples better than 9 out of 10 others.
How to write a CV for grad school and get into top graduate programs.
Tips and examples of how to put skills and achievements on grad school resumes.
How to describe your academic experience on a resume for graduate school programs.
Want to save time and have your resume ready in 5 minutes? Try our resume builder. It's fast and easy to use. Plus, you'll get ready-made content to add with one click. See 20+ resume templates and create your resume here.
Sample Graduate School Resume—See more resume examples here.
We have resume guides for all academic levels and scenarios:
Now, without further ado—
Here's how to write a CV for grad school:
1
Graduate school resume example
Katherine Rios
Graduate Applicant
(123)456-7890
katherinerios@email.com
linkedin.com/in/katherinerios
Objective
Detail-oriented Biochemistry graduate with 3.8 GPA from University of Maine. Eager to support InnoSource Labs in their research and development efforts. Developed a cost-saving testing method which resulted in a 15% budget reduction at Zenith Innovations by applying new concepts for data analysis.
Experience
Research Assistant
Zenith Innovations, Bangor, ME
June 2017–May 2021
Key Qualifications & Responsibilities
Assisted with the design and execution of laboratory-based studies.
Conducted complex data analysis and interpreted results.
Coordinated with a team to write and submit research proposals and grants.
Proofread and edited research proposals.
Key Achievement:
Developed a cost-saving testing method which resulted in a 15% reduction in the research budget.
Intern
MagnaByte Solutions, Remote
June 2016–August 2016
Key Qualifications & Responsibilities
Assisted with the coordination and execution of various research projects.
Conducted systematic data collection and performed a detailed analysis.
Co-authored a research paper published in a renowned scientific journal.
Key Achievement:
Received a 98% review score from my supervisor.
Education
Bachelor of Science in Biochemistry
University of Maine, Bangor, ME
August 2013–May 2017
Relevant extracurricular activities
Active member of the Student Science Association.
Volunteered at the local community health center.
Academic achievements
Graduated with a 3.8 GPA.
Awarded the Biochemistry Department's Research Excellence award.
Skills
Excellent written and verbal communication
Strong analytical and problem-solving abilities
Proficient in various research software
Ability to work effectively in a team
Good time management and organizational skills
Academic writing
Business writing
Proficient in the Microsoft Office package
Languages
English—Native
French—Intermediate
Interests
Reading and reviewing scientific literature.
Running a science blog, with over 500 monthly readers.
Format Your Grad School Resume Template In Descending Order
A resume example for any job and a resume for grad school definitely have many similarities.
However—
They also have plenty of differences.
Job resumes put a focus on employable skills and vocational experience. Here on your graduate school resume, your task is to highlight your educational accomplishments and background, above all.
Here are a few pointers on formatting a resume for graduate school:
First and foremost, pick the reverse-chronological format and go in descending order.
When listing anything with dates (e.g., publications), start with the most recent on top and go backward chronologically from there. Also, the placement of each resume section depends on relevance. Put the most relevant sections (e.g., education) on top, and go down in descending order.
Next—
At Zety, we love two-column resume templates, and it works on a grad school resume, as well, if you don't want to go the one-column route.
If going the two-column route, in the larger column, add long-form text, saving the smaller sidebar column for short bullet points such as academic skills and awards.
Align everything to the right, particularly section headings, to make it easy for the program administrator to scan.
Finally, how long should your resume be?
We usually say a one-page resume for jobs, but a two-page resume is great for grad school applications.
Nick Kamboj, CEO of admissions service Aston & James, LLC, says:
Unless a candidate has had a significant number of research opportunities, awards, or work experience, their graduate school resume should absolutely not exceed 2 pages; if it does, then this indicates the inability of the candidate to be concise, or worse, indicates that a candidate seriously overestimates the importance of their contributions or accolades.
Nick Kamboj
Now, here's what to include on a grad school resume:
Sample Graduate School Resume Template—CV Sections
Address & Contact Information
Profile Summary Statement
Educational Background
Research Experience
Teaching Experience
Non-Academic Job Experience
Grants
Professional Affiliations
Academic Publications
Honors & Awards
Memberships
Languages
Skills & Abilities
Leadership Activities
References
Other Additional Sections
But remember—
Don't add all of these grad school resume sections—pick the options most relevant to your case and the PhD program profile and requirements—and disregard the others.
Don't follow this exact order on your resume outline, necessarily. Go by order of importance in descending order.
Tailor your resume for the particular program you're applying to. Add other sections if you deem them relevant to your school and grad program.
Dr. Annette R. Ponnock, a research and statistical consultant, says:
The structure of [the grad program resume] should be straightforward, almost to the point of looking boring, especially compared to many business resumes which can benefit from being flashy and laid out in interesting ways.
Research and statistical consultant
Finally, keep it concise.
Dr. Sonya Okoli, a professor of leadership studies, says:
Many make the mistake of using the CV to showboat how busy they were in undergraduate or during the gap year. Truth is, we don't have time to read all of that.
Dr. Sonya Okoli
Professor of leadership studies
So—
Only include details that are necessary and add to your chances.
Pro Tip: This is a great general guide on how to write a resume for graduate school. However, more importantly, follow your school's and graduate program's guidelines. Visit the school website to confirm page limits, header and footer requirements, etc.
Curious about resume formatting conventions? Check out our guide: Best Resume Format: What Resume Model to Choose? [+ Resume Format Examples]
2
Add Your Contact Details on the Graduate School Resume Correctly
Adding contact details on a resume, whether for a grad program or applying to Starbucks, always feels like an afterthought.
But—
Don't get it right, and all the subsequent material becomes, well, immaterial.
Here's what to include as your contact details on a grad school resume:
First & last name—And your professional title, if applicable.
Email—Use a professional-looking email address.
Telephone number—Mobile phone number is better than a home phone.
Mailing address—Schools often still send acceptance or rejection letters by post, so include one not to miss the news.
LinkedIn URL or other relevant social profile links—This will offer them more insight into your background.
To get your contact info grad school resume section right, heed these tips:
Your contact information goes at the very top of your grad school resume.
A professional email address means john.smith@gmail.com—not sexyscholar69@gmail.com!
Optimize your LinkedIn profile before adding the URL. Actually, do it anyway, as program admins may still check it.
Regarding other relevant social profile links:
Dr. Paulina Królikowska-Baum, a linguist & communication researcher, says:
Sign up on
Academia.edu
or
ResearchGate
and share your research there. You don't have to have high profile journal publications to do it. Share your best university essays, student conference papers, or posters. It has many advantages: more relevant social links to add to your grad school resume, more academic visibility, and great opportunities to gain citations.
Linguist & Communication Researcher
While your at it, check your online presence elsewhere (e.g., Facebook, Twitter) to make sure you have no controversial items publicly viewable.
Skip unnecessary personal information (e.g., date of birth, citizenship).
And don't add a photo.
Pro Tip: Increase the font size of your full name at the top of your grad school resume, and bold it to stand out as a title, of sorts. Also, add page numbers.
Make sure you cover all the bases when adding your personal details by reading our full guide: How to Put Address on a Resume
3
List Your Educational Background & Academic Achievements
Your academic background on a graduate school CV is the most important section here, because the program administrators need to know you were an outstanding student.
My colleague and friend, Dr. Miles Maftean, a graduate of the Political Science Department at Central European University, has this to say:
It's essential. Not only is it the first part of the resume they look at, but where you studied before and how well you did at that institution matters tremendously. It signals where on the scale of good universities you come from, and this means what type of education you received. So, it's not only about what your degree is in, but also, about where you studied.
Graduate of the Political Science Department at Central European University
Here are some subsections to consider in the education area:
Degree and major
School name and city/state
Graduation year
GPA
Relevant coursework
Honors and awards
Academic Achievements
Thesis title
Minor
Relevant school clubs
But don't throw everything. Only put information that will help your case.
Let's say you had a 3.4 GPA out of 4. That's not bad, but it could be better, so leave off the GPA from your educational background section in this case.
If you graduated cum laude or summa cum laude, certainly put that in this section and say something like, 'placed in the top X percent of the graduating class of X.'"
And here's a graduate school resume sample education entry:
Graduate School Resume Sample Education Section
BS in Finance
New York University, New York, NY
Graduation: 2018
GPA: 3.95/4.00 cumulative, magna cum laude.
Relevant Coursework: Microeconomics, Business Accounting, International Banking, Investing, Real Estate Finance.
Awards: Dean's List 2017 & 2018.
No need to add high school on your grad school resume template, as it's irrelevant and just takes up precious real estate.
Pro Tip: If you took part in any study-abroad programs or externships, add those to your graduate school application resume education section as well.
Need to learn more about adding coursework, Latin honors, or awards to your resume education section? Have a look at this guide: Education Resume Section: How to List College Education
4
Describe Your Teaching & Research Experience on Your Resume for Grad School
Got any teaching experience or research fellowships under your belt?
Graduate program admissions committees love this.
Here's how to add research and teaching experience onto a resume:
Grad School Resume Examples—Teaching & Research Experience
Teaching Experience
Finance After-School Tutor
January 2018–December 2018
Afternoon Buddies, New York, NY
Tutored undergrads needing remediation on fundamentals of finance and statistics.
Gave once-weekly lectures on finance at high schools in low income neighborhoods.
Research Experience
Spring–Autumn, 2017
Worked as a research assistant on team led by Dr. Patrick Palmer investigating financial and statistical anomalies in suburban New York towns.
As you can see from our examples, keep these separated into two different sections, each with its own title. Graduate admissions faculty members will find it easier to scan.
Also, any additional entries should be added in the reverse-chronological order.
Pro Tip: Avoid repetition. If you're adding teaching experience here, don't add it again under your work history section. Likewise, any academic honors you've earned shouldn't be listed in both the education section and awards section.
When making a resume in our builder, drag & drop bullet points, skills, and auto-fill the boring stuff. Spell check? Check. Start building a professional resume template here for free.
When you're done, our online resume builder will score your resume and our resume checker will tell you exactly how to make it better.
5
Submit Working Experience Outside of Academia on Your Graduate Program Resume
As an aspiring member of the upper echelons of academia, you might not have heaps of academic achievements and experiences.
Still, though—
You might have work experience in the commercial world that is worth sharing with the graduate program admissions committee.
Why?
Either to illustrate your diverse qualifications or to show what your path to the grad school aspirations has been.
Say you have a Master's Degree in Political Science, and you're applying for a Ph.D. program in Public Policy but haven't been in academia for many years. If you were working for a government agency, this totally matches with the program you are applying for.
Even more so if you took some academic time off between your college graduation and grad school application plans.
Give a brief sample of your work history, but don't make it as heavy as you would on a regular job resume:
Sample Resume for Graduate School Application—Work Experience
Store Cashier & Clerk
January 2017–December 2017
Bernard's Bothersome Britches, New York, NY
Key Responsibilities:
Assisted in daily operation of a successful and busy midtown clothing shop.
Helped customers make appropriate purchasing choices.
Processed POS transactions at shift end with accuracy.
Pro Tip: Got any relevant internships, community service, or volunteer experience? Add them in your work history section as well.
Important:
There's one case in which you literally must provide a more detailed account of commercial work experience on you grad school resume—
This is when you apply for graduate business programs such as MBA.
Want to see more examples of great job descriptions and work history sections? See this guide: How to List Work Experience on Your Resume.
And if you don't have any work experience to add to a resume, check this one out: Resume Without Job Experience.
6
Give Them Other Academic & Non-Academic Resume Sections to Consider
Last, but certainly not least, here are more than ten other sections to consider adding to your resume for graduate school:
Grants, Fellowships & Scholarships
Being awarded a research or study grant, fellowship, or scholarship looks absolutely impressive on a prospective PhD student resume template.
If you'll add one, make sure to put the name of the grant, the entity providing the grant, its purpose, the dates, and the amount awarded.
References
Graduate school resumes for doctoral programs often require professional and scholastic references to strengthen your candidacy.
When adding them, include:
reference name
professional title
mailing address
phone number
email address.
Check with the graduate application guidelines, as they may require you to create a separate reference page rather than embed it within your grad school resume.
Honors & Awards
Add any academic or industry-related awards and honors to its own grad school resume section.
Professional Affiliations & Memberships
To add an affiliation or membership to your grad school CV, write the organization name, their city and state, and your title or role (if you have one). Only include groups and bodies of which you are currently a member or affiliated with.
Academic Publications
Here's how to highlight any publications you've had on a PhD student CV:
Sample CV for Graduate School Admission—Publication Listing
2017 Smith J, Whistler R, Adams A. "Financial Game Theory: Can Analysts Use Game Theory Methods to Determine Cost Fluctuations?" NYU Press. November 2017.
Check with your prospective grad school to determine the proper citation format to follow. Do the same with any presentations, lectures, and conferences you led or actively participated in.
There's one more hint that might boost your chances for a grad program admission:
Dr. Miles Maftean suggests dragging publications to the top, in some cases:
If you're an MA student and had a publication in some well-known journal BEFORE applying for a PhD program, this section should be higher up. You should be emphasizing that COMPLETELY on your resume.
Dr. Miles Maftean
Graduate of the Political Science Department at Central European University
Pro Tip: Bold your name when there is more than one author to add emphasis to your contributions.
Skills & Abilities
Some universities and graduate programs insist on a small skills section near the bottom of your graduate school CV. This skills section is usually just a quick list of relevant abilities. Also, some grad programs prefer language skills to be grouped under an overall skills section.
The importance of skills depends on the graduate program you're applying to:
Let's say you're applying to a Political Science department to work with a specific professor because you like the topics they cover and the methods they use.
Your potential supervisor will be part of the admissions process and has a massive influence on whether you should be accepted because they will work with you.
So—
They'll look to see if you have the skills to carry out that research. In this case, it would be several different statistical software, such as SPSS and R.
It's essential that you list those skills because they want to know that you are able to complete your project and work with them on their projects using specific methods.
Languages
Fluency in another language looks great on any resume, academic or otherwise. If you have proficiency in a second language, add it to your skills section. Otherwise, if its prominence is more important for the particular program you're applying to, give it its own section.
Read our language skills guide to learn how to add it right.
Leadership Activities
Leadership positions get special attention on a graduate school CV. Here's a quick example:
Sample CV for Graduate School—Leadership Example
2015–2016
Editor-in-Chief of NYU Weekly Newsletter
Managed a writing team of over a dozen students.
Increased readership by 25% by spearheading mobile app version.
Extracurricular Activities & Interests
Think hobbies and interests have no place on a grad school resume?
Think again.
Betsy Massar, of Master Admissions, says:
The Harvard Kennedy School
wants
a detailed CV, including activities, since the application form does not have any space for the candidate to write about their extracurriculars. They have a very specific set of requirements, and it isn't a one-hour exercise!
Master Admissions
So, always read the instructions!
Profile Statement
This is an optional section but if you choose to use it, the profile statement should go at the very top of your grad school resume.
Some experts say to leave it off, but others say it acts as a great summary of your academic qualifications and goals for your doctoral program.
Pro Tip: These are the most popular sections to include on a CV for graduate school, but they are by no means all of them. Plenty of others may deserve a spot on your resume. Query the grad program guidelines, and just use common sense.
Plus, a great cover letter that matches your resume will give you an advantage over other candidates. You can write it in our cover letter builder here. Here's what it may look like: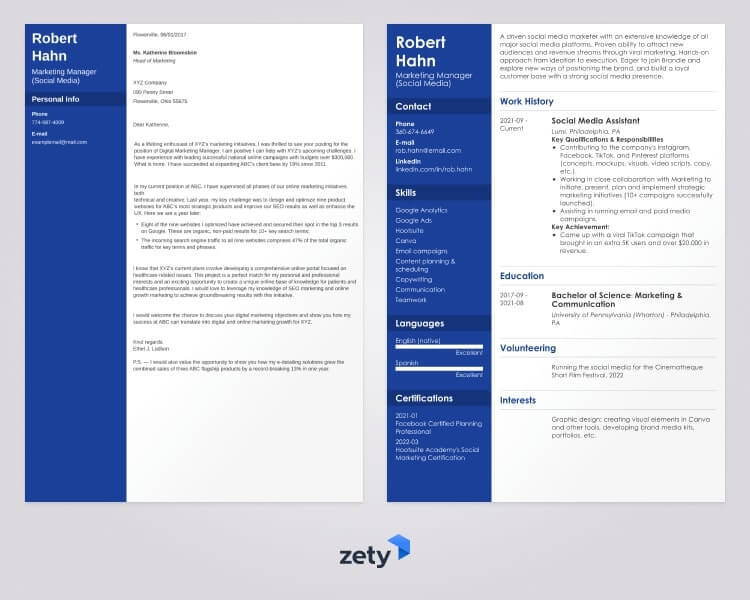 See more cover letter templates and start writing.
To get more ideas of great sections to add to your resume for graduate programs, see this article: Resume Sections & Item Order [Extra: Additional Categories that Matter]
Well, that wasn't so bad, was it?
Writing a resume for a PhD program isn't as hard as the program itself.
Let's sum it all up.
Here's how to write a graduate school resume the admissions committee will love:
Format your grad school resume template in the descending, reverse-chronological order.
List just the important contact details, and omit a profile photo.
Start at the top with your education section, including academic achievements, relevant coursework, Latin honors, and grade point average if it's high enough.
Separate your experience, as teaching, research, and vocational experience should each have their own sections.
Add relevant extra sections to build your case, including grants, publications, conference papers, leadership endeavors, extracurriculars, and memberships.
Do you have any questions on how to write a resume for grad school? Not sure which PhD CV sections to include or the best order to include them? Give us a shout in the comments below, and we will answer your question. Thanks for reading!
About Zety's Editorial Process
This article has been reviewed by our editorial team to make sure it follows Zety's editorial guidelines. We're committed to sharing our expertise and giving you trustworthy career advice tailored to your needs. High-quality content is what brings over 40 million readers to our site every year. But we don't stop there. Our team conducts original research to understand the job market better, and we pride ourselves on being quoted by top universities and prime media outlets from around the world.