The most critical part of any academic application process is writing an academic curriculum vitae that highlights relevant achievements and shows that you'd be an asset to the educational institution you're looking to join.

The good news? You're about to write an academic CV your peers will use to teach students how it's done.
In this guide, I'm going to show you:
A proven academic CV template better than 9 out of 10 other academic CVs.
How to structure your academic CV to show off your most relevant achievements.
Tips on how to format your CV to match selection committees' requirements.
Academic CV examples that will dazzle every selection committee.
Want to save time and have your academic CV ready in a flash? Try our CV builder. It's fast and easy to use. Just type up the contents. Our builder will make sure your CV looks great. See 20+ templates and create your CV here.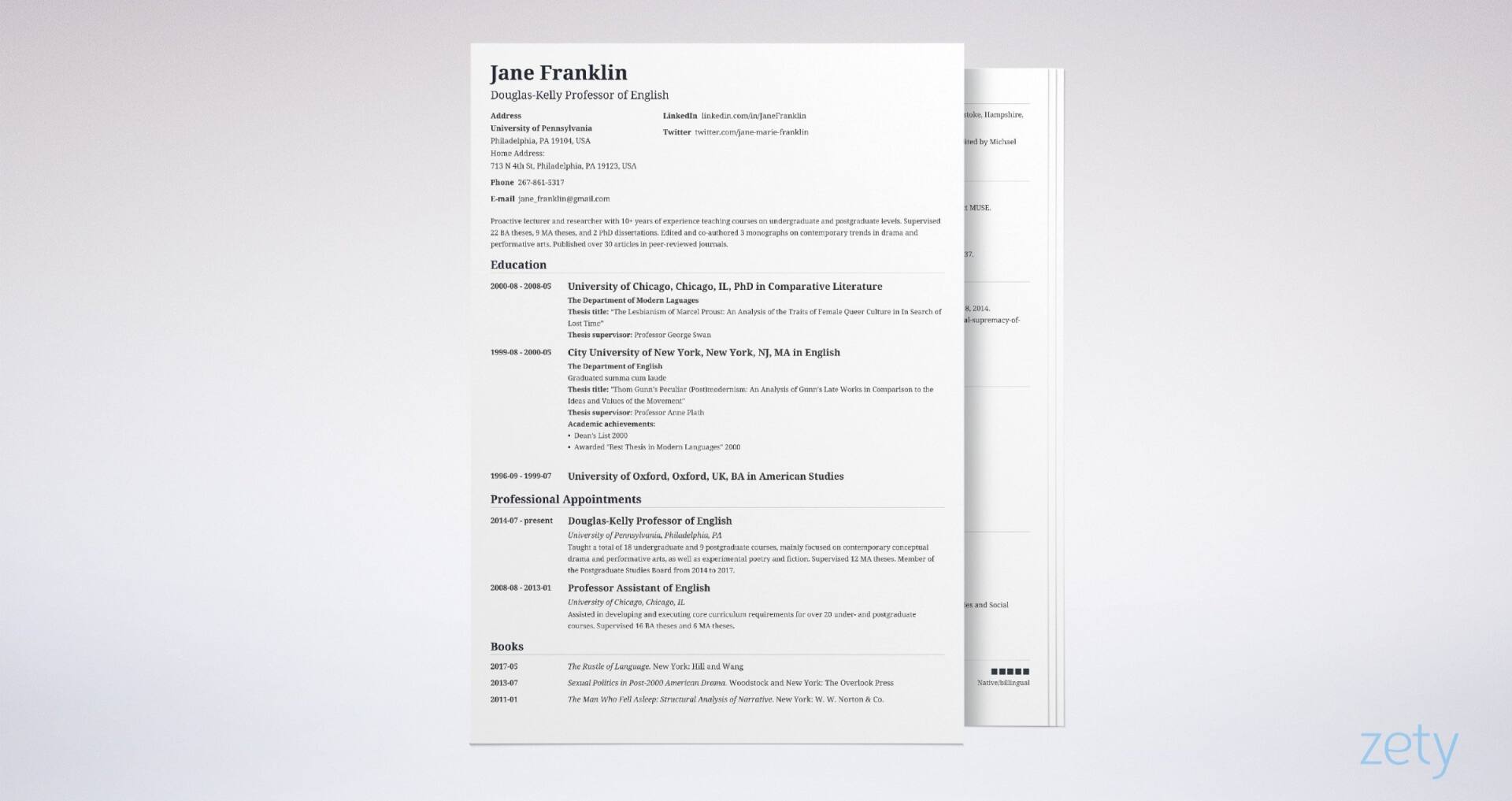 Academic CV sample made with our builder—See more CV examples here.
1
What Is an Academic CV?
An academic CV is a synopsis of your educational background, professional appointments, research and teaching experience, publications, grants, awards, fellowships, and other key achievements. CVs are widely used by researchers and scholars when applying for academic, scientific, or research jobs.
Let's make one thing clear. Your academic CV is not a resume you'd use to apply for a job outside of academia. As its aim is to demonstrate your academic experience and achievements, it consists of several additional sections.
2. What's Included in an Academic CV Template?
A good academic CV template should include the following sections, from top to bottom:
Research Objective or Personal Profile
Professional Appointments
Grants and Fellowships
Conferences
Teaching Experience
Research Experience
Additional Activities
Languages and Skills
What if you're at an early stage of your academic career and, for instance, have no teaching experience or fellowships to showcase yet?
Just skip these sections that are not applicable for your CV. Include the remaining ones in the order listed above.
If you're applying for a scholarship and have been explicitly asked to submit an academic resume, don't submit a lengthy academic CV, but a shorter document. Want to learn how to write one? Have a look at our guide: Scholarship Resume (Template & Complete Guide 20+ Examples).
You might have noted that, all over the Internet, there are thousands of recommended academic CV formats with differently ordered sections. Why is the one suggested above the best of them? Because it focuses on what's most prestigious and competitive. It helps you validate your worth as an academic candidate in a flash.
Here's some food for thought: many applicants choose to put their Teaching and Research Experience sections above Professional Appointments and Publications, but it really makes little sense. Why? Because getting a regular academic contract or getting published in a peer-reviewed journal is harder to achieve and more competitive than just teaching or doing research.
Pro Tip: There's no page-count limit for a CV for an academic. Make it as long as it needs to be to show your whole career path. Even if it means double-digit page count.
Alright, so you've seen the full checklist of all the necessary sections for your CV. Now, let's break down how to structure the content of each section to best highlight your accomplishments and skills.
Read more: What is a CV? What Does "CV" Mean?
1. Contact Information
Pretty obvious, right? The header of your academic curriculum vitae has to include your full contact information.
In the contact information section, enter your:
Full name,
Professional title and affiliation,
Institutional address,
Your home address,
Email,
Telephone number,
Pro Tip: When writing an academic CV for humanities, the common practice is to put the words "Curriculum Vitae" below your full name.
In technical or business academic fields, adding a link to your LinkedIn profile in your contact information section is strongly recommended.
Whether or not you include your LinkedIn profile, expect the selection committee to thoroughly research your online presence. Want to know how to make sure they're going to like what they see? Check out our guide: How to Check Your Online Presence Before Recruiters Look You Up
2. Research Objective or Personal Profile
What's the difference between these two?
Research objective on a CV for academic purposes is a brief, concise paragraph in which you outline your research plans.
A personal profile gives a summary of your academic background and your best achievements.
And which one to choose?
Go for research objective if you're writing an academic research CV. For instance, if you're applying for graduate research programs or for a research grant.

True, you've already discussed them at length in a separate document describing your research goals—but you still need to reiterate them on your academic curriculum vitae.
Why?
Because, more often than not, selection committees look at your academic CV before they start reviewing other application documents.

If your CV begins with a research objective, it's a surefire way to immediately catch the selection committee's attention—to make them eager to read on and learn more about your career background.
How to write it? Have a look.
Here's a sample research academic CV objective:
Academic CV Example—Research Objective
MA student in Journalism and Social Communication at Anytown University, made the Dean's List for three consecutive years, seeking to leverage two study abroad experiences and a semester-long research internship to undertake postgraduate research regarding the evolution of socialist mass-media in mid-twentieth-century Eastern Europe.
Wow, right? That's one hell of a PhD CV objective.
Looking for a permanent academic contract? In your academic lecturer CV, put a personal profile below your contact information.
Just like your academic CV research objective is a synopsis of your full research objective, an academic CV personal profile should summarize your personal statement.
See this example of an academic CV personal profile:
Sample Academic CV Personal Profile
Proactive lecturer and researcher with 10+ years of experience teaching courses on undergraduate and postgraduate levels. Supervised 22 BA theses, 9 MA theses, and 2 PhD dissertations. Edited and co-authored 3 monographs on contemporary trends in psychology and psychoanalysis. Published over 30 articles in peer-reviewed journals.
What makes this example so great?
Above all, that it's super specific. It includes proof of this candidate's academic prowess and a lot of verifiable achievements.
When making a CV in our builder, drag & drop bullet points, skills, and auto-fill the boring stuff. Spell check? Check. Start building a professional CV template here for free.
When you're done, Zety's CV maker will score your CV and tell you exactly how to make it better.
Right, so you've started your academic curriculum vitae with a bang. The decision makers are hooked.
3. Education
If you're targeting an academic post, this section is the meat and potatoes of your CV.
Here's how to turn it into châteaubriand with dauphinoise:
List all your postsecondary degrees in reverse chronological order. Start with the most recent one, follow it with the previous one, and then the one before it.
Include:
Year of completion or expected completion (no starting dates)
Your minors, if applicable
Your department and institution
Your honors
Dissertation/Thesis Title and Advisor
Pro Tip: Don't spell out "Doctor of Philosophy" or "Master of Arts." It makes you come across pretentious. You can choose to omit the full stops in "Ph.D." or "M.A." Just remember to be consistent throughout your CV.
See a properly written sample academic curriculum vitae education section:
Education on an Academic CV—Example
2017 MA in French
The Department of Romance Languages and Literatures
University of Chicago, Chicago, IL
Graduated summa cum laude
Thesis title: "The Lesbianism of Marcel Proust: An Analysis of the Traits of Female Queer Culture in In Search of Lost Time"
Thesis supervisor: Professor George Swan
Want to learn more about the reverse chronological format of a CV or resume? See our dedicated guide: Chronological Resume Template & 20+ Examples [Complete Guide]
Voila!
That's how it's done. Now, for the next section.
4. Professional Appointments
If you've already had these, put them right below your education section.
That way, the selection committee members will immediately know what institutions you've cooperated with so far. It's pretty important in the academia, right?
In your professional appointments section, include:
Your position
Your institution
Dates worked
Brief description of your responsibilities
Contrary to what the above list might suggest, try to avoid using bullet points on an academic curriculum vitae. I can't stress it enough: it's not a resume!
Take a look at this example of an academic CV Professional appointments section.
Sample Academic CV: Professional Appointments Section
Douglas Kelly Professor of Art History
University of Wisconsin, 2012-2017
Taught a total of 18 undergraduate and 9 postgraduate courses, mainly focused on contemporary conceptual art, as well as photography, and performance. Supervised 12 MA theses. Member of the Postgraduate Studies Board from 2014 to 2017.
Note, in the professional appointments section on your postdoc academic CV, include only contracted academic positions.
If you've got no such posts under your belt, don't list part-time university gigs, or T.A. positions in this section. Let's face it, these are not mightily impressive—every PhD-level scholar has had them, right?
Instead, follow with…
5. Publications
Divide them into two sections: Peer-reviewed Publications and Other Publications. List the former first—a no-brainer, isn't it?
Then, divide your peer-reviewed publications into further subcategories in the following order:
Books
Book chapters
Peer-reviewed journal articles
Contributions to edited volumes equivalent to peer-reviewed journals
All other publications go into, well… "Other Publications" section.
Pro Tip: When listing your publications, choose one bibliography style (MLA, APA or Chicago) and stick to it throughout your academic CV. Not sure which one to choose? Check the website of the institution you're applying to and see what citation style they use.
6. Awards and Honors
This is where you can show off your trophy case.
List all awards and honors you've received in reverse chronological order. Include the name of the award, the year when you got it and the institution that presented you with it.
Writing how much $$$ exactly you received is optional. The rule of thumb is: if you're in arts or humanities, don't include it. For business or scientific CVs, it's more common.
7. Grants and Fellowships
Why is this section important?
Because it proves that your research so far has been innovative and valuable enough to attract funding. It's particularly important nowadays, due to the planned cuts in federal science funding.
As with awards and honors, list your grants and fellowships chronologically descending. Enter the year span and the funding institution's name. Again—disclosing the exact amount of funding you received is field-specific.
8. Conferences
Divide this section into three subsections:
Invited talks—those you presented at other institutions
Campus talks—those that you did at your institution's campus
Conference participation—conferences you participated in but gave no lecture
9. Teaching Experience
This one's a bit tricky, because it's not synonymous with "Professional Appointments" section I've discussed above.
In the Teaching Experience section on your academic curriculum vitae, include the TA courses you've taught. List all the courses taught if you've had less than 10 of these.
But if you're an experienced scholar and your academic CV Appointments section truly shines, feel free to only list the institutions in which you've been a Teaching Assistant along with the dates you TAed.
Targeting a teacher's career? You'll need a perfect resume. For some great teacher resume examples, see our guides: Teacher Resume: Sample & Complete Guide [20+ Examples] or Teaching Assistant Resume: Sample and Complete Guide [20+ Examples]
10. Research Experience
This is where you list all your academic research posts. As per usual—enter them in reverse chronological order.
If you're experienced—limit your research or lab positions to the following:
Full-time Researcher
Research Associate
Research Assistant
Little research experience? On an academic CV for masters application, or other academic CV for graduate student, list even the smallest research projects in which you've participated.
11. Additional Activities
Everything that doesn't fit into the above sections goes here.
What do I mean by this?
Have a look at some examples of academic CV additional activities entries:
Non-academic jobs
Extracurricular university activities
Service to profession
Media coverage
Pro Tip: If your academic CV is particularly extensive (above 8 pages), you don't have to list any of the above activities. Do so only if they're really breathtakingly impressive.
12. Languages and Skills
Pretty straightforward, right?
List all the languages you know well enough to read academic texts in them. Indicate your level of proficiency using the following phrases:
Native/bilingual
Fully proficient
Advanced
Intermediate
Can read with a dictionary
Any language of which you only have some very basic understanding is left off.
Putting skills on an academic CV is optional. It might come across as unprofessional. In general, do it only if you're in a technical or scientific field.
13. References
The final section of a well-organized academic CV template is the References.
List your references vertically. Include:
Full name and title
Traditional mail address
Telephone number
Email address
Yup, you have to include the snail mail address, although, let's face it, nobody will ever use it. It's just one of those peculiarities of academic praxis.
Don't add any narrative to your references, unless you're creating an academic curriculum vitae for an undergrad student. If so—give a brief explanation of your academic relationship with a given reference.
And there you have it! A complete academic CV template.
But hold up a sec. Before you start writing yours, check out some general academic CV tips on formatting.
And yes, this matters a lot. Academic decision makers can be very picky when it comes to seemingly unimportant details.
3
How to Format an Academic CV?
Think about this: academic selection committees have to review thousands of applications for each post, scholarship, or grant they're offering. Whether you're writing an academic CV for graduate school, an academic research CV, or even applying for college, you'll be facing a lot of competition.
What does it mean for you? That you need to choose a clear, legible academic CV design. One that'll make all the key details information about your career easy to skim for the decision makers.
Here's how to create a professional academic CV format:
1. Use one inch margins for all four sides of your CV
That way, your CV will look good once it's printed on white paper.
2. Be consistent with your font
Choose one font type and size and stick to it throughout your CV. Go for 11 or 12pt. Use 14 to 16 pt for your name at the top and bold for section headings.
Use standard fonts such as Arial or Times New Roman.
Avoid italics of any kind except for journal or book titles (dear Brits, this is about you).
For more on picking a great font for every application document you write, check out our piece: What is the Best Font for a Resume (+10 Examples & Tips)
3. Put double blank line before all headings and one blank line after them.
White space is good for readers. It guides their eyes to all the important parts.
4. Make your CV as long as it needs to be
An academic CV is not a resume. It doesn't have a page-count limit. It's supposed to show the detailed course of your academic career.
5. Save your academic CV in PDF
PDF files keep your formatting intact. A word academic CV could look differently on various devices, depending on the software version.
For more, see: Curriculum Vitae (CV) Format and How to Write a Curriculum Vitae for a Job
Plus, a great cover letter that matches your resume will give you an advantage over other candidates. You can write it in our cover letter builder here. Here's what it may look like: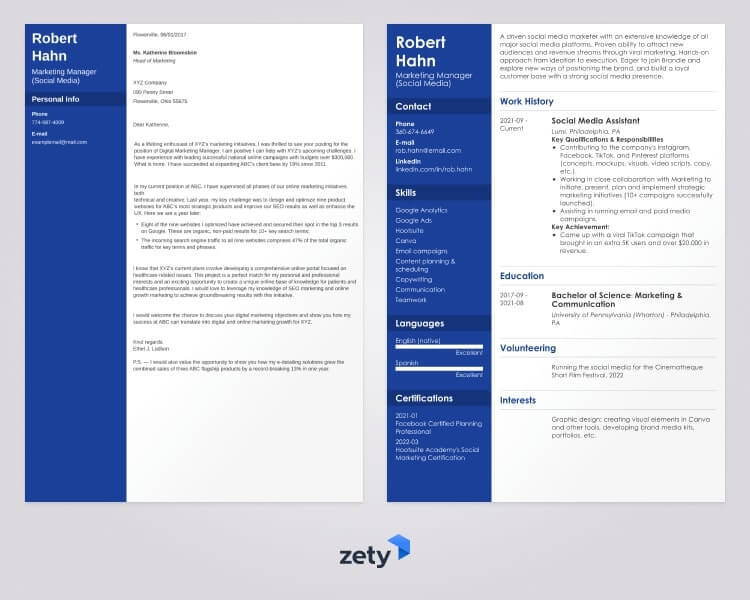 See more cover letter templates and start writing.
Key Takeaway
Writing an academic CV doesn't need to be difficult if you follow this general guidance:
Struggling to put your academic curriculum vitae sections in the right order? Your most competitive and prestigious achievements should always go first.
Start with a brief research objective or a personal profile that shows what your academic career has been about.
Don't use bullet points and don't over-explain your academic experience. Be concise and to-the-point.
Use a good academic CV format—make your CV legible, clear, and elegant.
All check? Good luck with your application (though you won't really need it)!
Do you have any questions on how to make an academic CV that gets you that dream post? Want to share your experiences with writing a CV for academic posts? Give us a shout in the comments and we'll answer your queries!
About Zety's Editorial Process
This article has been reviewed by our editorial team to make sure it follows Zety's editorial guidelines. We're committed to sharing our expertise and giving you trustworthy career advice tailored to your needs. High-quality content is what brings over 40 million readers to our site every year. But we don't stop there. Our team conducts original research to understand the job market better, and we pride ourselves on being quoted by top universities and prime media outlets from around the world.