That don't impress me much.
According to Shania Twain, but I won't let recruiters hum that while reading your CV. So no more asking, "What does a CV look like?"
Let's get straight to it!
This guide will show you exactly what a perfect CV should look like and tips for creating a professional CV format.
Want to save time and have your CV ready in 5 minutes? Try our CV maker. It's fast and easy to use. Plus, you'll get ready-made content to add with one click. See 20+ CV templates and create your CV here.
Sample CV made with our builder—See more CV examples here.
A curriculum vitae (CV) is a lengthy document describing your academic and professional achievements. You use it to apply for jobs in educational institutions, such as university research or graduate school. Plus, you might need one to get a grant or accreditation from a fellowship.
You know what a CV is, and this is what a good curriculum vitae looks like:
What Should a CV Look Like?
Maria Hammons
Research Assistant
University of Tulsa
800 S Tucker Dr,
Tulsa, OK 74104
Phone: 123-456-7890
Cell: 1-234-256-7890
mariahammons@ut.student.edu
Academic History
MA, Clinical Psychology, University of Tulsa, 2021
GPA 3.95, magna cum laude.
Thesis Title: "Child's Anxiety Disorder Effects on a Parents' Life"
Relevant Coursework: Theories of Personality, Cognitive Psychology / Emotion, Child Development, Behavioral Neurosciences and Psychopharmacology, Biological Bases of Behavior.
BA, Psychology, University of Tulsa, 2019
GPA 3.9 cumulative.
Thesis Title: "Miscarriage Effects on the Mental Health of the Couple"
Relevant Coursework: Foundations of Psychology, Assessment of Individual Differences, Social Psychology, Psychology of Trauma, Clinical Psychology and Behavior Change, Psychology of Women, Human Development.
Professional Experience
Research Assistant
University of Tulsa, Tulsa, OK
February 2021–Present
Assisted in finding and getting access to new research.
Organized cross-university panel discussions to channel critical analysis of emerging studies.
Worked with a team led by Dr. Katherine Gay investigating the use and effectiveness of online therapy.
Awards and Honours
Dissertation of the Year, University of Tulsa, 2021
Received a prize for the best dissertation in the Department of Psychology in 2021. There's only one award given each year.
Dean's List, University of Toronto, 2015–2019
Conferences
International Conference on Applied Psychology (ICAPP), San Francisco, CA
References
Katherine Gray
Faculty Member
University of Tulsa
800 S Tucker Dr,
Tulsa, OK 74104
Phone: 123-456-0987
Cell: 1-234-256-2567
katherinegray@ut.faculty.edu
What Does a CV Look Like? Parts of a CV
A CV is different from a resume. And it's because the CV is credential-based, and you update it by adding new information instead of tailoring it to every job description. So, it's very likely you'll see CVs 2 to 10 pages long.
Now, writing your CV means focusing on the following sections:
1. Contact information
Nothing more than your:
Full name,
Professional title and affiliation,
Institutional address,
Email,
Phone number.
2. Personal or research statement
Whether you apply for a research placement or academic lecturer position, you should choose either a research objective or a personal statement.
The former is a statement that describes your research goals.
The latter describes your professional achievements to date that can translate into success in your future role.
3. Academic history
This is where you describe your academic achievements, such as every post-secondary degree and titles of your theses or dissertations.
4. Professional experience
In an academic CV, research experience is your professional experience. Add several bullet points referring to your achievements and your impact on the team's work.
5. Teaching experience
Teaching experience is part of your professional experience, too, although you single it out for the sake of listing the subjects you taught.
6. Publications
Cite your publications or work you've been writing but haven't yet published.
7. Awards and honors
List your awards and honors, such as Dean's List placement, on your CV. You can add a few words for the background that would add value to your CV.
8. Grants
If you received a scholarship or grant, write about it here—mention who gave it to you.
9. Conferences attended
Ever spoken on a forum? Fantastic. Name the title of the presentation and dwell on the subject a little.
10. References
Call out two to three names with the person's title and the institution they work for.
Another thing, design-wise, is CV formatting.
CVs are packed with information, so it's essential to prepare such a format that its readers easily reach the last part.
This is how you achieve that:
Pick an easy-to-follow font that reads well on paper and in digital format. Make it 12 points in font size.
Set consistent line spacing between 1 and 1.15 points and 1-inch margins on every side.
Separate the headings from the rest of the text. Make them slightly bigger.
Left-align the contents.
Write your entries in reverse-chronological order.
Add page numbers (e.g. Page 2 / 4) in the footer of each page, alongside your name and contact info (just in case the pages get mixed up after printing).
Include no graphical elements and wild colors.
When making a CV in our builder, drag & drop bullet points, skills, and auto-fill the boring stuff. Spell check? Check. Start building a professional CV template here for free.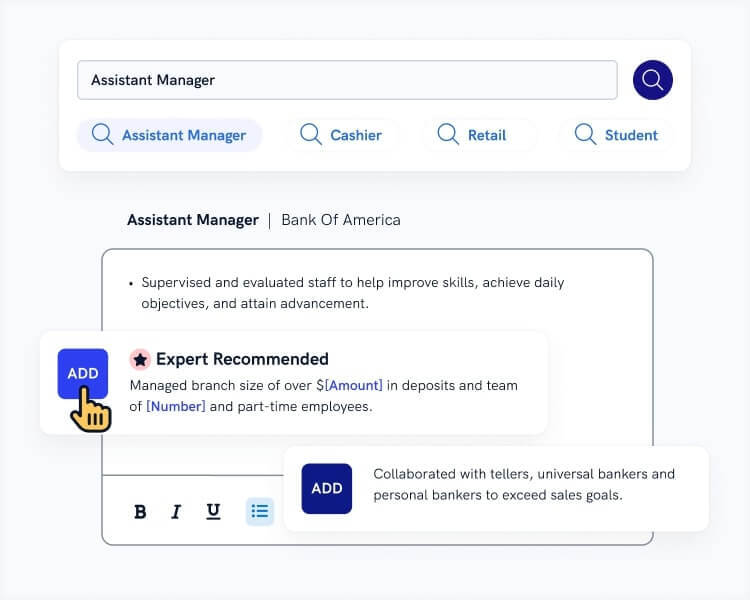 When you're done, our free CV maker will score your CV and our CV checker will tell you exactly how to make it better.
Key Takeaway
Take these home:
CVs describe both professional and academic achievements. And for a lengthy document like this, there's no page limit. Two to ten pages are the usual length.
Curriculum vitae should be formatted like any other application document.
And that's really it.
Thank you for reading my article!
Do you have any more questions about what a CV should look like? How do you feel about writing such a lengthy document for job application purposes?
Give us a shout in the comments! Let's get the conversation rolling.
About Zety's Editorial Process
This article has been reviewed by our editorial team to make sure it follows Zety's editorial guidelines. We're committed to sharing our expertise and giving you trustworthy career advice tailored to your needs. High-quality content is what brings over 40 million readers to our site every year. But we don't stop there. Our team conducts original research to understand the job market better, and we pride ourselves on being quoted by top universities and prime media outlets from around the world.
Sources