At any given time, there are several hundred recruiters complaining about the fact that all CVs look the same. They're either way too dull or way too flashy— and all of them get tossed in the "nope" pile.
You don't want to end up there. But out of all the thousands of CV designs out there, how do you know which one will be best?
No worries, we've got you covered.
We'll go over the best 13 CV designs that will have Anna Wintour doing a double take.
Want to save time and have your CV ready in 5 minutes? Try our CV builder. It's fast and easy to use. Plus, you'll get ready-made content to add with one click. See 20+ CV templates and create your CV here.
Sample CV made with our builder—See more CV examples here.
Were you looking for CV templates? See:
Looking for more examples? See our collection of CV Examples for any job.
The Best CV Design Templates
Are you ready for stunning CV design? You're about to see the crème de la crème, the pick of the litter, the bee's knees, the—well, you get it.
Dive right in and enjoy our 13 top picks in CV designs. They will definitely make CV writing easy.
1. Minimo by Zety
Who needs columns? Zety's Minimo certainly doesn't. Instead of wasting space with columns, this CV design lets you fill the page with your professional experience and skills, but still keeps your CV structure intact. A splash of color here and there make the important things stand out.
A great CV design for any position or candidate level. An absolutely perfect choice for academics or candidates who want to list more relevant coursework on their CV.
Read more: Creative CV Templates
2. Modern by Zety
If Minimo is giving you too much of the open spaces, give Modern a shot. A tasteful use of geometric icons and visuals give this CV template more of a contemporary feel. Subtle, dark blocks on either side of the page hold your content in and direct the reader's eyes to the center.
Perfect for entry level or mid-level candidates. Also a good template for a freelance CV. Very seasoned candidates might clutter up the page with large amounts of experience and skills.
Take all the hassle out of formatting and aligning your CV just right and let our CV builder do it for you.
Read more: Inspiring CV Ideas
3. Primo by Zety
Primo is one of our #1 CV designs for good reason—it shows what a good CV should look like. A discrete timeline running down the length of the page smoothly guides the recruiter's eye along your work experience. Subtle, well-placed icons also draw attention to the different sections of your CV so that the hiring manager doesn't miss a thing.
A great CV design for more experienced candidates and for almost any industry or sector. Good choice for career change CVs as well.
Read more: Visual CV Templates
4. Concept by Zety
Concept takes all the best traits from the above CVs and compiles it all into one, stunning CV design. A dark bar on the left side of the page, a sleek timeline, and modern icons all draw attention to the ATS keywords and make your CV super easy to read. In a word—professional.
A great CV design for mid to upper level candidates as well as business, marketing, retail, legal, and corporate sectors.
Read more ATS-Friendly CV Template
5. Enfold by Zety
Enfold is more of a daring CV design compared to the others. A wide, dark bar on the right side of the CV page displays your contact information while your skills are measured with the help of progress bars.
This design is most useful when it comes to heavily skill-based positions. This is also a great go to for candidates who may have little work experience, but have a wide skill set or a sample list of accomplishments they can show off. Less suited for corporate positions, better for IT or technical roles.
Read more: Unique Resume Templates
6. Diamond by Zety
Diamond is a no nonsense, modern CV design. A dark bar at the top highlights your CV header with your name and personal information. Crisp, sleek, diamond CV icons guide the recruiter down the timeline of your work experience, making sure nothing is overlooked.
Great curriculum vitae design for more experienced candidates and more conservative job sectors.
Find out just how fast and simple writing a CV can be by using our user-friendly CV maker.
Read more: Traditional CV Template and Format
7. Chris Foster by Envato Elements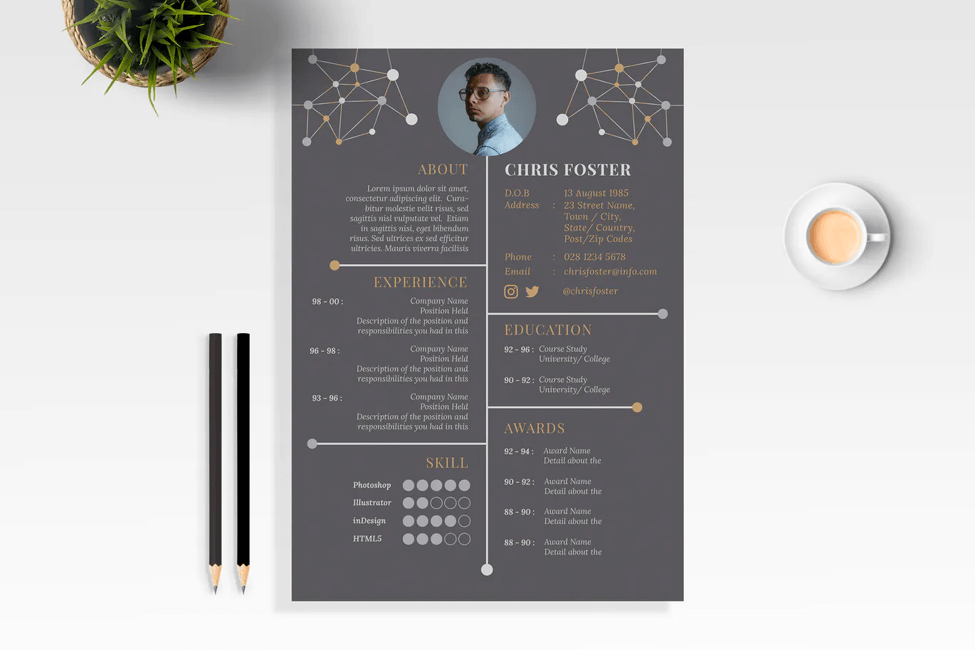 What happens when you take the classic idea of white space and turn it on its head? This CV design.
White space is now dark space, giving the CV a unique yet professional feel. Add in a feel light geometric elements and you're good to go. The design supports shorter content and will keep you in line in terms of how long a CV should be.
Great template for creatives and designer roles as well as IT or technical industries. Download it here.
Read more: Infographic CV Templates
8. Henry Soaz by Eightonesix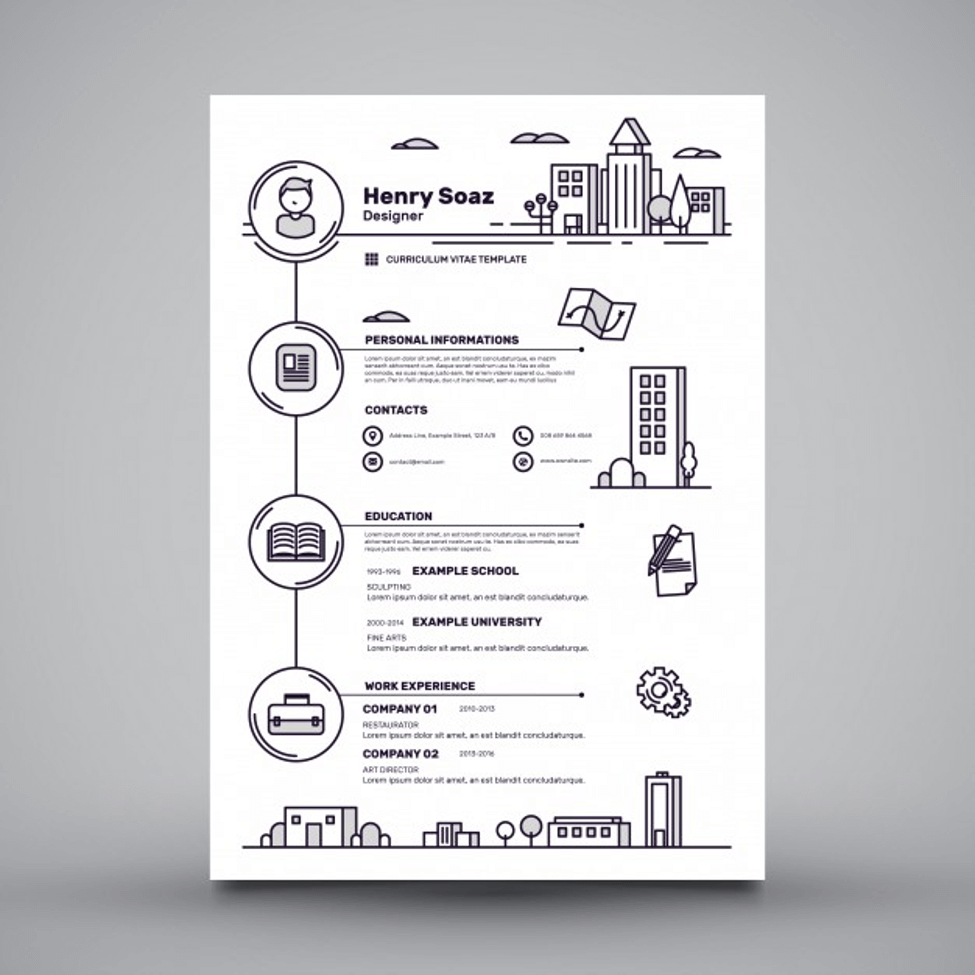 If this doesn't stand out, then I don't know what does.
Full of simple, black and white graphics and icons, this quirky design will definitely draw attention to your CV. It's also a neat way of expressing yourself through putting your hobbies and interest on a CV in picture form.
Good choice for entry-level creatives or candidates who have internships to add to their CV. Not a good idea to use this CV template for other, more conservative roles since will might end up looking comical. Download it here.
Read more: Minimalist CV Templates
9. White and Black by Freepik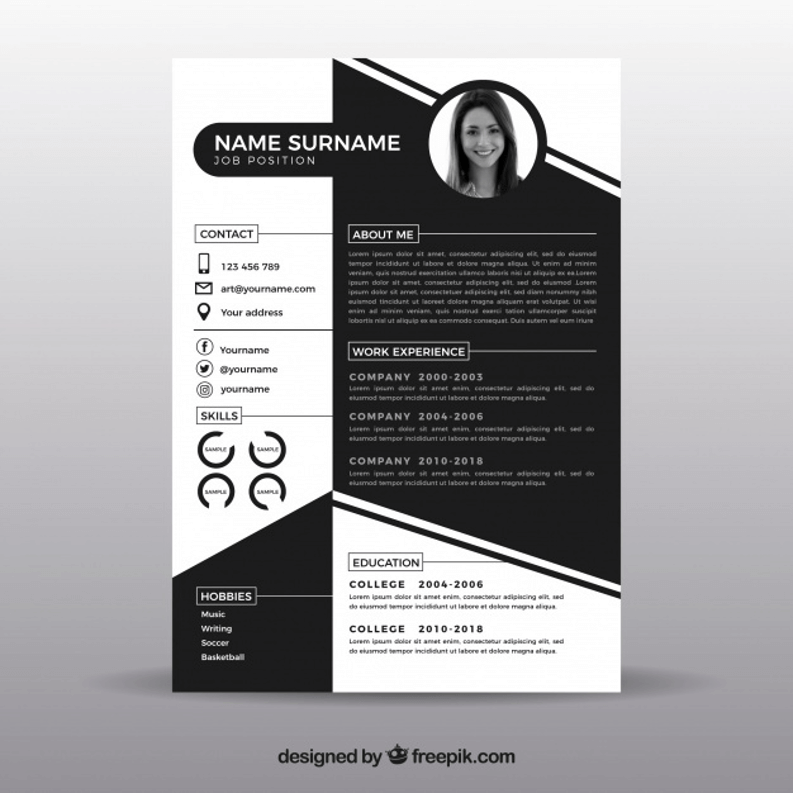 Why do black and white bars when you can do black and white shapes? This design breathes new life into the tired idea of dark bars on your CV.
The sleek shapes draw attention to the individual sections of your CV, helping the recruiter find the information they need in a flash.
A great design for any creative or designer role at any level of experience including candidates who want to add self employment to their CV. More conservative job sectors might find this design a little too flashy. Download it here.
Read more: Best CV Format: Which One to Choose?
10. Attractive Online CV Template by Freepik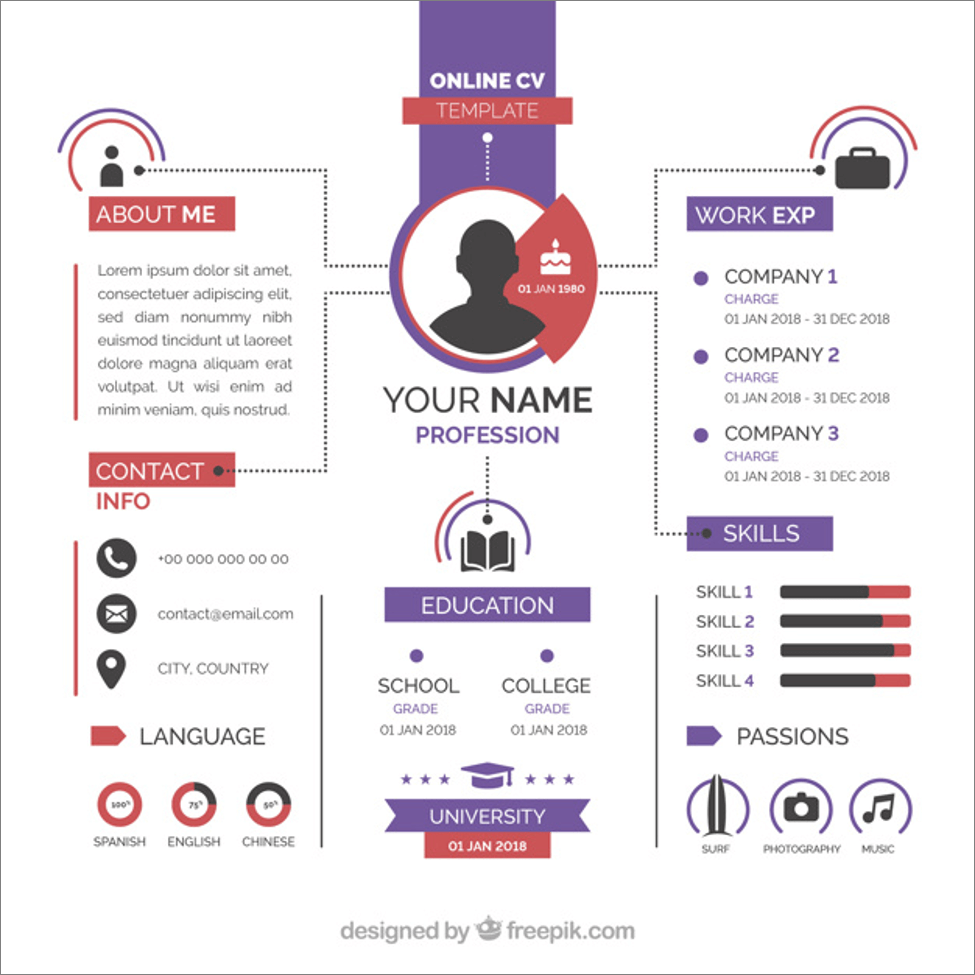 No doubt about it, you can see this one coming from across the room.
It's got all the bells and whistles of what one might expect from a flashier CV design—colors, icons, individual sections, graphics. Use it to your advantage to list projects or extracurricular activities for your CV in a neat way.
You have everything you'll ever need here to get both your expertise and personality across.
A good template for entry-level and internship candidates, especially in creative industries. Conservative sectors will most likely find this modern CV design way too busy. Get it here.
Read more: CV Templates for MS Word
11. Tony Daniels by vector_corp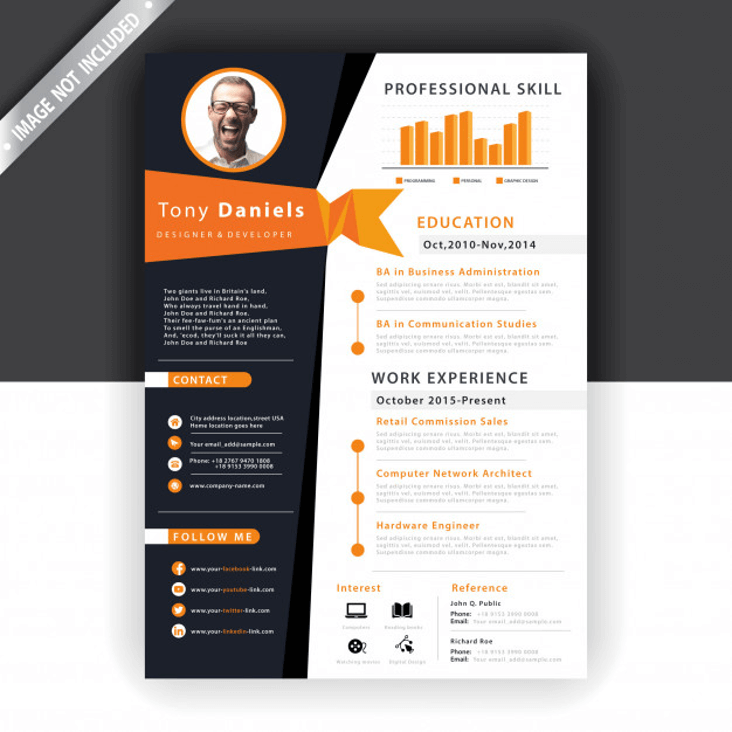 This CV template design tries to merge together professionalism and creativity and does quite a good job of it.
The designer elements are relatively subtle—your skills, for example, are shown via a smart-looking bar graph at the top of the page. There's a little color that brings the CV template design to life, but doesn't overwhelm it. The nice balance between black and white gives the page a modern, professional feel.
A good CV design for most candidates and positions, especially in marketing, advertising, and media. Also a good go to if you're looking for a nice graduate CV template. Not recommended for very conservative roles. Get it here.
When making a CV in our builder, drag & drop bullet points, skills, and auto-fill the boring stuff. Spell check? Check. Start building a professional CV template here for free.
When you're done, Zety's CV builder will score your CV and tell you exactly how to make it better.
12. Sunday White by PinkJellyfish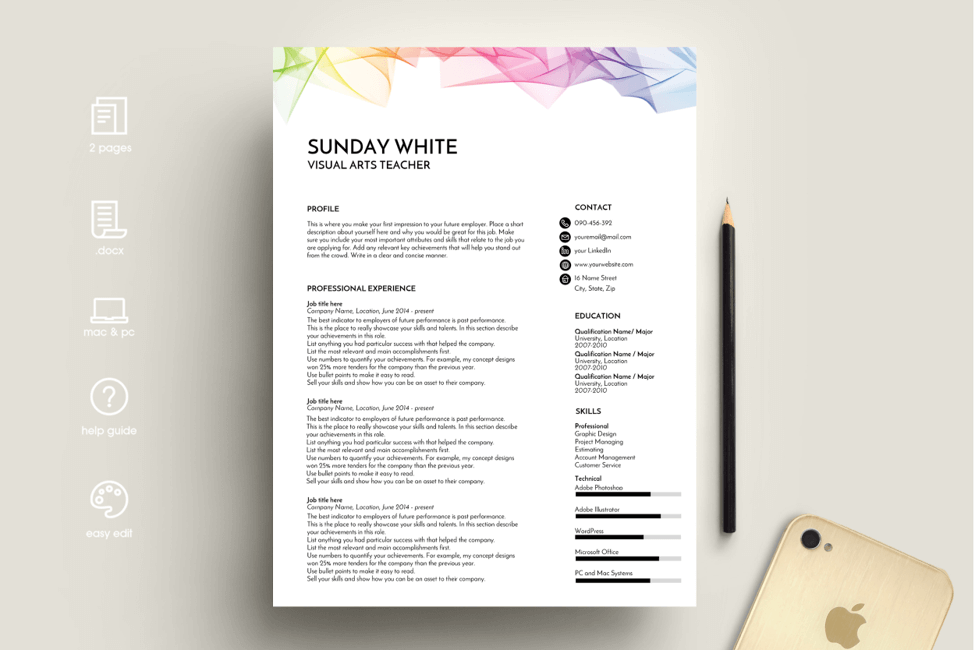 This CV design lets you add a little artistic flare, but still keeps it classy and professional.
Your personal information is neatly tucked away to the right, leaving a lot of space to talk about your job experience and knowledge. A light splash of colorful design at the very top of the page makes your CV stand out without becoming an eyesore.
A good CV template for experienced candidates wanting to write a skill-based CV and for most positions. Get this template here.
Read more: CV vs Resume: What's the Difference?
13. Simple CV by RumbleDesignStore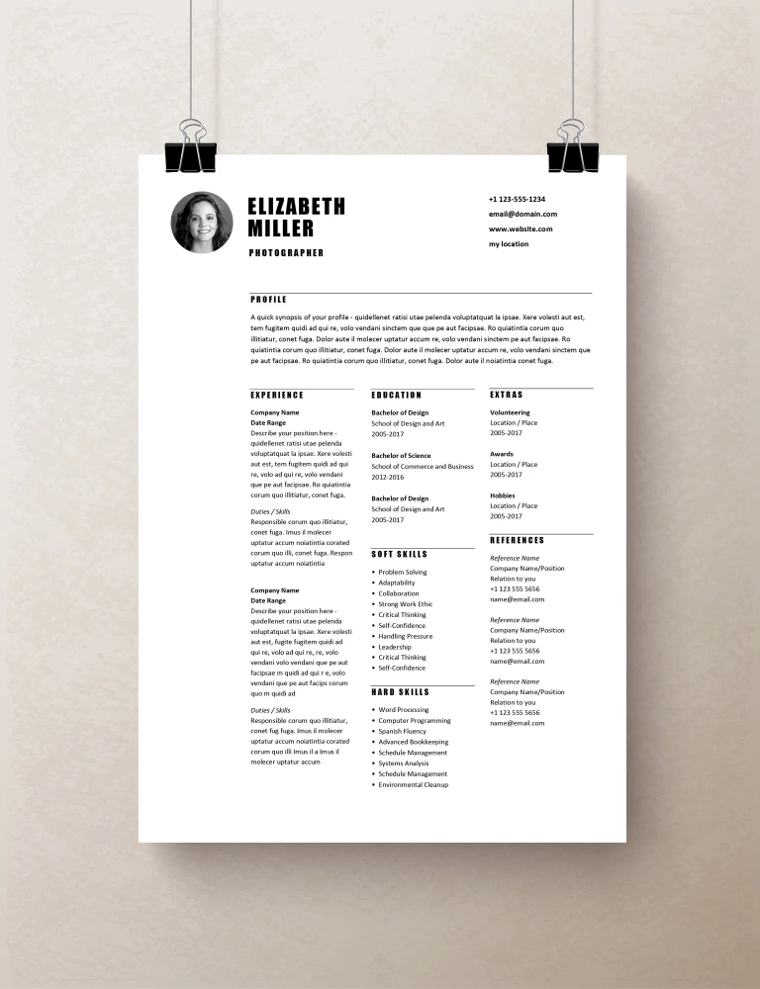 Who said simple needs to be boring? This template takes simple CV designs and makes them, well, more complicated.
The page steers away from the conventional two column division and moves into three columns instead. Everything else remains traditional—black text on a white background, clear CV sections, your name at the top of the page in large lettering. Timeless and professional.
This CV template can work for candidates at any level and for nearly all positions. That said, some super creative roles may find this design too cautious. Download it here.
Plus, a great cover letter that matches your CV will give you an advantage over other candidates. You can write it in our cover letter generator here. Here's what it may look like: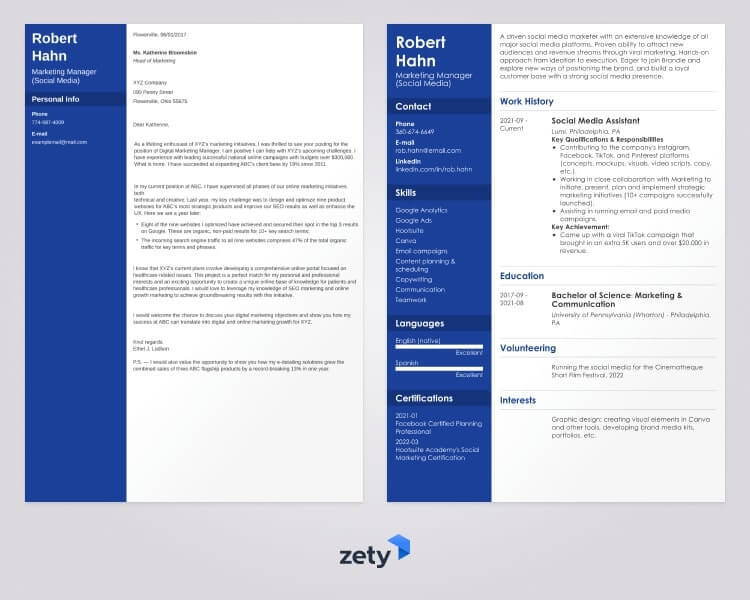 See more cover letter templates and start writing.
Key Takeaway
Each job opening is different and needs a different CV design to make the right kind of waves.
Remember that writing a killer CV isn't enough. You need to pair it up with a good cover letter to have your job application make the best impression.
Once you ship off your job application, remember to send a follow-up email to boost your chances of being remembered.
Thanks for reading! Is there any curriculum vitae design that you think deserves to be on this list? Let me know in the comments below!
About Zety's Editorial Process
This article has been reviewed by our editorial team to make sure it follows Zety's editorial guidelines. We're committed to sharing our expertise and giving you trustworthy career advice tailored to your needs. High-quality content is what brings over 40 million readers to our site every year. But we don't stop there. Our team conducts original research to understand the job market better, and we pride ourselves on being quoted by top universities and prime media outlets from around the world.