Our customers have been hired by:
Not so long ago, all resumes looked pretty much the same. No fireworks, no visuals, no graphics. Nowadays, there are many beautiful visual resume templates available for download all over the internet.
We've browsed through countless online visual resume templates to present you with only the best of the best.
Cubic by Zety
Before you download a visual resume in hopes of knocking recruiters off their feet, you need to know something.
Not all visual resume templates are equally good.
They're unique and pretty, but the truth is, they might not work. See what I mean:
Unless saved in PDF with a properly formatted text layer, visual resumes are not scannable by the Applicant Tracking Software (ATS).
Visual resumes draw recruiters' eyes to graphics, usually the least important elements. Traditional resume layout focuses on work accomplishments which is what recruiters want.
Graphic resume templates often use large blocks of text instead of bullet points. Too bad resume bullet points are what recruiters expect. They're quick and easy to skim and save recruiters' time.
Visual elements take up the valuable real estate you could use to focus on what's relevant to the job you're trying to land.
I get it. You do want your resume to reflect your style. MS Word resume templates aren't the easiest to play with. Not to mention that it's a pain to get your formatting up to scratch.
So—
Instead of using an entirely visual resume template, give our builder a try:
Our templates use small visual elements to enhance readability and add a modern touch.
We know black-on-white resumes are lifeless and dull, so we offer color combinations to choose from.
At the same time, we know how recruitment works, so all our resume templates are ATS-compatible.
Not convinced? Here are our alternatives:
Modern by Zety
Another ATS-friendly visual resume made with love at Zety. Its graphic features include a block rating system (for languages and skills), ribbon-style arrows preceding each section title, and a clean design with numerous color combinations to choose from.
Concept by Zety
How about this visual resume template? Combining features of infographic resumes and a traditional layout, it's perfect for those who need the reverse-chronological resume format. This resume uses a thin sidebar to the left for dates, creating an easy-to-follow timeline.
Vibes by Zety
This one's called "Vibes." And what sort of vibes does it send, huh?
Simplicity is the ultimate sophistication, right? Just look at it: tiny, elegant icons next to section headings are eye-catching but not too invasive. Simple bar charts for your professional skills let you describe your proficiency level easily.
Cascade by Zety
Cascade is a visual resume template that's as good-looking as it is functional. It has proper, reliable formatting that's sure to make it through the Applicant Tracking System, right onto the recruiter's table. Cascade will definitely impress with its readability and style and display your professional achievements clearly and efficiently.
Crisp by Zety
Crisp is a sleek visual resume template that is a great choice for those who value sophistication and efficacy. It's well-organized and easy on the eyes, with minimalist icons and much room for your achievements. You can also mark various skills, indicating their progress level without overcrowding the page with too much text. It's perfect!
Diamond by Zety
Diamond is as visually appealing as it is ATS-friendly: a perfect resume template to win over both the human and the machine. The diamond-shaped icons create an intuitive flow that goes all the way through the page. Look at those skill-level bars! They're impossible not to notice, and that's the exact effect we're looking for.
Enfold by Zety
Enfold allows you to add as much information as you need and be sure your resume's neat and well-structured. It's a great visual resume template for jobs heavily relying on different skills (like specific computer skills). You won't have to make tough decisions on what to leave out because the two-column layout will ensure that every detail is seen.
Minimalist Infographic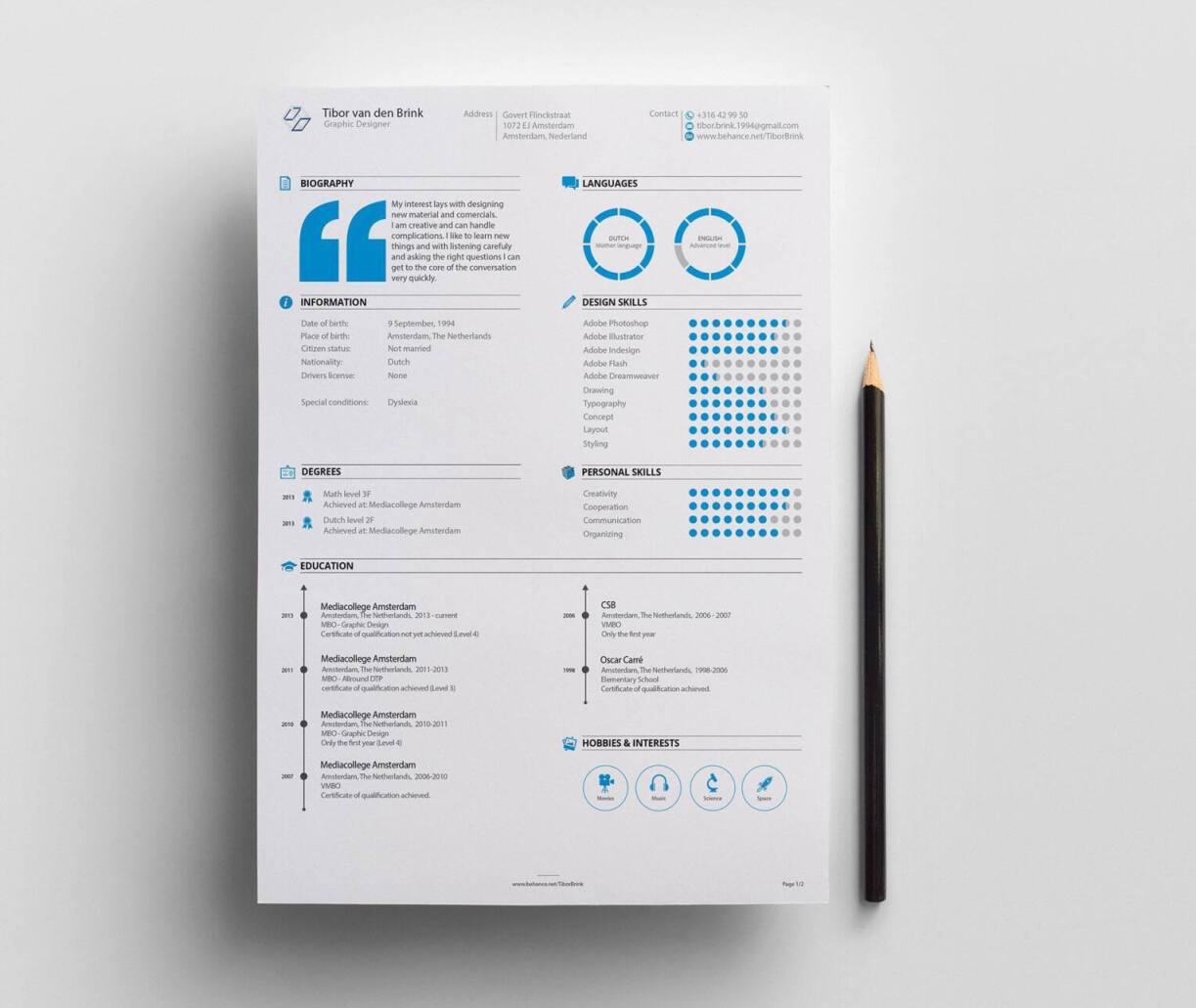 In his "Personal Resume and Promotion," Tibor van der Brink puts traditional resume sections inside a creative, visual infographic. Blue icons add a pleasant touch of color, but the design remains elegant and clear.
Note: use this template only for applications where you don't expect an encounter with the dreaded ATS. This one's pleasant to look at for humans, but robots might not appreciate overly visual representations of skills or interests.
Here's the link to this visual resume.
Iconic by Zety
Iconic is… well, iconic. The name speaks for itself: it looks amazing, it's functional, and there's something thoroughly satisfying about those trim square shapes across the document. Notice that the icons also serve as hints for each section's content, adding extra value but no extra clutter. A visual resume template that just gets it right.
Influx by Zety
Influx is a statement. Yes, it's a visual resume template, first and foremost, but it's also a declaration of your professional success. Influx is assertive, straightforward, and fuss-free. It has everything you need to make sure that no bit of information is overlooked, and it simply looks great. And that header color… pure class.
Initials by Zety
Initial is a fun resume template that's a good combo of informative and dynamic. Your contact info and skills can go on the side, supporting the main section carrying your work experience and personal statement. It has just enough color to make your resume pop and nice little circles that serve different purposes but make your resume visually coherent.
Clémentine Stora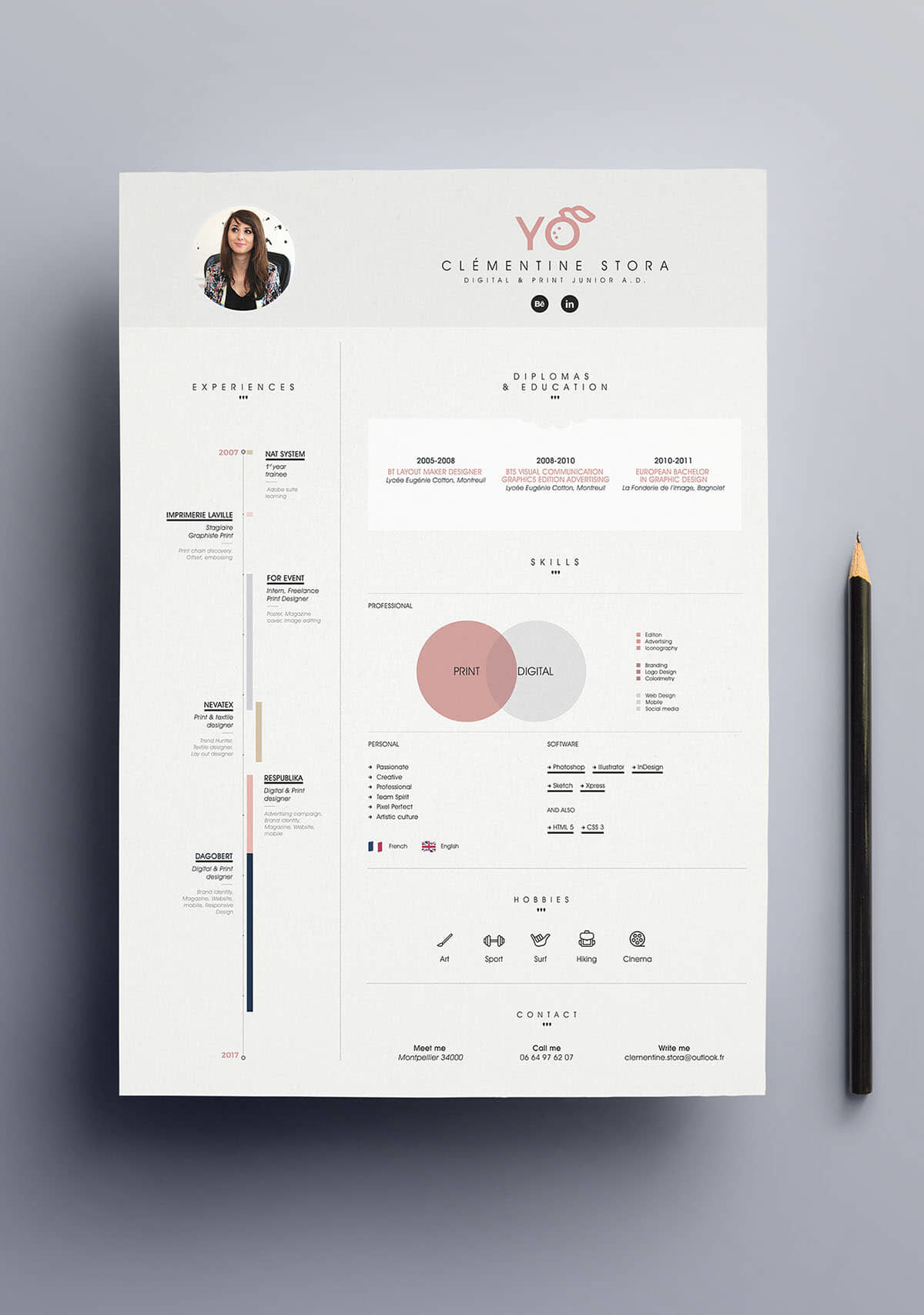 The lucky twelve on our list goes to Clémentine Stora's design, simply named "My Resume." A lovely visual resume template with a photo placeholder. White space helps direct the hiring manager's eyes and attention to the sections of the document that are most important to them. The design of this CV template is clean and very elegant.
The main problem is that this template doesn't give enough space for text. For those of you who actually want to pack your resume full of achievements and relevant experience, it's a poor choice.
Recommended for highly creative positions only.
Here's the link.
Matteo Innominato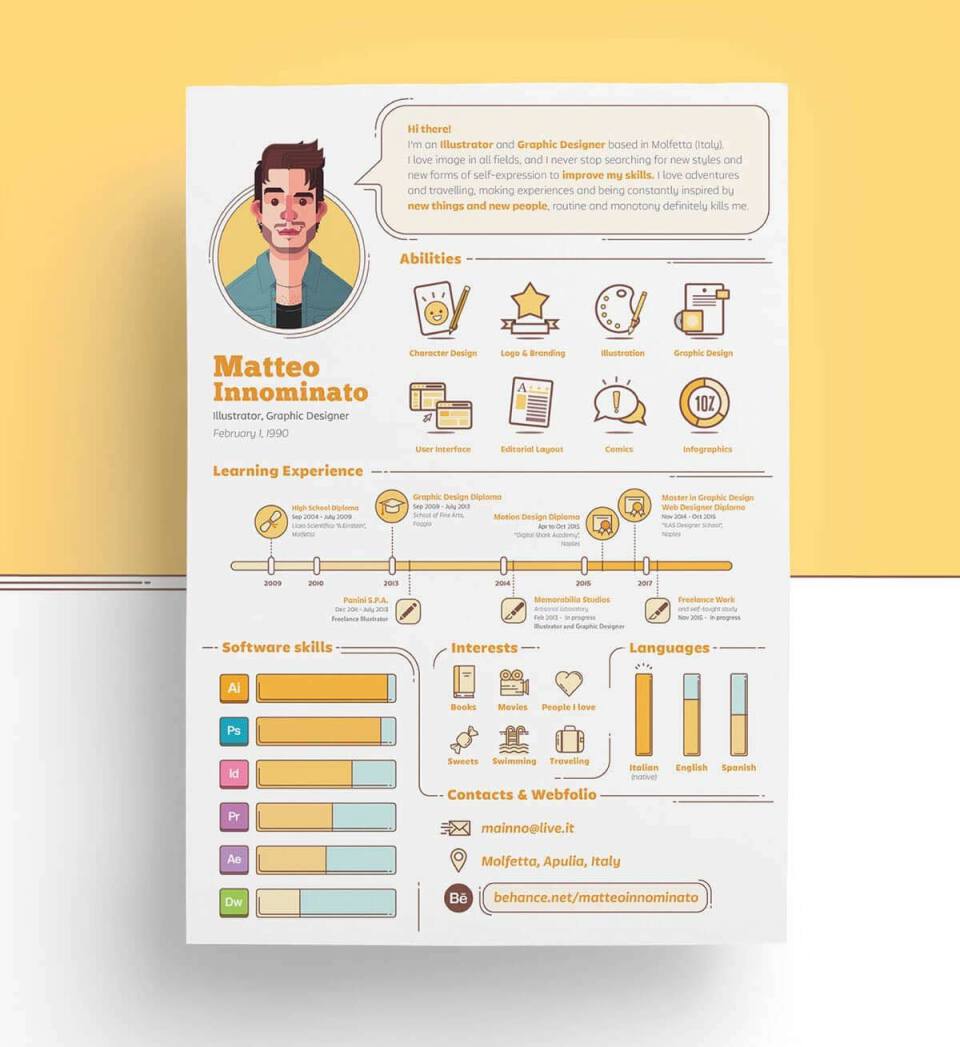 "Personal Branding Design" by Matteo Innominato on Behance is surely one of the most unique resume examples on our list. The hand-drawn graphics and icons are very distinct. All in all, an image is worth a thousand words, they say.
This resume is beautiful, but don't use it unless you work in graphic design. It stands no chance against ATS bots.
Here's the link.
Minimo by Zety
Minimo is an understated resume template for those who prefer substance to looks. It's sleek and minimalistic, allowing the words to speak for themselves. But don't be fooled by the outward simplicity—Minimo does a great job of highlighting what matters. By choosing this template, you can be sure your message goes through.
Muse by Zety
Does Muse sound like something inspiring to you? Because it sure is! This visual resume template has all it takes to impress. A sidebar to display your skills? Yup. A dedicated place for your resume summary or objective? Uh-huh. Nice arrows pointing to the most important sections? There as well. Checks all the boxes!
Black Matte
Vincenzo Castro's "Curriculum Vitae" is a stunning, if risky, a graphic template that can be put to great use by designers, visual artists, and other creative professionals. Your name and contact info go at the top. Below them, centered around a grouping of tech icons, are lines that point to different areas of your expertise.
Bear in mind that most recruiters print out resumes they get. This one will be very prone to printing errors. It's safest to stick to white resume backgrounds for job applications.
Here's the link to this visual CV template.
Nanica by Zety
Let your career accomplishments take center stage with Nanica. This classic resume template is exactly what you want it to be: it's easy on the eyes, follows a trusted format and section order, and displays your experience and education in reverse chronological order.
Newcast by Zety
Newcast is another traditional resume template, this time with a set of fool-proof resume icons for accurate navigation and slightly different progress bars for skills. It's a trusted companion for your experience-oriented resume, with your professional summary up top and your job history getting just enough attention to get the recruiter interested.
Primo by Zety
Primo is a value-packed visual CV template with the right spot for everything. The line running through the main body of the template will retain the hiring manager's focus till the very end, making sure your career gets noticed in its full capacity. As a bonus, there's a neat sidebar for any additional sections you can imagine.
Simple by Zety
Simple is not as simple as you might think! This resume template might not have any embellishments, but it's certain to be a gem of its own. It presents the crucial details instantly, moving on to other segments to fortify your success. And with its two-side structure, it will hold anything you decide to add to it.
Valera by Zety
Valera is one of the most creative of our resume templates. It stuns with its bold font to make sure your resume is noticed up to the very last section! While maintaining quite a recognizable resume structure, it still manages to make yours different from the rest. Stand out from the recruiter's mailbox!
Key Takeaway
Here's all you need to know about visual resume templates:
Visual resumes with many graphics are beautiful and fun, but they might not pass ATS scans.
To stay on the safe side, save your visual resume as a PDF with a text layer over the graphics (that's what our resume builder allows you to do).
While visual resumes are usually a waste of space, words are more important than graphics. Keep that in mind.
Speaking of which—
A pretty resume design won't get you far if you don't know how to write the contents. Luckily, we have tons of resources to help you out:
First, learn the critical rules. This quick guide will take you from a resume rookie into an expert in 5 minutes: How to Make a Resume: A Step-by-Step Guide
Then, pick a professional format. This is key to presenting your strongest suit to employers. Make them realize they need you: Resume Format: How to Format a Resume Right
Once you've got the general idea for your resume contents, get the show on the road. Isn't it as easy as it seems? Well, we've just made it easy: How to Start a Resume: A Complete Guide With Tips & 15+ Examples
And learn the best hacks and tricks here: 40 Best Resume Tips
Do you have any questions about choosing the visual resume template? Give us a shout in the comments, and we'll get back to you!
About Zety's Editorial Process
This article has been reviewed by our editorial team to make sure it follows Zety's editorial guidelines. We're committed to sharing our expertise and giving you trustworthy career advice tailored to your needs. High-quality content is what brings over 40 million readers to our site every year. But we don't stop there. Our team conducts original research to understand the job market better, and we pride ourselves on being quoted by top universities and prime media outlets from around the world.