A visual resume is a type of resume that uses graphics, charts, colors, and other visual elements to present information about candidates' experience and skills in an attention-grabbing way.
Not so long ago, all resumes looked pretty much the same: plain text. Black font on white background. No fireworks, no visuals, no graphics. But the times, they are a-changin'.
Nowadays there are many beautiful visual resume templates available for download all over the internet. We've browsed through 400+ online visual resume templates to present you only the best of the best.
First, have a look at a visual resume sample made with the Zety builder.
1
Cubic by Zety
Want to save time and have your resume ready in 5 minutes? Try our resume builder. It's fast and easy to use. Plus, you'll get ready-made content to add with one click. See 20+ resume templates and create your resume here.
Sample resume made with our builder—See more resume templates here.
To see our gallery of 15+ eye-pleasing visual resume templates (free templates included), just scroll down.
Hold your horses, though—
Before you download a visual resume in hopes of knocking recruiters off their feet with your flair for creativity, you need to know something.
Not all visual resume templates are equally good.
See what I mean:
Pros and Cons of Visual Resume Templates
Basically the only good thing about graphic and visual CV templates?
They're pretty. They're cool. Unique. Creative.
But the truth is, they're dysfunctional.
Why you shouldn't use a visual resume template?
Unless saved in PDF with a properly formatted text layer, visual resume are not scannable by the Applicant Tracking Software (ATS). This means, you automatically miss out on 80% of jobs you apply to. (Yes, up to 80% companies use ATS.)
Visual resumes draw recruiters' eyes to graphics which are usually least important elements. Traditional resume layout focuses on work accomplishments which is what recruiters want.
Graphic resume templates often use large blocks of text. Bullet points are too "boring." Too bad, resume bullets are what recruiters expect. They're quick and easy to skim. That saves recruiters' time.
They're a waste of space. Graphics, icons, and other visual elements take up valuable real estate you could use to focus on what's relevant to the job you're trying to land.
Unless you're applying to a small company and are 100% sure your resume will not be scanned by the ATS, choose simplicity and readability over the urge to have "a cool resume template."
I get it. You do want your resume to reflect your individual style. MS Word resumes are boring. Not to mention that it's a pain to get your formatting up to scratch.
So—
Instead of using a fully visual resume template, give our builder a try:
Our templates use small visual elements to enhance readability and add a modern touch.
We know black-on-white resumes are lifeless and dull, so we offer over 400 color combinations to choose from.
At the same time, we know how recruitment works, so all our templates are ATS-compatible.
We went as far as possible to provide you with best resume builder while not sabotaging your job search with unreadable graphics.
Not convinced? Here's a list of alternatives:
2
Watercolor Triangle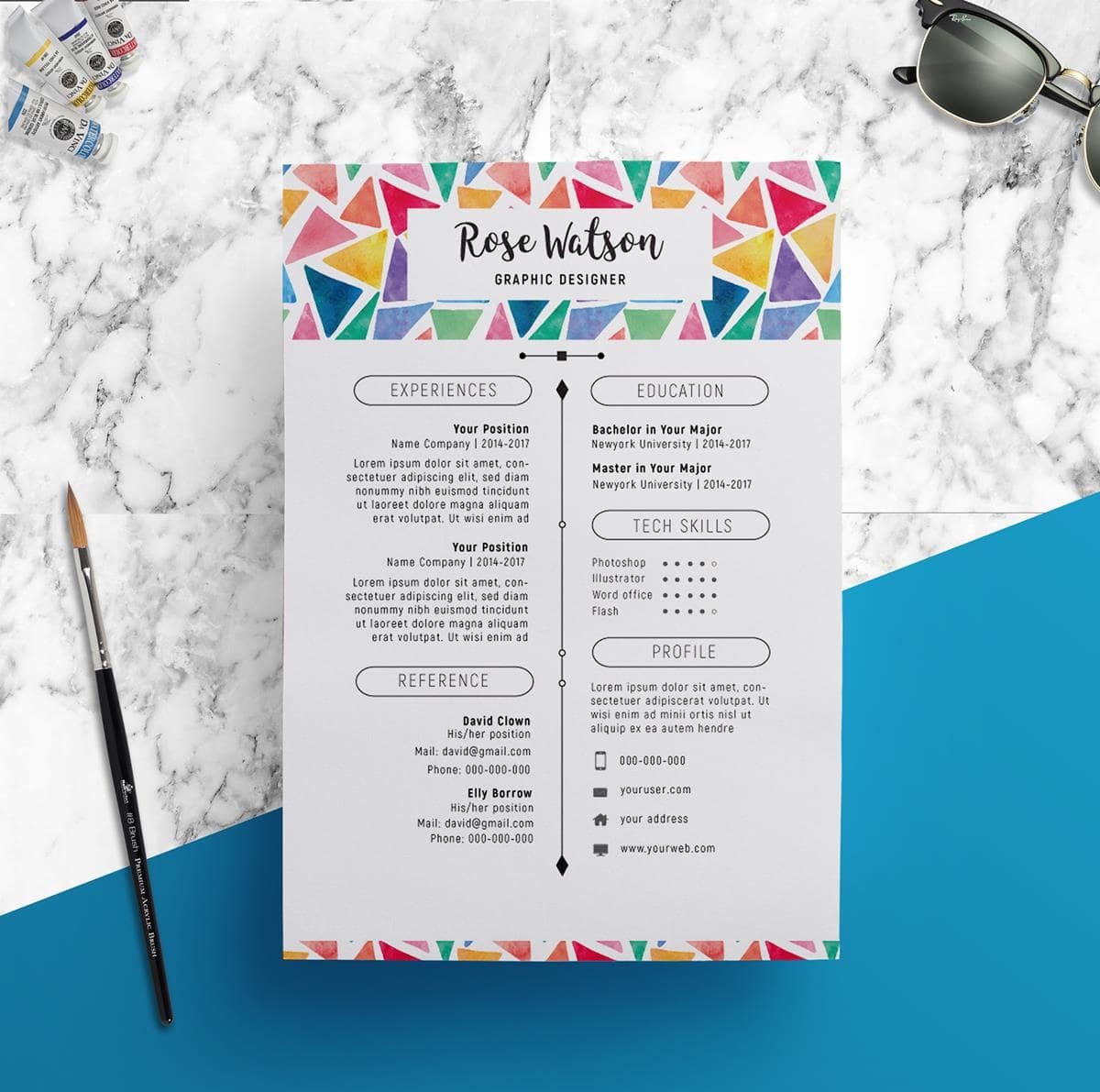 SHOWY 68's "Watercolor Triangle" is an eye-catching visual resume template ideal for job hunting in casual industries.
Bear in mind, though, that employers who prefer a conservative office culture might not appreciate the paint-like header.
Plus, big fonts and graphical section headings take up lots of space—there might not be enough left for what matters: your detailed achievements and relevant experience.
Here's the link to this visual resume editable in MS Word, Photoshop, and Illustrator.
As a bonus, you'll get access to a similar cover letter template.

(Speaking of which: do include cover letter in your job application. Tell a story. Seduce recruiters. They love stories much more than raw data sheets!)
When making a resume in our builder, drag & drop bullet points, skills, and auto-fill the boring stuff. Spell check? Check. Start building a professional resume template here for free.
When you're done, Zety's resume builder will score your resume and tell you exactly how to make it better.
3
Orange is the New Black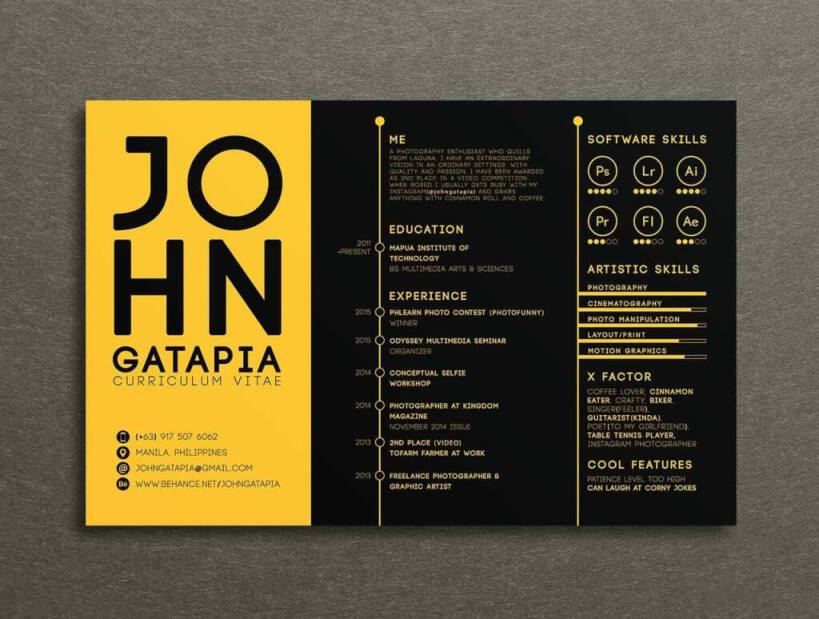 This high-contrast visual resume imitates the design of websites for the visually impaired. A very refreshing visual CV that will surely grip attention. A great pick for a visual designer resume.
But... this one will work well for digital applications only—once printed out, it might not look too great on resume paper.
Here's the link. Download and edit in Photoshop or Illustrator.
4
Modern by Zety
Another ATS-friendly visual resume made with love at Zety. Some of its graphic features include: block rating system (for languages and skills), ribbon-style arrows preceding each section title, and a clean design throughout with numerous color combinations to choose from.
Modern is included when you create a resume in our builder, along with many other tested visual CV templates.
5
Clean Resume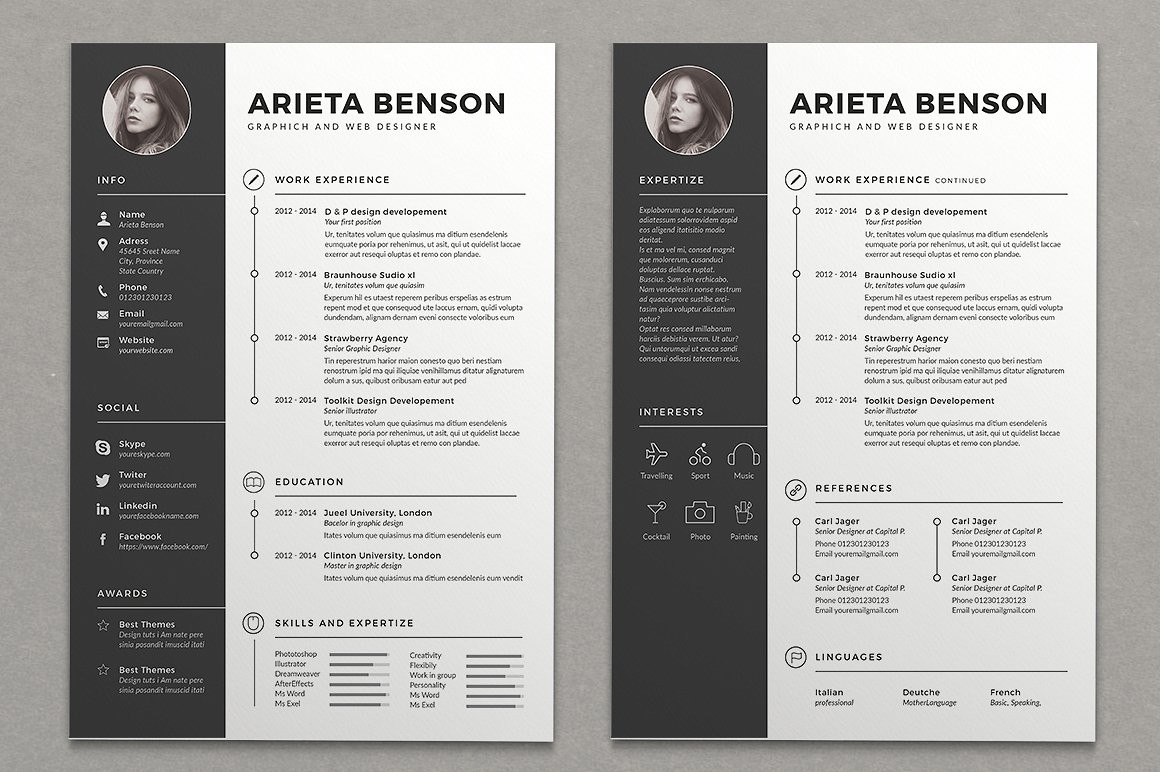 The "Clean Resume" available at Creative Market gives a direct proof that even two-page resumes can be easily scannable when section titles stand out the way they should. You can download this visual resume in Word, as well as INND and PSD.
The photo placeholder, however, might not be easy to remove. And on most US resumes, including photographs is an instant dealbreaker.
Here's the link to this resume design template.
6
Iconic not Laconic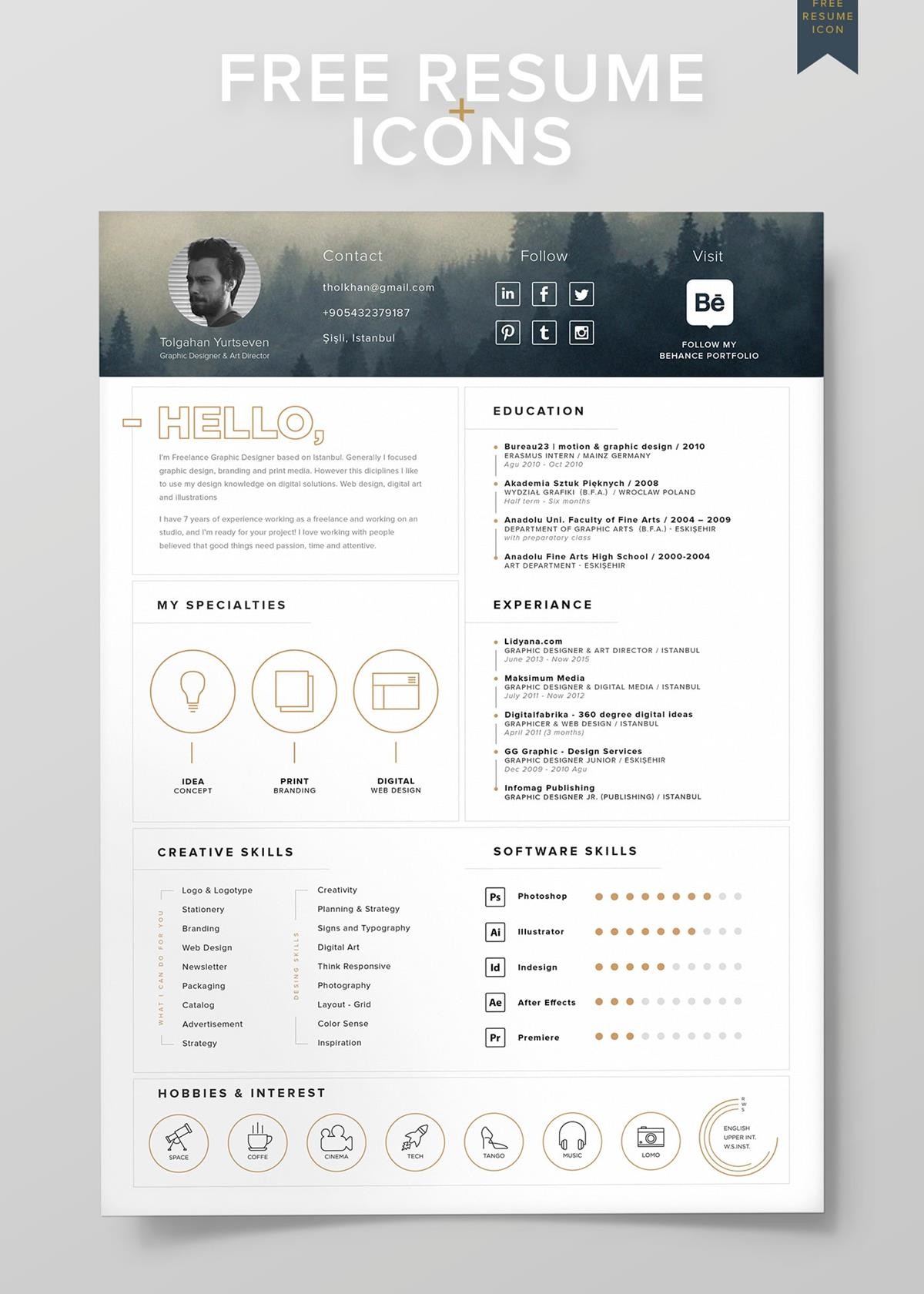 Tolgahan Yurtseven's "FREE Resume Template" is an unbeatable combination of informative and creative resume design. A great fit for applicants targeting creative positions. (In case you've missed Tolgahan's caps in the title: THIS ONE, believe it or not, IS FREE). Available in INND and PSD.
The problem? Again, the placeholder for you headshot will likely be hard to remove and recruiters don't want photographs on resumes. Plus, en extensive use of graphics will make it hard for this visual template to pass an ATS scan.
Here's the link to this visual CV template.
7
Concept by Zety
How about this visual resume template? Combining features of infographic resumes and a traditional layout, it's perfect for those who need the reverse-chronological resume format. This resume uses a thin sidebar to the left for dates, creating an easy-to-follow timeline.
Concept is included when you create a resume in our builder, along with 20+ other visual CV templates.
8
Minimalist Infographic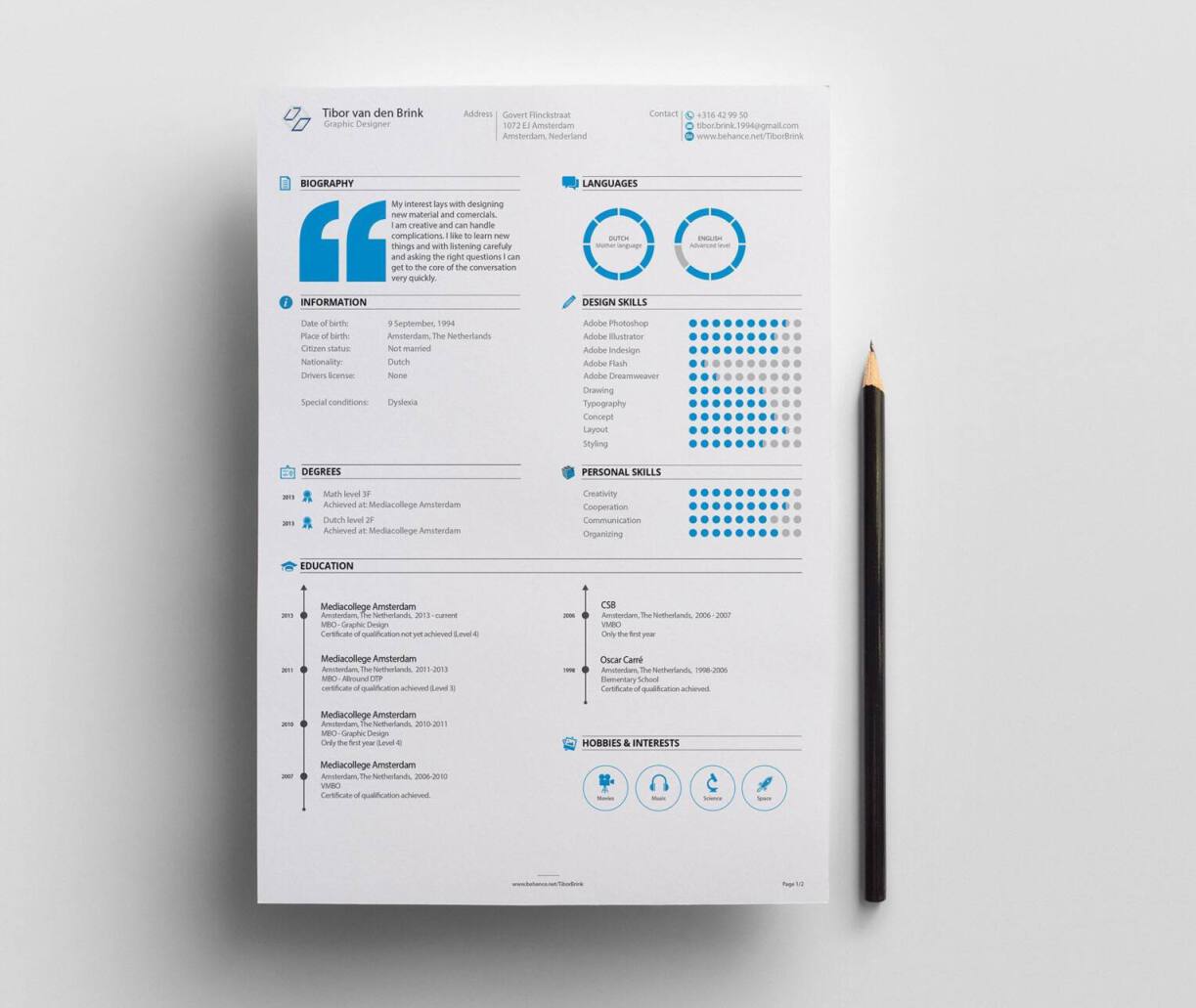 Tibor van der Brink, in his "Personal Resume and Promotion," puts traditional resume sections inside a creative, visual infographic. Blue icons add a pleasant touch of color, but the design remains elegant and clear.
Note: use this template only for applications where you don't expect an encounter with the dreaded ATS. This one's pleasant to look at for humans, but robots might not appreciate overly visual representations of skills or interests.
Here's the link to this visual CV.
9
Fun and Quirky
"Personal Branding Design" by Matteo Innominato on Behance is surely one of the most unique resume examples on our list. The hand-drawn graphics and icons are very distinct. All in all, an image is worth a thousand words, they say.
This resume is beautiful, but don't use it unless you work in graphic design. It stands no chance against ATS bots.
Here's the link.
10
Self Identity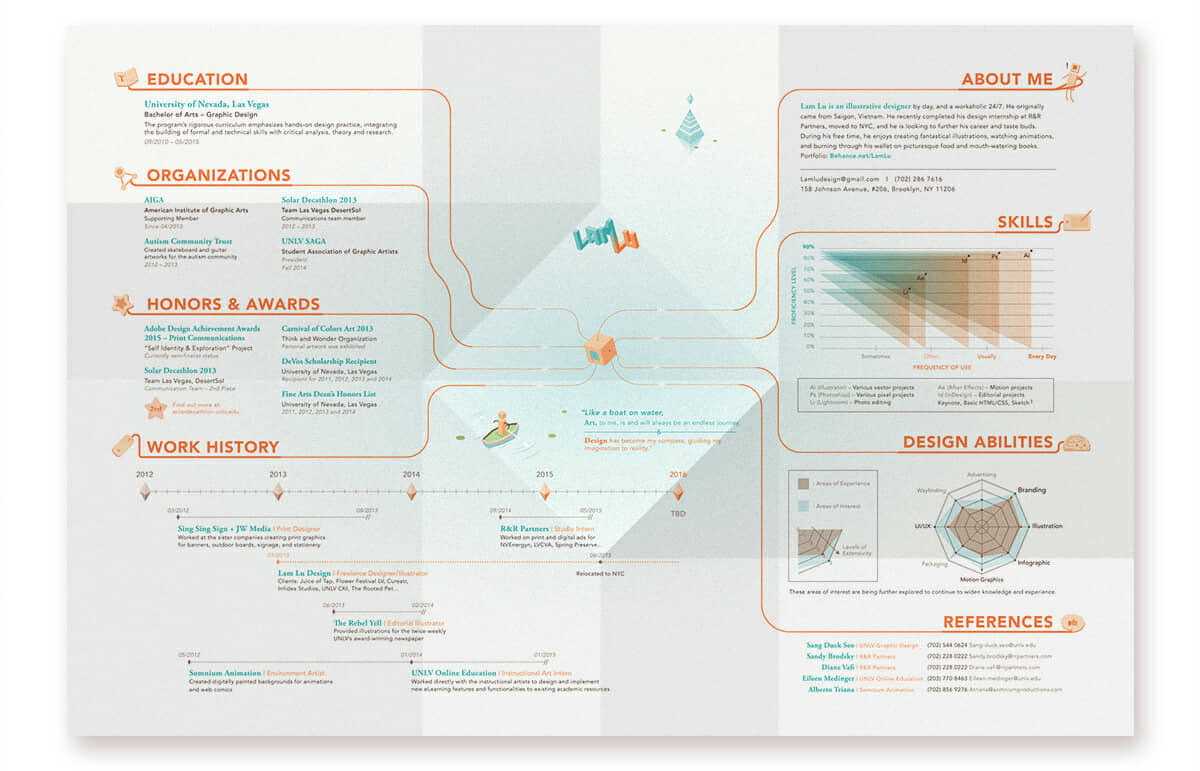 Lam Lu's "Self Identity" project on Behance is one of the best personal infographics we've seen. A pleasant, blue-and-orange color scheme, dozens of icons and charts, and an area of convergence in the center which ties everything together. Visual resume poetry at its finest.
This one will work great as an addition to an online portfolio—it's a wonderful visual project. For regular job applications though, it features too much plain text plus, the layout is confusing. Recruiters have no time to dig for important information, you need to present it to them on a silver platter.
Here's the link to this visual resume.
11
Vibes by Zety
This one's called "Vibes." And what sort of vibes does it send, huh?
Simplicity is the ultimate sophistication, right? Just look at it: tiny, elegant icons next to section headings are eye-catching but not too invasive. Simple bar charts for your job skills let you describe your proficiency level easily.
A fantastic visual resume layout for corporate jobs, as well a good CV layout for academic positions. You can get it in Zety's resume builder.
12
Mariquita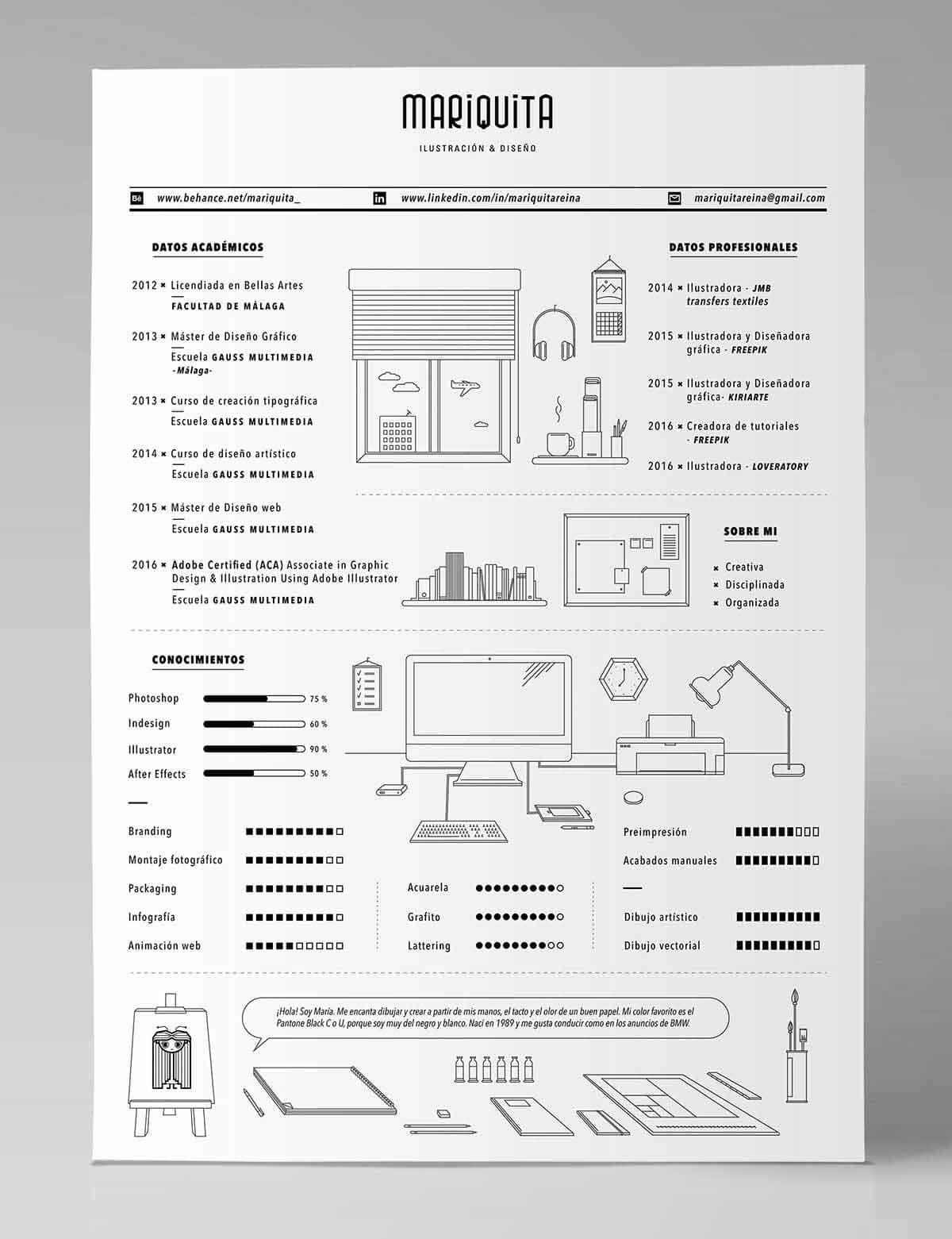 María Vázquez Reina brings us her "CV Mariquita," and what a looker it is!
Hand-drawn images break up the various sections and alert the recruiter exactly what your interests and skills are. Resume graphs and bar charts detail your expertise and qualifications.
Yet again—the visual CV above is beautiful, but the automated recruitment AI hasn't been trained to appreciate art. At least not yet—for digital job applications, value raw data over artistry and storytelling.
13
Yo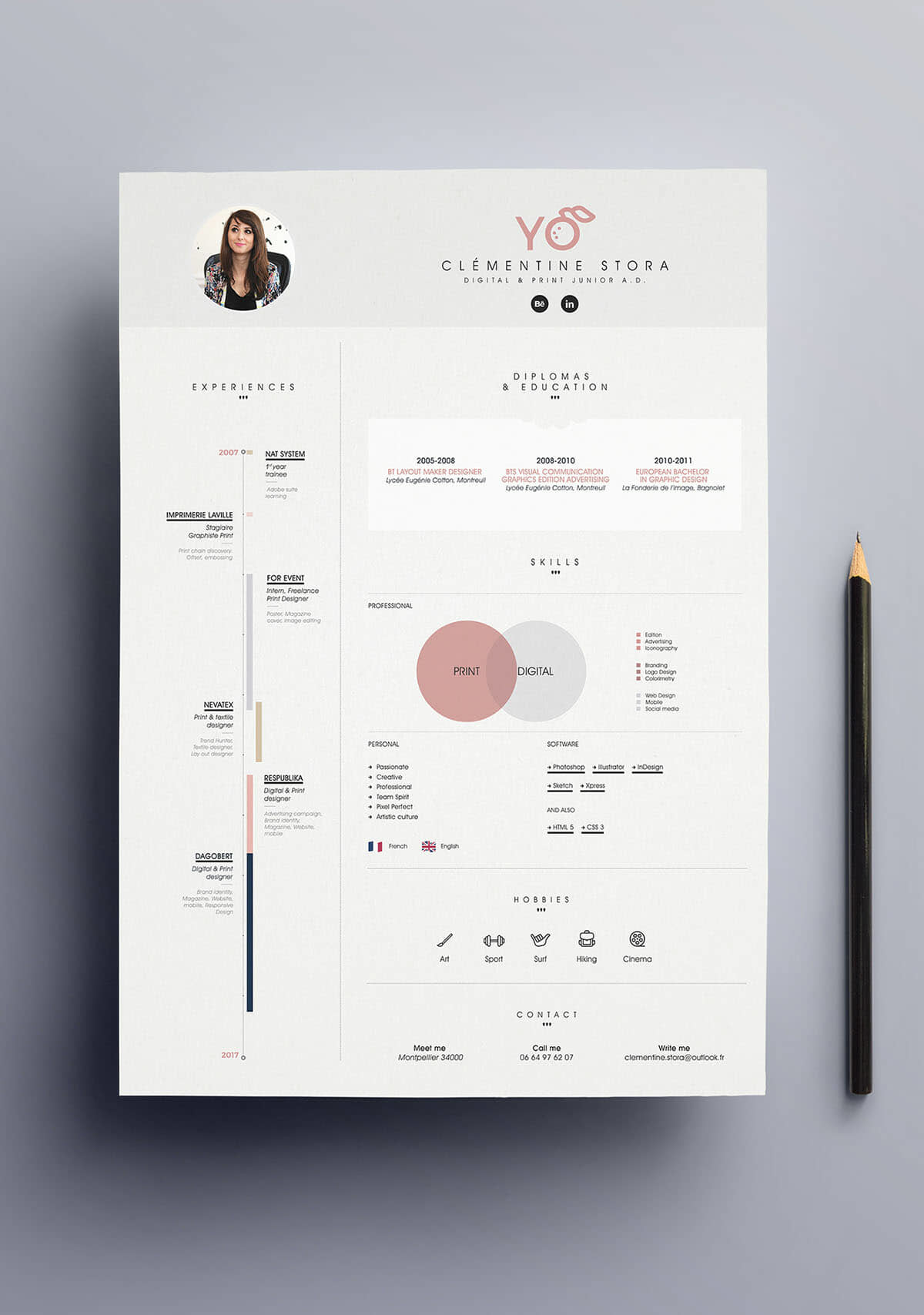 The lucky thirteen on our list goes to Clémentine Stora's design, simply named "My Resume." A nice visual resume template with a photo placeholder. White space helps direct the hiring manager's eyes and attention to the sections of the document that are most important to them. The design of this CV template is clean and very elegant.
The main problem is, this template doesn't give enough space for text. For those of you who actually want to pack your resume full of achievements and relevant experience, it's a poor choice.
Recommended for highly creative positions only.
Here's the link.
14
Black Matte Visual CV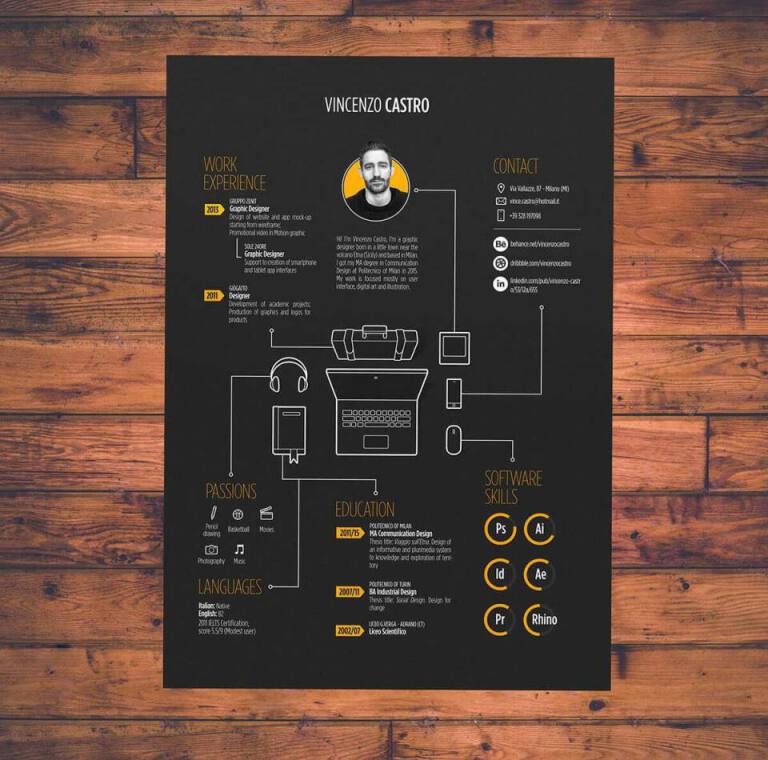 Vincenzo Castro's "Curriculum Vitae" is a stunning, if risky, graphic template that can be put to great use by designers, visual artists, and other creative professionals. Your name and contact info go at the top, below them, centered around a grouping of tech icons are lines that point to different areas of your expertise.
Bear in mind that most recruiters print out resumes they get. This one will be very prone to printing errors. It's safest to stick to white resume backgrounds for job applications.
Here's the link to this visual CV template. Available for download in InDesign and Photoshop.
15
Bold (and Beautiful?)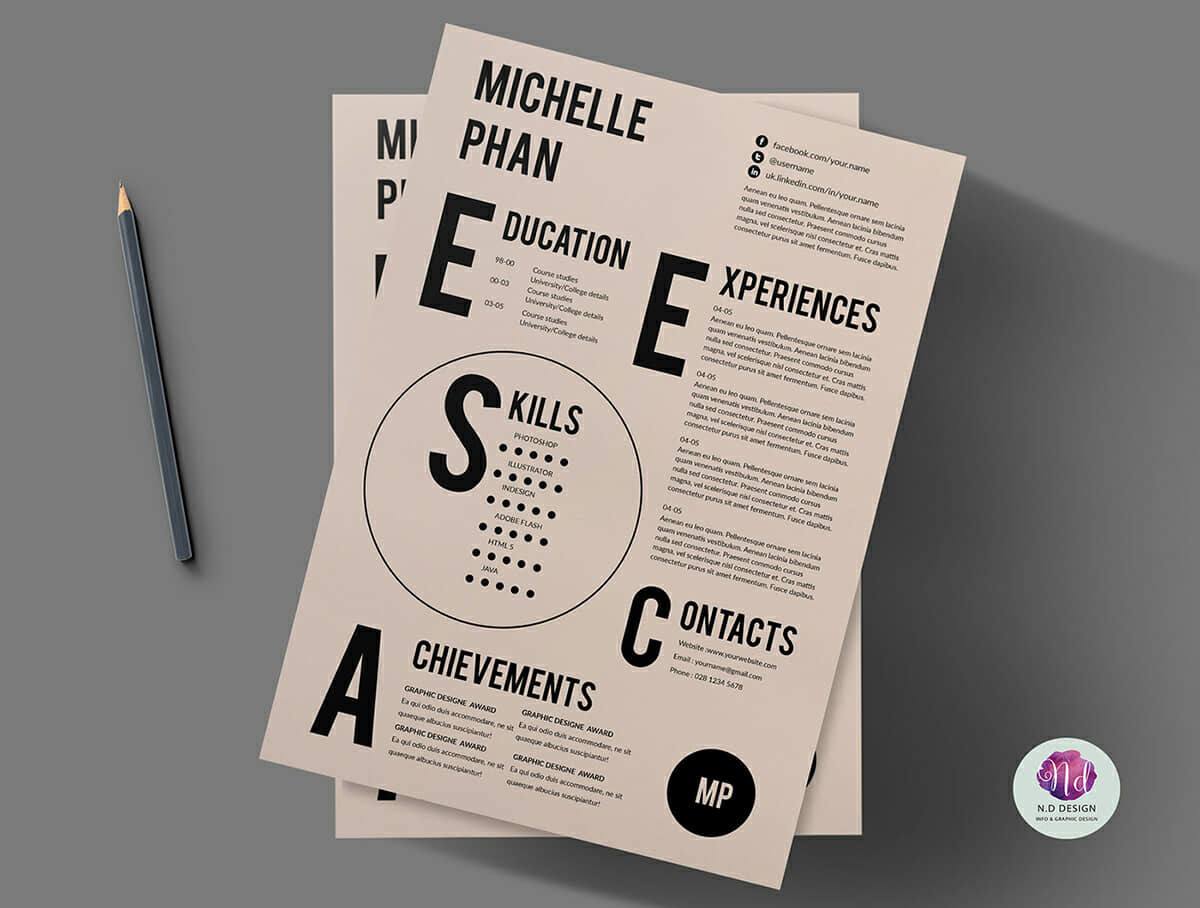 One of the most creative visual resumes by graphic designer Nhung Nguyen. Giant drop caps mark the start of each section. All kinds of boundaries are broken, the resume uses multiple columns, aligned differently and scattered across all parts of the resume.
Sounds like a hot mess? But somehow it works!
Like with most visual resume templates, though, scannability is the main problem of this one. You could make it work during career fairs or networking events, but for corporate job applications, it might confuse recruiters and, in the end, do you more harm than good.
Here's the link. Editable in Illustrator only.
16
Yet Another Watercolor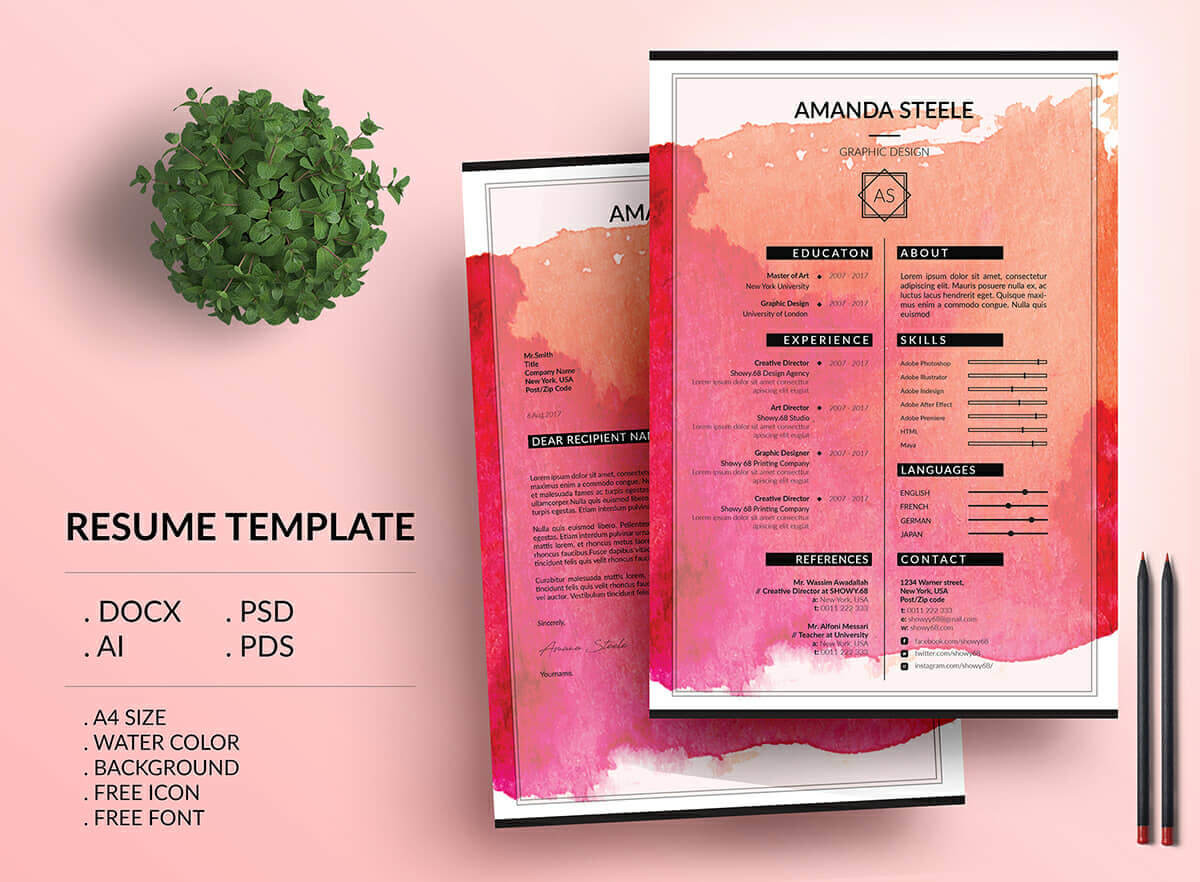 This is where we make a wrap (an a loop). Started with a watercolor visual template, finishing off with just that. Do Anh Nguyet's template is colorful and creative without being overwhelming. It's two-column layout gives you plenty of room to talk up your experience, education and skills.
Recommended only for applications where you don't suspect an ATS encounter.
Want to know how to make a creative resume in Microsoft Word? This one is the answer. If you're an Adobe user, it's got templates in your size, too.
Here's the link.
Plus, a great cover letter that matches your resume will give you an advantage over other candidates. You can write it in our cover letter builder here. Here's what it may look like:
See more cover letter templates and start writing.
Key Takeaway
Here's all you need to know about visual resume templates:
Visual resumes with lots of graphics are beautiful and fun but they might not pass ATS scans.
To stay on the safe side, save your visual resume as a PDF with a text layer over the graphics (that's what our resume builder allows you to do).
While visual resumes are usually a waste of space. Words are more important than graphics, keep that in mind.
Speaking of which—
A pretty resume design won't get you far if you don't know how to write the contents. Luckily, we have tons of resources to help you out:
First, learn the critical rules. This quick guide will take you from a resume rookie into expert in 5 minutes: How to Make a Resume: A Step-by-Step Guide

Then, pick a professional format. This is key to presenting your strongest suit to employers. Make them realize they need you: Resume Format: How to Format a Resume Right

Once you've got the general idea for your resume contents, get the show on the road. Ain't as easy as it seems? Well, we've just made it easy: How to Start a Resume: A Complete Guide With Tips & 15+ Examples

And learn the best hacks and tricks here: 40 Best Resume Tips
One last thing:

Do write a cover letter.
Here's how: How To Write A Cover Letter in 8 Simple Steps
Do you have any questions on choosing the visual resume template? Give us a shout in the comments and we'll get back to you!