30 Best Resume Templates for Word (Free Download)
You can get a beautiful resume in a few minutes without too much tinkering in an editor! See our list of the best and also free resume templates for Word that you can customize.
Tried editing your resume in Word but created a table wider than the page itself? I get it. These things rarely want to cooperate. But you're in the right place.
See a collection of resume templates for Word (also free) that will save you the hassle of selecting fonts and formatting columns.
This guide will show you:
Where to find free resume templates for Word online.
The advantages and disadvantages of Word resume templates.
Tips on how to pick the right Word resume template for you.
A collection of resume templates for Word better than 9 out of 10 others out there.
Want to save time and have your resume ready in 5 minutes? Try our resume builder. It's fast and easy to use. Plus, you'll get ready-made content to add with one click. See 20+ resume templates and create your resume here.
Sample resume made with our builder—See more resume examples here.
Is it OK to Use Microsoft Word Resume Templates?
You came here for free resume templates for Word. But before you dive in, there are a few things worth considering.
Word offers over ten free templates for you to choose from. But given their easy access, you won't be the only one using them, so it'll be challenging to stand out. Thanks to their customizable designs, though, you will be able to personalize the template. Caveat: if you have enough time for a desperate struggle with the clunky formatting tools.
Editing can be time-consuming and require more than basic knowledge of Microsoft Word. And if you're doing it for the first time, you may not necessarily realize there are special resume formats you need to follow. Plus, you'd better know the rules behind an ATS-friendly template, or else nobody will have a look at your resume.
Pro Tip: When writing your resume, pay attention to its structure and the general look and feel. Studies show that recruiters spend only about 7 seconds scanning your resume initially. If it looks cluttered or they can't quickly find the information they're looking for, they're very likely to reject it.
As you see, choosing one of the free resume templates for Word may not be an ideal solution for you. But there's one thing you can try before making a decision—our resume builder.
Zety resume builder offers resume templates that are easy for you to play with, ready-made content suggestions for your profession, and a worry-free spell checker. Each of our templates is compatible with the Applicant Tracking Software, and you can download it in the Word file format. See for yourself:
Cubic
Cubic is a professional resume template for Word that pairs traditional resume elements with a modern, minimalist layout. It's nicely divided into three sections, each of which is of a different color. The progress bars will keep the recruiters reading till the end.
Good for: Accounting Resume
Concept
This resume template incorporates a timeline that makes it easier for the reader to follow your professional experience. The resume icons catch the attention of the reader. And you can easily edit the color palette of this resume template in our builder.
Good for: Contractor Resume
Crisp
Crisp is one of our two-column resume templates for Word. Its elegant look will work great for both creative and more traditional roles. No matter how much information you want to add, our builder will help you fit it all on one page.
Good for: Graphic Designer Resume
Diamond
This resume template is a good choice for candidates who prefer the combination resume format. The sections are clearly visible and easy to skim.
Good for: Business Resume
Enfold
Whether you're working in a traditional or creative role doesn't matter. This is one of our resume templates for Microsoft Word that will work great in every imaginable scenario. The resume summary area at the top will help the recruiter quickly learn your stronger traits.
Good for: Student Teacher Resume
Iconic
This resume template is very easy to scan, and as such, it's suitable for anyone pursuing a corporate position that attracts numerous candidates. The resume header, which is easy on the eye, will let the recruiters quickly see your great hire potential.
Good for: Database Developer
Influx
This modern-looking and elegant Microsoft Word resume template is a good choice for a managerial resume in more traditional industries. Its one-column layout is perfect for including a longer description of your work experience.
Good for: Operations Manager Resume
Minimo
This minimalistic resume template will be just as suitable for an academic CV as a more formal executive resume. It's predominantly focused on the content, with a subtle addition of bar graphs to illustrate your proficiency in various skills.
Good for: Graduate Resume
Modern
This modern resume template includes visual elements that make it stand out from the rest and yet don't distract the reader from the document's content. Thanks to its two-column layout, it can hold much information without looking cluttered.
Good for: Event Manager Resume
Initials
The visual addition of your initials makes this Word template for a resume look different from the rest. The template also incorporates a skill grading scale and a set of icons to make your abilities and contact details clearly visible.
Good for: Starbucks Resume
Muse
This resume template blends professionalism and simplicity. The section titles are accentuated with small ribbon-shaped icons right next to them. This design emphasizes the header, so it's worth creating an effective resume summary or a career objective!
Good for: Hotel Front Desk Resume
Nanica
Nanica is one of our resume templates for Microsoft Word that's perfect for a two-page resume or an academic CV. Thanks to its simple formatting, the resume sections can smoothly extend into page two and beyond if necessary.
Good for: Computer Engineering Resume
Primo
This Word .doc resume template has a two-column layout that lets you include all your relevant experience and key skills. You'll still have plenty of room to add extra resume information, such as computer skills or language proficiency.
Good for: IT Project Manager Resume
When making a resume in our builder, drag & drop bullet points, skills, and auto-fill the boring stuff. Spell check? Check. Start building a professional resume template here for free.
When you're done, our easy resume builder will score your resume and our resume checker will tell you exactly how to make it better.
Newcast
Another one of our professional resume templates for Word that's perfect for a longer document. It's suitable for seasoned executives and distinguished academics alike.
Good for: Law School Application Resume
Simple
Thanks to its two-column layout, this simple resume template for Word is perfect for experienced candidates who want to present their professional side on a single page.
Good for: Maintenance Technician Resume
Valera
Valera is a creative resume template for Word that combines youthful energy with pure professionalism. Also, it's perfectly usable as a two-page resume template.
Good for: Entry-Level Marketing Resume
Vibes
This resume template for Word mixes simplicity with modernity. The icons draw the recruiter's eye right to the section titles, and the white space gives it an elegant, professional look.
Good for: Public Relations Resume
Cascade
Cascade is a very universal resume template for Word. It's suitable for entry-level candidates and executives alike. Its two-column layout will let you include a lot of information without cluttering the document.
Good for: Nursing Student Resume
And that was the last one of them.
Use one of the above templates to create your own resume. And once you finish, download the document as a Word file. The result? Great-looking, immaculately formatted, and still editable resume.
Now, if you still want to see what Microsoft Word offers, there you have it.
Where Can You Find Free Resume Templates for Word?
Here's the good news—you don't have to browse through a hundred web pages to find free resume templates for Word. Why? Because Microsoft Word already offers a bunch of free templates.
Follow these steps for easy access to resume templates in Microsoft Word:
Launch Microsoft Word.
Start creating a new document.
Click on Resume and Cover Letter, or type "resume" into the search bar.
Select the Word resume template you like.
Click Create and start editing the template in Word.
Or you can go straight to Microsoft's templates page and browse through designs.
But browsing a long gallery can take a lof of time. So, we've saved you the trouble and picked out the best free resume templates for Word.
Ready to check them out? Let's jump right in!
Want to make your resume in Word from scratch? Learn how: How to Write Your Resume in Word
12 Free Resume Templates for Word
See a collection of 12 resume templates for Word that are suitable for most professional positions:
1. Resume (Color)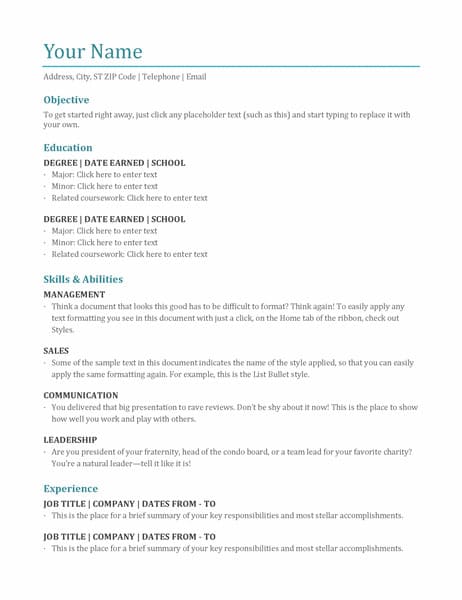 This minimalist Word resume template emphasizes the candidate's education and skills. It's best for individuals who prefer the functional resume format. The subtle addition of color makes this template stand out from classic black-and-white designs.
Good for: Human Resources Resume
2. Polished Resume by MOO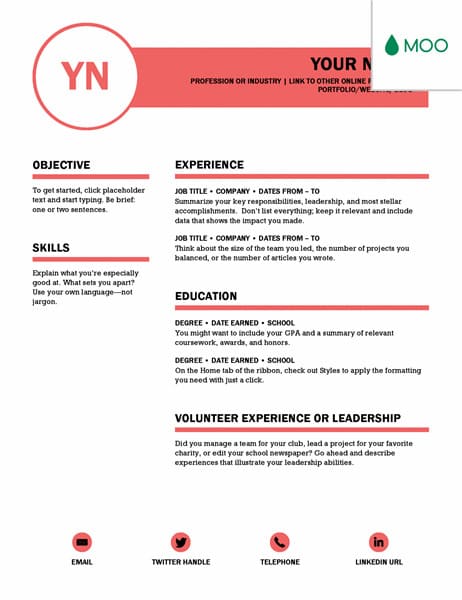 Bored of classic designs? This modern resume template for Word includes a bold choice of color and a dramatic contrast of white space and text. It's perfect for confident job applicants.
Good for: Real Estate Resume
3. Rose Suite Resume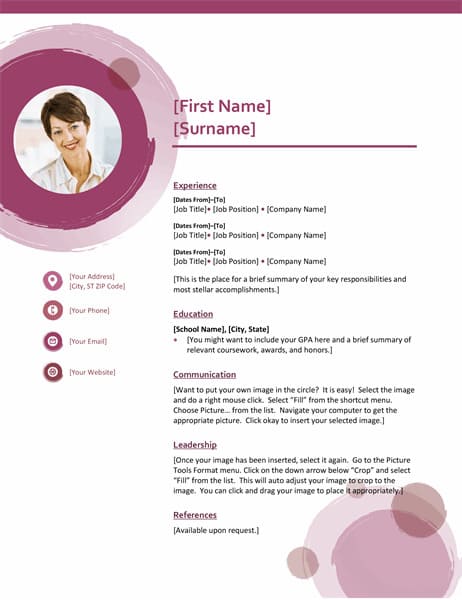 Need a creative resume template that you can format in Word with additional space for your headshot? This one is an excellent choice to make you stand out from the crowd. Show your artistic side along with your qualifications.
Good for: Artist Resume
4. Chronological Resume (Simple Design)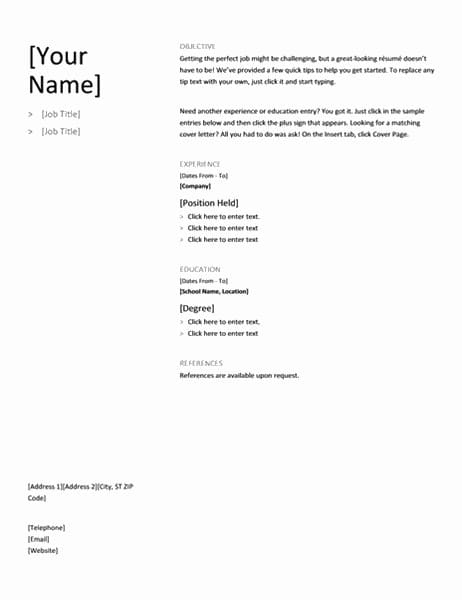 Simple doesn't equal basic. This free resume template for Word proves that. It's a black-and-white design that uses capital letters to highlight the resume sections. A great choice for candidates who want their work experience to speak for itself.
Good for: Customer Success Manager Resume
5. Bold Monogram Resume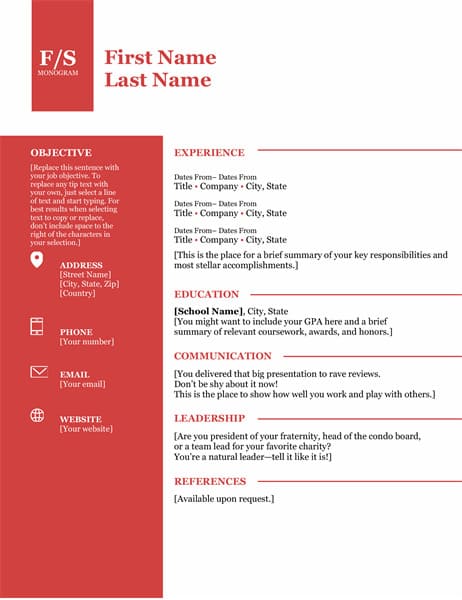 Want to make a bold statement with your resume? This is a great choice. Color blocks immediately catch the reader's attention, and the monogram header will make them remember your name.
Good for: Brand Ambassador Resume
6. Sticky Note Resume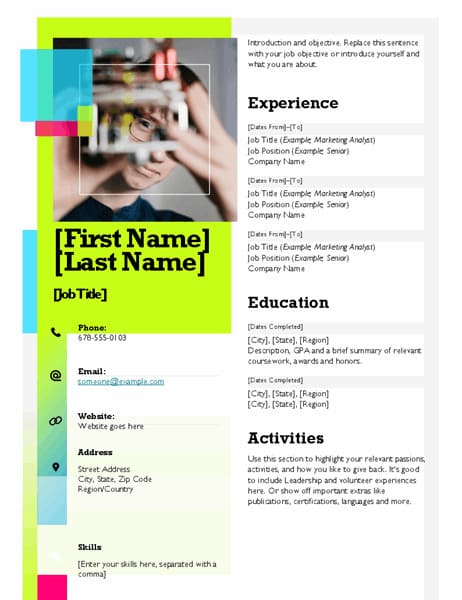 If black-and-white Word resume templates make you yawn, this can be a great choice. This unique design features multiple colors and a space for your headshot.
Good for: Video Editor Resume
7. Balanced Resume (Modern Design)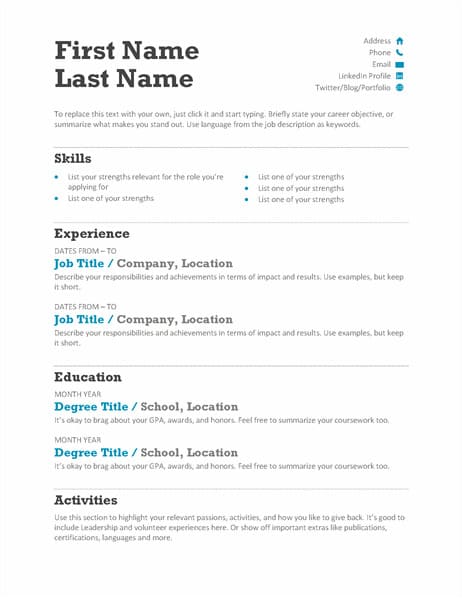 This free Word resume template allows you to show professionalism without appearing dull. The perfect balance of white space and text, the subtle addition of colors, and the mini icons make this design very pleasant to look at. It's a good choice for candidates who prefer the combination resume format.
Good for: Digital Marketing Resume
8. Basic Modern Resume
This classy design fits any profession. It's a great one-page resume template for Word, suitable for job applicants who don't want flashy colors to overshadow their qualifications.
Good for: Assistant Manager Resume
9. Crisp and Clean Resume by MOO
If you're a fan of modern design and infographic resumes, this Word resume template can match your taste. The bright colors of this template evoke positive emotions and provide a great backdrop for your qualifications.
Good for: Product Manager Resume
10. Contemporary Resume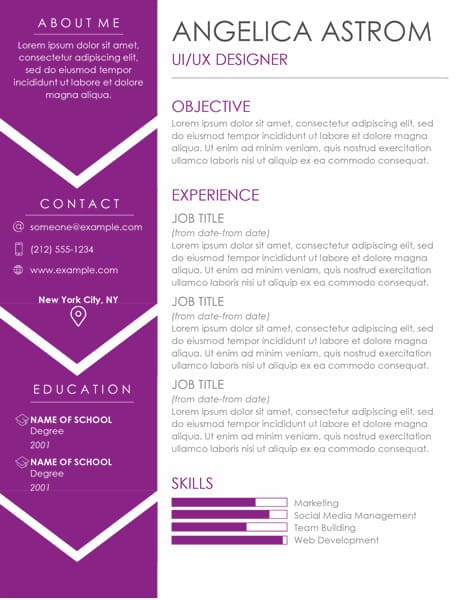 Do you believe that modern problems require modern solutions? Then this is the perfect free Word resume template for you. It has a contemporary look thanks to a bold addition of color, the progress bars in the skill sections, and minimalist icons. Yet, it still follows the preferred reverse-chronological resume format.
Good for: Supervisor Resume
11. Columns Resume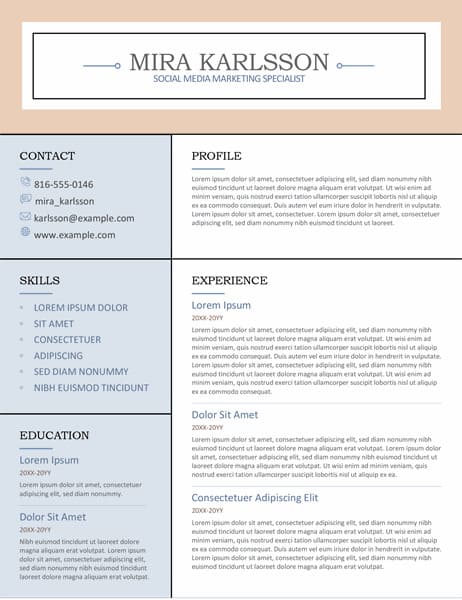 This resume template for Word uses a grid design to organize all information neatly. Thanks to capitalized headings, each section is clearly separated and easy to spot. A great choice for job applications that value orderliness.
Good for: Inventory Manager Resume
12. Creative Resume by MOO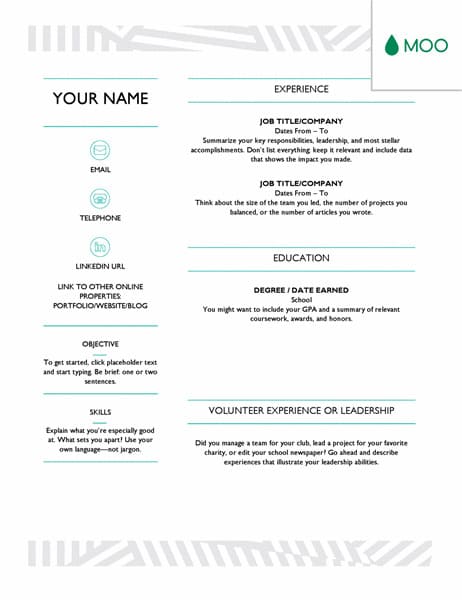 Are you a creative person? Then this resume template for Word can be a good fit for you. It stands out from the rest, thanks to modern resume icons and the visually appealing header and footer.
Good for: Copywriter Resume
Need to see more resume templates before making your decision? Check here:
Plus, a great cover letter that matches your resume will give you an advantage over other candidates. You can write it in our cover letter builder here. Here's what it may look like:
See more cover letter templates and start writing.
This is it! How do you like our selection of resume templates for Word? Would you like to share your opinion with us? Leave us a comment below! We're always happy to hear from you.
About Zety's Editorial Process
This article has been reviewed by our editorial team to make sure it follows Zety's editorial guidelines. We're committed to sharing our expertise and giving you trustworthy career advice tailored to your needs. High-quality content is what brings over 40 million readers to our site every year. But we don't stop there. Our team conducts original research to understand the job market better, and we pride ourselves on being quoted by top universities and prime media outlets from around the world.
Frequently Asked Questions about Free Resume Templates in Microsoft Word
Is there a resume template in Microsoft Word?
Yes, you can find resume templates in Microsoft Word. Go to your desktop application or choose an online version to download them. But remember, you won't get the support you'll need to make a resume, which you would after selecting a great resume builder.
Which MS Word template is the best?
Choosing the best MS Word template depends on the job you're applying for. Yet, selecting a modern resume template is always a good idea. The Social Media Marketing Resume, Modern Hospitality Resume, and Stylish Teaching Resume templates are good examples of modern MS Word templates.
How to make a resume template in MS Word?
Creating a resume template in Microsoft Word doesn't require special Microsoft Office skills.
Simply follow these steps:
Open the Microsoft Word app and start a new document.
Click on Resume and Cover Letter under the text box, or type "resume" in the search bar.
Choose the resume template you like and start editing!
If you want to learn how to make a resume for a specific job, have a look at more than 500 resume examples that will help you understand what skills to use on your resume.
Should I send my resume in Word format?
Unless specified in the job ad, you shouldn't send your resume in Word format. Most job applications require a resume in PDF, as it helps you keep the formatting just how you intended it to be. But most importantly, today's ATS systems can read them just as well as Word resumes.