Creative Director Resume Examples [Skills & Job Description]
You work the big magic, winning clients and leading teams to finished products that grab us by the gut. This sample creative director resume helps prove it to the hiring manager.
As a creative director, you can turn a simple idea into a marketing supernova. But selling yourself to hiring managers is tougher than convincing people that Pluto is still a planet (or not a planet, depending on where you stand).
With our guide, you'll craft a cosmic creative director resume that'll have them seeing stars. Ready to launch your career into orbit?
This guide will show you:
A creative director resume example better than 9 out of 10 other resumes.
How to write a creative director resume that will land you more interviews.
Tips and examples of how to put skills and achievements on a creative director resume.
How to describe your experience on a resume for a creative director to get any job you want.
Want to save time and have your resume ready in 5 minutes? Try our resume builder. It's fast and easy to use. Plus, you'll get ready-made content to add with one click. See 20+ resume templates and create your resume here.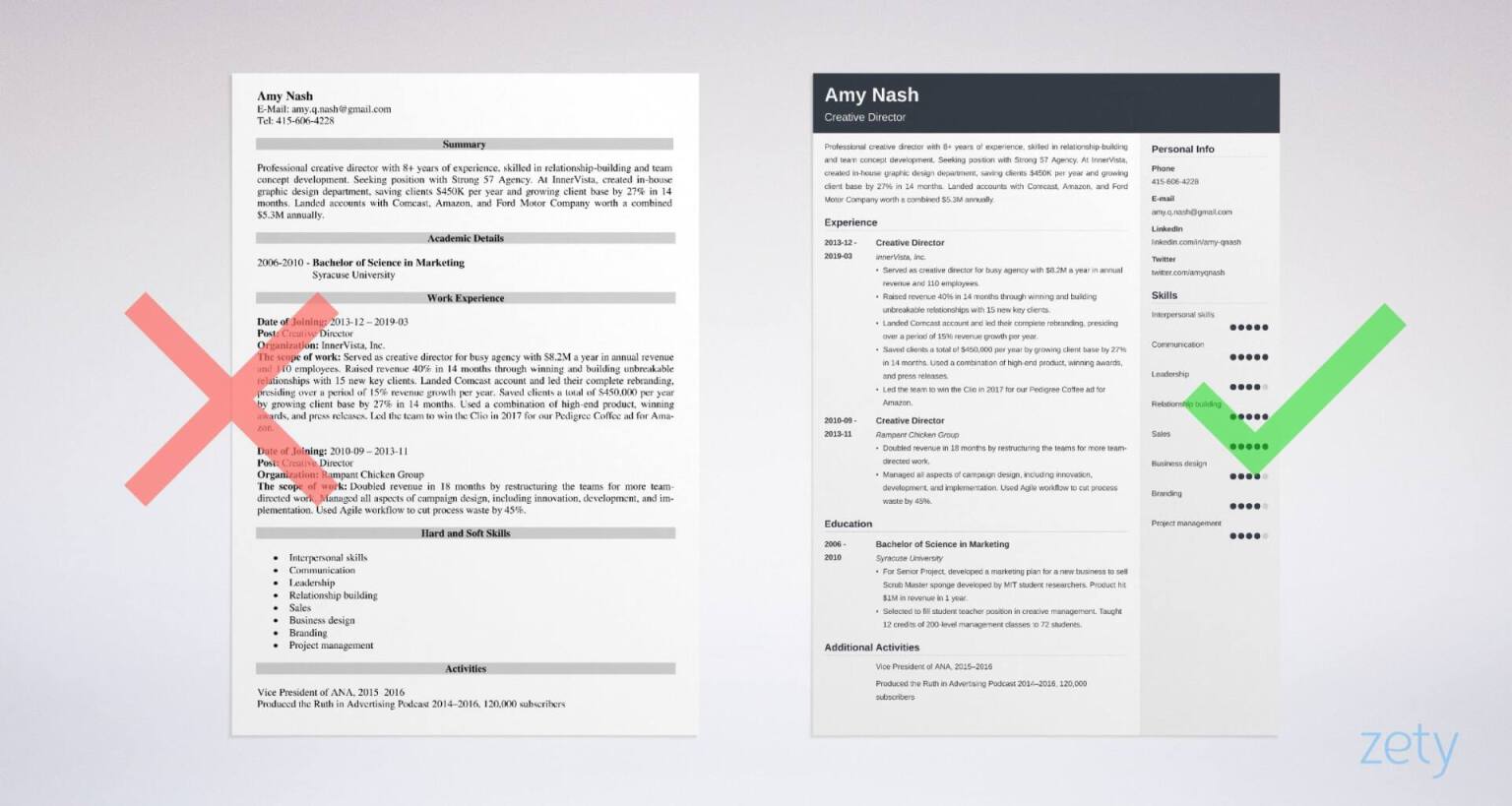 Sample resume made with our builder—See more resume samples here.
Sample Creative Director Resume Sample
Amy Nash
amy.q.nash@gmail.com
415-606-4228
LinkedIn.com/in/amy-qnash
Twitter.com/amyqnash
Professional Summary
Professional creative director with 8+ years of experience, skilled in relationship-building and team concept development. Seeking position with Strong 57 Agency. At InnerVista, created in-house graphic design department, saving clients $450K per year and growing client base by 27% in 14 months. Landed accounts with Comcast, Amazon, and Ford Motor Company worth a combined $5.3M annually.
Work Experience
Creative Director
InnerVista, Inc.
Dec 2013–March 2019
Served as creative director for busy agency with $8.2M a year in annual revenue and 110 employees.
Raised revenue 40% in 14 months through winning and building unbreakable relationships with 15 new key clients.
Landed Comcast account and led their complete rebranding, presiding over a period of 15% revenue growth per year.
Saved clients a total of $450,000 per year by growing client base by 27% in 14 months. Used a combination of high-end product, winning awards, and press releases.
Led the team to win the Clio in 2017 for our Pedigree Coffee ad for Amazon.
Creative Director
Rampant Chicken Group
Sept 2010–Nov 2013
Doubled revenue in 18 months by restructuring the teams for more team-directed work.
Managed all aspects of campaign design, including innovation, development, and implementation. Used Agile workflow to cut process waste by 45%.
Education
2006–2010 Syracuse University
Bachelor of Science in Marketing
For Senior Project, developed a marketing plan for a new business to sell Scrub Master sponge developed by MIT student researchers. Product hit $1M in revenue in 1 year.
Selected to fill student teacher position in creative management. Taught 12 credits of 200-level management classes to 72 students.
Skills
Soft skills:

Interpersonal skills, communication, leadership

Hard skills:

Relationship building, sales, business design, branding, project management
Activities
Vice President of ANA, 2015–2016
Produced the Ruth in Advertising Podcast 2014–2016, 120,000 subscribers
Creative and art directors are not exactly the same job. If art is your director job title prefix, check out our dedicated guide here: Art Director Resume: Sample & Guide
And if you're looking for other senior-level creative jobs, check these out:
Here's how to write a creative director resume that gets jobs:
1. Choose the Best Format for Your Creative Director Resume
Your creative industry resume must stand out like an ad by DDB.
Make it do that with these steps:
Pro Tip: How many pages should a resume be for creative director jobs? If you've got enough Clio-worthy achievements to fill two pages, do it. Otherwise stick to one sheet.
2. Write a Creative Director Resume Objective or Resume Summary
You know you have to hook them fast.
Do that with a resume profile unlike any other.
It must show skill, experience, and real-world accomplishments.
Got 2+ years of experience? Write a professional resume summary. That's a short paragraph with impressive creative director achievements and a few skills.
Got less? Write a professional resume objective. Focus on your skills, but here's a tip—list accomplishments from other jobs that show transferable skills.
Pro Tip: The best time to write your creative director resume profile? Last. That way you can fill it with the best plums from your full resume copy.
3. Create the Perfect Creative Director Position Description for Your Resume
What's better—
Saying, "I did XYZ" or saying, "I did XYZ and created massive benefit for the company?
Want to A/B test it?
Show effect by tailoring your resume. So, match your creative director professional experience section to the job posting:
List your last job first.
Use your current job title, dates worked, and company name.
Flesh out each job with 3–5 bullet points. Balance them between job duties and accomplishments.
Add numbers. Numbers show your achievements are TBWA-sized.
Use resume power words to keep employers glued to your resume.
Pro Tip: Write more bullets for your most recent creative director positions. As you near the bottom of your resume, add less proof you were amazing back then.
4. Write a Creative Director Resume Education Section That Sells
Here's a tip:
You can show your education on a resume for creative industry jobs. Or—
You can use it to get hired.
To do the second, pack your education section with selling points:
Did you accomplish things in school that prove skills creative directors need? List them.
You can add clubs, positions, projects, sports teams, or anything that shows your leadership or other transferable skills.
Should you list your GPA? Only if it's so high it gives nosebleeds (or so recent you can't avoid it).
Pro Tip: Making an entry-level resume for creative jobs? That's tough, but you've got this. Make your education section longer by splitting it into different sections for each accomplishment.
5. Showcase Your Creative Director Skills
Use this creative director resume skills list to build a professional resume:
Creative Director Resume Skills
Hard Skills:
Business design
Management
Relationship building
Sales
Budgeting
Project management
Branding
Graphic design
Strategy development
Video production
Soft Skills:
Leadership
Collaboration
Writing
Organization
Mentorship
But don't dump that list of professional skills on your resume for creative director jobs. Focus on a few hard skills & soft skills the job posting asks for.
Back each one up with the hard evidence of an achievement in your resume.
Pro Tip: Writing an associate creative director resume but never held the title? Show you have transferable skills from other jobs like copywriter or graphic designer.
When making a resume in our builder, drag & drop bullet points, skills, and auto-fill the boring stuff. Spell check? Check. Start building a professional resume template here for free.
When you're done, our online resume builder will score your resume and our resume checker will tell you exactly how to make it better.
6. Add Other Sections to Your Creative Director Resume
Want to prove your passion for creative director work?
Show you've got it even when you're off the clock.
Pack your achievements in "other" sections that show your skills are 24/7.
Include resume sections for:
Activities
Conferences
Publications & media mentions
Awards & Honors
Professional associations
Fill each with accomplishments that bolster your creative director chops.
Pro Tip: A couple "other" sections is plenty in a creative director resume. That is—unless you've got so many show-stopping accomplishments you just have to list them all.
7. Attach a Cover Letter to Your Creative Director Resume
Yes.
They say recruiters hate them, but they mean generic ones.
Nearly half of all hiring managers actually insist on them.
But—
Pro Tip: Make a calendar event to send a follow-up on your job application in a few days. Doing that could be the spark that gets you hired.
Plus, a great cover letter that matches your resume will give you an advantage over other candidates. You can write it in our cover letter builder here. Here's what it may look like: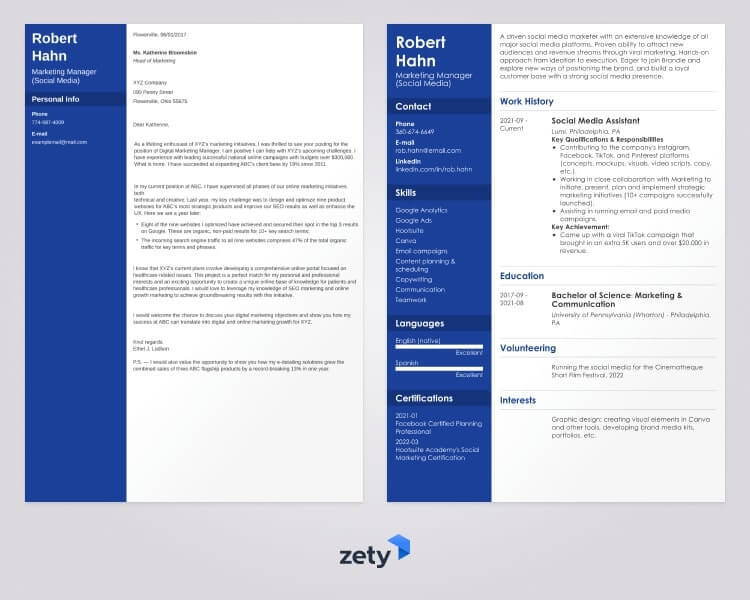 See more cover letter templates and start writing.
That's it!
That's how to write a resume for creative director positions.
Still scratching your head about how to write a professional creative director resume? Did you write a stellar resume yourself and want to share? Give us a shout in the comments. We'd love to talk!
About Zety's Editorial Process
This article has been reviewed by our editorial team to make sure it follows Zety's editorial guidelines. We're committed to sharing our expertise and giving you trustworthy career advice tailored to your needs. High-quality content is what brings over 40 million readers to our site every year. But we don't stop there. Our team conducts original research to understand the job market better, and we pride ourselves on being quoted by top universities and prime media outlets from around the world.