Creative Director Resume Examples [Skills & Job Description]
You work the big magic, winning clients and leading teams to finished products that grab us by the gut. This sample creative director resume helps prove it to the hiring manager.
Sample Creative Director Resume Sample
Amy Nash
amy.q.nash@gmail.com
415-606-4228
LinkedIn.com/in/amy-qnash
Twitter.com/amyqnash
Professional Summary
Professional creative director with 8+ years of experience, skilled in relationship-building and team concept development. Seeking position with Strong 57 Agency. At InnerVista, created in-house graphic design department, saving clients $450K per year and growing client base by 27% in 14 months. Landed accounts with Comcast, Amazon, and Ford Motor Company worth a combined $5.3M annually.
Work Experience
Creative Director
InnerVista, Inc.
Dec 2013–March 2019
Served as creative director for busy agency with $8.2M a year in annual revenue and 110 employees.
Raised revenue 40% in 14 months through winning and building unbreakable relationships with 15 new key clients.
Landed Comcast account and led their complete rebranding, presiding over a period of 15% revenue growth per year.
Saved clients a total of $450,000 per year by growing client base by 27% in 14 months. Used a combination of high-end product, winning awards, and press releases.
Led the team to win the Clio in 2017 for our Pedigree Coffee ad for Amazon.
Creative Director
Rampant Chicken Group
Sept 2010–Nov 2013
Doubled revenue in 18 months by restructuring the teams for more team-directed work.
Managed all aspects of campaign design, including innovation, development, and implementation. Used Agile workflow to cut process waste by 45%.
Education
2006–2010 Syracuse University
Bachelor of Science in Marketing
For Senior Project, developed a marketing plan for a new business to sell Scrub Master sponge developed by MIT student researchers. Product hit $1M in revenue in 1 year.
Selected to fill student teacher position in creative management. Taught 12 credits of 200-level management classes to 72 students.
Skills
Soft skills:

Interpersonal skills, communication, leadership

Hard skills:

Relationship building, sales, business design, branding, project management
Activities
Vice President of ANA, 2015–2016
Produced the Ruth in Advertising Podcast 2014–2016, 120,000 subscribers
Want to save time and have your resume ready in 5 minutes? Try our resume builder. It's fast and easy to use. Plus, you'll get ready-made content to add with one click. See 20+ resume templates and create your resume here.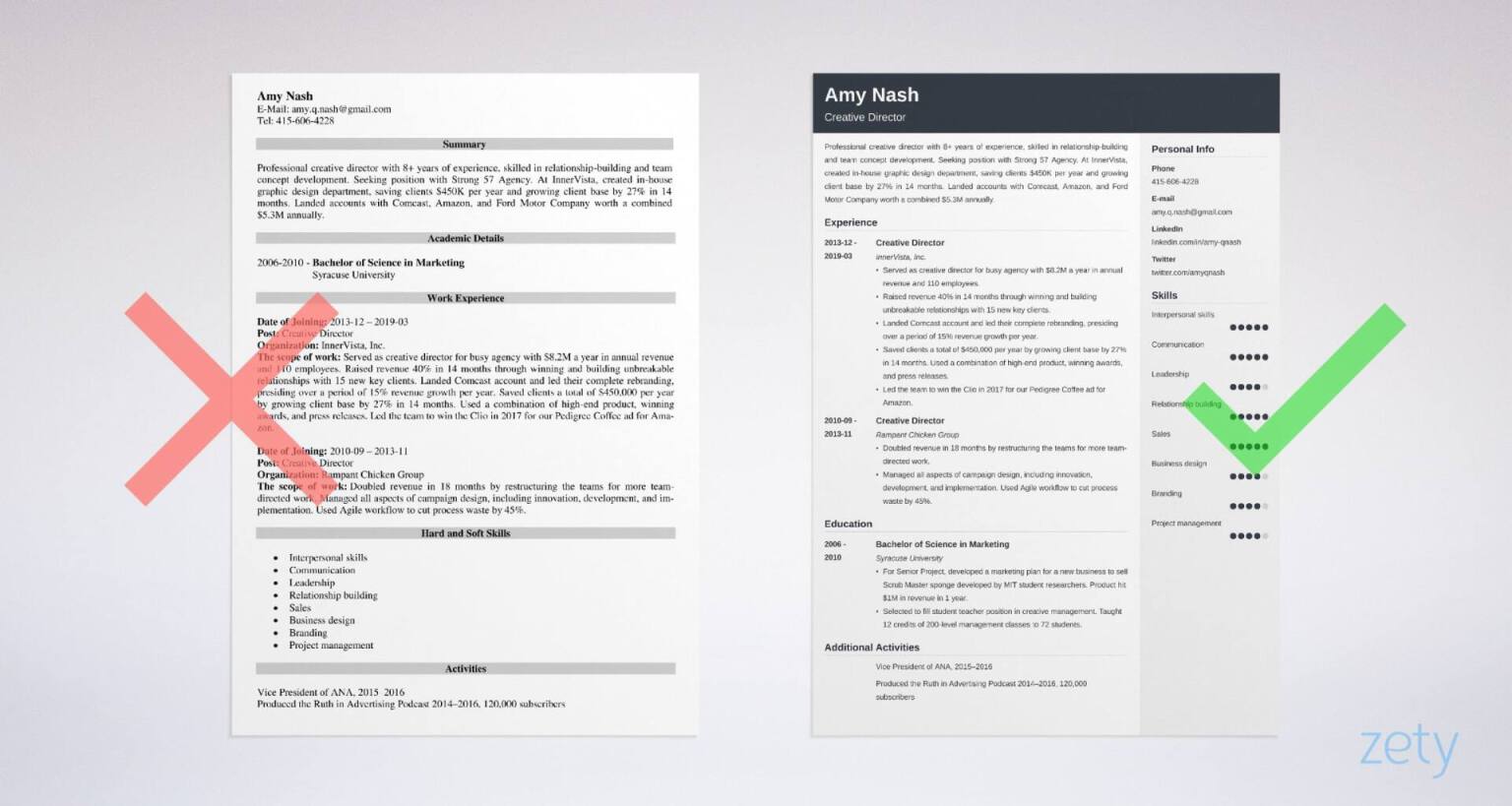 Sample Creative Director Resume—See more templates and create your resume here.