Ready to write an event planner resume? Figuring out the best venues and vendors. Managing the finances and logistics. Being yelled at in front of everyone while maintaining a sincere smile.
It's your dream gig.
You're confident you can plan and execute an event once you get the job, but how do you prove it to them? Don't worry.
This event planner resume guide will show you:
Event planner resume examples better than 9 out of 10 other resumes.
How to write an event planner resume that will land you more interviews.
Tips and examples of how to put skills and achievements on an event planner resume.
How to describe your experience on a resume for an event planner to get any job you want.
Here's an event planner resume sample made using our resume builder:
Want to save time and have your resume ready in 5 minutes? Try our resume builder. It's fast and easy to use. Plus, you'll get ready-made content to add with one click. See 20+ resume templates and create your resume here.
Sample resume made with our builder—See more resume samples here.
Want to see other resume samples for jobs related to event planning and the events industry? Have a look at one of our guides:
Trade Trifles & Trivia: What is event planning? Is there a difference between that and an event coordinator?
An event planner generally makes all the decisions, arrangements, and logistical preparations in advance. Event coordinators typically carry out the plan and make it realized. These terms are often interchanged, so it is best to check the job description in detail.
Event Planner Resume Example
Paul Burton
Event Planner
123-456-7890
paulburton@email.com
linkedin.com/in/paul.burton
Summary
Dynamic and creative Certified Meeting Professional with over 8 years of experience in organizing and executing a wide range of events. Eager to support Stellar Planners in bringing unique and memorable events to life. Successfully managed a team at Sparkle Events that organized an international conference hosting over 5,000 participants.
Experience
Senior Event Planner
Sparkle Events, Sitka, AK
June 2013–Present
Key Qualifications & Responsibilities
Managed planning and execution of events, including conferences, trade shows, and social events.
Led a team of 5 junior event planners, facilitating growth and development.
Communicated with clients to understand their event objectives and requirements.
Successfully organized an international conference with over 5,000 participants.
Key Achievement:
Successfully managed a team that organized an international conference hosting over 5,000 participants.
Event Planner
Dream Event Solutions, Sitka, AK
May 2010–May 2013
Key Qualifications & Responsibilities
Assisted in planning and organizing weddings, corporate events, and trade shows.
Handled vendor relations, budget management, and event promotion.
Managed client relationships, ensuring satisfaction and repeat business.
Key Achievement:
Successfully managed 20+ weddings with budgets exceeding $50,000.
Education
Bachelor's Degree in Hospitality Management
University of Alaska, Anchorage, AK
September 2006–May 2010
Relevant extracurricular activities
Student Event Planners Association, Chapter President.
Organized annual campus-wide charity event.
Skills
Strong communication skills
Team leadership
Budget management
Vendor relations
Event promotion
Organizational skills
Client relationship management
Proficiency in event management software
Certifications
Certified Meeting Professional (CMP), Events Industry Council, 2012
Awards
2016, Event Planner of the Year, Sparkle Events
Memberships
Member of the Professional Convention Management Association since 2015
Delivered a lecture on "Creativity in Event Planning" during the 2018 PCMA Convening Leaders Conference
Languages
English—Native
Spanish—Intermediate
Interests
Volunteering for local music festivals
Organizing community fundraising events
1
Format the Event Planner Resume Before Writing
Before you begin writing your resume, make sure the event planner resume template is formatted to perfection.
Here's how:
How to Format an Event Planner Resume with Experience
Have experience working in event production or with event planning jobs?
The reverse-chron format emphasizes your most recent education and employment history first.
If you have secondary entries, those go below it, and so on.
Pro Tip: Choose the best resume fonts to make it easy for the hiring manager to read your resume. Use 11pt or 12pt font size for the body, and 2-4pts larger for subtitles.
How to Format an Event Planning Resume With No Experience
Writing an entry-level event planner resume?
On a first-time job resume, you'll still use reverse-chronological format.
However, you'll simply list the duties you were tasked with at the other jobs which are closest in nature to the role of an event planner.
Pro Tip: Save the resume as a PDF, but check the job ad first to be certain PDFs are acceptable. Though rare, some applicant tracking systems can get jammed like a narrow emergency exit on PDF formatting.
Not 100% sure using the reverse-chron layout is right for your party planner resume? See our guide: The Best Resume Formats: Which One to Choose for Your Job?
When deciding which resume layout to choose, create an outline to plan out its organization. See this article for more: Resume Outline Examples: Complete How-To Guide With 15+ Tips
2
Choose an Event Planner Resume Summary or Resume Objective
Like a wedding MC speaking to people of ever-decreasing attention spans, you need to catch the employer's attention from the very beginning.

That's where resume objectives or resume summaries come into play.
Which one is right?
The Event Planner Resume Summary
Use the career summary when you have experience in the events industry space.
The summary statement is a brief paragraph at the top of your resume which highlights your wins in previous event planning roles. To kick things up a notch, this introductory paragraph mixes in a key achievement using numbers to certify your event planning talent.
Here are examples of event planning resume summaries:
RIGHT
Personable event planner with 4+ years expertise in a fast-paced agency in a large city. Certified Meeting Professional (CMP) certification. Managed 50+ events of parties over 200 attendees and budgets over $50,000. Seeking to advance event logistics career by growing with the Queens Qreative team.
wrong
I have been an event planner for the last 4 years. In addition to my expertise in various planning duties and responsibilities, I also handle event finances, logistics, venue booking, personnel, and key administration procedures.
See how ineffective the second one is? It's just a list of tasks related to event planning, but they get no idea how well you managed them.
The first example uses numbers to alleviate this issue.
Having trouble getting started on your special event planning resume? Check out this guide: How to Open a Resume: 15+ Examples
If you're craving more advice and examples of summaries for event planning resumes, check out our guide: How To Write A Resume Summary: 21 Best Examples You Will See
The Event Planner Resume Objective
Don't know the difference between an attrition rate and a rack rate?
Go with the career objective.
The resume objective statement for event planning resumes replaces your little or no experience with aspirational career goals. However, this intro paragraph also includes a number or two to verify your skills.
Here are examples of objectives for event planner resumes without experience:
RIGHT
Diligent and results-driven assistant manager with 3+ years experience at large retail store. Received top scores in customer happiness (100%) and return mitigation (97.5%). Looking to utilize transferable skills and switch careers by joining Queens Qreative team as a junior event planner.
WRONG
I am an assistant manager eager to become an event planner. I don't have experience in event coordination, but I am very motivated because I enjoy being in changing environments for work rather than at a desk each day.
Just like with the summary statement, numbered accomplishments make a solid introduction.
When making a resume in our builder, drag & drop bullet points, skills, and auto-fill the boring stuff. Spell check? Check. Start building a professional resume template here for free.
When you're done, our online resume builder will score your resume and our resume checker will tell you exactly how to make it better.
Want more resume objective examples? Check out our guide: 20+ Resume Objective Examples—Use Them On Your Resume (Tips)
3
Describe Your Job Experience on an Event Planner Resume
"Damn. That was the best event I've ever attended!"
That's not just what you'd wish guests and clients to say after their hangovers fade away—it's also the reaction you want from the agency director after they conclude your interview.
That means you'll have to deliver the experience description on your resume in a show-stopping way.
Here's how:
Experienced Event Planner Job Description on a Resume
Here are two event planner job description samples:
RIGHT
Event Planning Specialist
April 2014—November 2017
Hip Happenings, Miami, FL
Key Qualifications & Responsibilities
Planned events while managing all event project elements within allotted time limits.
Organized events by choosing best venues, catering, freelance staff, and MCs.
Encouraged timely and relevant package upgrades for event clients as necessary.
Key Achievements
Reduced event planning time by 35% through new partnership with Logan Enterprises group of venues.
WRONG
Event Planner
April 2014—November 2017
Hip Happenings, Miami, FL
Key Responsibilities
Coordinated events.
Helped clients with venue selection.
Solved event problems.
When you see those two examples back to back, it's easy to see how terrible the second one is. Sadly, though, many prospective event planners pull a similar stunt.
Always describe your past experience in detail, and never forget to include a numbered achievement.
Tailoring your resume for event planners will not only help you find your ideal resume length, but it will also turn managers into believers: 6 Tips on How to Target Your Resume to a Job Description (Examples)
Event Planner Resume With No Experience:
Never planned an event before?
Here's how to show them you're still a headlining act.
RIGHT
Assistant Manager
March 2012—June 2017
Conway Stores, Atlanta, GA
Key Responsibilities
Managed store opening, closing, and other planning duties.
Developed plans for promotional events on holidays and for seasonal sales.
Assisted the general manager in all aspects of supervisory duties.
Key Achievements
Created summer-ending sales event which increased revenue by 30% for July and August.
In this one, though you weren't an event planner, you listed those job responsibilities which make the most sense on a resume for event planner jobs.
How to find the right achievements to put on a resume for event planners? Check out this guide: How to Put Achievements on a Resume—Complete Guide (30+ Examples)
4
Ensure Your Education Section Doesn't Underperform
Like a venue without a properly planned table arrangement, the education section takes up unnecessary space.
False.
Even if the event planner job you're applying to doesn't require an advanced degree, you still need to list your educational background correctly.
Here's how to include a completed degree:
BA in Hotel & Event Management
Boston University, Boston, MA
Completion: 2013
Still completing your degree in college?
Here's how to list one still in progress:
Majoring in Hotel & Event Management
Princeton University, Princeton, NJ
Expected Graduation: 2022
Only a diploma from high school for now?
Do this:
Stephen F. Austin High School
Austin, TX
Graduated: 2018
Pro Tip: Don't add your diploma from high school or a GED onto your event planner resume if you've completed an advanced degree.
Would you like some more ways on how you can make the best use of your education section? Then check out: How to Put Your Education on a Resume [Tips & Examples]
5
List Top Skills on an Event Planner Resume
Event planning skills are everything, but there's a right way and a wrong way to go about it.
First, though—
Here are some examples of event planner resume skills:
Event Planning Skills for a Resume

| | |
| --- | --- |
| Event Planner Hard Skills | Event Planner Soft Skills |
| Event Management Software | Attention to Detail |
| Client Database Administration | |
| Event Coordination | |
| Venue Selection | Analytical Skills |
| Caterer Management | Teamwork |
| Service Ordering | |
| Project Management | Problem Solving |
| Budget Management | |
Find the perfect resume keywords by browsing the event planner job description and the job requirements section to identify skills they're seeking.
Add those to your event planner resume skills section.
Corporate event planner resume job description skills and requirements:
Degree in marketing, events planning, communications, or related field, or equivalent experience
Three years of events planning experience in a corporate environment
Proven project management, analytical, and problem solving abilities
Ability to

manage all phases of multiple projects simultaneously

and

adjust to continuously changing responsibilities and priorities

[2]
Excellent verbal and written communication skills

Excellent organizational and interpersonal skills

[3]
Knowledge of word processing, spreadsheet, and graphics applications
Marketing/communications experience
Previous

experience with Cvent and Salesforce

[1]
Proficient in Microsoft suite
Highly organized
Excels in a fast-paced atmosphere
That's an actual job advertisement for a corporate event planner. If you look at the highlighted phrases, it's clear what this employer is searching for in a candidate:
RIGHT
Exceptional understanding of Cvent and Salesforce applications [1]
Ability to multitask and manage all aspects of event planning process [2]
Terrific teamwork and interpersonal skills [3]
WRONG
Event planning software
Corporate administrative skills
Customer service
If you don't use the job requirements to your advantage, you risk your resume for event planning jobs looking generic and lazy.
Want more tips for writing the perfect resume skills list? See our guide: 30+ Best Examples of What Skills to Put on a Resume (Proven Tips)
6
Include Additional Sections for an Effective Event Planning Resume
To make your resume for event planner jobs more unique, add an extra section or two.
Here are a few ideal additional sections to add to an event planning resume:
Volunteer Experience
Do you have any volunteer work under your belt? Not only does it make you look like a candidate for sainthood, but it doubles as even more work experience!
Volunteering on a resume looks great, but only if list it correctly: How to List Volunteer Work on Your Resume [+Sample]
Hobbies & Interests
Hobbies and interests on a resume can be tricky, because why would they care, right? However, if you choose the best passions or pastimes, they can really round out a dull events planner resume. Read our guide: 20+ Best Examples of Hobbies & Interests To Put on a Resume (5 Tips)
Certifications
Many event professionals become certified, as it's an industry standard. Here are a few ideas for your resume:
Professional certifications are proof you have the event planning knowledge and skills to do the gig right. Don't list them the right way, and you can kiss your chances goodbye: How to List Certifications on a Resume: Guide (+20 Examples)
Languages
Are you proficient in a foreign language? Adding that to your event planner resume earns you a standing ovation!
7
Always Include an Event Planner Cover Letter
Suppose the job ad says, "cover letter optional"?
Even so, include an event planner cover letter anyway.
More than half of employers expect a cover letter to be attached, and they'll pass on a candidate without one.
Here is how to write an event planning cover letter they'll just love:
As with the resume, sort out the event planner cover letter formatting before you begin to write.
Open the cover letter with a captivating introductory paragraph.
Relay your top skills and experience, and include a numbered win.
Explain why this particular event planning job is right for you.
Close the cover letter with an eye-catching call to action.
Plus, a great cover letter that matches your resume will give you an advantage over other candidates. You can write it in our cover letter builder here. Here's what it may look like: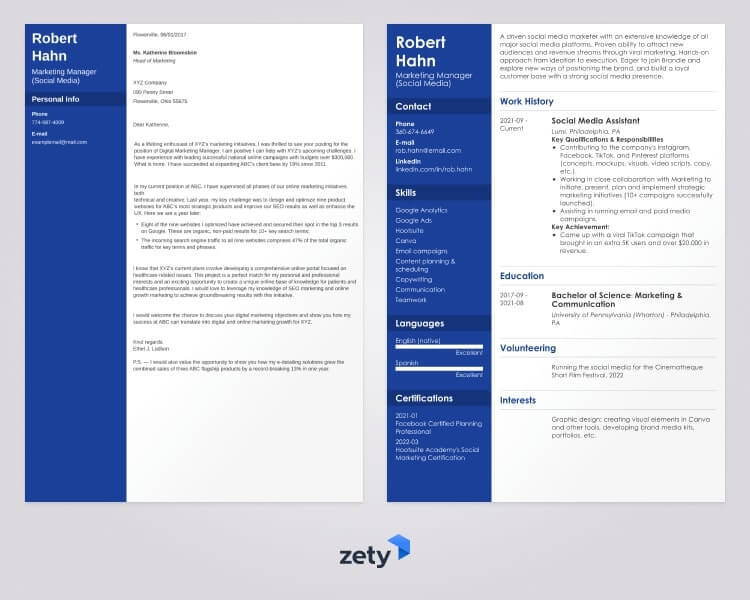 See more cover letter templates and start writing.
Still unsure how to write a compelling cover letter? Want to see examples of well-written samples? Read our guide: How to Write a Cover Letter [Complete Guide With Examples]
Key Takeaway
As the joke goes, "you adore spontaneity, as long as it is carefully planned."
Whether you're a career event planner or pursuing a party planner internship, if you've followed the plan in this guide, you should have a resume that's sure to get you an event planning job interview.
Here's a recap on how to create an event planner resume:
Format the event planner resume template prior to writing.
Open with an intriguing summary or objective statement.
Highlight your accomplishments and past job responsibilities.
Document your academic background in the correct way.
List your best skills which match what they're looking for.
Add certifications, languages, or other extra sections to stand out.
Always attach an event planner cover letter!
Need ideas or help with the email part? Check out: How to Email Your Resume to Get More Job Offers (Examples)
Do you have any questions on how to write an event planner resume? Not sure how to describe your event planner skills or achievements? Let's have a chat below, and thanks for reading!
About Zety's Editorial Process
This article has been reviewed by our editorial team to make sure it follows Zety's editorial guidelines. We're committed to sharing our expertise and giving you trustworthy career advice tailored to your needs. High-quality content is what brings over 40 million readers to our site every year. But we don't stop there. Our team conducts original research to understand the job market better, and we pride ourselves on being quoted by top universities and prime media outlets from around the world.
Sources