You're about to write the best event planner resume ever, but first, picture this—
Figuring out the best venues and vendors. Managing the finances and logistics. Being yelled at in front of everyone while maintaining a sincere smile.
This job seems planned just for you!
You're confident you can plan and execute an event once you get the job, but how do you prove it to them?
Don't worry.
You simply need a great event planning resume. And, with just a bit of time, dedication, and this guide, you'll soon be talking about that resume at the interview for a great event job.
This event planner resume guide will show you:
Event planner resume examples better than 9 out of 10 other resumes.
How to write an event coordinator resume that will land you more interviews.
Tips and examples of how to put skills and achievements on an event manager resume.
How to describe your experience on a resume to get any event planning jobs you want.
Here's an event planner resume sample made using our resume builder.
Want to save time and have your resume ready in 5 minutes? Try our resume builder. It's fast and easy to use. Plus, you'll get tips and right vs. wrong examples while writing your resume. See +20 resume templates and create your resume here.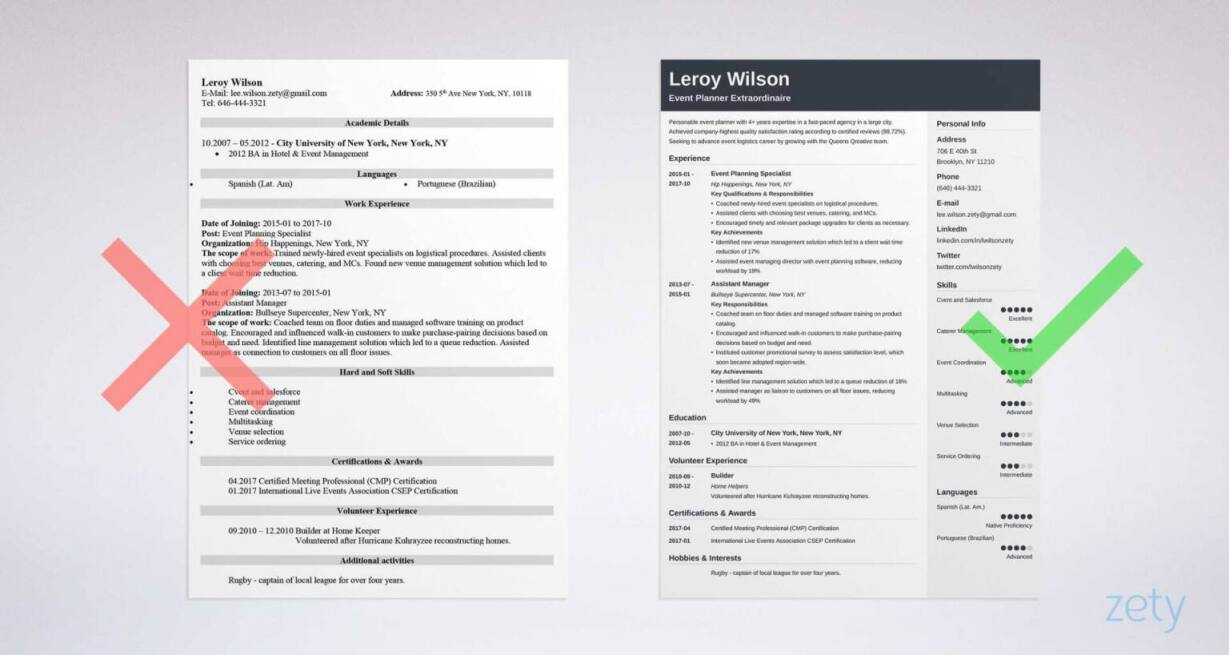 Event Planning Resume Example—See 20+ resume templates and create your resume here.
Want to see other resume samples for jobs related to event planning and event management? Have a look at one of our guides:
Trade Trifles & Trivia: What is event planning? Is there a difference between that and an event coordinator or event manager?
An event planner generally makes all the decisions, arrangements, and logistical preparations in advance. Event coordinators typically carry out the plan and make it realized. Event managers are usually those who work for the venue, making sure clients' events go off without a hitch. These terms are often interchanged, so it is best to check the job description in detail.
1
What's the Best Format for an Event Planner Resume?
I'm gonna start you off with some bad news: the employer at the event management agency won't read your whole resume at first. In fact, they'll take a mere 6 seconds to scan it.
What's that mean for you?
Like a wedding MC speaking to people of ever-decreasing attention spans, you need to catch their attention. You need todo it quickly. And you need to not let go.
That's why you must choose the best format when writing a resume.
Luckily, it's not as hard as it sounds. Depending on your work history, there are two ways to go about this:
How to Format an Event Planner Resume with Experience
Got experience working in event production or event management jobs?
You've got it made. Use the chronological format for your resume.
This format emphasizes your planning duties, work experience, and management work history.
List your most recent positions first, and go back through past jobs in reverse-chronological order from there.
Pro Tip: Make good use of white space, eye-friendly headings, and clear, the best resume fonts.
How to Format an Event Planning Resume With No Experience
But, what if you need an entry-level event planner resume?
Don't worry, because here's the thing: you might not have experience for this job, but you have experience relevant to the job.
On a first-time job resume, you'll still list other work you've had in reverse-chronological order.
However, this time you won't just talk about your professional coordinating duties and planning responsibilities. Instead, you'll highlight relevant skills and achievements from past jobs in the neatly-aligned bullet points.
Pick and choose transferable skills to match the event coordinator job description from the ad.
Have no work experience at all? Not to worry! Instead, the education section moves to the top, followed by other sections (e.g., volunteering, languages), which we'll talk about more in just a moment. Then, save your draft resume as a PDF, as this format keeps the layout in shape.
Pro Tip: Check the job posting to make sure PDFs are OK. Some Applicant Tracking Systems (ATS) get jammed like a narrow emergency exit on PDF formatting. The ATS scans for resume keywords; if it can't read your file, it'll assume you can't do anything right.
Not entirely sure about the reverse-chronological format for your party coordinator resume? See our guide: The Best Resume Formats: Which One to Choose for Your Job?
Before (or right after) deciding which format to choose, make a resume outline to help you plan out the organization and resume layout to get it right. See this article for more: Resume Outline Examples: Complete How-To Guide With 15+ Tips
2
Event Planner Resume Summary or Resume Objective?
You want to catch the agency director's eye like you're the main event.

To do that, you need a resume objective or resume summary.
But which one?

Let's go over these two now, and you'll be able to pick the best one to appeal to any hiring manager of event coordinator jobs.
The Resume Summary
If you have event management experience, opt for the resume summary:
It highlights your related event planning work history.
It promotes you with a previous proud achievement.
Here are examples of event planning resume summaries:
RIGHT
Personable event planner with 4+ years expertise in a fast-paced agency in a large city. Achieved company-highest quality satisfaction rating according to certified reviews (98.72%). Seeking to advance event logistics career by growing with the Queens Qreative team.
wrong
I have been an event planner for the last 4 years. In addition to my knowledge of various planning duties, I also handle finances, logistics, venue booking, and key administration procedures.
See the differences? While the Wrong one has some impressive experience listed, it plays up your general event planning duties as if they're accomplishments, which they aren't.
In the Right example, you give evidence of your event planning skills, achievements, and experience.
Writer's block? If you're having trouble getting started on your special event planning resume, check out this guide: How to Start a Resume: A Complete Guide With Tips & 15+ Examples
Pro Tip: Personalize your event planner resume example by dropping the agency's name into your resume summary or objective.
If you're craving more advice and examples of summaries for event managing resumes, check out our guide: How To Write A Resume Summary: 21 Best Examples You Will See
The Resume Objective
If you don't have event planning experience, go with the resume objective:
It highlights planning skills and qualities.
It promotes you with a related achievement.
It briefly explains the career path change.
Here are examples of objectives for event planner resumes without experience:
RIGHT
Diligent assistant manager with 3+ years experience with large retail store. Obtained highest grades in client satisfaction (100%) and return mitigation (98.3%). Seeking to utilize transferable skills to switch careers by growing with the Queens Qreative team as the new event planner.
WRONG
I am an assistant manager eager to become an event planner. I don't have experience in event coordination, but coworkers often say that I am a quick learner. I am very motivated because I enjoy being in changing environments for work rather than behind the same desk every day.
See the differences here? Queens Qreative is taking a bigger chance by hiring someone without exact experience— in this case, an assistant manager for the event planning role. You'll need to show them that you have what it takes.
In the Right one, we used some transferable skills from the retail store and some proud achievements for a quantifiable win. The Wrong one doesn't show enough to hold the hiring manager's attention.
Our resume builder (you can create your resume here) will give you tips and examples on how to write your resume professional summary section. Or any section for that matter. You can copy the examples to your resume, customize, and save a lot of time.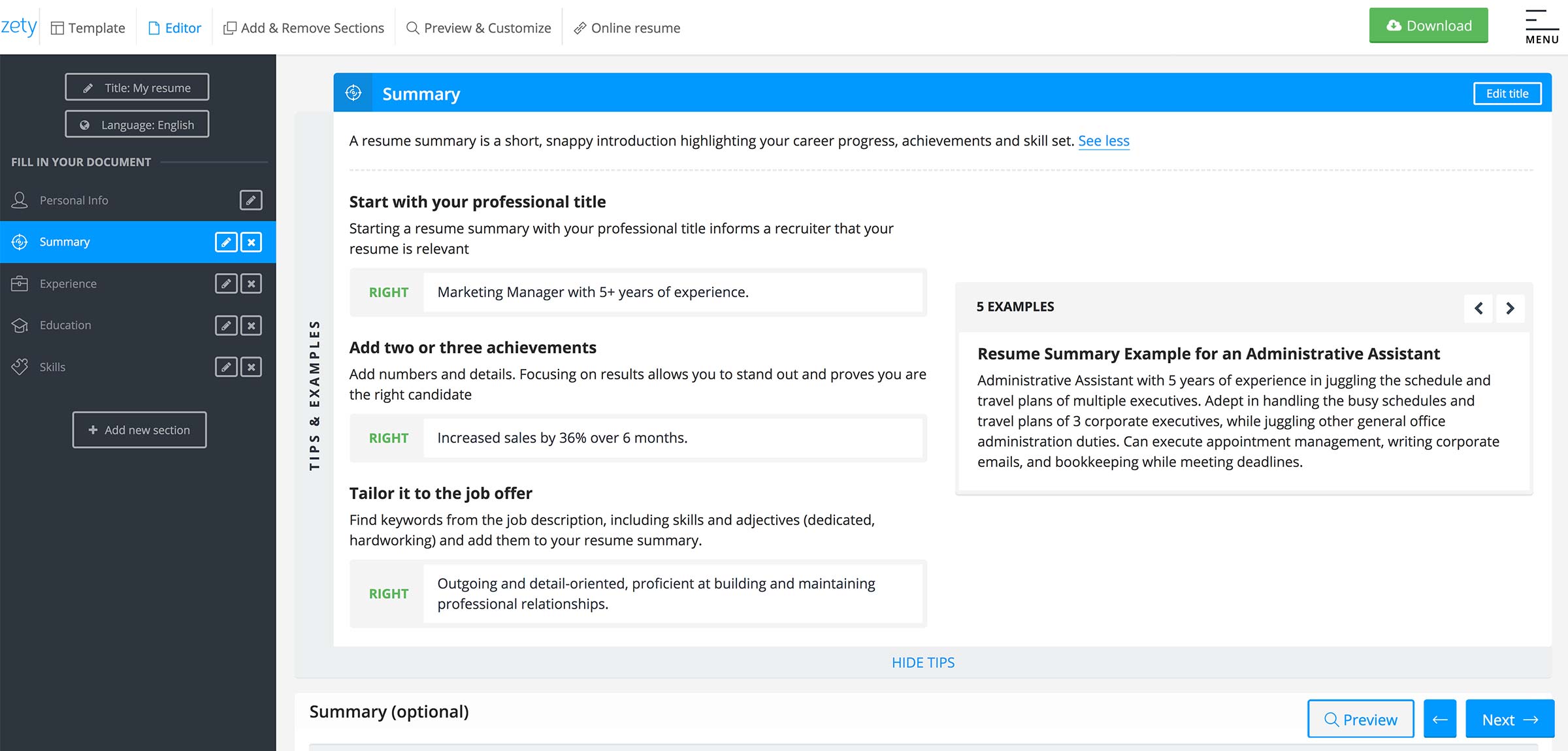 Inside our resume builder, you'll find expert tips and examples for your resume summary.
Want more examples of a resume objective for event management gigs? Check out our guide: 20+ Resume Objective Examples—Use Them On Your Resume (Tips)
3
How to Describe Your Event Planning Experience
"Damn. That was the best event I've ever attended!"
That's not only what you'd like guests and clients to say after their hangovers fade away—it's also the reaction you want from the agency director after they conclude your interview.
To get there, talk up the experience description on your resume in a way which stimulates their curiosity. Here's how:
Experienced Event Planner Resume
If you've held one or more event planning jobs before, you've got a head start. Still, include only the best responsibilities that match the agency's interests.
Take a look at these event coordinator description samples:
RIGHT
Event Planning Specialist
January 2014—December 2017
Hip Happenings, New York, NY
Key Qualifications & Responsibilities
Coached newly-hired event specialists on logistical procedures.
Assisted clients with choosing best venues, catering, and MCs.
Encouraged timely and relevant package upgrades for clients as necessary.
Key Achievements
Identified new venue management solution which led to a client wait time reduction of 17%
Assisted event managing director with event planning software, reducing workload by 19%
WRONG
Event Planning Specialist
January 2014—December 2017
Hip Happenings, New York, NY
Key Responsibilities
Coordinated events.
Helped clients with venue selection.
Handled logistics and financial matters.
See the differences? The Wrong example feels incomplete and general, and the items listed were your everyday agency responsibilities. In the Right example, however, we itemized your duties in more detail, and then included event planning achievement(s) with quantifiable numbers for the win.
Tailoring your resume for event planners will not only help you find your ideal resume length, but it will also turn managers into believers: 6 Tips on How to Target Your Resume to a Job Description (Examples)
Event Planner Resume With No Experience:
Never worked an event before?
No problem. We just need to show them that you're the headlining act.
RIGHT
Assistant Manager
January 2013—December 2015
Bullseye Supercenter, New York, NY
Key Responsibilities
Coached team on floor duties and managed software training on product catalog.
Encouraged and influenced walk-in customers to make purchase-pairing decisions based on budget and need.
Instituted customer promotional survey to assess satisfaction level, which soon became adopted region-wide.
Key Achievements
Identified line management solution which led to a queue reduction of 18%
Assisted manager as liaison to customers on all floor issues, reducing workload by 49%
See what we did here?
At first, being an assistant manager doesn't seem too similar to a job in event planning. But, we played up those duties and achievements which translate well for a resume in event management.
Pro Tip: Take some time to think about your past jobs. Which areas relate best to having strong event planning skills and techniques? Pick those for your resume for event planners.
Need some more ideas on the right achievements to put on a resume for event coordinators? Check out this guide: How to Put Achievements on a Resume—Complete Guide (30+ Examples)
4
Is Your Education Section Underperforming? It Might Be.
The education section—a waste of space, like a venue without a properly planned table arrangement, right?
You'd better think again. The education section is a valuable part of the perfect resume for event planning positions. In the case of those without relevant experience, the education section becomes the most important.
So, how to format your resume's education section?
Here's how to include your completed degree:
2012 BA in Hotel & Event Management
City University of New York, New York, NY
3.9 GPA
But what if you are still completing your university degree?
Here's how to list a degree that is still in progress:
BA in Hotel & Event Management
City University of New York, New York, NY
Expected Graduation in 2020
And what if all you have is your high school diploma?
List your high school, styling it like this:
Townsend Harris High School, Flushing, NY
Graduated in 2008
If you've completed a degree, skip listing your high school.
Pro Tip: On your event specialist resume, when applicable, only include your GPA if it is as close to 4.0 as possible. Too low will hurt instead of help!
Would you like some more ways on how you can make the best use of your education section?Then check out: How to Put Your Education on a Resume [Tips & Examples]
5
How to Put Skills on an Event Coordinator Resume
Two things make an event agency director sit right up with a grin: a flawless event conclusion and a great event planning resume.
So far, you've done a good job, but how can you make it great?
Let's audit the skills section and include only the perfect ones in yours. Skills on your resume for event management are important, but just the right ones. Also, not too many and not too few.
First, make a list of some generic hard and soft skills. Hard skills are specific abilities and know-how (e.g., Event Manager 5.2 Software). Soft skills are self-developed, life-learned attributes (e.g., people skills, adaptability).
Here are some basic event planning resume skills examples:
Event Planning Skills for a Resume

| | |
| --- | --- |
| Event Planner Hard Skills | Event Planner Soft Skills |
| Event Management Software | Attention to Detail |
| Client Database Administration | |
| Event Coordination | |
| Venue Selection | Analytical Skills |
| Caterer Management | Teamwork |
| Service Ordering | |
| Project Management | Problem Solving |
| Budget Management | |
However! These are good skills for a resume—for average event planner resume examples.
But you're not average, so don't let your event resume be average, either. To make your resume unique, it's time to browse the job listing and underline resume keywords that match their needs.
Pro Tip: Type a bunch of your relevant skills into an Excel column, with a number (1-10) of importance and relevance in the next column. Then, filter the worst ones down until you have the best 5 or 6.
Ugh! So many resume rules! Don't worry, we've simplified them here: Resume Dos and Don'ts: 50+ Tips & Advice on Building Great Resumes
Corporate event coordinator resume job description skills and requirements:
Degree in marketing, events planning, communications, or related field, or equivalent experience
Three years of events planning experience in a corporate environment
Proven project management, analytical, and problem solving abilities
Ability to

manage all phases of multiple projects simultaneously

and

adjust to continuously changing responsibilities and priorities

[2]
Excellent verbal and written communication skills

Excellent organizational and interpersonal skills

[3]
Knowledge of word processing, spreadsheet, and graphics applications
Marketing/communications experience
Previous

experience with Cvent and Salesforce

[1]
Proficient in Microsoft suite
Highly organized
Excels in a fast-paced atmosphere
See the skills preferred on this corporate event planner job description? Let me show you a few examples:
RIGHT
Exceptional understanding of Cvent and Salesforce applications [1]
Ability to multitask and manage all aspects of event planning process [2]
Terrific teamwork and interpersonal skills [3]
WRONG
Event planning software
Corporate administrative skills
Customer service
Notice the differences between the two? In the second one, your laziness is obvious—you just googled "event coordinator skills" and stuck the results in. In the first one, you look like just planner they've been searching for.
Want more tips for writing the perfect resume skills list? See our guide: 30+ Best Examples of What Skills to Put on a Resume (Proven Tips)
6
How to Add Other Sections for an Effective Event Planning Resume
You've got your address on the resume. Experience, education, skills—check.
You have all the standard items, but it's missing your secret ingredient: extra resume sections.
Extra sections make resumes for event planning more unique. Everybody puts their name, experience, and skills. This is where you'll list relevant things that you're proud of to really stand out.
WRONG
Volunteered after the Tiguan Island Tsunami reconstructing homes.
Voracious reader (over 200 books per year).
Voted "Strongest Employee" three years in a row.
See what's wrong here? You have every right to be proud of these accomplishments, but they're just not relevant for event coordinator jobs.
But which ones are right? Let's go over some of the most popular additional sections for your resume now, along with some better, more relevant examples.
Volunteer Experience
Helped reconstruct damaged homes after the tsunami? You are a model citizen! However, it isn't relevant for wedding planner resumes and the like. Check out a better example:
right
Volunteered as a shift supervisor at a state nursing home.
This one is more relevant to event management positions, as the supervisory position is more relatable to the management of events. Also, if you are writing a resume without experience, well, now you have experience!
Volunteering on a resume looks great, but only if list it correctly: How to List Volunteer Work on Your Resume [+Sample]
Hobbies & Interests
Like choosing the right wine for a wedding event, here's an example of interests and hobbies that pair well with a resume for event coordinators:
RIGHT
Rugby—captain of local team for three years.
Group sports show that you function well on a team, an important trait for event agencies who need fast-paced teamwork and the ability to handle many small, moving parts.
Need more examples of hobbies and interests which work well on party coordinator resumes? Still not sure if you even want to add extra sections? Read our guide: 20+ Best Examples of Hobbies & Interests To Put on a Resume (5 Tips)
Certifications
Earned a cert for Citrix Certified Expert – Virtualization?
Impressive! But not as relevant as:
Professional certifications are proof you have the event planning knowledge and skills to do the gig right. Don't list them the right way, and you can kiss your chances goodbye: How to List Certifications on a Resume: Guide (+20 Examples)
Languages
Know another language? That could be very helpful on an event managing resume, and maybe a necessity, especially abroad or in locales where English isn't the first language. Knowing another language can only help.
RIGHT
Advanced proficiency in Spanish (Latin American) language.
7
How About an Event Coordinator Cover Letter?
Is a cover letter even necessary? Even if the job ad says, "cover letter optional"?
Well, it is if you want the job.
A resume without its event coordinating cover letter is not ready to turn in, and here's why: 45% of recruiters say they will reject a resume without a cover letter.
That's about HALF.
So, obviously you need an event planner resume cover letter, but what to include on the cover letter?
Here are a few tip-top tips to deliver an event planning cover letter they'll just love:
Explain why this particular event agency excites you.
Drop names—name the hiring manager and agency to personalize it.
Inform them why they need you for this job.
Mention something about the creative agency that you relate to on a personal level.
Be witty, charming, and clever. Positively grab their attention—it will mean more than the degrees and certifications you listed in your event planner resume template.
Pro Tip: Research the agency online and mention something in particular that stands out to you. This is something a resume can't include and will really catch their eye!
Plus, a great cover letter that matches your resume will give you an advantage over other candidates. You can write your cover letter in our resume builder here. Here's what it may look like: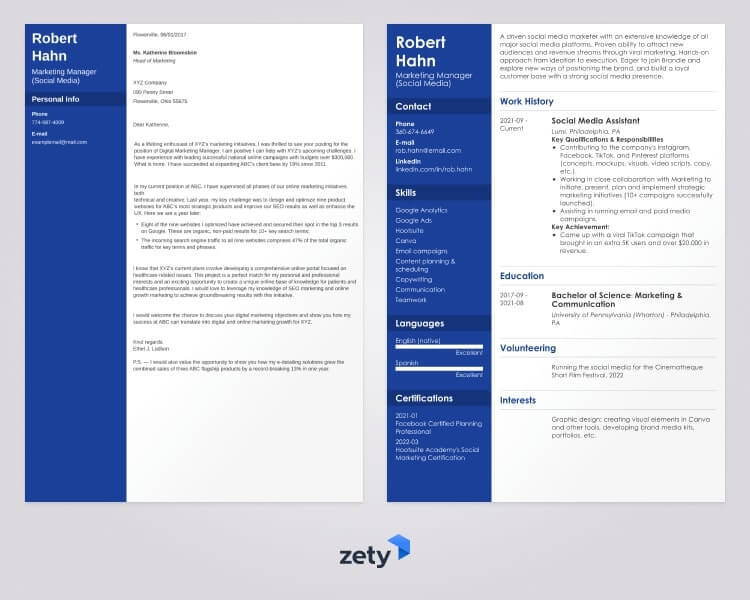 See more templates and create your resume and cover letter here.
Still not sure how to write a compelling cover letter? Want to see examples of well-written samples? Read our guide: How to Write a Cover Letter [Complete Guide With Examples]
Key Takeaway
As the joke goes, "you adore spontaneity, as long as it is carefully planned."
Whether you're a career event planner or pursuing a party planner internship, if you've followed the plan in this guide, you should have a resume that's sure to get you an interview.
Here are the most crucial steps to writing an event planner resume:
Personalize, Personalize, Personalize. The agency will be accepting dozens of applications. Address them by name in your cover letter. Mention the company in the heading. Make yours stand out.
You want to join them, so make them need you. You're eager to take this event coordinator job, so be all in. Spice it up with action verbs and impressive achievements to wow them. Paint the best picture of yourself and the quality of work you do.
Double- and triple-check. Spend an extra few minutes making sure that your resume and cover letter are up to par. Did they ask you to include a particular phrase in the email subject line? Are your email and cover letter addressed to the right manager or partner?
You now should have a great resume for event planner jobs that's ready to be sent to even the most discerning of hiring managers. Time to attach the final cover letter and resume to an email and send it off.
Need some ideas and assistance with the email portion? We've got you covered! Check out: How to Email Your Resume to Get More Job Offers (Examples)
Do you have any questions on how to write an event planner resume? Not sure how to describe your event coordinator skills or achievements? Give us a shout in the comments below and we will answer your question. Thanks for reading!