Our customers have been hired by:
Ever wondered how to turn your resume into an offer a potential employer cannot refuse? Maybe you already have a nicely-looking resume listing the promotional campaigns you managed. Maybe you also mention your deep understanding of sales data. But somehow, the phone is not ringing yet, even though you've sent your application to countless companies.
Looks like it's time to market your application. Think of yourself as the brand you represent, and think of your marketing coordinator resume as an award-winning ad.
This guide will show you:
A marketing coordinator resume example better than 9 out of 10 other resumes.
How to write a marketing coordinator resume that will land you more interviews.
Tips and examples of how to put skills and achievements on a marketing coordinator resume.
How to describe your experience on a resume for a marketing coordinator to get any job you want
Want to save time and have your resume ready in 5 minutes? Try our resume builder. It's fast and easy to use. Plus, you'll get ready-made content to add with one click. See 20+ resume templates and create your resume here.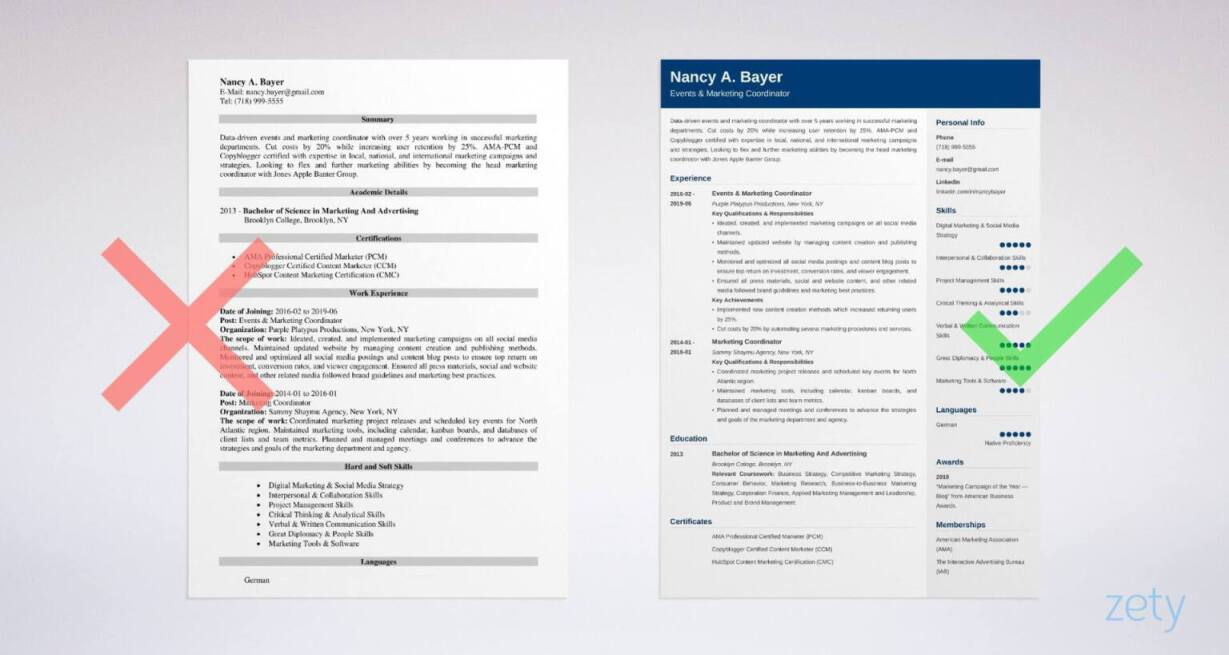 Sample resume made with our builder—See more resume examples here.
Here are some more marketing coordinator related example guides:
Marketing Coordinator Resume Sample
Nancy A. Bayer
Events & Marketing Coordinator
nancy.bayer@gmail.com
(718) 999-5555
linkedin.com/in/nancybayer
Summary of Qualifications
Data-driven events and marketing coordinator with over 5 years working in successful marketing departments. Cut costs by 20% while increasing user retention by 25%. AMA-PCM and Copyblogger certified with expertise in local, national, and international marketing campaigns and strategies. Looking to flex and further marketing abilities by becoming the head marketing coordinator with Jones Apple Banter Group.
Work Experience
Events & Marketing Coordinator
February 2016–June 2019
Purple Platypus Productions, New York, NY
Key Qualifications & Responsibilities
Ideated, created, and implemented marketing campaigns on all social media channels.
Maintained updated website by managing content creation and publishing methods.
Monitored and optimized all social media postings and content blog posts to ensure top return on investment, conversion rates, and viewer engagement.
Ensured all press materials, social and website content, and other related media followed brand guidelines and marketing best practices.
Key Achievements
Implemented new content creation methods which increased returning users by 25%.
Cut costs by 20% by automating several marketing procedures and services.
Marketing Coordinator
January 2014–January 2016
Sammy Shaymu Agency, New York, NY
Key Qualifications & Responsibilities
Coordinated marketing project releases and scheduled key events for North Atlantic region.
Maintained marketing tools, including calendar, kanban boards, and databases of client lists and team metrics.
Planned and managed meetings and conferences to advance the strategies and goals of the marketing department and agency.
Education
Bachelor of Science in Marketing And Advertising
Brooklyn College, Brooklyn, NY
Graduation: 2013
Relevant Coursework: Business Strategy, Competitive Marketing Strategy, Consumer Behavior, Marketing Research, Business-to-Business Marketing Strategy, Corporation Finance, Applied Marketing Management and Leadership, Product and Brand Management.
Key Skills
Digital Marketing & Social Media Strategy
Interpersonal & Collaboration Skills
Project Management Skills
Critical Thinking & Analytical Skills
Verbal & Written Communication Skills
Great Diplomacy & People Skills
Marketing Tools & Software
Certifications
AMA Professional Certified Marketer (PCM)
Copyblogger Certified Content Marketer (CCM)
HubSpot Content Marketing Certification (CMC)
Awards
2018 "Marketing Campaign of the Year — Blog" from American Business Awards.
Memberships
American Marketing Association (AMA)
The Interactive Advertising Bureau (IAB)
Languages
German: Native Proficiency
So, above we gave your our vision of an ideal resume for marketing coordinators.
Now—
Here's how to write a marketing coordinator resume of your own:
1. Choose the Best Format for Your Marketing Coordinator Resume
A marketing coordinator markets a company's services, products, and/or brand by promoting the marketing department's goals, initiatives, and strategies. Your marketing coordinator resume has to show off such skills as tracking sales data figures, implementing and optimizing marketing strategies, supporting sales staff, and planning meetings, conferences, and events.
Before you can market yourself to the agency with your resume, you need to coordinate the placement of the various parts of a resume.
Otherwise, writing the resume itself will be meaningless.
But how?
With a proper resume format to ensure your marketing coordinator resume template is readable and strategically valid.
Here's how to format a marketing coordinator resume template:
Pro Tip: Choose the PDF resume format over the MS Word doc format, as it renders correctly on any device. Use Word only when the job ad explicitly asks for it that way.
2. Write a Marketing Coordinator Resume Objective or Summary
An elevator pitch, in terms of a marketing coordinator resume, is the objective or summary statement, also called a resume profile.
As a marketing coordinator, this intro paragraph has to sell them on your skills and experience like the campaigns you'll manage.
Have loads of marketing coordination and project management expertise?
Go with the resume career summary.
The marketing coordinator resume summary statement advertises your marketing background and experience. It promotes you further with a numbered achievement to show you mean business.
Is this an entry-level marketing coordinator resume?
Go with the resume career objective.
A marketing coordinator resume objective builds up your career goals to make up for your lack of experience as a marketing coordinator. However, it also gives a quantifiable accomplishment from your previous job to highlight how great you are.
Pro Tip: Write your heading statement, whichever version you choose, last. Though it goes at the top of your resume, saving it for the end lets you figure out the best things to showcase.
3. Create the Perfect Marketing Coordinator Job Description for a Resume

How to write experience in a resume?
Whether you're a brand marketing coordinator or a digital marketing coordinator, it all follows the same key rules.
So—
Here's how to nail any sales and marketing coordinator job description:
Place your most recent job first, followed by the next in reverse-chronological order.
Start with the job title on top, then your dates of employment, the company name, and the company location.
Use 5 or 6 bullet points to describe the most impressive duties you carried out.
Use action words (e.g., coordinated, spearheaded, etc.) to start each bullet point.
Add a key achievement with numbers to show rather than tell them that you're the best fit for the marketing coordinator job.
Write a tailored resume for each job you apply to. They hate receiving generic resumes.
Pro Tip: How to make a resume for your first job as a marketing coordinator? Still stick with the above resume guidelines. However, when talking up past job duties, simply pick the job responsibilities and achievements you had which most resembled the ones you'll perform now.
4. Make Your Marketing Coordinator Resume Education Section Shine
How to list your educational background on a resume?
Most employers want their marketing coordinator candidates to have at least a bachelor's degree in marketing or something similar.
So—
Here's how to document your academic background correctly
Start with the most advanced degree and go back in reverse-chronological order.
List your major, school name and location, graduation date, and coursework relevant to marketing jobs and management roles.
If you have other items you're proud of, such as Latin honors, add those in a neat little subsection.
Don't add your high school if you've completed a university degree.
Pro Tip: Marketing classes are prime choices to add in your relevant coursework. However, round it out with any courses you had with sales, mathematics, finance, and leadership.
5. Highlight Your Marketing Coordinator Skills on a Resume
Advertising, promotions, and marketing managers, including marketing coordinators, are set to increase their ranks by 10% between 2016 and 2026.
That's almost 24,000 new candidates to compete against.
How are you going to stand out?
Showcase your abilities on a great marketing coordinator skills resume section:
Marketing Coordinator Skills for a Resume
Content Management Systems (CMS, e.g., Wordpress)
Social Media Marketing
Advertising Campaigns
Email Marketing
Marketing Promotions
Accountability & Responsibility
Content Creation & Content Automation
Organizing & Delivering Conferences & Events
High Attention to Detail
Finance & Budget Management
Analytical Tools & Software
Here's the thing—
You won't market yourself very well if you just added our list straight into your resume.
Do this instead:
Pro Tip: Many marketing agencies and departments use software to help parse all the resumes they receive. To be sure your resume makes the cut, stick as close to the wording from the job ad as possible.
When making a resume in our builder, drag & drop bullet points, skills, and auto-fill the boring stuff. Spell check? Check. Start building a professional resume template here for free.
When you're done, our professional resume builder will score your resume and our resume checker will tell you exactly how to make it better.
6. Add Other Sections to Your Marketing Coordinator Resume
Your resume for marketing coordinator jobs has taken shape, now.
However—
You need to stand out from the other candidates (remember how many you're up against?).
So, add extra resume sections to really set yourself apart from the rest of them.
Here are great additions to a resume for marketing coordinator jobs:
Industry memberships
Marketing projects you coordinated
7. Attach a Marketing Coordinator Cover Letter to Your Resume

Do you need a cover letter for a resume?
Well, most hiring managers feel that a resume without a cover letter is incomplete.
So—
Here's how to make a cover letter for marketing coordinator jobs they'll admire:
Have a look at our posts on how long is too long for a cover letter and what to include in a cover letter.
Pro Tip: While you're preparing for the interview, don't forget to follow up on your job application!
Plus, a great cover letter that matches your resume will give you an advantage over other candidates. You can write it in our cover letter builder here. Here's what it may look like: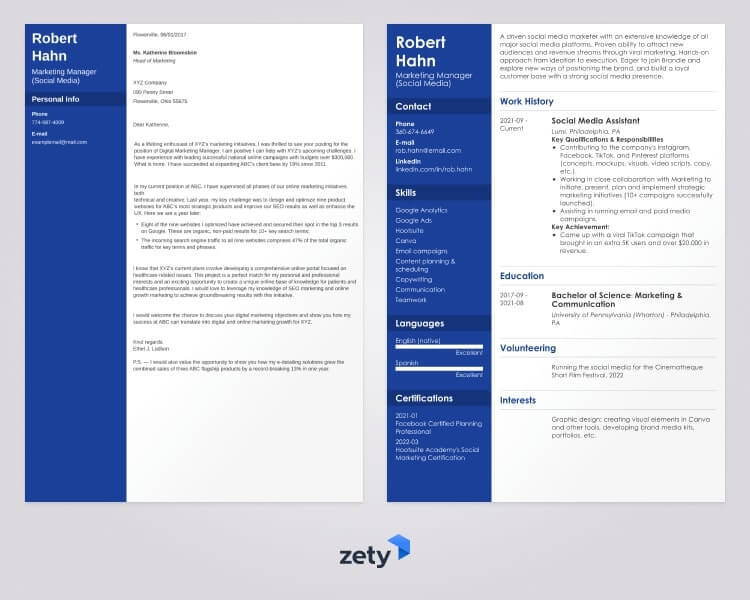 See more cover letter templates and start writing.
Got any questions on how to write a marketing coordinator resume? Not sure how to talk about marketing skills, certifications, or achievements? Let's chat below in the comments, and thanks for reading!
About Zety's Editorial Process
This article has been reviewed by our editorial team to make sure it follows Zety's editorial guidelines. We're committed to sharing our expertise and giving you trustworthy career advice tailored to your needs. High-quality content is what brings over 40 million readers to our site every year. But we don't stop there. Our team conducts original research to understand the job market better, and we pride ourselves on being quoted by top universities and prime media outlets from around the world.
Sources