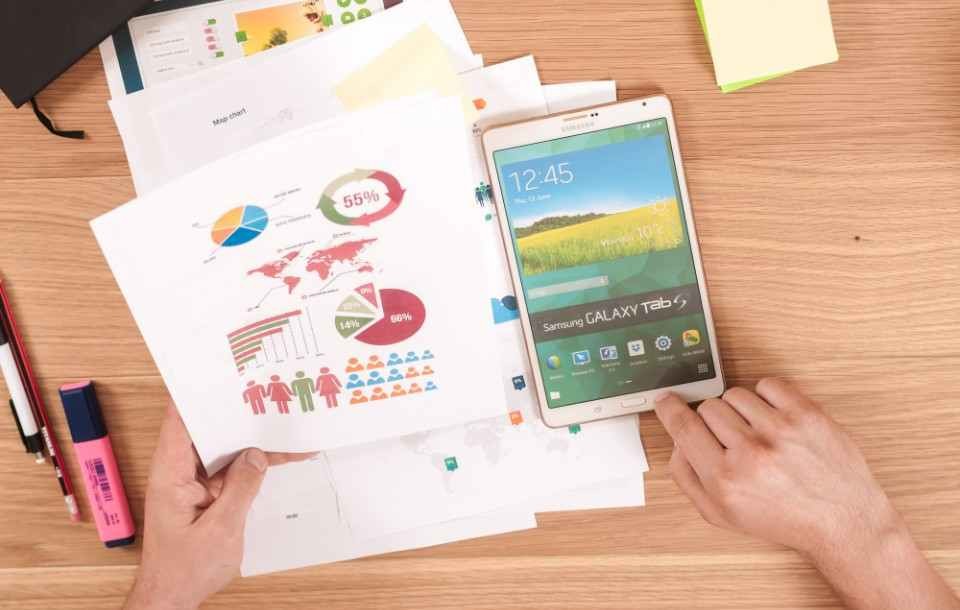 Marketing Analyst Resume: Sample & Writing Guide
With your marketing analyst resume, there's no room for copy testing. Hit the right trend the first time around with a resume that's guaranteed to make an impression!
Is your marketing analyst resume flatlining? Time to help it get up and skyrocket instead! Our guide has all the tips and tricks you need to transform your application into a compelling data story.
Put your data-driven skills to work and secure your dream job!
This guide will show you:
A marketing analyst resume example better than 9 out of 10 other resumes.
How to write a marketing analyst resume that will land you more interviews.
Tips and examples of how to put skills and achievements on a marketing analyst resume.
How to describe your experience on a resume for a marketing analyst to get any job you want.
Want to save time and have your resume ready in 5 minutes? Try our resume builder. It's fast and easy to use. Plus, you'll get ready-made content to add with one click. See 20+ resume templates and create your resume here.
Sample resume made with our builder—See more resume examples here.
Keeping your options open? Check out these resume guides:
Marketing Analyst Resume Sample
Jane Upton
Marketing Analyst
828-926-4817
jane.t.upton@gmail.com
linkedin.com/in/jane.t.upton
twitter.com/jane.t.upton
Summary
Proven marketing analyst with 5+ years of experience and excellent communication skills. At Wirecommerce, generated $45,000 in additional sales, grew ROAS by 60%, and increased customer satisfaction by 26%. Eager to apply my expertise to Paycue's growth and ROI through extracting actionable, data-driven marketing insights.
Experience
Marketing Analyst
Wirecommerce
May 2018–June 2021
Key Qualifications & Responsibilities
Introduced an automated solution to pulling data from multiple sources, increasing data gathering efficiency by 45%.
Built 2 proprietary analytical tools to identify keyword and social media advertising opportunities, increasing ROAS by 60%.
Collaborated with the management, product design, and marketing teams to implement data-driven website and product improvements.
Onboarded 2 junior analysts and conducted Excel and Tableau training sessions for a cross-functional team of 30 employees.
Key Achievement:
Designed and conducted 5+ customer surveys per month, leading to website improvements that resulted in a 26% increase in customer satisfaction and $45,000 in additional sales over the course of a year.
Junior Marketing Analyst
Shopulse
June 2016–May 2018
Evaluated the performance of 6+ campaigns per month.
Conducted focused A/B testing and extrapolated insights from the results, leading to a 12% increase in conversions.
Introduced the use of SPSS to increase the efficiency and accuracy of data gathering and analysis.
Education
BBA in Data Analytics, Minor in Marketing, Washburn University
2012–2016
Skills
Google Analytics
SPSS
MS Office
R
SQL
Tableau
Analytical skills
Communication
Problem-solving
Certifications
Microsoft Office Specialist: Microsoft Excel Expert
Microsoft, 2020
Certified Market Research Analyst (CMRA)
International Institute of Market Research and Analytics (IIMRA), 2017
Memberships
Member of the Digital Analytics Association (DAA)
Attended the annual Marketing Analytics Summit (MAS) 4 times.
Led a workshop on data storytelling and presentation during the 2019 MAS.
Impressed?
Your resume can be just as good, or better. Let's get to writing!
This is how to write the perfect marketing analyst resume:
1. Choose the Right Format for Your Marketing Analyst Resume
Marketing analysts gather, clean, and review data to extract marketing insights used to improve a company's performance. They also monitor and forecast trends. Your marketing analyst resume should show your analytical mindset, but also your ability to present information in a concise, accessible way.
After all, your insights will only be helpful if you can communicate them to other teams for implementation.
So—
The first step towards a job-winning marketing analyst resume is using the proper resume layout to get your best skills across.
Here's how to format your resume:
If you want to automate the process, pick a unique resume template and customize it with your info—you'll be ready to start applying even sooner!
Still working on your branding? Read more on the Best Resume Format
2. Write a Marketing Analyst Resume Objective or Resume Summary
Your introductory paragraph is the resume equivalent to excellent sales copy:
Short, snappy, and optimized for conversions.
Known as a personal profile (or resume profile), the introduction should grab the reader's attention and direct them further down the sales funnel.
It comes in two varieties: experienced candidates write a personal summary, while entry-level applicants focus on a personal objective.
Here's how to write a job-winning personal profile:
Start with an adjective (e.g. proven or creative) followed by your years of experience.
Describe your biggest professional achievement in the second sentence, focusing on measurable outcomes, e.g. saved $4,000 in unnecessary ad spending.
Make an offer to the employer in the third sentence. Tailor it to the company, promising to help reach a specific goal.
If you're writing an entry-level resume, focus on academic achievements, experience from internships and college projects, and relevant skills mentioned in the job ad.
...done!
If you're having trouble creating your personal profile, leave it blank for now and focus on your work experience section instead. You can come back to your introduction at the end—it'll be much easier for you to describe yourself once you've gathered and cleaned the rest of your data!
Read more: How to Start a Resume: Full Guide and Examples of Resume Introductions
3. Create the Perfect Marketing Analyst Resume Experience Section
The resume work experience section is the core of your campaign and your biggest milestone. Get this part right, and you'll turn your resume into Google-ready material in no time!
The key to making your resume stand out is to focus on your best professional achievements in previous jobs, not on your assigned duties.
So, here's how to craft the perfect marketing analyst experience section:
Start with your most recent job and work your way back through previous employment.
For each entry, add your exact job title, the name of the company, and the dates you worked there. You can also include a short sentence to outline the scope of your role and/or the company.
Add up to 6 bullet points, each describing a measurable accomplishment. Start each bullet point with an active resume verb and use numbers to show exactly how much value you contributed to the company.
Include a separate key achievement if you've accomplished something you really want to highlight.
Apply some market segmentation tactics and tailor your choice of achievements to each position you're applying for.
By retargeting your resume and using it to showcase your successes, you'll convert double the number of leads. Just wait 'till you see how well it performs!
Key factor or an outlier? Find out: How to Choose Relevant Experience to Describe on Your Resume
4. Make Your Education Section Shine
Every genuine marketing analyst job opportunity will require a degree or equivalent experience. Highlight your academic achievements in a separate section on your resume to show you fit the search criteria.
If you have 5+ years of relevant experience, it's enough to simply list the name of your degree and the college, plus your years of attendance.
For less experienced candidates, the education section can be a great opportunity to add some value to the resume. In bullet points under your degree, you could mention:
Read more: Minors, Majors, and Double Majors: How to Describe Your Degree on a Resume
5. Highlight Your Marketing Analyst Skills
Beep!
Ad hoc survey:
What are your best professional skills?
Here's how to come up with a list for your resume:
Create two data sets: one with all of your skills, and one with the skills mentioned in the job ad.
Remember to include: soft skills and hard skills, and specific computer skills.
Run a comparative analysis: mark the skills that appear in both sets.
Prioritize: pick up to 10 most important matching skills and put them on your resume.
Creating a separate skills section makes your resume ATS-friendly—meaning, easy to scan by automated recruitment solutions. It also shows the recruiter that you understand what skills are needed to succeed as a marketing analyst.
So, what skills does a marketing analyst need?
Marketing Analyst Resume Skills
Google Analytics
SPSS
R
SQL
Tableau
Data mining
Ahrefs, SEMrush
Need more inspiration? Check out this list: 40+ Best Marketing Skills to Put on Your Resume
When making a resume in our builder, drag & drop bullet points, skills, and auto-fill the boring stuff. Spell check? Check. Start building a professional resume template here for free.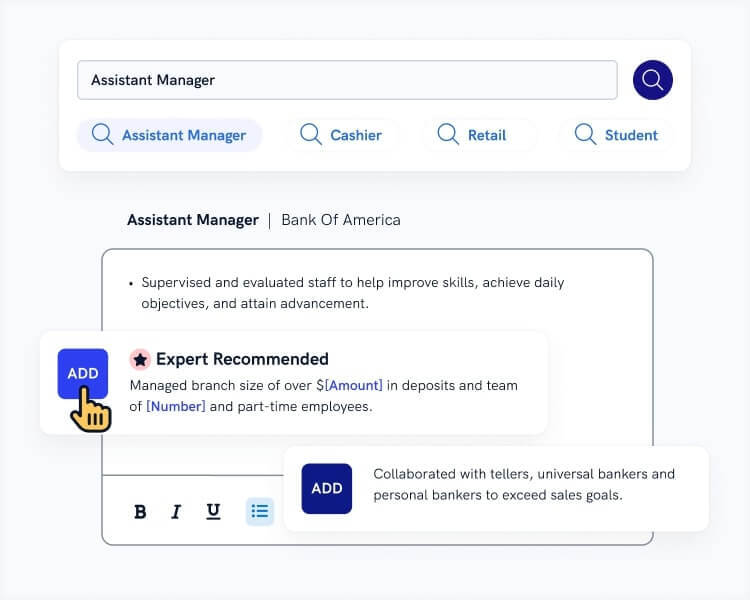 When you're done, our professional resume builder will score your resume and our resume checker will tell you exactly how to make it better.
6. Add Other Sections to Your Marketing Analyst Resume
As you already know, bonus features can go a long way towards boosting a product's conversion rates.
So—
Add some extra functionality to your resume and gain a competitive edge. Consider the following:
Certifications and awards on a resume prove your skills and show you take your professional development seriously. Include only relevant entries, like a MOS cert in Excel or Access, or a CMRA.
Memberships in relevant associations on a resume shows your passion for your industry and your drive to network, learn, and develop.
Volunteer work on a resume can serve as proof that you're a conscientious team player with an awareness of CSR principles.
Language skills on a resume demonstrate you're an active learner. Plus, of course, being fluent in a foreign language can be very useful in any profession, including marketing analysis.
Once you've decided what additional sections to include on your resume, add each as a separate section to keep your document organized and easy to navigate.
Adding your hobbies to a resume can give you a personality boost, but choosing the right ones can be tricky. Read more: How to Add Hobbies to Your Resume: Guide & List of Best Hobbies to Use
7. Attach a Cover Letter to Your Marketing Analyst Resume
Well done!
You now have a resume that's guaranteed to get results!
Still—
This doesn't mean you're ready to apply for your dream job. As our HR research shows, to really have a shot at getting an interview, you need a cover letter.
So, here's how to write an excellent cover letter for a marketing analyst job:
Start your cover letter with a show-stopping achievement. It'll immediately make you stand out like a 200% spike in sales.
Prove that you have the right skills and experience in the second paragraph of your marketing cover letter. Focus on providing concrete examples of how you apply your expertise to guiding marketing strategies and driving ROI.
Explain why you want to work for this particular company. Do some applied research and use the competitive intelligence you gather to show you really understand the company's needs.
End your cover letter with a CTA and an offer to work with the company towards reaching a specific goal.
Don't go overboard: your cover letter should be under one page long.
Wasn't that a lot easier than you'd expected?
One last thing:
Make sure that you use the proper cover letter format. Bonus points if you match the design of your cover letter to that of your resume!
Plus, a great cover letter that matches your resume will give you an advantage over other candidates. You can write it in our cover letter builder here. Here's what it may look like: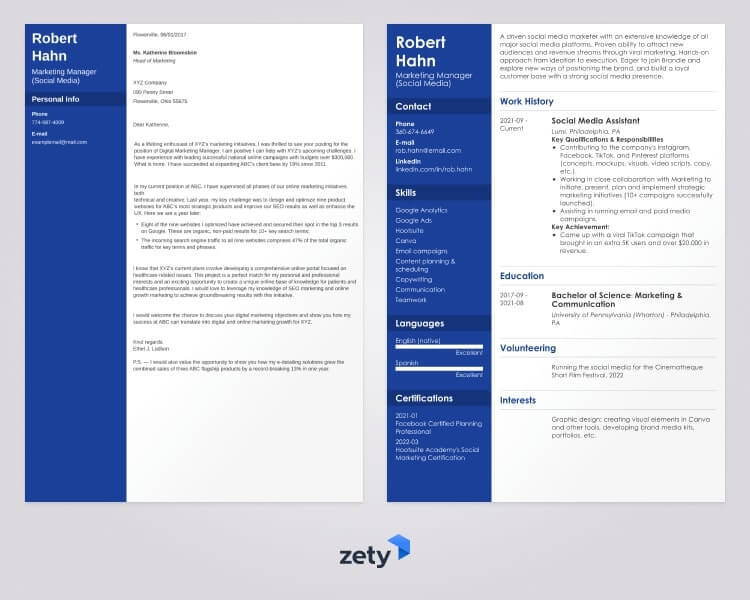 See more cover letter templates and start writing.
Congrats!
With a resume and cover letter like that, it doesn't take sophisticated forecasting techniques to figure out that your probability of landing an interview just doubled!
Thanks for reading! Would you say it's difficult to tailor your marketing analyst resume to each job? Perhaps you can offer some additional advice? Drop us a line in the comments below!
About Zety's Editorial Process
This article has been reviewed by our editorial team to make sure it follows Zety's editorial guidelines. We're committed to sharing our expertise and giving you trustworthy career advice tailored to your needs. High-quality content is what brings over 40 million readers to our site every year. But we don't stop there. Our team conducts original research to understand the job market better, and we pride ourselves on being quoted by top universities and prime media outlets from around the world.