Our customers have been hired by:
Writing your perfect SEO resume is like ranking first on your recruiter's desk. If your application is there (and if it's great!), there's no need to look further. The search is over, the perfect candidate has been found, and it's you!
But to land this very first place among other candidates in a search optimization market, you need to create an outstanding SEO resume. No need to Google that anymore: the guide with all the information you need is right here!
This guide will show you
SEO resume examples better than 9 out of 10 other resumes.
How to write an SEO resume that will land you more interviews.
Tips on how to put SEO skills and achievements on an SEO specialist resume.
How to describe your work experience on an SEO resume to get any marketing job you want.
Want to save time and have your resume ready in 5 minutes? Try our resume builder. It's fast and easy to use. Plus, you'll get ready-made content to add with one click. See 20+ resume templates and create your resume here.
Sample resume made with our builder—See more resume examples here.
Here are a few other resume examples related to marketing jobs:
And if you are a consultant, follow up with Consultant Resume Sample & Guide.
SEO Resume Example
Tim Anderson
SEO Specialist
123-456-7890
timanderson@email.com
linkedin.com/in/tim.anderson
Summary
Analytical SEO Specialist with over 5 years of experience increasing organic search engine rankings and conversion rates. Eager to support Epicore Technologies in driving increased web traffic by enhancing its online presence. Managed a project that boosted organic website traffic by 20% within six months at Innoviz Systems.
Experience
SEO Specialist
Innoviz Systems, Baltimore, MD
January 2016–Present
Key Qualifications & Responsibilities
Handling projects to improve website UX and reduce bounce rates.
Collaborating with the content team to produce SEO-optimized articles and blog posts.
Conducting keyword research to identify new target keywords.
Producing periodic website performance reports and conducting analysis for further improvement.
Key Achievement:
Achieved a 20% increase in organic website traffic within six months through optimization of title tags, meta descriptions, and articles.
SEO Specialist
AlphaTech Solutions, Baltimore, MD
June 2014–December 2015
Key Qualifications & Responsibilities
Developed a link-building strategy that increased quality backlinks by 25%.
Worked with the web development team to ensure SEO best practices are properly implemented.
Conducted extensive keyword research to guide content teams.
Key Achievement:
Ranked the company's main keywords on the first page of Google within a year.
Education
Bachelor of Science in Information Technology
University of Maryland, College Park, MD
August 2010–May 2014
Skills
Advanced knowledge of Google Analytics and SEMRush
Proficient in HTML, CSS, and JavaScript
Excellent problem-solving skills
Strong communication and team collaboration skills
Ability to conduct comprehensive keyword research
Proficient in link building and optimizing web pages
SEO content writing
People management
Certifications
Google Analytics Certified, Google, 2014
Advanced SEO Certification, Moz Academy, 2015
Awards
2016, SEO Specialist of the Year, Innoviz Systems
2017, Best Teamwork Award, AlphaTech Solutions
Memberships
Member of the American SEO Association since 2018
Delivered an inspiring talk on Key Strategies for Improving Organic Search Rankings during the 2019 ASEOA Conference, Washington DC.
Languages
English—Native
Spanish—Advanced
Interests
Attending SEO conferences and staying up-to-date with industry trends.
Writing SEO-focused articles for online publications and blogs.
Developing resources for beginner SEOs on the SEO Beginner blog.
1
What's the Best Format for an SEO Resume?
Six seconds.
That's the average dwell time recruiters spend looking at each resume they get.
Not 10x content?
Bounce.
Poor UX?
They'll pogo-stick.
But—
You will up the time on page and boost engagement metrics on your SEO resume.
Hell, that "Invite to Job Interview" goal will be completed.
Just follow this surefire formula:
The first thing you need to do is choose the proper resume format.
There are 3 resume formats you can choose from:
The best choice for most SEO resumes is the reverse-chronological format. It shows your most recent experience, education, skills first.
Just what dr Jakob Nielsen ordered!
Make good use of legible fonts, white space, and headings to guide the recruiter through all of the valuable sections of your resume.

Finally, don't forget to save your resume as a PDF so the formatting is properly secured and ATS software can scan it.
Pro Tip: Edit and proofread over and over again. SEO work revolves around attention to detail and accuracy. Typos and poor grammar are a ranking factor in the HR world.
Not sure if the reverse-chronological format for an SEO resume is right for you? See our guide: Best Resume Format & How to Choose It [Guide with Examples]
2
SEO Resume Summary or Resume Objective?

You want your SEO resume to stand out like a DA 80 .gov dofollow link on your link building report for the client.
For this to happen, you need to catch the recruiter's attention right off the bat with solid above-the-fold copy—
Start with a resume summary or a resume objective. Both are a brief paragraph about 2–4 sentences.
Which one should you choose?
A resume objective is a great choice when you are a fresh graduate or career changer applying for entry-level SEO jobs.
When you have lots of SEO experience, go for a resume summary.
Let's look at each of them:
SEO Resume Summary Example
right
Results-driven SEO specialist with 5+ years experience. Improved organic search rankings from page 3 to Top 5 for 10+ high-competition keywords for a leading ecommerce brand and increased their organic traffic by 21%. Seeking to leverage exemplary project management skills, data analysis skills, and broad technical SEO knowledge as an SEO Strategist at Google.
wrong
SEO expert with 5+ years experience. Skilled in Google Analytics, data analysis, many crawlers, and other SEO tools.
The good example is all they need—a brief account of your SEO experience packed with quantifiable achievements.
You've just improved scroll-depth.
The bad example?
This could be literally anyone, including a not-that-deep learning algorithm. Calling yourself an "expert" doesn't make you an expert.
Now, time for two very different SEO resume objectives:
SEO Resume Objective Example
right
Energetic marketing graduate passionate about Internet marketing as well as technical SEO. Skilled in project management, with strong foundations in data visualization and research. Seeking to leverage skills in data analysis and result tracking as an SEO Analyst at Google.
wrong
Inexperienced marketer willing to learn and work hard to become an SEO Analyst.
The right entry-level SEO job resume example shows you already have some knowledge and passion even though you've only started. Plus, you show the recruiter how they can profit teaching you more.
Just look at what Bartosz Góralewicz, CEO at Onely, says:
What attributes indicate a person's future success in SEO? Passion.
When you have little to no experience in SEO, passion will be your rocket fuel.
And what's wrong with the second example?
Thin content. All it says is "I know SEO exists. Teach me everything else."
It's great you're willing to learn. But this objective statement focuses on your personal gain—and not on the employer's.
When making a resume in our builder, drag & drop bullet points, skills, and auto-fill the boring stuff. Spell check? Check. Start building a professional resume template here for free.
When you're done, our easy resume builder will score your resume and our resume checker will tell you exactly how to make it better.
Pro Tip: Drop personal pronouns from your writer resume summary or objective. Copywriting 101: focus on the reader, not yourself.
Hungry for more proven tips and best examples of great resume summaries and objectives? Check out our dedicated guides: Resume Summary: Step-by-Step Writing Guide and Resume Objective: Examples for Every Profession
3
How to Describe Your SEO Experience
This is what the recruiter should scream looking at the work experience section of your SEO resume:
"Damn, this candidate is the next Rand Fishkin!"
Yes. It's just that you don't yet have those fancy shirts and a whiteboard.
To prove your worth, remember—
Winning SEO job descriptions on resumes have to highlight your expertise in building and optimizing websites for search engine traffic.
Show you can develop content with relevant keywords to increase organic traffic, analyze SEO performance, solve technical SEO issues, and develop and implement SEO strategies.
To describe your work experience as an SEO Manager or SEO Specialist:
1. Follow the reverse-chronological order.
Describe your professional SEO experience starting from your most recent position. Go back in time until the last position relevant to the SEO job you're applying for.
2. Use bullet points.
Add up to 5 bullet points describing your SEO work duties per one entry.
3. Include facts and figures.
Instead of saying "optimized a website," go for "improved organic search rankings from page 3 to Top 5 for 10+ high-competition keywords."
4. Use action words and power verbs.
Don't waffle about being "responsible for...". Start your resume bullets with verbs like "supervised," "developed," "performed."
5. Strategically use keywords from the job ad.
You know the importance of keywords more than anyone else. So pick the crucial ones from job posting and tailor your resume to the employer's expectations. But don't do keyword stuffing. In resume writing it doesn't work either.
6. Add a small subsection with your key achievements.
Helped a website to recover from a Google penalty? Ran a spectacular link building campaign? Mention your biggest professional wins here.
Just look at these examples:
SEO Resume Sample—Job Description Section
right
SEO Specialist
Lower Digital
June 2014–May 2017
Created 20+ SEO campaigns for websites with complex media and big structures.
Took average CTR for 20 transactional keywords from 20% to 34%.
Prepared informational and reader-friendly reports.
Stayed up-to-date with the newest SEO guidelines and trends.
Key Achievements:
Reduced a client's interior design blog bounce rate from 42% to 11%.
Improved rankings from page 3 to Top 5 for 10+ high-competition keywords in the interior design niche.
wrong
SEO Specialist
Lower Digital
June 2014–May 2017
In charge of SEO campaigns for our customers.
Responsible for SEO performance tracking and reporting.
Used various SEO tools.

The right example clearly follows all the best practices of a job-winning SEO resume I listed above.
The wrong example reads like content generated by a SEO bot from 2010.
One more thing:
When describing your SEO experience you can mention valuable case studies you worked on—but watch out:
Question: What do you want to see on the resume of an experienced SEO Specialist?
Bartosz Góralewicz: One thing I would avoid is using case studies of brands that don't do well in the SERPs. I always check the visibility of all brands mentioned in the resume for SEO jobs. If the brands aren't doing well, I won't invite that person for an interview.
So—
When applying to an SEO agency or any other SEO job, cite websites that perform well in Google. They will check everything before you will be invited.
(And yes, they're mean sometimes!)
What if You Don't Have SEO Experience?
Go get some.
Create a simple WordPress blog in the niche you like and experiment with its SEO.
Change the heading structure, optimize content for relevant keywords, meddle with structural data here and there, and monitor how it ranks in the search results.
You will play around with it and learn at the same time. That's a win-win situation. You'll gain SEO experience—and an entry to your beginner SEO resume.
Look at these examples:
Entry-level SEO Specialist Resume—Example
right
Freelance SEO Specialist
July 2018—Present
Grew an anime-oriented blog from zero to 10,000 visits/month in 6 months.
Got over 1,500 likes on my website's Facebook fan page.
wrong
Built a blog and a Facebook fan page.
The right example? You've just boosted your hireability rankings. Get ready for your first SEO job interview!
The wrong example? Oops, the recruiter has just started pogo-sticking in search for a better candidate.
Pro Tip: When listing your work experience don't skip months. This falsifies your employment length.
If you want to know more about what skills will come in handy in your SEO career, you can read my guide on how to become an SEO specialist.
Content length may not be a ranking factor. But comprehensiveness is. Don't go for sheer length, but don't sacrifice valuable information with help from our guide: How Long Should a Resume Be? Find Your Ideal Length
4
Is Your Education Section Underperforming? It Might Be
Hummingbird. Penguin. Panda. Pumbaa.
You can easily say which ones are Google algorithm updates and which one is a warthog.
Because you have knowledge—either from your formal education or SEO courses you took.
Show it. The education section of your SEO resume is important.
Make sure to include:
Degree type (major and minors, if you hold them)
University or college name and location
Graduation date
Writing an entry-level resume for SEO jobs?
Mention your academic achievements, relevant coursework, and extracurricular activities.
Recruiters hiring junior SEOs with no work experience pay special attention to the education section of their resumes.
Tested—like all the best Backlinko strategies.
SEO Resume Sample Education Section
right
2015 BA in Marketing
Buckinghamshire New University, London, UK
Relevant coursework: Inbound Marketing, Data Analytics, Copywriting
Managed the students' blog for over two years, growing it from zero to 5,000 visits a month.
This makes you an interesting candidate. Again.
Bravo.
Not sure what education details to put on your SEO resume—and what to leave off? Read our article: Education on a Resume: What to Include and What to Skip
5
How to Put Skills on an SEO Resume
Similar to every marketing and computer science job, skills are among the fundamental qualities of a job-winning SEO specialist.
Hiring managers crave for them in your SEO resume.
Because great skills equal spectacular results.
There are several SEO skills that I'd like to highlight in particular.
Research skills, data analysis skills, writing skills.
These 3 musketeers are irreplaceable in SEO jobs. Why?
We research stuff, we analyze stuff, and then we write about the stuff we researched and analyzed.
But—
Because the SEO industry is becoming more and more technical, it is also very important for you have some strictly technical skills, too.
To understand website code properly, you have to know HTML and CSS. These two are like bread and butter in any search engine optimization work. But JS is a strong selling point, too!
And finally, you have to know how to use various SEO tools.
MANY tools.
Whole stacks of them!
Mention all these skills in your SEO resume (mind the spelling!) and your job application will land on position 1 on the recruiter's desk.
Look at these examples:
SEO Resume Skills Section Sample
right
Skills
Ryte, Deepcrawl, Screaming Frog, Ahrefs, Searchmetrics, Semrush, Sistrix, Google Search Console, Google Analytics, MS Excel
Especially skilled in data analysis using tools like Knime
Broad knowledge of HTML, CSS, and JavaScript
Writing informational and reader-friendly reports
Strong communication, collaboration, and leadership skills
wrong
Skills
Used crawlers - Deep crawl, Ryte
Used Google tools - Google Search Console, Google analytics
HTML, CSS, JS
Leadership, communication
Data analysis, research skills
The right example starts with a nice list of technical skills followed by a nice mix of hard and soft skills. Comprehensive and neat. And yes, general computer skills like Microsoft Excel are an important must-have!
The wrong example is just messy.
Need more skills to start brainstorming?
SEO Skills
SEO on a Resume

Copywriting skills
SEO editing skills
Web design skills
UX skills
HTML
CSS
JavaScript
A/B testing
On-page SEO
Off-site SEO

CRO
Schema markup
Link building
Keyword research
Competitor analysis
E-A-T expertise
Target audience analysis
Content strategy, development, planning
Image optimization
Domain management and strategy
Campaign / content calendars
Log file analysis
DNS and CDN management
Pro Tip: Label your resume skills section "Skills" so that any ATS software can easily identify it. All the entries listed there will count as your resume keywords.
That's right—
Skills make for great keywords. Your whole life is about keywords.
As is your SEO resume.
Most modern companies use an ATS to find candidates who match their needs.
Applicant tracking systems work much like Google ca. 1999—
They scan resumes for important phrases and rank candidates by matching keyword count.
Feature too few and you won't get past those bots. Mention too many and they'll flag you as a spammer.
Use those SEO keywords naturally, but don't worry if you don't meet all the expectations. Most is enough.
For more ideas on what skills to put on an SEO resume, read our amazing guide: 99+ Professional Skills for Your Resume and follow up with specific Marketing Skills That Matter
6
How to Add Other Sections for An Effective SEO Resume
At this stage your professional SEO resume is almost ready.
Just add a few tiny bonus sections to kick it up a notch and make the recruiter a returning visitor of your job application.
Here are some ideas of what to put in the extra sections of your resume:
Additional Sections for an SEO Resume—Examples
Conferences and Industry Events
Influencing on Social Media
Hobbies and Interests


I'm sure you have some hobbies—
But what if you don't have any of the other items from this list?
Again, go get some!
Take an online course and earn a certification, attend or run a workshop at an industry event, start posting SEO tips on Twitter, LinkedIn, Medium, or Facebook.
You can be 100% sure they will make the hiring manager even more interested in talking to you in person.
Pro Tip: If you add a section with hobbies, don't include generic or odd ones that have no relation to the SEO job you're applying for. Like reading books or extreme ironing. They just take up valuable space on your resume.
Want more tips on what sections to add to your SEO resume? Read our dedicated guide with proven tips: Resume Categories & Sections That Matter Most
7
How About a Cover Letter for an SEO Resume?
Some people say that you don't need a cover letter to get a job.
Well—
Some people also say that "SEO is dead".
I'll bust both these myths:
SEO is booming and blooming. So there are more and more people doing SEO professionally.
Do resumes get jobs or interviews? Is it first-touch or last-touch attribution?
Answer: multi-touch for the win!
To stand out from this crowd you have to write a cover letter, too.
Why?
Because 40% of hiring managers say they won't read a resume if there's no cover letter attached.
Plus, you'll get to show off your content development prowess.
How to write a cover letter for SEO jobs that will land you that job interview?
Tailor it to the job opening—just like your professional SEO resume:
Address search intent. Highlight your most relevant SEO experience, achievements and skills.
Briefly describe what makes you the best candidate for this position.
Mention how the company will benefit from hiring you.
Pro Tip: The only scenario in which you can skip submitting a cover letter is when the SEO job ad explicitly states they don't want one with your resume.
Plus, a great cover letter that matches your resume will give you an advantage over other candidates. You can write it in our cover letter builder here. Here's what it may look like: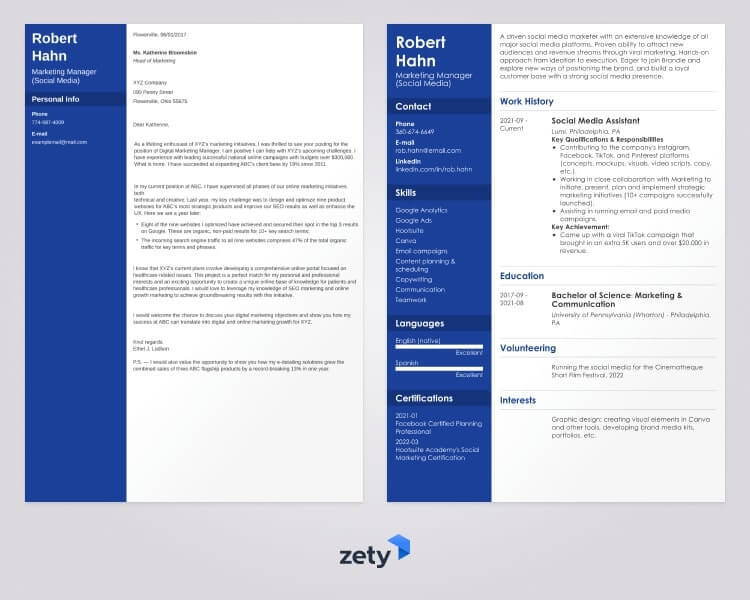 See more cover letter templates and start writing.
Key Takeaway
To have the best SEO resume in the pile:
Start with a compelling resume summary or objective statement.
SEO experience is king, so brag about it in your work experience section using power words, numbers and achievements.
Include good case studies only.
List tools you can use and mention you develop your SEO know-how all the time.
Tailor your SEO resume and cover letter to the position you are applying to.
There is one last thing that I want to emphasize:
You need to love doing SEO if you want to be good at it and build a striking career in this industry.
Still no sure how to make the best SEO resume? Need help? Tell us in the comments section below!
About Zety's Editorial Process
This article has been reviewed by our editorial team to make sure it follows Zety's editorial guidelines. We're committed to sharing our expertise and giving you trustworthy career advice tailored to your needs. High-quality content is what brings over 40 million readers to our site every year. But we don't stop there. Our team conducts original research to understand the job market better, and we pride ourselves on being quoted by top universities and prime media outlets from around the world.