In a moment, you'll see a perfect consultant resume. But first, imagine this:
A recruiter's office. The recruiter? A junior consultant. A pile of 500 consultant resumes on her desk. And she knows exactly what to look for—she DOES the job.
Now, you have the experience. The expertise. The skills.
But how can you make sure she gets the message, and you get the job? Read on to find out!
This guide will show you:
A sample consulting resume that shines brighter than others.
How to describe your experience and achievements to land any job you want.
How to highlight the most desired consultant skills.
What to add in the education section of your resume.
Tips on writing the perfect cover letter.
Want to save time and have your resume ready in 5 minutes? Try our resume builder. It's fast and easy to use. Plus, you'll get ready-made content to add with one click. See 20+ resume templates and create your resume here.
Sample resume made with our builder—See more resume samples here.
Targeting a job in a specific industry? Follow up with:
1
Consultant resume example
Adrian Johnson
Consultant
123-456-7890
adrianjohnson@email.com
linkedin.com/in/adrian.johnson
Summary
A proactive, certified Management Consultant with over 10 years of experience in providing strategic solutions and transforming business operations. Seeking a position as Senior Consultant at Innovista Co. to leverage my deep understanding of business process management and operational efficiency. Increased client revenue by 35% at Alpha Dynamics in the last financial year.
Experience
Senior Management Consultant
Alpha Dynamics, Norfolk, VA
July 2013–Present
Key Qualifications & Responsibilities:
Developed and implemented strategic plans that increased revenue by 35%.
Provided regular comprehensive progress reports for clients.
Managed multiple client projects simultaneously.
Coordinated with stakeholders to ensure seamless delivery of services.
Key Achievement:
Increased client revenue by 35% in the last financial year.
Management Consultant
Shift Solutions, Norfolk, VA
June 2010–June 2013
Key Qualifications & Responsibilities
Conducted business process analysis and recommended actionable improvements.
Facilitated change management for several key clients.
Implemented new operational strategies that reduced costs by 20%.
Key Achievement:
Reduced operational costs by 20%.
Education
Master's Degree in Business Administration
University of Virginia, Charlottesville
September 2008–May 2010
Relevant extracurricular activities
Vice Leader, University Business Club.
Organizer, Annual University Entrepreneurship Fair.
Skills
Excellent Project Management
Business Process Analysis
Strategic Planning
Strong Communication
Change Management
Problem Solving
Relationship Building
Financial Forecasting
Certifications
Certified Management Consultant (CMC), Institute of Management Consultants, 2012
Awards
2015, Consultant of the Year, Alpha Dynamics
Memberships
Member of the Institute of Management Consultants since 2012
Presented a paper on "Innovative Strategies in Change Management" during the 2019 Annual Consultants Conference, Washington
Languages
English—Native
Spanish—Intermediate
Interests
Organizing local business networking events.
Volunteering as a business mentor for startups at a local incubator.
What's the Best Format for Your Consultant Resume
The bad news: the recruiter will spend only 7 seconds to scan your resume, according to our HR stats report.
The good news: if you format your resume right, your consultant resume will get read.
How to pull it off?
Just think of successful presentation decks.
What do they have in common with resumes for consulting jobs?
They're clear, to the point, and focused on clients' needs.
Recruiters are your clients—
And what they need is clearly put in the job ad: experience, education and skills.
So showcase them in an eye-friendly and concise manner.
First, use the reverse-chronological resume format—it's great for management consultants with boatloads of experience and entry-level consultants alike.
Neat fonts. A clear outline. Whitespace to keep the hiring manager on track.
A one-page resume works fine for consultants.
But if you have lots of experience, especially with big brands, go for a two-page resume.
Provide the recruiter with EVIDENCE.
Evidence that you'll perform well in your new job. Evidence you'll have no problem switching between projects and industries.
And that you simply love a good ol' challenge. All that is just music to the recruiter's ears.
Pro Tip: Not all ATS scanning software can parse PDF files. Check the job offer to make sure the employer accepts this format.
Alternatively, you can use the functional or combination resume format. Check our guide to pick the best resume format for you: 3 Resume Formats: How To Choose The Best One [Examples].
2
Consultant Resume Objective or Summary?
Writing a business or management consultant resume?
If you're applying to the Big Four, there is a 4% chance of getting accepted.
What can you do to, well, become a one-percenter?
Write a short and concise introductory paragraph to grab her attention and show that you're a star performer. You can either compose a resume summary or resume objective. What's the difference?
Consultant Resume Summary:
If you have relevant experience in consulting, go for a resume summary. It provides a short overview of your consultant work history and underlines your skills and competencies.
Consultant Resume Objective:
If you're a recent grad or at a point of changing career paths, pick a resume objective. It shows the role you see yourself in and your career goals for the future.
Here's a sample from an IT consultant resume:
right
Senior consultant with 8 years of experience in IT process improvement measures. Developed and executed global customer service strategies and reduced the number of incident tickets by 15%. Successfully coached and trained junior IT consultants. Entrepreneurial attitude towards challenges. Excellent communication and presentation skills. Proficient in Spanish and Portuguese.
wrong
Experienced IT consultant of global customer service providing 24/7 IT support. My duties involved resolving tickets, gathering data, and conducting analysis. I have good leadership skills and can work well under pressure.
The differences are obvious. The first consulting resume showcases:
an overview of experience
quantified proof (consulting is obsessed with numbers)
essential consulting skills.
(We'll get back to the skills section in 2 minutes.)
The wrong senior consultant resume? Let's just say that the first one is up the second is out.
Pro Tip: Keep it short. About 50 words or 4 sentences is enough to catch the recruiter's eye.
When making a resume in our builder, drag & drop bullet points, skills, and auto-fill the boring stuff. Spell check? Check. Start building a professional resume template here for free.
When you're done, Zety's resume builder will score your resume and our resume checker will tell you exactly how to make it better.
If you're looking for more tips and examples of summaries for consulting resumes, check out our guide: How To Write A Resume Summary: 21 Best Examples You Will See
3
How to Describe Your Consultant Experience?
Consulting jobs come in all shapes and sizes.
Regardless of whether you're an advisor, coach, facilitator, or mentor, the experience section of your resume is key.
Why?
Because it shows you can get the job done.
So prepare your experience section like a Powerpoint presentation for a McKinsey executive:
So—
List your previous positions using bullet points. Start with the most recent one.
If you have vast work experience, for the earliest jobs you should list only the employer and job title.
Describe your duties the way they align most to the job requirements.
Remember to bold the employers' names—in consulting big brands get the most "oohs" and "aahs".
Be precise: point out how much money you saved or what processes you streamlined.
Check out our sample from the senior management consultant resume:
wrong
Senior Management Consultant, XYZ Consulting
2008-2014, Chicago
CRM project design and management
CRM roadmaps creation
Reporting results
Coaching and assistance when needed
right
Senior Management Consultant, XYZ Consulting
May 2008‒June 2014
Chicago, Illinois
Designed and implemented a global CRM strategy
Built and managed customized CRM roadmaps
Provided regular reporting on CRM performance to leadership team and high-level executives
Coached leaders on change management fundamentals
Assisted with other management projects including emergency preparedness projects
See the difference?
The first example gives a generic description of duties.
The second shows that the consultant made an impact, was result-oriented, and knows her way around. And it paints a vivid picture.
Consultant Experience Section for Those Without Experience
So you're probably thinking that as a recent grad with no experience, you should forget about this section.
Not at all!
Everyone has experience.
Perhaps you volunteered. Or conducted paid research.
All of that can make up a valuable experience section.
wrong
Didn't work as a consultant but I'm very interested in learning
right
Junior Consultant, Help for Africa
August 2009‒September 2009
NY, New York
Together with a team of three provided consulting services to a nonprofit organization which led to a 10% increase in fundraising
Pro Tip: Having no understanding of business is like driving a car with 3 wheels. Start a side business. Not only will it make up for your experience section but will also give you firsthand experience in business strategy.
Check what else to put in your experience section in our guide Work Experience on a Resume: Job Description Bullets that *Kill* [100+]
4
Is Your Education Section Underperforming? It Might Be
You might think that experience and skills are more important than the education you received.
You're wrong.
Consulting has its own rules.
Why?
Top consulting companies want to hire only superstars.
High-achievers. Top-performers. Those with in-depth know-how.
So if you went to a target uni (Harvard, Stanford, Cambridge, etc.), the education section on your consulting resume will shine like a diamond.
Make sure to list your GPA, too.
(Unless it's below average.)
Remember to include:
College name and location
Graduation date
Degree obtained
Pro Tip: If you have an MBA or PhD degree, toot your own horn—put that after your name at the top of the resume.
right
2010-2012 EMBA
UCLA–Anderson, Los Angeles, CA
2009 BA in Network Administration
City University of New York, New York, NY
3.9 GPA
The education section is more important in an entry-level consulting resume.
Don't be humble.
This is the right place to mention if you were the leader of a student organization or led a campus project.
Pro Tip: If you were awarded a scholarship, translate it into additional gains: "Awarded Jane M. Klausman Women in Business Scholarship (3 scholarships for 1,000+ applicants.)"
For more tips on how to add education to your consultant resume, check our guide: How To Put Your Education On A Resume (Tips & Examples)
5
How to Put Skills on a Consulting Resume
What are good resume skills?
First of all, "I know Excel" won't do here. You're racing against Excel pros.
Second of all, what skills to put in your resume depends on the field you're in.
Whether you are writing a resume for an IT consultant or leasing consultant position, you'll want to highlight a different skill set.
Again, look at the job offer and think of work-related skills.
Hard and soft ones.
Your technical skills can include :
Analytics
Data visualization
SEO/SEM marketing
Cash flow management
Foreign languages
Soft skills, on the other hand, are interpersonal abilities which revolve around communication skills and teamwork.
Those can be:
Check out the sample skills section from a leasing consultant resume:
wrong
MS Office and Google Suite
Real estate market knowledge
People person
Languages: Spanish, French
right
Skills Summary
Proficient in MS Office and Google Suite
Exceptional knowledge of real estate law and leasing practises
Excellent communication and negotiation skills
Spanish (advanced), French (upper-intermediate)
Pro Tip: In consulting, speaking foreign languages is a matter of life and death. Always include your level of proficiency.
Need more tips on how to include skills in your consultant resume? Check our guide: +30 Best Examples Of What Skills To Put On A Resume (Proven Tips)
6
How to Add Other Sections for an Effective Resume
You are almost done with writing your consulting resume.
But wait a second—
What about that paper you published during your sophomore year?
Brag about it if you're new to the consulting world!
You can add it in an additional section as the final icing on the cake.
Additional sections are a good way to compensate for lower GPA or lack of experience.
What can you include there?
Memberships
Courses and workshops
Pro Tip: Be specific. Everyone loves books and travelling. Mention something that will make the recruiter remember you and what relates to the job.
How to sound interesting when listing your interests? Find out more tips on what to put in your hobbies section in our guide: 20+ Best Examples of Hobbies & Interests to Put on a Resume (5 Tips)
7
How to Write a Consulting Cover Letter
A cover letter? Look at my resume—I don't need one!
Said 100 other applicants.
The truth is 53% of employers think a resume is not enough.
So make your cover letter as good as your last presentation deck for Sundar Pichai.
What if it is a quick win?
A cover letter is beneficial especially if you have employment gaps or are at the point of changing careers.
So—
Firstly, make it personal by starting with the recruiter's name. You don't know it? Ask the company's HR department.
A To Whom It May Concern doesn't get jobs.
Secondly, be relevant. Tailor your cover letter to the job offer.
Don't copy-paste what you already have in your resume for consulting gigs. Summarize the data as if you were creating a pivot table.
(Pick the most relevant points to show you're the company's next consultant.)
Thirdly, close your cover letter with a call to action. Underline that you will be waiting for the recruiter's response.
A simple "I'm looking forward to hearing from you" is as generic as Walmart's cheapest hair conditioner.
Finish strong: "I'd be thrilled to learn more about this job opening, and show you how I reduced staff turnover by 15% at TNT, and how I can do the same for you."
Pro Tip: Show your enthusiasm about the prospect of working for the company. Do some research and reference some of the firm's recent accomplishment or projects in your cover letter.
Plus, a great cover letter that matches your resume will give you an advantage over other candidates. You can write it in our cover letter builder here. Here's what it may look like: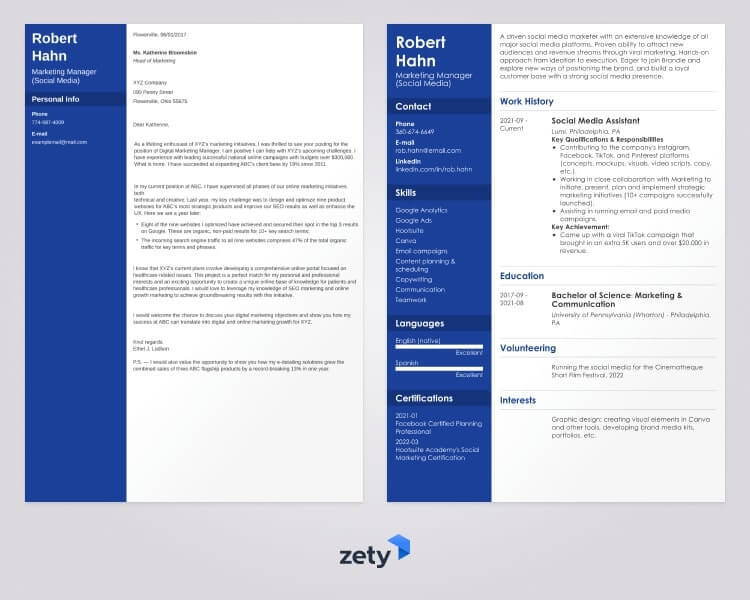 See more cover letter templates and start writing.
Don't skip the cover letter unless the job offer states to do so.
Now, check out our Consulting Cover Letter Example & Guide or McKinsey Cover Letter Example
Or, the more general guide: How to Write a Great Cover Letter Fast
Key Takeaway
So now you're an expert at writing a consultant resume. The lessons-learned are:
Use an easy-to-follow layout for your resume.
Mirror the wording in your target job descriptions.
Catch the recruiter's attention with a heading statement.
Quantify your results and experience.
Avoid typos and formatting bugs by proofreading the resume a couple of times.
Write a personalized consultant cover letter.
Regardless of whether you're a business consultant, sales consultant, marketing consultant or any other consultant, check out the best resume examples for any industry.
Do you have any questions on how to create a consultant resume? Let us know in the comments section!
About Zety's Editorial Process
This article has been reviewed by our editorial team to make sure it follows Zety's editorial guidelines. We're committed to sharing our expertise and giving you trustworthy career advice tailored to your needs. High-quality content is what brings over 40 million readers to our site every year. But we don't stop there. Our team conducts original research to understand the job market better, and we pride ourselves on being quoted by top universities and prime media outlets from around the world.