Our customers have been hired by:
How can you show you were self-employed on a resume? (Without looking like a slacker?)
The struggle is real.
Too many employers see "self employed" and think, "resume gap."
You can't let them think that.
Don't worry. Just show the right skills and achievements on your self-employment resume to outshine the rest.
This guide will show you:
A self-employed resume sample better than 9 out of 10 others.
How to list self-employment on resumes.
How to add self-employment to your resume work history.
The best skills to list in a resume for self employed applicants.
Want to save time and have your resume ready in 5 minutes? Try our resume builder. It's fast and easy to use. Plus, you'll get ready-made content to add with one click. See 20+ resume templates and create your resume here.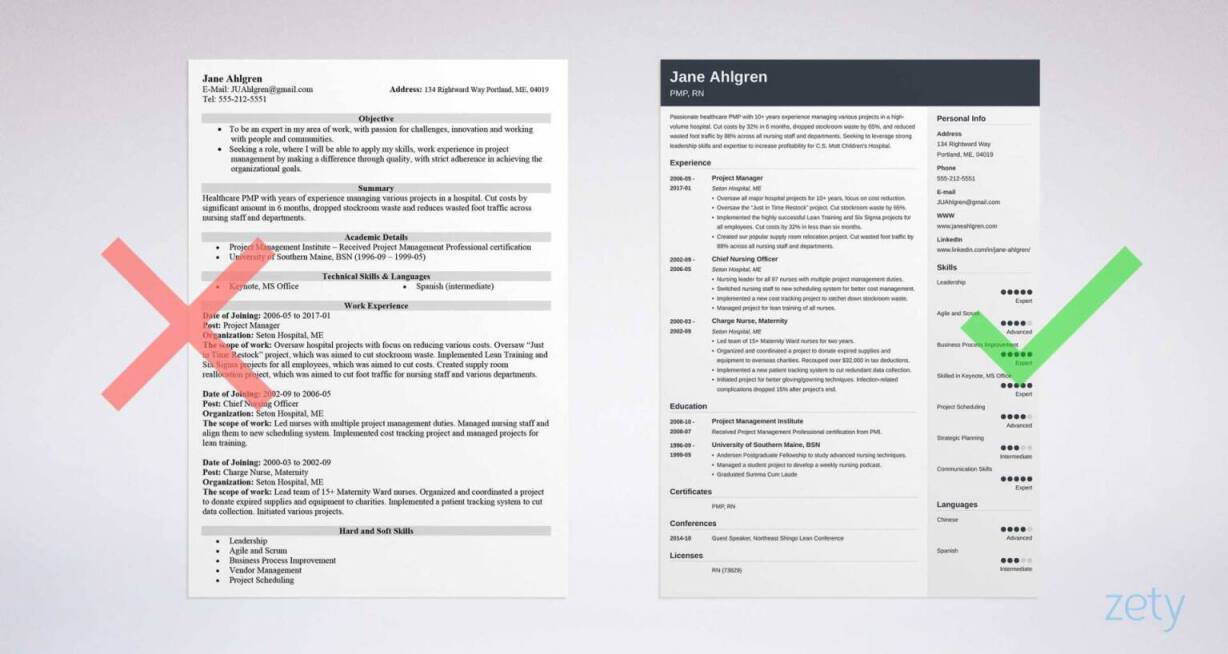 Sample resume made with our builder—See more resume examples here.
Are you making a career change from solo work to a day job? See our guides:
Wondering how to put self employed on a resume for specific jobs? Try these guides:
Self-Employed Resume Guides for Business:
Self-Employed Resume Samples for Creative Jobs:
Tech and IT Self-Employed Resume Guides:
Still need more examples? Check Sample Resumes to Land Any Job.
Want to learn how to put self employed on your resume?
That's next.
1
How to List Self Employment on Your Resume
The hiring team leader, (we'll call him Bart)—
He wants to know you can do the work.
Prove it with self-employed resume experience.
To do that:
Figure out the abilities the job requires.
Write a work history that shows you have them.
Were you non-staff for five years? Don't say, "I was self employed."
Say what job you did.
Show it like the next of our self-employed resume examples.
Self Employed Resume Examples [Experience]
See these sample self-employment resume experience sections.
This one uses the same job title as the online posting.
It's for a job that wants skills producing corporate videos, managing videographers, and working with high-end clients.
right
Video Producer
Verley Video Production
2011–2019
Produced 150+ corporate videos. Conducted all interviewing, writing, shooting, and editing. Grew profitability of business by 200% in 2 years.

Received the Shingo Research Prize for one production.

Planned and executed over 100 on-location shoots with 2–3 videographers each. Kept a roster of 6 trusted videographers.

Created videos for clients such as Callaway Golf, Abiomed, Raytheon, and HID. Also worked with ASML, BAE Systems, and Walmart.

One project realized $30 million in earnings.
Wow.
The hiring manager would have to have rocks in his head to ignore that.
It works because:
You showed your solo time as an actual job.
You listed big achievements that convince.
You used the right job title.
You put big numbers in your work history.
But scuttle those accomplishments, and you wind up with the next of our self-employed resume examples:
wrong
Self Employed Video Producer
2011–2019
Worked as corporate video producer with several big-name clients.
Planned and executed video shoots.
Wrote video scripts.
Edited videos using Adobe Premiere.
That self-employed resume example could be Shaggy from Scooby Doo.
So—
Use achievements to prove you're qualified.
Pro Tip: If you ran your own business, use the business name even if it failed. Employers know running a business takes special skills like self-motivation.
Don't sound like a slacker in your self-employment resumes. See our guide: 240 Resume Action Words & Power Words to Make Your Resume Shine
2
How to Put Self Employed Projects on a Resume
You've done so much your career!
How can you make employers understand?
Add "other" sections to your self-employment resumes.
But:
Keep your resume to 1–2 pages.
Use your achievements that prove skills.
In a non-staff videographer resume, list videography accomplishments.
See these two sample self-employed resume examples.
Self Employed Resume Examples [Other Sections]
right
Additional Activities
Taught video production class to 20+ journalists from the Wall Street Journal, the New York Times, Costco Connection, the Chicago Tribune, and others.
Coats for kids organizer 2x per year.
Avid cross-country skier.
Conferences
2019 VidSummit—Taught packed session on project management
2017 VidSummit
Publications
2019 Green Screen and You—Shutterstock Blog
2018 Final Cut Pro vs Adobe Premiere—B&H Photo Blog
2018 Animation Production—No Film School Blog
That's Peter-Jackson-worthy. That self-employed resume example shows you mean business.
Even the cross-country skiing helps. It shows you're fit enough to do the job.
But run screaming from this one:
wrong
Additional Activities
Made my own website.
Grow my own hops and brew my own beer.
Huge hockey fan.
Hmm. The hiring manager may love, "grow my own hops." But what if he's a tea-totaler? You're gambling.
Better to stay on-point and show interests that paint a picture of your job skills.
Pro Tip: Got self-employment resume experience that doesn't match the job skills? Save them for a different job opening.
Make sure you make the most of your project work with help from How to List Projects on a Resume
3
How to Put Self Employed in a Resume Summary or Resume Objective
Work fast.
You know first impressions happen at the speed of light.
If you don't impress the team leader right away, he'll move on.
So—
Show you're no Peter Griffin, quickly.
Put a couple drop-dead stunners in your resume summary or resume objective.
These two self-employed resume examples show how.
Self Employed Resume Examples [Resume Summaries]
This sample self employed resume summary has it going on:
right
Client-focused video producer with 8+ years of experience, skilled in interviewing, writing, shooting, and editing. Seeking to grow revenue massively for Lens Focus Productions. At Verley Video Production, wrote, shot, and edited 150+ corporate client projects. One 20-minute video earned $30 million in revenue. Conducted over 800 in-depth on-camera interviews.
Yum, right? The hiring team just started blinking rapidly. You put your big guns right up front.
But don't do it this way:
wrong
Hard-working freelance videographer with 4 years of experience. Highly skilled in writing, shooting, interviewing, and editing. A quick learner with an eye for how to get good shots. Excited to get back into the 9-to-5 life!
Nobody will read the rest of that applicant's resume. Including her mother.
Are you a little less experienced than that? Adding self-employment to a resume for entry-level candidates isn't hard. Just pick your best accomplishments.
Check out this self-employment resume example for beginner software engineers:
right
Enthusiastic software engineer with high-level collaboration skills. Expert at C+ and Java. Have developed 10 apps for mobile and web use, including a working Fitbit-style calorie-burn monitor for my kayak with an IMU and a strain gauge, plus an nRF52 for low-power bluetooth. One app has 300+ downloads and a 5-star rating on GetJar.
Putting self employed on a resume like that will get you noticed.
Pro Tip: Don't say you were self-employed on the resume. If you had a business name, list that. At least give yourself a job title that matches the one in the online posting.
When making a resume in our builder, drag & drop bullet points, skills, and auto-fill the boring stuff. Spell check? Check. Start building a professional resume template here for free.
When you're done, our easy resume builder will score your resume and our resume checker will tell you exactly how to make it better.
Want more help to write the perfect self-employed resume summary or objective? See our guides: +20 Resume Objective Examples - Use Them on Your Resume (Tips) and How To Write A Resume Summary: 21 Best Examples You Will See
4
How to Put Self Employed Skills on Your Resume
Let's not sugar-coat it.
If you don't prove you're qualified, all the self employed experience in the world is like a lead weight.
To make hiring teams love you:
Dig for the right skills in the job posting.
Drill through your past to find when you used them in free-agent life.
Put them in your self-employment resume bullets.
These self-employed resume examples show how.
Self Employed Resume Examples [Skills]
Let's say these skills were in the job ad:
Required Skills: 1) radio infomercial production, 2) corporate training videos, 3) Voice overs
Add them to your self-employed skills list.
Then write bullets like this:
Produced 8 30-minute

(1)

radio infomercials for broadcast on national markets. One generated $2 million in revenue.
Created two

(2)

corporate training videos. One snowmobile safety training video was syndicated among 32 rental agencies in Northern Maine.
Produced and

(3)

voiced 11 radio commercials for local and national radio.
Instant connection.
What skills should you list?
Find them in the specific job resume guides at the top.
You'll also need transferable skills.
Transferable Skills for Self Employed Resumes
Caution:
Hiring managers don't think you can collaborate.
They think "self employed" means, "does not play well with others."
So—show evidence you're a team player.
Use the self-employed skills below as resume keywords.
Best Skills for Self-Employed Resume
Self motivated
Coordination
Dependability
Perceptiveness
Active learning
Honesty
Persuasion
Physicall fit
Psychology
Adaptability
Compassion
Judgement
Detail oriented
Pro Tip: Will self employed resume accomplishments really "prove" your skills? Not beyond a shadow of a doubt, but enough to get you in the interview.
How can you know what soft skills and hard skills go on a resume for self-employed applicants? See our guides on soft skills and hard skills.
5
What About a Self Employed Cover Letter?
Should you send a cover letter with self-employed resumes?
It's essential.
You need to show you weren't just hanging out and playing Fortnite.
To catch the eye:
Use the manager's name.
Restate the job requirements.
Show you have them.
This mini example self-employed cover letter does the job:
I'm excited to apply for the video producer position at Lens Focus Productions. I absolutely fell in love with your company portfolio page. Your work for Staples, TJX, and Thermo Fisher is engaging and inspiring. I think I'm a fit because of my track record at Verley Video, where I produced over 150 corporate videos for clients like ASML, Callaway Golf, and Raytheon. One video raised over $30 million in revenue.
I noticed you place a high value on teamwork. The three contract videographers I employed...
That cover letter makes a great fit with a self employed resume.
It sets you up as a true professional with all the right strengths.
Pro Tip: How should you end a cover letter for self-employed applicants? With a promise. Try, "I'll be happy to discuss why one of my videos sold 300,000 copies."
Plus, a great cover letter that matches your resume will give you an advantage over other candidates. You can write it in our cover letter builder here. Here's what it may look like: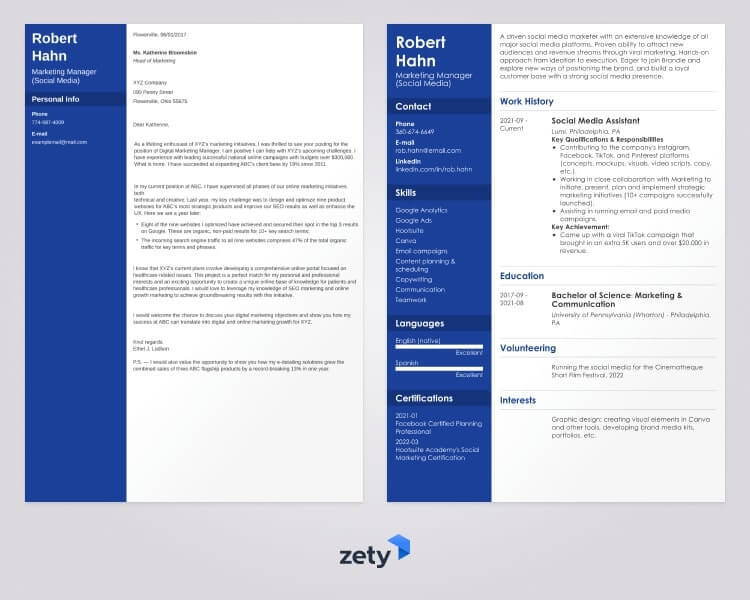 See more cover letter templates and start writing.
Wondering what to put in a self employed cover letter for your self-employment resume? See our guide: How to Write a Cover Letter in 8 Simple Steps
Key Takeaway
Summary: How to write a self-employed resume:
Begin with a self-employed resume summary. Show a big career moment or two that shows you can slay their particular dragon.
Fit your self-employment resume to the job opening. Demonstrate how your free-agent skills have helped reach client targets.
Add self employed projects and activities to your resume. Include publications, conferences, awards, and other resume wins.
Write a self-employed cover letter. Prove you spent your non-W2 time working hard to build solid skills.
How long has it been since you had to write a resume? What worries you most about how to put self employed on your resume? Give us a shout in the comments. We'd love to talk about it.
About Zety's Editorial Process
This article has been reviewed by our editorial team to make sure it follows Zety's editorial guidelines. We're committed to sharing our expertise and giving you trustworthy career advice tailored to your needs. High-quality content is what brings over 40 million readers to our site every year. But we don't stop there. Our team conducts original research to understand the job market better, and we pride ourselves on being quoted by top universities and prime media outlets from around the world.