As a production assistant, you're the behind-the-scenes magician who makes movie magic happen. But when it comes to your resume, you need a spellbinding script.
Our guide will help you create a blockbuster production assistant resume that'll have hiring managers shouting "Encore!" Get ready to steal the spotlight and land those dream film jobs.
This production assistant resume guide will show you:
Production assistant resume examples better than 9 out of 10 other resumes.
How to write a TV or film resume that will land you more interviews.
Tips and examples of how to put skills and achievements on a PA resume.
How to describe your film or TV experience to get any production assistant job you want.
Want to save time and have your resume ready in 5 minutes? Try our resume builder. It's fast and easy to use. Plus, you'll get ready-made content to add with one click. See 20+ resume templates and create your resume here.
Sample resume made with our builder—See more resume examples here.
If you want to see more sample resumes for creative jobs, check out our dedicated guides:
1
Production assistant resume example
Matt Edwards
Production Assistant
(123) 456-7890
matt.edwards@email.com
linkedin.com/in/matt.edwards
Summary
Dedicated and detail-oriented Production Assistant with over 3 years of experience in media production. Seeking to support Genisys Dynamics in creating top-tier audiovisual media content for various formats, including documentaries. Coordinated a team of 30+ staff at Cygnus Innovations on a documentary that won the Illinois Film Festival in 2019 in the "best documentary" category.
Experience
Production Assistant
Cygnus Innovations, Aurora, IL
June 2018–Present
Key Qualifications & Responsibilities
Assisted in the planning and execution of production processes.
Create monthly progress reports on PowerPoint.
Coordinated the schedules of 30+ production staff.
Ensured compliance with safety regulations during production.
Key Achievement:
Coordinated a team of 30+ staff on a major production that won the Illinois Film Festival in 2019 in the "best documentary" category.
Junior Production Assistant
Optimum Solutions, Aurora, IL
January 2016–May 2018
Key Qualifications & Responsibilities
Supported senior staff in various production tasks.
Maintained and organized production equipment.
Assisted in editing and post-production processes.
Key Achievement:
Commended for excellent problem-solving skills during a major project crisis.
Education
Bachelor of Fine Arts in Film Production
University of Illinois, Urbana-Champaign, IL
August 2012–December 2015
Relevant extracurricular activities
Member of the university's film society.
Participated in the annual short film production contest.
Skills
Strong communication skills
Excellent organizational and planning abilities
Proficient in using editing software like Adobe Premiere Pro
Good understanding of safety regulations in media production
Excellent problem-solving skills
Excellent time management
Strong negotiation skills
Life-long learner
Certifications
First Aid, American Red Cross, 2015
Awards
2019, Best Short Film, Chicago Film Festival
Memberships
Member of the National Association of Broadcasters since 2015
Participated in various panel discussions on media production best practices.
Languages
English—Native proficiency
Spanish—Intermediate proficiency
Interests
Making tutorial videos on film production for a YouTube channel (5k subscribers).
Mentoring young filmmakers in the local community.
What's the Best Format for a Production Assistant Resume?
Production support is expected to grow by 13% between 2016–2026.
Competition is getting fierce, and senior film producers will demand a lot from applicants.
It starts now—
Their first demand is a perfectly-formatted resume, one with Law & Order instead of Tarantino-level chaos.
How to make one?
Use the reverse-chronological format.
This is the most-recognized production assistant resume template out there, like a primetime sitcom.
It gives prominence to your experience and achievements, plus—
It's easily scannable.
For each entry, such as work history or education, give the most recent first and go backward from there.
Here's what to put in a production assistant resume:
Write a compelling resume summary or objective.
Add your work experience, starting with the most recent job.
List your education and any relevant coursework you have.
Use skills which match the film production job description.
Add other sections to stand out from the others.
The more important the info is to getting a production assistant job, place it higher on your PA resume.
For example, if applying for entry-level film jobs, put your less relevant work history below your education section.
Remember to make good use of white space and stick to resume-friendly fonts. And to successfully guide the recruiter's eyes give each section a proper heading.
Pro Tip: Save your production assistant resume as a PDF. The PDF resume format ensures it renders correctly—which will be your job, after all.
Think a resume format other than reverse-chron for a film resume is right for you? See our guide: Best Resume Format & How to Choose It [Guide with Examples]


2
Production Assistant Resume Summary or Resume Objective?
Movie producers won't look at your resume longer than a few glances, at first.
What's that mean for you?
Like a catchy pilot episode, write an intriguing heading statement to grab their attention from the get-go.
For your PA resume, choose either a resume summary or resume objective, depending on your experience. Write a 3- or 4-line paragraph, 2–4 sentences in length in all.
Got experience in film industry jobs?
Use a resume summary.
A summary statement sums up the film experience and skills you have, and it highlights accomplishments with numbers to prove it.
Here are two PA resume samples of summary statements:
Film Production Assistant Resume Summary
right
Detail-oriented production assistant with 3 years experience in world-renowned studio. Excellent time management skills and speed without sacrificing quality. Developed new segment research template which reduced time-to-post-production by 15%.
wrong
I was a production assistant for 3 years. During that time, I have been responsible for booking guests, researching story ideas, going out to get coffee for the stars, and driving said stars to and from the studio.
In the wrong example, you just listed some regular production assistant duties, but it doesn't tell the film or television producer how great you carried those tasks out.
It will get a 10% rating on Rotten Tomatoes.
In the right example, you don't even need to list many tasks—your quantifiable achievement proves you were a star.
Don't have film or TV production experience?
Then write a resume objective.
Back up any relevant claims with numbers, just as you did in your summary. Instead of listing experience, mention your career goals and show the recruiter why you're the production assistant they've been auditioning for.
Here are two production assistant objective examples:
Film Production Assistant Resume Summary
right
Dependable university student majoring in film production and minoring in broadcast journalism. Seeking to leverage 2018 Student Oscars for Best Comedy to become a post-production assistant at Silvercup Studios.
wrong
I am a university student looking to get my foot in the door in Hollywood. I have studied in some classes relevant to television jobs, and I can quickly learn anything I don't know.
The right example doesn't have any experience, but the producer will happily overlook that. You gave them a relevant accomplishment and education to compel them to read on.
A great opening scene!
The wrong example, on the other hand, screams only: "Give me a job!"
Pro Tip: The film or TV producer will read your resume summary or objective first, since it's at the top of your script. However, write it at the end so you have the rest of your resume to guide you along.
Want more advice on writing a career summary or career objective for film production jobs? Check out our guides: Professional Resume Summary Examples [20+ Resume Summary Statement Examples] and 20+ Resume Objective Examples for Any Career [+General Proven Tips]
When making a resume in our builder, drag & drop bullet points, skills, and auto-fill the boring stuff. Spell check? Check. Start building a professional resume template here for free.
When you're done, our free resume builder will score your resume and our resume checker will tell you exactly how to make it better.
3
How to Describe Your Film Industry Experience
Like a positive film review, you want the senior producer to be thrilled at what they're reading.
In this case, it's a work experience section which will keep them on the edge of their seats.
Here's how to do it.
Look at these two sample PA resumes:
Production Assistant Job Description for a Resume
right
Junior Production Assistant
January 2016–December 2018
Kaufman Studios, Astoria, NY
Key Qualifications & Responsibilities
Supported team through all stages of production, including development, pre-production, post-production, principal photography, and distribution.
Managed guest booking, green room traffic, and guest suites.
Researched story ideas, compiled footnotes, and gathered footage.
Key Achievements
2018 Student Oscars for Best Comedy — Whalemageddon.
Implemented new story segment research template which reduced time-to-post-production by 15%.
wrong
Junior Production Assistant
January 2016–December 2018
Kaufman Studios, Astoria, NY
Key Responsibilities
Greet guests.
Research.
Assist stars.
That right example shows you're almost as accomplished as Steven Spielberg. You've added relevant tasks and some proud achievements to show off.
The wrong one has no accomplishments to demonstrate. On top of that, it's not tailored to television production jobs; it uses generic duties—anonymous as an Alan Smithee film.
Got no experience in pre-production, post-production, or anything in between?
No problem! You can still have transferable experience from other positions.
Check out this sample:
Film Production Assistant Resume Sample—No Experience
right
Graphic Designer
January 2015–December 2016
Nekatano Agency, Bushwick, NY
Key Qualifications & Responsibilities
Assisted in editing graphics and video projects from conception to creation.
Collaborated with team in production of content, digital assets, presentations, and other video needs.
Built, polished, and edited videography proposals for business clients.
Key Achievement
Implemented new production calendar which increased productivity by 15% and on-time deliveries by 22%.
If you want to list experience on a film resume, it needs to include relevant achievements and transferable duties.
Also—
Got a production assistant internship under your belt? Add it as another entry in your work history to get your foot in the door of this foot-in-the-door job.
Pro Tip: Keep the production assistant job ad out in front of you as you write your work history. This will help you add responsibilities and achievements they prize, instead of writing a resume full of plot holes.
4
Is Your Education Section Underperforming? It Might Be.
You're applying for a supporting role, but your PA resume must still seek the limelight.
To outshine other candidates, your education section can't jump the shark.
Here's how to add a finished degree:
Education on Film Coordinator Resume
BA in Film and Television
Boston University, Boston, MA
Related Coursework: Storytelling for Film and Television, American Masterworks, Television Drama, The Holocaust, Film Industry, International Film.
If still completing your degree—
Here's how to add it on a film student resume:
Majoring in Film, Photography, and Visual Arts
Ithaca College, Ithaca, NY
Expected Graduation: 2021
Related Coursework: Writing for Screen Media, Thesis Cinema Production, Hollywood and American Film, Fiction Film Theory, History of Photography.
Since production is in the film industry, relevant coursework (such as our examples above) make your case solid. Add those classes most relevant to film production at the bottom of your education entry.
If you've only fully finished high school—
Add it like this:
Fiorello H. LaGuardia High School of Music & Art and Performing Arts, New York, NY
Graduated 2016
Relevant Classes: AP Art History, Graphic Arts, Theater Arts, Photography.
If you have no work experience, the education section goes below the resume objective. Otherwise, put it after your work history.
Also, skip the high school if you've completed a degree.
Got a certificate from the New York Film Academy?
Don't worry—we'll talk about certifications in moment.
What if you have a GED? Or haven't completed high school? Check out: Education Resume Section: How to List High School & College Education.
5
How to List Production Skills on Film Resumes?
Film producers expect only top results.
To be the candidate they go with, you must have a show-stopping skills section.
But, which production assistant skills to add?
Create a list of general PA hard skills and soft skills.
Hard skills are able to be measured and learned (e.g., Adobe Premiere Pro), and soft skills you learn as you grow (e.g., communication skills).
Here are example production assistant skills:
Skills for a Production Assistant Resume
List of Production Assistant Resume Skills Examples

| | |
| --- | --- |
| Production Assistant Hard Skills | Production Assistant Soft Skills |
| Walkie Talkies & Earpieces | Work Well Under Pressure |
| Call Sheets & Sides | |
| Adobe Premiere Pro | Analysis and Research |
| Final Cut Pro X | Organizational Skills |
| Google Drive Suite | Attention to Detail |
| Microsoft Office Suite | Determination & Perseverance |
| CyberLink PowerDirector 17 Ultra | |
| DaVinci Resolve | Administrative Skills |
| Camera Boom, Light Boom, Mic Boom | Patience |
However—
Don't just list all the skills and abilities related to the film industry.
That resume is sure to bomb.
Instead, choose the best few by using the job ad.
Here's an example of production assistant duties and requirements from a job ad:
Research story ideas, log interviews, and gather footage. [1]
Create clips and edit on Adobe Premiere. [2]
Assist production team on all areas of pre and post production.
Running scripts and rundowns before live studio production.
Assist in creating and maintaining editorial and production calendars. [3]
Assist with booking guests, greeting guests, and coordinating green room traffic.
Understand the design and makeup of the directors visual requirements.
That's a sample ad, now let's personalize some skills just for them:
Production Assistant Resume Skills Section—Sample
right
Familiar with pre-production, including researching story ideas and gathering footage [1]
Capable of navigating through Adobe Premiere Pro [2]
Skilled in creating, editing, and maintaining editorial calendar [3]
wrong
Video editing software.
Film theory.
Creative direction.
How about that?
See, this job ad specifically wants someone skilled with Adobe Premiere. If you didn't use the job ad to guide you, you might have skipped it, added irrelevant software, or worded it differently—not a good way to keep the producer on the edge of their seat!
Finally, tailor your resume for the ATS.
An applicant tracking system is a program larger studios and agencies use to manage applications they receive.
Use resume keywords just as the job description calls for to guarantee you beat these robots.
Want more tips for listing the perfect film production worker skills on a resume? See our guide: 99 Key Skills for a Resume (Best List of Examples for All Types of Jobs).
Pro Tip: Skills are hard to prove on a film crew resume, but don't lie. When you're called in for the interview, you might be asked to demonstrate any proficiency in video editing software you put down!
6
How to Add Other Sections for an Assistant Production Coordinator Resume
You've finished the core portion of your PA resume.
Here's the thing—
Other candidates have the same sections.
To make yours stand out, add some special effects in the form of additional resume sections.
Here are options to make yours the feel-good production assistant resume of the year:
PA Resume Sample: Extra Sections
Certifications—Formal education is great, especially if you have coursework or a major related to production. If you don't, adding a relevant film certificate or program works wonders.
Here are the best certificates for film industry jobs:
"Made in NY" Production Assistant Training Program (NYC Mayor's Office)
Production Assistant Training Program (MXCC)
1-Year Hands-on Conservatory Producing Program (NYFA)
Volunteer Work—Don't have paid work experience yet? Volunteer work is a saintly alternative. Add only those most relevant to production work—your summer volunteering as a park ranger takes up space you can use for something better.
Languages—Knowing a second language is a useful skill to have on a film crew, especially those in global cities where movie crews hail from all over.
Volunteer work is work experience, certificates are similar to education diplomas, and another language is another skill. However, they have differences, so make these separate sections on your resume.
Hobbies & Interests—Hobbies and interests on a film or TV production resume is a skillful way to show more skills and personal traits while also showing you're human.
Other sections to consider on a video editor resume include awards, licenses, memberships, and conferences. We've got a great tutorial on the things to put on a resume, as well as a complete guide on resume sections and categories.
7
How About a Production Assistant Cover Letter?
Always include a cover letter.
A cover letter is like a great film treatment—short, engaging, and sets up your resume for success.
Here are tips for writing production assistant cover letters that get Emmys:
Tailor each film cover letter to one specific production assistant job application.
Use a business letter structure, but open up in the cover letter style.
Write a compelling introduction similar to your resume summary or objective.
Drop the film producer's name and the name of the studio to personalize it.
Show you're a blockbuster candidate by identifying how you'll help the production company meet their upcoming filming goals.
Finish your PA cover letter with a powerful call to action.
Pro Tip: A cover letter for production assistants gives them their first impression of you, like the most intriguing movie trailers. Begin the cover letter right so they'll move on to your resume. Also, don't write your cover letter too long—a blooper, indeed!
Learn how to write a production assistant cover letter. See: Production Assistant Cover Letter Example and Guide
Did you know our resume builder will also help you write a professional cover letter for film jobs? See these articles: 35+ Successful Cover Letter Tips, Advice & Guidelines (With Examples) and How to Write a Cover Letter in 8 Simple Steps (12+ Examples)
Plus, a great cover letter that matches your resume will give you an advantage over other candidates. You can write it in our cover letter builder here. Here's what it may look like: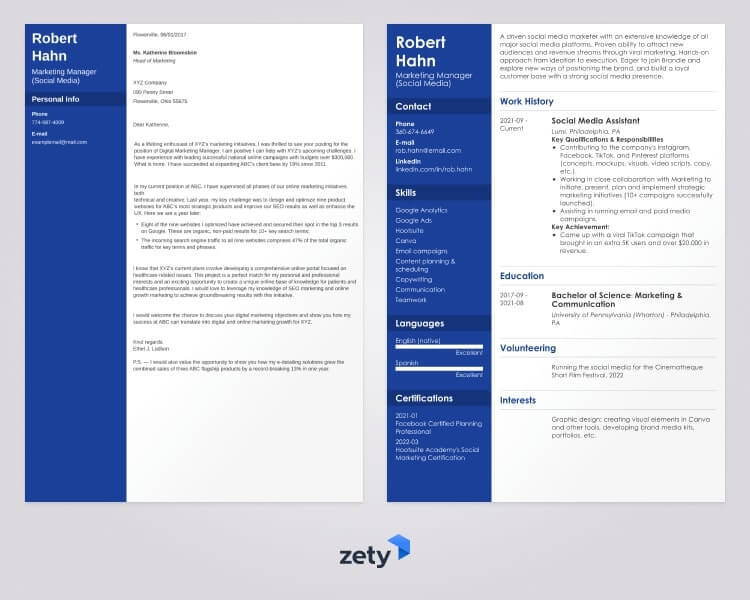 See more cover letter templates and start writing.
Key Takeaway
Well, that's a wrap!
Here's a brief summary of how to write the best production assistant resume:
Format it in reverse-chronological order so they read through your PA resume easily.
Write a compelling production assistant resume summary or objective.
Use quantifiable accomplishments in your production assistant job description to prove how capable you are.
Choose relevant film or tv production skills and keep the production assistant job ad out while creating it to guide your writing.
Add any film certifications and other useful resume sections you have.
Attach a captivating film cover letter to your job application email before sending it off.
With your optimized PA resume, you'll definitely be on their call sheet.
Now, get ready to break a leg at that interview!
We've got some more resumes you might find interesting:
Got any questions on how to become a production assistant? Not sure how to talk up your film skills or video achievements on production assistant resumes? Get at us in the comments below, and thanks for reading!
About Zety's Editorial Process
This article has been reviewed by our editorial team to make sure it follows Zety's editorial guidelines. We're committed to sharing our expertise and giving you trustworthy career advice tailored to your needs. High-quality content is what brings over 40 million readers to our site every year. But we don't stop there. Our team conducts original research to understand the job market better, and we pride ourselves on being quoted by top universities and prime media outlets from around the world.