Our customers have been hired by:
Who doesn't love movies and video content?
Heck, you love them so much that you're actually looking for a job in film production. The only catch? So do hundreds, if not thousands, of other people in your area. And you're almost doomed to be overlooked unless you're a masterful networker… or unless you're applying with an unforgettable resume.
Here's how to craft a perfectly focused film resume that cuts through the noise and delights readers with a blockbuster story of your awesomeness.
This guide will show you:
A film resume example better than 9 out of 10 other resumes.
How to write a film resume that will land you more interviews.
Tips and examples of how to put skills and achievements on a film resume.
How to describe your experience on a resume for a film production specialist to get any job you want.
Want to save time and have your resume ready in 5 minutes? Try our resume builder. It's fast and easy to use. Plus, you'll get ready-made content to add with one click. See 20+ resume templates and create your resume here.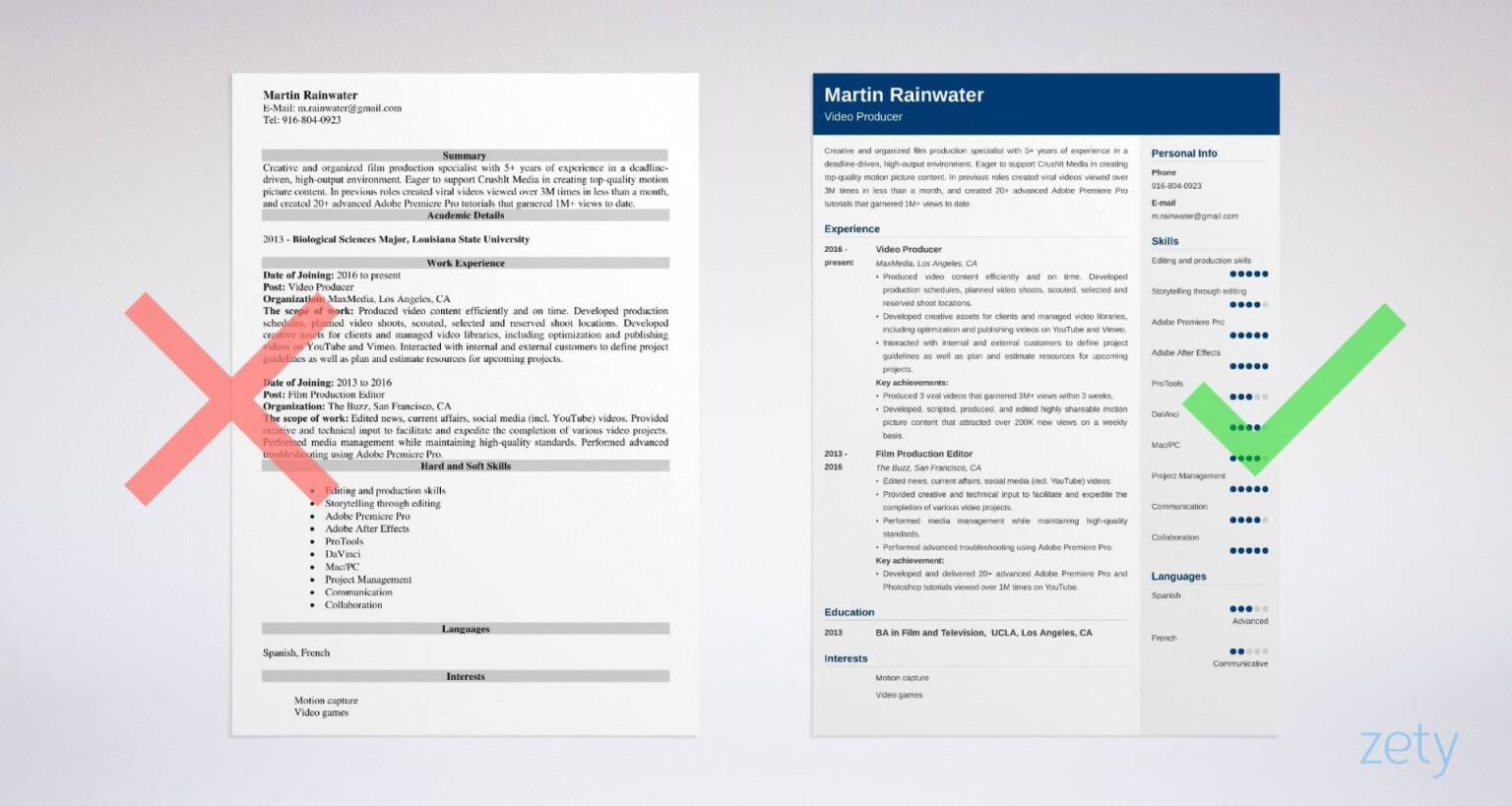 Sample resume made with our builder—See more resume examples here.
Want to pursue a career in other creative fields? Check out our guides:
Film Production Resume Template
Martin Rainwater
m.rainwater@gmail.com
916-804-0923
Objective
Creative and organized film production specialist with 5+ years of experience in a deadline-driven, high-output environment. Eager to support CrushIt Media in creating top-quality motion picture content. In previous roles created viral videos viewed over 3M times in less than a month, and created 20+ advanced Adobe Premiere Pro tutorials that garnered 1M+ views to date.
Work Experience
Video Producer
MaxMedia, Los Angeles, CA
2016–
Produced video content efficiently and on time. Developed production schedules, planned video shoots, scouted, selected and reserved shoot locations.
Developed creative assets for clients and managed video libraries, including optimization and publishing videos on YouTube and Vimeo.
Interacted with internal and external customers to define project guidelines as well as plan and estimate resources for upcoming projects.
Key achievements:
Produced 3 viral videos that garnered 3M+ views within 3 weeks.
Developed, scripted, produced, and edited highly shareable motion picture content that attracted over 200K new views on a weekly basis.
Film Production Editor
The Buzz, San Francisco, CA
2013–2016
Edited news, current affairs, social media (incl. YouTube) videos.
Provided creative and technical input to facilitate and expedite the completion of various video projects.
Performed media management while maintaining high-quality standards.
Performed advanced troubleshooting using Adobe Premiere Pro.
Key achievement:
Developed and delivered 20+ advanced Adobe Premiere Pro and Photoshop tutorials viewed over 1M times on YouTube.
Education
BA in Film and Television
UCLA, Los Angeles, CA
2013
Key Skills
Editing and production skills
Storytelling through editing
Adobe Premiere Pro
Adobe After Effects
ProTools
DaVinci
Mac/PC
Project Management
Communication
Collaboration
Languages
Spanish—Advanced
French—Communicative
Interests
Motion capture
Video games
Here's how to write a film production resume worthy of Peter McKinnon's crew:
1. Choose the Best Format for Your Film Resume
A resume formatted the right way makes the recruiter want to read it. Here's how to format your resume:
2. Write a Film Production Resume Objective or Summary
Top your film resume with a professional resume profile.
Think of it in terms of a trailer that highlights all the choicest bits on your resume, and introduces you to the recruiter in the style of an elevator pitch.
Your resume profile can become either a resume objective or summary.
Here's how you can distinguish the two:
Resume summaries highlight your experience and achievements and will work best on a film crew resume that can show at least 2 years of professional experience.
Resume objectives focus on your skills and explain why you'll make a great hire. They're suitable for entry-level positions as well as for resumes for career changers.
Either way, to make your resume profile stand out add numbers that show your true impact.
Pro Tip: The resume profile comes up top on your resume, but write it once your entire document is ready. This way it'll be easier to find the bits you'd like to put in the spotlight.
3. Create the Perfect Film Production Job Description for a Resume

Here's the thing:
It's the experience in a resume that sells you.
And your film production resume experience section has must make it clear—
You're so much better than the rest.
How to do this?
Show the recruiter they've just found what they're looking for by tailoring your resume to the job posting:
Put your most recent job first and follow it up with the previous ones.
Each entry should list your job title, company name, and location. Don't fail to mention dates worked either.
Focus on your relevant experience and list it on a bullet point list. Don't exceed 5-6 bullets, though.
Make sure your bullets contain action verbs for resumes, such as produced, developed, edited, cooperated, etc.
Quantify as much of your experience as possible. Numbers speak louder than words.
Pro Tip: See to it that your film production resume is free from typical resume mistakes.
4. Make Your Film Production Resume Education Section Viral
What you can do matters most. But it's equally important to know what you've learned.
Here's how to make your resume education section deliver:
5+ years of experience? List your degree, school name and location, and graduation year.
Less experience? Your education section will benefit from information on your extracurricular activities, academic achievements, and relevant coursework.
If you have any professional certifications and licenses, put them in a dedicated resume section to boost their visibility.
5. Highlight Your Film Production Resume Skills
At the end of the day, your skills are what makes you unique.
Use the list below to identify your key film production skills.
Skills List for a Film Production Resume
Adobe After Effects
Adobe Photoshop
Adobe Premiere Pro
Captions
Codecs
DaVinci
Documentation
Editing and production skills
Framerates
Harmonic
JAMF
Mac/PC
MAM/PAM/DAM
Mixers
NAS/SAN
Networking
Peripherals
Project Management
ProTools
Quantum
Signiant/Aspera
Storytelling through editing
Ticketing Systems
Titles
VPN
Zapier
Here's how to pick out the best skills for your film production resume:
First, prepare a list of your good skills to put on a resume, including soft skills, hard skills, and technical skills.
Revisit the job posting to identify the skills the employer is seeking specifically.
Go back to your list of skills and find the skills you saw in the job ad.
Focus on these skills on your film production resume.
Pick out up to 10 of your strongest abilities and put them in a key skills section.
Sprinkle your entire resume with skills. Put some in the resume profile and experience sections as well.
Pro Tip: Focus on your strongest skills. Don't mention your weak skills to avoid the so called presenter's paradox.
When making a resume in our builder, drag & drop bullet points, skills, and auto-fill the boring stuff. Spell check? Check. Start building a professional resume template here for free.
When you're done, our online resume builder will score your resume and our resume checker will tell you exactly how to make it better.
6. Add Other Sections to Your Film Production Resume
Show them something more than just your professional side.
Consider adding the following sections to your film resume:
7. Attach a Film Production Resume Cover Letter
50% of the recruiters expect you to submit one. If you don't, you have a fifty-fifty chance of slipping through. But is it what you want? Slip through?
Be better than that and follow our tips to write a riveting cover letter in no time:
And make sure the length of your cover letter is acceptable.
Pro Tip: Following up on your job application is always a good idea. It shows you're a serious candidate.
Plus, a great cover letter that matches your resume will give you an advantage over other candidates. You can write it in our cover letter builder here. Here's what it may look like: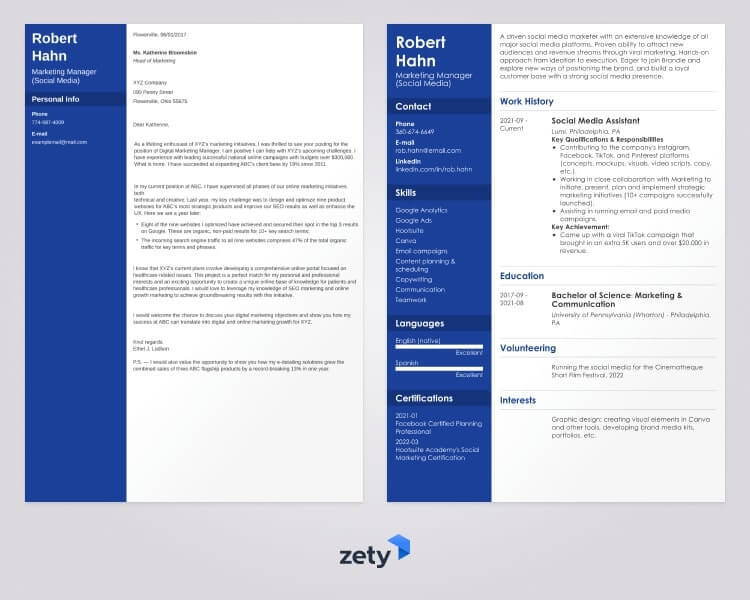 See more cover letter templates and start writing.
This is it!
This is how you make a job-winning resume for film production positions.


Are you writing a film resume for the first time? Or perhaps you're a seasoned pro eager to help the rookies out? We'd love to hear from you, leave your comment below!
About Zety's Editorial Process
This article has been reviewed by our editorial team to make sure it follows Zety's editorial guidelines. We're committed to sharing our expertise and giving you trustworthy career advice tailored to your needs. High-quality content is what brings over 40 million readers to our site every year. But we don't stop there. Our team conducts original research to understand the job market better, and we pride ourselves on being quoted by top universities and prime media outlets from around the world.