3D Artist Resume: Sample & Writing Guide [20+ Tips]
Your 3D artist resume feels empty inside? Give it some rigging and bring it to life with this set of useful tips and actionable examples.
Being a 3D artist means knowing how to breathe life into virtual worlds. But when it comes to your resume, things might still be looking a bit flat.
But we're here to help you sculpt a 3D artist resume that's as impressive as your renderings, making hiring managers eager to explore your creative landscape.
This guide will show you:
A 3D artist resume example better than 9 out of 10 other resumes.
How to write a 3D artist resume that will land you more interviews.
Tips and examples of how to put skills and achievements on a 3D artist resume.
How to describe your experience on a resume for a 3D artist to get any job you want
Want to save time and have your resume ready in 5 minutes? Try our resume builder. It's fast and easy to use. Plus, you'll get ready-made content to add with one click. See 20+ resume templates and create your resume here.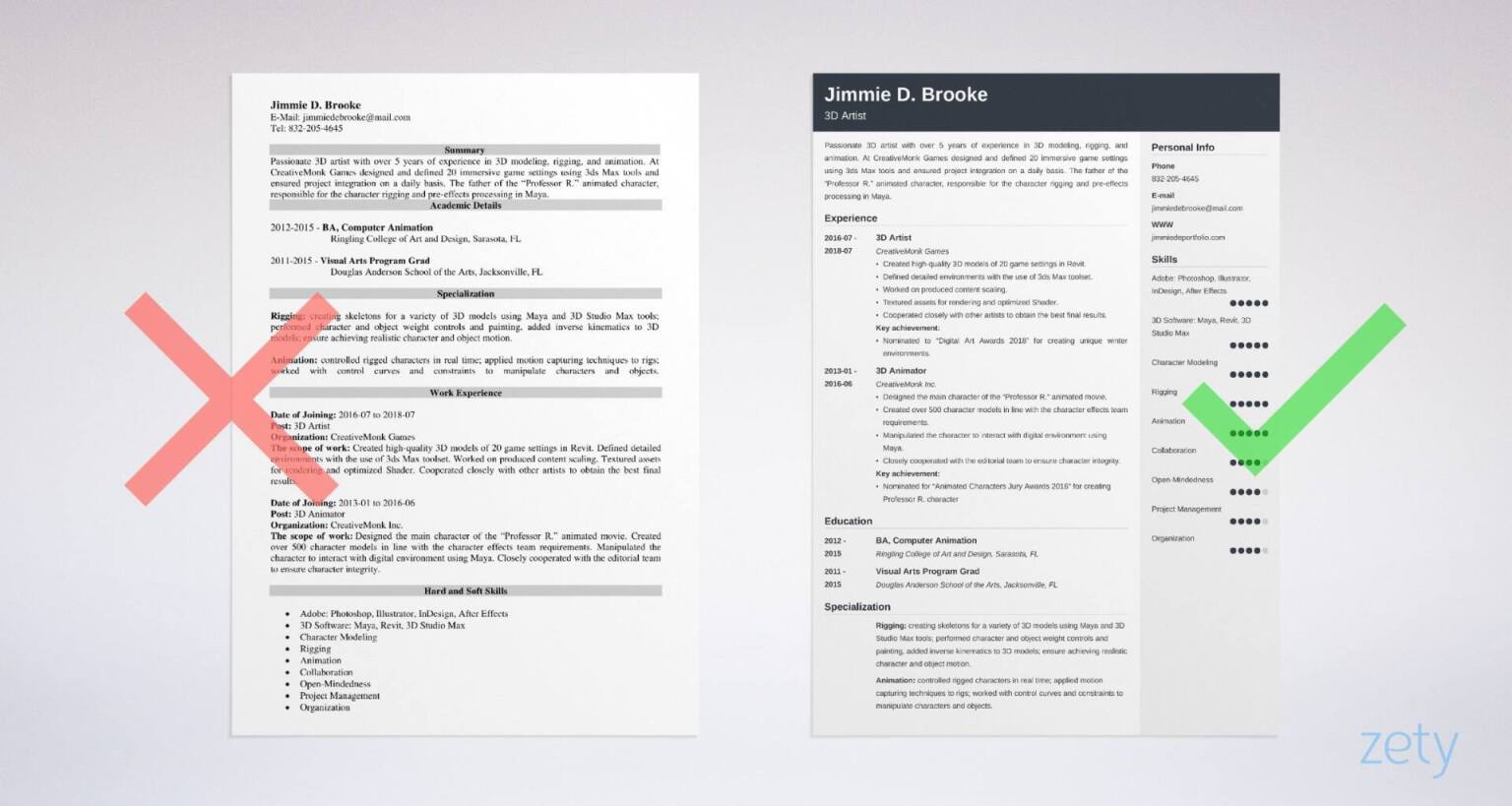 Sample resume made with our builder—See more resume examples here.
Targeting other creative jobs? See our dedicated guides:
3D Artist Resume Sample
Jimmie D. Brooke
3D Artist
jimmiedebrooke@mail.com
832-205-4645
jimmiedeportfolio.com
Summary of Qualifications
Passionate 3D artist with over 5 years of experience in 3D modeling, rigging, and animation. At CreativeMonk Games designed and defined 20 immersive game settings using 3ds Max tools and ensured project integration on a daily basis. The father of the "Professor R." animated character, responsible for the character rigging and pre-effects processing in Maya.
Work Experience
3D Artist
CreativeMonk Games
July 2016–July 2018
Created high-quality 3D models of 20 game settings in Revit.
Defined detailed environments with the use of 3ds Max toolset.
Worked on produced content scaling.
Textured assets for rendering and optimized Shader.
Cooperated closely with other artists to obtain the best final results.
Key achievement:
Nominated to "Digital Art Awards 2018" for creating unique winter environments.
3D Animator
CreativeMonk Inc.
Jan 2013–Jun 2016
Designed the main character of the "Professor R." animated movie.
Created over 500 character models in line with the character effects team requirements.
Manipulated the character to interact with digital environment using Maya.
Closely cooperated with the editorial team to ensure character integrity.
Key achievement:
Nominated for "Animated Characters Jury Awards 2016" for creating Professor R. character
Education
BA, Computer Animation
Ringling College of Art and Design, Sarasota, FL
2012–2015
Visual Arts Program Grad
Douglas Anderson School of the Arts, Jacksonville, FL
2011-2015
Key Skills
Adobe: Photoshop, Illustrator, InDesign, After Effects
3D Software: Maya, Revit, 3D Studio Max
Character Modeling
Rigging
Animation
Collaboration
Open-Mindedness
Project Management
Organization
Specialization
Rigging

: creating skeletons for a variety of 3D models using Maya and 3D Studio Max tools; performed character and object weight controls and painting, added inverse kinematics to 3D models; ensure achieving realistic character and object motion.
Animation: controlled rigged characters in real time; applied motion capturing techniques to rigs; worked with control curves and constraints to manipulate characters and objects.
1. Make Your 3D Artist Resume Please the Eye
Is a resume a must if you have a decent 3D artist portfolio in place?
On the surface it seems "no".
But when you look beyond—
A well-crafted resume is like a wireframe for all your experience and achievements.
Keep this wireframe simple and follow the formatting rules presented below:
Pro Tip: Don't go flashy when crafting your resume. Remember that your 3D artist resume needs to read easily. See more resume dos and don'ts.
2. Write a 3D Artist Resume Summary or Objective
Hiring managers give your resume only a 7-second look, according to our HR statistics report.
That's why you need a relevant resume profile to draw them in.
Use a career summary if you're a 3D artist with more than 2 years of experience. It will showcase your accomplishments and best career moments.
A career objective on the other hand promotes skills you've mastered so far and helps you prove that you're a good fit for the position.
3. Create the Perfect 3D Artist Job Description
Regardless of what your area of expertise is (ads, movies, games), describe your 3D artist experience in a way that will showcase your duties and technical knowledge you used in practice.
Start your resume with your most recent job. Then list previous positions chronologically.
To each of the job entries add your job title, company name, dates of work, and up to 6 bullet points regarding your duties and accomplishments.
Use resume action words that will help you present your responsibilities in high fidelity.
Show your future employer a number of measurable achievements.
Pro tip: Working on 3D concepts is often a complicated group task. Tailor your resume to the job offer to target the right stage of the pipeline (e.g. write a specialized 3D animator resume or 3D modeling resume).
When making a resume in our builder, drag & drop bullet points, skills, and auto-fill the boring stuff. Spell check? Check. Start building a professional resume template here for free.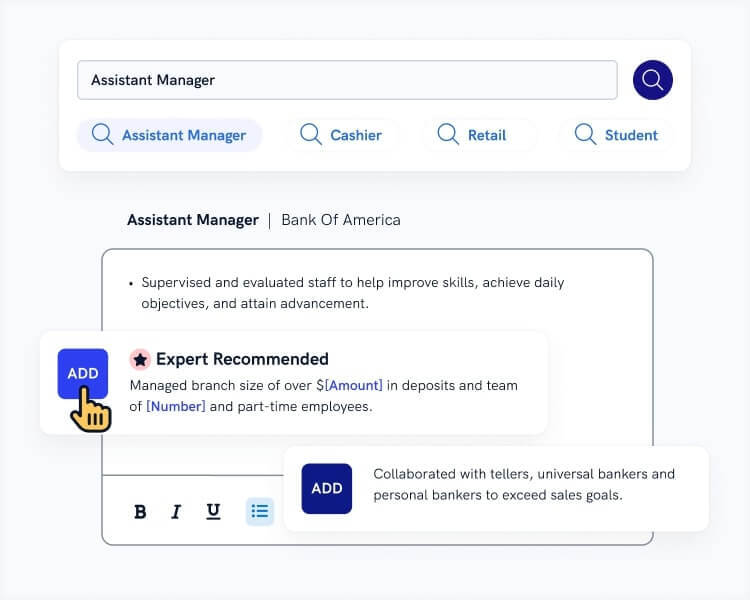 When you're done, Zety's resume builder will score your resume and our resume checker will tell you exactly how to make it better.
4. Make Your 3D Artist Resume Education Section Meaningful
Even if it's common for 3D artists to work with no formal education in place, some companies may require a degree in graphic design, media arts, or animation.
The expectations vary so it's worth to make the education section of your 3D artist resume to the point.
Start with your highest degree and add all other schools in reverse-chronological order.
Follow this pattern: type of degree, your major/minor, school name and location, years in school.
Did you study Maths, Physics, or Programming? Don't underestimate these. In the 3D industry analytical thinking is a great asset.
Pro Tip: If you have little work experience to put on your resume, make your knowledge and achievements back you up. In the education section list any awards you won or interesting academic projects you took part in.
5. Highlight Your 3D Artist Skills
The skills section on a job-winning 3D artist resume should be a blend of these two: technological expertise and creative flair.
Add some problem-solving skills and you land this project you dreamed of!
Here's a sample list of skills that can boost your resume:
Key 3D Art Resume Skills
Technical Skills:
Adobe: Photoshop, Illustrator, InDesign, After Effects, Premiere
3D Software: Blender, ZBrush, 3D Slash, Rhino3D, LightWave 3D, Maya, Cinema 4D, 3D Studio Max
Physically-Based Rendering (PBR) and Shading
Typography
Texturing, UV Mapping
Graphic Design
Hand Illustration
Coloring
Sculpting Tools
Character Modeling
Rigging
Animation
Matte Painting
Compositing
Creative and Soft Skills:
Open-Mindedness
Organization
Influencing
Presentation
Persuading
Brainstorming
Pro Tip: When listing the skills on your 3D artist resume remember about the essentials. 2D is where it all starts and sometimes ends so highlight your 2D skills: sketching, compositing, 2D rendering.
6. Add Other Sections to Your 3D Artist Resume
All the resume sections covered above?
These are necessary.
But if you want to shape your 3D artist resume according to your own lights—
Add an extra section to grab the hiring manager's attention:
3D artist job search is all about relevant coursework and certifications. Devote a separate resume section to all specialized 3D software courses you've done.
Consider creating a Projects section on your resume. Choose the projects that correspond to the job offer. For each entry, list a title, year of completion, and your pipeline responsibility.
Be art and part of it all and show the recruiter you're passionate about your job. Make a list of hobbies and interests related to your 3D artist activity.
Pro Tip: If you're familiar with various stages of 3D processing, consider showing your level of expertise in each of them (just like you do with language levels).
Plus, a great cover letter that matches your resume will give you an advantage over other candidates. You can write it in our cover letter builder here. Here's what it may look like: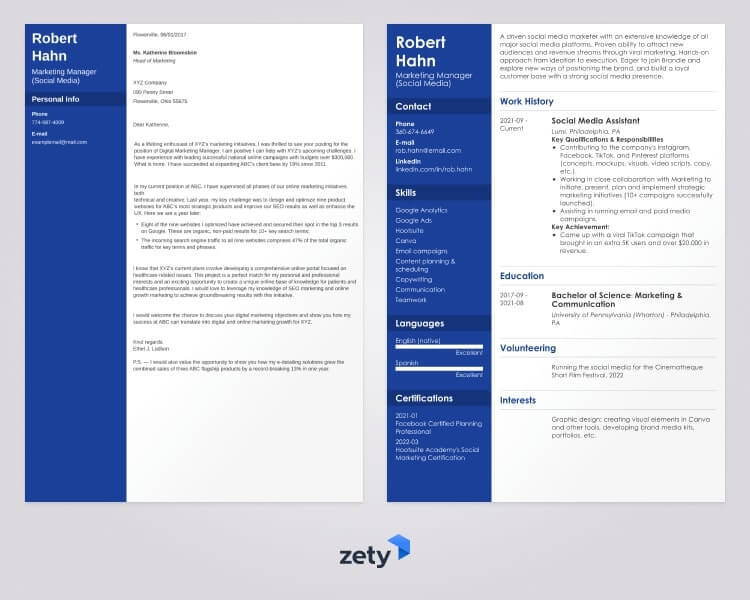 See more cover letter templates and start writing.
7. Attach a Cover Letter to Your 3D Artist Resume
Always thinking three dimensions?
Keep doing this! You already have a portfolio and a resume. What's the third thing you need?
A catchy 3D artist cover letter. It turns out more than 50% of employers still read them.
Follow these strategies to triple your chances for an interview:
Hook the hiring manager with a great opening line. You've just got it down to a fine art. They read on!
Use cover letter format that will please the recruiter's eye (both the left and the right one).
End your cover letter with an offer. Don't just promise, show them how you can address the company's needs.
Pro Tip: Everyone remembers spectacular movie endings. Make your cover letter hard to forget and add a "PS" with one more accomplishment you're proud of.
And here you go!
You no longer have to visualise your dream job. It's just become real!
If you have any questions on how to write a 3D artist resume, give us a shout in the comments section! Thanks for reading!
About Zety's Editorial Process
This article has been reviewed by our editorial team to make sure it follows Zety's editorial guidelines. We're committed to sharing our expertise and giving you trustworthy career advice tailored to your needs. High-quality content is what brings over 40 million readers to our site every year. But we don't stop there. Our team conducts original research to understand the job market better, and we pride ourselves on being quoted by top universities and prime media outlets from around the world.