"My way or the highway,"
Isn't exactly the attitude employers are looking for.
In this day and age, teamwork and synergy is the way to go. But what teamwork skills are essential to the workplace, and how to show them on your resume?
Well—You're about to find out.
This article will show you:
The definition of teamwork skills.
What teamwork skills are essential to the workplace.
How to list good teamwork skills on a resume.
Examples of teamwork skills.
How to improve your teamwork skills.
Want to save time and have your resume ready in 5 minutes? Try our resume builder. It's fast and easy to use. Plus, you'll get ready-made content to add with one click. See 20+ resume templates and create your resume here.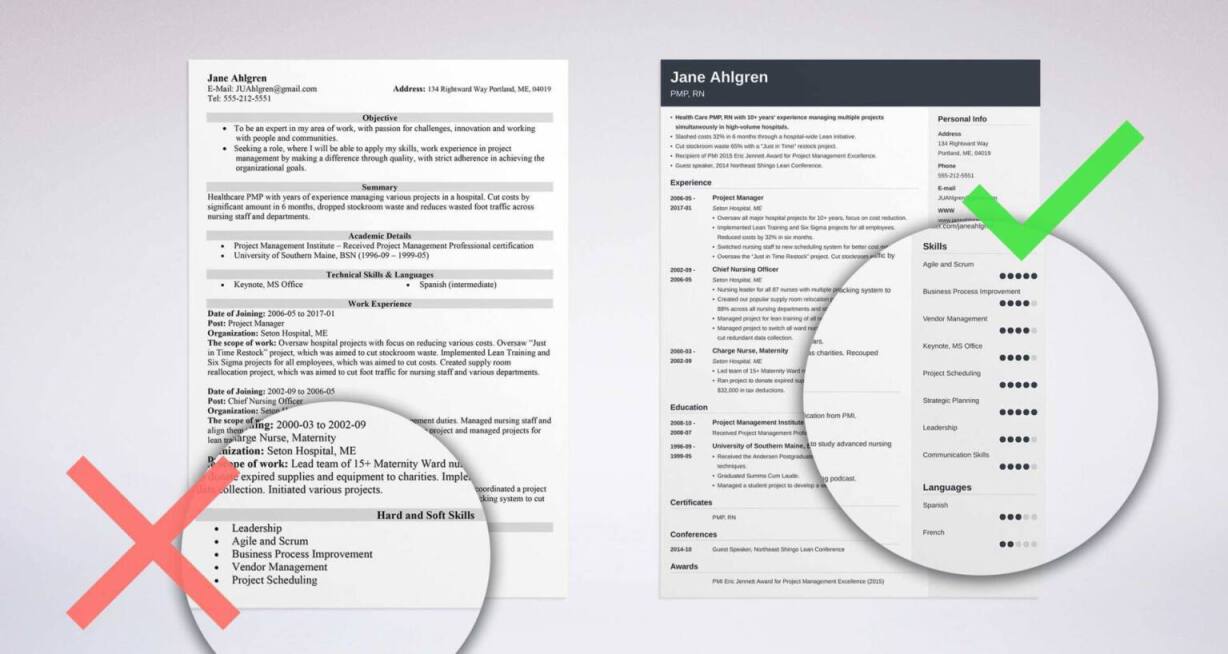 Sample resume made with our builder—See more resume samples here.
Looking for information on other skills? Head straight to one of our guides:
1
Teamwork Skills—Definition and Lists
It's no secret: employers look for team players.
Research shows that over 70% of organizations focused on building and supporting teams report improvement in such critical areas as:
Product and service quality
Customer service
Productivity
Profitability
Teamwork is what differentiates good companies from exceptional ones.
But what are teamwork skills specifically?
Teamwork skills consist of interrelated abilities that let you work effectively in an organized group. Teamwork skills are vital to employers, as teams are a basic organizational unit within many companies. Teamwork happens when people cooperate and use their individual skills to achieve common goals. Top teamwork skills include:
Top 10 Teamwork Skills—Examples
The ability to get your point across, and truly understand what other people want to tell you is the cornerstone of effective teamwork. And it doesn't matter if you communicate in person, via email writing, instant messages, or on the phone—the exchange of information must be effective regardless of the medium. Plus, the nonverbal aspects of communication are just as important. Great teams nurture a culture of openness and mutual trust. Everyone must feel safe enough to speak their mind.
2. Conflict resolution
Conflict is part and parcel of any team effort. What matters most is how adept you are at dealing with issues as they arise. Remember, it's crucial not to let any conflicts escalate—that's why the best team players are also great mediators.
3. Rapport-building and listening
You can only build rapport if you're listening to other people's voices. Mind you—it's equally important to pay heed to their enthusiasm and the lack of it. Rapport and listening skills go hand in hand, one can't exist without the other.
Making decisions may seem like a pretty straightforward thing to do. And that's the case when everyone agrees on the course of action. But everything changes when opinions start to differ and you need to make an unpopular decision. What distinguishes great team players from the average ones is the ability to see the big picture, put their egos aside, and work towards the common goal.
5. Problem-solving
The very idea behind organizing a team is to solve a problem. That's why problem-solving skills are fundamental for each and every team member. The ability to look at an issue from multiple angles and utilize your time management skills on the basis of individual team member's skills drive the entire team's performance and success.
6. Organizational and planning skills
To solve any problem effectively and efficiently you must be able to devise a master plan that every team member understands, follows, and knows where it leads to. Once the plan is agreed upon, all team members will be able to organize their tasks, establish deadlines, and orchestrate their efforts.
7. Persuasion and influencing skills
Being persuasive isn't a character trait. It's a skill you can learn. In the context of teamwork, this applies mostly to team leaders who must inspire everyone to contribute to achieving team goals and objectives. A good start to build such leadership skills is to hone-in on your presentation skills.
8. Reliability
Teams form because they can achieve more than each team member could on their own. That's obvious, isn't it? What people tend to forget, though, is that when working together as a team you depend on the others as much as they depend on you. Show your reliability by sticking to deadlines, delivering your tasks, and overcommunicating any obstacles along the way.
9. Respectfulness
Being respectful towards other people doesn't mean you have to like them or agree with them. Show your respect by not taking anyone for granted, and listening to them actively. Don't know where to start? Learn your teammates' names first!
10. Tolerance
Tolerance and respectfulness go hand in hand. Be open-minded and eager to learn. People of different ethnicities, religions, or minorities are what makes this planet such a fascinating place to live. Again, you don't have to see eye to eye with everybody. But soak in as much diversity as you can, and form your opinions afterward. Don't let any common misconceptions fool you.
Remember:
According to a study, teamwork is a cooperative process that allows ordinary people to achieve extraordinary results.
Such synergy is only possible when all team members know what their roles are, compliment each other's skills, and are committed to team success.
This brings us smoothly into the other aspect of teamwork skills—
Team Building Skills
Even if your teamwork skills are second to none and your name is universally recognized as a team player synonym—
You'll achieve nothing in a badly-assembled team.
So, from a manager's standpoint, teaming skills consist of two complementary skills: teamwork and team-building.
Here's a quick look at how it works in practice:
Research shows that the most successful teams consist of people displaying different behaviors.
That's why modern organizations build their teams on the basis of the so-called Belbin Team Roles.
According to the Belbin classification, there are nine types of roles within effective teams.
Nine Belbin Team Roles
Completer Finisher
Sees to it that the results are free from errors and up to the expected standards.
Coordinator
Remains focused on the goal, knows how to assign work, and delegate tasks to the right team members.
Implementer
A practical thinker who's able to plan and carry out effective strategies.
Monitor Evaluator
Makes unbiased judgments and assesses the team's effort from a logical standpoint.
Plant
Thinks outside the box and generates ideas.
Resource Investigator
Checks out external resources and sifts through existing solutions to bring the best ones to the team.
Shaper
Drives the team and makes sure things keep moving forward.
Specialist
Brings in the necessary technical expertise.
Teamworker
Identifies what needs to be done and completes the tasks on behalf of or in cooperation with the other team members.
Now—
You may be tempted to think this kind of knowledge is only useful to managers tasked with building a team.
Wrong.
If you know what your role is about and what exactly is expected of you, you'll become a truly collaborative team player.
Plus:
If you ever feel like your team role has been wrongly assigned to you, you'll be able to discuss it and say exactly how your skills could be made use of for the benefit of the entire team.
Self-awareness is a big part of your collaboration skill set.
And finally—
If you know what team skills you have, you'll be able to highlight the right ones on your resume.
Looking for advice on how to list different hard skills and soft skills on your resume? Need to find out more about transferable skills? Check these out:
2
Teamwork Skills—Resume Examples
By now you should see why employers look for candidates with good teamwork skills.
So—
If you want to land a job, you must know how to highlight collaboration skills on your resume.
Without further ado, let's take a look at:
How to Describe Teamwork Skills on a Resume
In resume writing, there's only one rule that will never change:
Relevance.
If you were to remember only one thing after reading this section, it would be:
Always tailor your resume to the job offer.
Here's how it works in practice—
Almost every job ad out there lists collaboration as one of the requirements.
Take a look at the examples below. All of them come from different job postings:
Examples of Good Teamwork Skills—Job Description
Connected

. You're an

involved member of the campus community

and you consistently

look for opportunities to expand your network

even further.

Collaborates effectively

to get things done,

building and nurturing strong relationships

.
Ability to

build solid relationships with teammates, business partners and specialists

by

fostering teamwork, partnership and collaboration in a virtual or face-to-face environment

.
Team Player: you will be an integral part of a clinical team.
An

ability to work independently and collaboratively

as a team member?

Partner with broader HR team

to successfully execute, and in some cases act as project lead, to deliver HR initiatives across the broad spectrum of HR activities including Leadership Development, Performance Management, Employee Relations, Staffing, Compensation, and Diversity & Inclusion.
A

strong team-player

work ethic with the ability to engage with all levels of the organization.
Look:
They may come from different job ads but they all boil down to a single thing:
Teamwork skills.
Now—
Before we continue, you need to realize that almost every Fortune 500 company relies on the so-called ATS (Applicant Tracking System) that screens resumes for keywords.
Why? Too many applicants, not enough time. No recruiter can read them all.
The ATS looks for keywords to decide if the candidate is qualified enough to go on to the next stage of the recruitment process.
If it doesn't find relevant keywords, your resume will be rejected.
This is why it's so important to describe your teamwork skills using the resume keywords from the job ad.
They're highlighted in yellow in the examples above.
Now—
Your experience section bullet points could look something like this:
Team Player Skills—Resume Example
Worked independently and in collaboration with other departments

on a major overhaul of internal HR procedures that reduced onboarding process time by 50%.

Collaborated within an international virtual team

on a successful $10M M&A transaction.

Built and motivated a cross-functional team of 5 experts

to identify bottlenecks and speed up transaction times that allowed the company to save upwards of $400K quarterly.
If you present your collaboration and interpersonal skills using the phrases from the job ad, rest assured that:
You've included the relevant keywords
The teamwork skills you listed on your resume are relevant to the job.
Pro Tip: Describe your teamwork skills in terms of achievements.
Remember—
Use the job posting to identify what the employer is looking for, and what keywords you need to use when applying for a particular position.
Plus, you can use the list below as a source of inspiration:
Teamwork Skills List
Active listening
Communication
Community building
Conflict management
Decision making
Mediation
Motivation
Negotiating
Relationship building
Reliable
Team management
Team oriented
Team player
But this is not all.
To give your teamwork skills more prominence—
Put them in a dedicated key skills section.
Just make sure they're not random.
Here's how to do it right:
Go back to your experience section and extract its essence.
For example, this bullet point:
Collaborated within an international virtual team on a successful $10M M&A transaction.
is the same as these bullets:
Collaboration
Communication
Decision making
Team player
Pro Tip: Collaboration and team player are synonyms. If you're not sure which word to choose, take a look at the job ad and go for the one(s) you can find there.
If you list these skills in your key skills section and the recruiter asks you a behavioral question along the lines of Tell me about a time when your collaboration skills made a difference—
Simply refer to this particular bullet point in your resume job description and elaborate on the details.
As simple as that.
If you don't feel comfortable answering teamwork skills interview questions, read our series of dedicated guides. No interview question will ever take you by surprise:
Plus—
You may want to mention some of your teamwork skills in your resume objective.
Head straight to our guides that will show you exactly how to write a killer opening to your resume:
When making a resume in our builder, drag & drop bullet points, skills, and auto-fill the boring stuff. Spell check? Check. Start building a professional resume template here for free.
When you're done, Zety's resume builder will score your resume and tell you exactly how to make it better.
3
How to Improve Teamwork Skills
Listen:
Some people are natural born team-players.
Others need to work on their collaboration skills.
But—
It doesn't matter which group you belong to.
There's always something you can do to develop your teamwork skills.
Here's a couple of suggestions:
Watch These TED Talks to Get Inspired
How to turn a group of strangers into a team
As the title suggests, this TED Talk by Amy Edmondson explains what ingredients you need to turn a group of people who don't know each other into an agile team.
Tom Wujec takes the so-called Marshmallow Challenge to an entirely new dimension to demonstrate the mechanics behind a successful team.
In his illuminating talk, Seth Godin argues that the Internet triggered our long-forgotten tribal mentality, which empowers us to do great things together.
How diversity makes teams more innovative
Can diversity within a team improve its performance? In her TED Talk, Rocío Lorenzo argues the team's efficiency is directly related to its diversity.
Why good leaders make you feel safe
In his inspirational talk, Simon Sinek explains how leaders can improve their team's performance by making the team members feel safe.
Read These Books to Learn More
Here's a selection of books that will take your teamwork skills to the next level:
Try These 10 Strategies to Succeed
1. Foster mutual trust
Trust within a team is crucial. If people feel safe and know they can count on each other, magic starts to happen
2. Encourage open communication
The majority of conflicts stem from miscommunication. Make sure the team members overcommunicate their doubts and speak their minds. It's better to air unpopular opinions than hold a grudge and subvert the entire team's work.
3. Define roles and responsibilities
If everyone knows what their role and responsibilities are, they'll know exactly what to do to get their work done.
4. Define goals
This complements the previous point. If the team members know the goal of the entire team and their individual ones, it will be much easier for them to see the big picture. They'll also recognize the impact their individual tasks have on the entire project.
5. Lavish praise
This is a simple yet powerful motivator. Feeling recognized boosts the team's morale and encourages it to work harder.
6. Nip conflicts in the bud
The ability to detect conflicts and resolve them early is something any team leader should pay a lot of attention to.
7. Meet regularly
The easiest way to see progress, discuss obstacles, and plan ahead? Regular meetings with a clear agenda.
8. Balance workload
See to it that no team member's workload is much heavier than any other's. The last thing you want is people feeling exploited and taken advantage of.
9. Avoid micromanagement
A well-organized team is able to manage itself efficiently. Avoid the temptation to control each and every aspect of its work—this is very counterproductive for team leaders and members alike.
10. Give Feedback
Remember: good communication is the heart and soul of any well-functioning team. So, give constructive feedback to the team members to let them take advantage of their strengths and eliminate their weaknesses.
Looking for more career advice? Here's a selection of our guides:
Plus, a great cover letter that matches your resume will give you an advantage over other candidates. You can write it in our cover letter builder here. Here's what it may look like: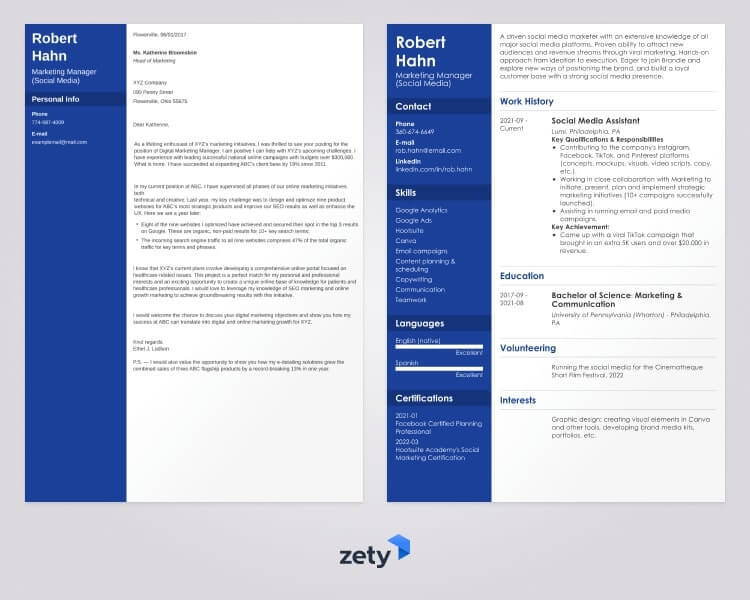 See more cover letter templates and start writing.
Key Takeaways
Here's a rundown of everything you need to remember about teamwork skills:
Teamwork skills are valued and sought after by almost all employers.
Collaboration skills are important to companies as they have a direct impact on such critical areas as customer service or product quality to name but a few.
The ability to work in a team consists of several interrelated abilities, such as communication and problem-solving.
It's not just important to have good teamwork skills, it's just as crucial for the teams to be assembled and managed proficiently.
To draw the recruiter's attention, you should give prominence to your teamwork skills on your resume.
If you feel like your teamwork skills need a boost, there are many inspirational materials, books, and strategies you might want to try out.
Do you have any questions about teamwork skills? Maybe you'd like to share some tips on how to develop them? Give us a shout out in the comments below! We'd love to hear from you!