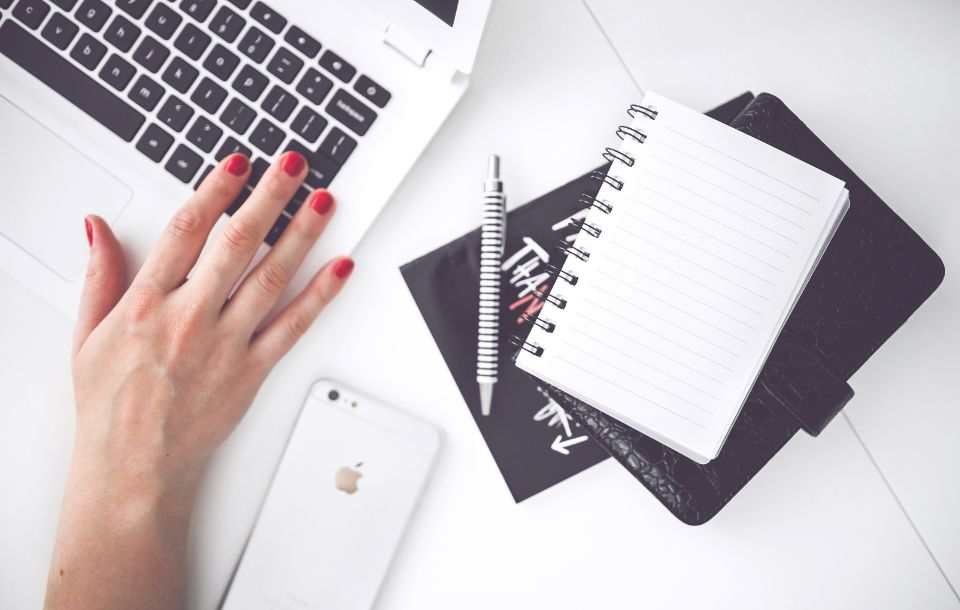 Personal Skills for Resume: Definition & 60+ Examples
The job you want asks for highly developed personal skills. What on earth does that mean? Read this article to learn everything you need to know about personal skills for a resume.
For the upcoming promotions, you bet on David, the best performer on the team. And you were really surprised when your colleague said: "I mean, he's efficient, but he doesn't have any personal skills." That made you think, "What are personal skills? Do I have any? Are they really so important?"
Read this article and learn everything you should know about personal skills. Then, put a few of them on your resume and pass this guide to your friend David.
This guide will show you:
What personal skills are, together with a definition, meaning, and examples.
Which personal skills are the best ones to have in 2023.
How to improve your personal skills.
How to highlight your personal skills on a resume.
Thinking of changing jobs? Get a professional resume that highlights your personal skills! Start by picking a resume template and let the builder do the rest.
Sample resume made with our builder—See more resume examples here.
Trying to learn more about other skills for your resume? Have a go with these first:
Continue reading to learn more about personal skills:
What Are Personal Skills? Definition & Meaning
You've probably heard of them before. Maybe you saw job advertisements asking for candidates with great personal skills. If you're not sure what this term means, don't worry. This is what they are:
Personal skills, called interpersonal or people skills, are a type of soft skills related to how a person interacts with other people and the surrounding environment. Personal skills can be more challenging to learn. Some of them are communication, problem-solving, flexibility, and dependability.
Are personal skills important only in a work environment? Of course not! These skills are as valuable in everyday life as at work. They help navigate difficult situations smoothly. A person with highly-developed personal skills doesn't give up easily when faced with a challenge.
Are personal skills and people skills the same thing? Check here: What Are People Skills?
Personal Skills Examples
You might have found a very long list of personal skills. Now, you're scratching your head and wondering, "Which of these are actually important?" Below is a selection of 10 personal skills that make life much easier. Not only in life at work but in personal life, too!
Communication
Yep, you've probably heard this one before. Effective communication is the key to having good relationships with people around you. Being able to express yourself clearly and listening to others carefully can make you a good friend, colleague, and family member.
Problem-Solving
What do you do when you encounter a challenge? Do you despair? Get angry? Give up? Or think constructively and focus on finding solutions? Problem-solving doesn't mean you need to be a genius and know how to fix everything. It's about your approach to challenges.
Time Management
Let's face it—everyone needs lazy days from time to time. The problem arises when it stops you from getting things done. It's important to know how much time you need to complete essential tasks and how to organize yourself to make sure there's enough time for everything.
Flexibility
Horrible bosses used to think that "flexibility" meant "coming to work on a Sunday." But the truth is, flexibility isn't just about the schedule. It's about trying new things, learning new methods, and approaching tasks from a different perspective.
Many employers have started seeing continuous learning as an important feature of a modern workplace, seeing how offering such learning opportunities works great in Finland. But to invest in employee development, they must be flexible enough in the first place.
Critical Thinking
No, critical thinking doesn't mean "being overly critical." It means thinking independently instead of blindly following others. And setting up goals by yourself, not just repeating what other people want to achieve.
Creativity
It's not just for fashion designers! It's about having your own original ideas. About life, work, and everything else. Creative thinking inspires us to find new ways to solve problems and complete tasks.
Collaboration
If you hated practicing teamwork skills at school, I've got bad news for you. Most workplaces require collaboration between teams, departments, and businesses. Being able to collaborate with others is really important in the 21st century.
Dependability
Are you a person of your word? Can people rely on you? Dependability is an important quality in life and at work. It's not only about your friends and family depending on you but also colleagues and other people you work with.
Self-Motivation
Let's face it—most tasks we have to complete daily are rarely exciting. Motivating yourself always to give your best effort isn't easy. But ultimately, intrinsic motivation gives you satisfaction and makes your life better.
Multicultural Sensitivity
Modern societies are multicultural—and so are modern workplaces. Everyone should feel welcome, regardless of nationality, mother tongue, or background. Recognizing prejudice and bigotry, as well as standing up for others when they are discriminated against, is the key to smooth relationships.
Want to see what other skills matter in the workplace? Check here: In-Demand Skills in 2023
How to Improve Personal Skills
So you realized how important personal skills are. Would you like to improve some skills from the list above? That's great! However, keep in mind that a book or a short YouTube tutorial will not do.
Working on personal skills can be quite challenging. It requires not only understanding the idea behind the skill but also practicing it. It's a bit like learning how to swim—you may know the theory, but you won't really learn before getting into the water.
Here's how you can improve your personal skills:
1. Establish Which Skills You Need to Work On
It's best to ask people who know you well. Don't get offended when they say something you don't like! Without getting a critical look at yourself, you won't be able to find out which personal skills you should develop.
2. Find People Who Can Mentor You
Do you know someone who has the skills you need? Maybe it's a colleague, a family member, a teacher, or a friend? Ask them for advice.
3. Analyze Other People's Behavior
Maybe someone at work was praised for their creativity. Think why it happened. What makes this person creative?
4. Read Self-Development Books
There are thousands of great books on self-development—you can find ones that are more lighthearted and others that are more business-oriented. Read reviews and choose something that sounds interesting to you.
5. Join Workshops or Online Classes
You can find courses dedicated to developing various personal skills. If you work at a large company, in-house training might also be available!
6. Try Networking
Networking not only helps to build business relationships but will also help you understand what skills other people in your industry have mastered. And meeting new people is a great way to practice personal skills.
7. Journal Your Thoughts
Journaling helps to improve your self-awareness. Make notes of your wins and challenges to see what's easy for you and what needs more time and work.
8. Practice as Much as Possible
Work on your planning skills by making a detailed plan for your next holiday trip, or work on communication skills by initiating conversations with people wherever you can.
9. Set Realistic Goals
Even if you start working on your innovation skills now, you may not become the next Elon Musk within a year. Setting adequate goals and tracking your progress will keep you motivated.
10. Manage Stress
Learning new things can be overwhelming. Remember to relax regularly—find time to meditate, do sports, or do other activities that help you unwind and rebalance.
Remember that developing personal skills is hard work. Don't get discouraged if you don't change your personality overnight!
Why not learn a few high-income skills to boost your career? See more: Examples of Top High Income Skills
How to Pick Personal Skills for a Resume?
Personal skills are one of the most sought-after qualities that employers seek. So, why not add a bunch of those to your resume? It won't hurt, for sure!
Just hold on—don't copy and paste a long list of personal skills directly into the resume skill section. It's much better to be selective. Otherwise, your resume will read like a confusing wish list. It's important to consider which skills to put on a resume before sending it out to recruiters.
Follow the steps to pick personal skills for your resume:
1. Make a Tailored Skill List for Your Resume
Scan the job advertisement for keywords related to skills, and make a list of desired personal skills. Then, compare the list with the abilities you possess. Add your personal skills as bullets in the skill section of the resume. Of course, remember to list hard skills, too!
Check a sample skill section below to see how personal skills can shine:
Personal Skills Example on a Resume
Right
Skills
Customer service

Effective communication

Active listening

Problem-solving

Dealing with difficult customers

Negotiation

Time management

Flexibility

Dependability
When making a resume in our builder, drag & drop bullet points, skills, and auto-fill the boring stuff. Spell check? Check. Start building a professional resume template here for free.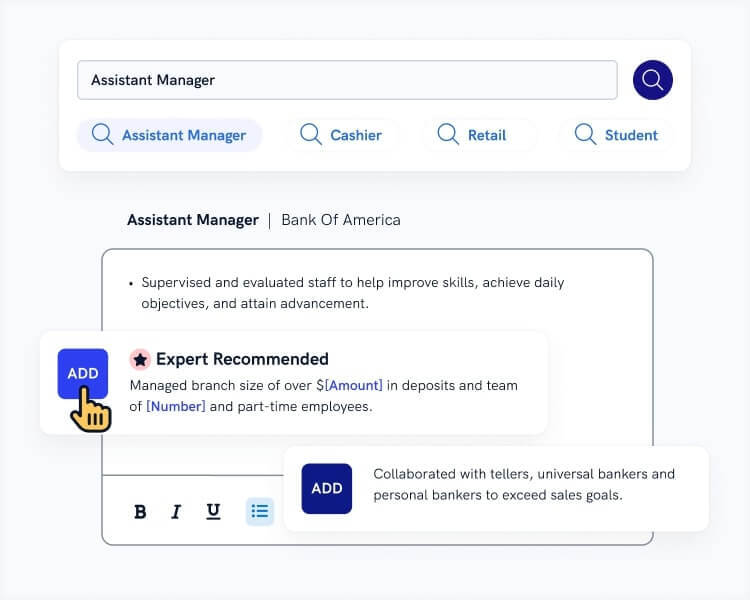 When you're done, our free resume builder will score your resume and our resume checker will tell you exactly how to make it better.
2. Mention the Key Personal Skills in Your Resume Profile
Your resume profile is the perfect space to highlight your personal qualities. Don't overdo it—just one or two skills are fine, as long as they're relevant.
Not sure what type of resume introduction to use? Go for a resume summary if you're an experienced candidate, and opt for the resume objective if you're an entry-level candidate. Include your personal skills while describing your career profile, experience, and achievements, and when promising to help the company.
Personal Skills on a Resume: Resume Introduction
Right
Empathetic customer service specialist with experience in the beauty industry. Eager to support EthiCosmetics's operations with the highest level of customer care. Kept a 100% quality score of phone calls for three consecutive months in 2021.
3. Add Your Personal Skills to the Work Experience Section
Sprinkle your personal skills over the resume work experience section. Use them to describe your actions and responsibilities at previous jobs—it'll make the employer see that you've mastered those skills.
Personal Skills Example on Resume: Work Experience
Right
Communicated

with customers and fans on the company's Facebook page

on time

to respond to queries and comments.

Created an enjoyable shopping experience

for customers by suggesting products that matched their needs.

Built relationships

with customers by encouraging them to try new products and announcing upcoming promotions and events.
If you have minimal work experience, you can do a similar thing in the education section of your resume while describing your extracurricular activities or academic projects.
Personal Skills Example on Resume: Education
Right
Extracurricular activities:
Led a support group for students facing economic and academic challenges to

listen to their problems, respond with compassion, and suggest available solutions

.
Organized and managed the scheduling of peer-tutoring sessions for students of various majors on the college campus.
Joined a cultural exchange club to

learn more about minority

cultures and improve Spanish language skills.
4. Select Additional Resume Sections to Highlight Your Personal Skills
Extra resume sections are great for enclosing additional resume information. Just remember only to add sections that feel relevant to the job you are applying for.
Here are the sections you could add:
Certifications
Associations
Conferences
Languages
Check this example to understand how to use these sections for your benefit:
Resume Example—Personal Skills: Other Sections
Right
Volunteering
Homes for Doggos
June–December 2021
Supported fundraising activities

by reaching out to local businesses to find potential sponsors.
Performed front-desk reception duties, including handling mail, welcoming visitors, and

organizing

supplies.
Follow the steps outlined in this chapter, and your resume will be full of in-demand personal skills!
You should also use your cover letter to highlight personal skills. Learn more: Write a Cover Letter That Speaks Volumes
Plus, a great cover letter that matches your resume will give you an advantage over other candidates. You can write it in our cover letter builder here. Here's what it may look like: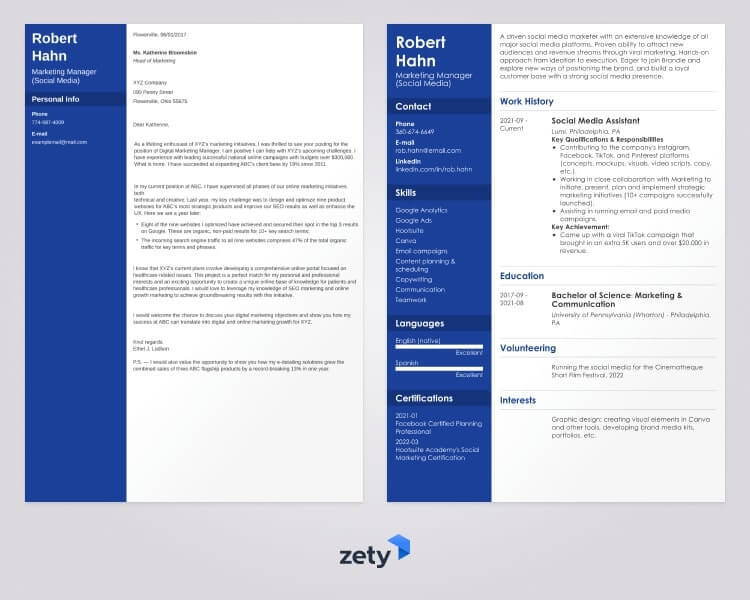 See more cover letter templates and start writing.
Thank you for reading this article!
Now, over to you. Let us know in the comments:
Do you consider personal skills important in everyday life?
Which personal skills matter the most at work?
Do you work on developing your personal skills?
Feel free to comment below!
About Zety's Editorial Process
This article has been reviewed by our editorial team to make sure it follows Zety's editorial guidelines. We're committed to sharing our expertise and giving you trustworthy career advice tailored to your needs. High-quality content is what brings over 40 million readers to our site every year. But we don't stop there. Our team conducts original research to understand the job market better, and we pride ourselves on being quoted by top universities and prime media outlets from around the world.