20+ Top Customer Service Skills for a Resume
For jobs that involve interacting with customers, customer service skills aren't a nice-to-have, they're a must-have. But what exactly are they?
To be successful at your job, as a customer service representative you have to possess a certain set of skills. What are they?
We'll show you customer service skills for resume in a second. And we'll tell you exactly how to list and even improve them!
The Zety resume builder will generate hundreds of customer service skills, suggest bullet points, resume objectives, and achievements. Just what the recruiter ordered.
Create a resume with a perfect skills section using the Zety resume builder now.
Looking for a complete guide on how to write a customer service resume? Check: Customer Service Resume
You might find other retail-related guides interesting, too:
Let's start with the definition—
What Are Customer Service Skills?
Customer service skills are the skills necessary to communicate with others, solve problems, demonstrate patience and understanding, ensure customer satisfaction, and resolve customer complaints.
Customer service representatives receive and place telephone calls and help maintain solid relationships with customers by answering questions and concerns with speed and professionalism. But cashiers, salespeople, management, and billing departments can also be regarded as customer service jobs since they interact with customers.
Employees with excellent customer service skills can have a massive impact on a company's bottom line. These skills translate into brand loyalty (96% of consumers say customer service is an important factor in their choice of loyalty to a brand) and profit (a 5% increase in customer retention can produce a 25% increase in profit according to Bain).
Customer Service Skills for a Resume—Examples
Customer service is a great skill to have on a resume. Not just for a sales rep, agent or someone in guest service. Any client-facing role will benefit from mentioning these abilities (including administrative and office positions, marketing, and more).
Here's a list of specific customer service resume skills:
Attention to Detail
Improving Customer Experience
Building Customer Loyalty
Positive Attitude
Bilingual Customer Support
Complaint Resolution
Patience
Product Knowledge
Cross Selling / Up-Selling
Service-Based Selling / Telesales
Dixa
ERP
Freshdesk
Jira Service Desk
MyTalk
Salesforce
Talkdesk
Zendesk
MS Excel, PowerPoint, Word
Microsoft Office Skills
The skills above are perfectly tailored to jobs in customer service. But don't simply copy-paste them on your resume. Always make sure you focus on the most important CS skills mentioned in the job ad and add extra skills if they are relevant.
See many more ideas for resume-worthy qualifications and abilities:
Want to save time and have your resume ready in 5 minutes? Try our resume builder. It's fast and easy to use. Plus, you'll get ready-made content to add with one click. See 20+ resume templates and create your resume here.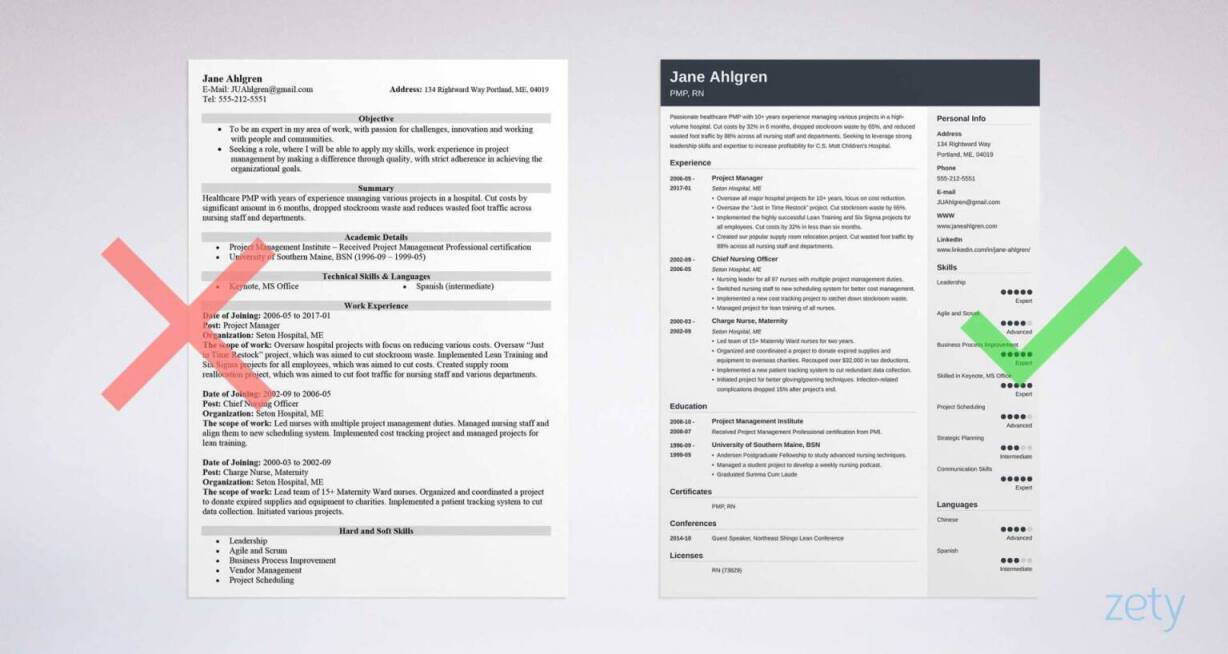 Sample resume made with our builder—See more resume samples here.
How Do You Describe Customer Service Skills on a Resume?
How to increase the recruiter's CSAT score by 200 percent? By showing them you've got all the customer service skills they're looking for. Here's how to highlight them on your resume:
Check the job ad to see what customer service skills they need.
Make a list of your customer service resume skills. You can use the aforementioned list as a reference.
Look for talents that show up on both lists. Those are the right resume keywords.
Give your customer service skills prominence by listing them in a separate key skills section on your resume.
Use your bullet points to prove you have those abilities.
Add both soft skills and hard skills for the right mix.
List up to 10 key strengths and pick the ones you're good at.
Make sure you sprinkle your relevant customer service resume skills throughout your entire application. Put them in your customer service resume job description and objective, too.
According to our analysis of 133,000 resumes, people are most likely to describe their CS skills as:
Excellent customer service skills
Great customer service skills
Good customer service skills
Strong customer service skills
Just bear in mind it's just your opinion and recruiters will vet you no matter what you say! Convince them by hilighting a specific responsibility and the results you got.
Let's take a look at how you can show off those customer service skills on a resume:
Sample Customer Service Representative Resume Template
Mary Allen
mary.louanne.allen@gmail.com
(231) 808-9866
Seattle, WA
Resume Summary
Positive and attentive customer service representative with 4+ years of experience in CSR roles. Eager to support First National Bank in creating long-lasting customer relationships through conflict resolution. Achieved a 20% above average customer retention rate on cancellation calls by utilizing active listening techniques.
Work Experience
Customer Service Representative
American Express, Seattle, WA
January 2019–June 2020
Provided quality customer service to 60+ members daily to build brand loyalty.
Identified customer needs through active listening techniques to initiate referrals to colleagues.
Reviewed customer profiles to find opportunities to upsell banking products and credit cards
Achieved a 20% above average customer retention rate on cancellation calls.
Offered advice and guidance bilingually in English and Spanish.
Customer Service Associate
CallCenterUSA, Salem, OR
September 2016–December 2019
Answered 40+ incoming calls daily and provided instructions for customers per training guidelines.
Provided excellent quality customer service by patiently listening and communicating company policies with empathy.
Maintained a positive attitude at all times in a fast-paced environment.
Received a positive feedback rating of 96% based on customer satisfaction surveys.
Education
Bachelor of Arts in Communication Studies
Portland Community College, Portland, OR
Graduation: May 2016
Minor in Business Administration.
Secretary for campus debate club.
Skills
Complaint Resolution
Building Customer Loyalty
Up-Selling
Jira Service Desk
Bilingual Language Skills (English and Spanish)
Typing Speed: >60 WPM
Awards
Received customer service award three times for exceeding monthly upsell goals.
Here's a brief summary on how to write the perfect resume:
Read more: How to Build a Resume
Remember to attach a customer service cover letter to your resume. For more detailed tips, see our guide on how to write a cover letter.
Plus, a great cover letter that matches your resume will give you an advantage over other candidates. You can write it in our cover letter builder here. Here's what it may look like: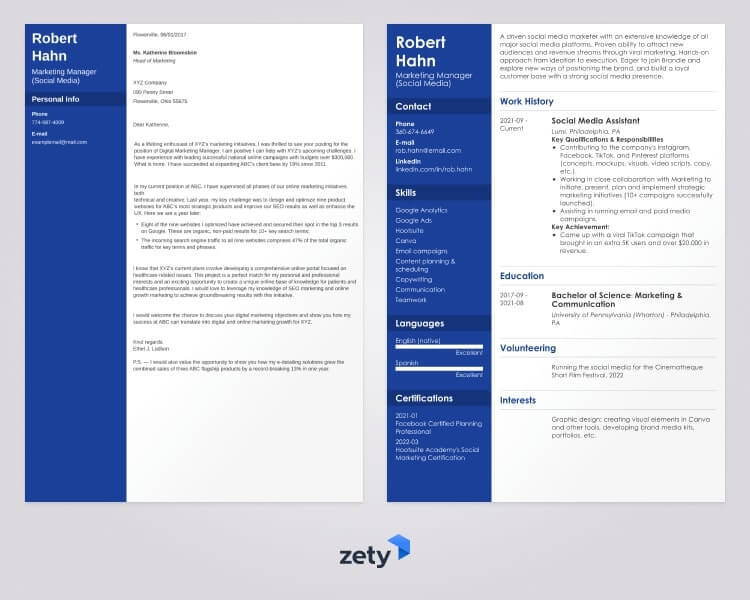 See more cover letter templates and start writing.
How to Improve Your Customer Service Skills
Here are seven solid tips to improve your customer service skills and help you shine:
1. Stay positive and never say no.
It may seem hard in the beginning, but try not to use words like "no", "I don't know", or "I can't". Why? Negative words tend to focus conversations on the problem rather than the solution. The customer will likely start thinking why something isn't possible or why you don't know the answer. Even if the answer to their question really is "no", you can use positive language to guide the conversation where you'd like it to go. That way you can direct them to the solution without dwelling on why that problem occurred.
2. Step up your game with active listening.
Active listening is when you make a concerted effort to listen to and understand a speaker. Think of active listening as the foundation of providing good customer support. 27% of Americans say "lack of effectiveness" is their number one frustration with customer service. The first step in solving a customer's problem is to hear what the problem is.
You can improve your active listening skills by taking a course online (like this one from Coursera) and then practicing on a regular basis.
3. Refer to the customer by name.
Calling the customer by their name is a more personable alternative to repeatedly referring to them as "you". Customers are more likely to rate their experience as positive if you can create a friendly atmosphere. And let's be honest, people love hearing their own name.
4. Know your product like the back of your hand.
The more knowledgeable you are about your company's product, the more persuasive you can be and the faster you can problem-solve. This knowledge can come from everywhere: the company's product literature, your personal experience with the product, online forums, or feedback from customers. If you're interviewing for a new job, show off your product knowledge is guaranteed to impress a hiring manager.
5. Try your best to empathize.
You can practice empathy by reaffirming a customer's situation in a way that shows you hear their pain or frustration. When you connect with their feelings, they feel heard and understood. One way to show empathy is to repeat the problem they're having and then use phrases like "I get what mean" or "I can see how frustrating this must be". If you sound like a robot reading off a script, you'll come across as rude or unhelpful.
6. Keep your technical skills up to date.
Customer service means dealing with computers as well as people. Part of the job is being able to navigate customer service software and technologies. Most bigger companies use customer relationship management (CRM) systems to keep track of customer touchpoints (phone calls, emails, orders). If you don't have any CRM software experience, you can get familiar with them with tutorials online, like these courses from Udemy.
Technical skills in customer service are changing, and one example of that change is chatbots. It's unlikely that chatbots will replace customer service jobs in any near future, because people still prefer speaking with humans over chatbots to resolve most issues. More probably, customer service will increasingly involve collaboration between customer service reps and chatbots. That's why gaining a better understanding and having experience with chatbots can help you excel at your customer service job.
7. Don't lose your cool.
Last but not least, patience. It's one of the most essential skills for customer service professionals. Because chances are, if someone is calling customer service, everything isn't peaches and cream. Customers will be coming at you ready to chew your head off or collapse in frustration. Just know that with a little active listening and positivity, you'll likely make it to the other side.
Thanks for reading! Now I'm curious about what you think. What are customer service skills that you find most helpful on the job? What's the most difficult customer service experience you've ever had? Is AI the future of customer service? Let's chat in the comments!
About Zety's Editorial Process
This article has been reviewed by our editorial team to make sure it follows Zety's editorial guidelines. We're committed to sharing our expertise and giving you trustworthy career advice tailored to your needs. High-quality content is what brings over 40 million readers to our site every year. But we don't stop there. Our team conducts original research to understand the job market better, and we pride ourselves on being quoted by top universities and prime media outlets from around the world.
Sources